Sunday is my favorite day of the week to make dinner for my family. It doesn't always have to be complicated but it's usually something I've been looking forward to making and haven't had time to prepare during the week. This past Sunday that meant Individual Chicken Pot Pies with buttery homemade pie crust.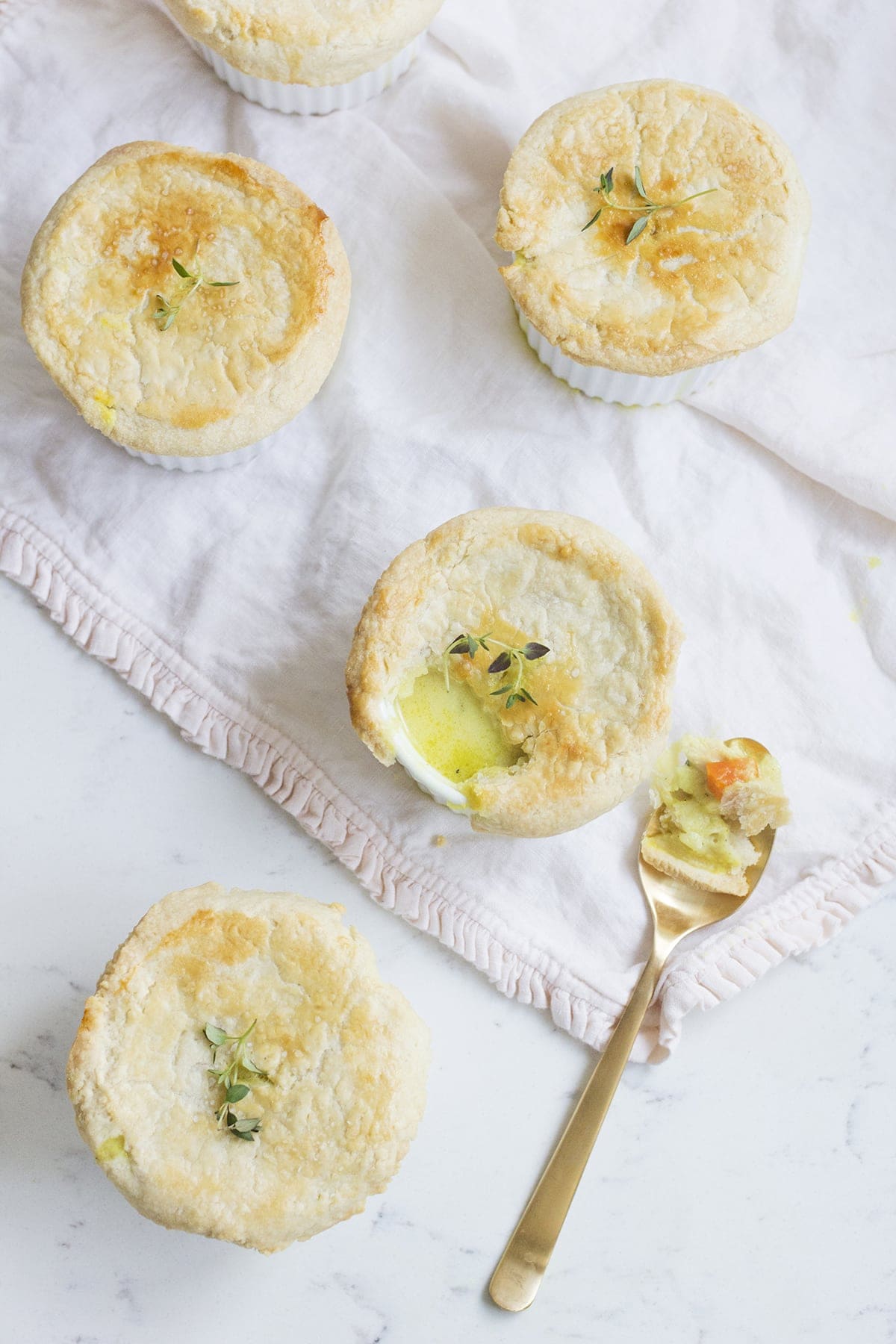 This is my absolute favorite recipe in the world for chicken pot pie. I've made it so many times with all different variations to the basic recipe and it never disappoints. When I have extra time (like on Sunday afternoon) I'll roast a whole cut up chicken to chop up and use in the pot pies.
Throw (ok, well more like gently arrange) an entire cut up bone-in, skin on, chicken on a rimmed baking sheet. Drizzle with olive oil, sprinkle generously with season salt and black pepper and roast at 350 degrees for about 35-40 minutes or until cooked through. Or, if you don't have the extra hour, a store-bought rotisserie works as well! That's the great thing about this recipe, it's very forgiving.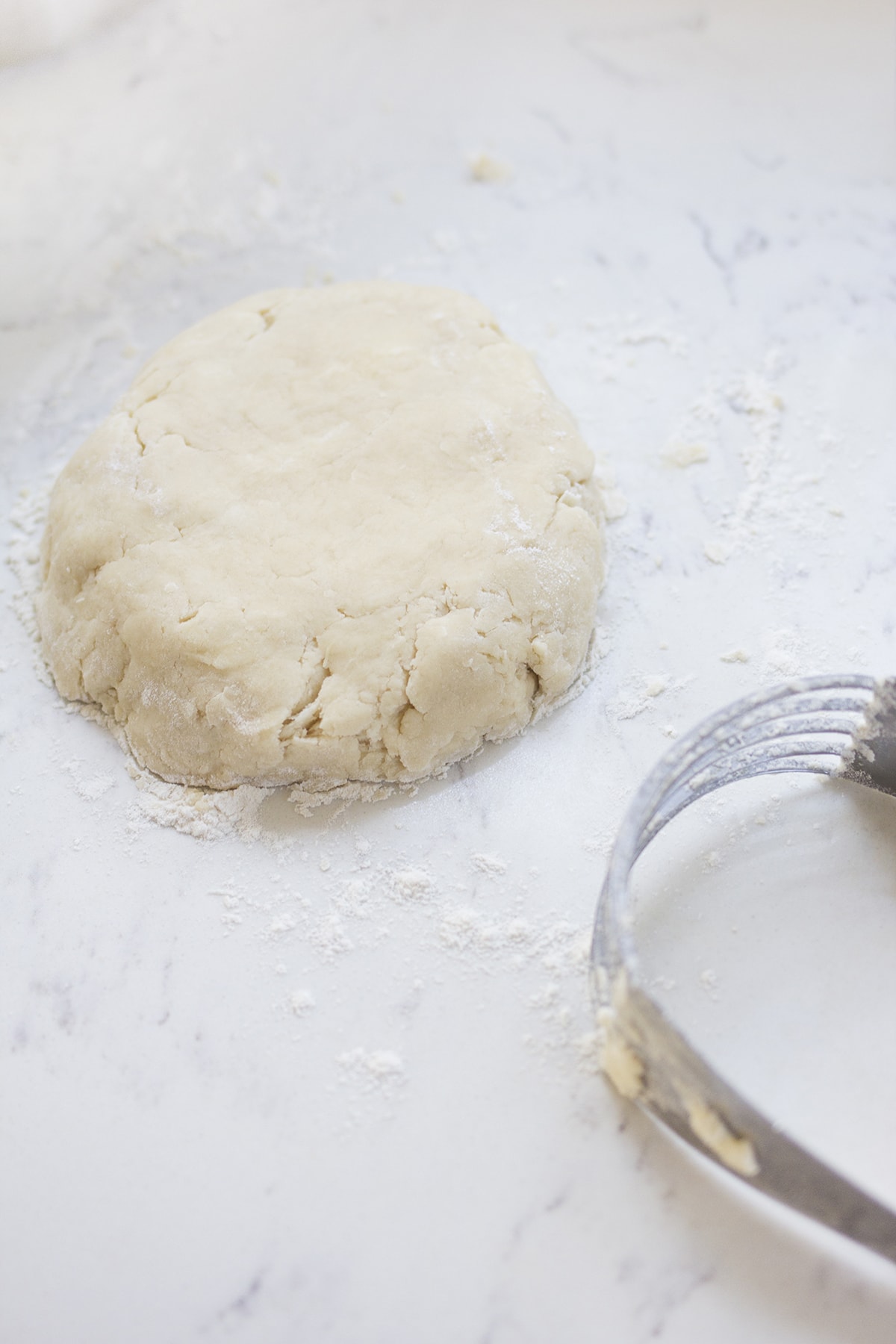 Now let's talk about crust. If you can, make this pie crust from scratch! Trust me when I say, it makes all the difference in the world. This recipe is the perfect buttery and flaky crust that I roll out thick and drape over the individual ramekins to bake. There is NOTHING more delicious than breaking off pieces of the flaky edges to dip into the filling. Ooooh mama.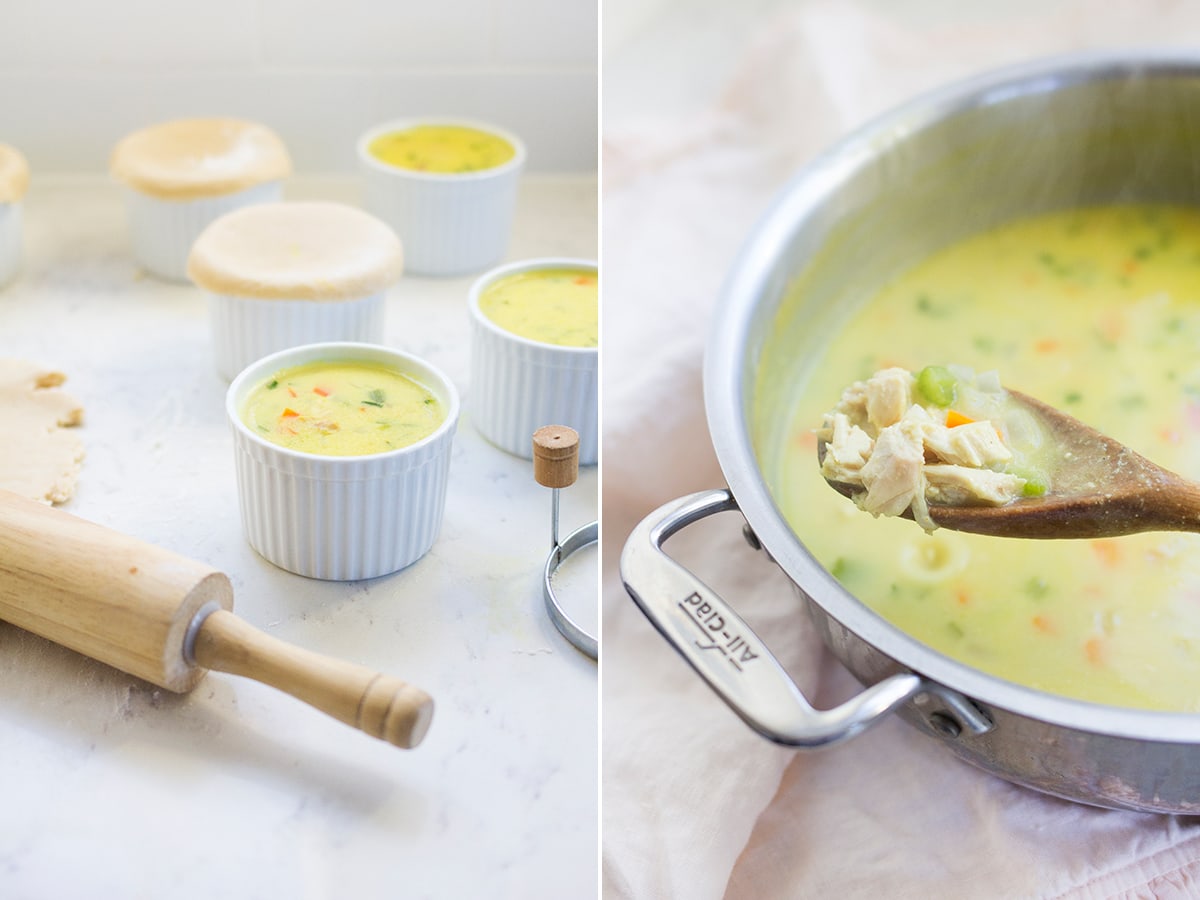 As for the filling, it's simple...really simple! Sautéed carrot, onion and celery...all of the usual suspects...get nice and saucy with plenty of chicken broth, cream, a splash of wine, and simple seasonings.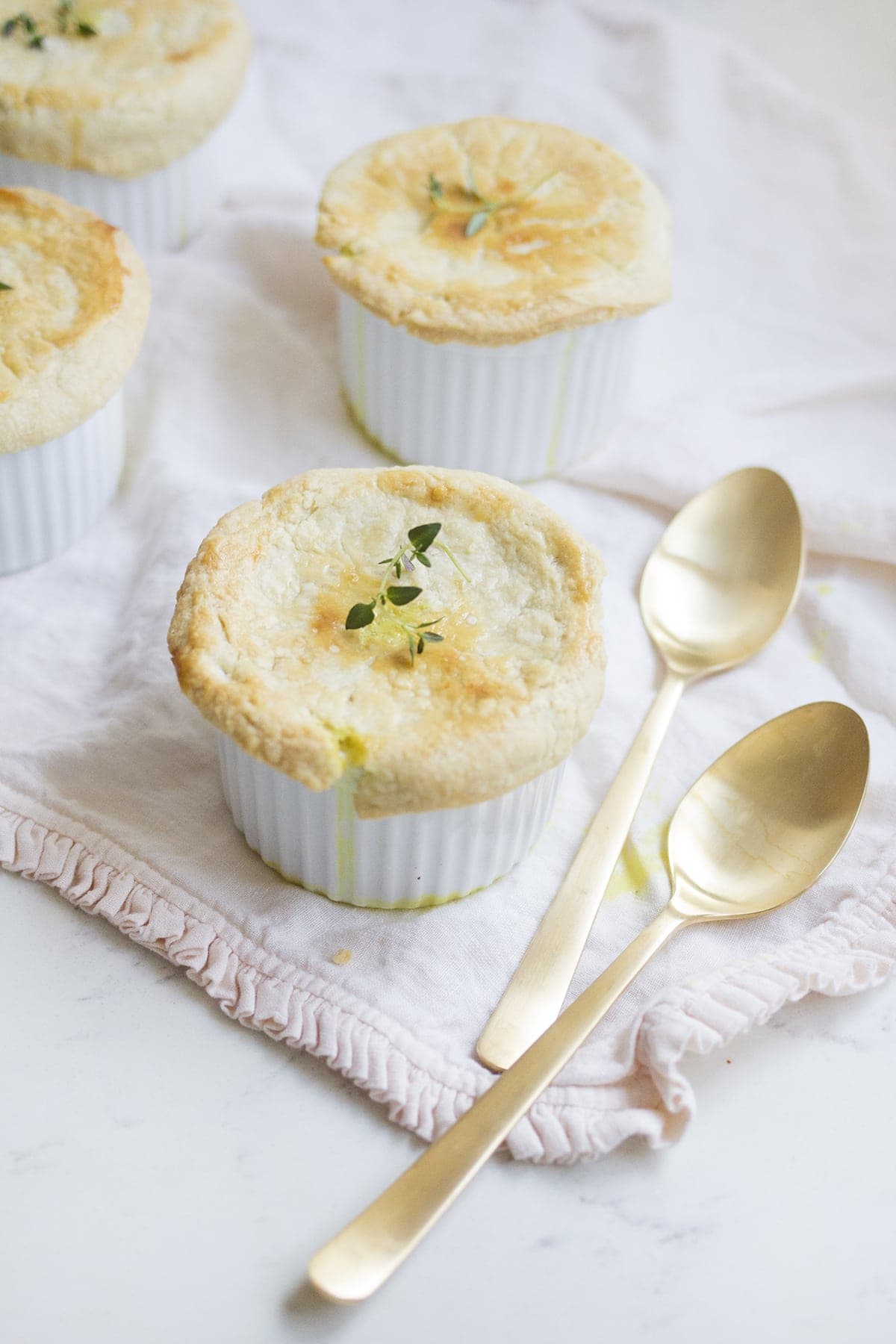 Fresh thyme is the secret ingredient, along with the wine, which makes these little pies tastes like pure comfort. Jason and the babies gobbled it up!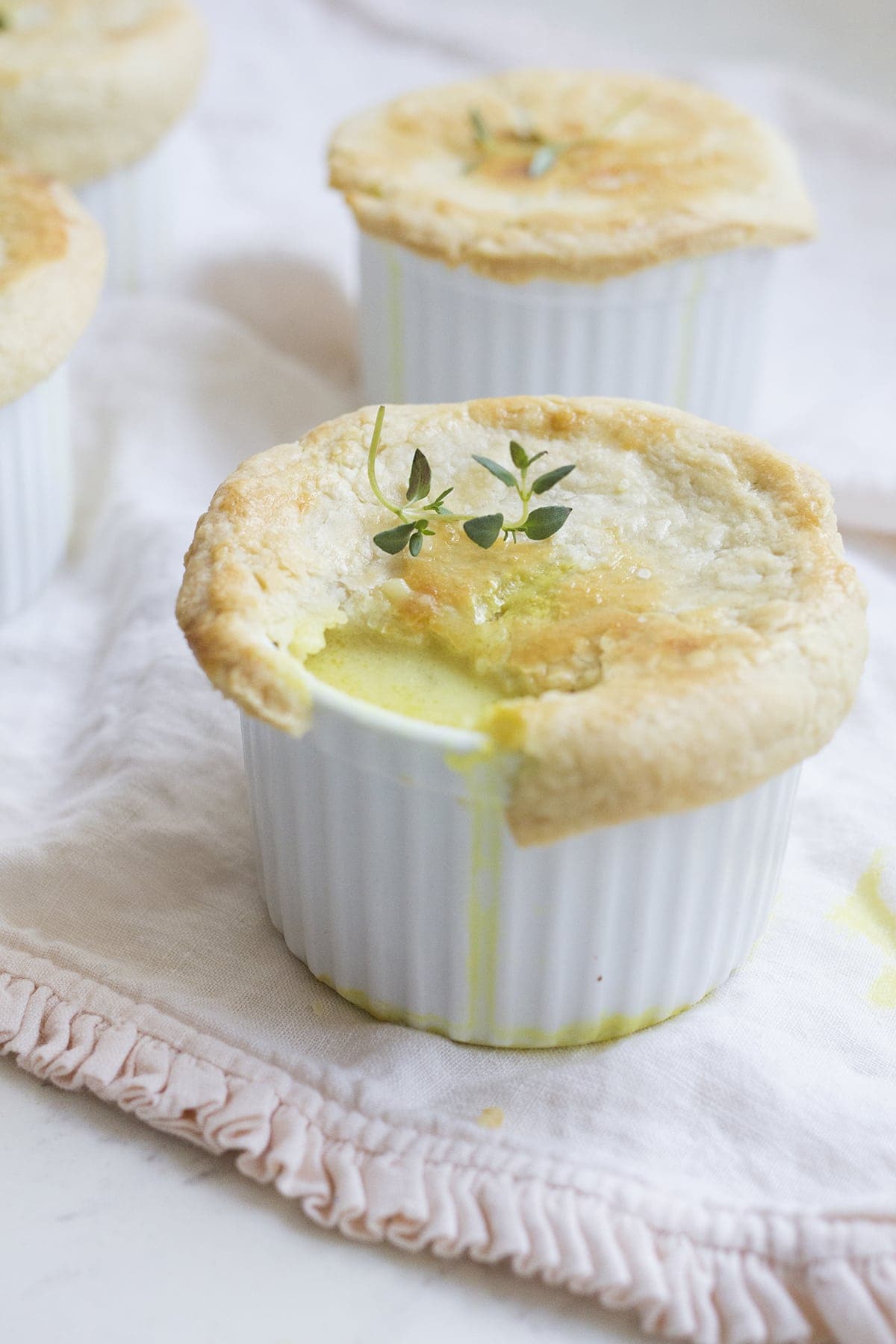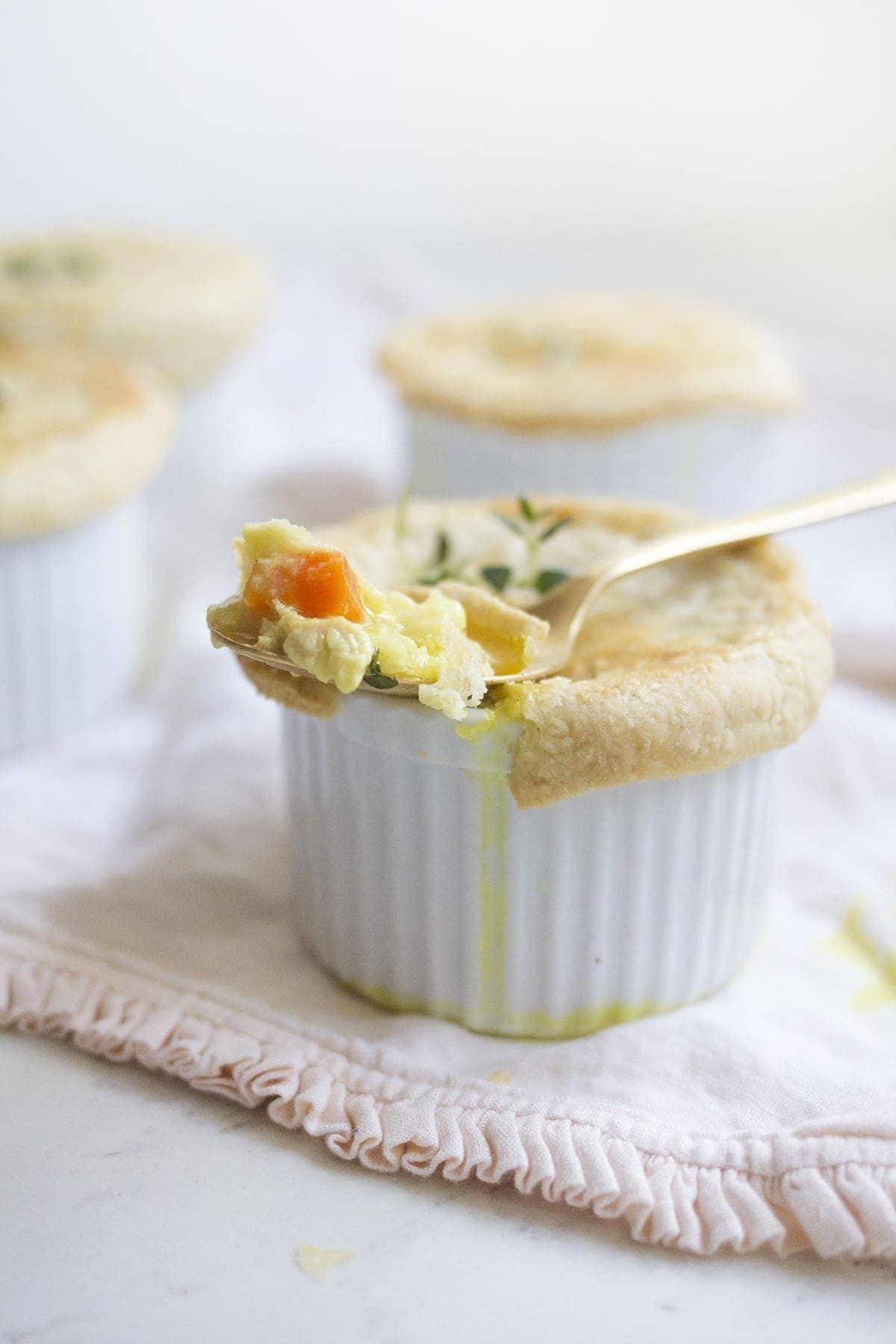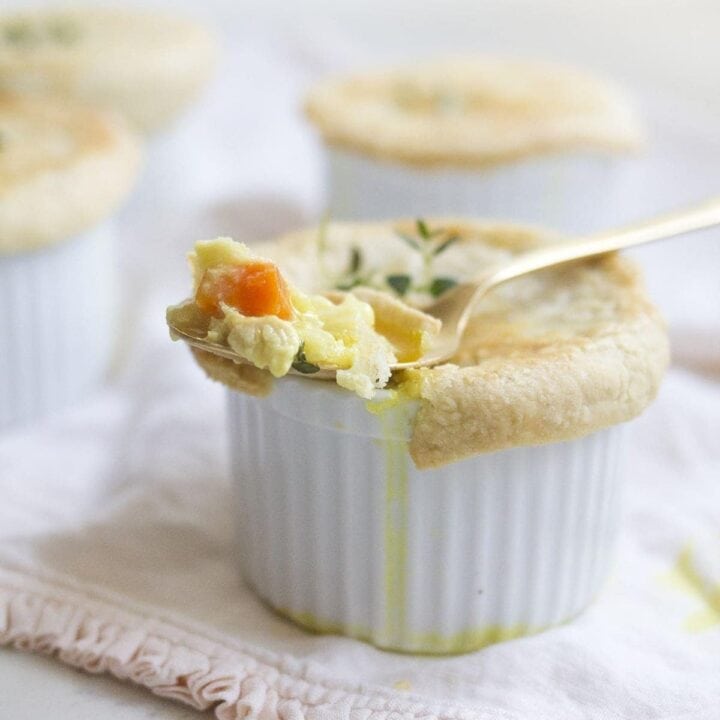 Personal Chicken Pot Pies
Prep Time:
1 hour
30 minutes
Homestyle and from scratch, individual chicken pot pies.
Ingredients
7 Tablespoons Butter
1 cup Diced Onion
1 cup Diced Carrot
1 cup Diced Celery
5 cups Diced Roasted Chicken
½ cup Flour
5 ½ cups Low-sodium Chicken Broth
¼ cup White Wine
¼ teaspoon Turmeric
Salt And Pepper, to taste
1 Tablespoon chopped Fresh Thyme
½ cup Half-and-half + 1 tablespoon reserved
1 Unbaked Pie Crust, recipe follows
1 Egg
Pie Dough:
2 ⅓ cups flour
⅓ cup cold Crisco
⅓ cup + 3 tablespoon cold salted butter
¼ cup cold milk, more or less
Instructions
Roast Chicken:
Preheat oven to 350. On a rimmed baking sheet arrange a
cut-up whole chicken, bone-in, skin on. Drizzle with olive oil and sprinkle with season salt and black pepper. Roast for 35-40 minutes or until chicken is cooked through and the juices run clear.
Remove from oven and allow to cool completely. After the chicken has cooled, remove skin and bones and chop into
large chunks. Set aside.
Pie Dough:
Cut shortening and butter into flour using a pastry cutter
until the mixture is granular. Add in milk and work together with your hands until dough comes together.
Turn out onto a floured board and gather into a ball. Flatten into a round, wrap in plastic wrap and chill until ready to use.
Assemble the Pot Pies:
Preheat the oven to 375 F.
In a large pot, melt the butter over medium-high heat. Add
the onion, carrots, and celery and cook until onions begin to turn translucent, about 3 minutes.
Stir in the chicken and then sprinkle the flour over the
top. Stir until all of the chicken and veggies are coated in flour and cook 1 minute.
Pour in the chicken broth and wine and cook stirring until
it begins to thicken, about 5 minutes.
Once it starts to thicken add the turmeric, salt, pepper,
and thyme.
Stir in the half-and-half and continue cooking until it
thickens further, about 3 minutes.
Pour the filling into 7 ramekins. Roll out the pie crust to
¼" thick on a floured surface. Cut rounds of pie dough large enough to hang over the edge of ramekins. Press the dough so that the edges stick. Use a knife to cut one little slit in the top of each pie crust.
In a small bowl, mix together the egg with reserved
half-and-half and brush it over the surface of the crust. Sprinkle with a little coarse sea salt.
Place the pot pies on a rimmed baking sheet and bake for 25
to 30 minutes, until the crust golden brown and the filling is bubbly.
Nutrition Information:
Yield:

7
Serving Size:

1
Amount Per Serving:
Calories:

958
Total Fat:

51g
Saturated Fat:

21g
Trans Fat:

1g
Unsaturated Fat:

26g
Cholesterol:

195mg
Sodium:

560mg
Carbohydrates:

70g
Fiber:

4g
Sugar:

6g
Protein:

51g
Save