Whatever the occasion—Super Bowl Sunday, the Oscars, happy hour—it's hard to find an appetizer more crowd-pleasing than pigs-in-a-blanket! The standard hot dog combo is a no-brainer but I decided to put a fun-and-fresh "Freutcake" twist on the classic recipe. The result: Highbrow Lambs-In-a-Blanket featuring merguez sausage, puff pastry and homemade harissa mustard.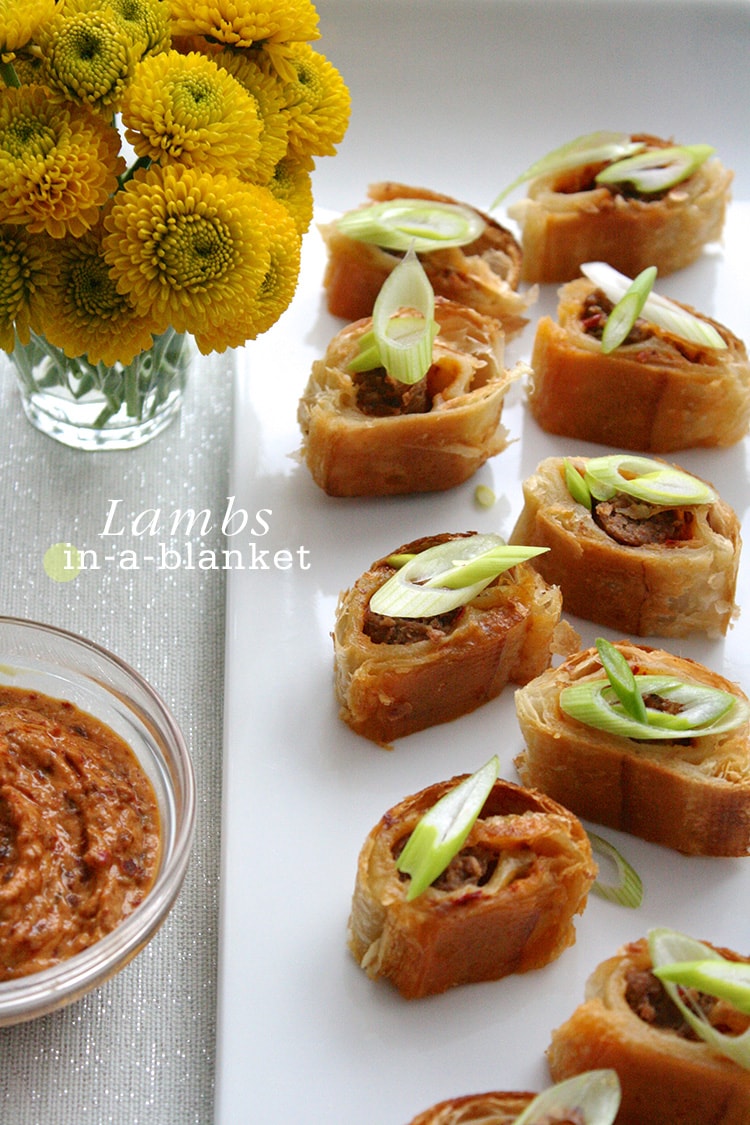 These ingredients may sound super exotic but chances are they're hiding right in your grocery store. They're the components of a sandwich I used to order at the flea market while living in Paris, called le Merguez Frites. Here, puff pastry takes the place of crusty baguette. The merguez is simply spicy North African lamb sausage—many US sausage companies make their own version now. Can't find it in the meat aisle? Ask you local butcher or purchase it online from D'Artagnan.
For those who haven't stumble upon Harissa yet, it's a delicious hot chile sauce—and hyper popular street food condiment—that's thick, sticky and slightly sweet. If you can't find it, try using sambal oelek instead (or make your own, I've had great success with this Saveur magazine recipe).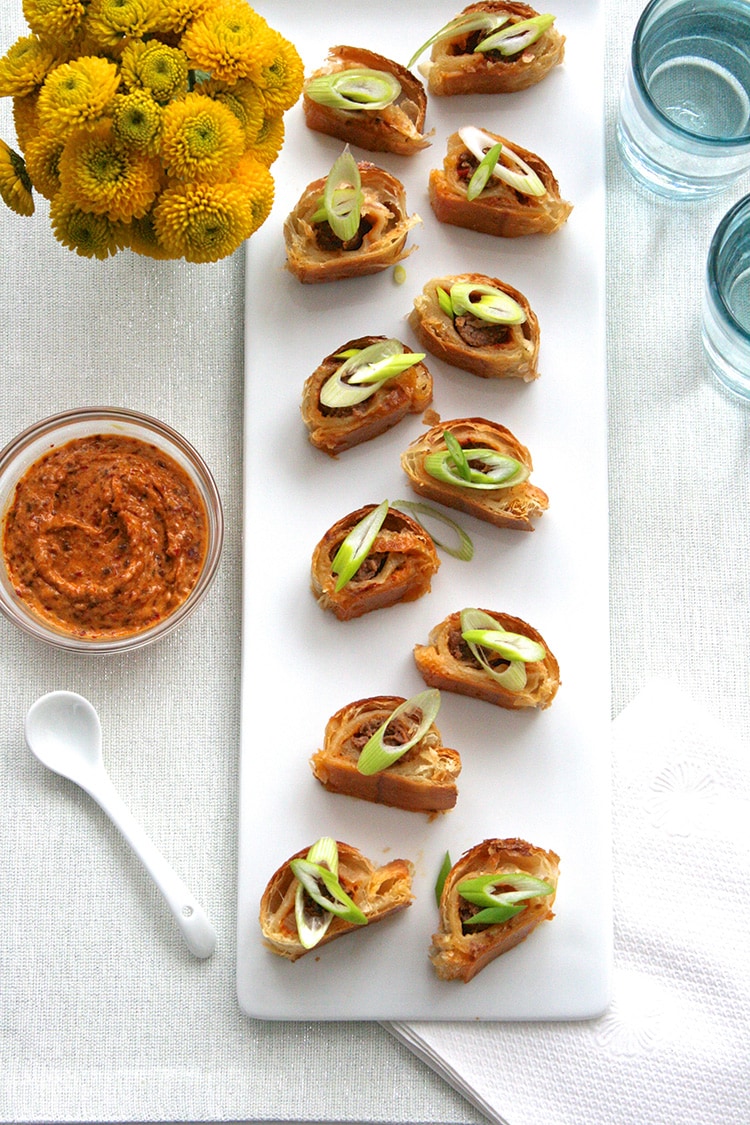 photos by Erin Phraner
You can double the mustard mixture for a DIY dipping sauce to serve with the blankets, if you'd like. If you're willing to splurge on one extra ingredient, try topping with sliced scallions. These Frenchy, Moroccan bites are perfect paired with a light-bodied red wine, old-vine Zinfandel or lager beer...they may just be your new party staple!
5-Ingredient Lambs-in-a-Blanket
serves 8
1 ½ pounds mergeuz lamb sausage
2 (17.3-ounce) packages frozen puff pastry, thawed
¼ cup dijon mustard
2 tablespoons harissa
1 large egg yolk
Directions:
1. Preheat the oven to 400˚F. Line a baking sheet with parchment paper or a silicone mat.
2. Cut the merguez sausage into 9-inch lengths. Cook the merguez in a large skillet over medium heat, turning, until browned on all sides, about 10 minutes.
3. Meanwhile, stir together the mustard and harissa in a small bowl; set aside.
4. One at a time, unfold the puff pastry on a cutting board and cut the square (about 9-inches) in half to make two rectangles. Spread some mustard mixture on the puff pastry. Put 1 sausage on each puff pastry rectangle and tightly roll up; transfer to the prepared baking sheet, seam-side down.
5. Beat the egg yolk and 1 tablespoon water in a small bowl. Brush the egg wash all over the puff pastry logs. Bake until puffed and golden, 13 to 15 minutes. Let cool slightly on the baking sheet, then transfer to a cutting board and carefully slice into pieces. Serve on a platter with more mustard mixture (and/or sliced scallions), if desired.