Let's face it, fava beans have a creepy reputation, am I right? I've seen them at the Farmer's market but have honestly never cooked with them until this spring.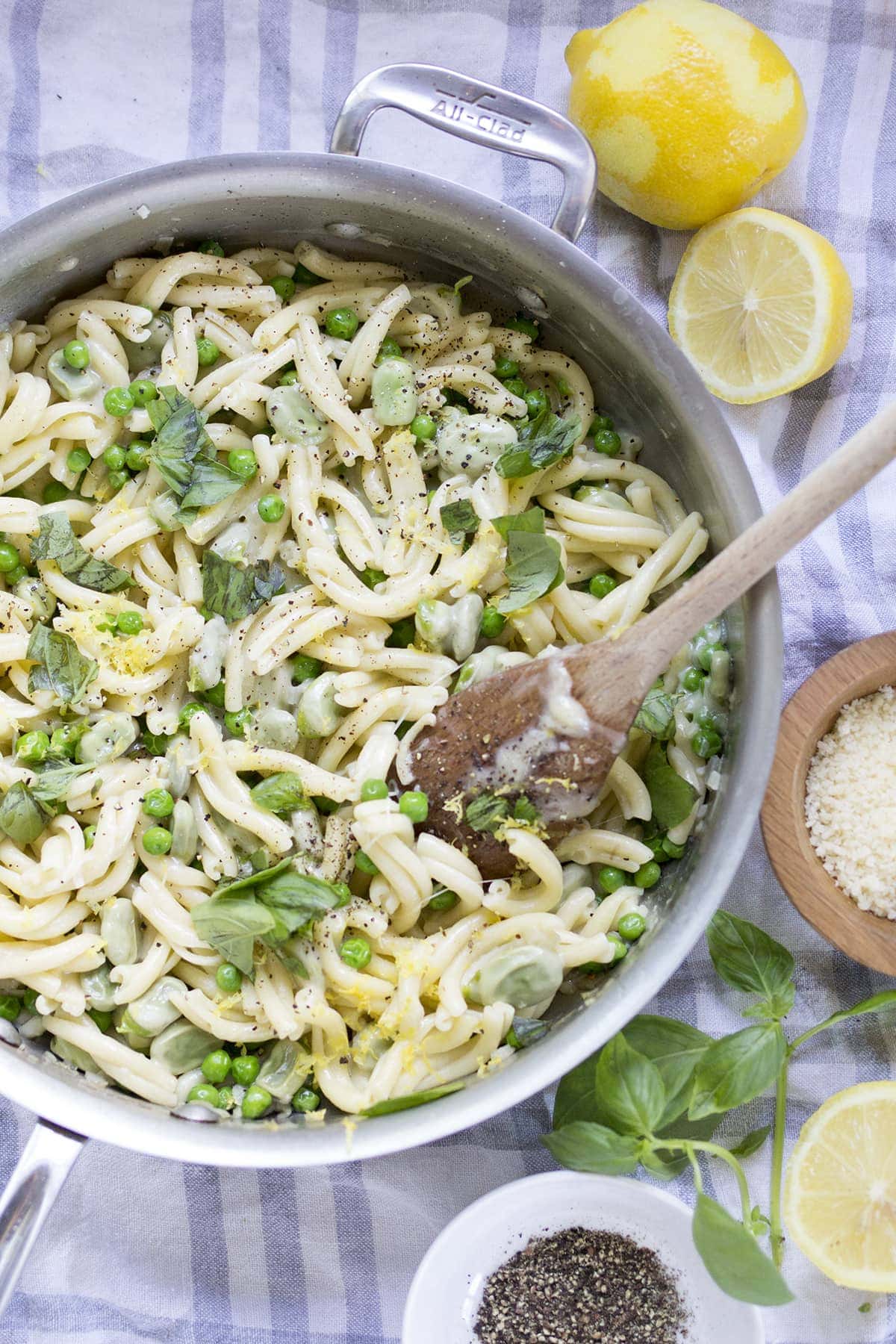 The shucking was the best part! It's fun to peel and pull out all of the individual beans and if you have children to help, I say put them to work! The twins are still a bit young to be really useful as bean shuckers but believe me, their day will come.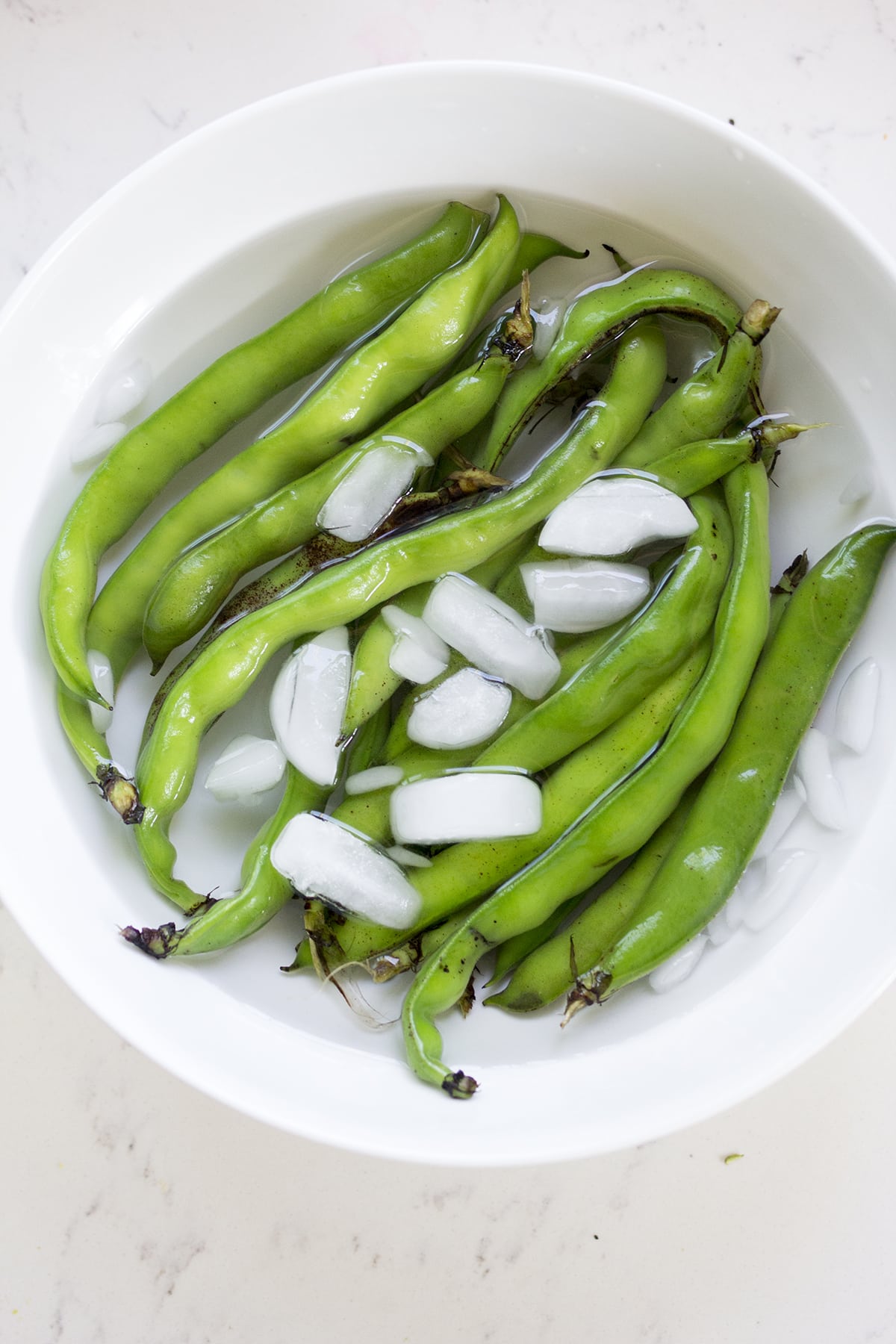 As for the actual favas, they're mild in flavor like a lima bean and add a really hearty quality to this pasta dish. I'm calling it Lemony Pasta with Fava Beans and Peas.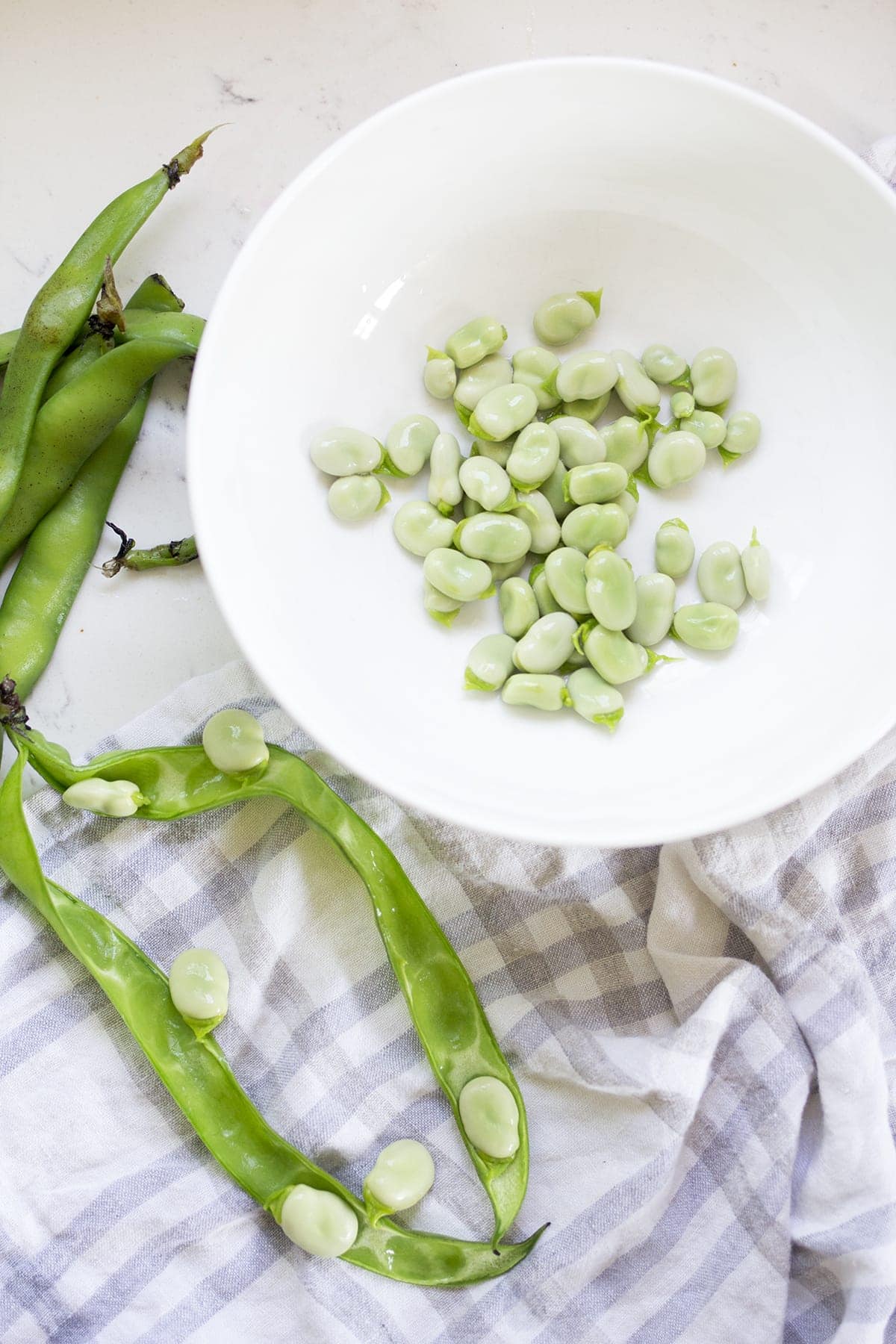 Topped with lots of cheese, lemon zest, freshly cracked pepper and basil, this dish is delicious and light in flavor with all of those beautiful fresh legumes and basil.
Lemony Pasta with Fava Beans and Peas
A fresh and lemony spring or summer pasta with fava beans and peas.
Ingredients
kosher salt
20 fava bean pods, roughly
1 cup frozen peas
½ pound of your favorite small pasta
extra-virgin olive oil
1 clove garlic, minced
2 tablespoons unsalted butter
½ cup grated parmesan cheese plus more for garnish
Freshly ground pepper
Zest of one lemon
Lots of fresh basil for garnish
Instructions
Fill a large bowl with ice water. Bring a large pot of salted water to a boil. Add the fava beans and cook 30 seconds. Drain and add fava beans to the ice water; let cool about 5 minutes. Bring a clean pot of water to a boil. Drain the beans and peel. Add the pasta to the boiling water and cook as the label directs. Reserve about 1 ½ cups cooking water, then drain the pasta.
Heat a swirl of olive oil and the minced garlic in a large skillet over medium heat. Cook, stirring about 30 seconds until fragrant. Add the favas and 1 cup of the reserved cooking water. Bring to a simmer and simmer on low until the favas are tender and the liquid is slightly reduced, 8 to 10 minutes. In the last couple of minutes of cooking, stir in the peas to cook with the means and add more water if needed.
Add the cooked pasta to the skillet, cooking and tossing until it absorbs some of the sauce, about 3 minutes. Stir in the butter, and parmesan cheese and salt and pepper to taste. Add more cooking water to loosen, if needed. Remove from heat and either transfer to a large serving bowl or serve in the pan. Stir in lemon zest and top with freshly ground black pepper, torn fresh basil and more parmesan cheese. Serve hot.