The weather is warming up quickly and I'm partnering with Pints and Plates to share my new favorite grilling recipe for easy summer entertaining. It's a twist on the classic Low Country Boil and pairs perfectly with the sweet, citrus flavors in Blue Moon Belgian White Belgian Style Wheat Ale.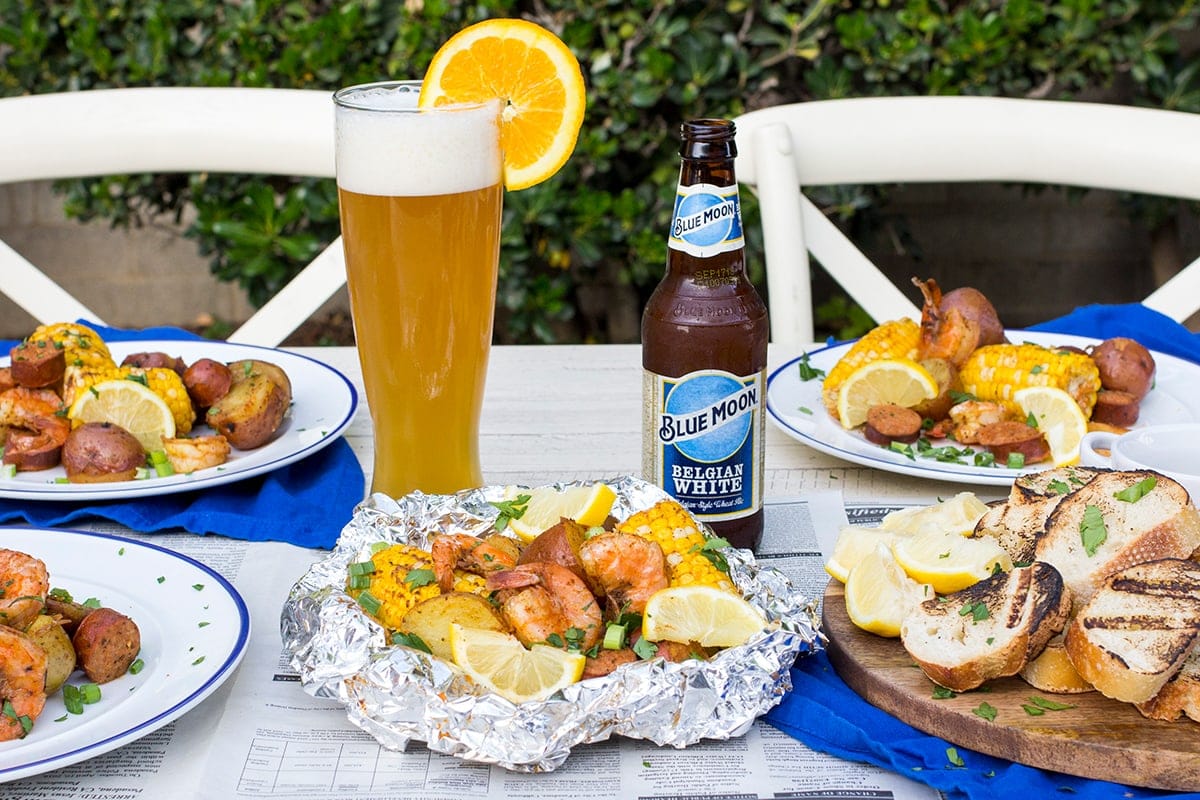 Last weekend I had friends over for a super casual grill-out. As you know, I love an easy entertaining recipe, nothing too messy or complicated and Low Country Boil Grill Packets are just the thing. Cooked in individual foil packets on the grill, this is an easy way to enjoy the classic flavors of a low country boil without all of the mess. Grill packets can be prepped the night before which leaves more time for enjoying the summer weather with friends and less time in the kitchen. To drink, cold glasses of Blue Moon Belgian White garnished with an orange. Serve the beer in Weizen glasses with an extra squeeze of orange to boost the citrus flavor and showcase the beautiful summery color. The large top of the Weizen glass allows room for the perfect foam head you look for with Blue Moon, which also releases the citrus aromas of the beer! These citrus notes compliment the creole flavors of this boil, the spiciness of the Andouille sausage and natural sweetness of the shrimp. It's the perfect summer pairing!
Here's what you'll need to get grilling: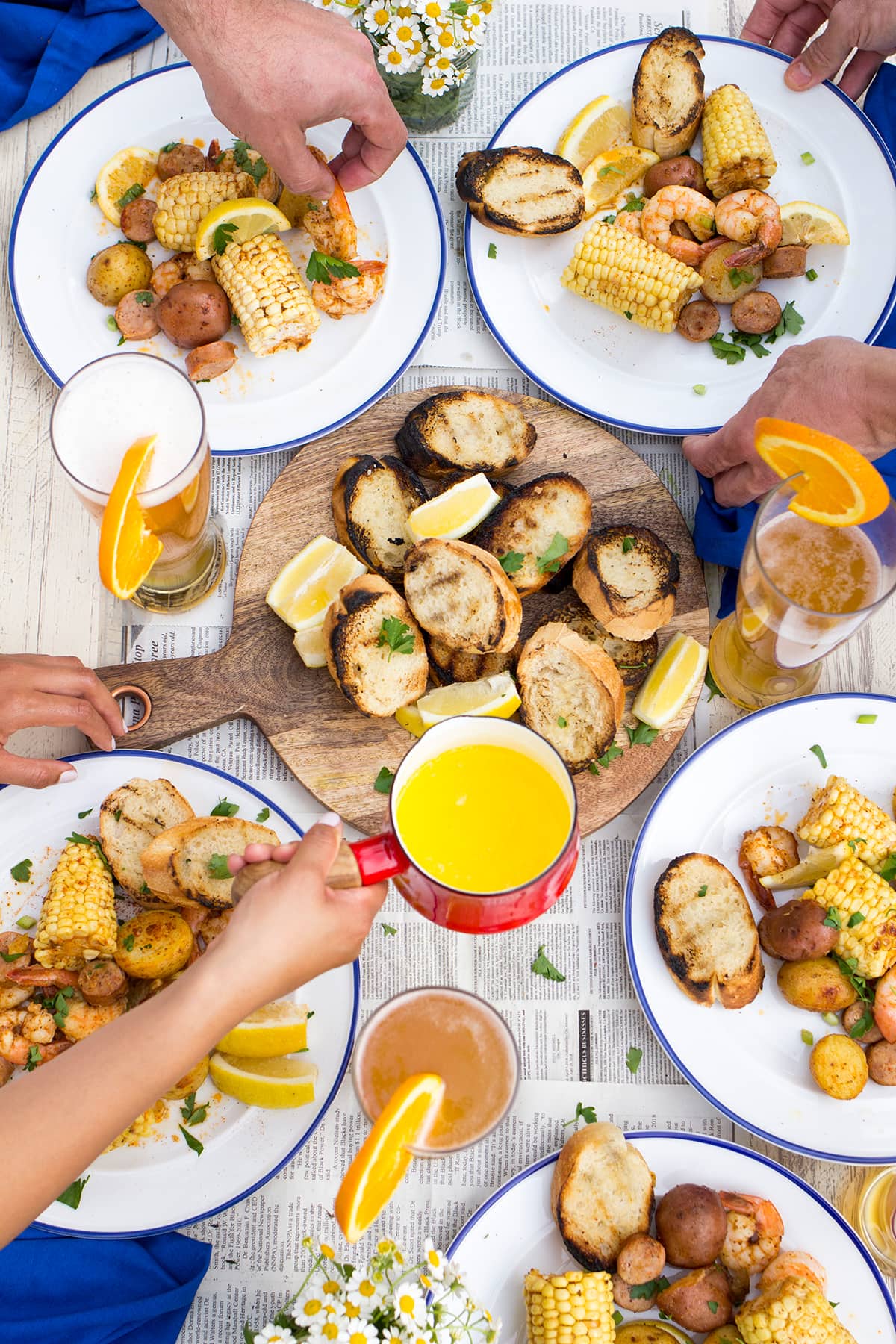 STEP 1: Set the table. Traditionally with a Low Country Boil, the table is lined with newspaper to catch the drippings and shells. With this twist on the classic boil, we grill the shrimp, potatoes, corn and sausage in individual grill packets to make serving simple and less messy for guests. However, adding newspaper to the table is still a nice touch to give it that low country feel. Simple blue and white plates as well as blue napkins bring home the boil theme. To serve with the seafood, a rustic loaf of country bread or grilled baguette is a nice addition. Also, fresh parsley, melted butter for dipping, lemon wedges and more Old Bay seasoning complete the table. The foil packets make cleanup simple which is perfect for laid-back summer entertaining. No large boil pots required!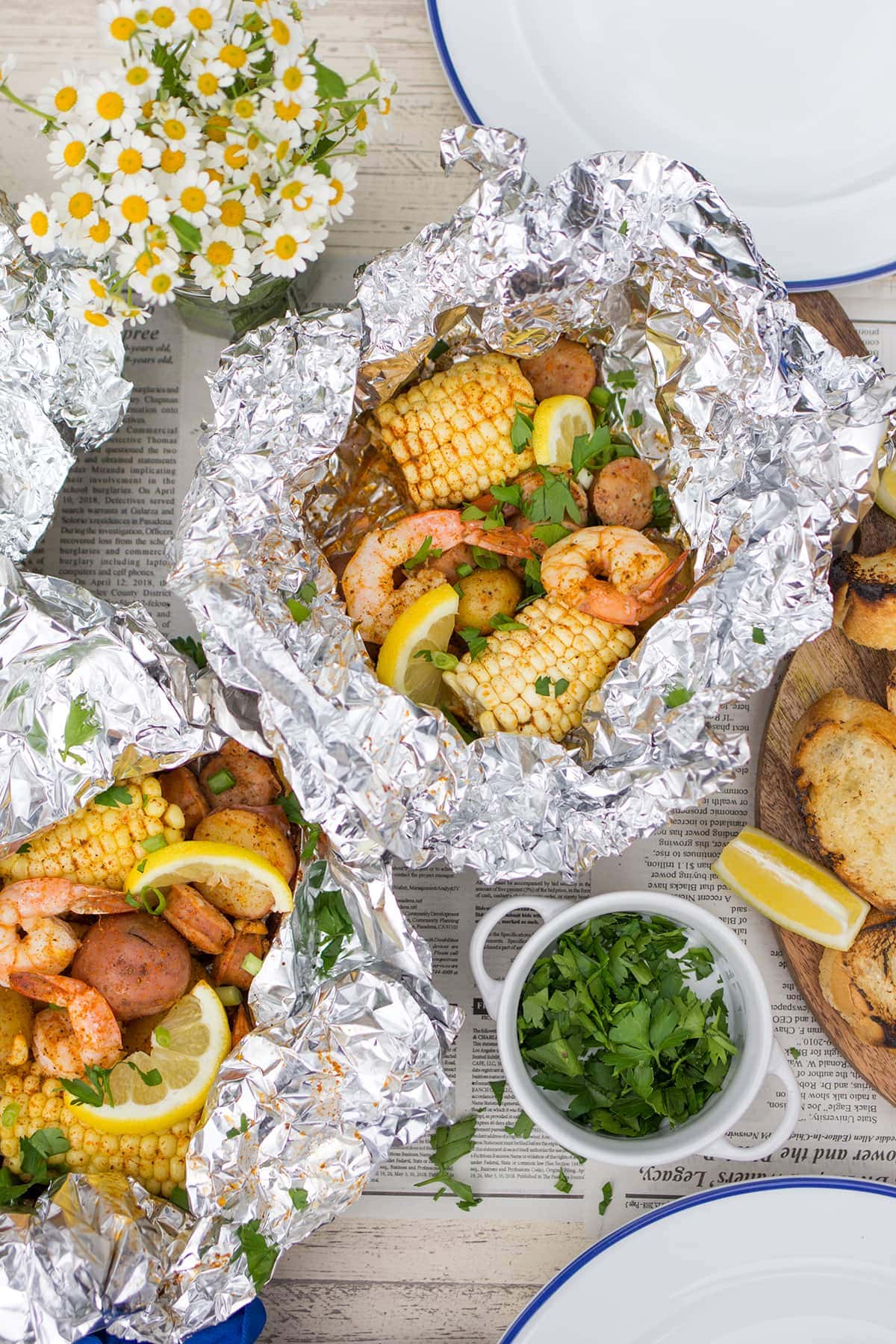 STEP 2: Prepare the grill packets. (recipe to follow) This recipe couldn't be more simple! Shrimp, parboiled potatoes, corn, butter and seasoning get divided up between large pieces of foil and folded into packets. Packets can be assembled the night before and stored in the fridge to save time. Or, if you want a more hands-on experience, let guests make their own packets, filling them with the ingredients they love. Now it's time to light the grill!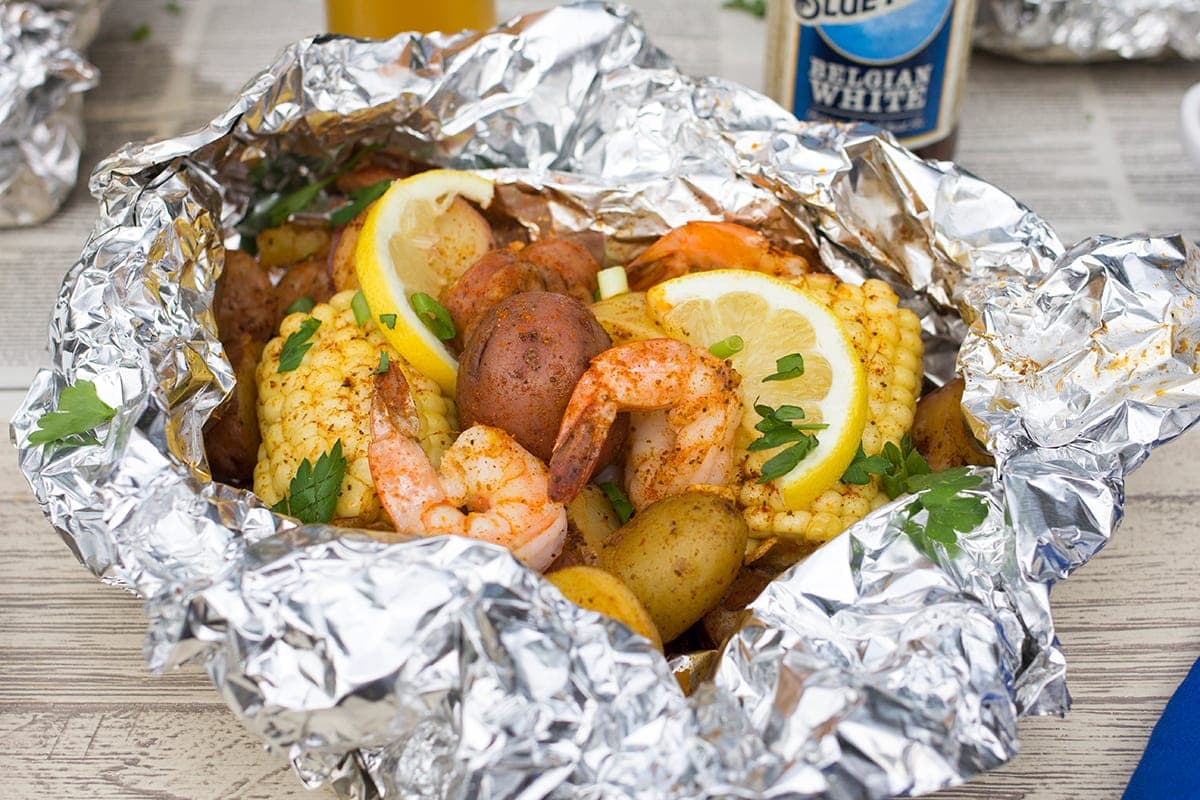 STEP 3: Grill. In just 15-20 minutes, your packets will be bubbling and the contents perfectly cooked. Use a set of tongs to place the packets down the center of your table and carefully peel open the foil. Guests will love how fragrant and pretty these packets turn out! Big chunks of buttery corn, spicy sausage and perfectly juicy shrimp, not to mention those creamy new potatoes. Garnish the packets with a sprinkle of fresh chopped parsley, green onions and fresh lemon slices. Yum!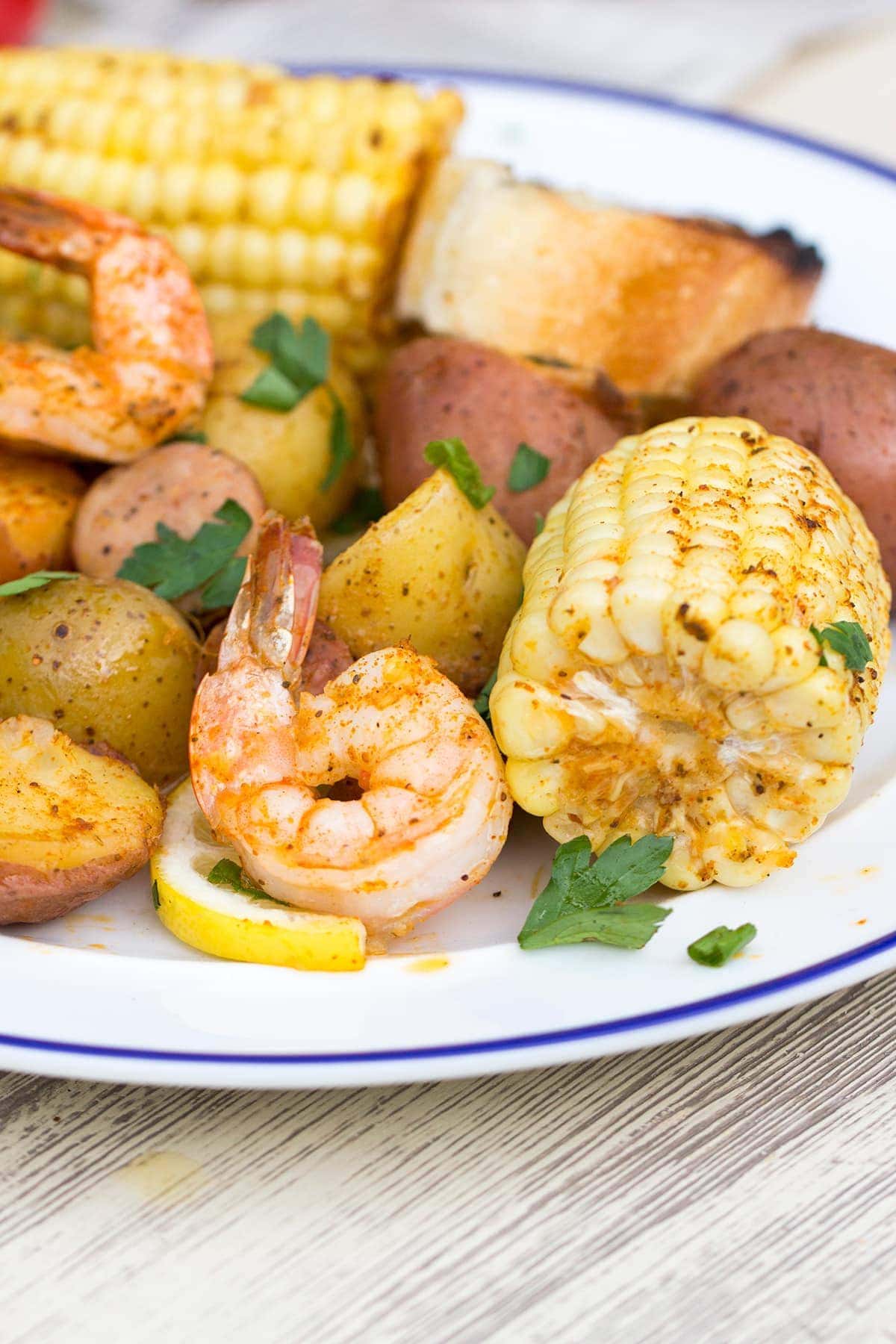 STEP 4: Pour chilled Blue Moon Belgian White into tall Weizen glasses and garnish each with an orange wheel. An extra squeeze of orange in the beer brings out the citrus flavors and the wide rim of the Weizen glass allows for the nice foam head. Make sure each guest has a beer, a grill packet, and a plate. It's time to eat!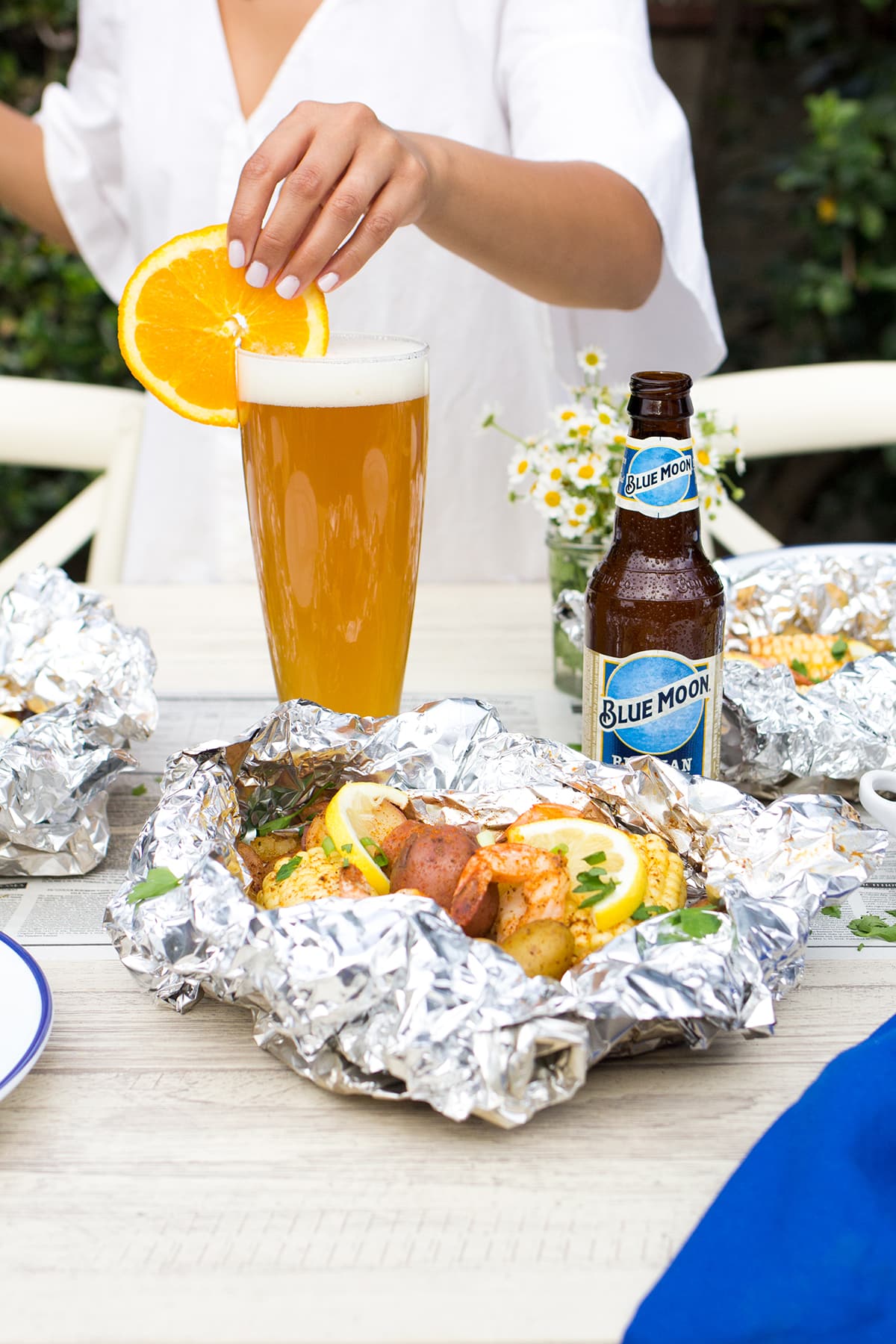 You and your friends will love this summer pairing and how effortlessly it all comes together. This new twist on an American classic low country boil will be your new favorite way to entertain. Cheers!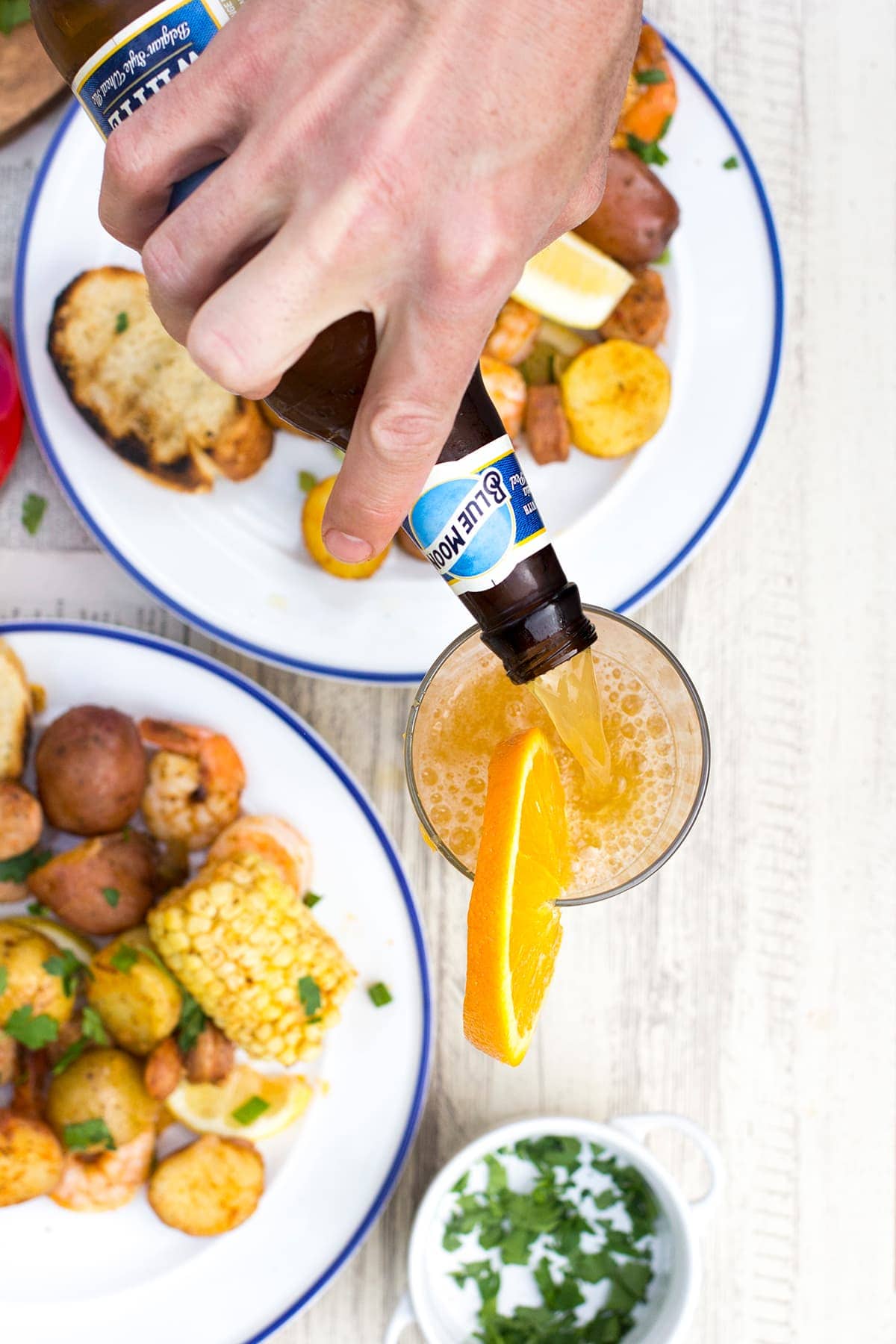 Disclosure: This content is sponsored by Pints and Plates.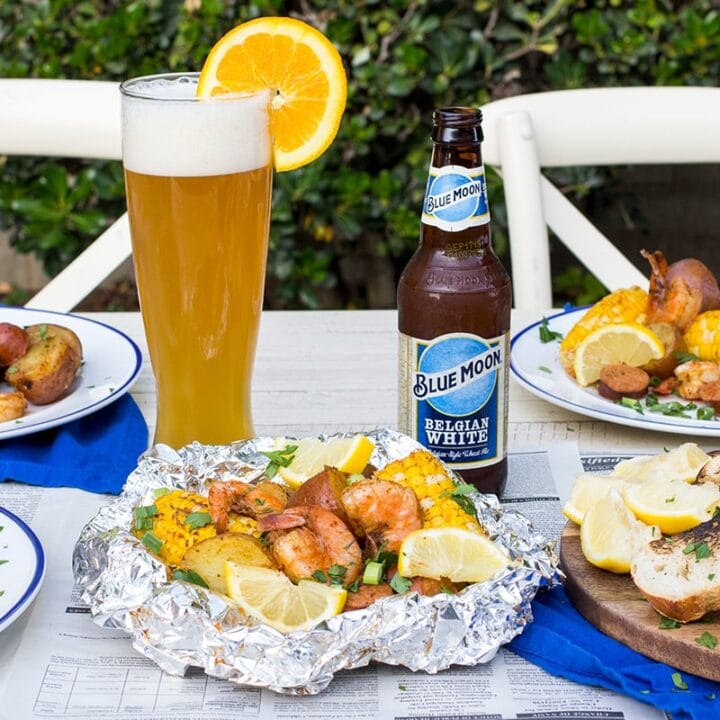 How to Host a Low Country Boil
Ingredients
18 (about 1 pound) small new potatoes
24 jumbo shrimp
10 ounces andouille sausage, sliced ¼-inch thick
4 ears corn, husks removed and cut into thirds
4 tablespoons melted unsalted butter
2 tablespoons Old Bay or crab boil seasoning
½ teaspoon kosher salt
6 tablespoons green onion, sliced thin
3 tablespoons parsley, chopped
6 lemon wedges
Instructions
Bring a pot of water to a boil and boil potatoes for 8 minutes or until slightly tender yet not completely cooked. Drain potatoes and allow to cool.
In a large bowl, toss to combine potatoes, shrimp, sausage, corn, butter, seasoning and salt.
For each grill packet, place 2 16-inch-long sheets of heavy-duty foil on top of each other (12 sheets total for 6 packets). Divide the shrimp mixture between the 6 servings and place on the center of each foil stack. Fold up the edges of the foil and seal into packets.
Preheat a gas or charcoal grill to medium high. Place the packets on the grill, cover and cook for 15-20 minutes until the shrimp are opaque and cooked through.
Carefully open the packets and garnish each serving with an equal amount of onion, parsley and lemon.
Notes
Can also be cooked in a 425 degree preheated oven for 25-30 minutes!