When it comes to Thanksgiving pies, I'm a pecan girl. I go nuts for the deliciousness of that sticky and sweet filling chock-full-of pecans and little crispy bits of caramelized sugar. This Thanksgiving I'm out to change the minds of all those pumpkin pie lovers. I'm officially recruiting for "team pecan pie" and making mini Bourbon Chocolate Pecan Pies for my guests.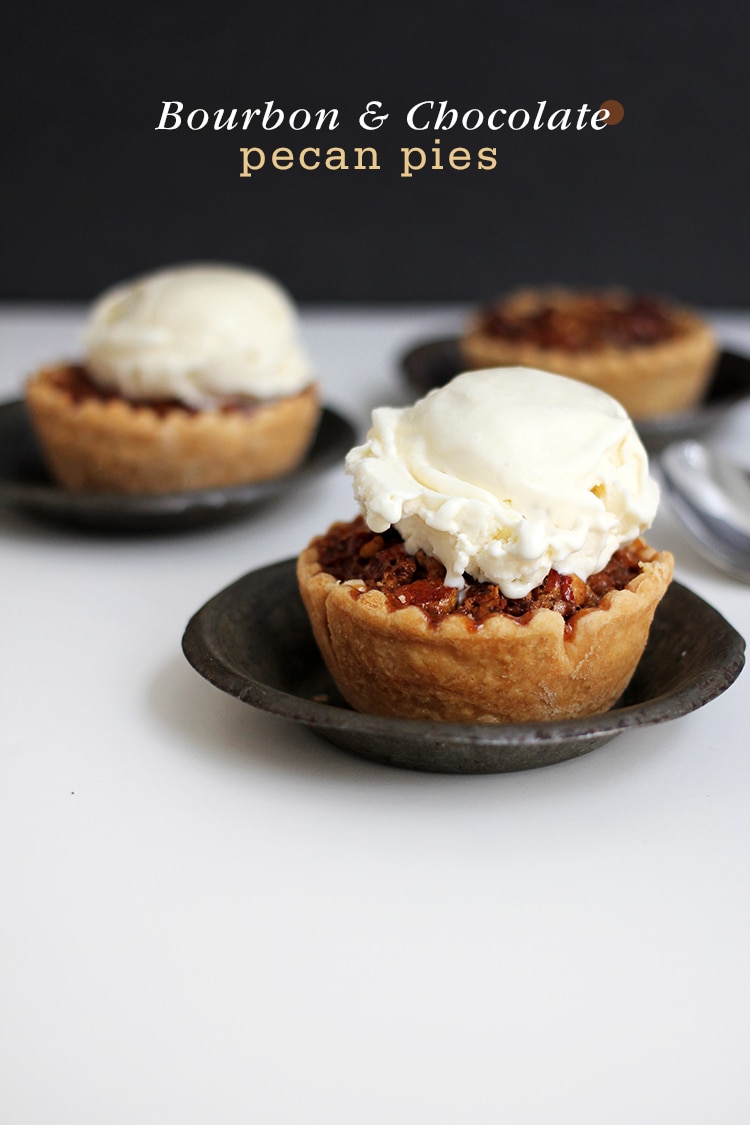 Yes, It's like Twilight all over again and you had better be on team Jacob...I mean team pecan. You get the picture, now back to the pies.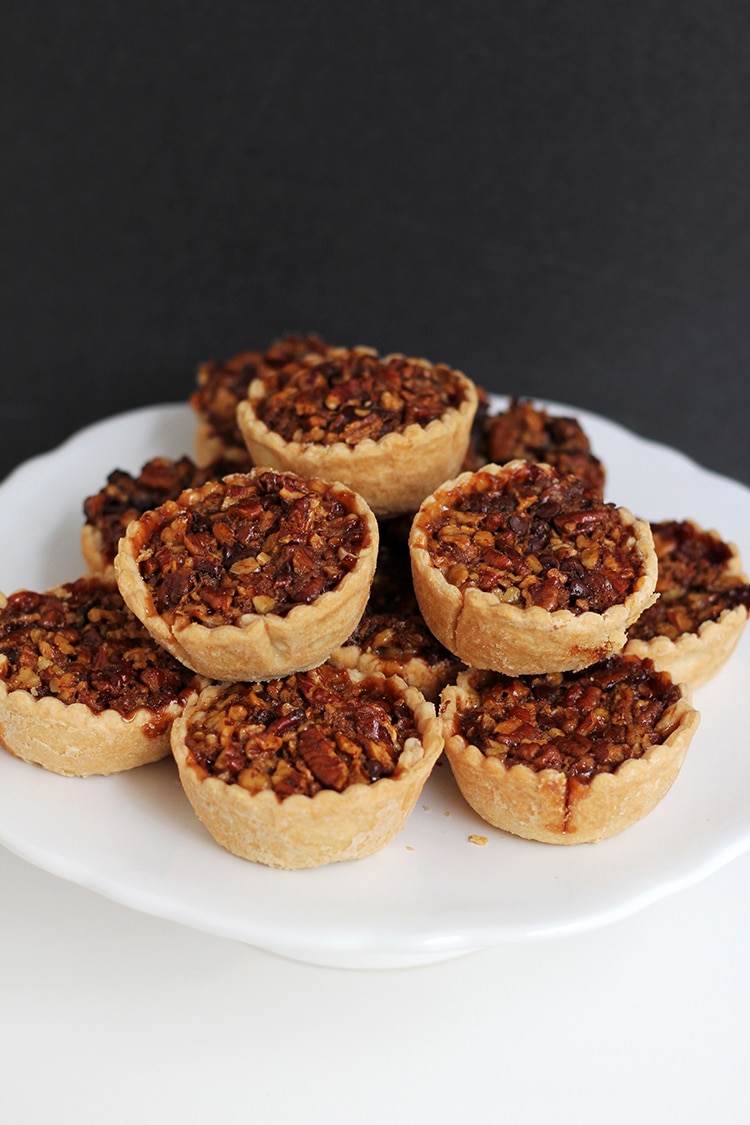 This year, as you decide what pie to make for your Thanksgiving dessert, consider baking mini Bourbon Chocolate Pecan Pies. Your guests are sure to go crazy for these boozy, chocolatey, and all together nutty pies! We'll have the pumpkin lovers converted in no time. Who's with me?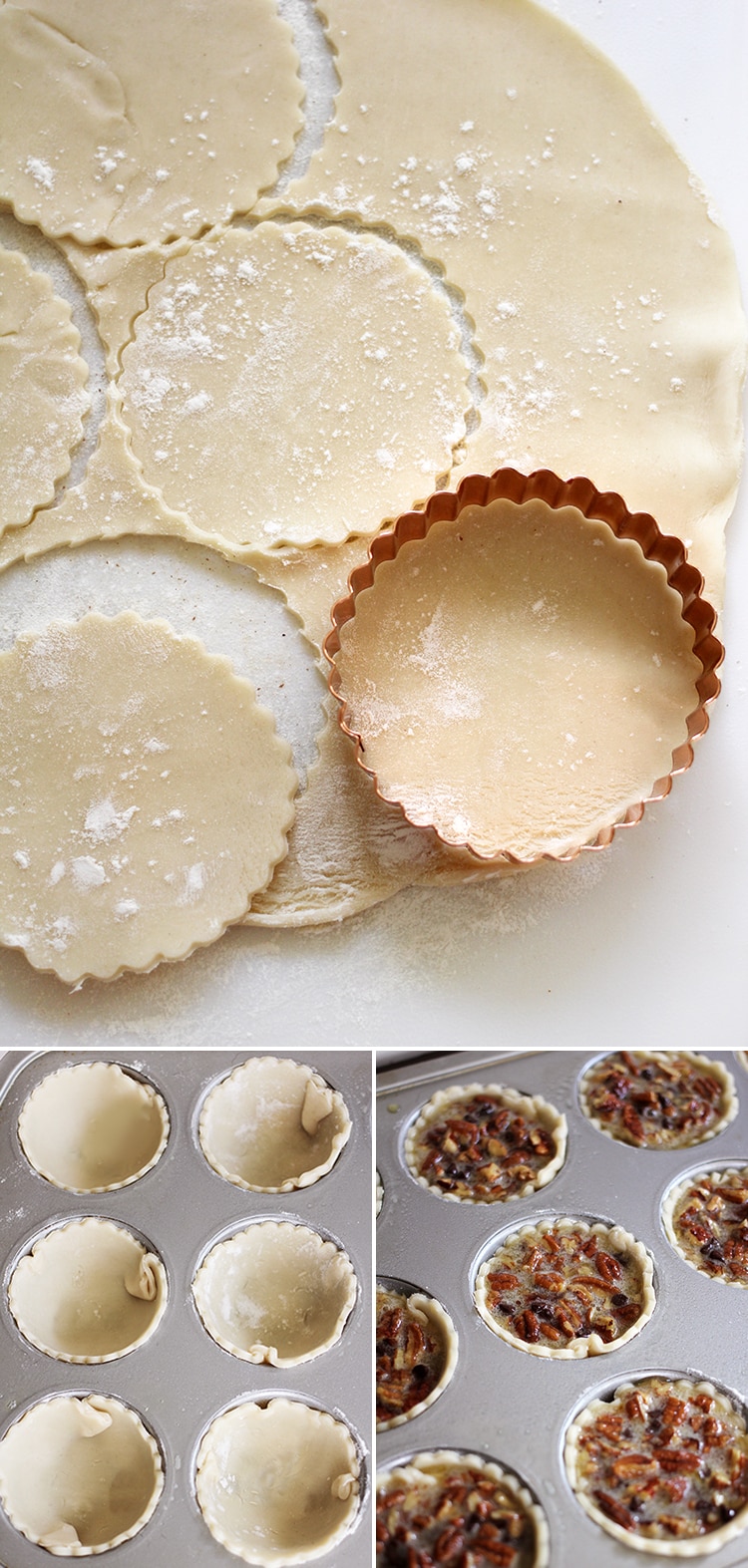 Mini-Bourbon Chocolate Pecan Pies
makes 16
1 cup light corn syrup
3 eggs
1 cup sugar
2 tablespoons butter, melted and cooled
1 teaspoon pure vanilla extract
2 tablespoons Bourbon
¼ teaspoon salt
½ cup mini chocolate chips
1-½ cups (6 ounces) pecans, chopped small
1 package store-bought (2) pie crusts
Directions:
1. Preheat oven to 350°F. Spray and flour two standard sized muffin tins. Note: Use non-stick cooking spray and dust well with all-purpose flour to prevent pies from sticking. You will only need to spray 16 cups total.
2. In a large bowl mix corn syrup, eggs, sugar, butter, salt, bourbon and vanilla using a wooden spoon. Stir in pecans and chocolate chips. Set aside.
3. On a floured board unroll pie dough and cut out 16-rounds using a 4.5" cookie cutter. Note: I used a cookie cutter with a scalloped edge. Keep gathering up dough scraps and re-rolling until you have cut out 16 total.
4. Gently press dough rounds into prepared muffin tins. Fill each cup with pie filling. Important: DO NOT OVERFILL. Leave about ¼" space at the top as pies will bubble and puff. (picture shown above is too full)
4. Bake on center rack of oven for 40-45 minutes. Pie is done when center surface springs back when lightly tapped. Allow pies to cool for 5 minutes. Using a butter knife, loosen edges and remove pies to baking rack to cool completely.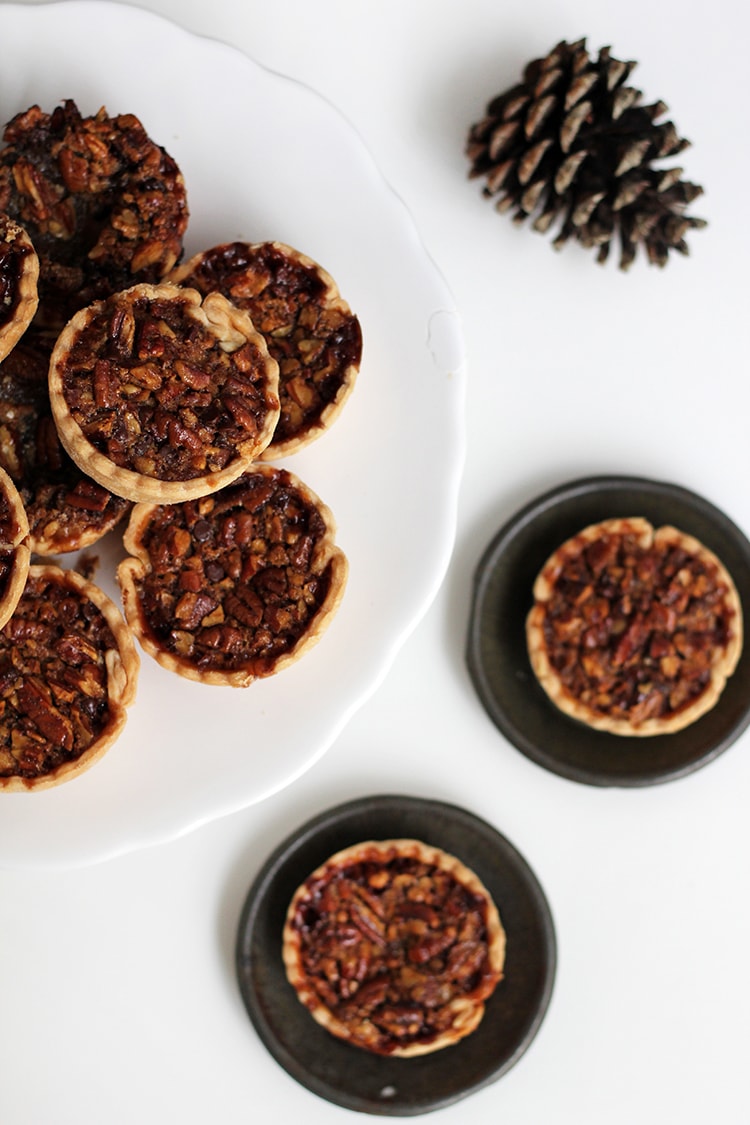 photos by Leah Bergman
Freutcake Note: In all honesty my first batch of these little pies was a complete disaster to remove from the muffin tins! I filled them too full and as a result all of the filling stuck to the muffin cups. My second batch was a success however after I left a good ¼" for the filling to rise. They came out clean and easily after that! Enjoy.