I love baking in the fall; it's just that simple. There is a natural warmth of flavors, spices, and ingredients that lend themselves to this time of year. Like crisp apples and buttery caramel...the perfect combination of sweet and tart! These bites are like little caramel apples baked into a buttery piecrust and way to irresistible not to devour.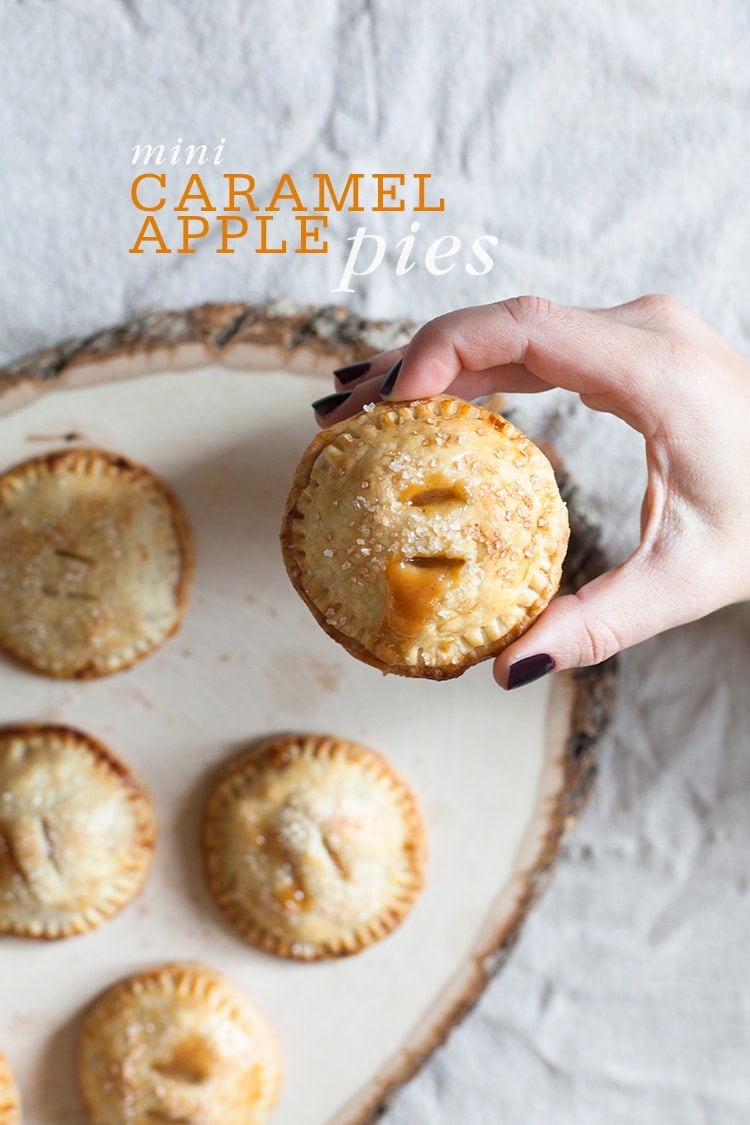 And because I take a shortcut and use store bough pie dough in this recipe, these little babies can be in your hands in no time at all! I would like to personally shake the hand of whoever dreamt up the caramel apple and then give them a Mini Caramel Apple Hand Pie as a token of my gratitude.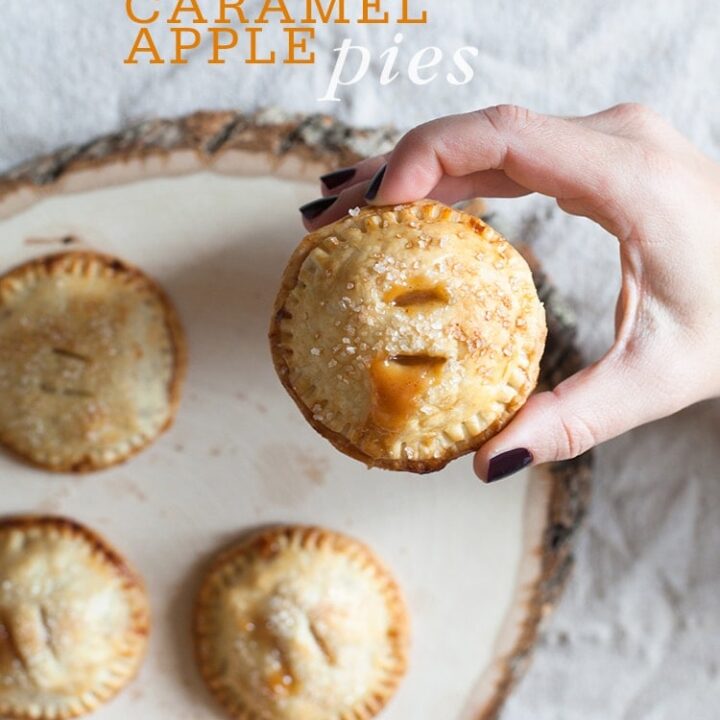 Mini Caramel Apple Hand Pies
Ingredients
1-box store-bought refrigerated pie crust (2 rolls) *I like to use Pillsbury
2 cups peeled and diced Granny Smith apples (about 3 apples, diced small)
2 Tablespoons all-purpose flour
1 teaspoon cinnamon
¼ cup sugar
10 store-bought soft caramels, cubed
½ lemon juiced
Egg wash (1 egg whisked with 1 Tablespoon water)
Crystal sanding sugar
Instructions
Preheat the oven to 425ºF and line a baking sheet with Silpat or parchment paper. Set aside.
In a small bowl, combine the diced apples, lemon juice, cinnamon, sugar and flour. Mix until apples are thoroughly coated. Set aside.
Unroll the pie dough onto a well-floured surface. Using a 3-inch circular cookie cutter or glass, cut out as many circles as possible. Using a rolling-pin, roll out the scraps and continue cutting out circles until you run out of dough.
Spoon 1 tablespoon of the apple filling into the center of half of the pie circles. Make sure to leave enough of a border around the filling to seal them shut. Do not overfill!
Top the apple filling with a few pieces of caramel.
Brush around the edges of the dough with a finger dipped in egg wash. This will be the "glue".
Place a second dough circle on top each filled circle then use a fork to crimp the edges together.
Brush each pie with the egg wash, and cut two vents on the top of each pie with a sharp knife. Sprinkle the pies with crystal sanding sugar and place on prepared sheet pan.
Refrigerate for 30 minutes.
Bake the pies for 15 minutes, or until they're golden brown. Enjoy!