When I think of traditional holidays like Easter, I immediately associate them with family recipes. In my family as well as my husbands, we have our fare share of easy (semi-homemade) dishes that have become known as Grandma classics. Jason's Nanie (nah-nee) has a saying for these types of dishes, "no te mates" which basically translates into "don't kill yourself" in Spanish. Nanie's Ambrosia Salad definitely falls under the no te mates category, but that doesn't keep the family from devouring it one fluffy spoonful at a time!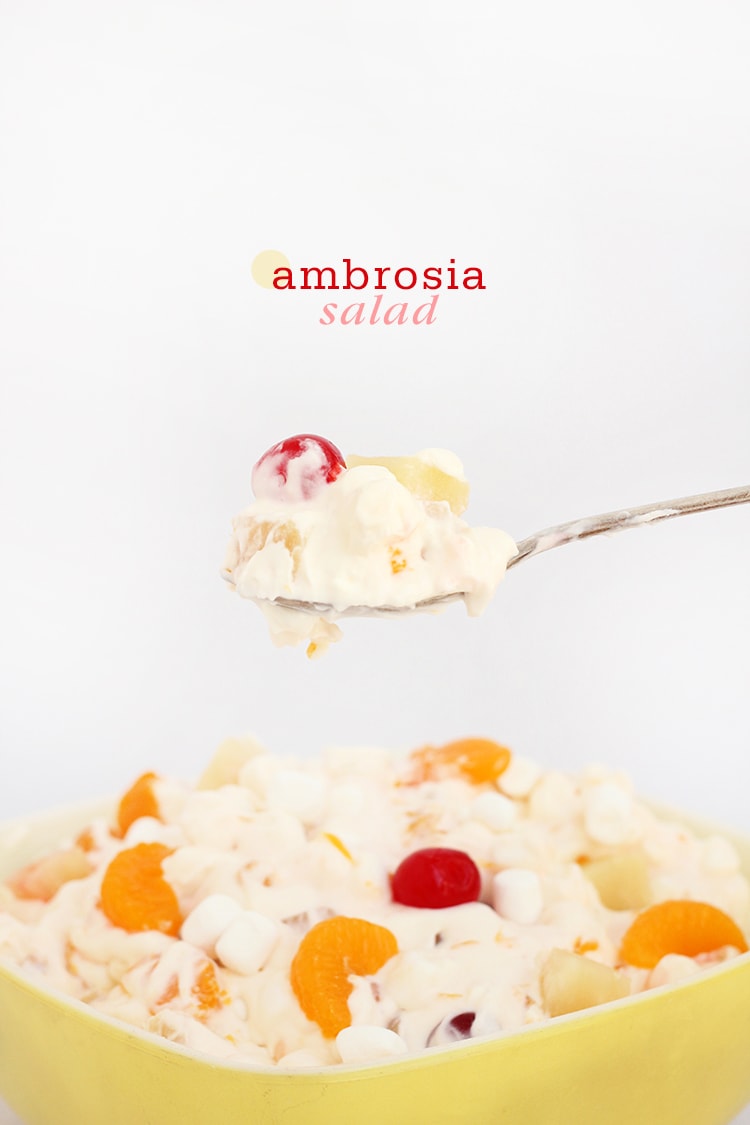 Before I get down to the super simple family recipe, let's just discuss Ambrosia for a second, shall we? Ambrosia salad is more of a dessert than any salad I've ever met, consisting of whipped cream, cream cheese, mini-marshmallows, and fruit. Some recipes may call for coconut or pecans but in this family, we don't mess around with nuts in our dessert!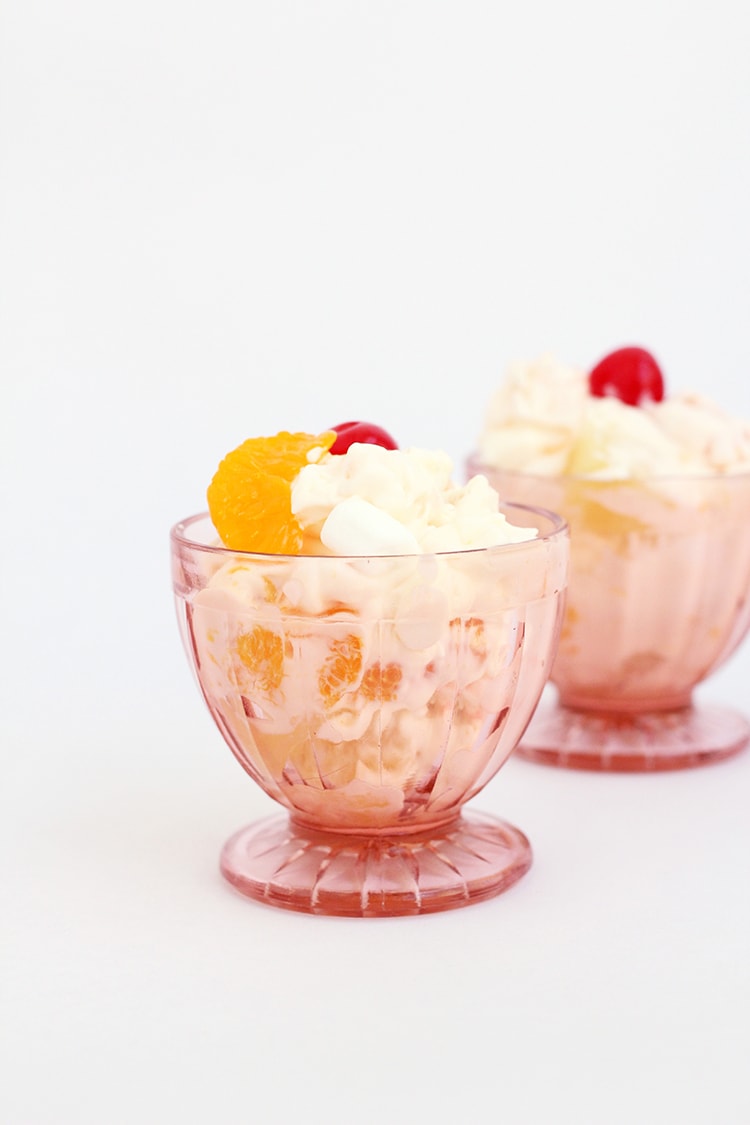 It's said that Ambrosia was the food of the Gods in Greek mythology. More like food of the Southern-American-housewife-goddess if you ask me! Either way, it's an American classic that I can't get enough of. Served along side your Easter ham or as a light dessert, Ambrosia is sure to be a hit at the holiday table. Just don't tell Nanie that I tweaked her recipe a wee-little-bit! I had to put my own spin on this family recipe; after all it might just be my fluffy legacy one of these days!
Does your family make Ambrosia salad for Easter?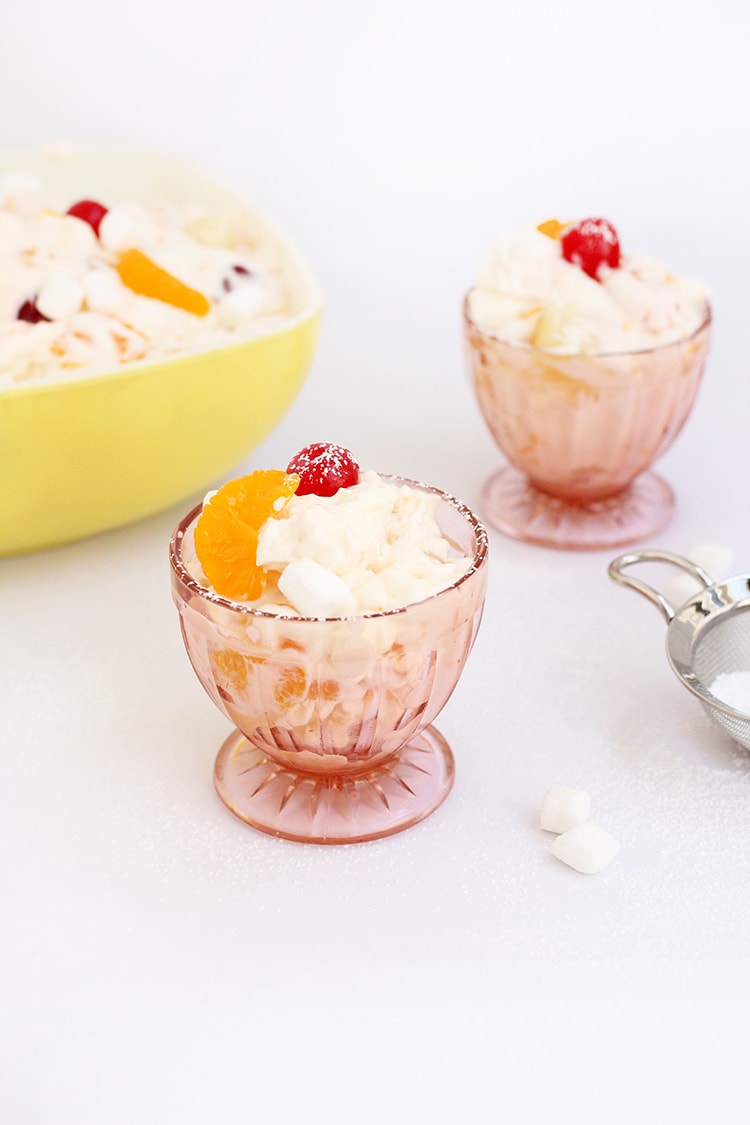 photos by Leah Bergman
Nanie's Ambrosia Salad
serves 10-12
2- 20oz cans Pineapple Chunks, drained
2- 15 oz cans Mandarin Segments, drained
½ cup Maraschino Cherries, drained
3- 8oz Cream Cheese, at room temperature
½ cup heavy whipping cream
½ cup powdered sugar
10 tablespoon milk
3 large handfuls (about 3 cups) mini-marshmallows
Directions:
1. In the bowl of an electric mixer with the whisk attachment, beat heavy whipping cream into soft peeks. Remove into a small bowl and set aside.
2. Replace the whisk attachment with the paddle and beat cream cheese until light and fluffy. On low speed beat in the powdered sugar until combined. Slowly add in the milk and mix.
3. Remove from mixer and by hand fold in the reserved whipped cream.
4. Fold in all of the drained fruit and mini-marshmallows. Chill at least 1 hour covered before serving or overnight if possible.
5. Enjoy!
Note: I like to reserve a few mandarins, cherries and pineapples to garnish the top of my serving dish for a prettier presentation!