I beg you, I implore you, I beseech you; if you only have time to make one pumpkin recipe this fall, let it be these cookies. Soft and pillowy pumpkin cookies frosted with sweet maple cream cheese frosting and just a sprinkle of nutmeg…or as I call them Perfect Pumpkin Cookies.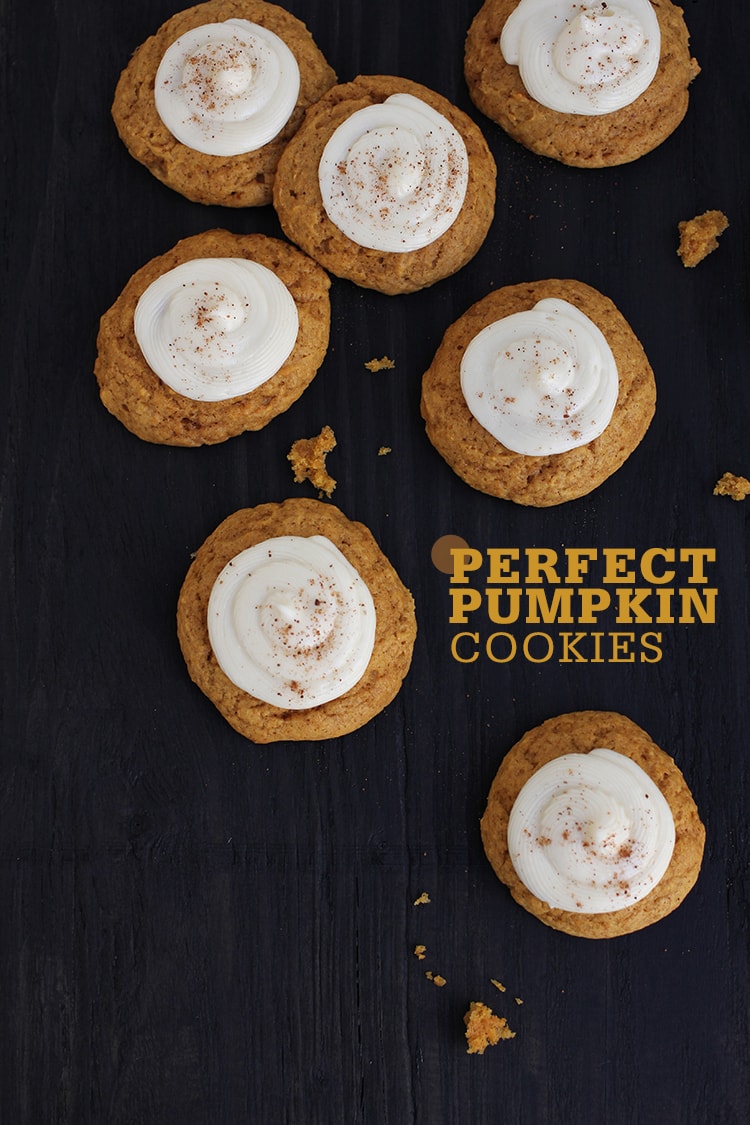 Ah, pumpkin perfection—how sweet you are! These cookies are somewhere in between a pumpkin cake and a soft sugar cookie which is only improved upon by the fact that they are topped with cream cheese frosting. I mean, was there ever a recipe in the history of the baking world that wasn't improved by cream cheese frosting? Plus, I add a hearty glug of really good maple syrup for that extra fall flavor. Need I say more?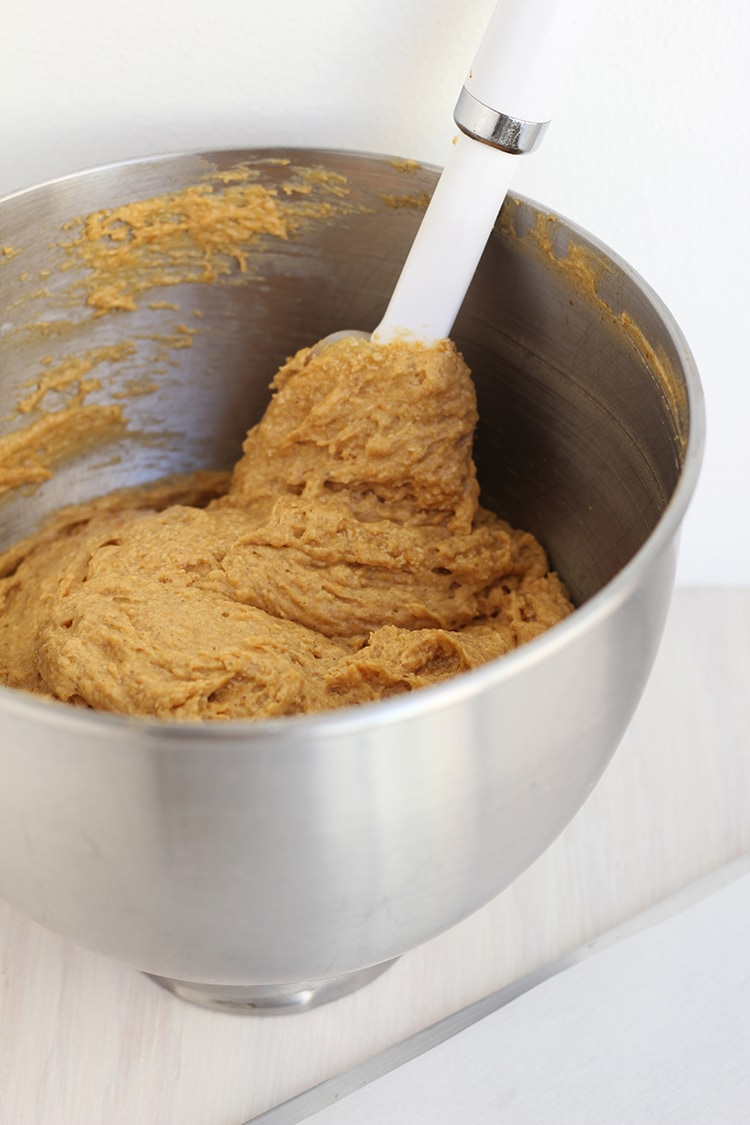 Scoop this fluffy batter onto lined baking sheet using a small ice cream scoop, pop into a 375 degree oven and in 15 minutes you will have puffed and golden mounds of pumpkin goodness. This is where the serious self-restraint comes in. Don't you dare sneak a cookie! Ok…go ahead and sneak one but just know that the more you eat now, the less you will have to frost with cream cheese…I'm just saying.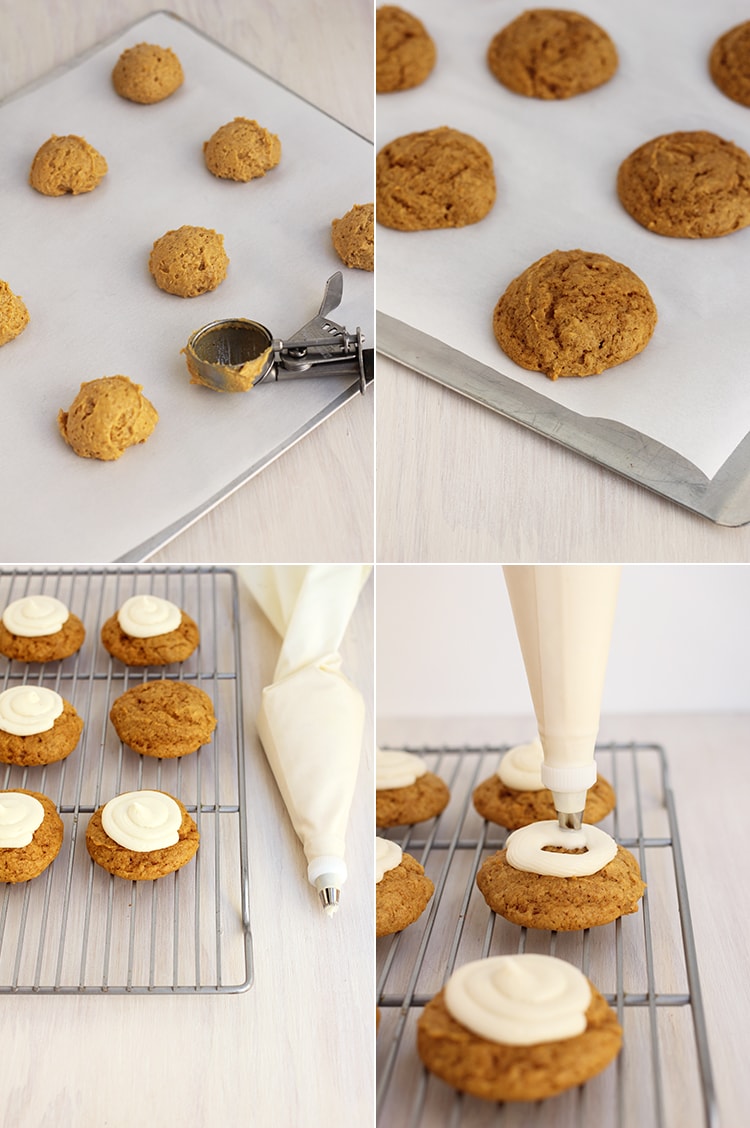 Once the cookies are completely cooled and you can stand to wait no longer, fill a piping bag with frosting and start decorating. Of course if this fancy-shmancy business is not your thing, you could always use a knife to frost. I promise, you will never taste the difference! Now, sprinkle with a hit of nutmeg and devour. One bite and you'll know why this cookie got its perfect name!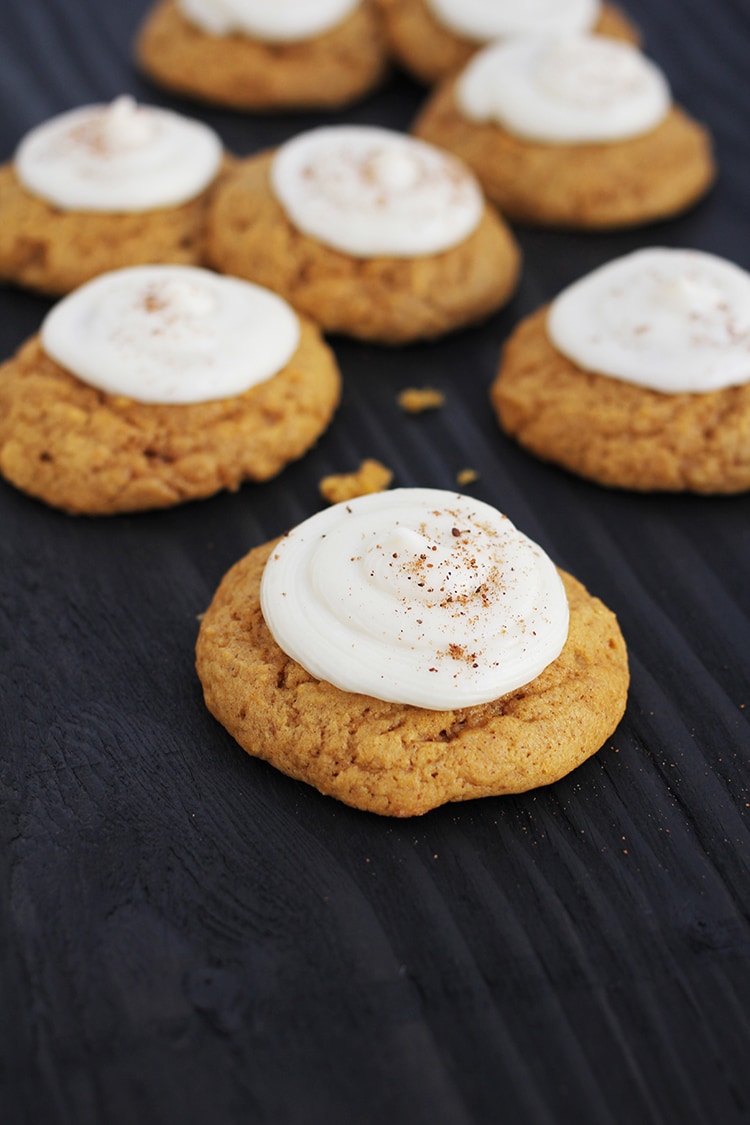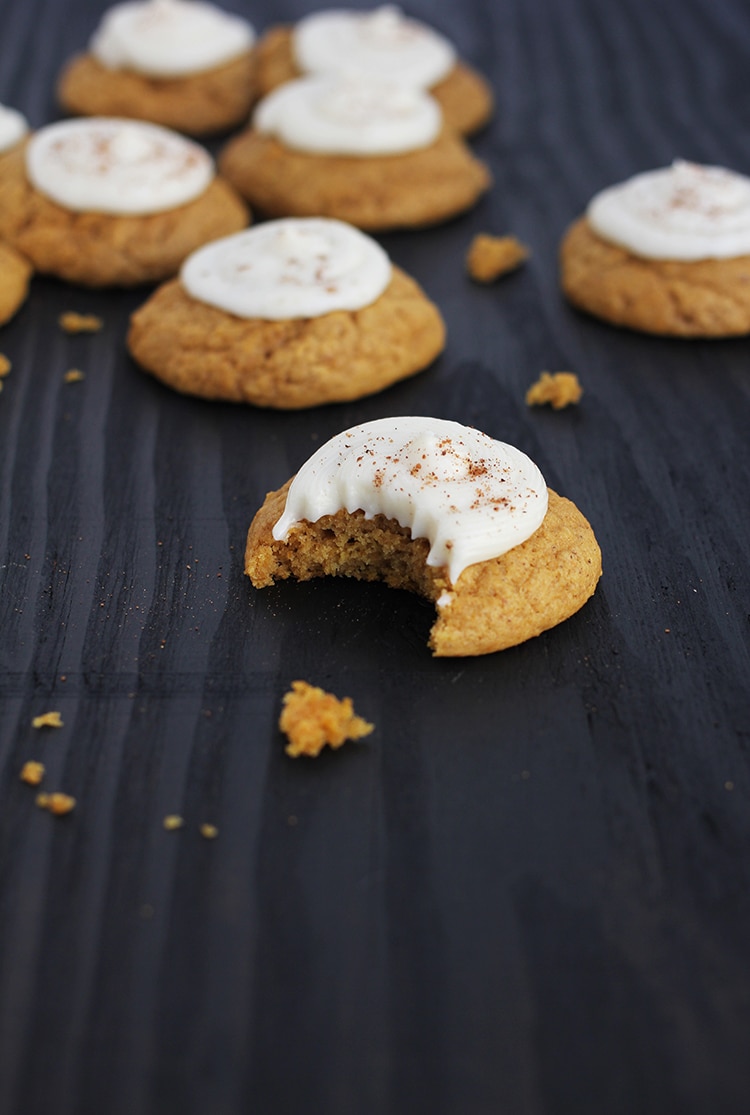 photos by Leah Bergman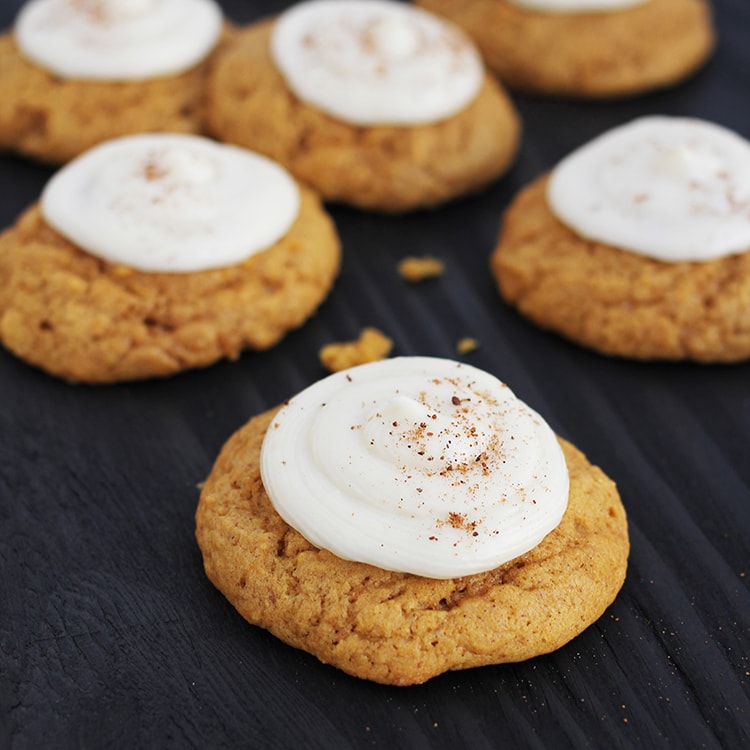 Perfect Pumpkin Cookies
2014-10-05 21:01:05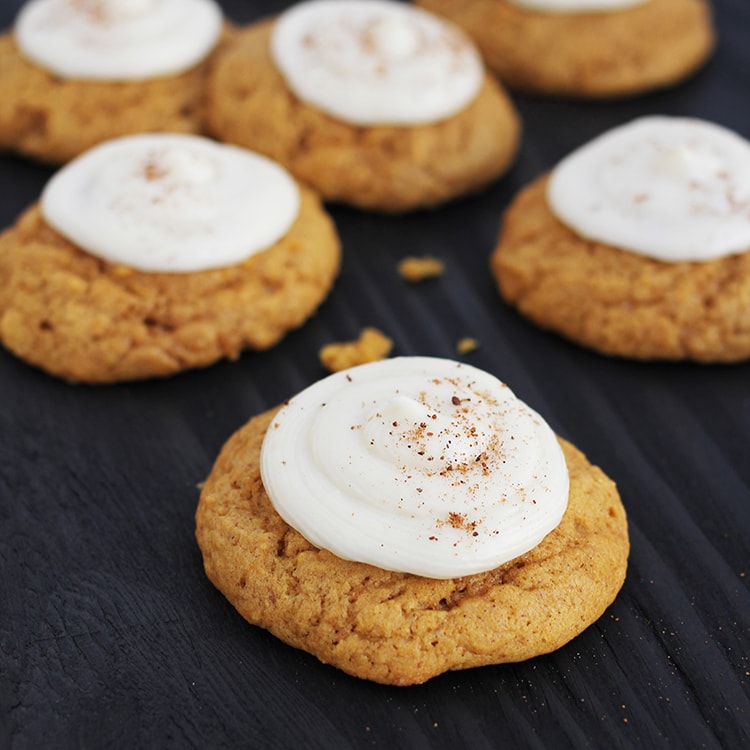 Ingredients
FOR THE COOKIES
2 3/4 cups all-purpose flour
1 teaspoon baking powder
1 teaspoon baking soda
1 1/4 teaspoons coarse salt
1 1/2 teaspoons ground cinnamon
1 1/4 teaspoons ground ginger
3/4 teaspoon ground nutmeg
3/4 cup (1 1/2 sticks) unsalted butter, softened
2 1/4 cups packed light-brown sugar
2 large eggs
1 1/2 cups canned solid-pack pumpkin (14 ounces)
3/4 cup evaporated milk
1 teaspoon pure vanilla extract
FOR THE FROSTING
1 /4 cup unsalted butter, softened
8 oz cream cheese, softened
1/3 cup maple syrup
2 cups confectioners sugar
1 tsp vanilla extract *or 1/4 tsp maple extract
1/2 tsp course salt
Instructions
MAKE THE COOKIES: Preheat the oven to 375 degrees. Whisk together flour, baking powder, baking soda, salt, cinnamon, ginger, and nutmeg in a medium bowl; set aside.
Put butter and brown sugar in the bowl of an electric mixer fitted with the paddle attachment. Mix on medium speed until pale and fluffy, about 3 minutes. Mix in eggs. Reduce speed to low. Add pumpkin, evaporated milk, and vanilla; mix until well blended, about 2 minutes. Add flour mixture; mix until combined.
Using a small ice cream scoop (1/4 cup) scoop batter onto parchment-lined baking sheets, spacing 1 inch apart. Bake cookies until tops spring back, about 12 minutes. Cool on sheets on wire racks 5 minutes. Transfer cookies to wire racks; let cool completely.
MAKE THE FROSTING: In a mixing bowl beat butter and cream cheese until smooth, scraping down the bowl to combine.
Mix in maple syrup, extract, and salt.
Beat in powdered sugar until well combined. Spoon frosting into a piping bag and pipe about 1 Tbsp of frosting on each cooled cookie. Sprinkle with nutmeg for garnish.
Notes
*If you love maple flavor, replace vanilla extract in the frosting with 1/4 tsp maple extract.
Storing Cookies
Un-frosted cookies can be stored in single layers in airtight containers at room temperature up to 3 days. Frosted cookies should be stored in the refrigerator.
Adapted from Martha Stewart
Freutcake https://www.freutcake.com/