Raspberry Linzer Heart Cookies always remind me of Alice in Wonderland. I imagine the Queen of Hearts would have liked munching on these sweet little cookies whilst ordering beheadings left and right. Lucky for us there is nothing sinister about these treats, aside from how delicious they happen to taste!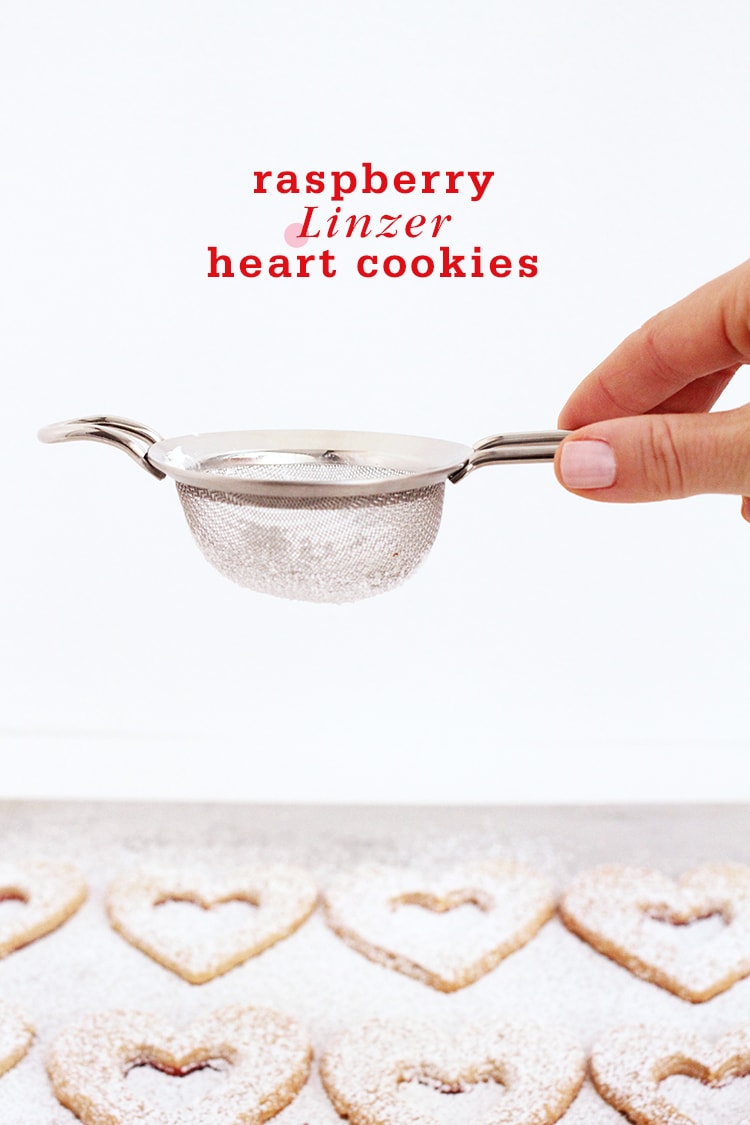 Ground almonds and a hearty amount of butter in the dough make these buttery cookies tender, rich, and delicious. Personally I like my Linzers oozing with jam so I stuff them a little fuller then usual and deal with the sticky fingers later.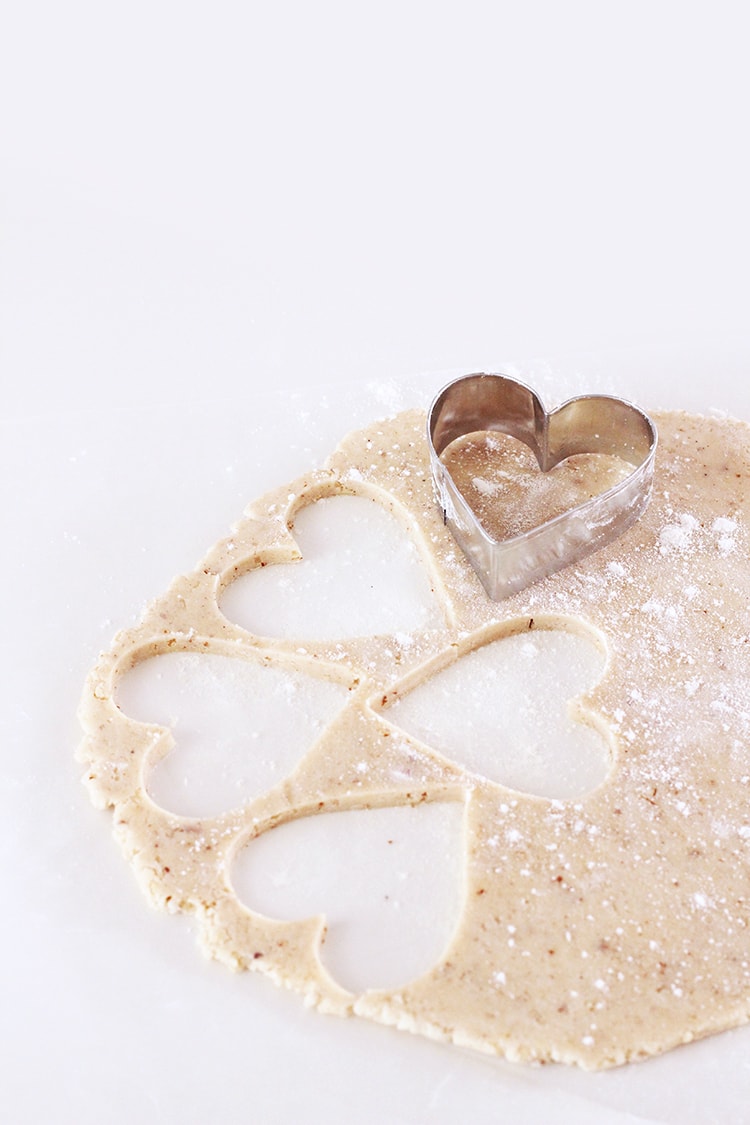 Plus with its sweet heart shape and red-jammy center, this cookie literally screams Happy Valentine's Day! Your Valentine can't help but be sweet on these heart shaped, homemade treats.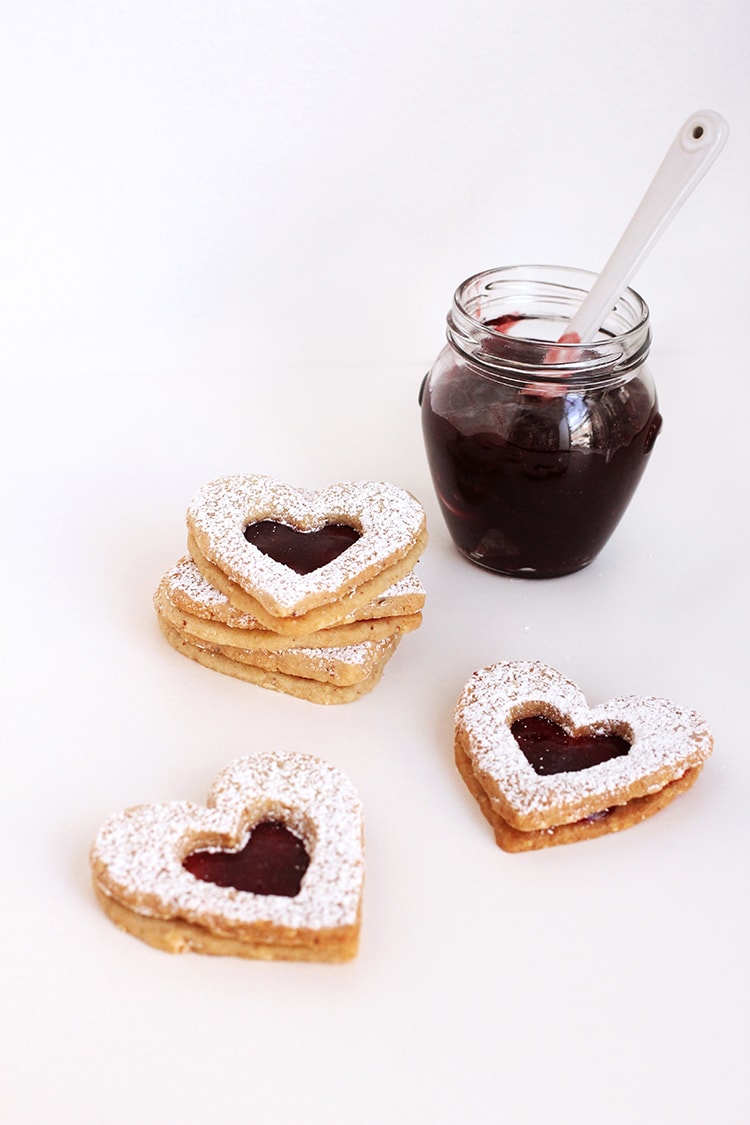 Raspberry jam not your thing? Feel free to substitute it for apricot, blueberry or try even Nutella for a chocolaty twist!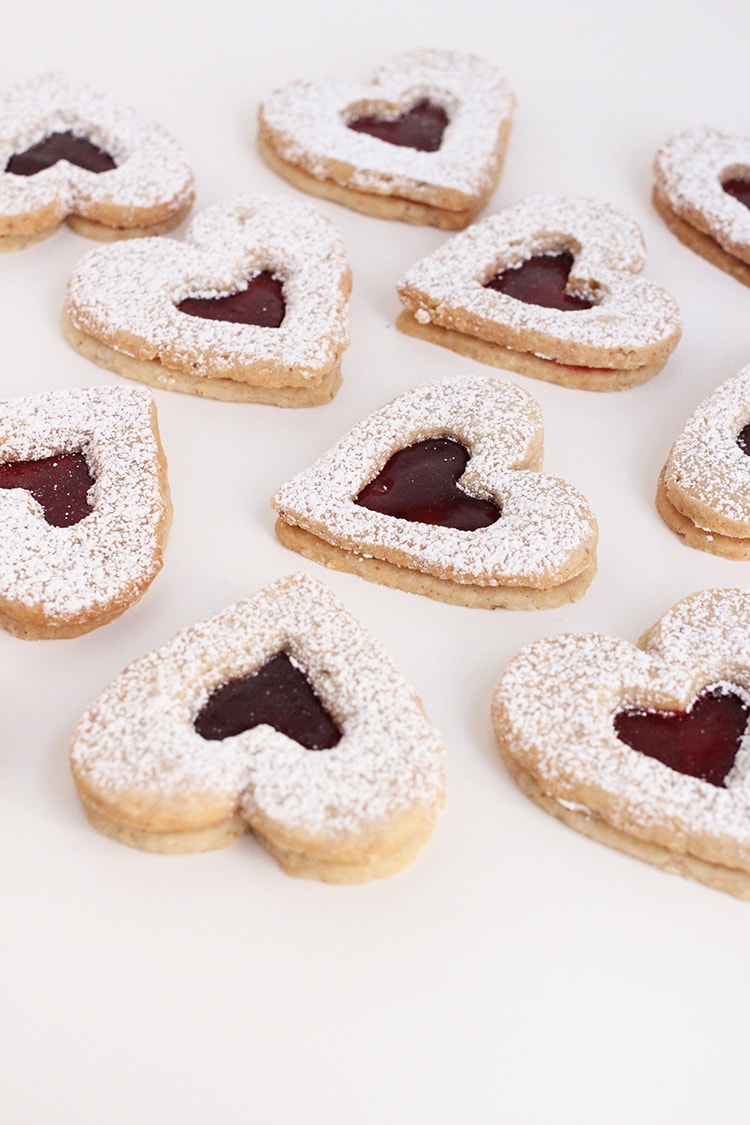 photos by Leah Bergman
Raspberry Linzer Heart Cookies- Alex Guarnaschelli
makes: 2 ½ dozen (1 ½ inch cookies)
2 ½ sticks lightly salted butter
¾ cup granulated sugar
2 ⅓ cups all-purpose flour, plus additional flour for rolling the cookies
½ cup slivered almonds, ground (I used a food processor for this)
½ teaspoon ground cinnamon
¼ teaspoon ground nutmeg
1 cup seedless raspberry jam
Powdered sugar, optional
Special equipment: 2 heart-shaped (or round) cookie cutters, one about 1 ½ inches and one about ¾ inches
Directions:
1. In the bowl of an electric mixer, whip the butter until smooth. Add the sugar and continue mixing until the mixture becomes light and fluffy, 5 to 8 minutes.
2. In another bowl, combine and mix the flour, almonds, cinnamon and nutmeg. Slowly mix the flour mixture into the butter on low speed just until combined. Mix the rest of the way by hand with a wooden spoon if needed.
Note: Because this dough has a good amount of butter, it needs resting time to chill before cutting.
3. Lay 3 large pieces of wax paper in a single layer on a flat surface. Sprinkle each one with a light coating of flour. Remove the bowl from the mixer and divide the dough into three balls, one on each sheet of wax paper. Gather into three balls, and lightly press into a flat disk. Coat with another light layer of flour and top with another piece of wax paper. Chill in the refrigerator about 30 minutes.
4. Preheat the oven to 350 degrees F.
5. Roll disks out one at a time to about ⅛ inch in thickness. If the dough is too soft refrigerate again for an additional 10 minutes.
6. Make the cookie bottoms: Cut out as many 1 ½-inch hearts as you can. Reserve the scraps in the refrigerator. Arrange the hearts neatly in a single layer on a greased baking sheet. Repeat with the other 2 sheets, reserving any scraps.
7. Make the cookie tops: Cut a heart, with the smaller cutter, out of the center of half of all the cookies on your cookie sheets. Use the reserved scraps to make more cookie tops and bottoms.
8. Bake and assemble the cookie sandwiches: Bake the cookies until they are lightly brown, 12 to 15 minutes. Remove the trays from the oven and allow them to cool slightly on the tray for a few minutes before gently transferring them to a cooling rack.
9. Dust the cookie tops with powdered sugar once cooled completely.
10. Place the raspberry jam in a small pot and bring it to a light simmer. Remove from the heat to cool slightly as well. Spoon ¼ to ½ a teaspoon raspberry jam on each bottom and place a top heart on squarely on each. Package and gift!