I have this theory about baby food and it goes something like this...I'll start them on all of the hard stuff first. The peas and the green beans, broccoli, and maybe even kale, and when they become toddlers they will be good eaters.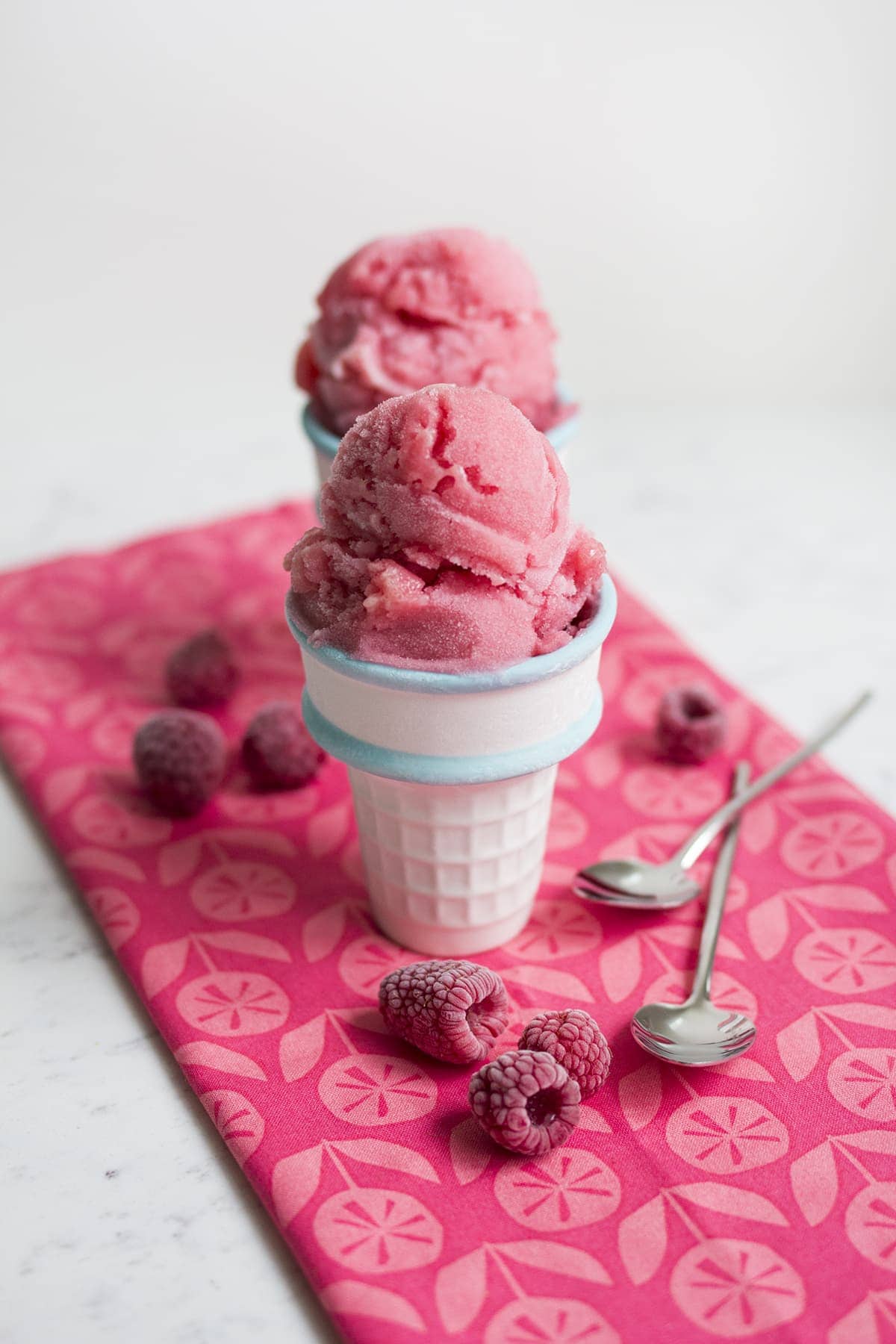 The kind of eaters who don't mind eating a salad with their dinner and who won't freak out over a speck of green something-or-other in their rice. Oh, how naive I must be, am I right?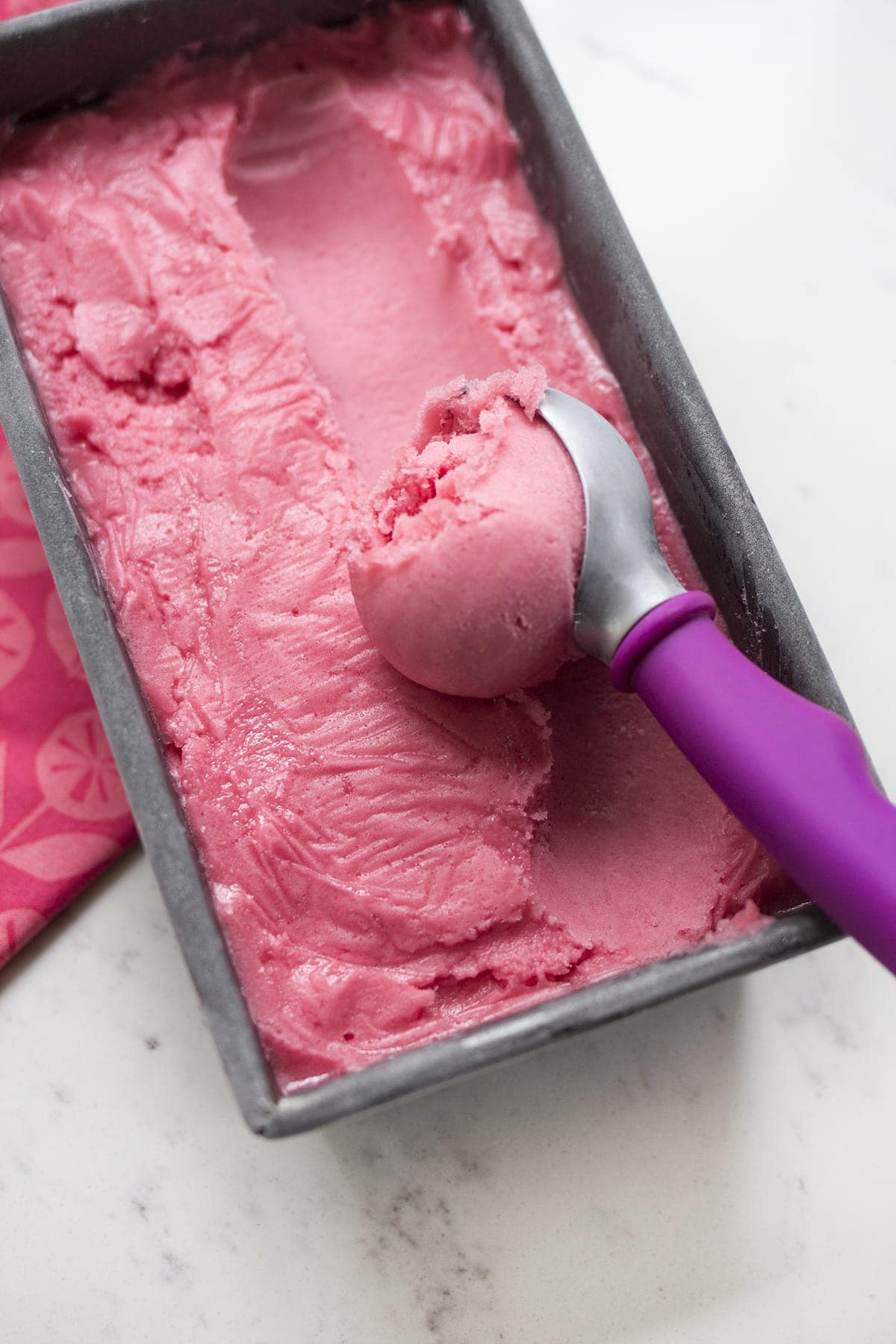 ***Excuse the pause while I scoop this here sorbet***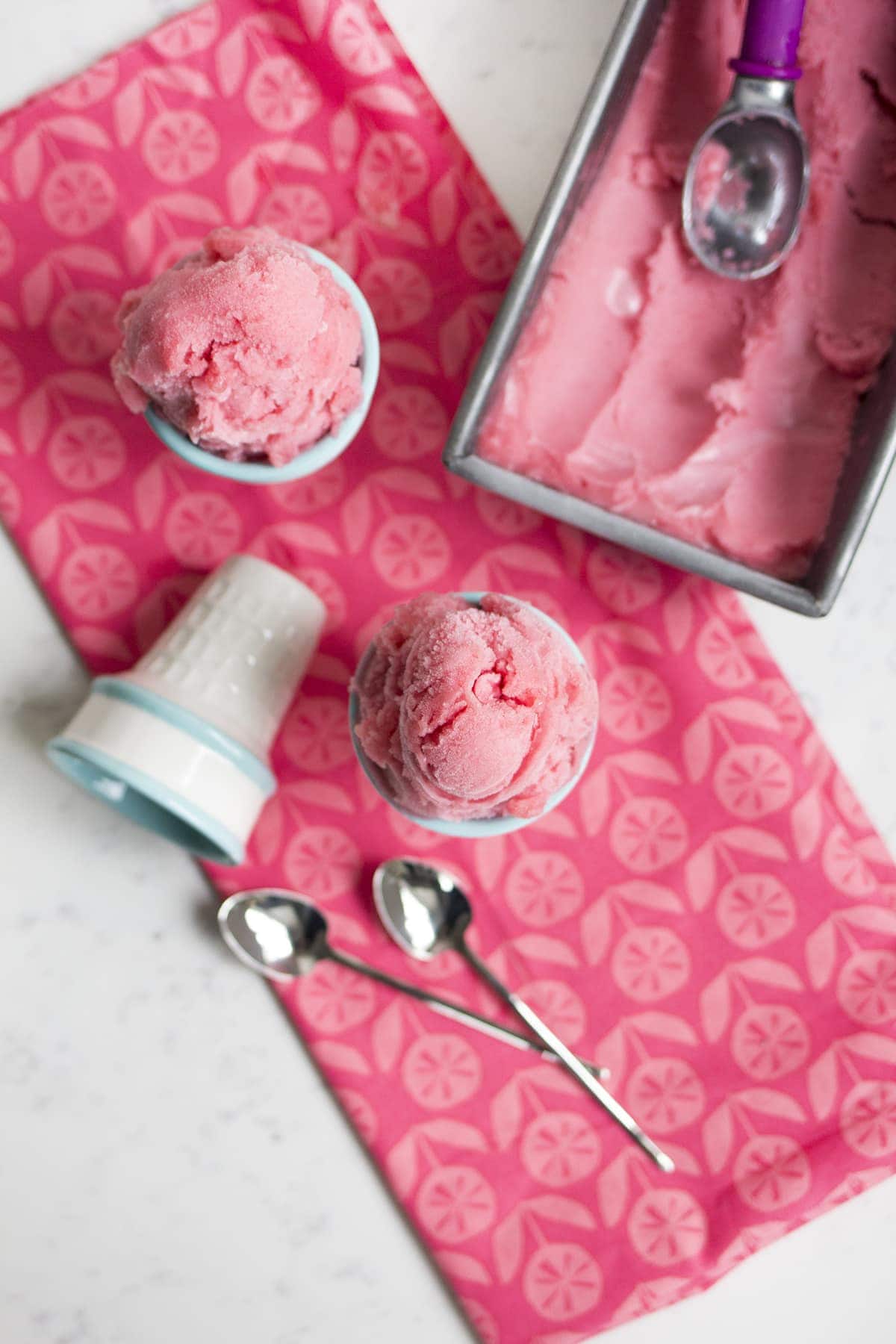 Back to baby food. As my girlfriend Lexi warned me, the Goldfish are inevitable. Ha! Well, for now the twins love zucchini, and avocado, and even peas! Praise The Lord, peas!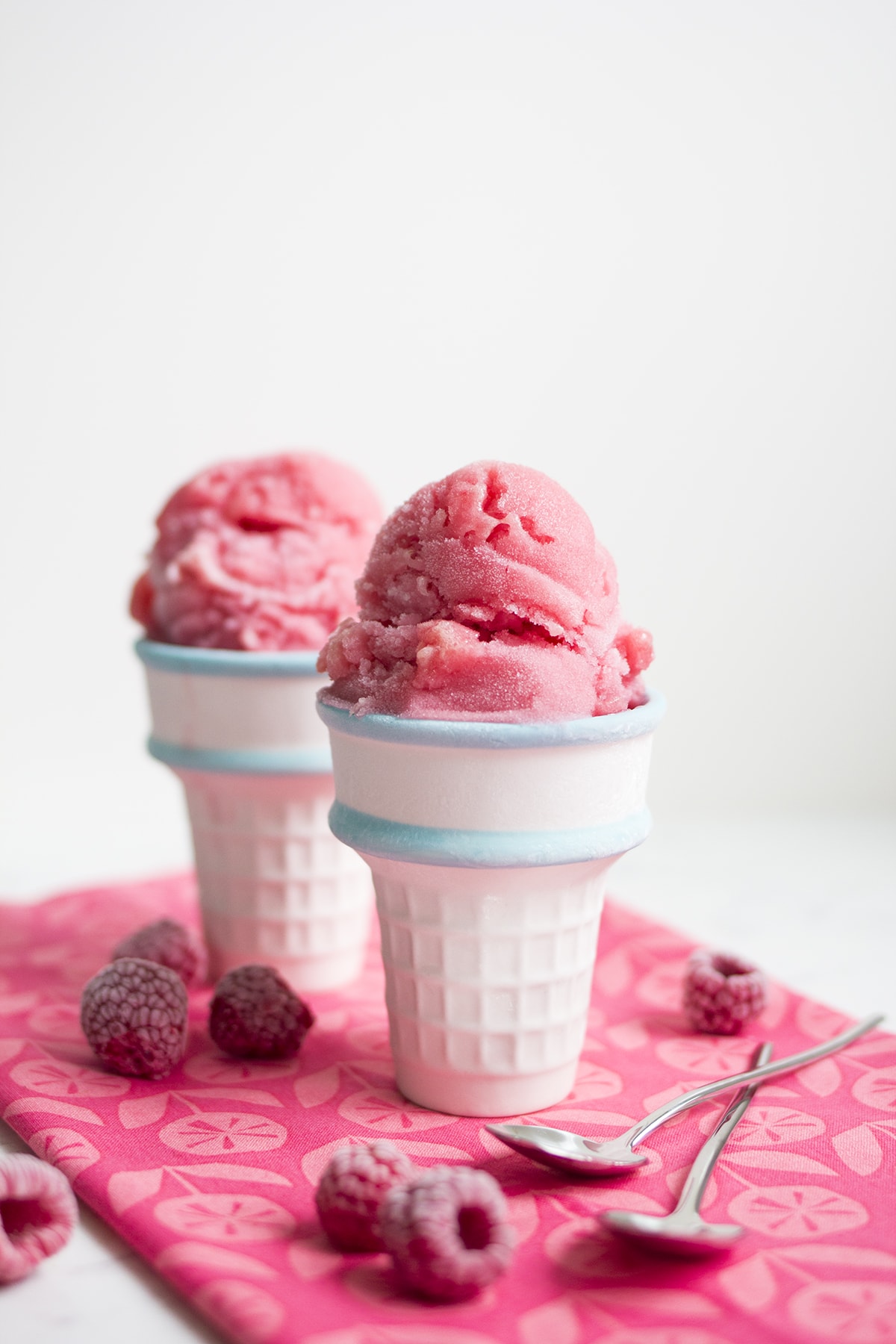 They have no idea that I am currently sitting here savoring bites of this luscious Raspberry Rose Sorbet. They don't know about the good stuff. The berries and the bananas, the pears and the peaches, the fancy-shmancy sorbets and artisanal ice creams of the world...well, not yet at least! I'm not going to tell them either. And until they start gagging on their green smoothies we'll keep this sorbet recipe a secret, deal?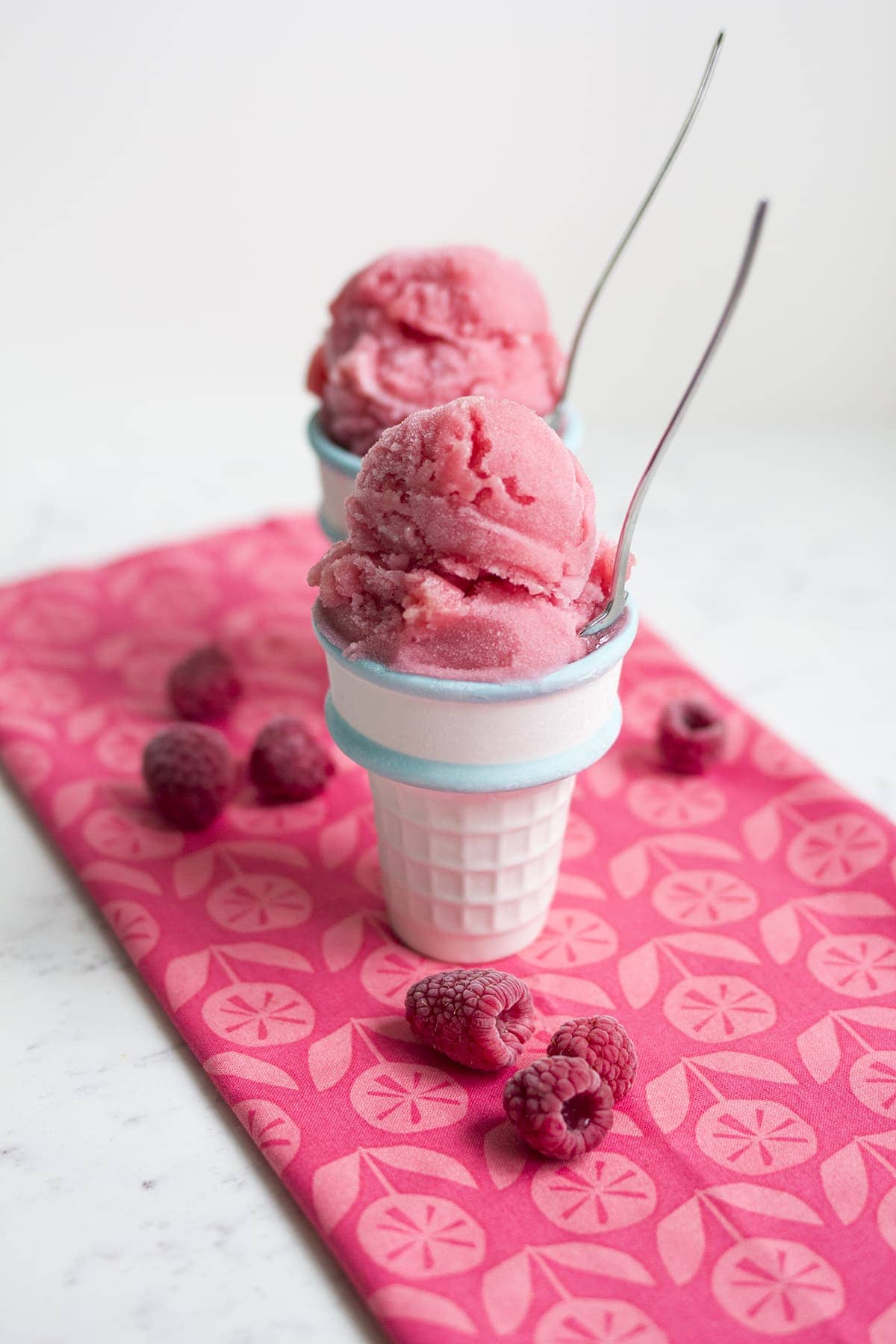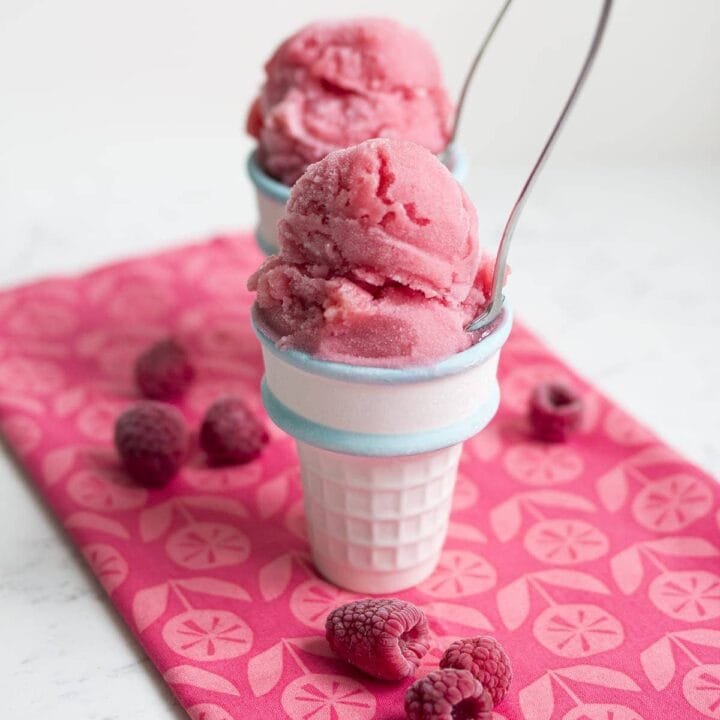 Raspberry Rose Sorbet
Additional Time:
30 minutes
Total Time:
4 hours
45 minutes
Carmela's Ice Cream Raspberry Rose Sorbet
Ingredients
2 cups purified water
1 ¾ cups sugar
1 ½ cups fresh raspberries
1 Tablespoon organic rose water
Instructions
Combine water and sugar in a medium sauce pan over medium heat. Cook stirring just until the sugar is dissolved fully. Remove from heat and cool completely.
Once syrup is cool blend with fresh raspberries. Strain into
a stainless steel bowl and stir in rose water.
Cover and chill in the refrigerator at least 4 hours or
overnight.
Freeze in an ice cream machine according to manufacturer's
instructions.

Notes
Rose water: I would start with 1 tsp of rose water up to 1 Tbsp to taste. I used Nielsen Massey Rose Water and it's very strong so 1 tsp is plenty! Taste your base, you can always add more.
Nutrition Information:
Yield:

12
Serving Size:

1
Amount Per Serving:
Calories:

122
Total Fat:

0g
Saturated Fat:

0g
Trans Fat:

0g
Unsaturated Fat:

0g
Cholesterol:

0mg
Sodium:

3mg
Carbohydrates:

31g
Fiber:

1g
Sugar:

30g
Protein:

0g