I wasn't intending to make this recipe for Red Lentil Soup a post. Quite honestly I wasn't even sure if this recipe would be a keeper until I tasted a spoonful straight from the pot, followed by another, and another!
You see, I have a bad habit of buying random ingredients at the grocery store that catch my eye without even a plan as to how I will use them. Generally speaking, this is not a great practice to adopt! This week that ingredient was red lentils from the bulk bin at Whole Foods. Beautiful pinkish orange lentils; yes I bought them because of their color! (Sadly they don't retain that color when cooked)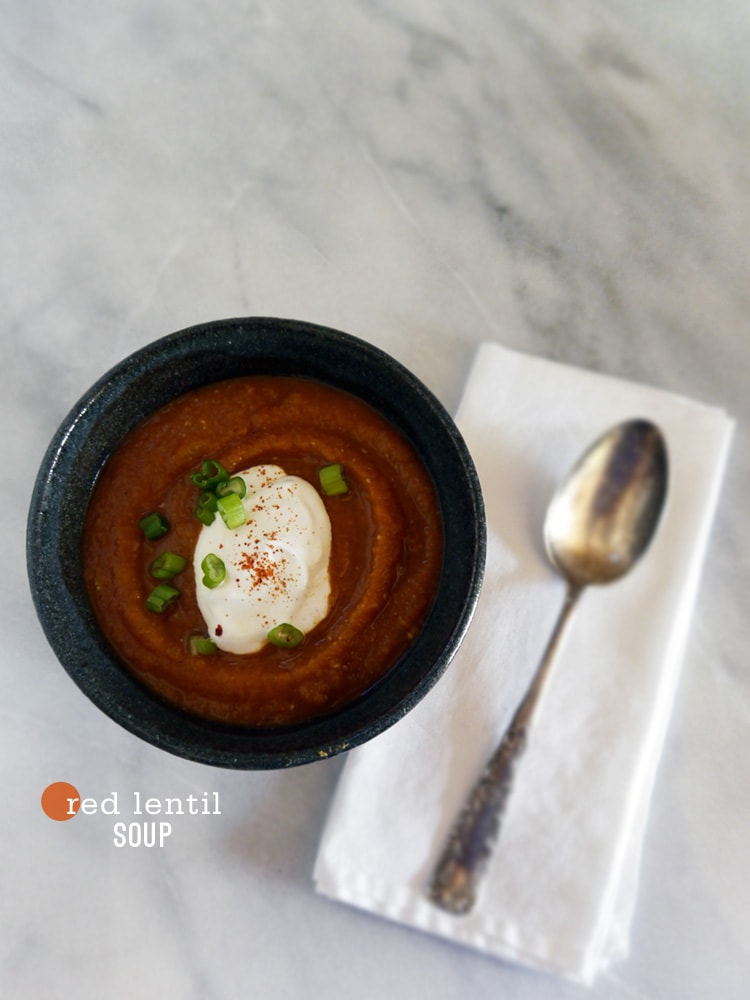 photo by Freutcake
Lucky for me I found a New York Times article for Red Lentil soup that literally blew my mind. It was rich and hearty, deliciously spiced, and entirely better than any lentil soup I've had before. Step aside green lentils, red lentils have won all the room in my heart!
Sometimes my crazy shopping ways seem to work out.
Red Lentil Soup- recipe via New York Times
yield: serves 6
2 tablespoons canola oil or peanut oil
1 medium or large onion, chopped
4 garlic cloves, minced
Salt to taste
2 teaspoons ground cumin
2 teaspoons ground coriander
2 teaspoons yellow curry powder
1 (28-ounce) can chopped tomatoes with juice
1 pound red lentils (about 2 ⅛ cups), washed and picked over
2 quarts water or chicken stock
¼ teaspoon ground black pepper (more to taste)
Cayenne to taste (optional)
Juice of ½ lime
For garnish:
Chopped fresh cilantro or green onions
yogurt
Directions:
1. Heat the oil in a large, heavy soup pot over medium heat and add the onion. Cook, stirring, until tender, about 5 minutes, and add the garlic, ½ teaspoon salt, the cumin, coriander, and curry powder. Stir together for about a minute, until the garlic is fragrant, and stir in the tomatoes with their juice. Bring to a simmer and cook, stirring often, for 10 minutes, until the tomatoes have cooked down slightly. Add salt to taste.
2. Stir in the lentils and water or chicken stock. Bring to a boil, reduce the heat, cover and simmer 30 minutes. Add salt to taste and continue to simmer for 15 to 30 minutes, until the lentils have fallen apart and thickened the soup. Using the back of your spoon, mash the lentils against the side of the pot to thicken the soup further. Add the pepper, taste, and add cayenne if you want more spice. Taste and adjust salt. Stir in the lime juice.
3. If you wish, puree with an immersion blender or in batches in a blender, holding a towel over the lid to prevent hot soup from splashing out, and return to the pot. Heat through and serve, topping each bowl with a dollop of yogurt and a generous sprinkling of chopped cilantro.