When spring finally hits, you give your home a well-deserved deep clean and spruce up your warm-weather wardrobe but your dinner routine deserves some spring cleaning as well!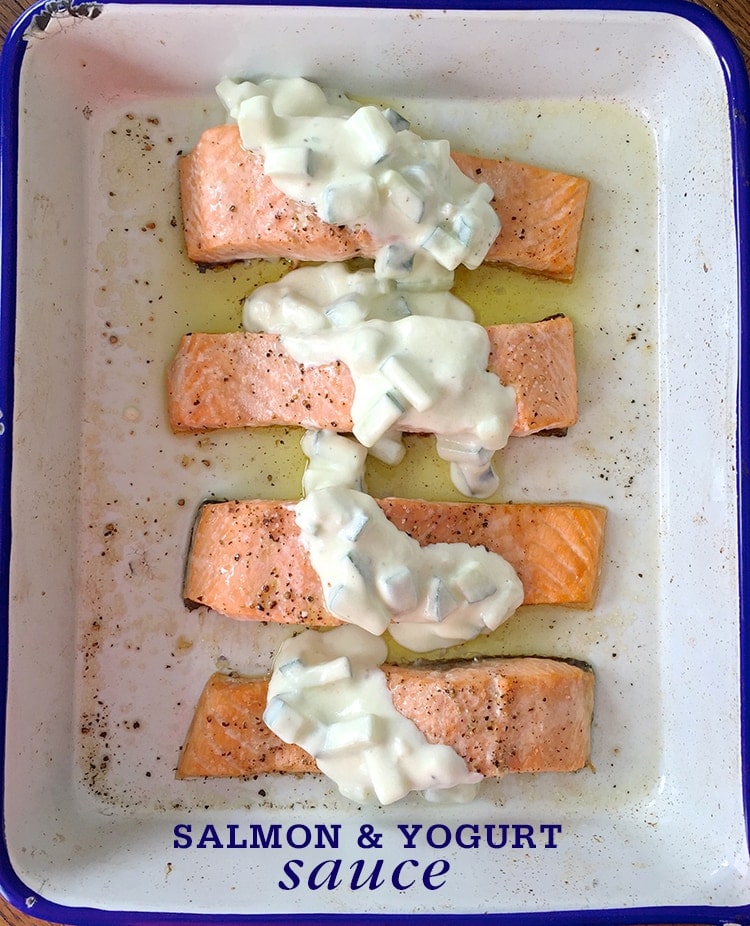 Work the super-easy salmon feast into your weeknight rotation. It's super fast, packed with flavor and incredibly healthy—lean, clean eatin'! As a Brooklyn gal without a backyard, I love roasting my salmon in the oven but you could do this same exact recipe on the grill for an added layer of great, charred BBQ flavor.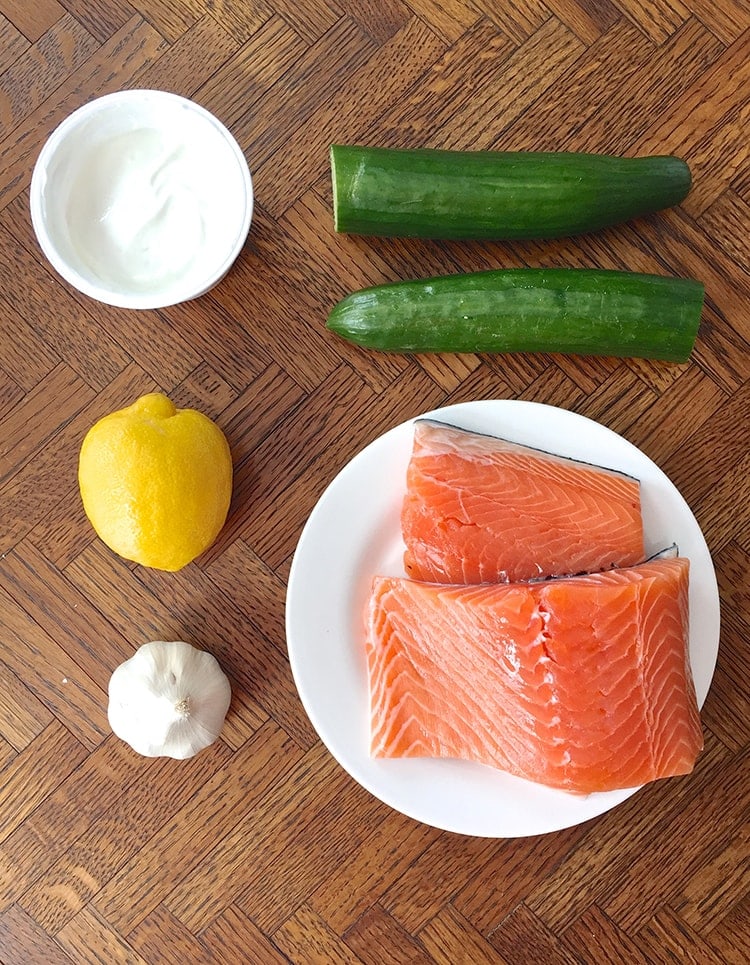 My secret: I love to make a few extra pieces of salmon for lunch during the week. You obviously can't keep fish in the fridge for too long (raw or cooked) but I'll make two extra pieces on a Monday night to eat as lunch on Tuesday and Wednesday. You're putting in the (minimal) effort anyway, might as well keep that clean-eating train going!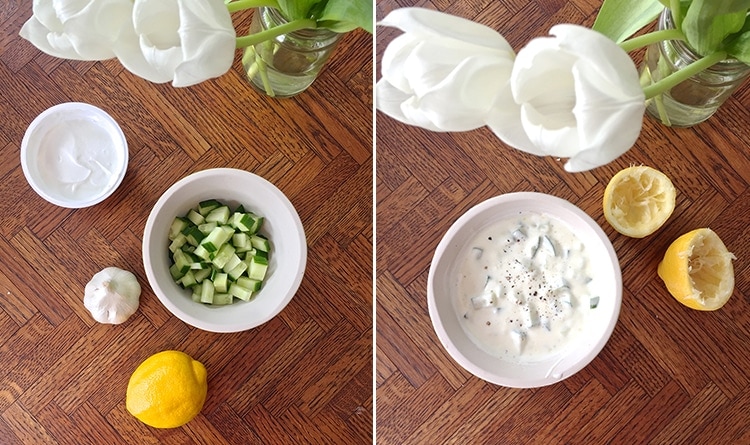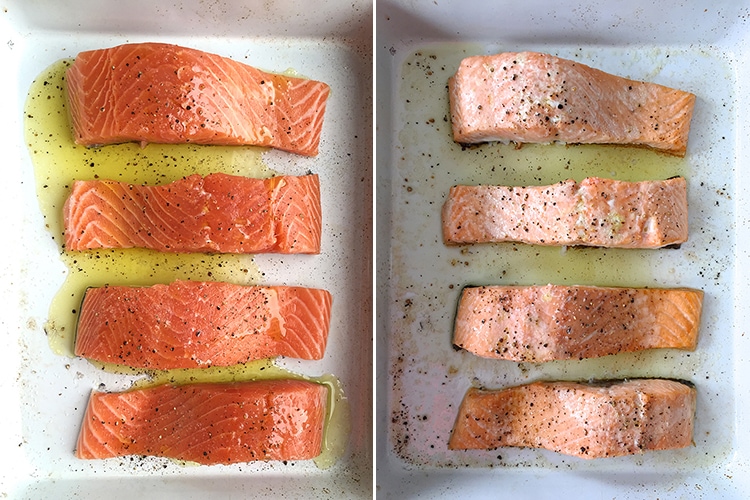 This sauce is my quickie version of my family's tzatziki recipe. This stuff is pure gold I tell you! Double the recipe and keep it in the fridge for sandwiches, dipping veggies, topping this salmon...or grilled chicken, steak, etc.
You can certainly eat this salmon plain. I love it with a small salad on the side. If you'd like more heft, try adding some whole-wheat pita bread or quinoa.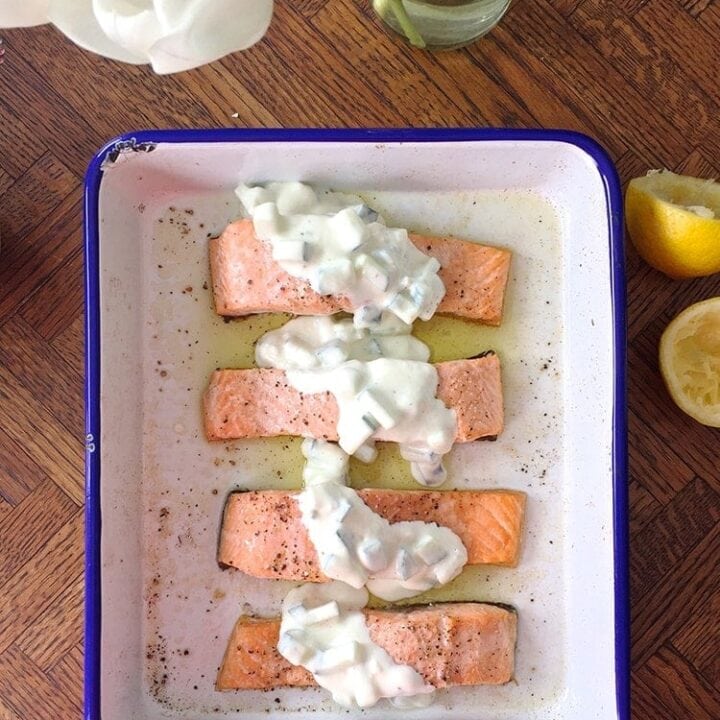 Salmon with Yogurt Sauce
5 ingredient baked salmon with yogurt and cucumbers.
Ingredients
1 pound salmon, cut into 4 pieces
1 (6-oz) container plain nonfat Greek yogurt
1 small English cucumber, chopped
1 clove garlic, pressed
2 tablespoons lemon juice
PANTRY STAPLES: Olive oil, salt and pepper
Instructions
Preheat the oven to 425˚F. Drizzle some olive oil in the
bottom of a baking pan. Top with the salmon; season well with salt and pepper...and top with another drizzle of olive oil. Roast about 10 minutes or until opaque.
Meanwhile, stir together the yogurt, cucumber garlic, lemon
juice, 1 tablespoon olive oil, and salt and pepper to taste in a bowl until combined.
Spoon yogurt sauce over your salmon.


Nutrition Information:
Yield:

4
Serving Size:

1
Amount Per Serving:
Calories:

297
Total Fat:

18g
Saturated Fat:

3g
Trans Fat:

0g
Unsaturated Fat:

13g
Cholesterol:

74mg
Sodium:

161mg
Carbohydrates:

4g
Fiber:

0g
Sugar:

2g
Protein:

30g