These Salted Butterscotch Cookies are the perfect combination of chewy and crispy, salty and sweet, and are sure to be one of your new favorite cookies.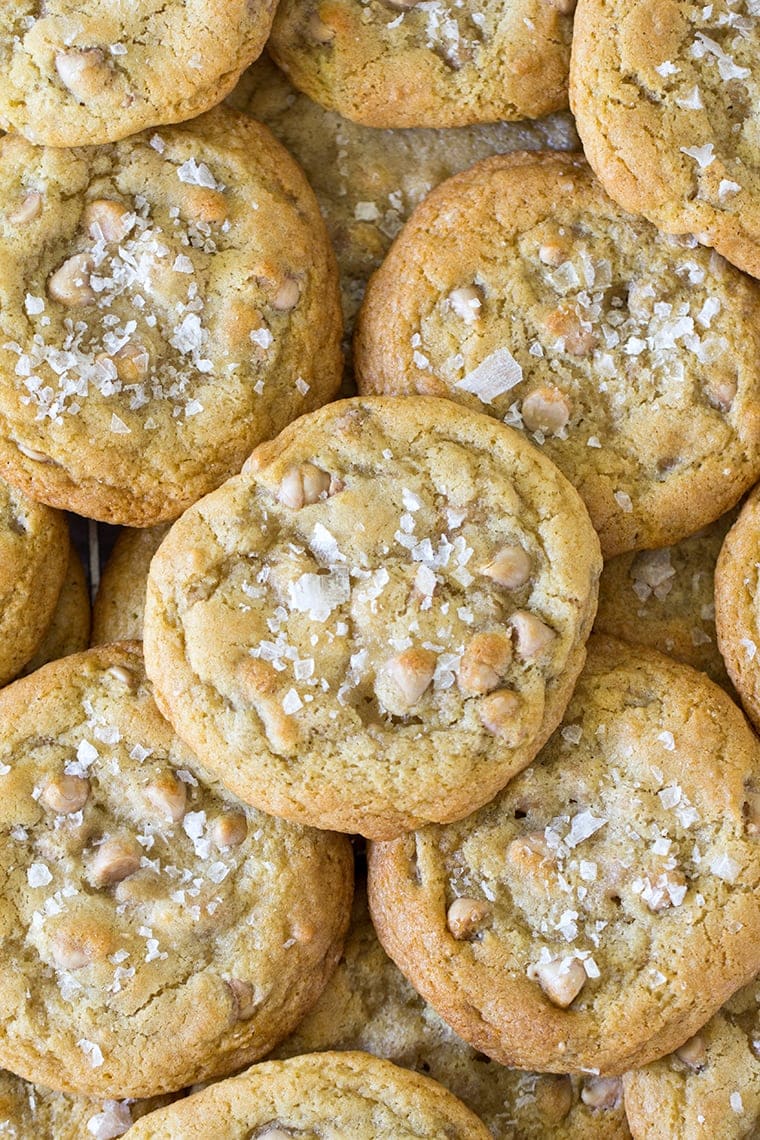 Old Fashioned Salted Butterscotch Cookies
There is something just so nostalgic about the flavor of butterscotch which is why these Old Fashioned Salted Butterscotch Cookies taste like an old family favorite recipe passed down from Grandma. However I'm pretty sure Grandma never sprinkled hers with Maldon flaked sea salt...that's my twist.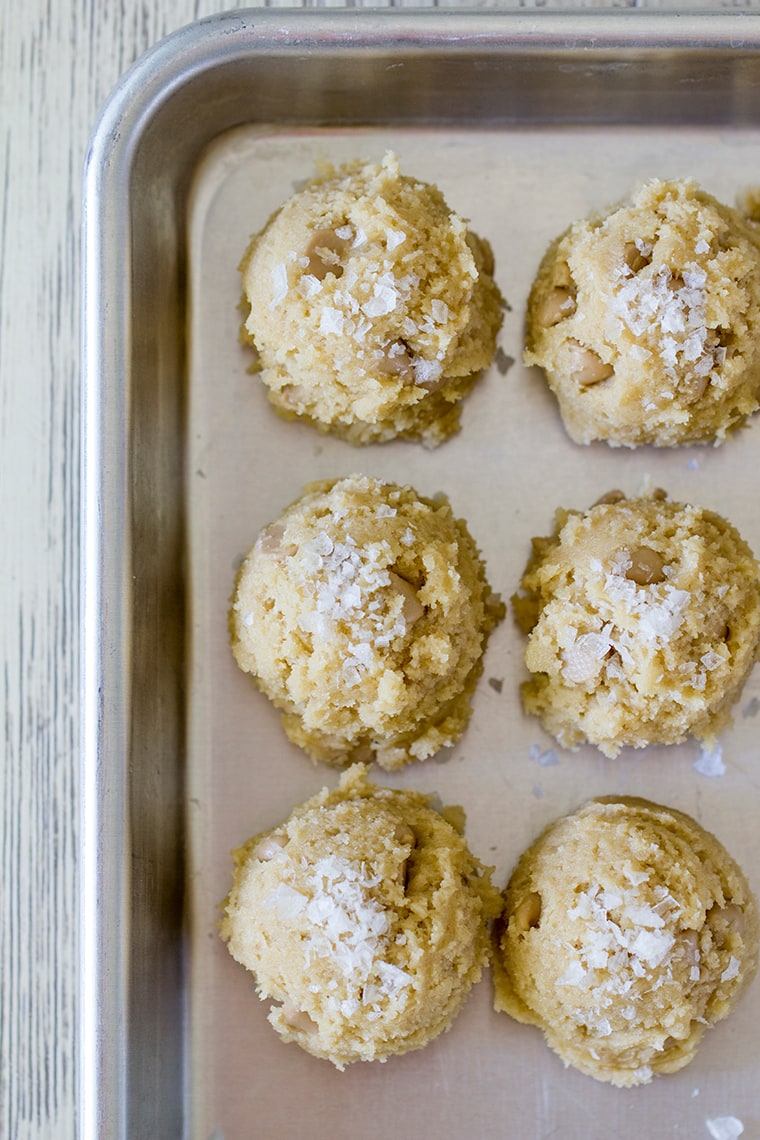 Butterscotch Chip Cookies
Last week I had a craving for cookies, and more specifically cookie dough. When my cookie cravings hit I almost always turn to my recipe for Salted Brown Sugar Chocolate Chip Cookies. That brown sugar batter is out of this world good! But I didn't really feel like chocolate. So, I dug around in my baking cabinet and pulled out a bag of butterscotch chips. Have you ever made Butterscotch Chip Cookies? I never had and am still not sure what this bag was doing in my cabinet although I am know to impulse buy baking supplies.
Maldon Sea Salt
So after a few revisions to my chocolate chip cookie dough recipe, a sub for butterscotch chips, and Maldon Sea Salt, this glorious recipe for Salted Butterscotch Cookies was born. If you've never used Maldon salt, it's a super flaky, briny natural salt extracted from sea water. It's used as a finishing salt because it melts on your tongue is such a lovely way. No crunching through salt crystals with this stuff which is why I love it on top of these cookies!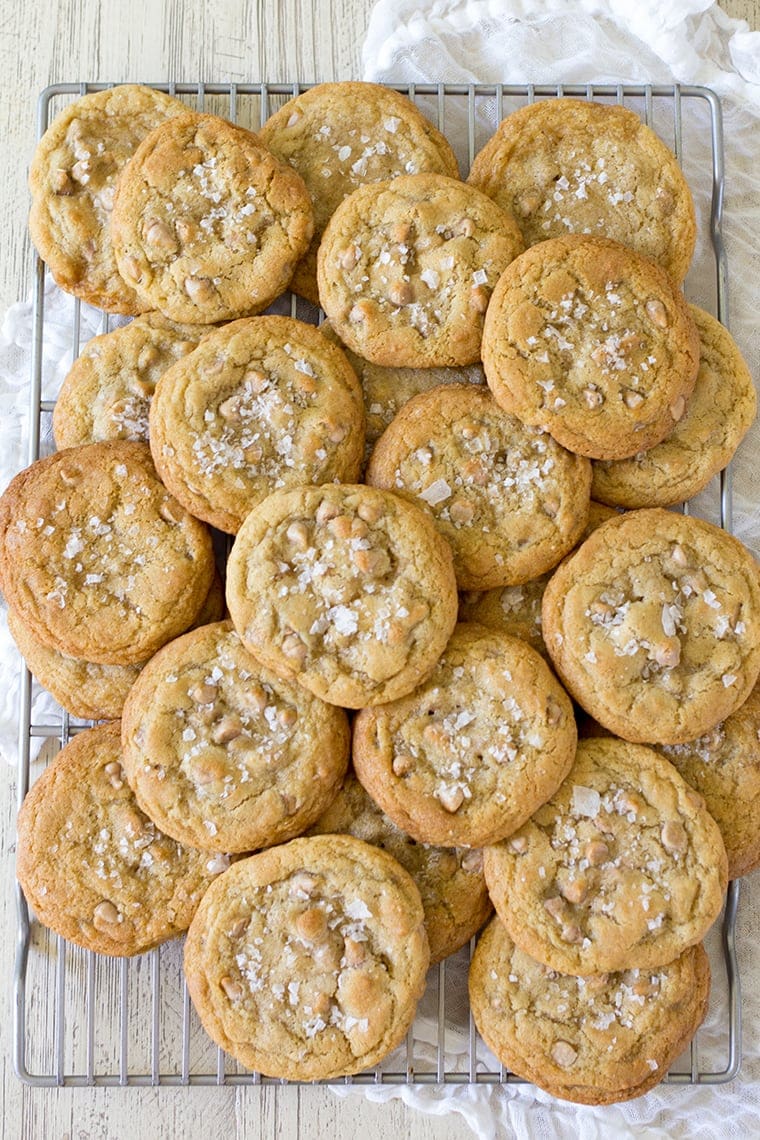 I sprinkle the Maldon Sea Salt on just before baking and most of it remains in tact although a bit does melt. You can play around with the recipe and decide if you like it better sprinkled on before or after baking! I've tried it both ways and before is my preferred method as it sticks better that way.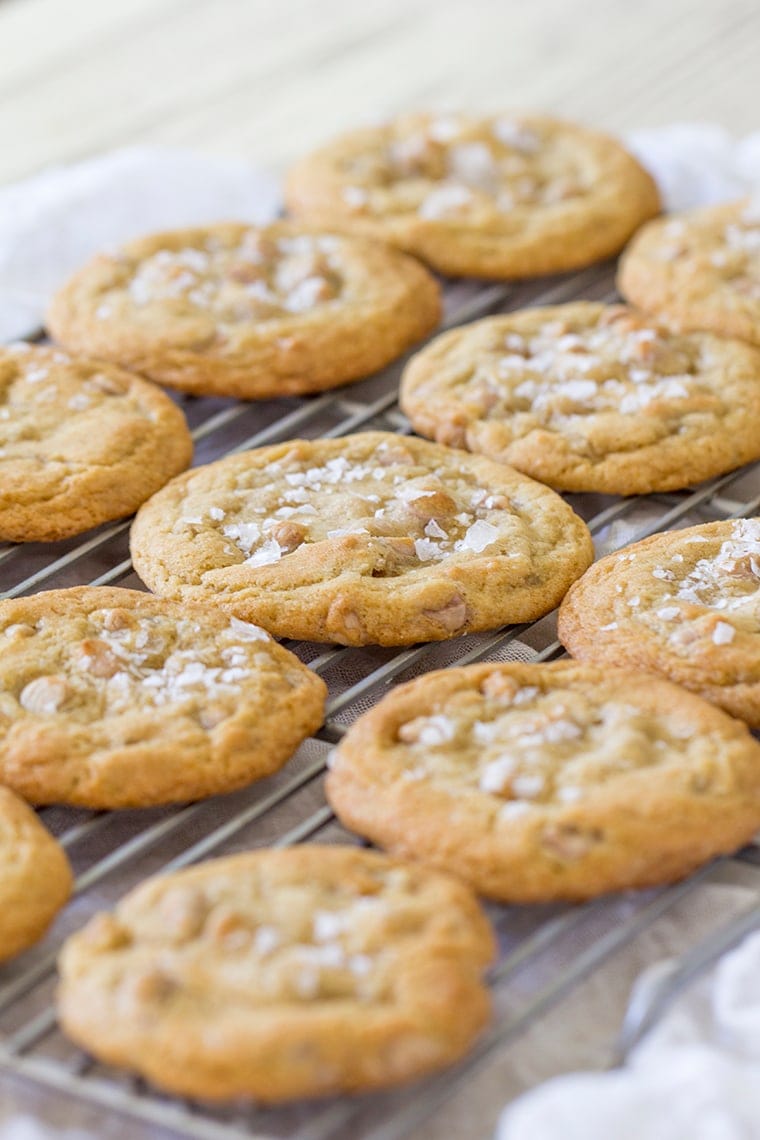 How to get perfect cookies every time!
There are a few tricks I use when baking cookies to get perfect cookies every time. Here are my tips:
Use room temperature butter. This makes creaming your butter and sugar together easier and gives cookies a better texture.
Use salted butter. This is a personal preference but I love the flavor it gives my cookies.
Use a medium sized cookie scoop to make scooping the dough easier and uniform. This is the size scoop I use.
Line baking sheets with parchment paper. I always do this because in insures absolutely NO sticking and easy clean up every time.
Preheat your oven ahead of time and for at least 30 minutes. This will ensure your oven is properly and evenly heated especially if you have an older oven like I do.
The first batch is always a test batch! I usually bake 2-4 cookies initially as a test run to see if I have my minutes correct (especially for a recipe that ranges 10-12 min). This would be a good time to test your sea salt preferences as I mentioned above.
Undercook your cookies just slightly. By this I mean, do not cook them until the center is completely set. Your cookies will continue to set as they cool.
Always cool at least 2 minutes on the cookie sheet before removing to a cooling rack. This keeps their structure.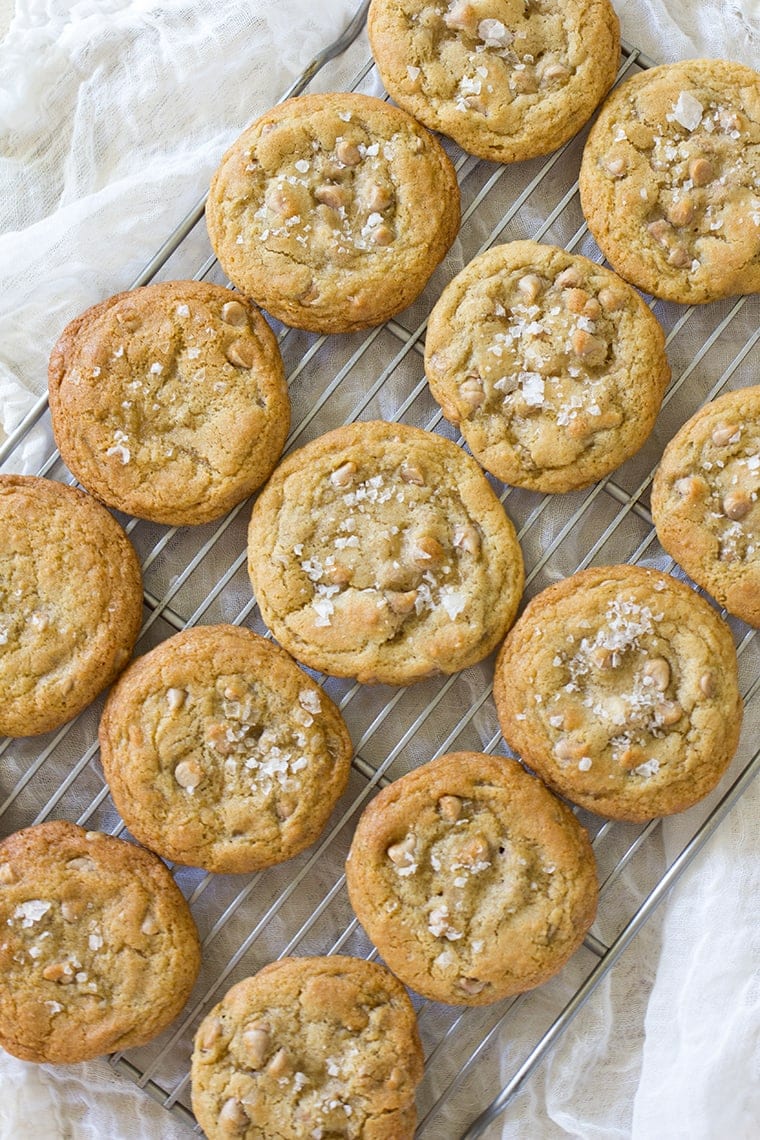 Fall Cookie Flavors
I know you are going to love these Salted Butterscotch Cookies as much as I do! They make a whole bunch so there will be plenty of cookies to share with friends. This cookie would be perfect for any fall party served with hot apple cider. Great if you are going apple picking or hosting a Halloween party. It has that butterscotch/caramel flavor I associate with fall so this cookie will definitely be on repeat in my house until the holidays. Happy baking!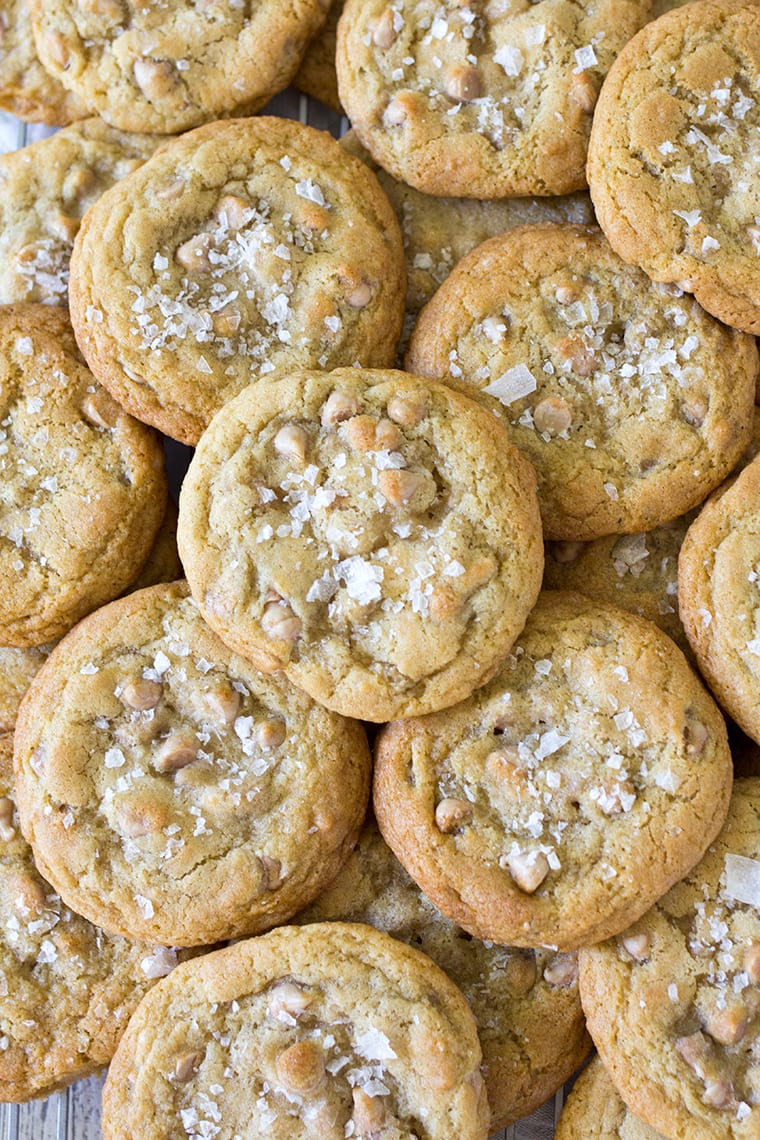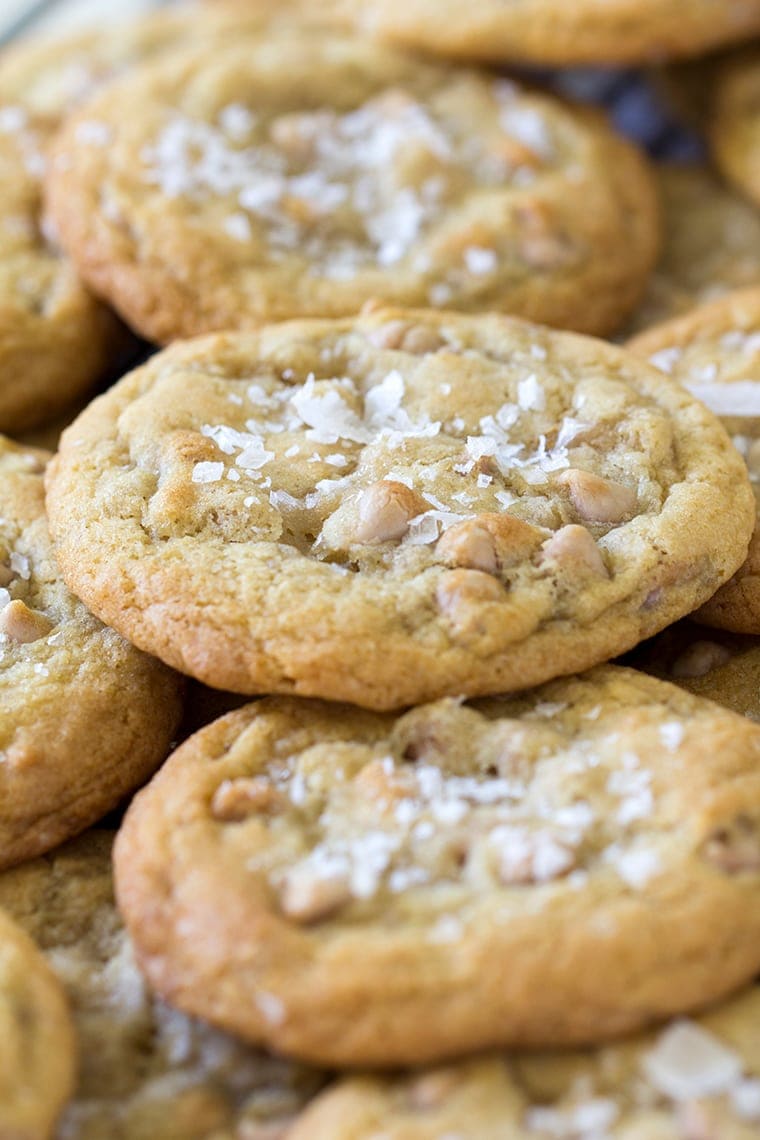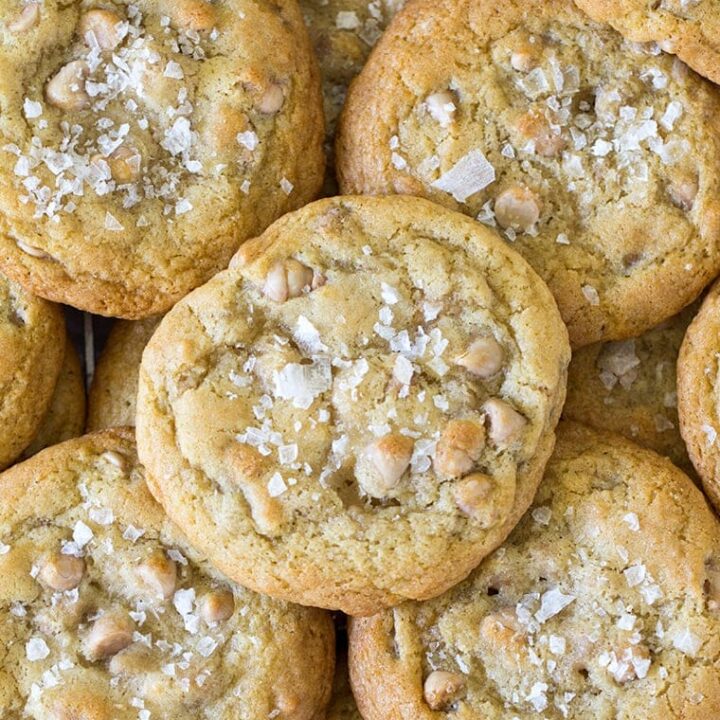 Salted Butterscotch Cookies
These salted butterscotch cookies are the perfect combination of chewy and crispy, salty and sweet!
Ingredients
¾ cup salted butter, at room temperature
1 cup light brown sugar
1 cup granulated sugar
1 teaspoon vanilla
2 ¾ cups all purpose flour
1 teaspoon baking soda
1 teaspoon baking powder
1 teaspoon kosher salt
2 eggs
12 oz bag of butterscotch chips
Maldon flaked sea salt for sprinkling
Instructions
In an electric mixer, cream together butter, brown sugar, granulated sugar and vanilla until light and fluffy.
Beat in eggs scraping down sides until mixed together.
In a bowl, mix all the dry ingredients: flour, baking soda, baking powder and salt.
Add dry mixture to the creamed butter and egg mixture.
Add butterscotch chips and mix again.
Scoop dough out in rounded tablespoons onto a parchment paper lined baking sheet a few inches apart. I use a medium sized cookie scoop for this.
Sprinkle each dough mound with a pinch of Maldon salt.
Bake in a preheated 375 degree oven for 9 – 10 minutes or just until they begin to brown. (If you are using a larger scoop increase time to 10-12 minutes). Do not over bake as cookies will continue to set as they cool.
Remove from oven and allow to cool on cookie sheet for 2 minutes before removing to cool completely on a cooling rack.