Pregnancy cravings are a funny thing. In the beginning of my pregnancy there were no cravings, only aversions to pretty much all food in general. Thank goodness that stage is over! After all, aren't pregnancy cravings part of the fun of this whole journey to motherhood?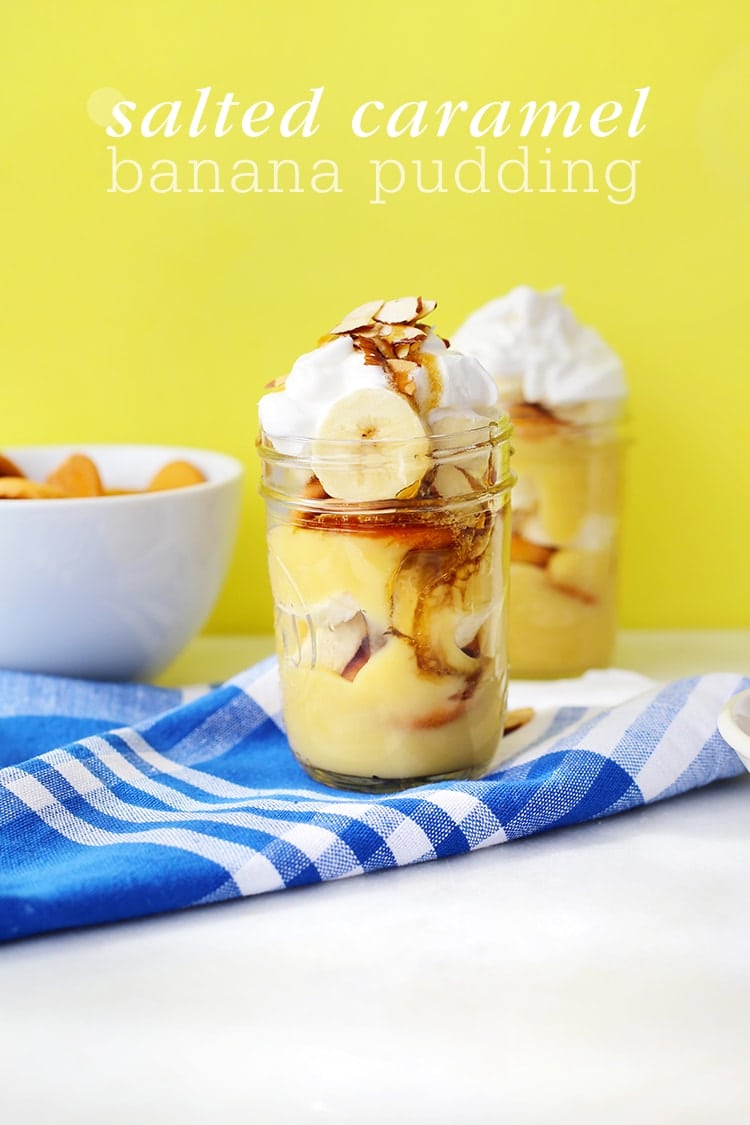 It's a time to indulge (just a little) in what we want for once, no holding back or practicing self control. It's a time to say, I haven't had banana pudding in a while and gosh darn that sounds good!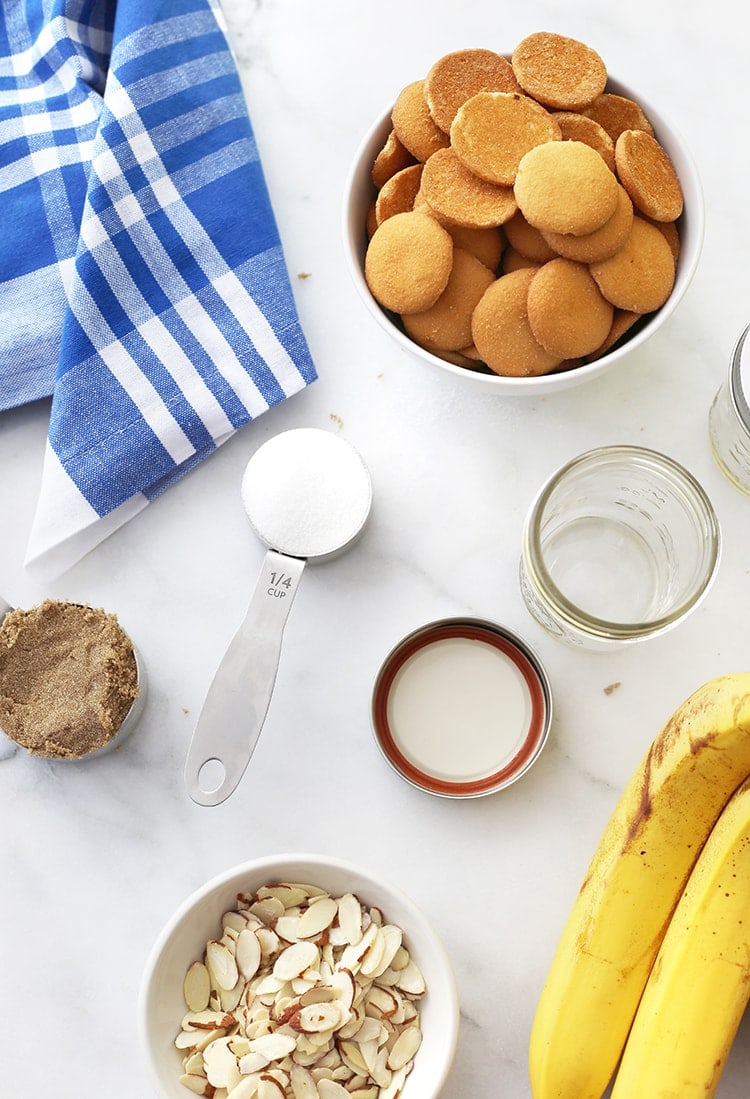 This third trimester has brought about a serious craving for Salted-Caramel Banana Pudding. Something about the combination of caramel and bananas makes my pregnant belly do a little jig. But does Salted-Caramel Banana Pudding even exist? Well it does now my friends and I'm eating it with a spoon!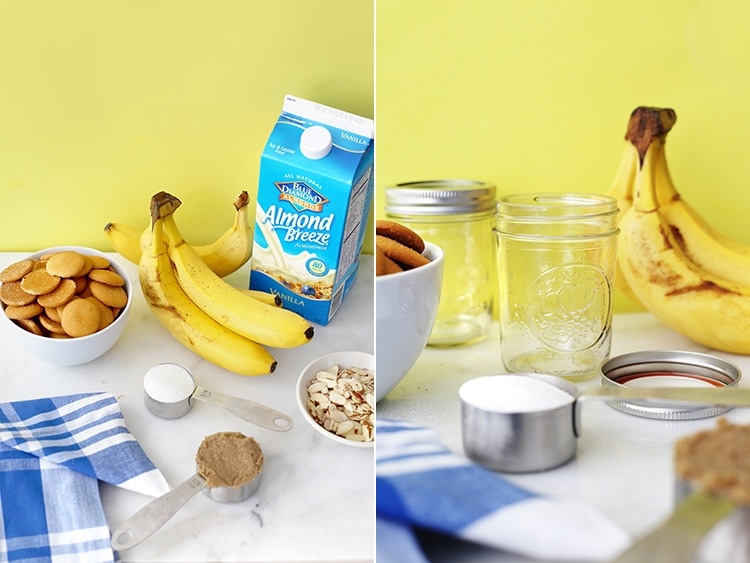 Layers of creamy vanilla pudding made with Almond Breeze Almondmilk Vanilla, crunchy classic Nilla Wafers, homemade salted caramel and whipped cream. I mean, does it get any better than that? And for all of you who love caramel but can't stomach the dairy, this salted caramel sauce is made with Almond Breeze Almondmilk Vanilla as well. Double yum!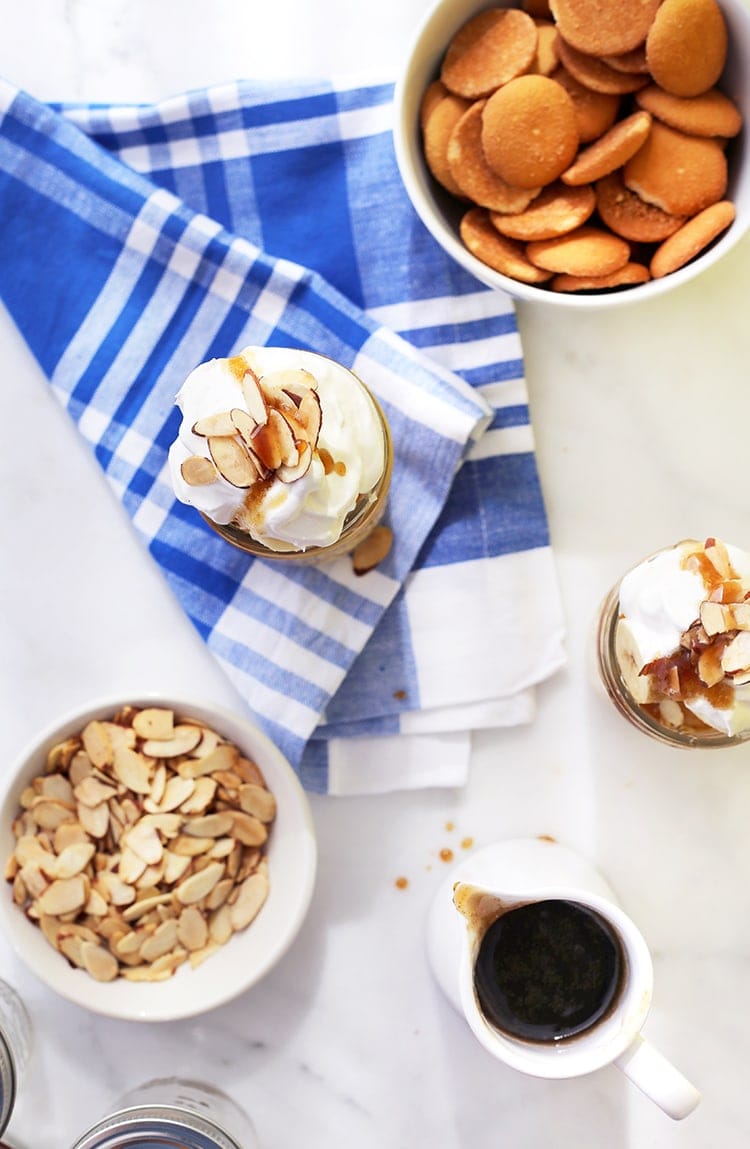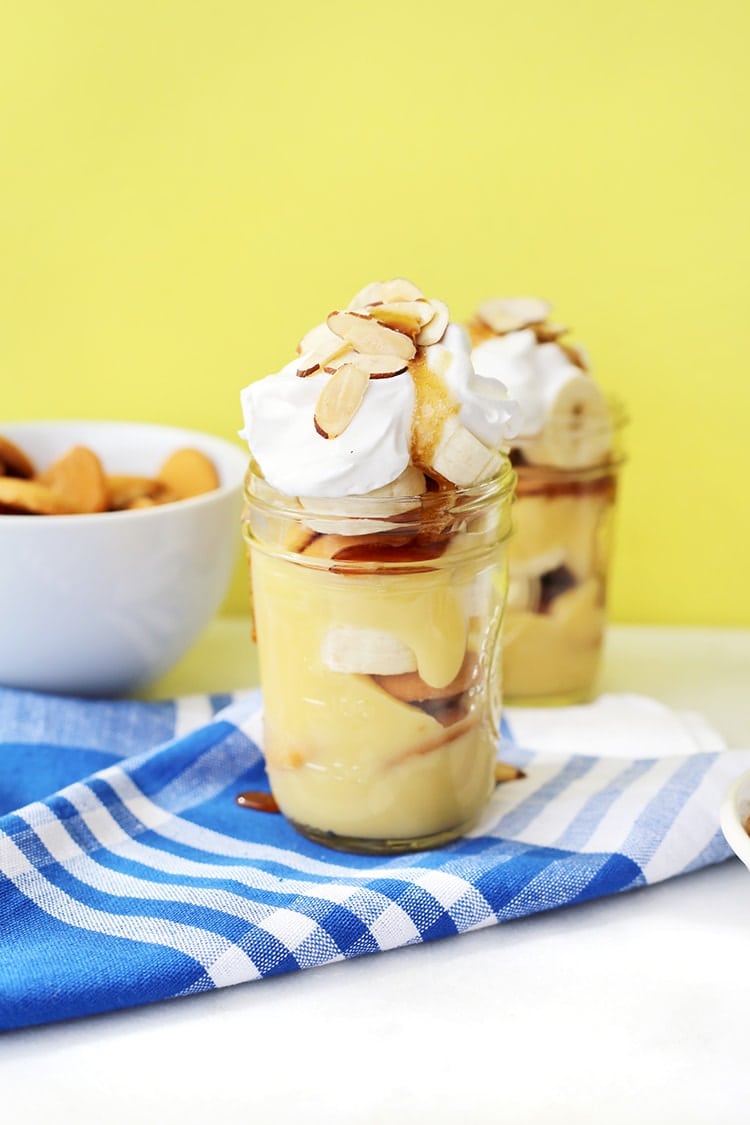 Oh, and you certainly don't have to be pregnant to crave or make this pudding. I say we all treat ourselves to a little banana pudding nostalgia this week. Raise your spoons high if you're with me!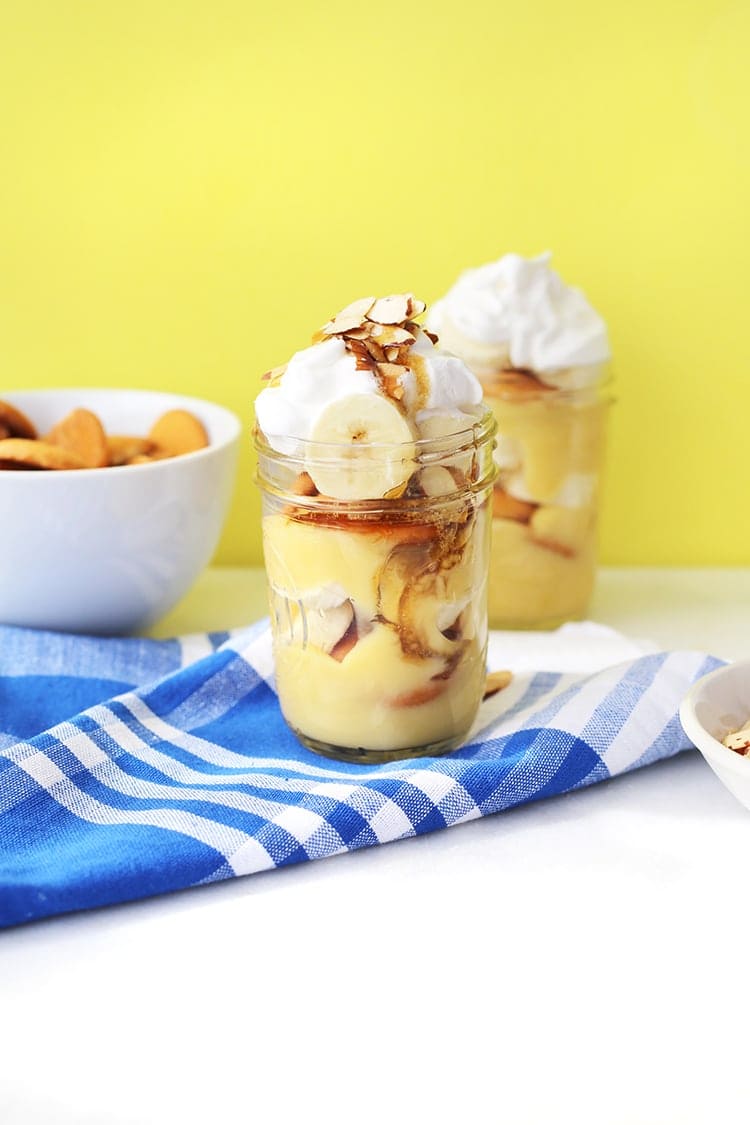 Recipe development & photos by Erin Phraner

Disclosure: This post was sponsored by Blue Diamond Almond Breeze Almondmilk however the recipe and all opinions expressed here are my own. Thank you for supporting the sponsors who support Freutcake!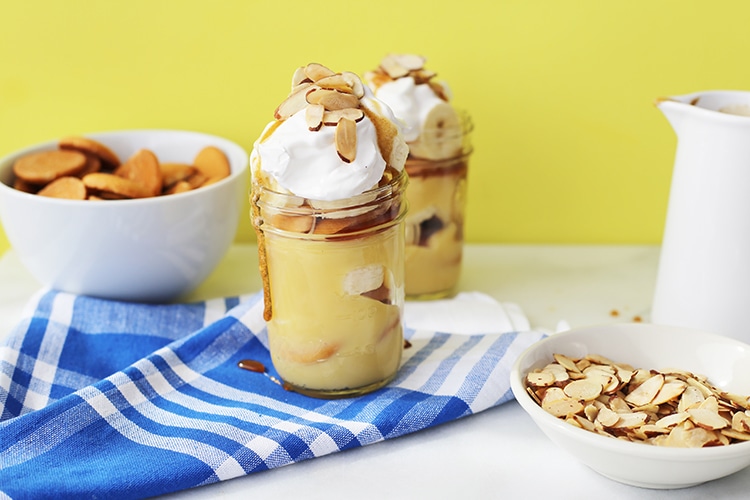 Salted-Caramel Banana Pudding with Toasted Almonds
2015-07-28 17:15:50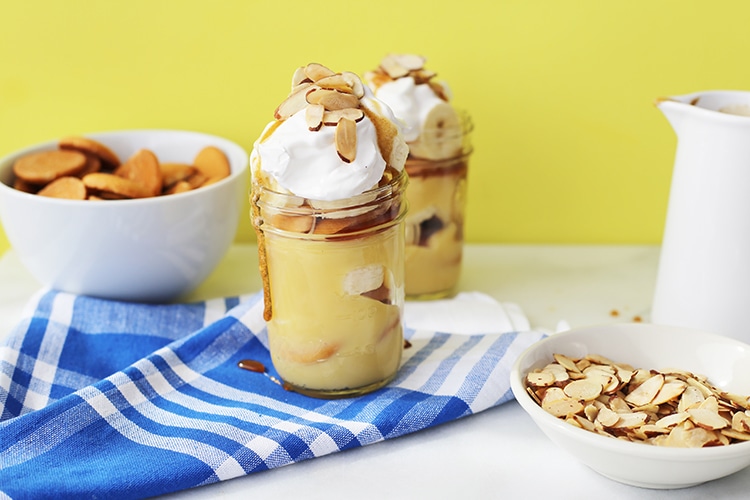 Serves 8
A delicious dairy-free version of classic banana pudding & homemade salted caramel sauce.
FOR THE PUDDING
2 (2.75-ounce) packages vanilla pudding mix
4 cups Almond Breeze Almondmilk Vanilla
1/2 cup sliced almonds
5 to 6 bananas, sliced
1 box Nilla Wafer or other vanilla wafer cookies
1 container frozen whipped topping
FOR THE SALTED CARAMEL SAUCE
2/3 cup packed dark brown sugar
1/2 cup granulated sugar
1/2 cup Almond Breeze Almondmilk Vanilla
1 teaspoon fine sea salt
Instructions
Prepare the pudding mix as the label directs using Almond Breeze Almondmilk Vanilla (4 cups or the amount listed on the packaging). Transfer pudding to a large bowl; let cool slightly. Press plastic wrap directly onto the surface of the pudding and refrigerate until cool, about 1 hour.
Meanwhile, prepare the caramel sauce: Cook the brown sugar, granulated sugar, almond milk and salt in a saucepan over medium heat, stirring constantly, until the sugar dissolves, about 2 minutes. Bring to a simmer, stirring occasionally. Simmer, stirring occasionally, until sauce thickens and coats the back of a spoon, 5 to 7 minutes.
Put the almonds in a dry skillet and cook over medium heat, shaking the pan occasionally, until toasted, about 5 minutes. Keep the almonds moving as they get toastier to prevent burning.
In mason jars or other small containers, layer the pudding, sliced bananas, wafer cookies and toasted almonds. Top each with a dollop of frozen whipped topping. Drizzle generously with salted caramel sauce. Enjoy!
Freutcake https://www.freutcake.com/