These Sesame-Ginger Tofu Rice Bowls (or sushi bowls as I like to call them) have saved me more times than I can count. It is one of the many quick and easy go-to meals I can usually whip-up without a trip to the grocery store and for that I call it my very-favorite. Ok, that's not fair to all of the other meals...but it sure is good.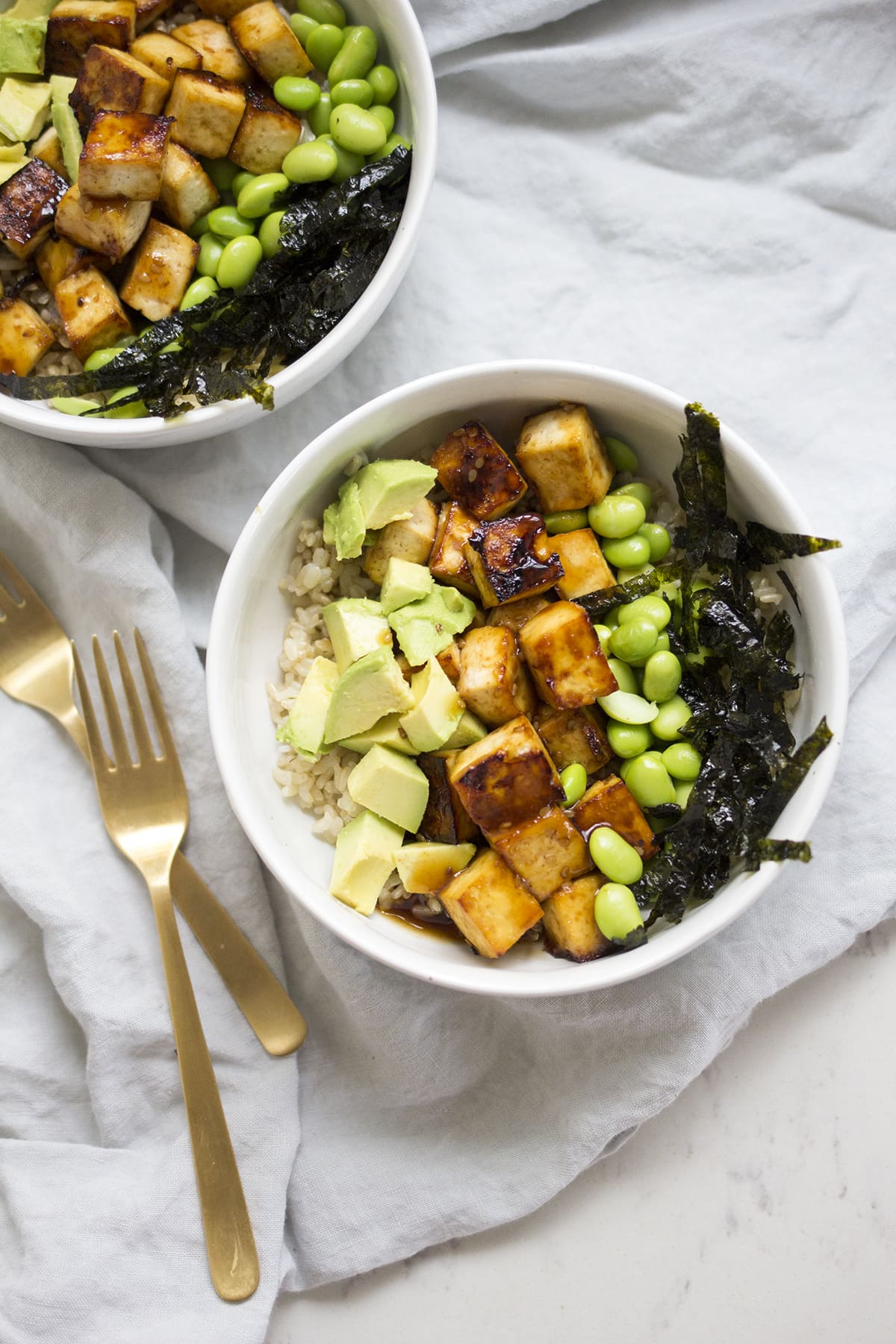 The secret is that I can get all of the ingredients at Trader Joe's and usually have them on hand. The Sesame Soy Ginger Dressing that I use as a marinade and sauce for the tofu, the dried seaweed, the frozen shelled edamame, heck even the rice and tofu! Although I will occasionally sub the tofu for salmon or chicken if I already have it in the fridge. If you are really in a pinch for time, Trader Joe's sells frozen Brown Rice bags that you can microwave for 30 seconds. Ding! Dinner is served, fast.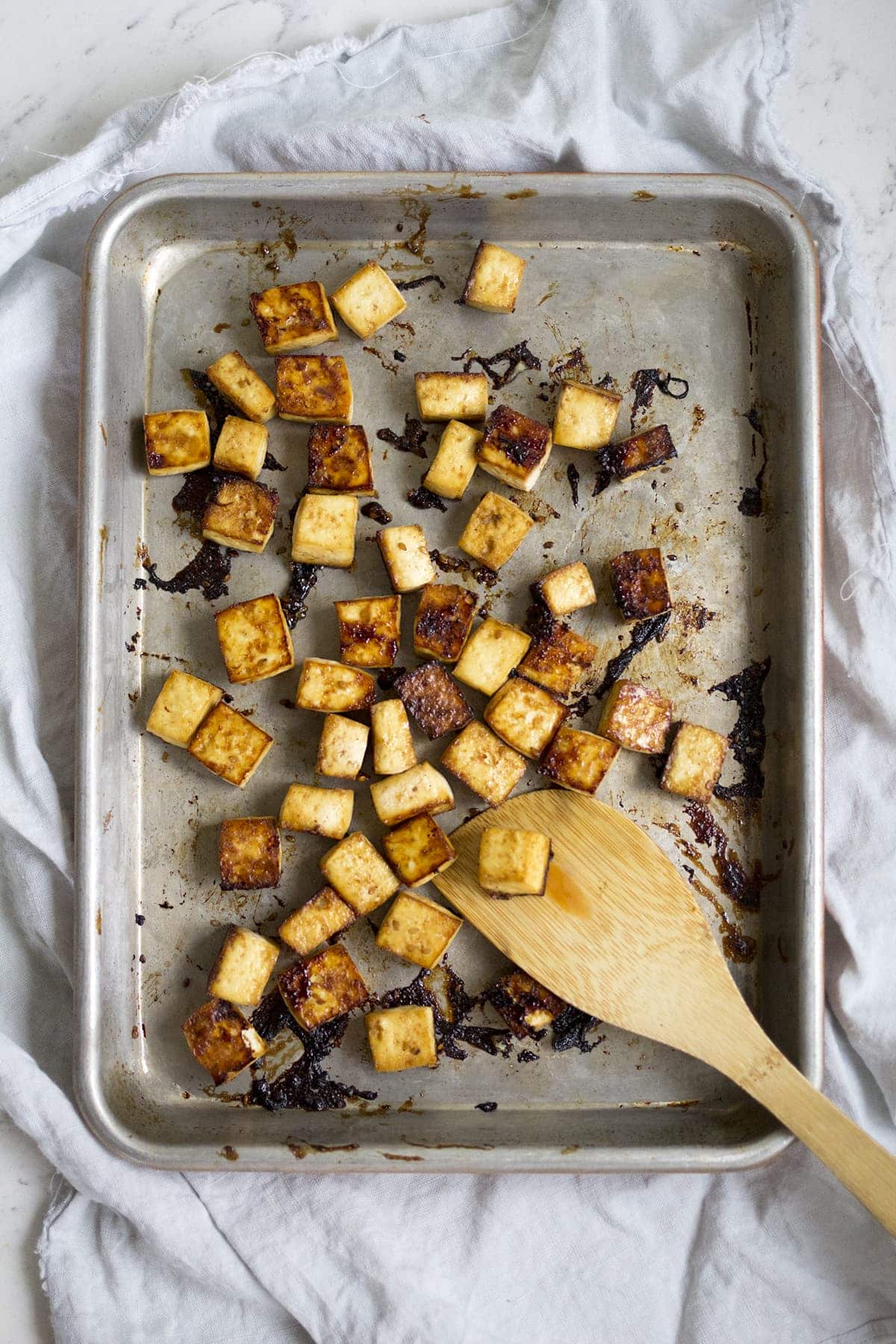 Personally I like to bake my tofu because it gets really caramelized and lovely with crisp little edges. If you have never baked tofu, try it! It's so simple and way less messy than dealing with sauteeing it.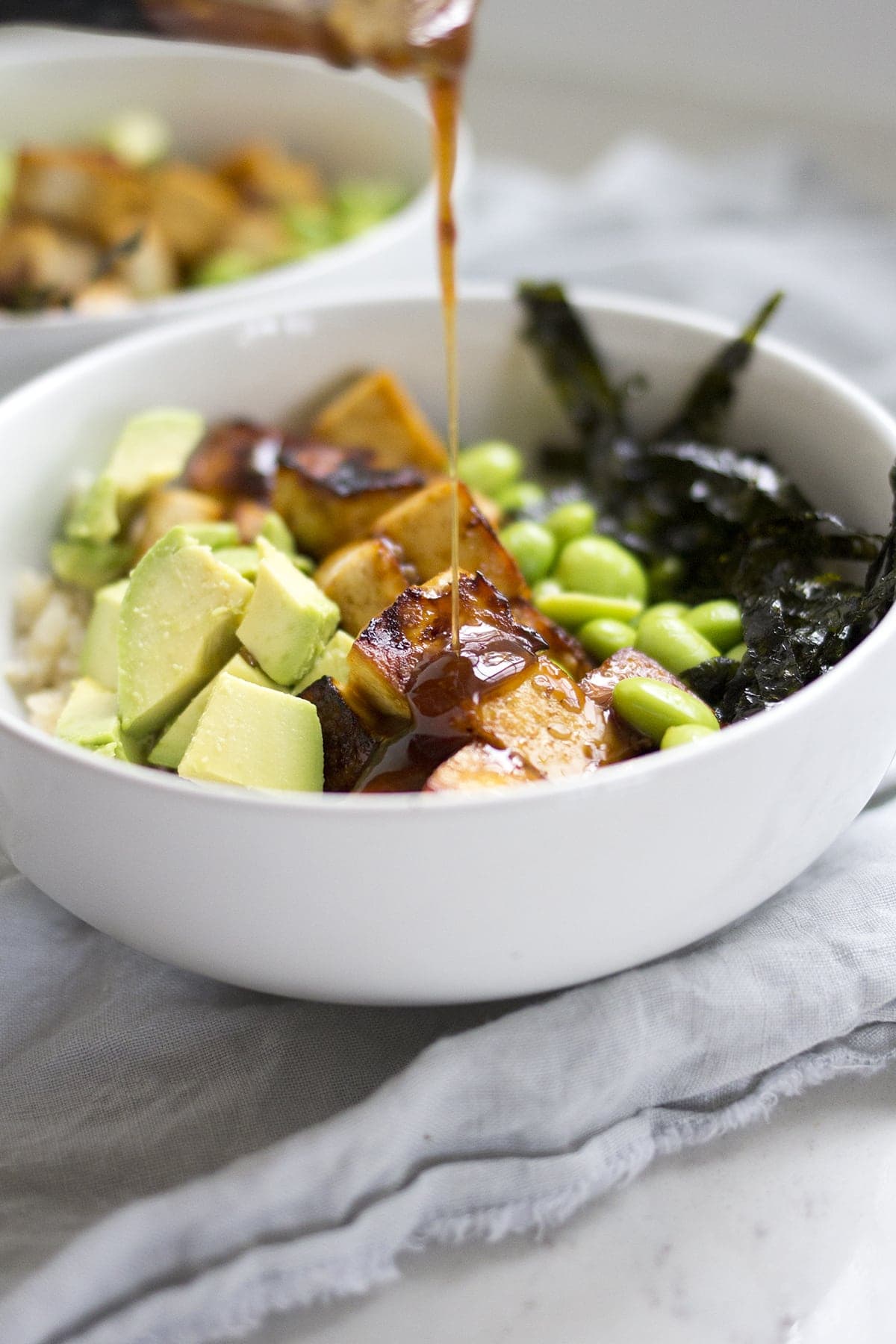 Next fill your bowl with fluffy brown rice and pile it high with tofu and toppings. The more the better! I love shelled edamame, seaweed, and avocado but I also have added roasted broccoli, and cucumber. The cucumber is a nice touch if you like the whole sushi bowl flavor. Drizzle the tofu with a bit more dressing and serve with a squeeze of Sriracha. Dinner is served!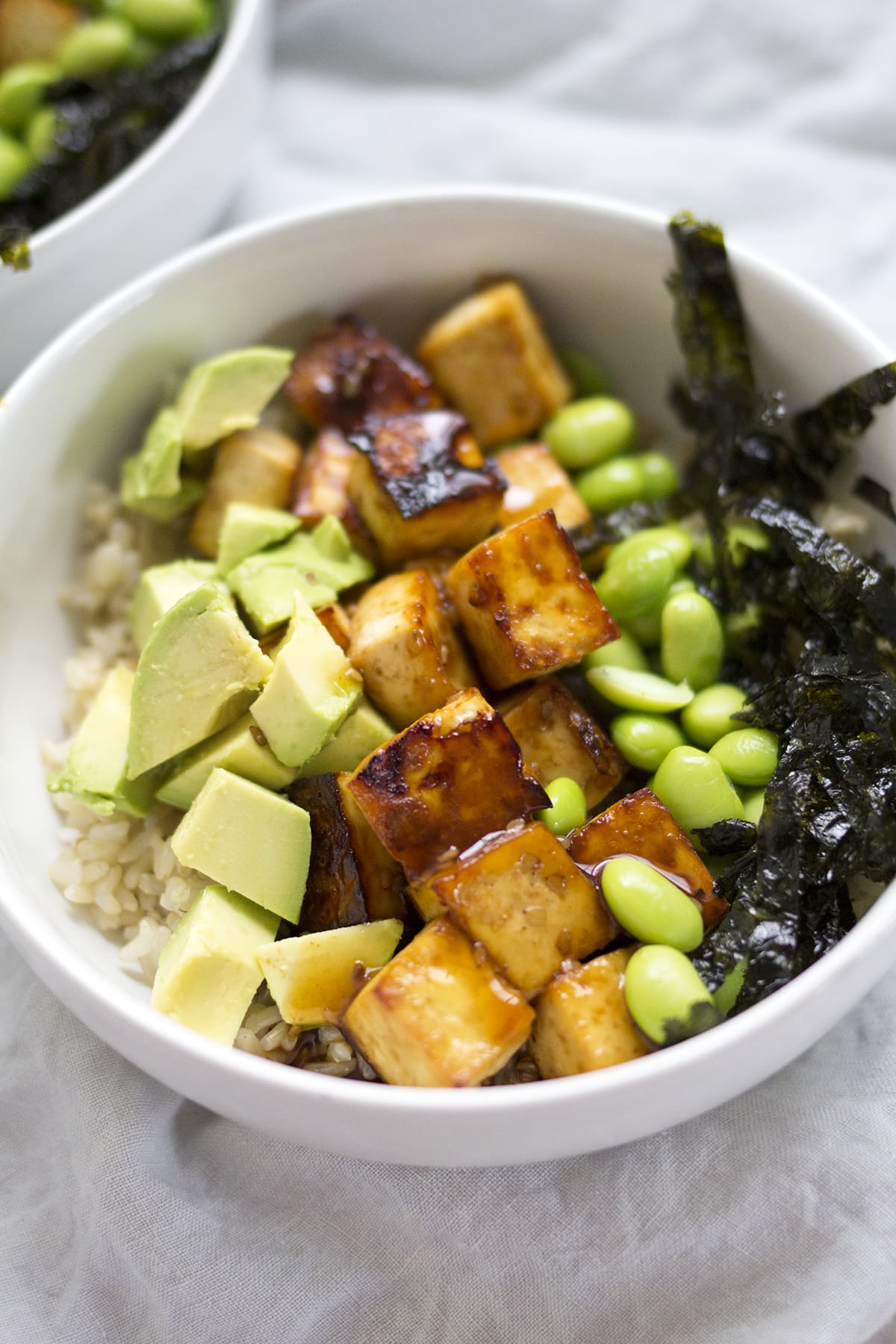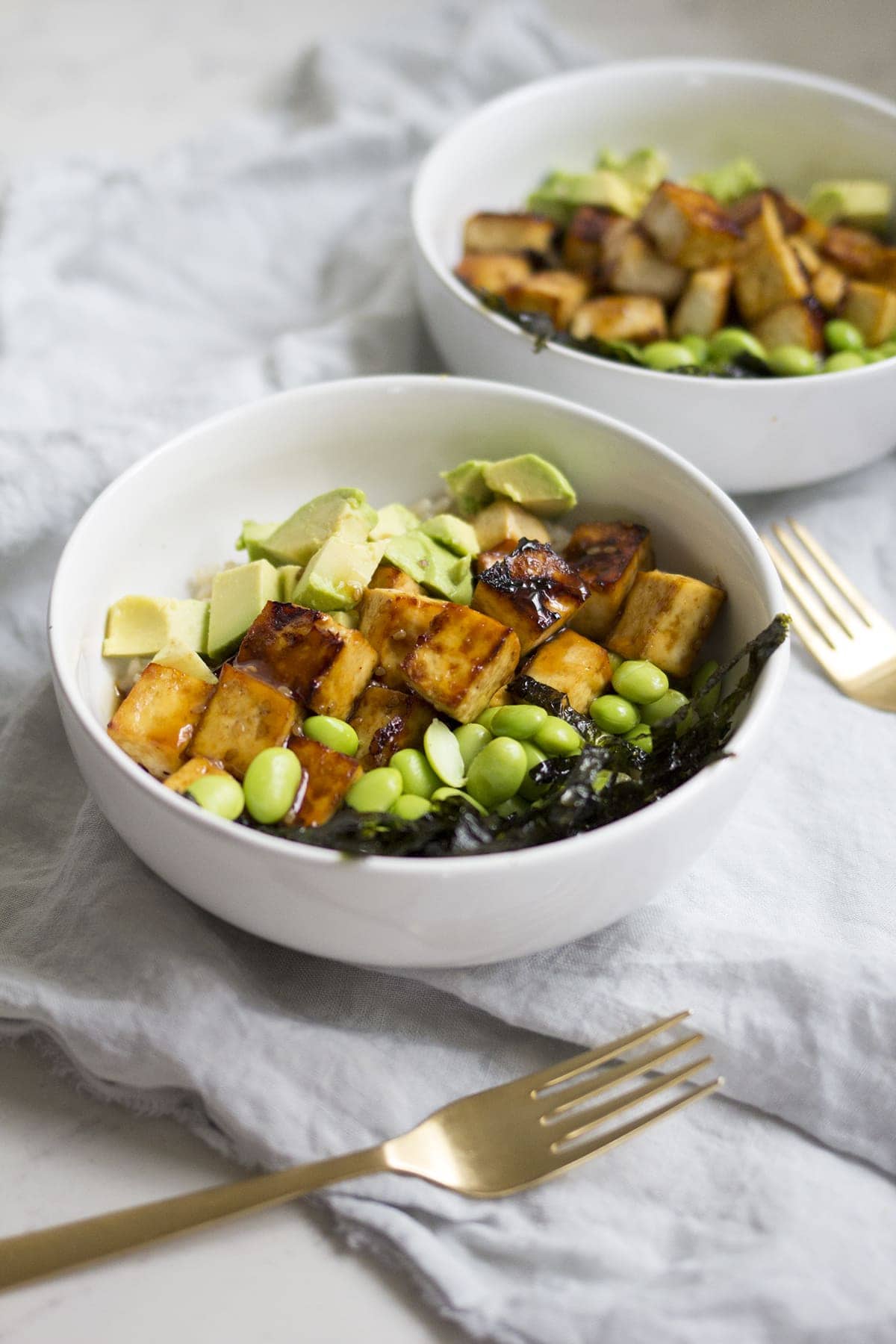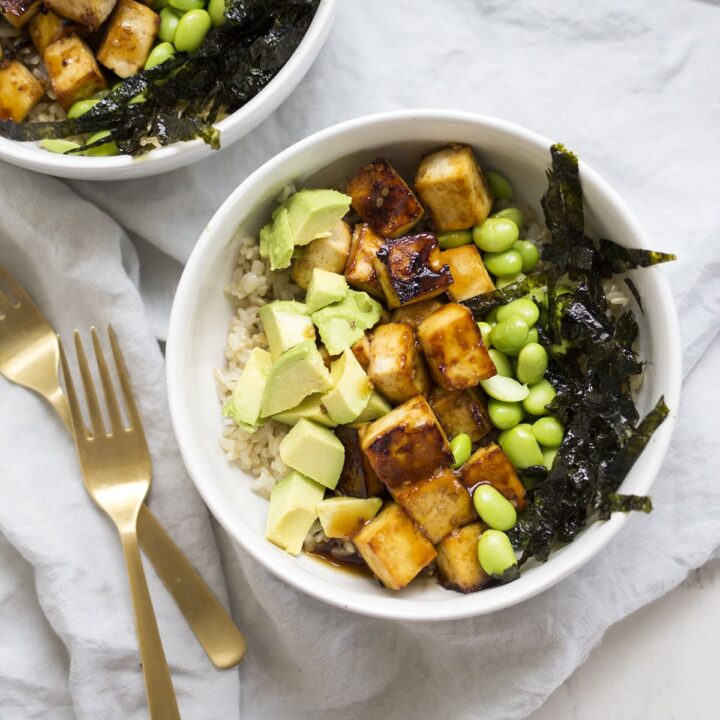 Sesame-Ginger Tofu Rice Bowls
Easy rice bowls topped with oven baked sesame-ginger tofu, avocado, seaweed and edamame.
Ingredients
1-14oz Package Extra Firm Tofu
3 tablespoon Trader Joe's Sesame Soy Ginger Dressing, plus more for serving
Cooked Brown Rice
1 avocado, diced
Dried Seaweed, cut into strips
Shelled edamame
Sriracha for serving
Instructions
Preheat oven to 400°F. On a paper towel lined plate, press tofu to remove extra liquid. Cover tofu with a baking sheet weighed down with a heavy book for and allow it to drain for at least 30 minutes but up to one hour. Discard liquid and paper towels.
Spray a rimmed baking sheet with cooking spray (I use coconut oil spray) and set aside.
Cut tofu into small 1" cubes and in gently toss in Sesame Soy Ginger Dressing.
Arrange on prepared sheet pan and bake for 40 minutes turning once until tofu is slightly crisp and golden.
In the meantime, prepare brown rice according to packaged instructions. I usually make enough for two adults and two small babies which is 1 cup dried rice, however you can make as much or as little as you like.
Assemble Bowls:
Fill bowls with a layer of brown rice, a serving of baked tofu, a row of diced avocado, edamame and sliced seaweed strips.
Drizzle with extra Sesame Soy Ginger Dressing if desired and serve with Sriracha on the side.
Save
Save