What are your Memorial Day plans? For us, the holiday will be simple. A day spent at home, playing in the yard and getting to work on our long list of household chores and to-dos. We might barbecue or make pizza (like we do so often) and of course bake Strawberry Rhubarb Pie.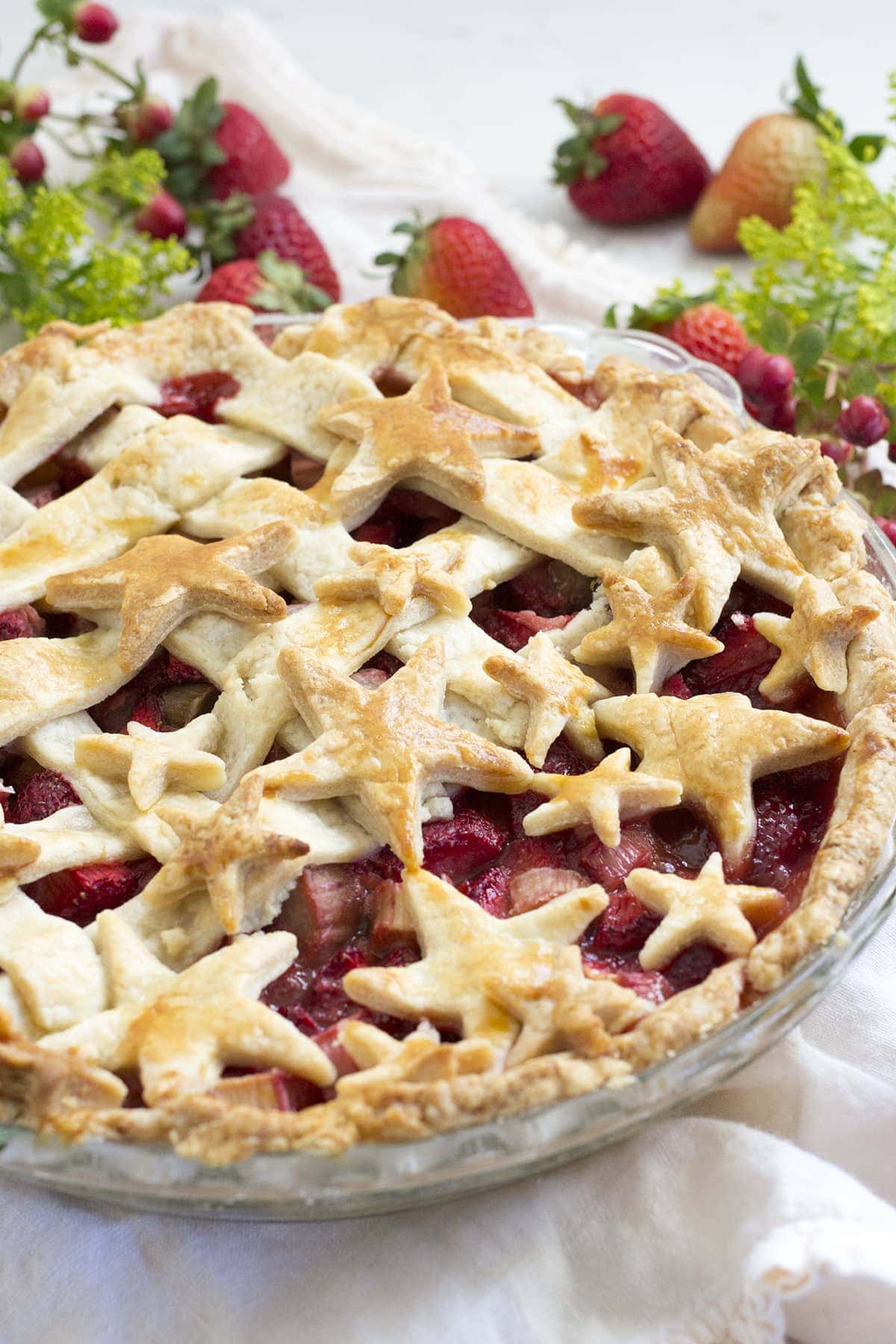 It's the unofficial first day of summer and for me, a day to feel very thankful for all of the freedoms we are granted because of the veterans who have given up their lives for our country. So, we will eat pie, and relax and enjoy time with our babies and celebrate the holiday in humble gratitude.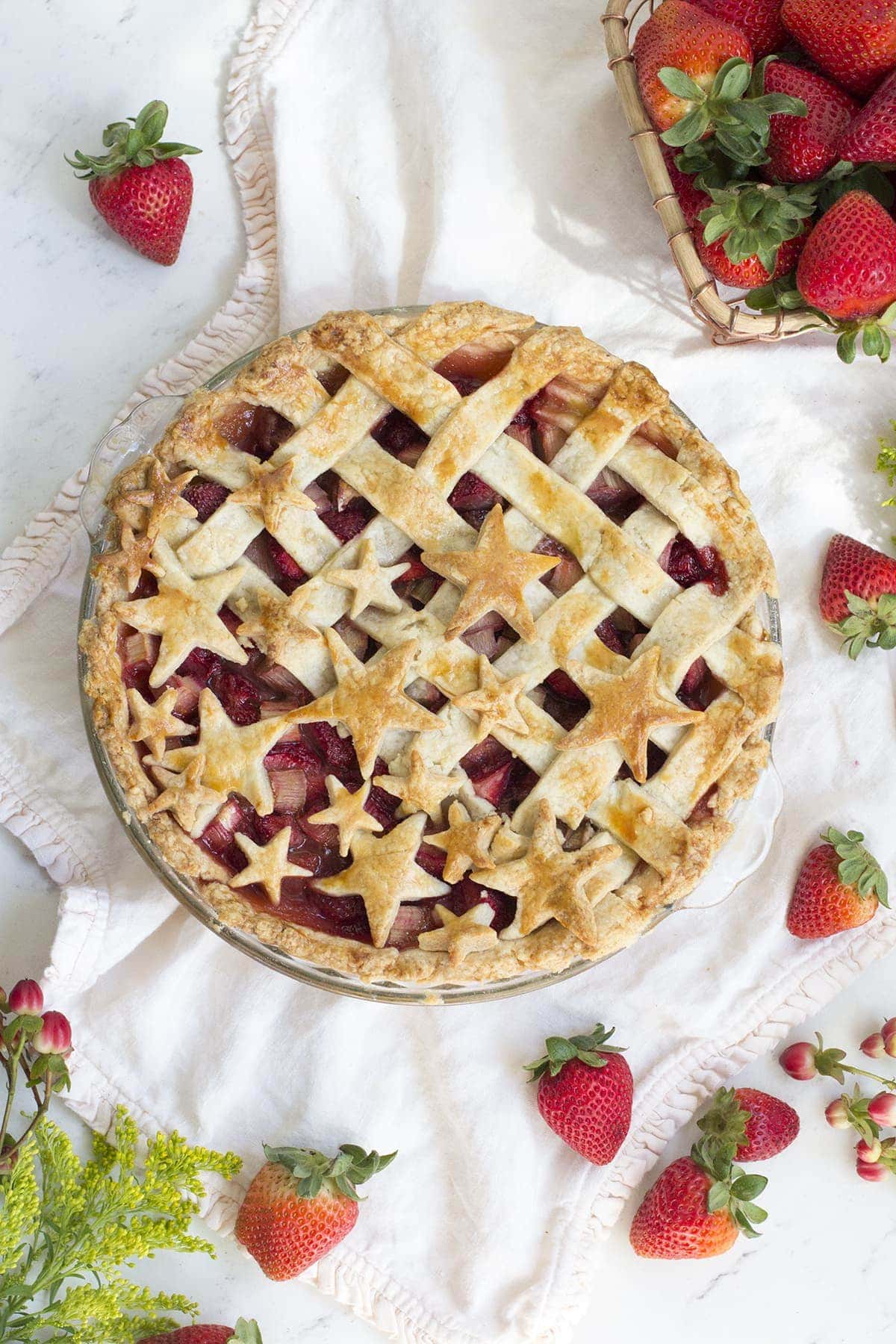 Because rhubarb season has finally arrived, the pie will of course be Strawberry Rhubarb. The perfect sweet and tart summer flavors you could ever dream together inside of a flaky and buttery crust.
The crust is a family recipe passed down to me by my Aunt from her Mother-in-Law, Mrs. Himmel, and it really is perfection. The ratios are just right and I sweeten it just a bit for pies like this one. The filling is a recipe from Bon Appetite and has little room for improvement, if you ask me! It's my favorite.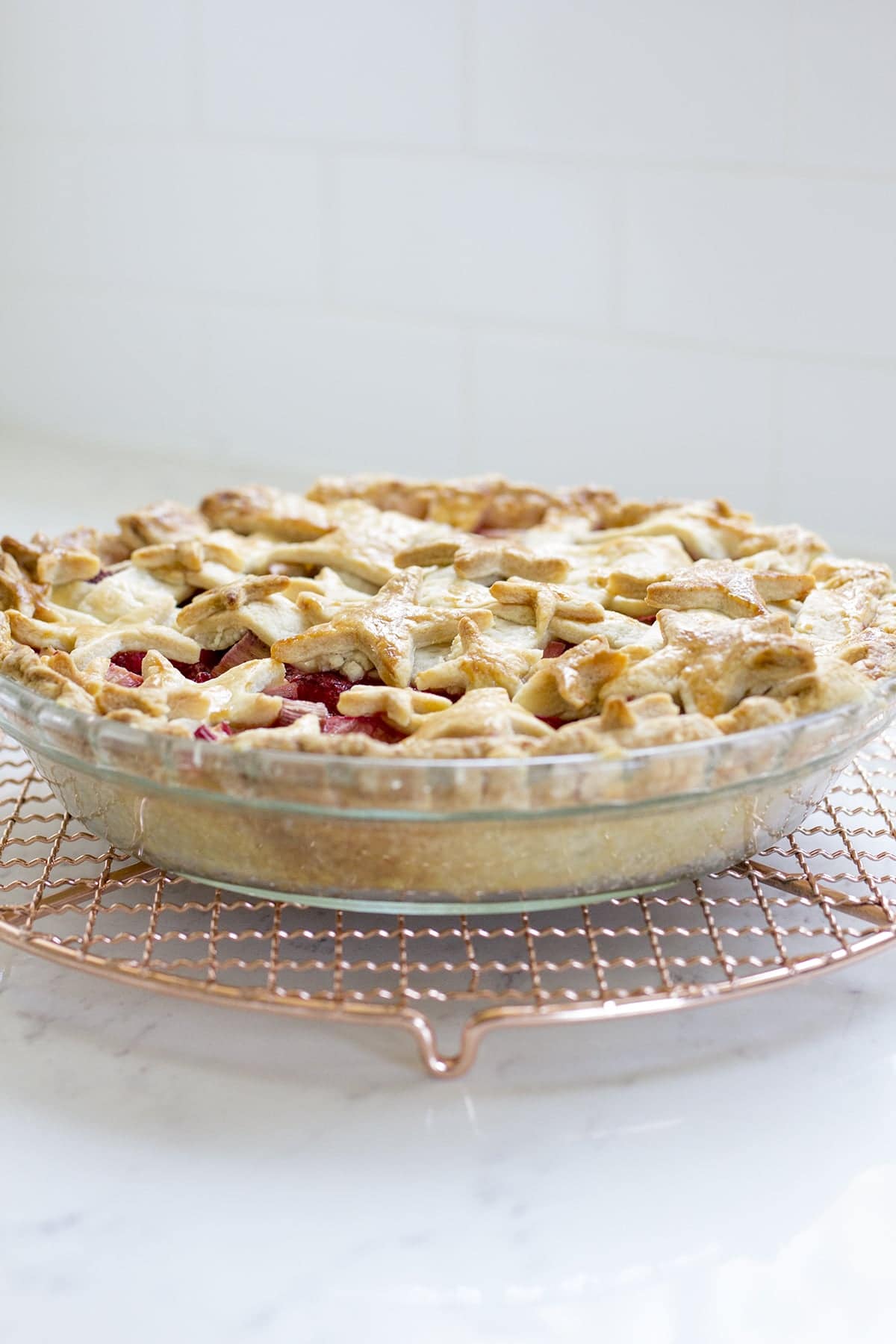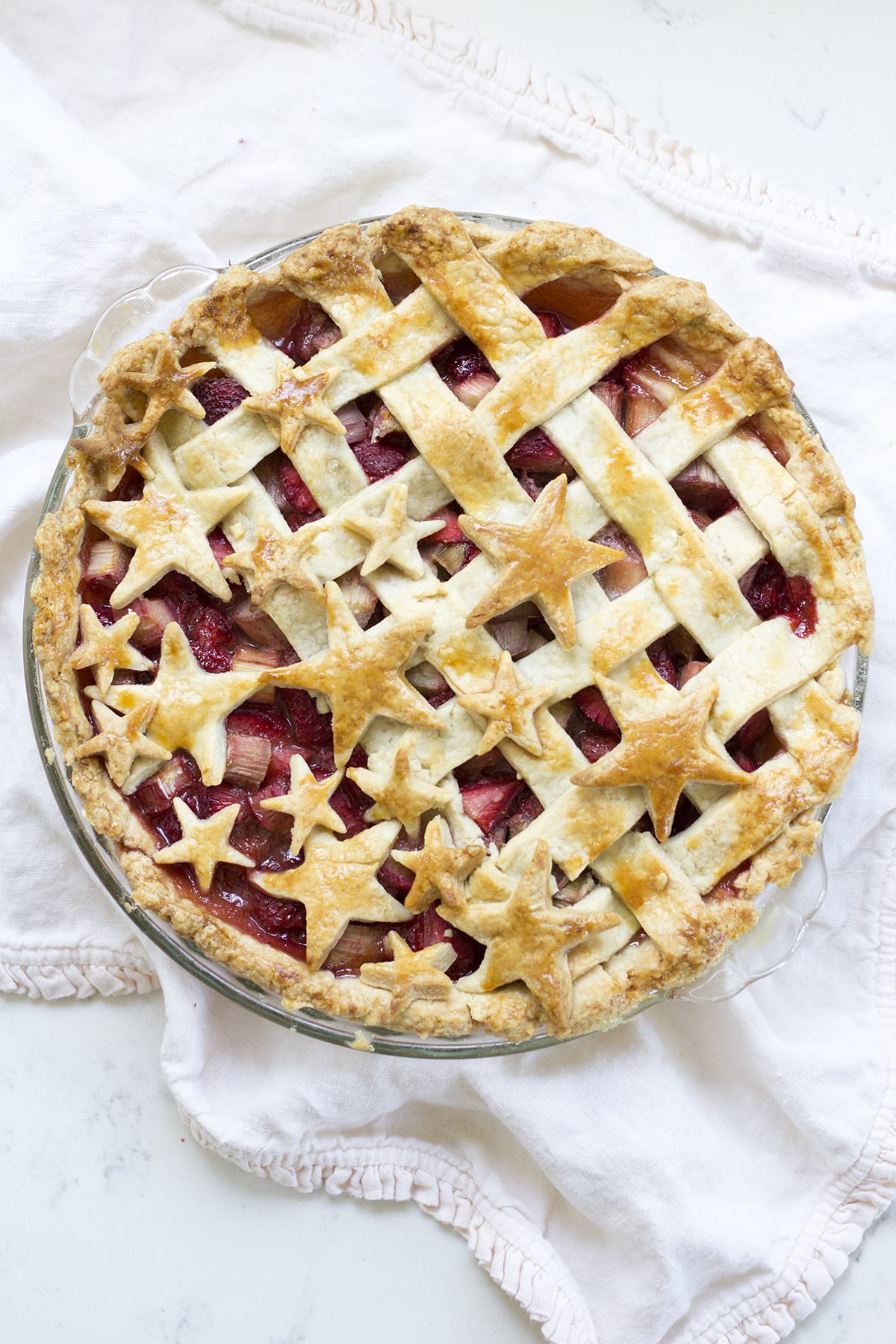 If you are making this pie for a non-patriotic holiday (or just because) you can always stick with a traditional lattice top or even a solid top with little slits cut throughout for ventilation. I just felt like going all out with stars and stripes for the holiday. I really can't be stopped with my star cookie cutters.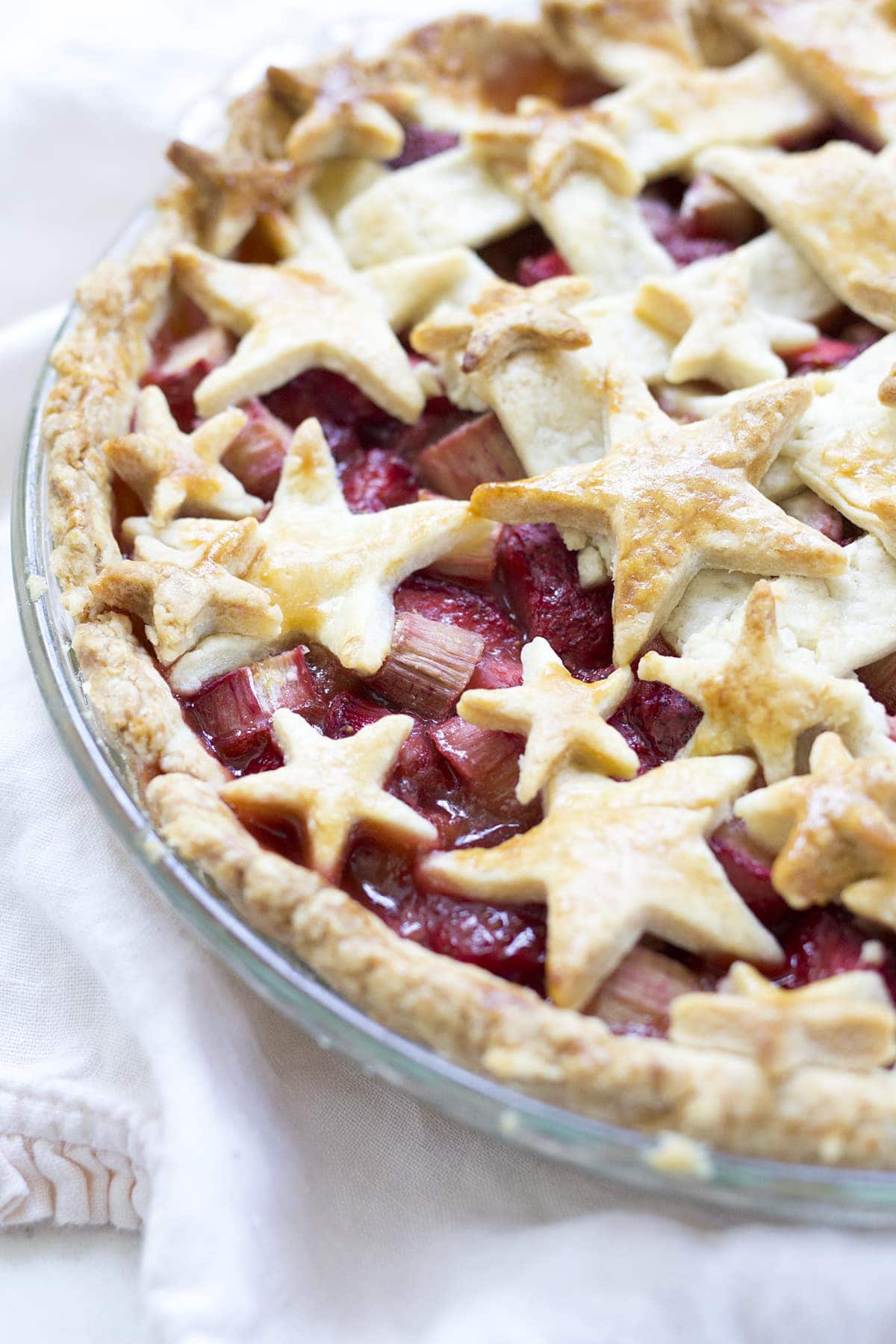 Either way, the pie will taste just as delicious and be gone in a flash. Make sure you cool it all the way to room temperature (at least 4 hours) before slicing so that the filling has enough time to set. After that it's ready to serve on its own or with a giant scoop of vanilla ice cream. Whoever came up with the crazy-genius idea to sweeten rhubarb and put it in a pie should really win all of the awards. Happy Memorial Day!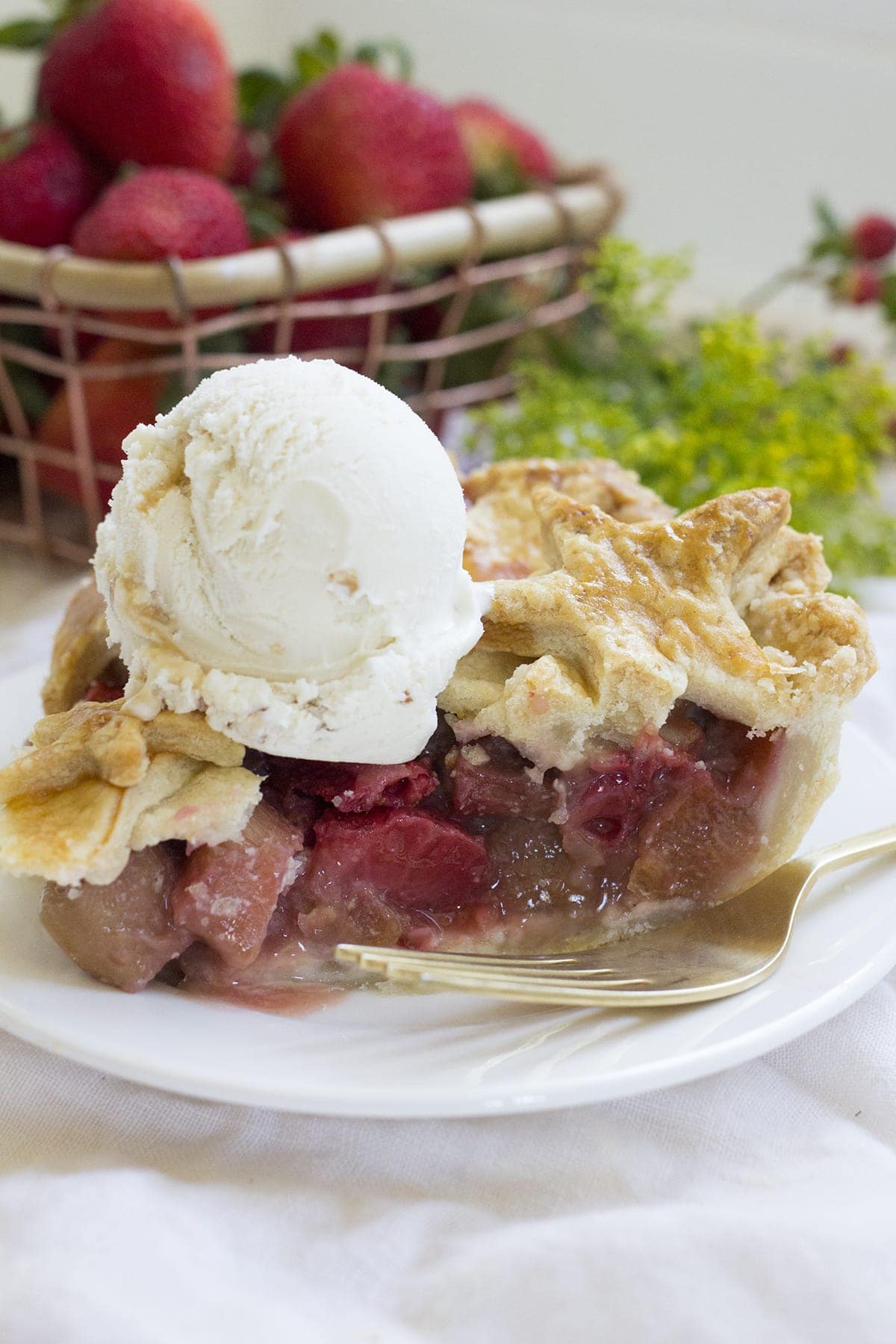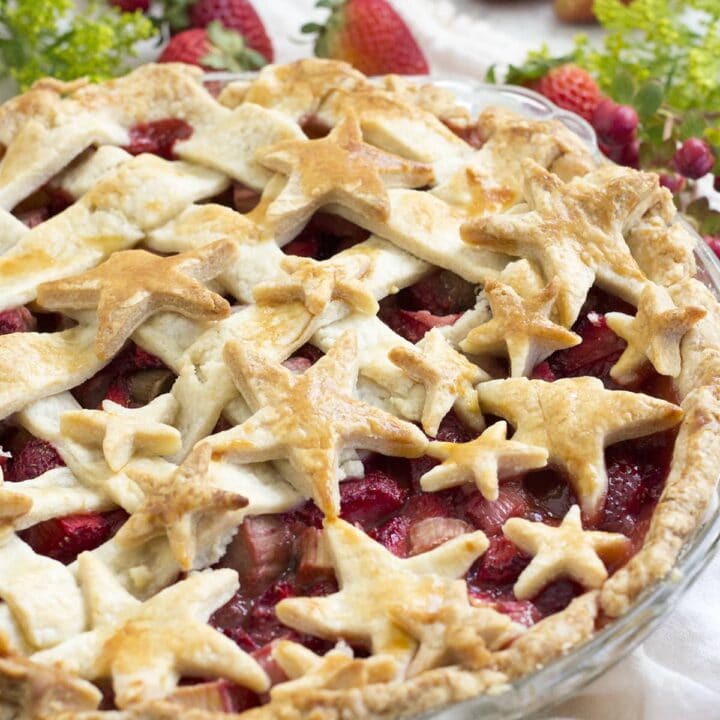 Strawberry Rhubarb Pie
Cook Time:
1 hour
30 minutes
Total Time:
1 hour
30 minutes
A classic strawberry rhubarb pie made with my favorite family recipe for pie dough.
Ingredients
Pie Crust:
2 ⅓ cups all-purpose flour
⅓ cup cold Crisco
⅓ + 3 tablespoons cold salted butter
1 ½ tablespoons sugar
¼ cup whole milk
Filling:
All-purpose flour (for dusting)
1 vanilla bean, split lengthwise, or 1 teaspoon vanilla extract
1¼ pounds rhubarb, cut into ½-inch pieces
1 pound strawberries, hulled, halved, quartered if large
½ cup granulated sugar
⅓ cup (packed) light brown sugar
5 tablespoons cornstarch
1 teaspoon finely grated lemon zest
Pinch of kosher salt
1 large egg
1 tablespoon raw sugar or granulated sugar
Instructions
Make the pie crust dough: In a mixing bowl, combine flour and sugar. Cut shortening and butter into flour using a pastry cutter or work quickly with your hands until the mixture is crumbly and the butter and crisco are well distributed. Add milk gradually mixing with a fork until the dough comes together. You may need just a splash more or less milk. Gather up the dough and divide into two equal pieces. Flatten each half into a flat round and wrap in plastic. Refrigerate 4 hours or overnight.
Preheat oven to 425°. Let chilled pie dough sit at room temperature 5 minutes to soften. Working one at a time, roll out disks on a lightly floured surface to ⅛" thick. Place each on a parchment-lined rimmed baking sheet and chill while you prepare the filling. Scrape vanilla seeds into a large bowl; reserve pod for another use. Add rhubarb, strawberries, granulated sugar, brown sugar, cornstarch, lemon zest, and salt; toss to coat. Carefully transfer 1 dough round to pie dish (make sure it's a deep pie dish). Lift up edges and allow dough to slump down into dish (if it's too cold to be pliable, let it warm up slightly first). Gently press dough into edges of dish, if needed. Trim, leaving about a 1" overhang. Gently scrape in filling and smooth top. Cut half of the remaining round into ½" strips about begin creating a lattice over ¾ of the pie. With the remaining dough use various sizes of star shaped cookie cutters to cut out stars. Arrange them over the exposed portion of the filling and overlapping the lattice. Crimp edges of lattice and bottom crust together. (my bottom was a bit smaller than usual so I didn't have much to work with for a crimped edge.)
Beat egg with 1 tsp. water in a small bowl and lightly brush over top of dough. Sprinkle with raw sugar if desired. (I skipped this step)
Transfer pie dish to a foil-lined rimmed baking sheet and chill in freezer 10 minutes. Bake pie 5 minutes, then reduce oven temperature to 375°. Continue to bake until crust is deep golden brown and juices are thick and bubbling, 75–90 minutes longer. If using a clear pie dish, check underneath to make sure the crust is browned all the way across the bottom.
Transfer pie to a wire rack and let cool at least 4 hours before serving. Make sure to wait the entire 4 hours before cutting so that the filling will be set and not runny.
Do Ahead: Pie can be made 1 day ahead. When cool, cover with aluminum foil and store at room temperature.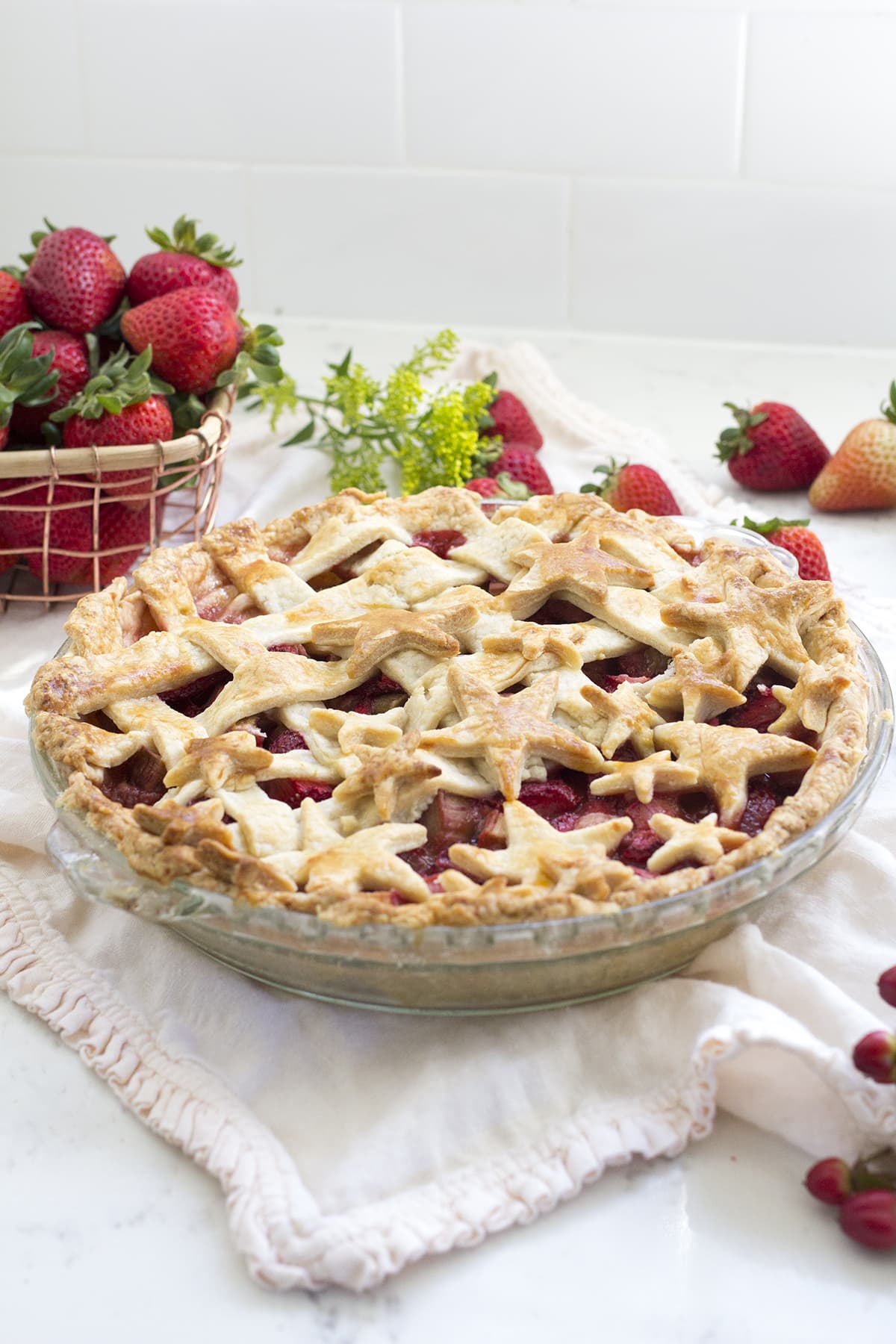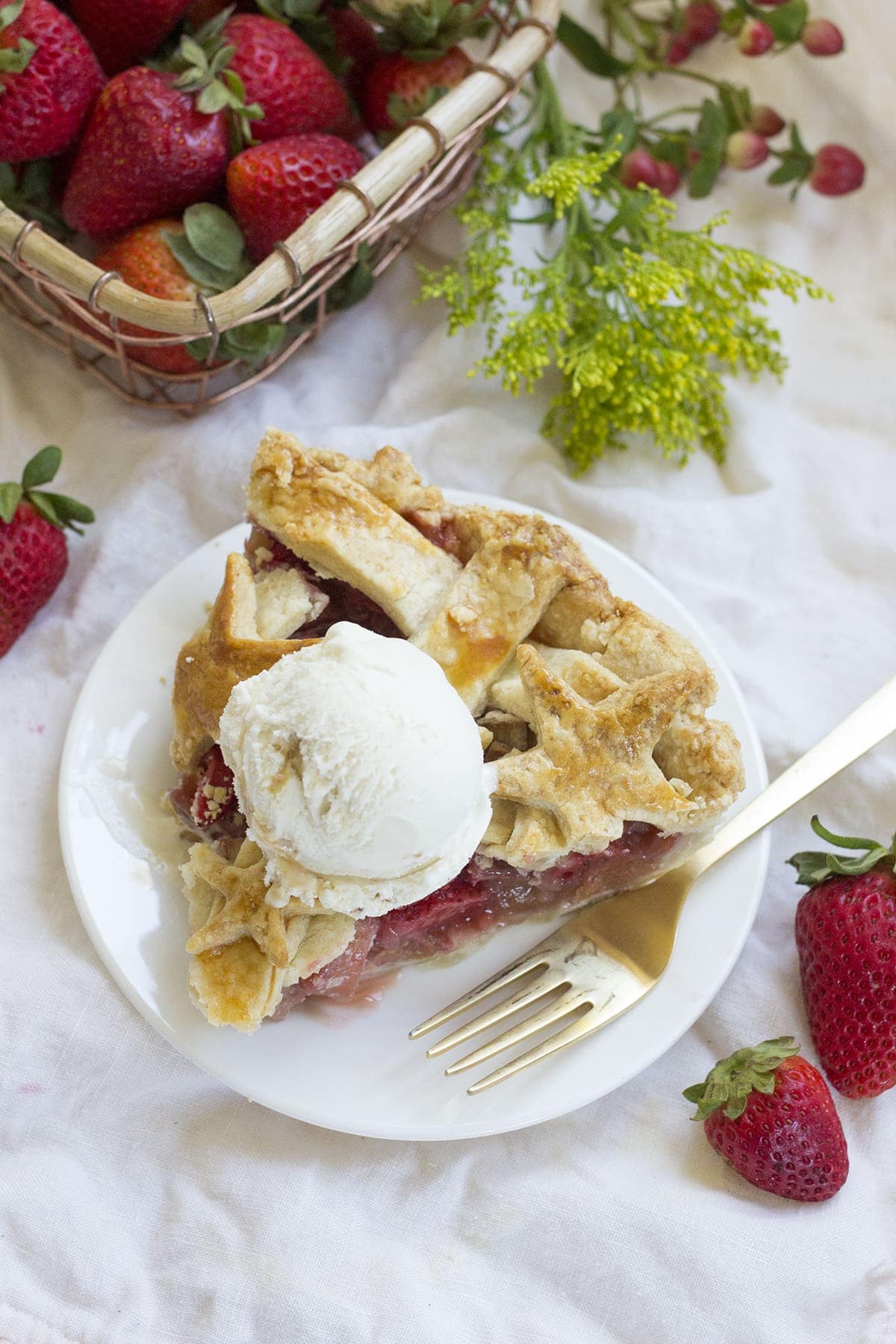 Save
Save