Calling all charcuterie lovers! If a big old platter of cured meats and cheese is your love language, well then baby this Valentine's Day Charcuterie Board is just for you.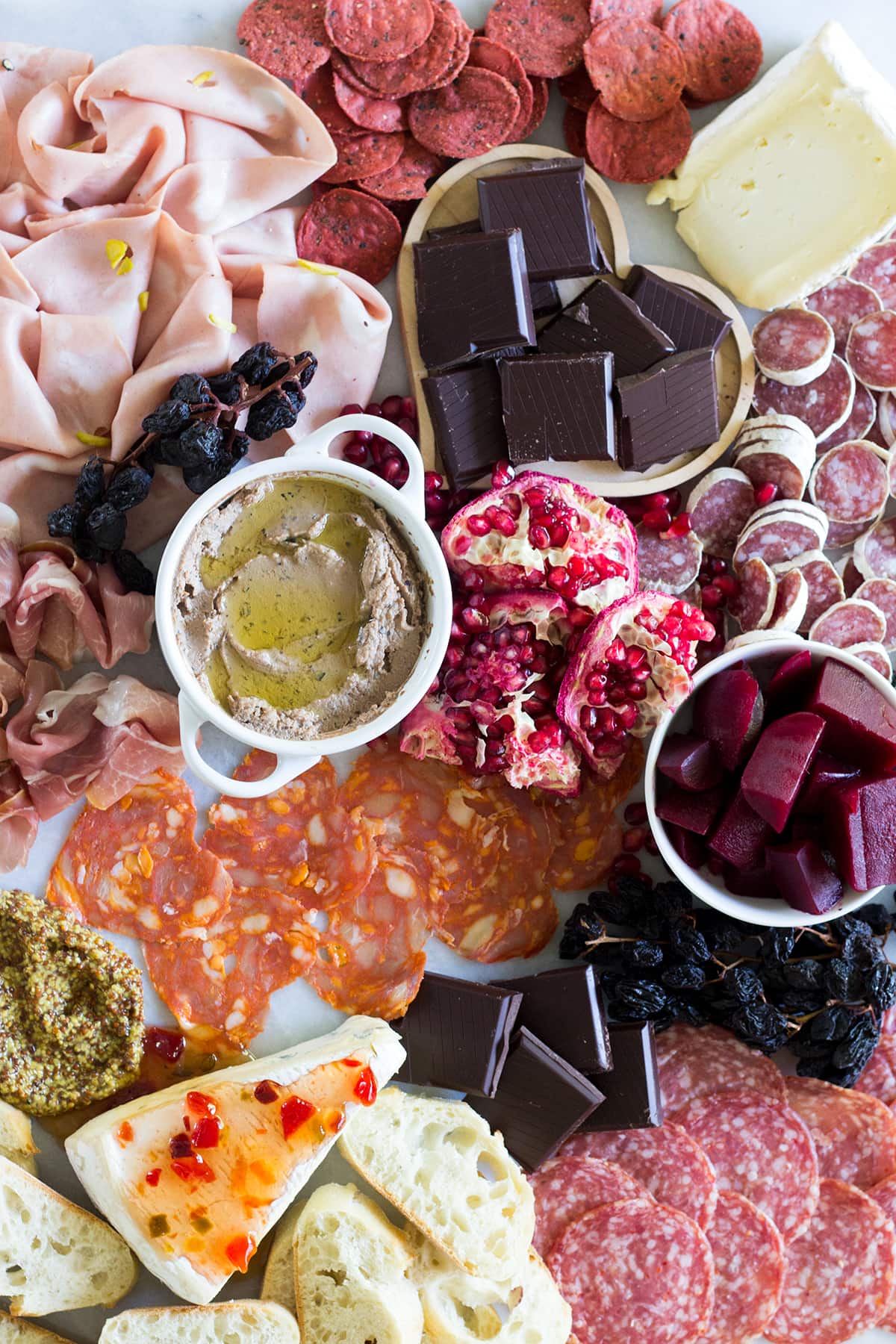 I'm the kind of gal that 100% of the time wants to stay home for Valentine's Day. Whether that's because I prefer the simplicity of a home cooked meal or because I hate the crowds, in my opinion it's way more romantic. Make dinner for the one you love like this easy and decadent Fettuccini Alfredo with Sundried Tomatoes or open a bottle of good wine and lay out the charcuterie board from heaven...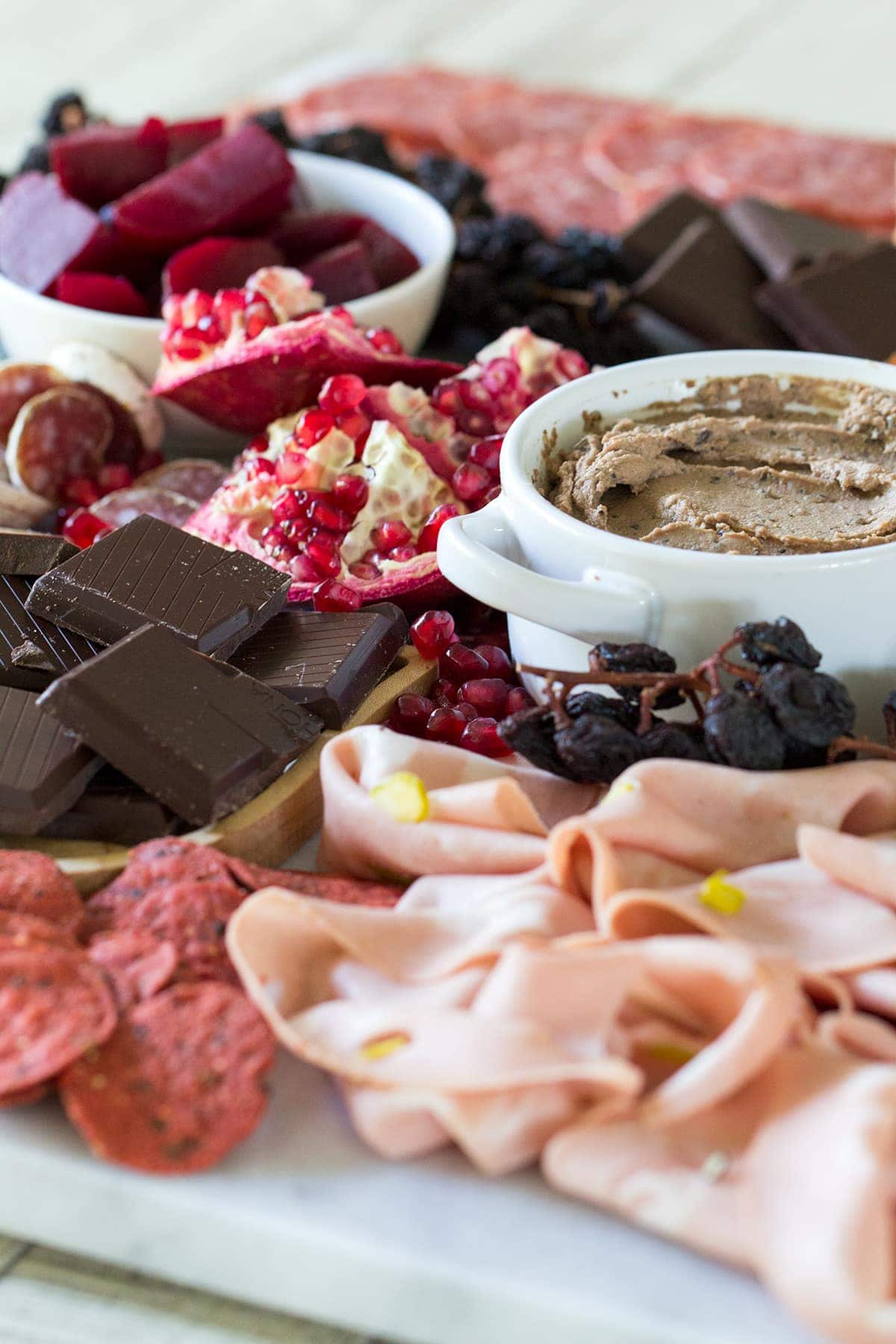 Here's how I built it:
THE MEATS:
Charcuterie means to prepare meat. So naturally a Charcuterie board consists mostly of meats with a variety of other goodies that compliment them nicely. Here are the meats I chose to include.
Calabrese Salame- Pretty much everyone likes salame so it's always a good choice!
Salchichon, Jamón Serrano & Chorizo Cantimpalo- I picked up this three pack from Trader Joe's and it gives a nice variety of spicy and savory meats.
Mortadella with pistachios- Personally, I think this tastes like a fancy bologne but it is pretty and tasty and the pistachios give it a fun twist.
Salame Secchi- a hard salami you slice that has a strong and distinct flavor that pairs really nicely with fruit and pungent cheese like blue.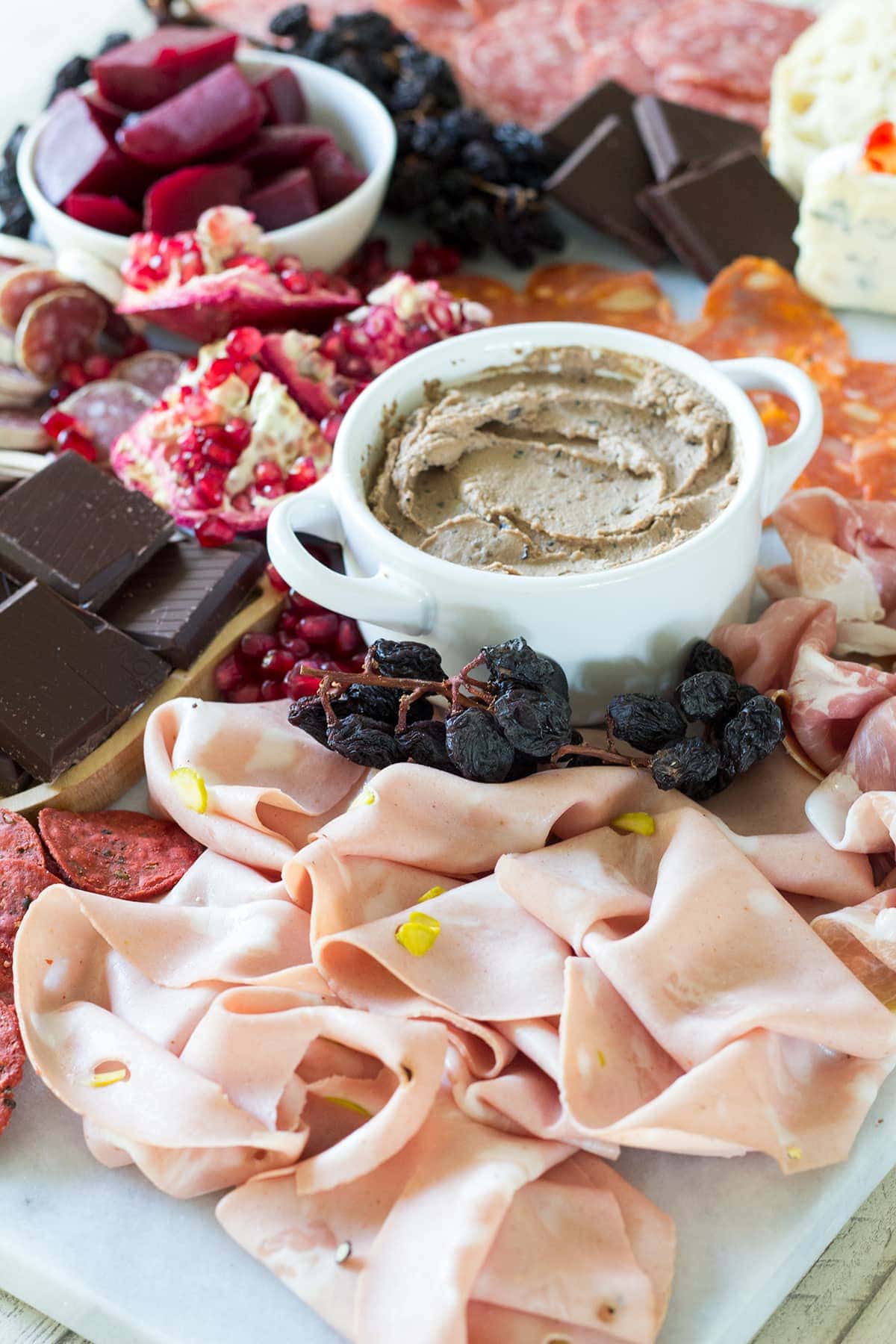 THE SPREADS:
I'm all about the spreads, they really are the best part! This is where the honey, jam, good stuff comes into play and I dig it. Here's what I added to my board.
Grainy Mustard- in keeping with the Valentine's Day theme I decided that at least one of my spreads should be spicy! Who doesn't love a good grainy mustard with meat?
Pepper Jelly- Sweet and savory all in one! I spread this generously all over the brie.
Truffle Mousse Paté- Don't knock it until you've tried it. The Truffle Mousse Paté from Trader Joes is absolutely to die for and is made with chicken livers, sherry wine, truffles, mushrooms and brandy. Yum!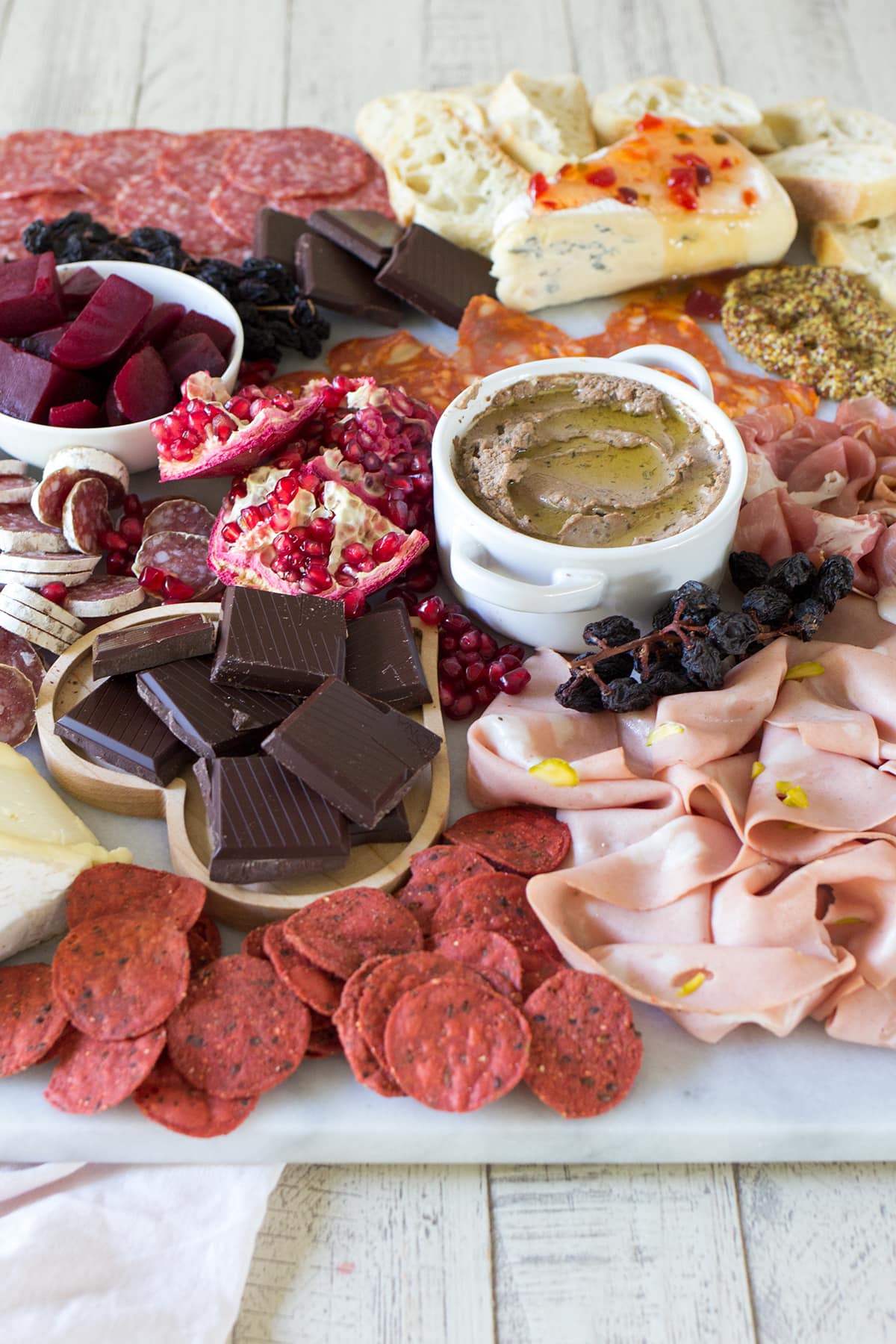 CHEESES:
Since meat is really the star of the show here, I limited my cheese selection to just two of my favorites, Blue and St. Andre. Both creamy and delicious and easily spreadable which is always good.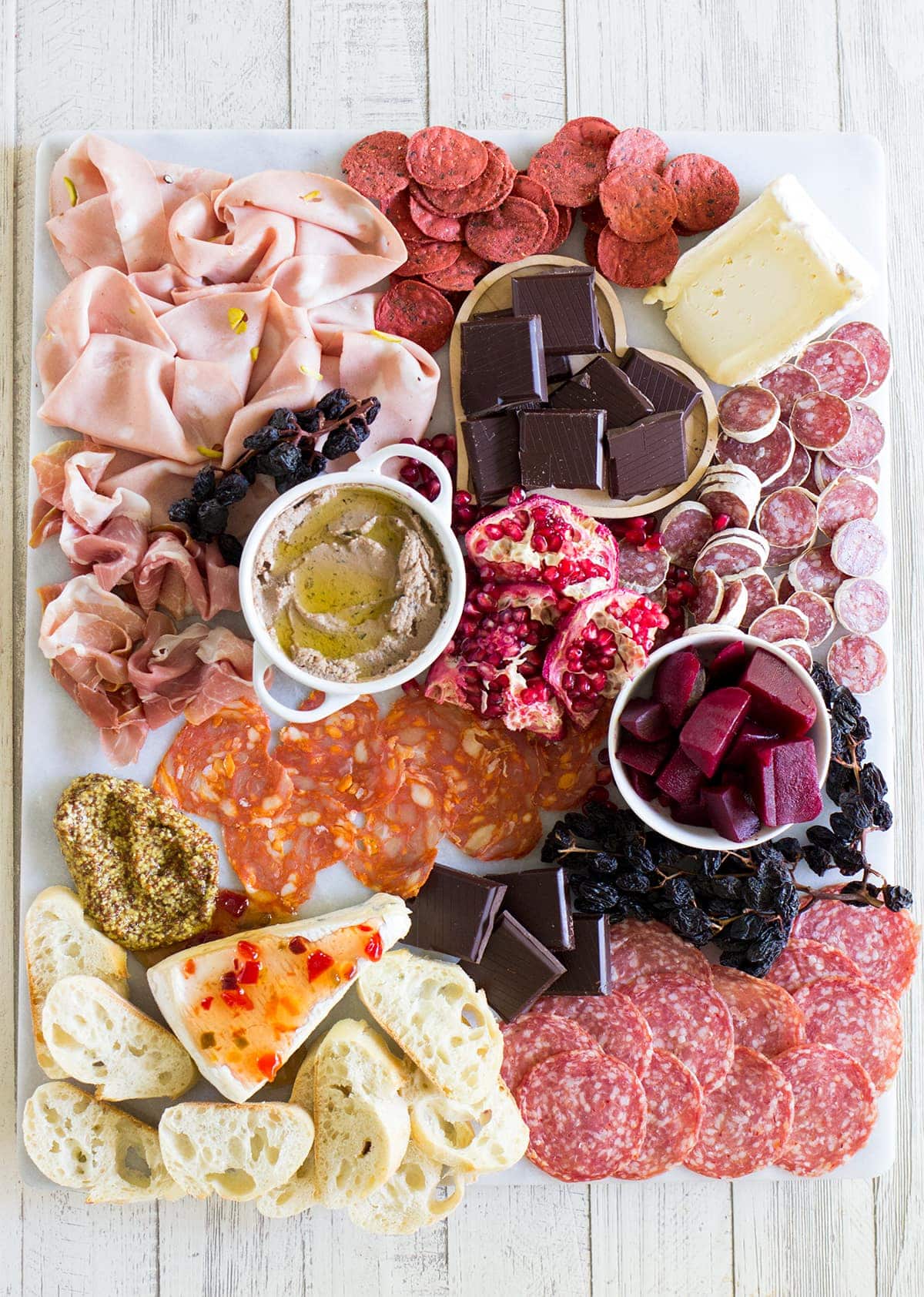 OTHER ACCOUTREMENTS:
Beet crackers- little red crackers made with beet juice are perfect for the Valentine's Day theme.
Sliced baguette- because you'll need something to spread that delicious paté over.
Raisins on the vine- a grocery store find that I just couldn't resist, however any dried fruit of your liking will do.
Pomegranate- break into rustic chunks and let the seeds fall where they may, this is not about perfection.
Pickled Beets- a tangy pickled note to cut the fatty goodness of all that meat. Plus it's appropriately colored for the occasion.
and lastly...
Dark chocolate- I really isn't Valentine's Day without it. Pick up a really good quality chocolate bar and break it into pieces all over your Charcuterie Board. That wasn't meant to sound corny but it did. Do you forgive me? Just do it. You'll enjoy the dry dark chocolatey bite after the cheese.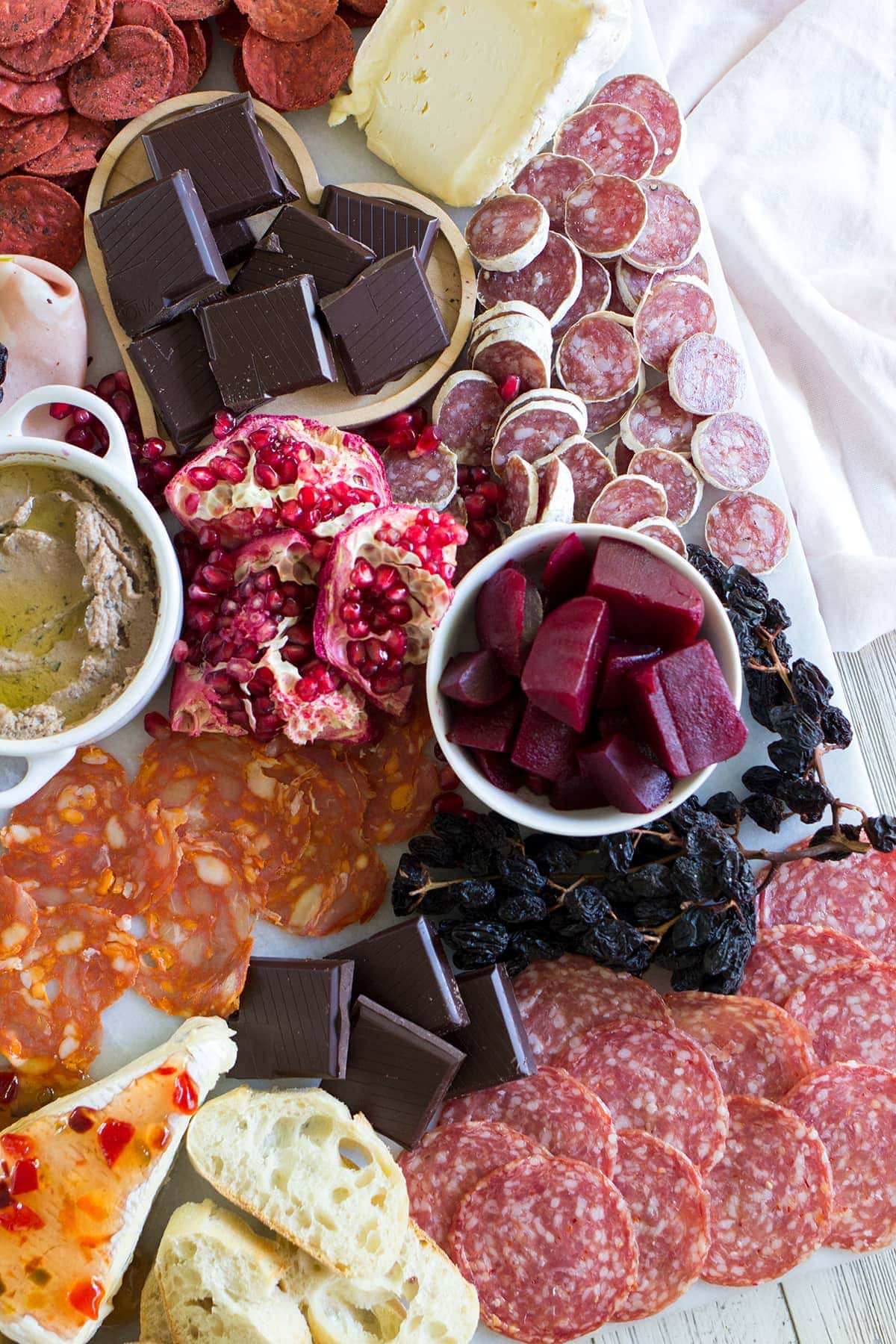 Also, this is a great guide for building a First-Class Charcuterie Board if you want even more in-depth knowledge about meats and what components to add to your board. Happy Valentine's Day!