Summer is here! That means longer days, warmer nights, ice cream sandwiches and the 4th of July. But why wait for the 4th to make a batch of Vanilla Ice Cream Sandwiches? This is a recipe that should be made all summer long...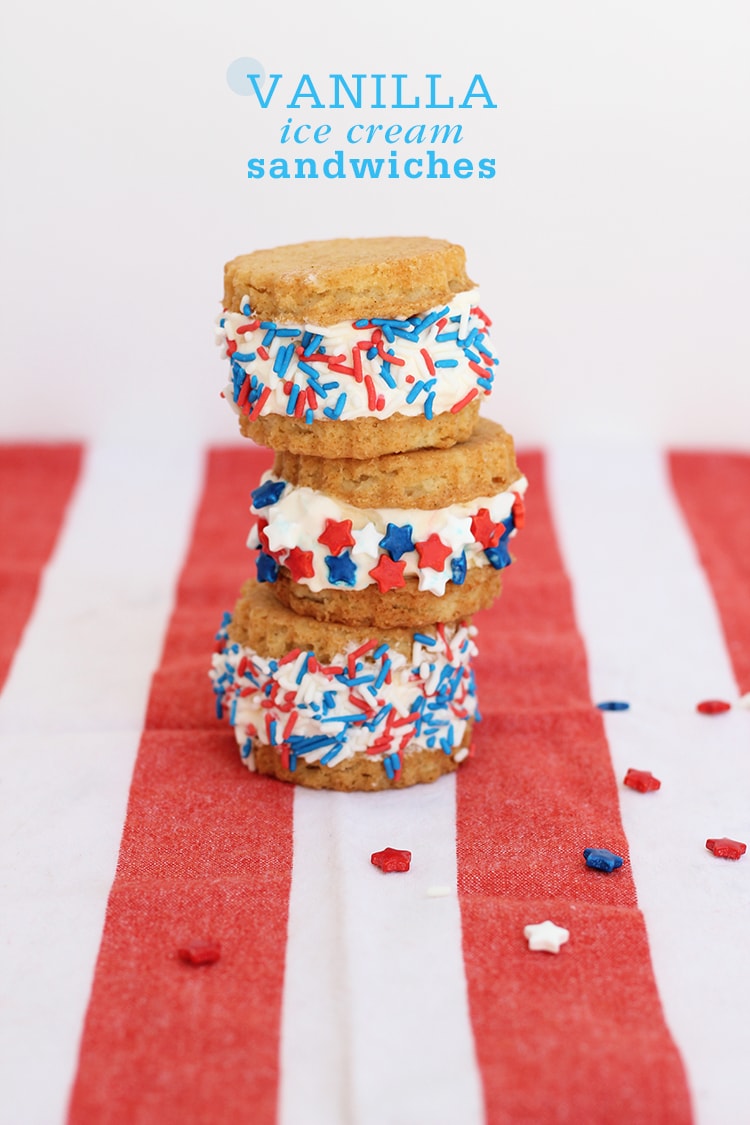 Ah, the ice cream sandwich. Quite possibly the best excuse for eating two cookies and a scoop of ice cream all in one sitting. Rolled in sprinkles and frozen, Vanilla Ice Cream Sandwiches are the perfect summertime treat. I used my new scalloped ice cream sandwich cookie pan to make these ruffled little cookies, but of course you can always make your favorite sugar cookie using a scalloped cookie cutter for the exact same effect.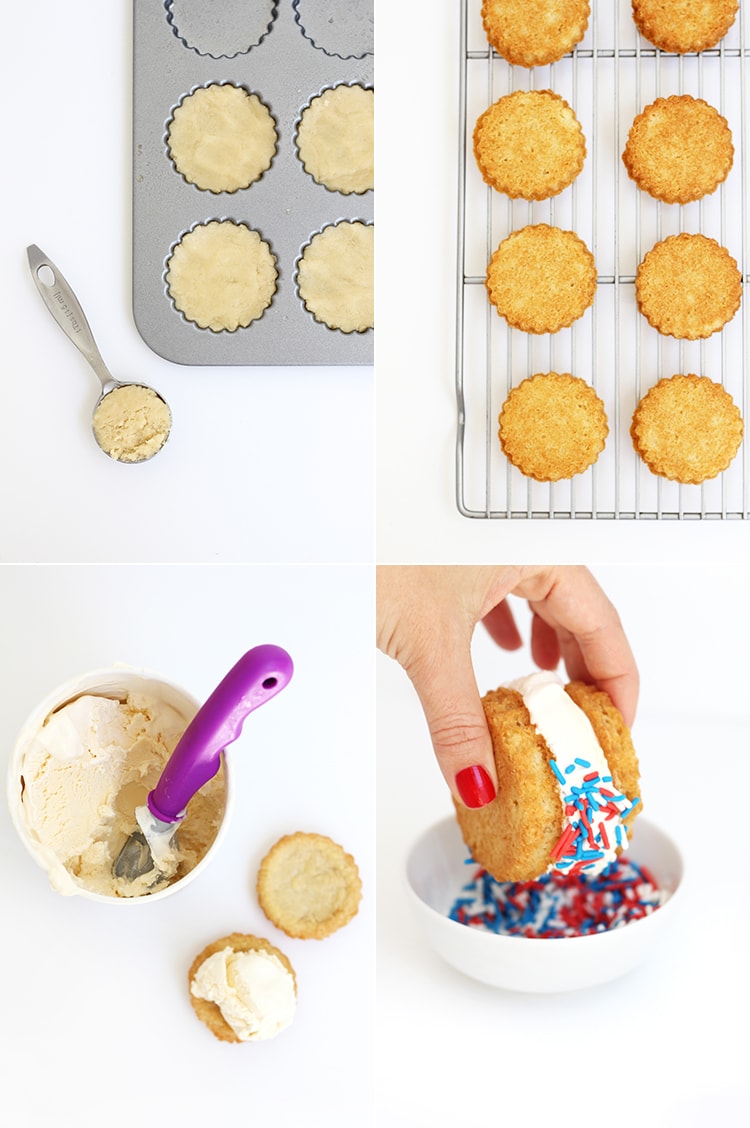 With Independence Day only two weeks away, I added a little American flare by giving them a quick roll in some red, white and blue sprinkles and candy stars. Individually wrap these in foil and pop them in the freezer and you have a sweet ice cream treat any time a craving hits. Or make a double batch and serve at your 4th of July barbeque. So, what flavors should I make next? I'm thinking chocolate sandwich cookie with cherry ice cream filling.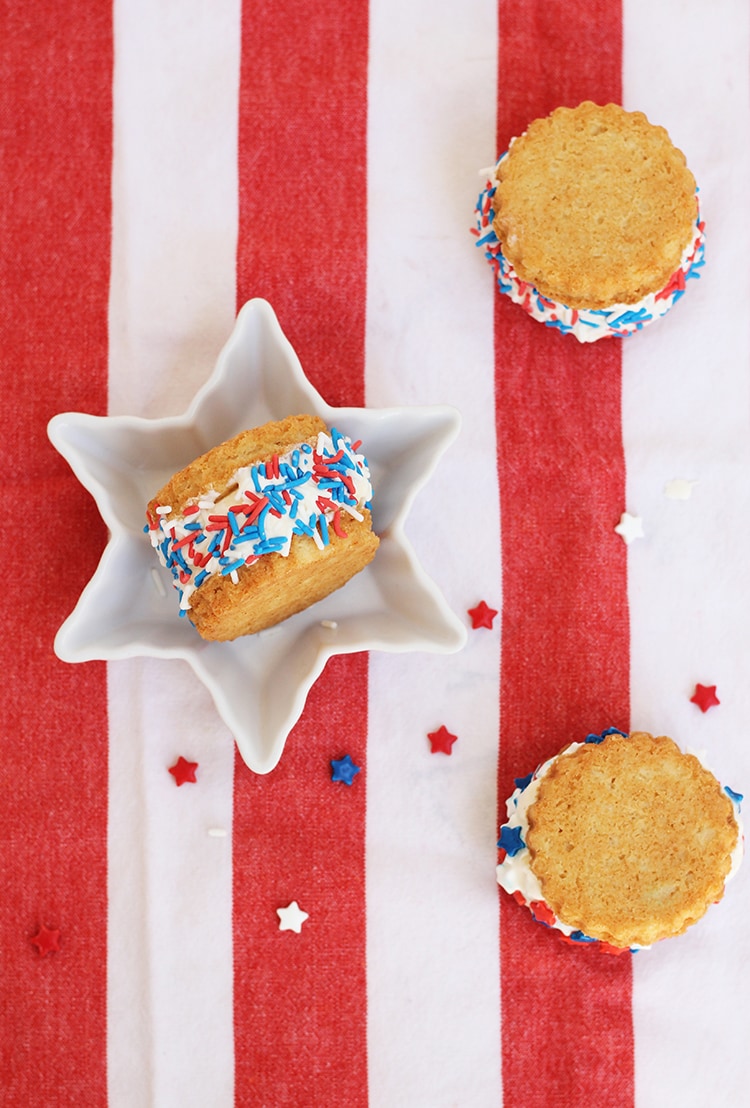 photos by Leah Bergman
Vanilla Ice Cream Sandwiches
makes 8-10

6 tablespoon unsalted butter, softened
½ cup sugar
1 egg yolk
1 teaspoon vanilla extract
1 cup all-purpose flour
¼ teaspoon baking powder
¼ teaspoon salt
1 ½ teaspoon water
Vanilla Ice Cream
Red, White & Blue Sprinkles
Star Candies - Wilton
Directions:
1. Pre-heat the oven to 375 and spray your ice cream sandwich cookie pan with non-stick spray.
2. In the bowl of an electric mixer, beat butter and sugar until light and fluffy. Add egg and vanilla, beat to combine.
3. In a medium bowl combine flour, baking powder and salt. With mixer on low, slowly add in your dry ingredients and mix just until combined.
4. Add in 1 ½ teaspoon water to help the dough come together.
5. Scoop one level Tbs of dough into each mold pressing down flat with your fingers. Do not overfill!
6. Bake 10 minutes or until just golden and set. Remove to a cooling rack and cool completely.
7. Remove from pan.
8. Top half of the cookie rounds with a scoop (¼ cup) of ice cream. Top with a second cookie pressing down to flatten a bit.
9. Freeze on a cookie sheet to firm up the ice cream if too soft.
10. Roll in sprinkles, candy or nuts, and re-freeze until firm. Enjoy!