The last time I picked up a power tool was probably in my high school woodshop class. I can't remember if it was a mandatory class or if one of my friends talked me into taking it but I can tell you one thing, I feared for my fingers every day of that semester. All of that being said, I actually picked up power tools  recently and made this DIY Heart Planter, with a little family help of course. Oh, and please excuse my photography on this one...it's the best I could do with sawdust and soil on my hands!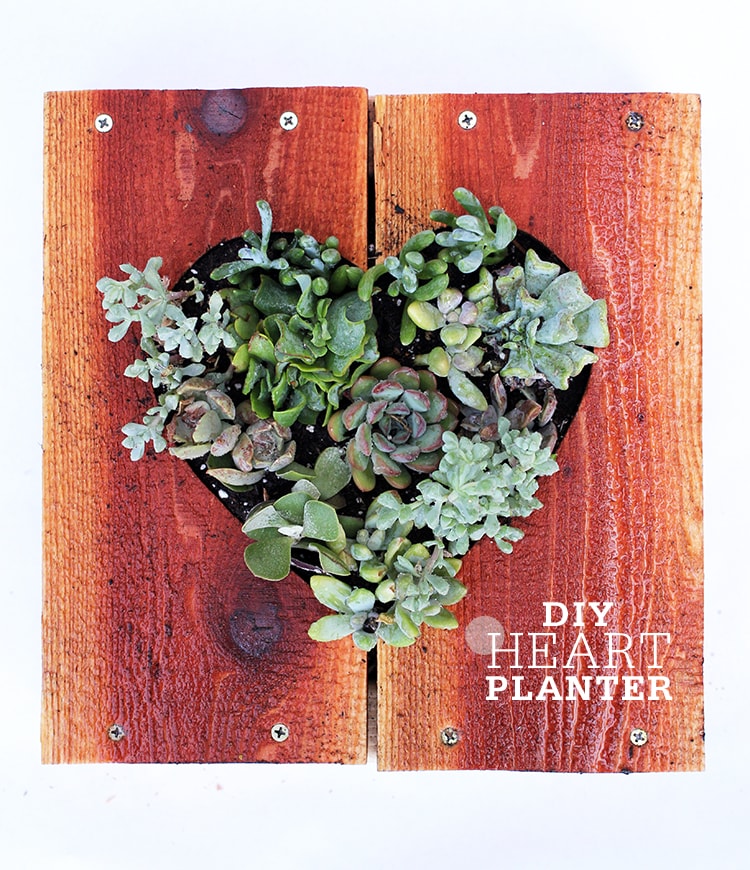 To make this planter you will need:
11x11" square of screen
2 - 9" pieces of wood (we used 2x3's)
2 - 11 ¾" pieces of wood
2 - 6x12" pieces of red wood or fencing
4 - long 2 ½" screws
4 - short 1 ⅝" screws
heart template cut out of paper
pencil
jigsaw
drill with bits
moss
potting soil
succulents

photos by Leah Bergman
Let's get started:
1. Drill one pilot hole (to prevent wood from splitting) about 1" in from the end of each 11" wooden piece.
2. Assemble box frame using 2 ½" screws. Note: The (9" wooden pieces should fit inside of the 11" pieces, see photo above)
3. Attach the front of the box by drilling 8 pilot holes through fencing pieces and attaching with 1 ⅝" screws.
4. Trace a heart over in the center of your box. Using a jigsaw, cut out heart and discard.
5. Flip box over and using a staple gun, attach screen pulling tight as you staple. Cut any overhanging edges with sharp scissors.
6. Fill box with moss then with potting soil. Make sure the box is tightly packed.
7. Fill box with succulents, packing in tightly and adding more soil to secure. Water and enjoy!
Note: This planter can be hung by drilling holes in the back before filling with soil and succulents.
I love the way this little planter brightens up my front porch. Filled with colorful succulents this would make a lovely gift or house warming present! I hope you will give this project a try and let me know how it turns out!