Making high dose vitamin c gummies at home is actually incredibly easy! These tasty sugar free gummies are made with raw honey, fruit juice, and vitamin c powder or pure ascorbic acid. I love making these for my twins and we all enjoy eating them!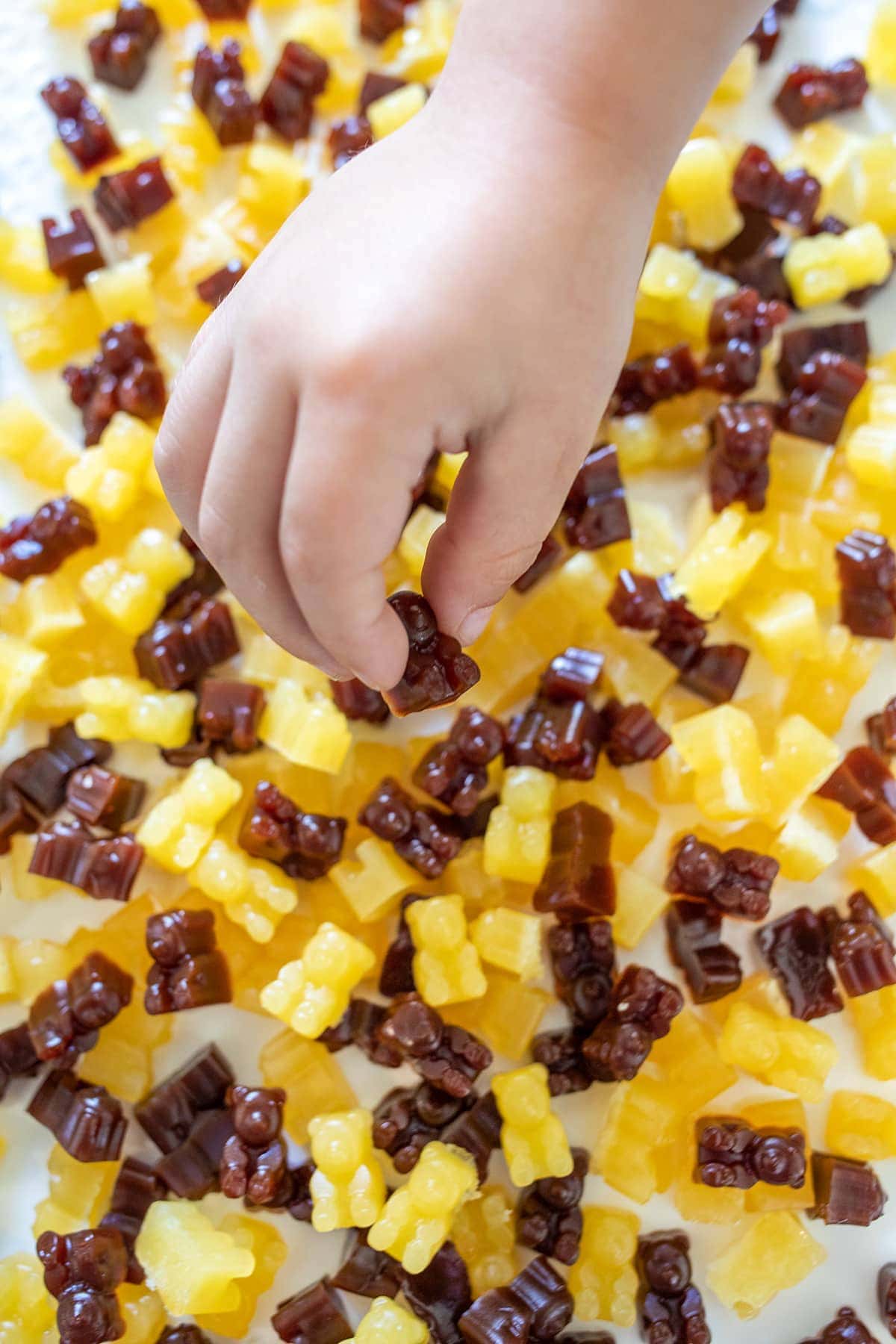 High Dose Vitamin C Gummies
If you are looking a way to boost immune systems with a treat your kids will actually eat, vitamin-c gummies do the trick! You can customize the flavors with whatever fruit juice your kids like best from orange juice to pineapple or pomegranate so they will be more inclined to eat them.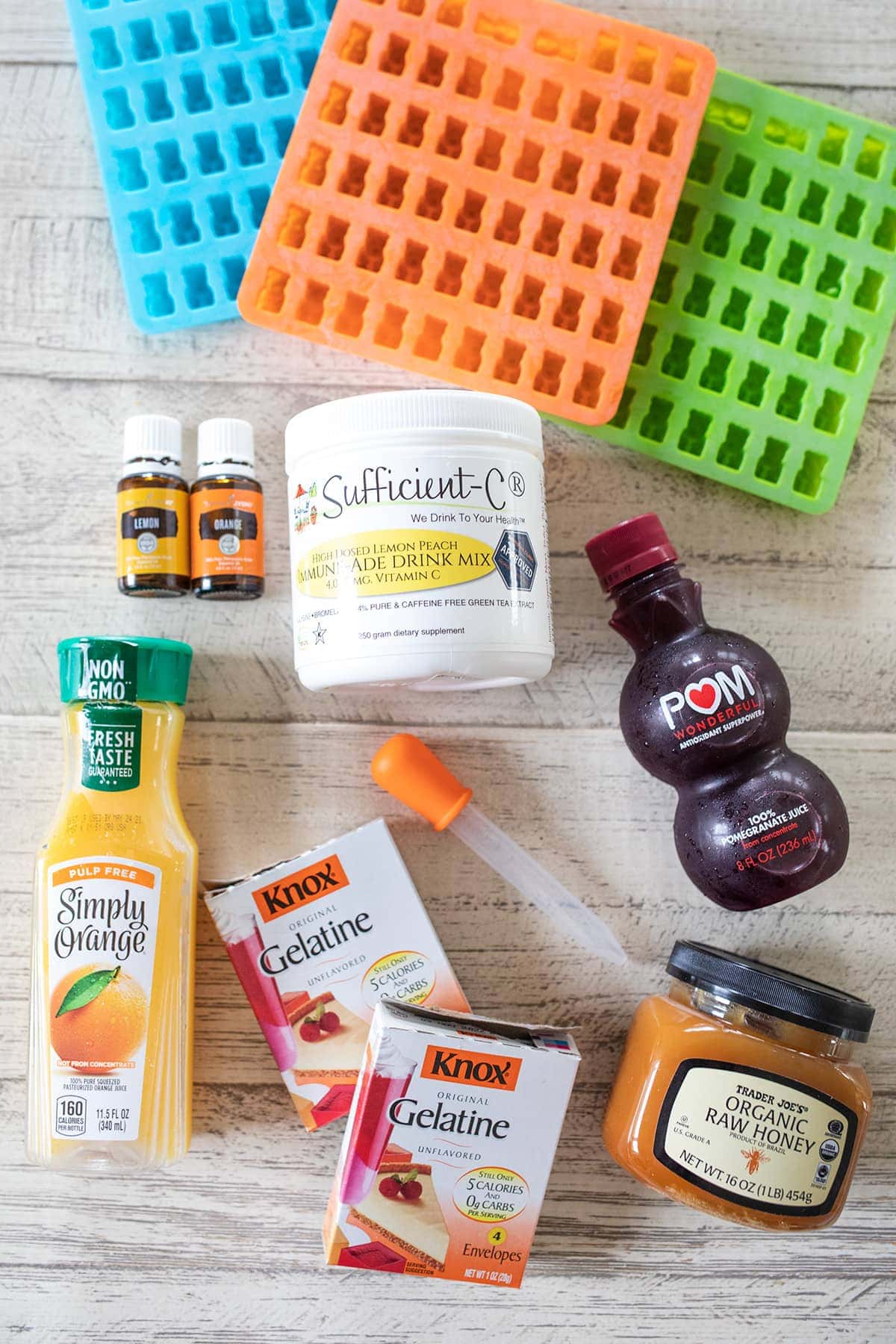 Ingredients in Homemade Vitamin Gummies
Juice - we have tried pomegranate juice, orange juice and NingXia Red which wolfberry (goji berry) juice made by Young Living.
High Dose Vitamin C Powder or Ascorbic Acid - I buy both high dose vitamin-c and ascorbic acid on Amazon however you might be able to find it in your local health food store as well. We love Sufficient-C because it tastes like peach lemonade and this brand of Ascorbic Acid is also really good.
Raw Honey - raw honey is a great source of antioxidants and also has antibacterial properties. In this case we are using it to sweeten our gummies as well as add phytonutrients.
Gelatine - I use Knox gelatin in my gummies however if you are vegan you can use agar agar powder.
Essential Oils - oils are optional however I like adding Young Living vitality oils for an extra source of immune support. If you add essential oils, make sure that they are GRAS certified and safe to ingest!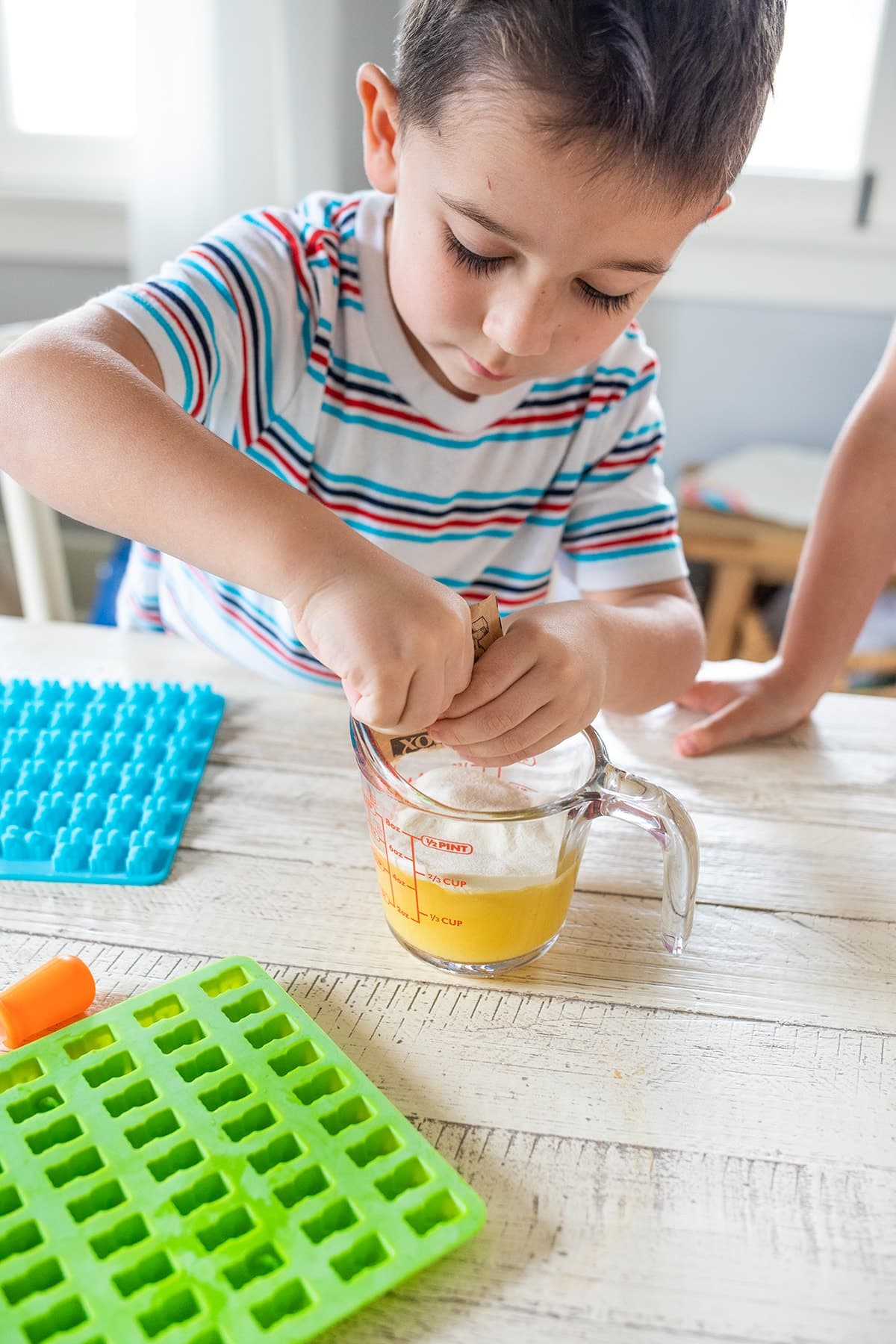 The Best Molds for Homemade Gummy Vitamins
Part of the fun and appeal of these gummies is the gummy bear shape! I found this silicone gummy bear mold and it works perfectly. The set comes with three gummy bear trays, and three eyedroppers so that filling is easy. This recipe will fill all three trays exactly so it's the perfect size. Note: you can purchase the molds here.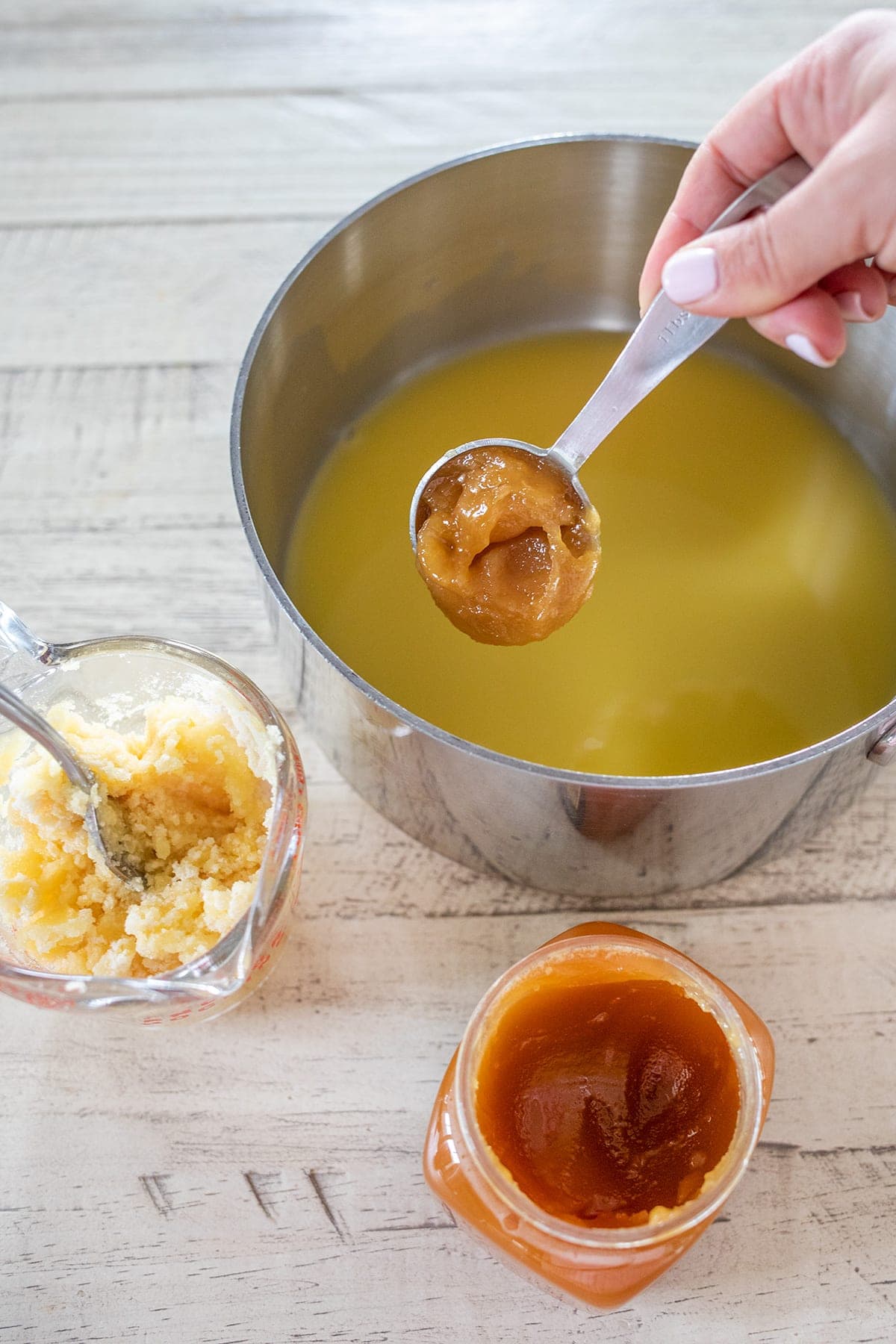 How to Make Homemade Wellness Gummies
Melt- in a sauce pan over low heat, melt honey into half of the juice.
Dissolve- dissolve gelatin into the other half of the juice to form a gel.
Thicken - slowly whisk the gelatin-juice mixture into the sauce pan until smooth. There will still be a few lumps, it's hard to get it to fully dissolve however if the liquid is warm and not hot it will dissolve easier.
Add Supplements - stir in vitamin c powder or ascorbic acid and essential oils.
Fill Molds - use the dropper to carefully fill molds.
Chill - chill molds until firm about 30 minutes - 1 hour in the refrigerator.
Pop - pop the gummy vitamins out of the molds once they are completely firm.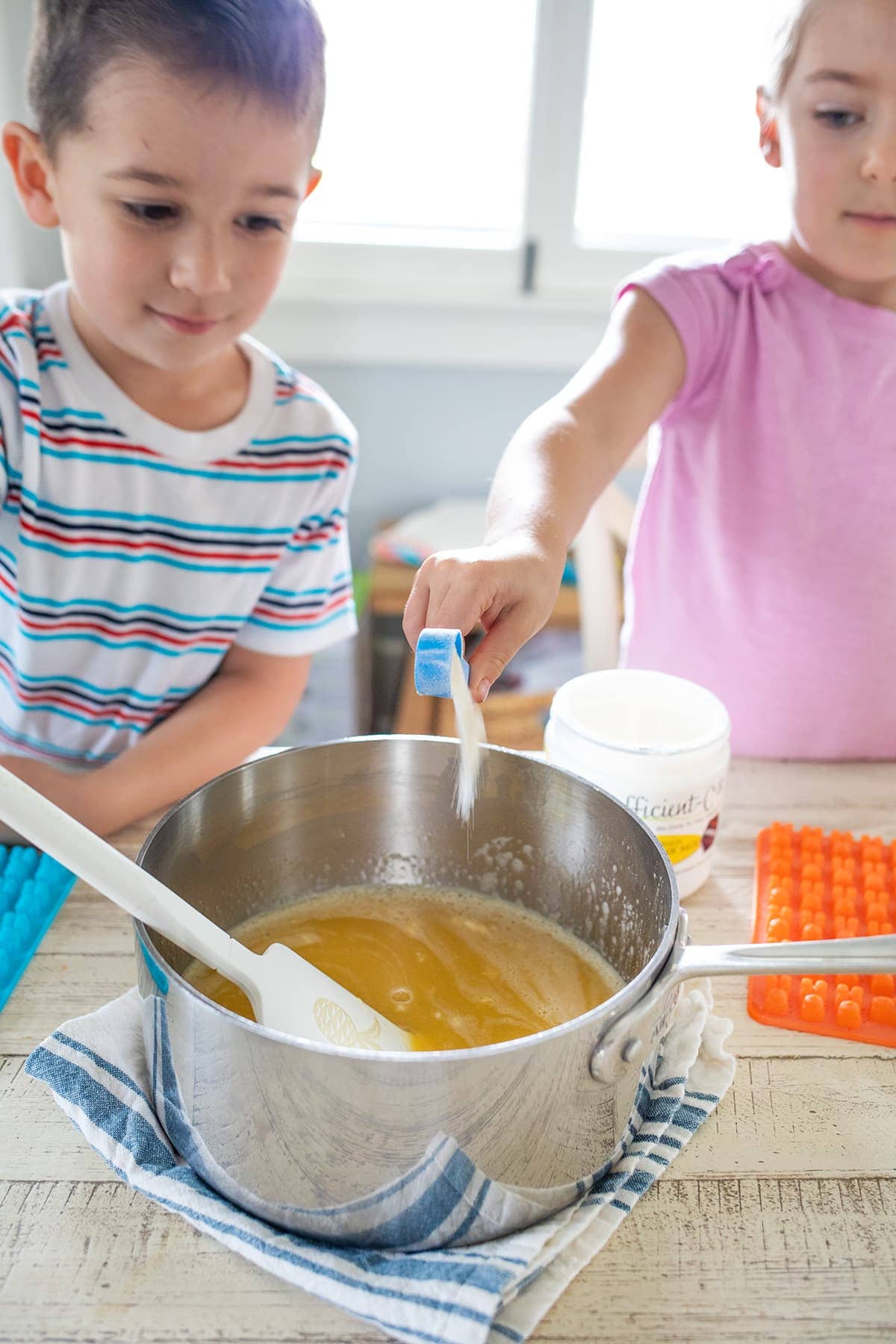 High Dose Vitamin-C Powder
I try to take either high dose vitamin c or ascorbic acid daily and give it to my twins in their drinks pretty regularly as well. There are so many benefits to vitamin c and the research out there is astounding! I suggest you do your own research into the health benefits of high dose vitamin-c for your family.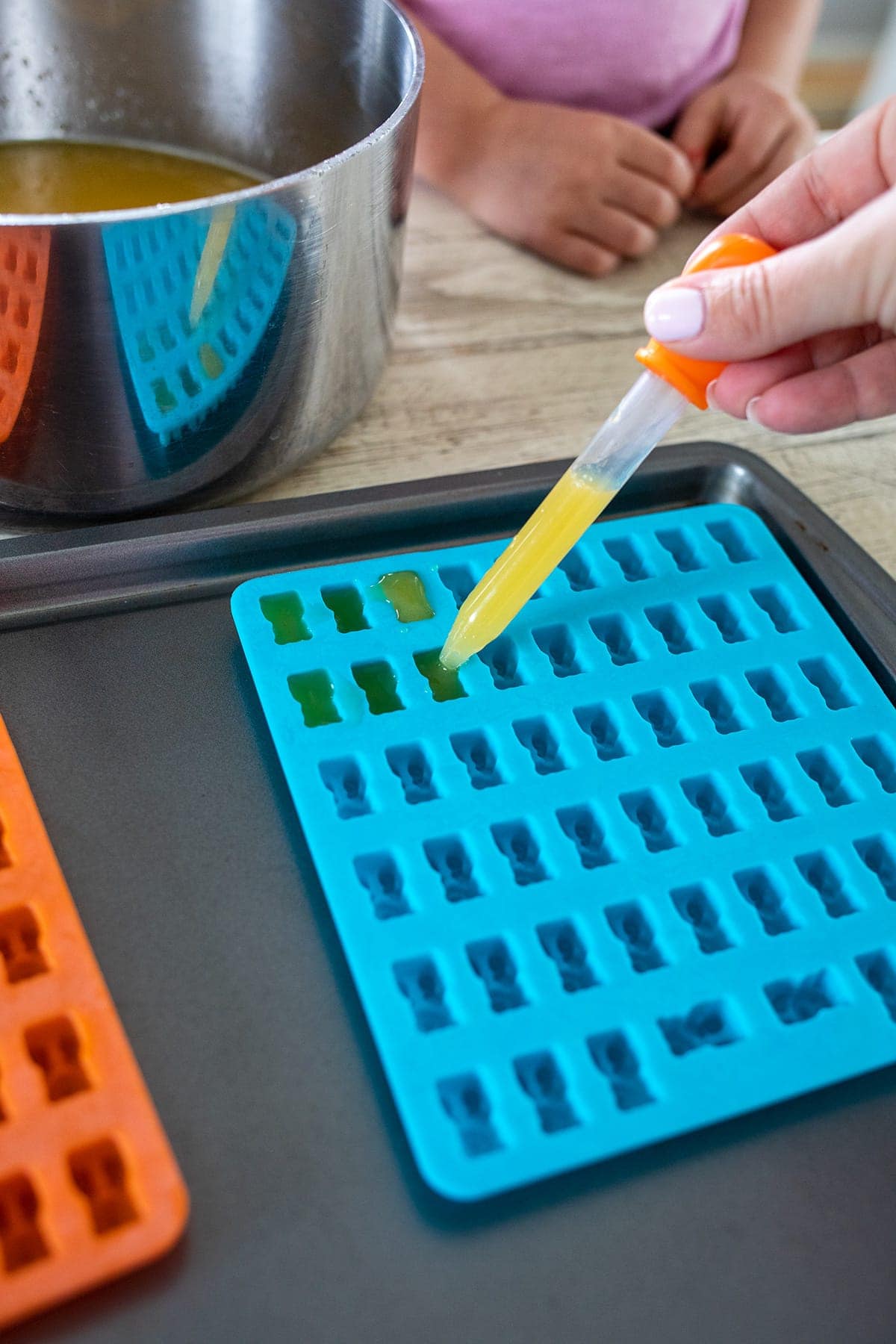 How to Store Homemade Gummy Vitamins
After the gummies have firmed up and I have removed them from their molds, I store them all in a mason jar with a lid in my refrigerator. They will keep pretty well for a few weeks in the fridge. I haven't experimented with exactly how long they will keep fresh as we eat them too quickly. I let the twins grab a small handful maybe 4-5 every day.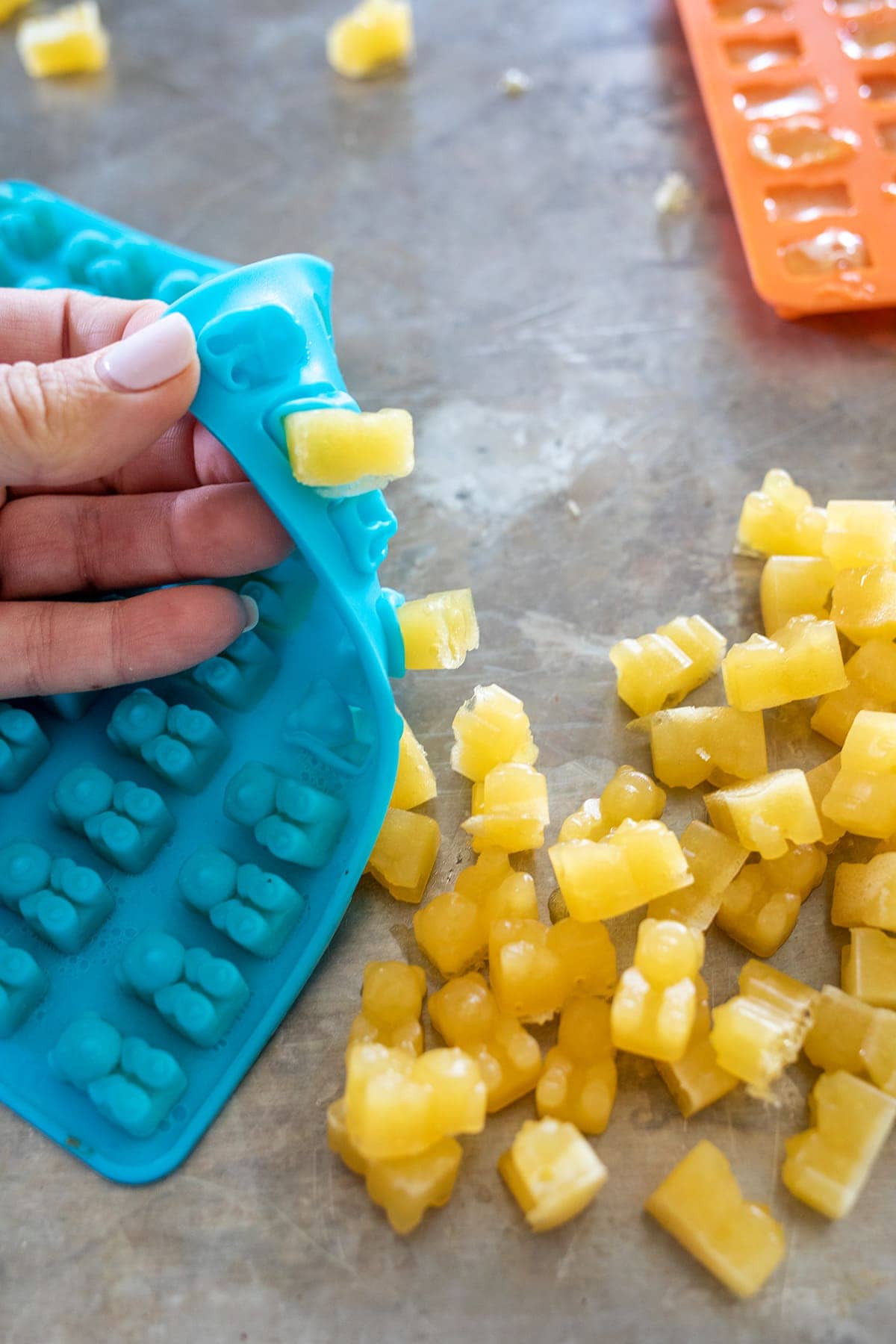 Possible Substitutions:
Juice- you can switch out the juice to any flavor you like! I like to use juices that are naturally high in vitamin c as apposed to a juice that is just pure sugar like apple juice. Here are a few suggestions: orange, pineapple, pomegranate, cranberry juice cocktail, a blend of any of the above.
Vitamins - if you don't have high dose vitamin-c you can also use ascorbic acid.
Gelatin - you can use agar agar in place of gelatin if you are vegan! If you use agar agar you will want to reduce the amount to 1 ½ teaspoons.
Molds - any silicone mold used for chocolate making will work!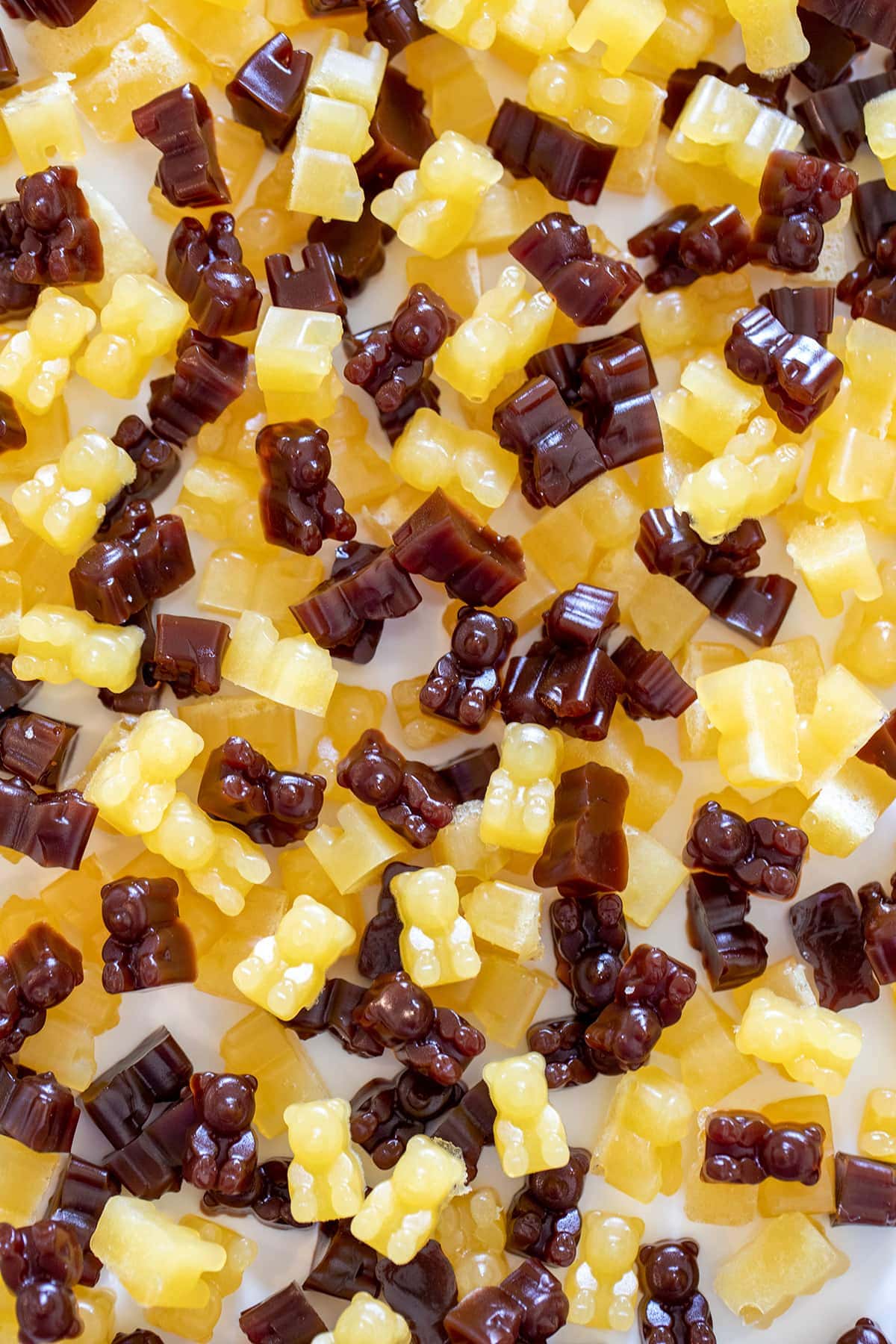 How Much Vitamin-C is in These Gummies?
I use two scoops of Sufficient-C in this recipe which is 4,000 mg. That is the recommended daily dose for a full grown adult however we will not be eating this entire batch in one serving. If you factor in that those 4,000 mg are being divided between a batch of 162 gummies...you can do the math but the estimated mg per gummy are around 25 mg each. That's a very rough and not precise way of measuring this but I feel comfortable with this amount for my family. We usually eat about 4-5 gummies at a time.
DISCLAIMER: this is not an exact measurement. You can decide the amount of vitamin-c you would like to add to your batch based on the age of your children etc. I am not a doctor and I cannot make vitamin or dosage recommendations.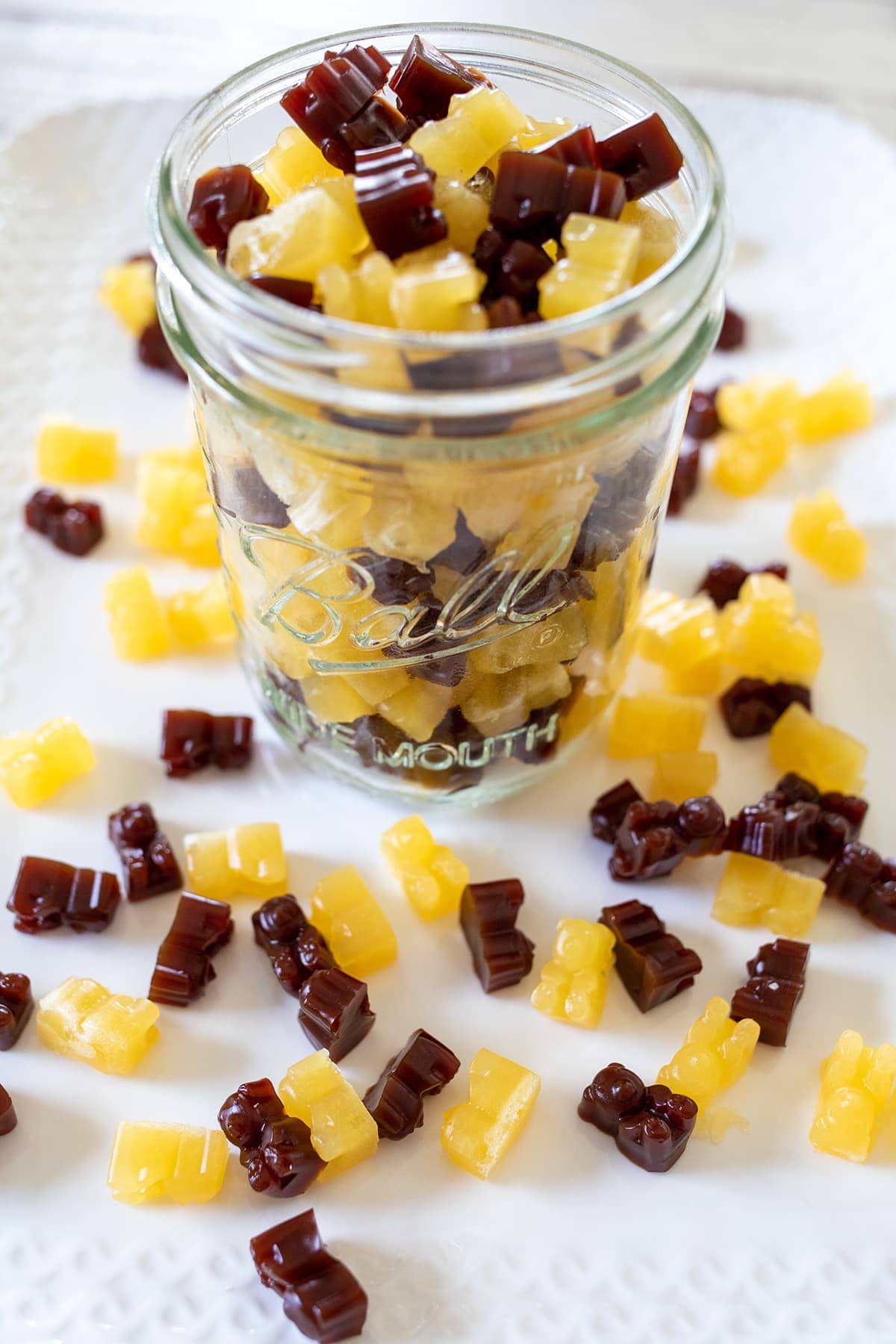 More Healthy Recipes & Ideas for Kids: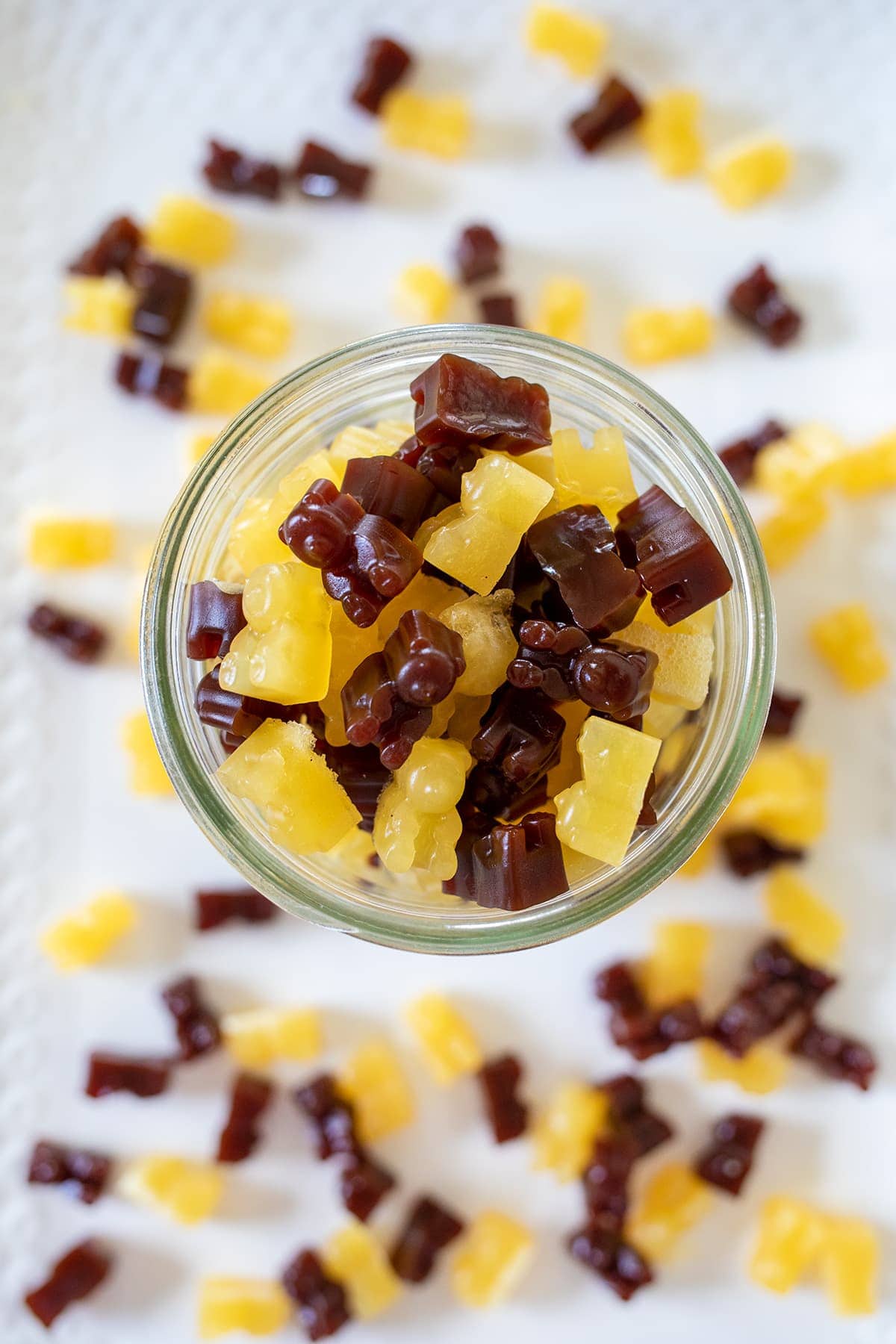 I hope this recipe inspires you to make your own homemade Vitamin-C Gummies for your family! They really are so fun to make and easy too. Get creative with the flavors and see what your kids like best. If you make these gummies, please leave a comment in the space below and share them on social @freutcake #freutcake so that I can see your creations!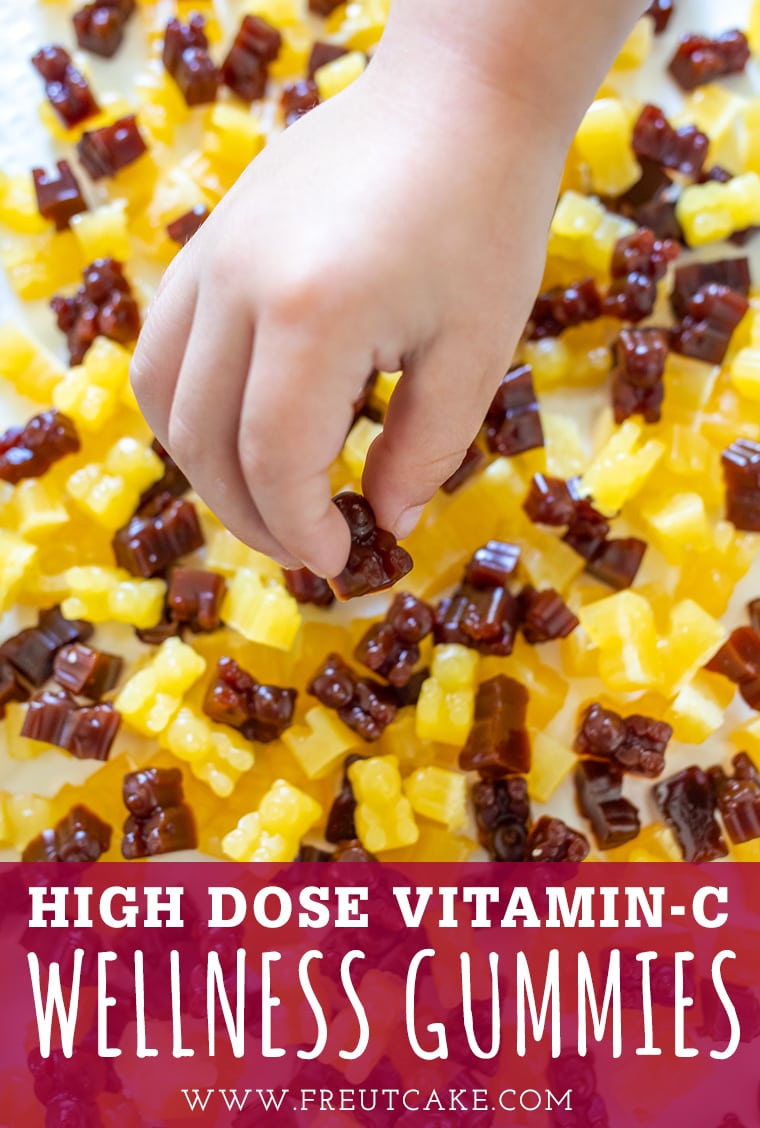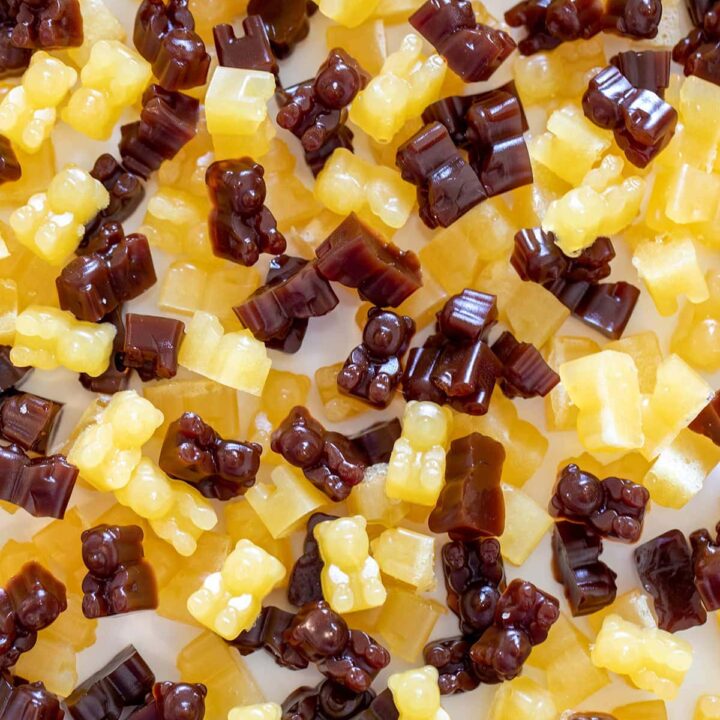 Homemade Vitamin-C Gummies
Additional Time:
30 minutes
High dose vitamin-c citrus gummy bears are easy and fun to make at home.
Ingredients
1 cup fruit juice - orange, pomegranate, etc. Fresh squeezed is even better!
3 tablespoons raw honey or manuka honey
6 tablespoons Knox Gelatin
Sufficient-C Powder (see package for dosage) or Ascorbic Acid (see package for dosage) *read notes below
3 drops orange or lemon food grade essential oils, optional
Instructions
1. Divide juice in half between a small sauce pan and a glass measuring cup.
2. To the ½ cup of juice in your saucepan, add in raw honey and melt together over low heat just until the honey is completely dissolved into the juice. Turn off heat.
3. While the honey melts, add gelatin to the remaining ½ cup of juice in your measuring cup. Whisk in the gelatin using a fork. This mixture will become very thick and chunky.
4. Whisk gelatin/juice mixture into the warm honey/juice mixture in your saucepan. (this should be off of the heat) Note: just keep mixing until the gelatin is dissolved as much as possible. If the liquid is too hot it will be difficult to dissolve the gelatin. Just be patient and keep mixing. If a few small chunks remain, just leave them.
5. Stir in high dose vitamin c powder or ascorbic acid as well as any essential oils if you plan to use them.
6. Place gummy molds on a large sheet pan and fill them with an eyedropper.
7. Chill in the fridge for 30 minutes - 1 hour or until the gummies are completely firm. Invert the molds and push out gummies to release. They should pop right out!
8. Store in a glass mason jar with a lid in your refrigerator for up to 3 weeks.
Notes
* I add two scoops of Sufficient-C to my batch of gummies however you should decide the dosage that is right for your family based on age etc. Please read the packaging for Sufficient-C and Ascorbic Acid for more information on this and recommended dosages by age.
* I only use Young Living Vitality oils as they are GRAS Certified and safe for consumption. I do not recommend ingesting other essential oils.