Easy three ingredient slime is one of my favorite craft recipes to make with my twins. This recipe doesn't call for borax so it's very mild and safe for little hands but still has an amazing stretch and slime consistency.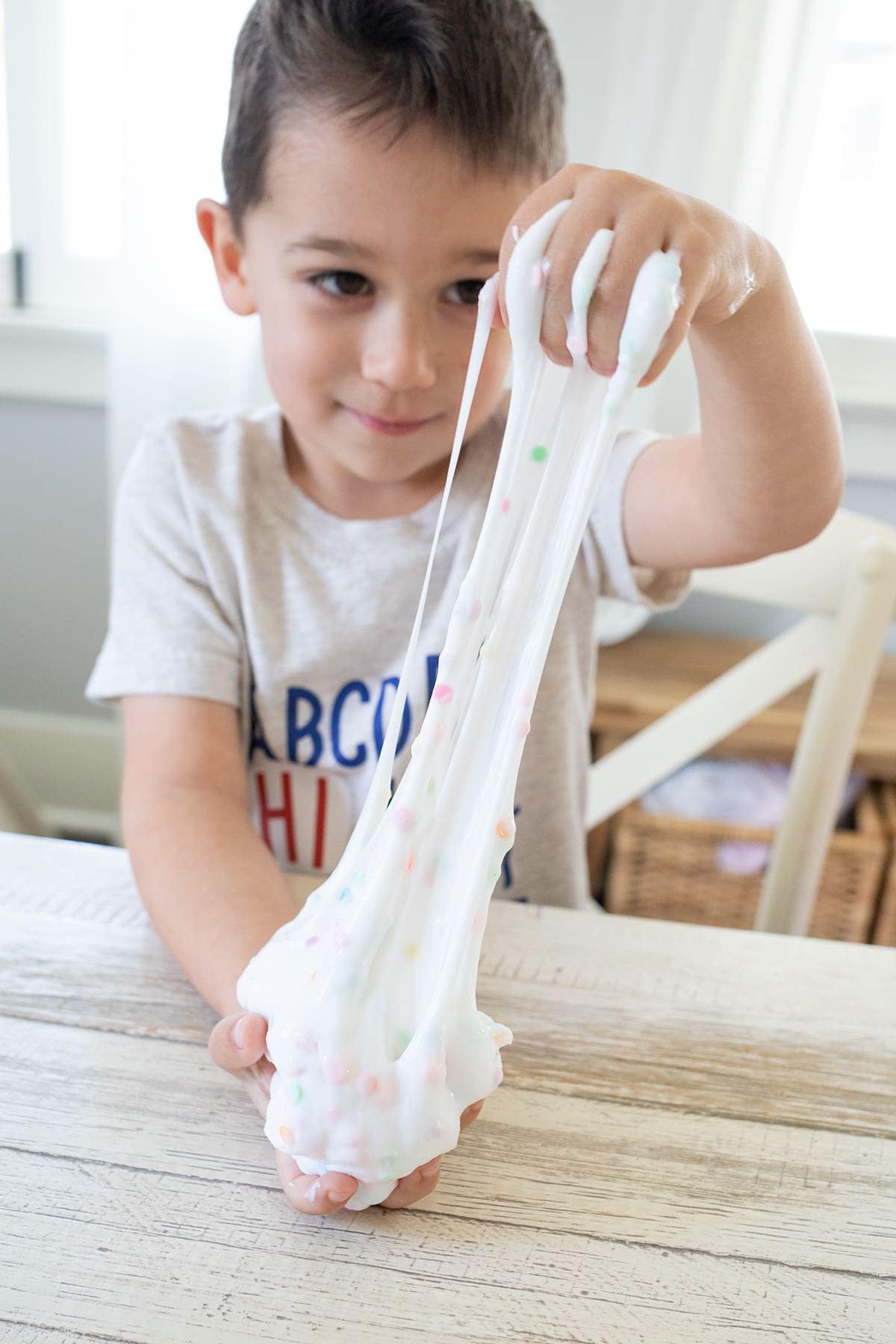 Funfetti Sprinkle Slime
We've made slime a dozen times (see our Halloween Slime) but I think this is my favorite yet. I ordered fake sprinkles on Amazon for making playdough and slime and they have turned out to be the cutest craft supply. For this funfetti slime we used these flat "candy" sprinkles and these classic rainbow sprinkles. Because they are made out of polymer, they won't disintegrate into the slime.
That being said they look VERY realistic so only use them if you feel your child is mature enough not to eat them. My twins are almost five years old and they understand that these are made of plastic.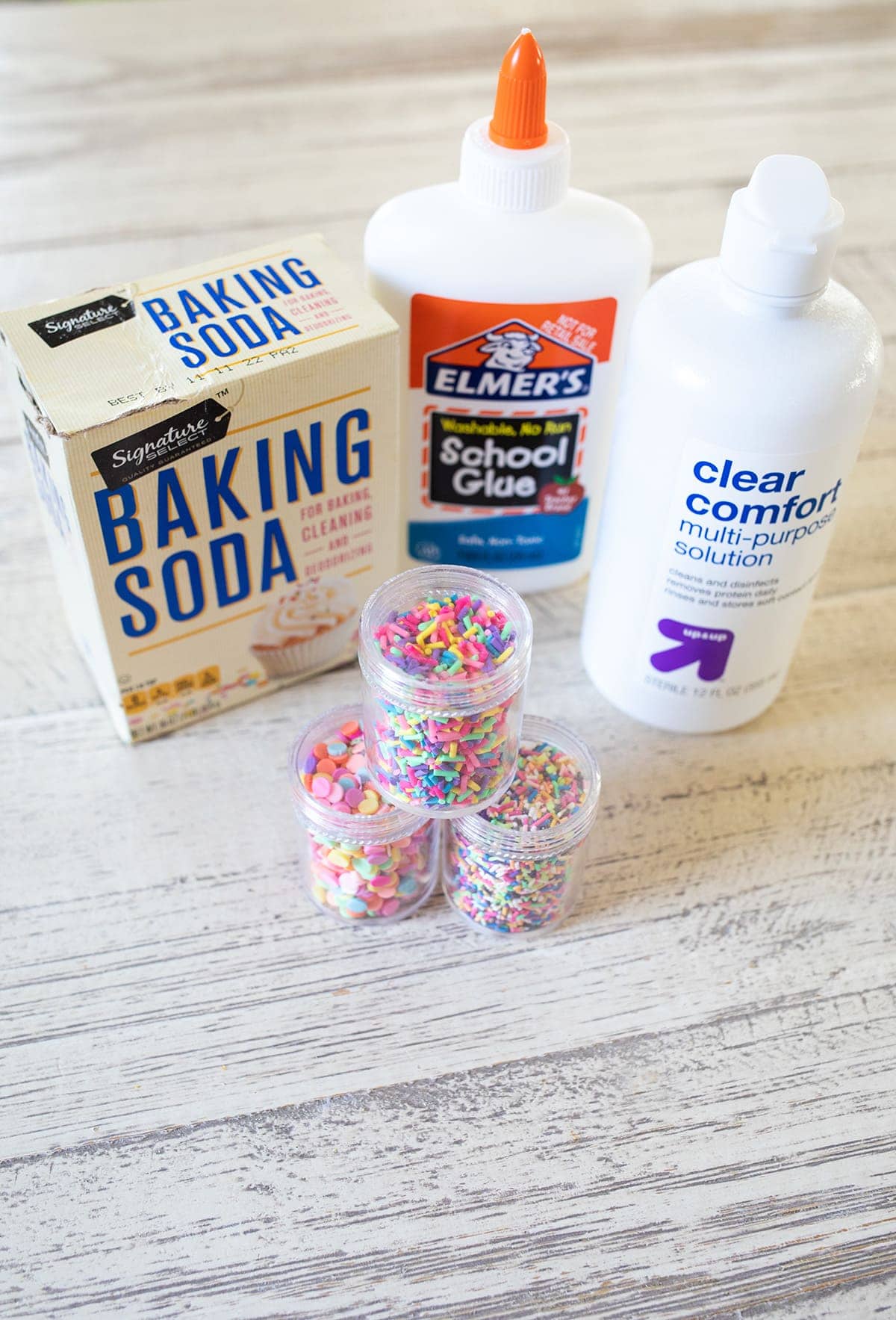 Ingredients in Funfetti Slime
Elmer's White School Glue - I bought this pack on Amazon but you can also buy a large jug of glue at most craft stores and online if you find yourself making slime frequently!
Baking Soda - you most likely already have this in your pantry.
Contact Lens Solution - this contains boric acid which mixes with the baking soda to make the slime rubbery.
Fake Clay/Polymer Sprinkles - these flat sprinkles and these classic rainbow sprinkles both work great!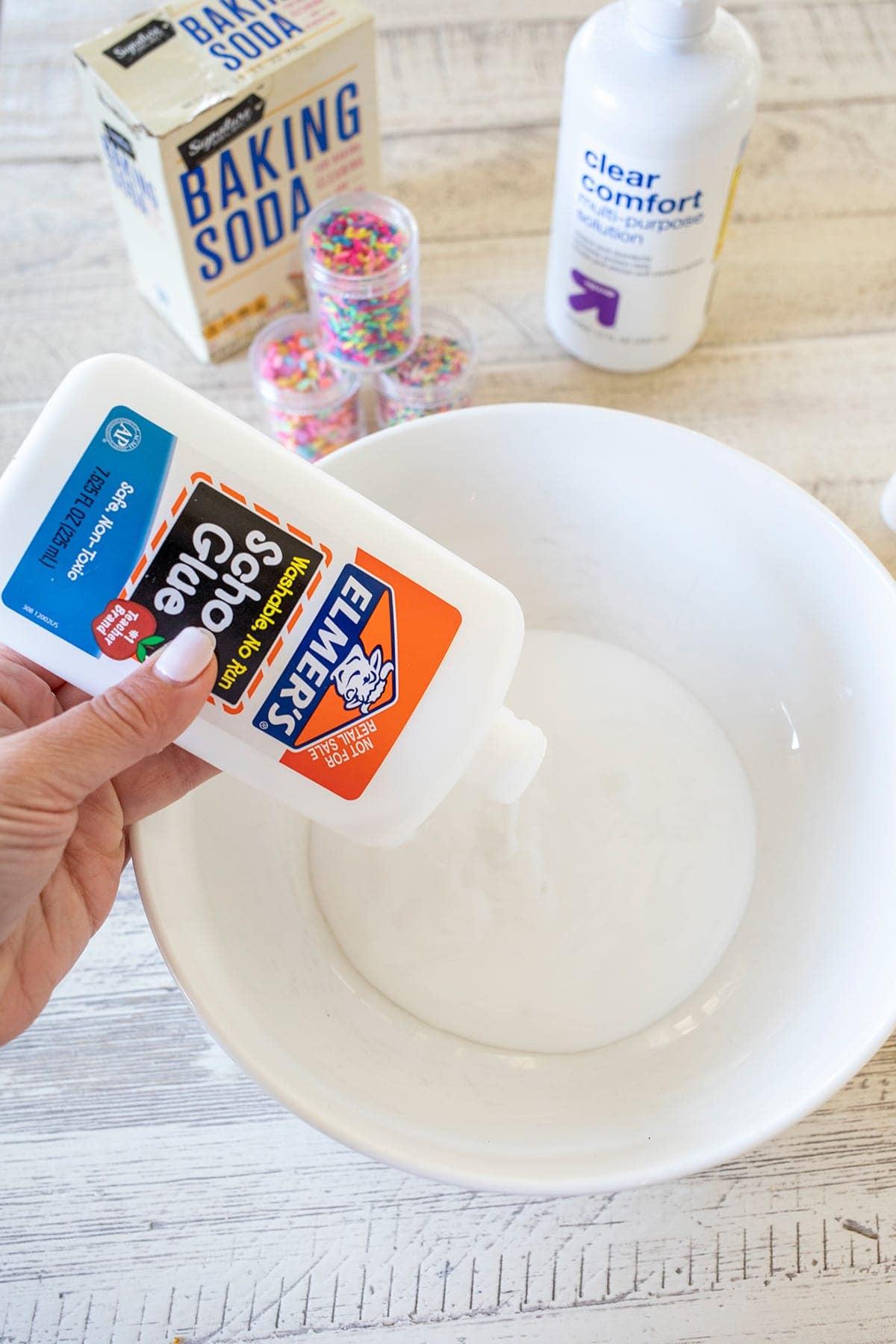 How to Make Slime without Borax
Making slime without Borax is so easy and fast, you can whip up a batch in 5 minutes from start to finish. Here's how to do it:
Glue- empty glue into a mixing bowl.
Sprinkles, Glitter, Food Coloring - this is when you'll want to mix in an food coloring, fake sprinkles, glitter, sequins, etc.
Baking Soda - stir that in, I use a rubber spatula.
Activate - Contact Lense Solution goes in last as it will "activate" the slime. Just keep mixing until the glue is no longer sticky. I start with 1 Tablespoon but you can add up to 1 ½ Tablespoons if your slime is too sticky. Be careful to add this slowly. If you add too much your slime will be tough and rubbery.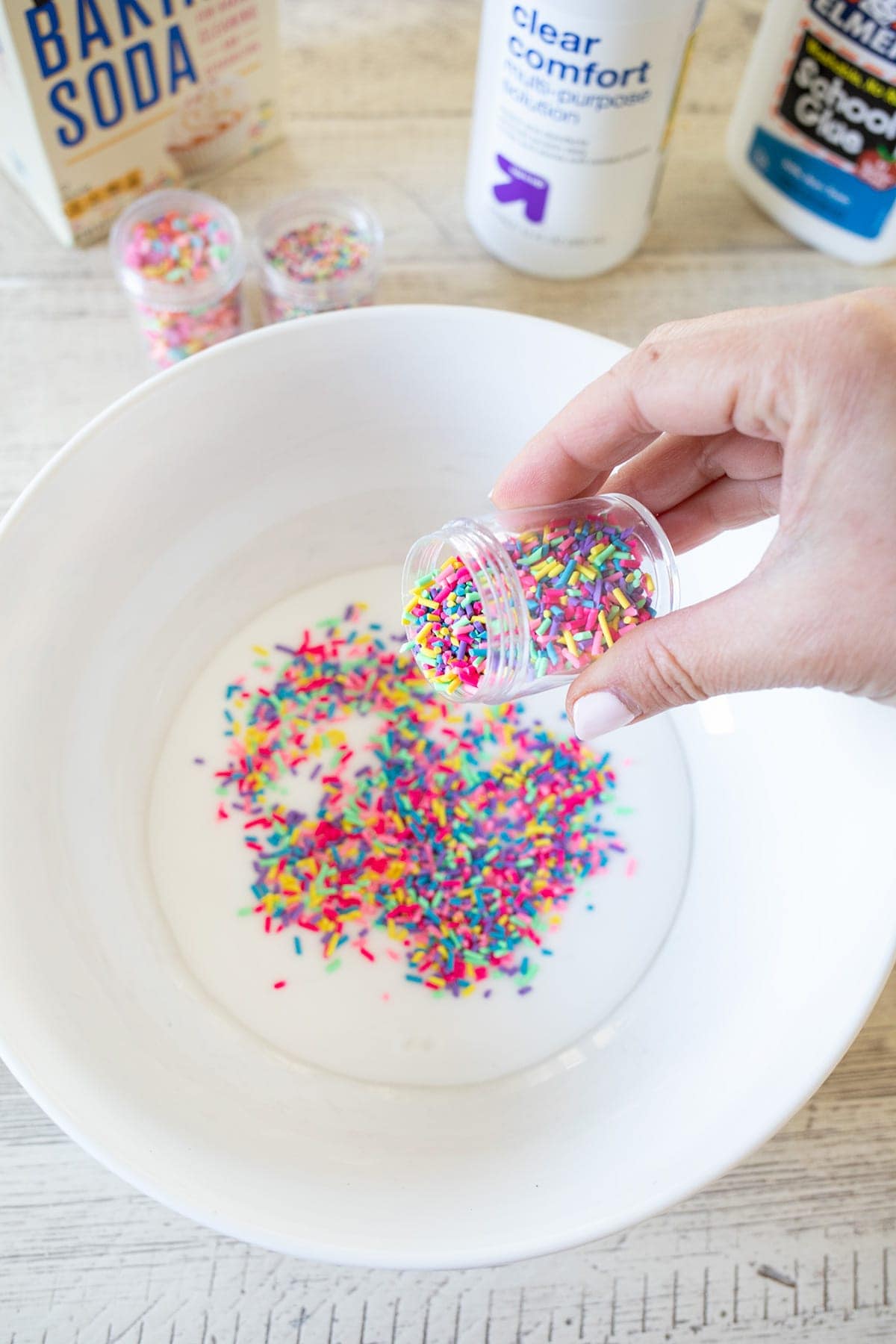 The Best Mix-In For Slime
We really are obsessed with the look of these sprinkles however if you are looking for other mix-in ideas, here are few!
Chunky Glitter - larger chunks seem to work better than fine glitter
Glitter Glue - skip the mix ins all together and just use glitter glue!
Food Coloring - the possibilities are endless.
Small Buttons
Small beads
THE WORKS! - check out this Pack of Slime Mix-Ins. This has everything and it's super affordable.
Fake Sprinkles - you do not want to use real (edible) sprinkles for this slime as they will break down in your slime.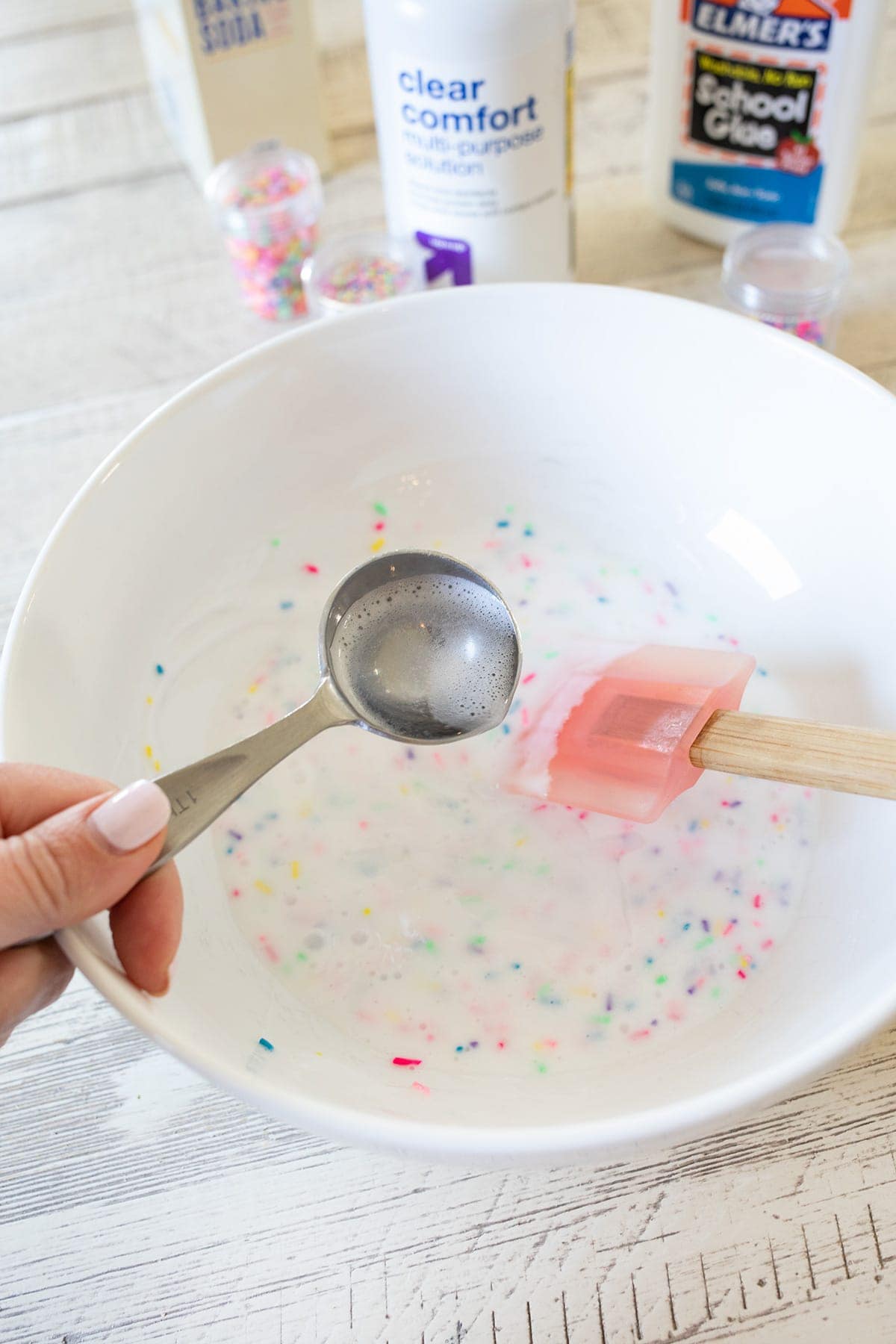 Easy Slime Recipe with Contact Solution
In all slime recipes there is an activator needed. From Borax to liquid starch, eye drops, and saline solution; there has to be something to turn liquid glue into the rubbery stretchy semi-solid. In this recipe the "activator" we are using is saline contact lens solution because it's easy to find, inexpensive (if you buy a generic brand), and you don't need much of it. I have a large bottle of Target's Up & Up Lens Solution that I use just for slime and it works like a charm.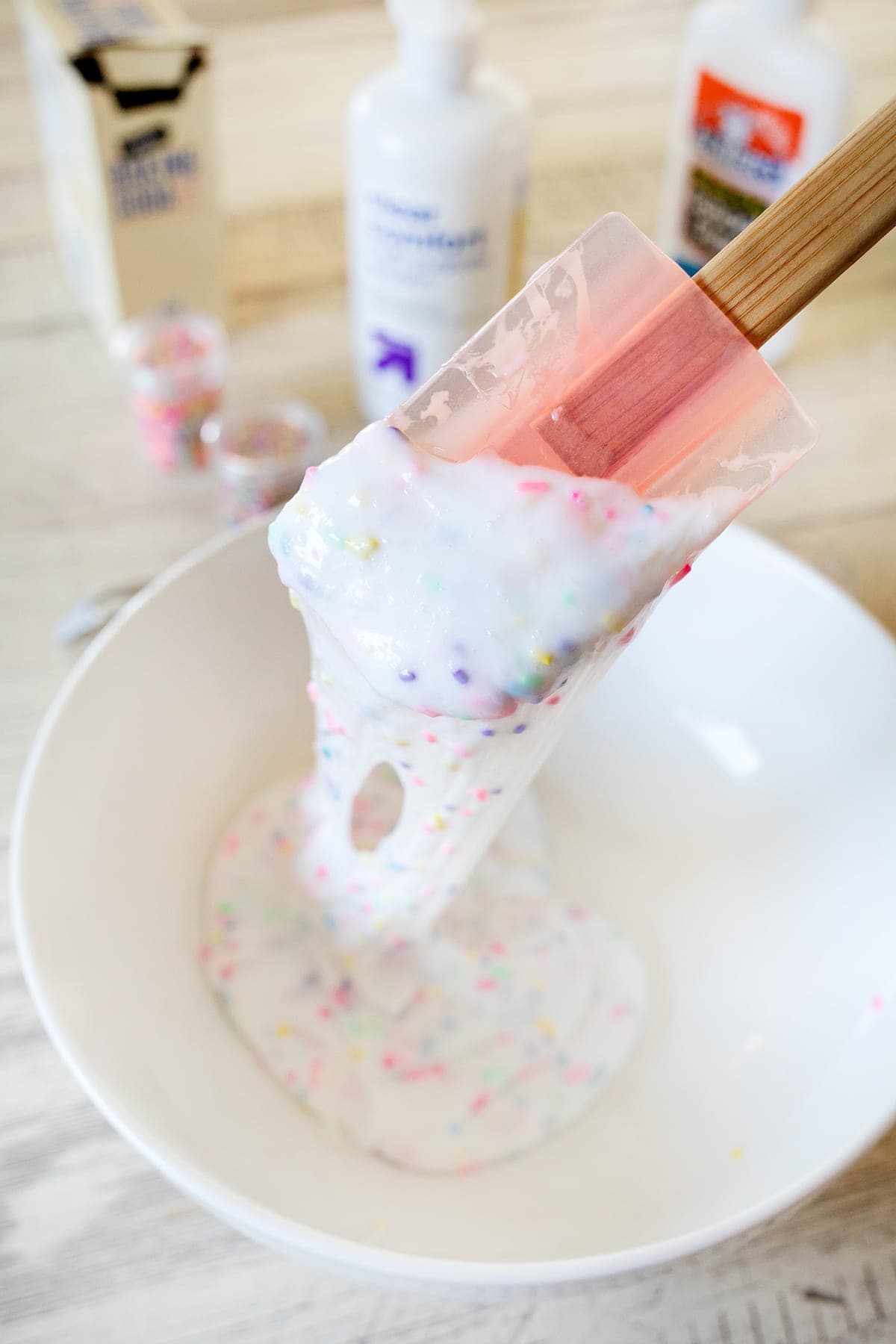 Tips for Making The Best Slime
Stir your add-ins like glitter, coloring, and sprinkles into your glue before adding activator.
Start with a little bit of activator, you can always add more but you can't go backwards.
Knead, stretch and mix your slime FIRST before choosing to add more activator. Sometimes it just needs a little kneading to bring it all together.
Store slime in an airtight container like a mason jar with a lid or Tupperware.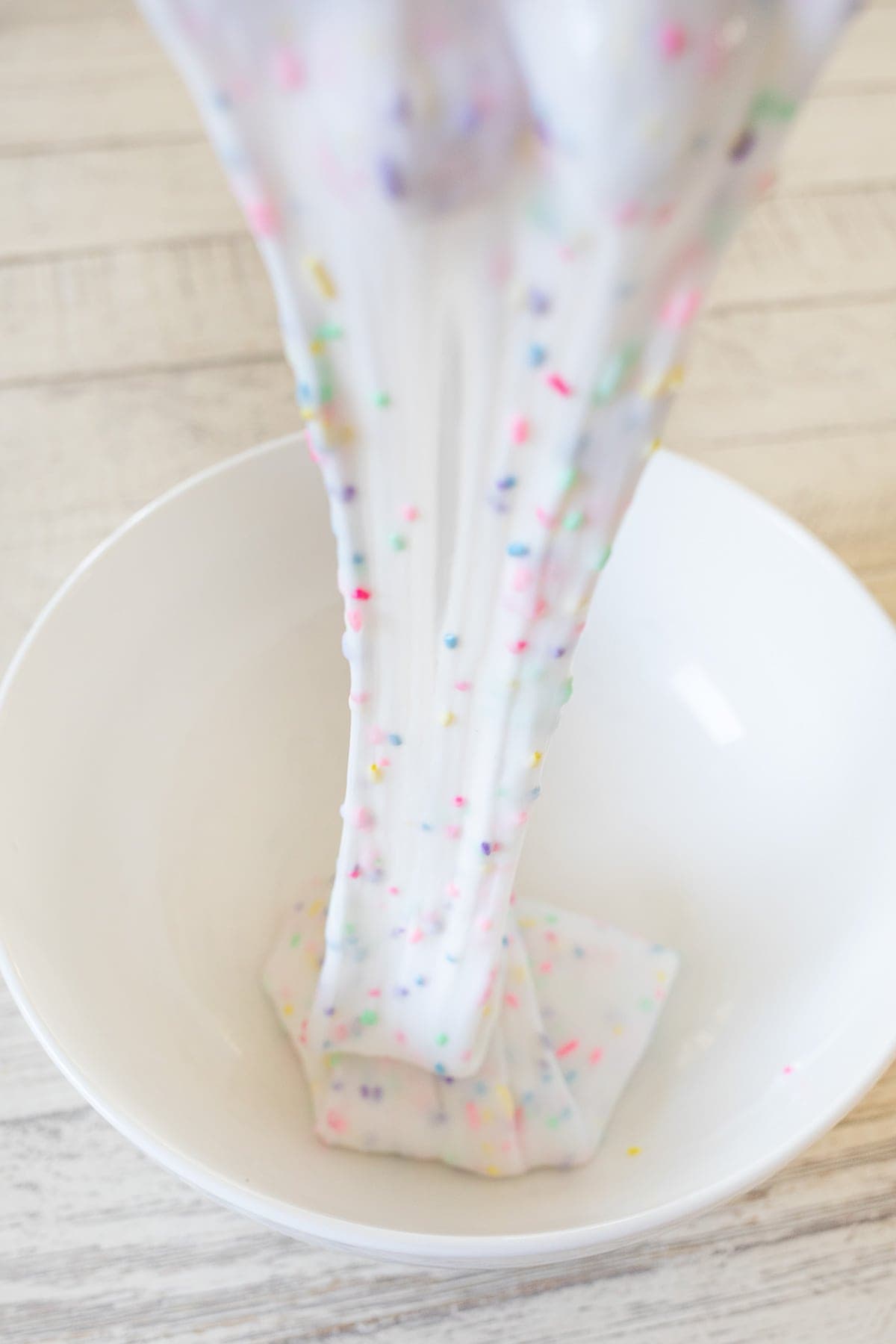 Look at that amazing stretch! I'm telling you, this is the most perfect slime recipe. Simple and works every single time to get the perfect kid friendly slime.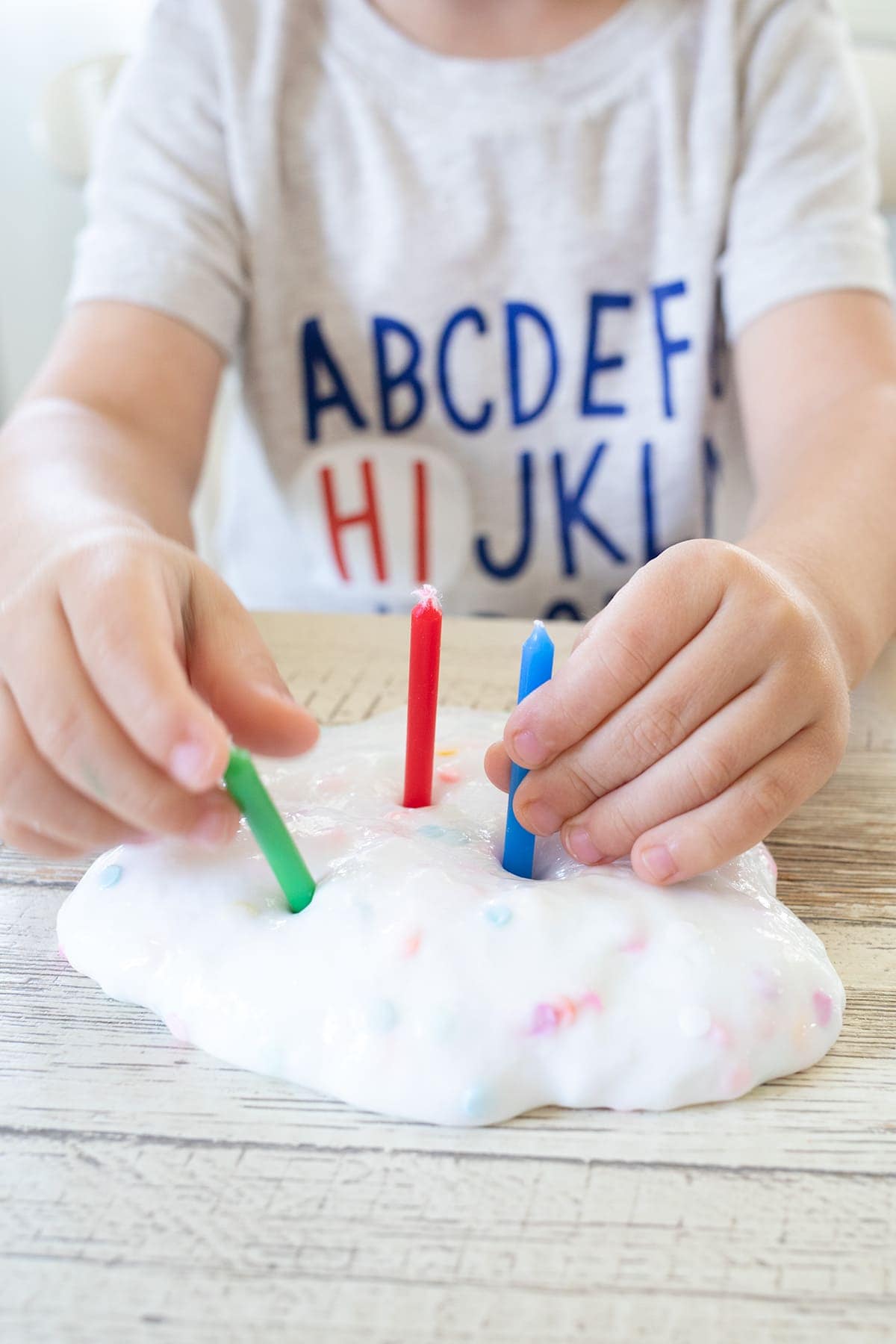 Jackson chose the round flat sprinkles for his slime while Millie chose the classic rainbow sprinkle shape. Both of them turned out equally adorable and the twins played with their slime for at least 30 minutes. I gave them birthday candles and small cups to play with and they pretended to make cake and blow out candles over and over again. It's the simple things.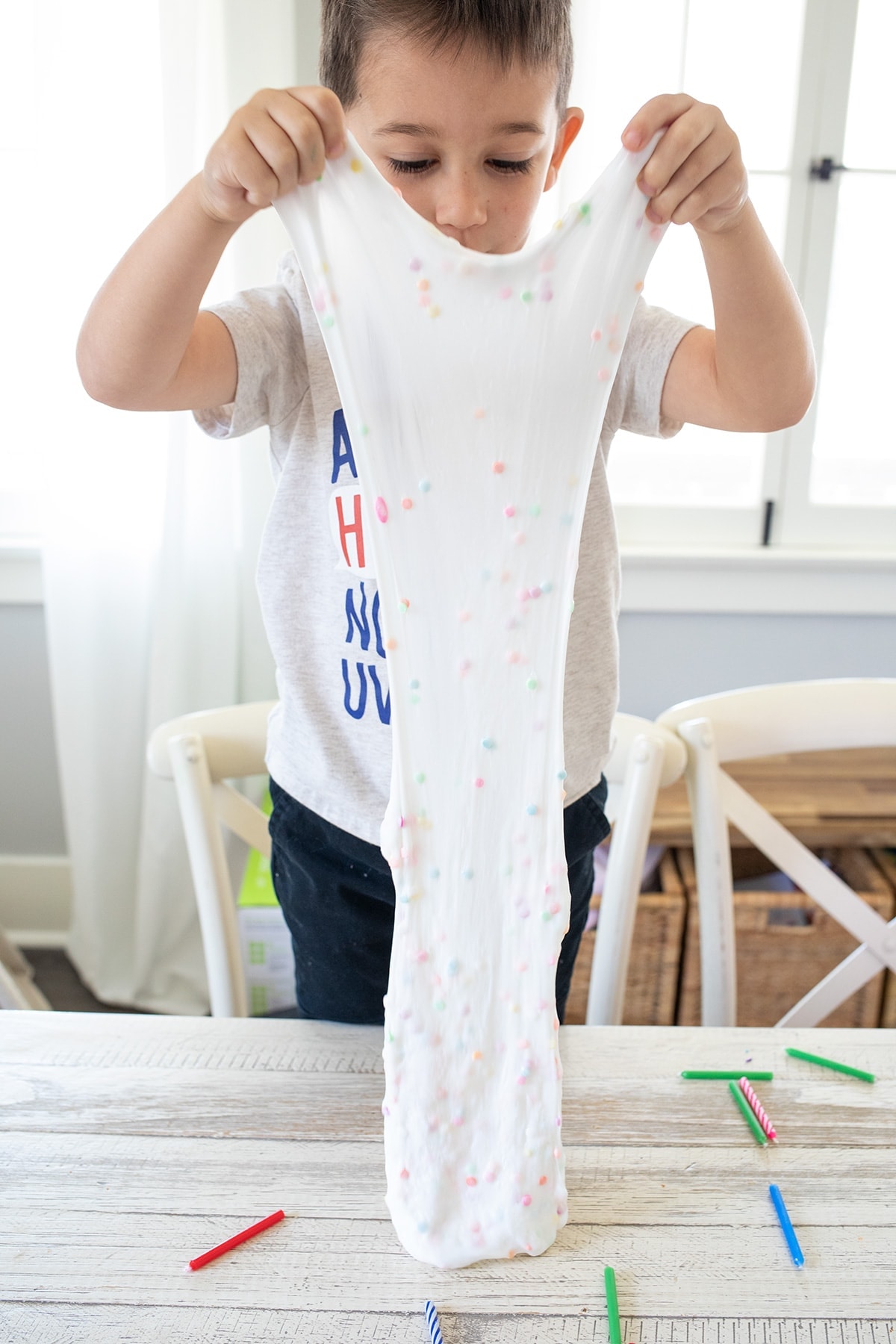 We also made a third special batch for the twin's friend Isla who turned 6 years old today. I completely forgot to snap a picture but we packaged up a special batch of Birthday Cake Slime for her in a glass Ball Jar with a lid and wrapped it up with pink twine. It was a great homemade birthday gift!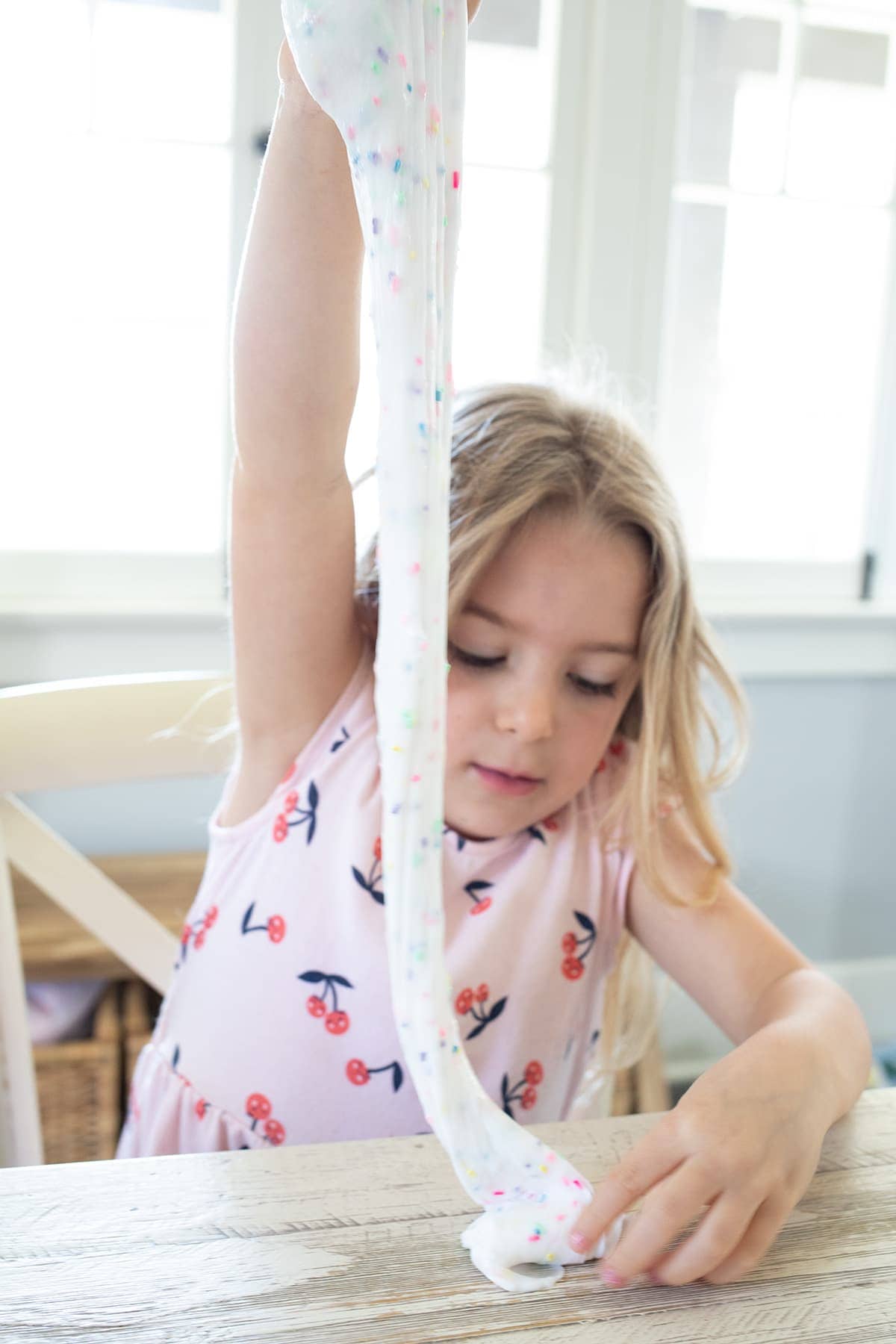 Other Slime & Playdough Recipes to Make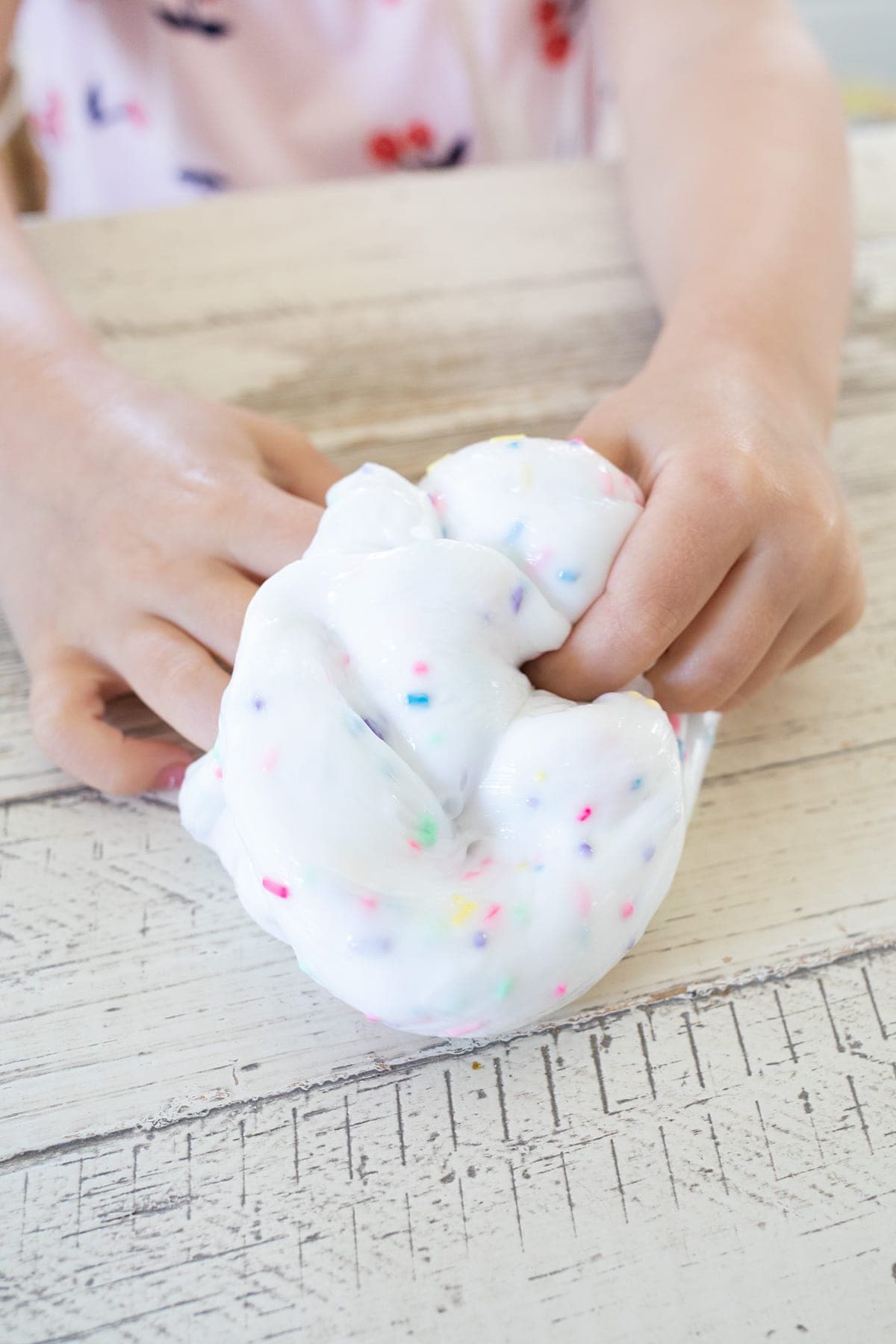 I hope this post has inspired you to make homemade slime with your kids! This is such an easy recipe, I know you will make it again and again like we do. If you make this slime, please leave a comment in the section below letting me know how it turned out. Also, feel free to share on social media #freutcake @freutcake so that I can see your slimy creations! Happy crafting.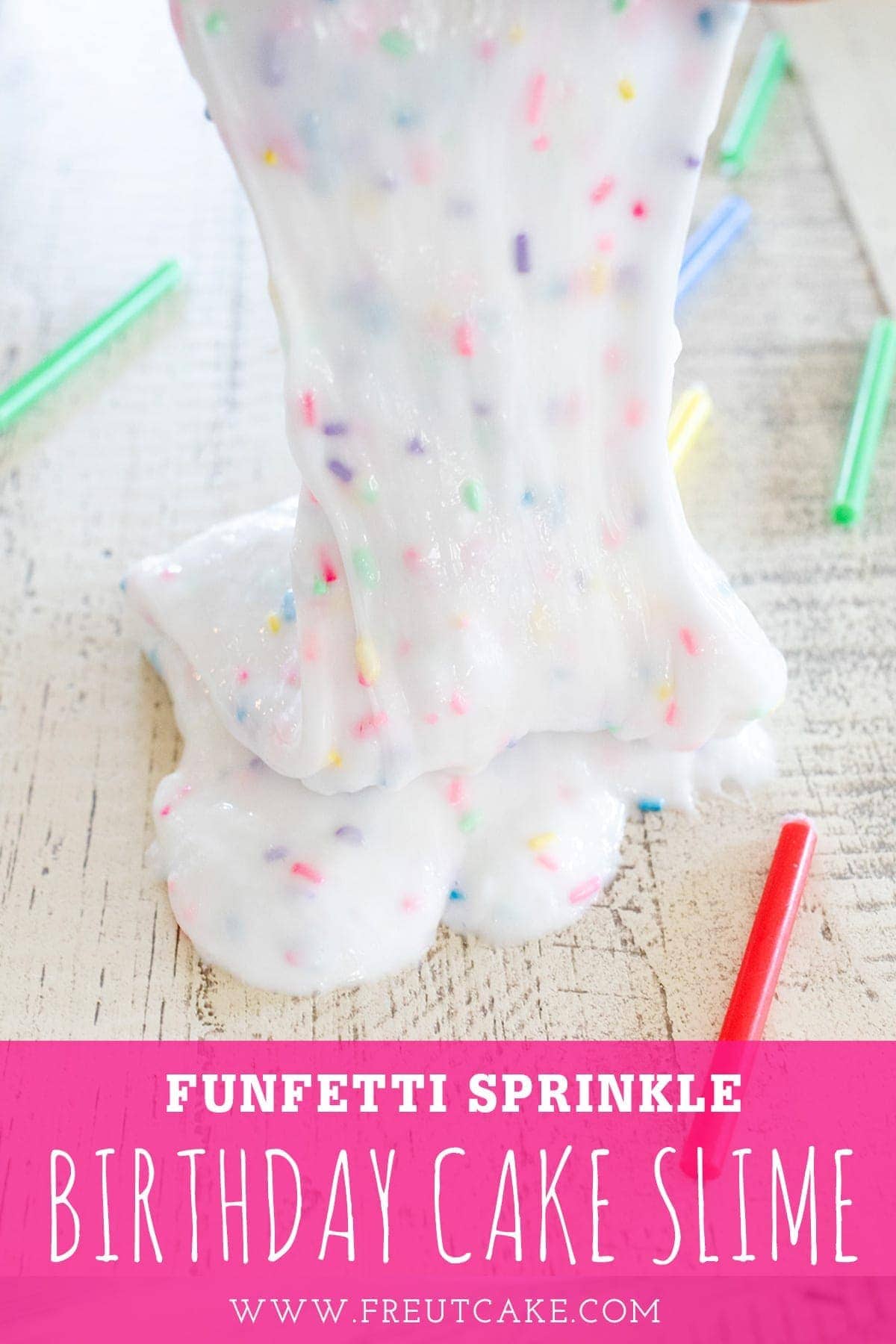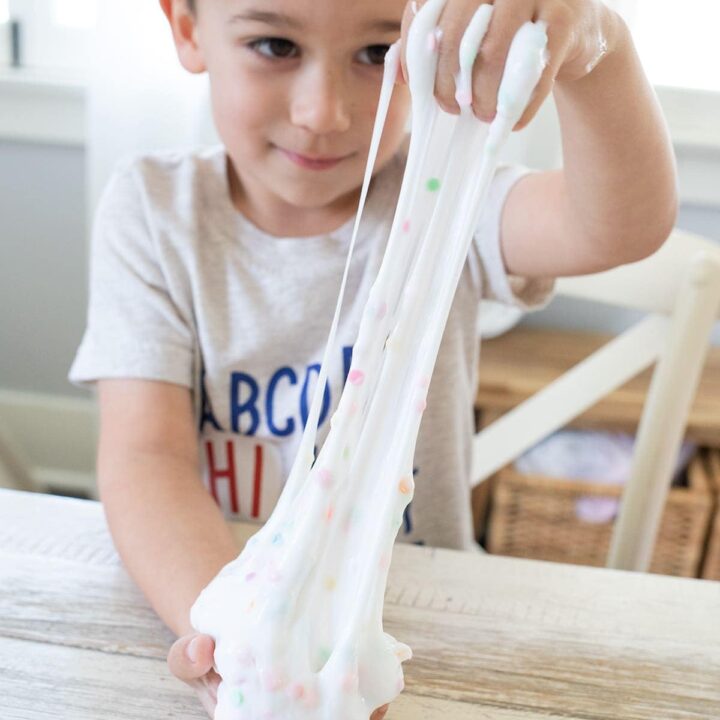 Funfetti Birthday Cake Slime
Easy 4 ingredient funfetti sprinkle birthday cake slime made without Borax!
Ingredients
6-7 oz bottle of white school glue
½ Tablespoon baking soda
1 Tablespoon - 1 ½ Tablespoons contact lens solution (must contain boric acid)
Polymer Sprinkles
Instructions
In a mixing bowl, squeeze out entire bottle of glue.
Using a rubber spatula, stir in fake sprinkles. You can add as many or as little as you like however we added between 3-4 Tablespoons.
Stir in baking soda.
Starting with 1 Tablespoon, mix in contact lens solution. Continue mixing and switch to kneading by hand to combine. If the slime is too sticky add up to ½ Tablespoon more.
Play, stretch and have fun!
Notes
THIS RECIPE IS FOR PLAY ONLY AND IS NOT EDIBLE. Please supervise young children. Do not use polymer sprinkles with young children who may be tempted to eat them.