I always seem to have a random assortment of glass mason jars around the house. Between the half eaten jelly jars in the back of my fridge to the numerous lid-less jars I use to hold paper clips and other odds and ends, my house is filled with them. The thing about jars is, I can't stand the thought of getting rid of them! I suppose they could be recycled or donated but instead I hoard them like a squirrel and her nuts. Thank goodness I found a pretty way to re-purpose my old jars. It's DIY time and today is all about Colored Glass Mason Jars. Here's how I did it...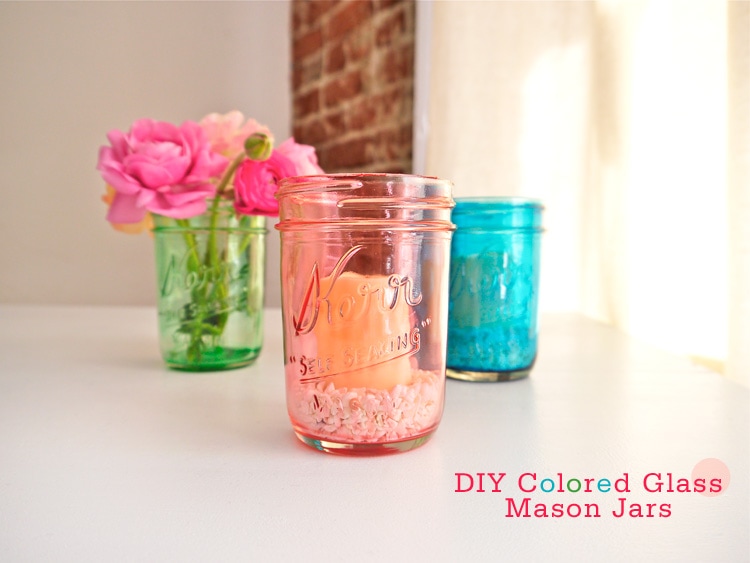 Supplies You Will Need:
Empty glass mason jars
Ramekins or bowls for mixing
Paper towels
Foil
Mod Podge- Gloss Finish
Liquid food coloring
Stir sticks or small disposable spoons
Cookie sheet
Oven preheated to 225 degrees or "Warm"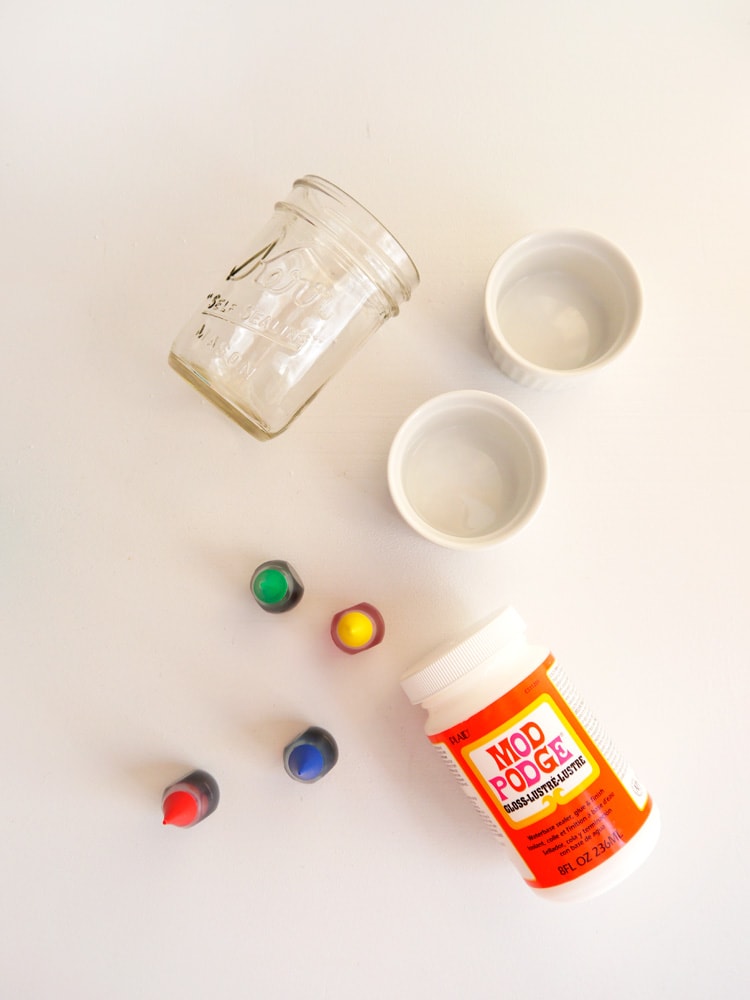 Step 1: Start by lining two baking sheets with foil or wax paper and set aside.
Step 2: In a small bowl or ramekins add: 1 Tablespoon Mod Podge, ½ Tablespoon water, 7-9 drops of food coloring *It's important not to add too much food coloring or the mixture will be too thin and result in streaking. (see purple jar below)
Step 3: Mix colored Mod Podge until smooth and pour into your glass jar.
Step 4: Swirl the Mod Podge around until the entire inside of your jar is covered. Drain excess into a waste bowl to be thrown away later.
Step 5: Carefully wipe the rim of your jar with a paper towel making sure none of the Mod Podge is on the outer lip.
Step 6: Place jar open side down on lined baking sheet to drain for 1 hour.
Step 7: After 1 hour, carefully lift jars, re-wipe the rims and place open side up on second lined baking sheet.
Step 8: Place in a pre-heated oven (225/warm) for 45 minutes or until Mod Podge is completely dry and glass jars are transparent.
Step 9: Remove baking sheet from oven and allow hot jars to cool completely before removing.
Freutcake Note: Now that your jars are colored, they are for decoration only and should not be used for food or drink.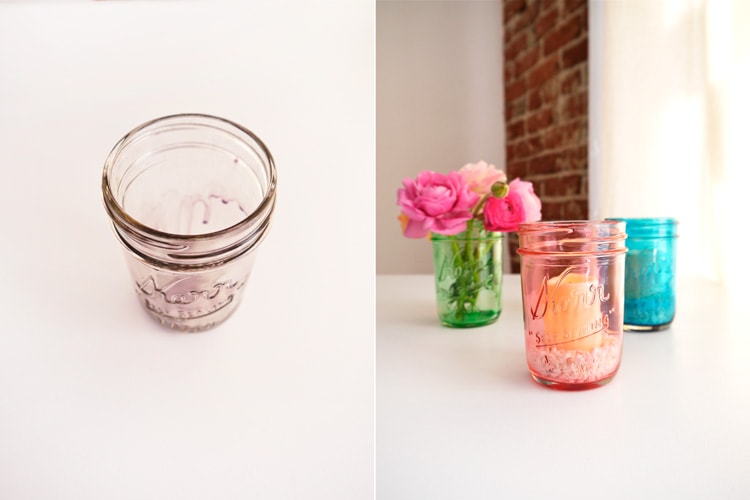 Now for a bit of honesty about this project. It took me (and my trusty side-kick sister) TWO, yes two, rounds of jars and a lot of white wine to get these right. Our first attempt was a streaky messy disaster. The jars were hideous to be quite frank. Lucky for you I think I got the steps down to a pretty exact method that worked beautifully on our second attempt. So follow my steps and ratios above and you should be golden.
How I like to use them:
1. Fill partially with sand or crushed shell and insert a battery operated tea light. Perfect for outdoor entertaining! *Not safe to use with traditional candles.
2. Insert a small bud vase of water into colored jar and use as for small flower arrangements. *Mod Podge is not water resistant so a bud vase is necessary.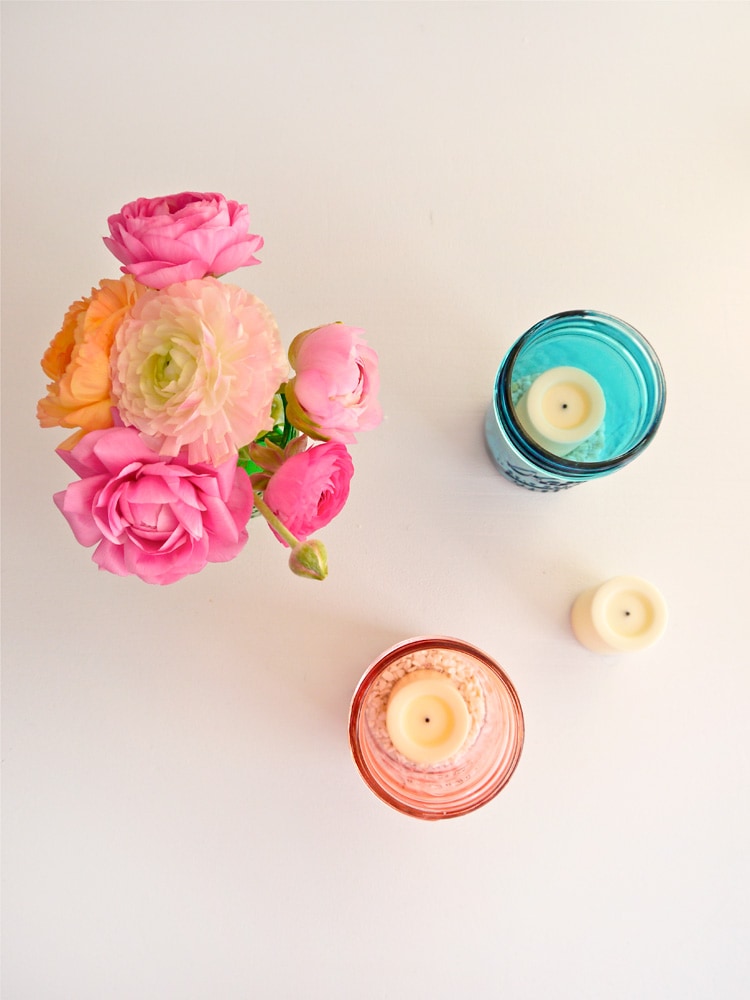 Today at 12:00 PST, I will be demonstrating how to make these lovely little jars live on the next instalment of Good Housekeeping's Google + Hangout Series. Feel free to tune in and watch my technique live. Or if you miss it, you can always watch the video later on Good Housekeeping's You-Tube Channel.
photos by Leah Bergman