I always look forward to decorating for fall. The moment September hits I'm rushing to the garage to find the fall bins. I prefer simple rustic fall living room decor to warm up the space. Swap out pillows, a chunky handmade throw, pumpkins and gourds from the grocery store and a few choice branches. Here's a look at how I decorated this year!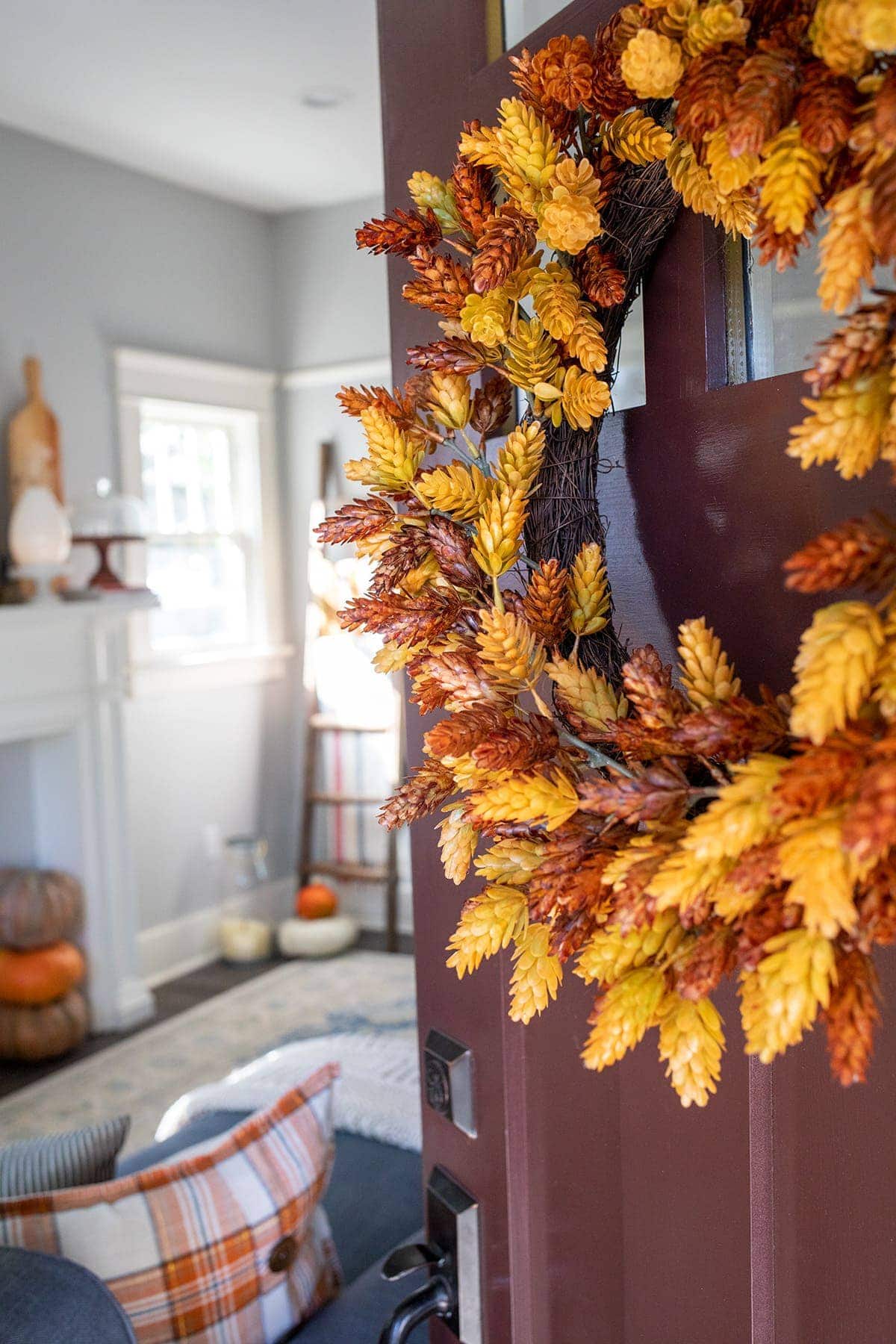 Simple Fall Decor Ideas
Simple Fall Decor Ideas are my favorite because it doesn't cost much money to bring cozy fall feelings into the living room through textures and colors. When I begin decorating for a new season I start by clearing out anything decorative that I have, giving everything a good dusting, and then begin styling with what I already have around the house!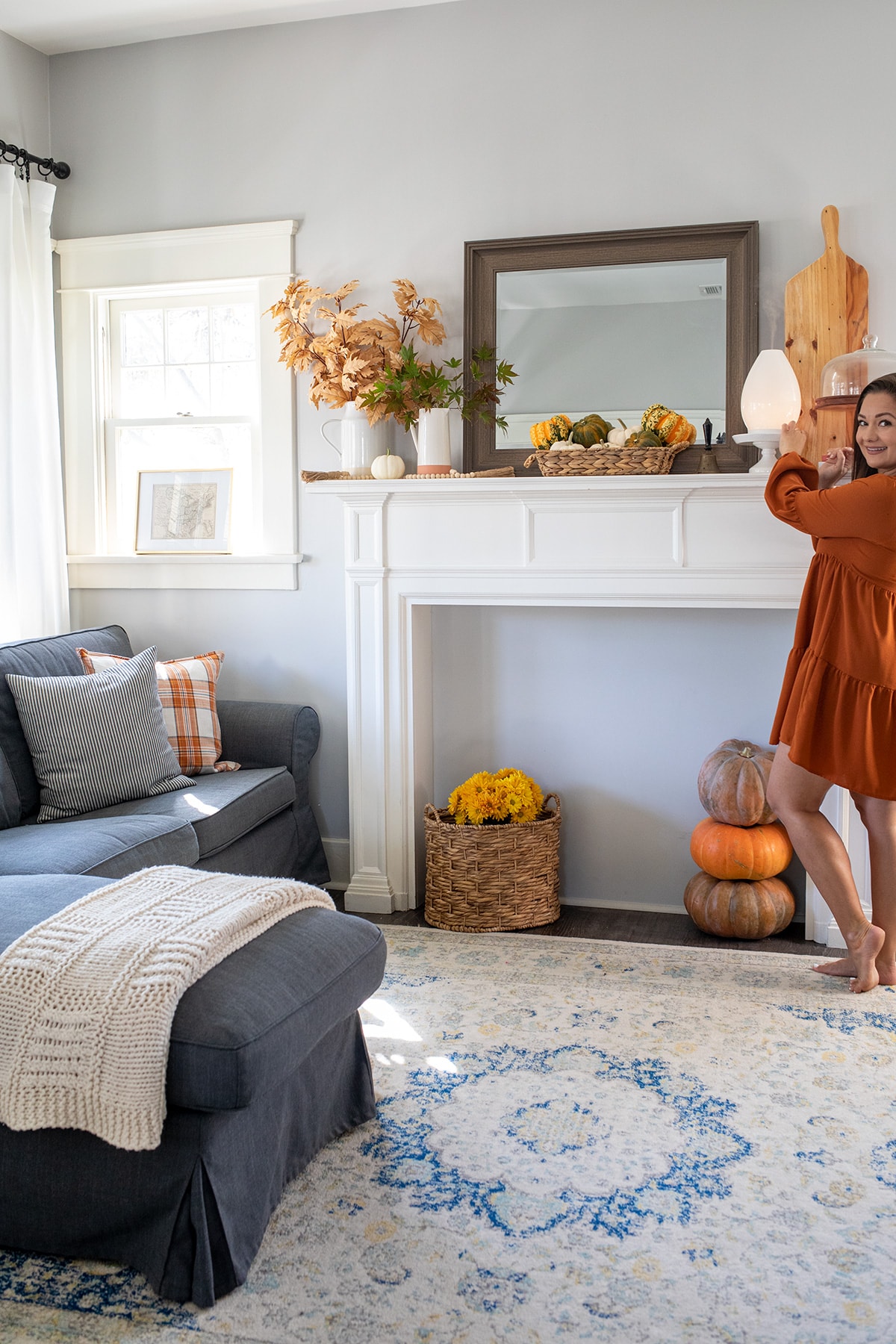 Fall Mantle Inspiration
Our house is teeny tiny and although it is a renovated 1940's craftsman, it does not have an original fireplace. (Bummer, I know.) But we do have a faux fireplace that lends itself to decorating as it's the main focal point of the room. I always like the look of an oversized mirror on a mantle.
To keep it casual I propped up a wooden mirror I already had in my bedroom and grabbed a basket from our bathroom, a few ceramic pitchers, cake pedestals from my styling cabinet, cook books and even a large cutting board. I'm all about repurposing what I have.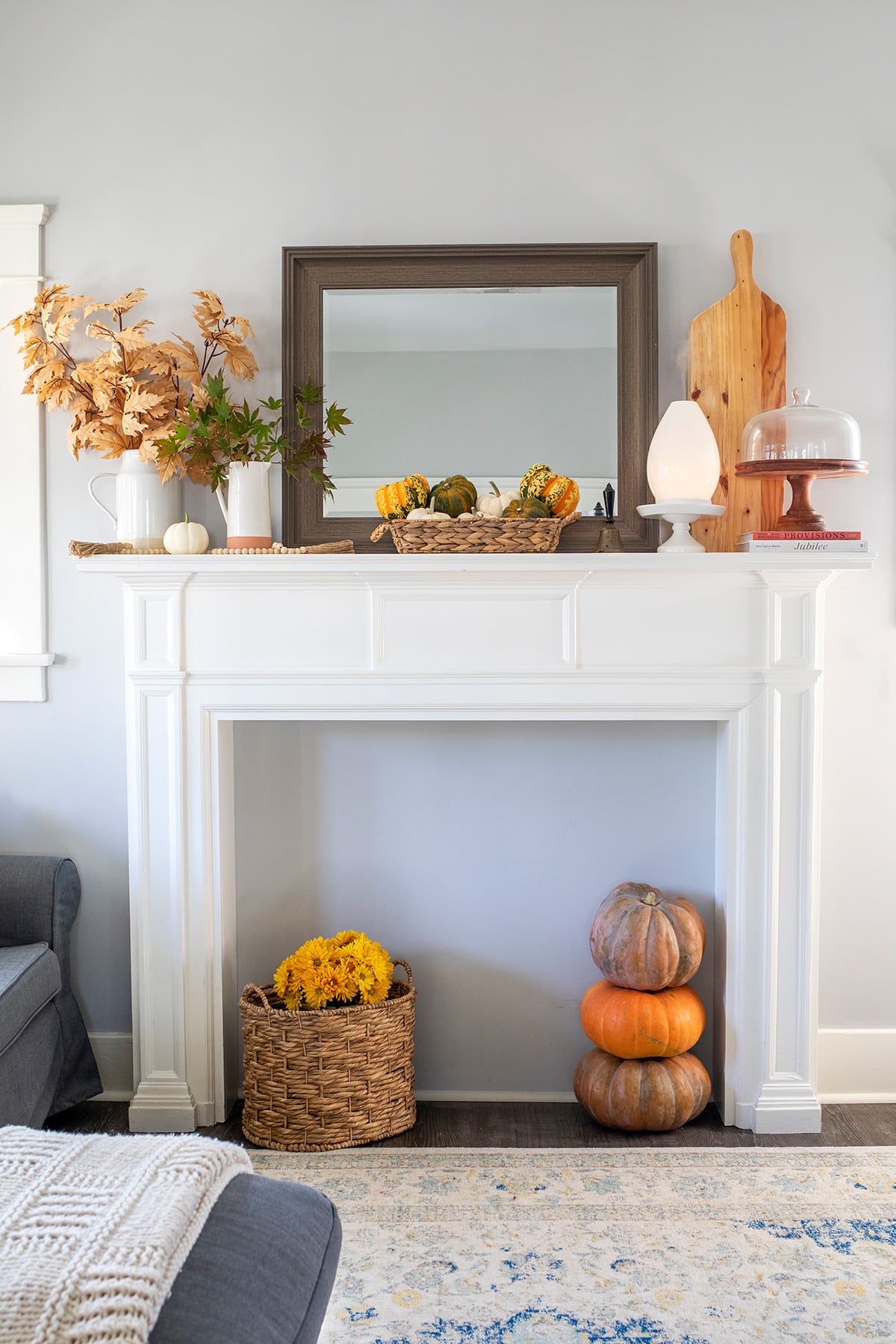 To fill the space in the bottom of the fireplace, I added a stack of Fantasy Pumpkins from the grocery store and nestled a vase of daisy's down into the basket that was previously there. Mums would also look so lovely in a basket here and I might see if I can add some later. Flowers, branches and pumpkins are such an easy way to bring in simple fall decor.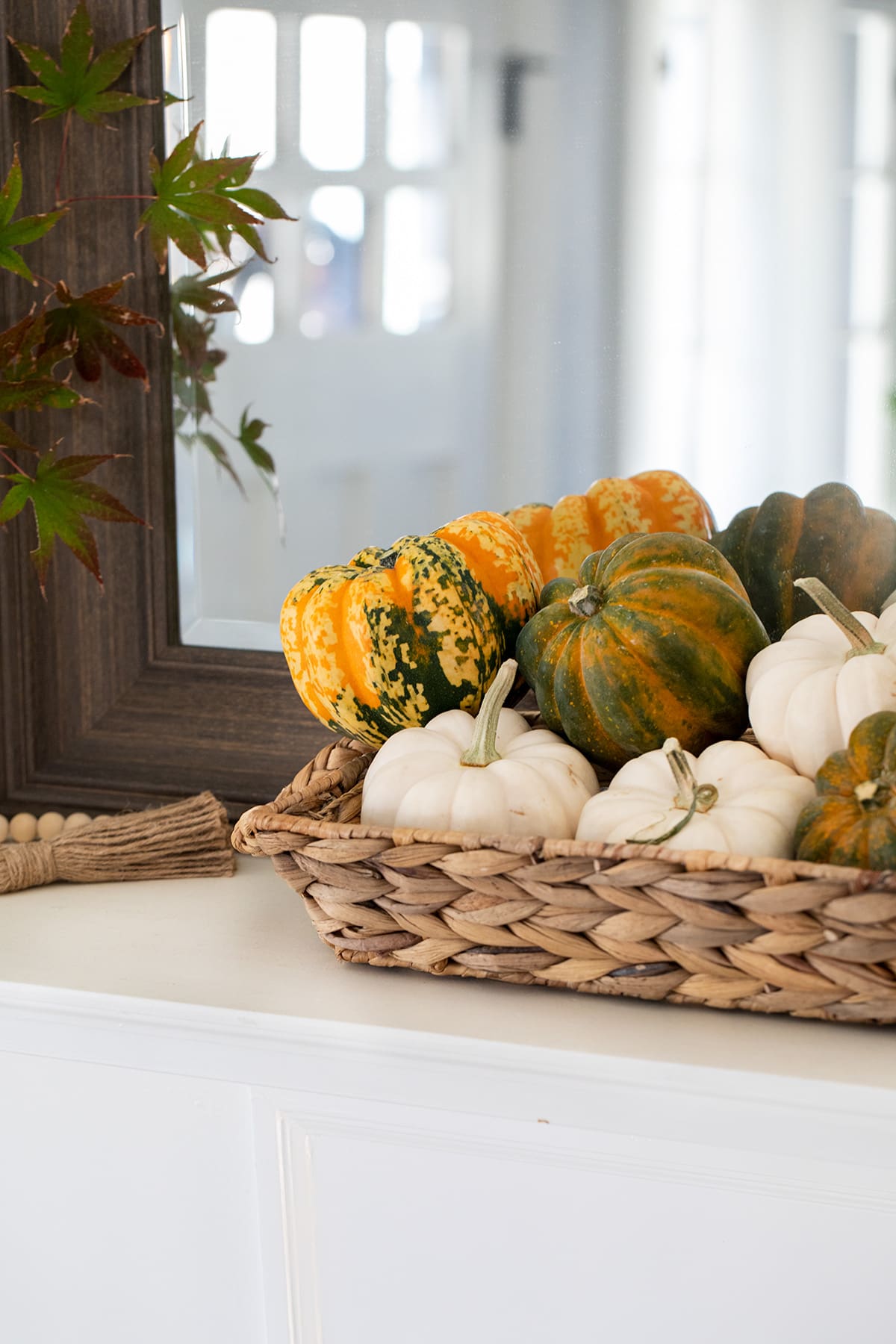 Gourds and Pumpkins
One of my favorite ways to decorate for fall is with store-bought gourds. These are so affordable and also beautiful! I stuffed this long thin basket with acorn squash and mini white pumpkins I picked up at the grocery store.
No need for fancy decorations when you can find Fantasy Pumpkins for less than $10 at Trader Joes! Tip: look for mini white pumpkins with long stems and the most colorful squash as they add more interest.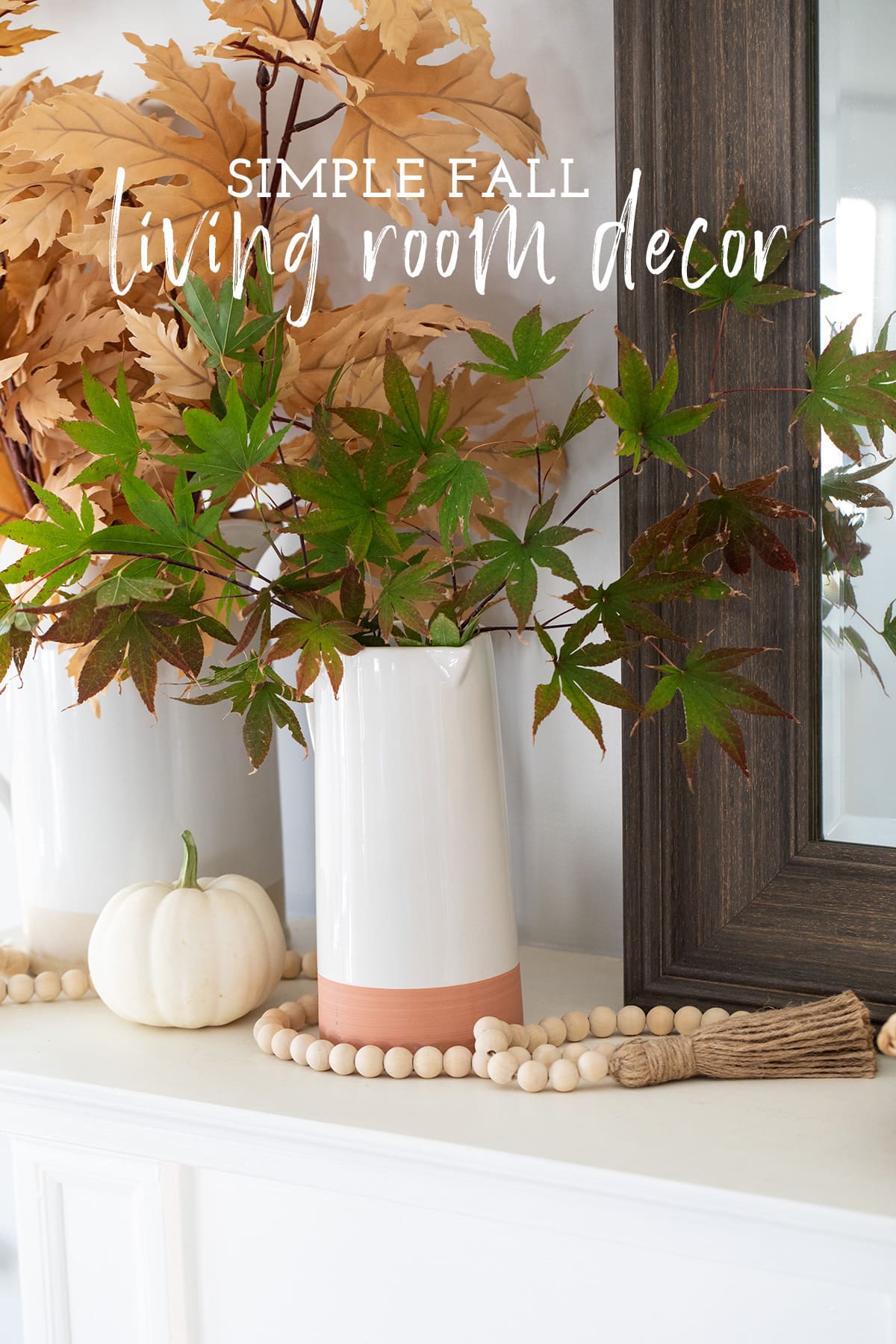 Fall Sprigs for the Mantle
We have a small Japanese Maple Tree out front, which I love to cut branches from for the mantle. Because we live in southern California, we are rather limited when it comes to fall foliage to cut but if you have a garden, I encourage you to go trim some branches and bring them inside. I also picked up a few faux sprigs from Michaels.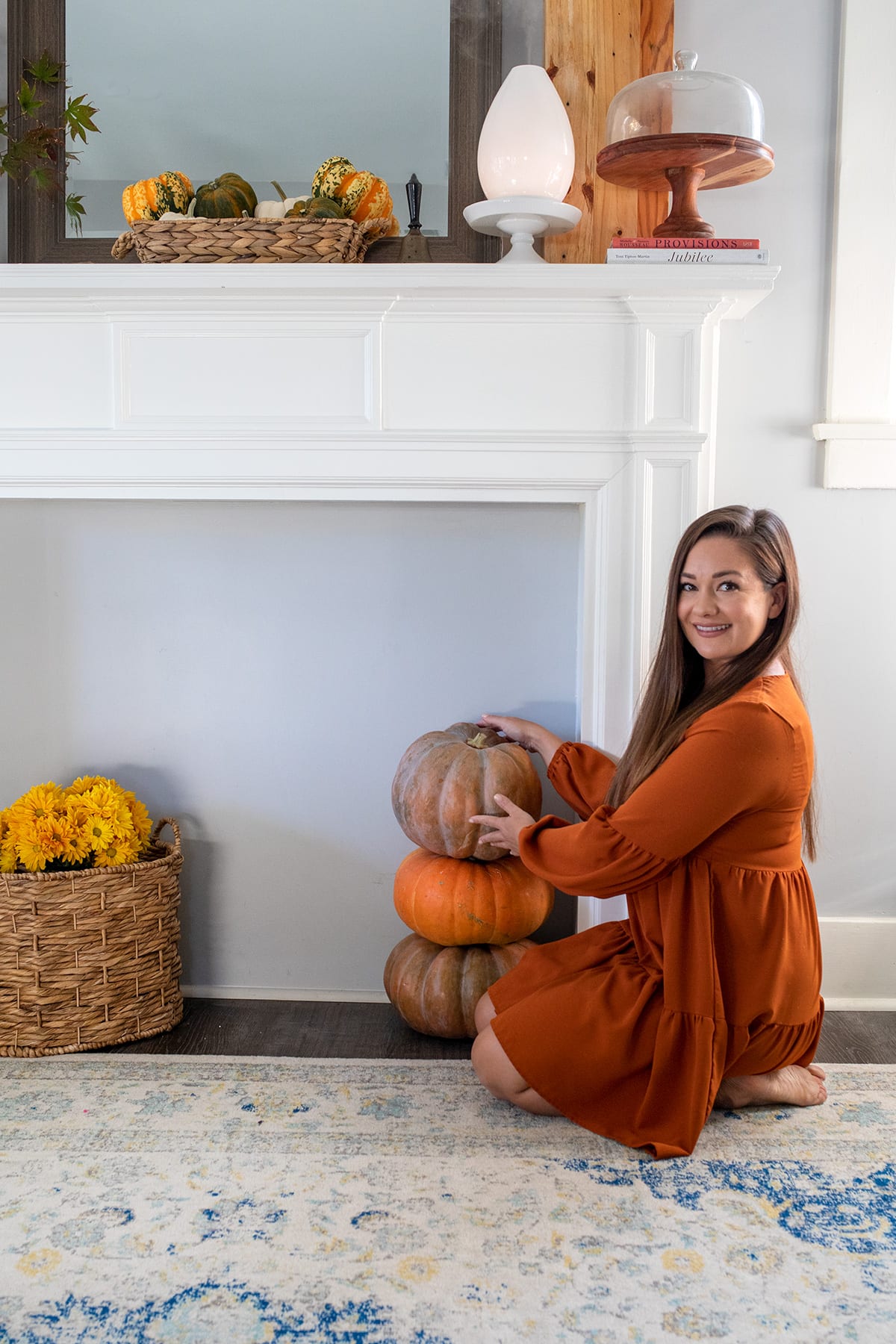 I tend to gravitate to neutrals and whites so this year I switched things up by picking colorful pumpkins. I loved the rusty, orange and brown hues of these Fantasy Pumpkins and how they compliment the wood accents, and amber glass I brought into the space.
Last Halloween I filled my entire fireplace with pumpkins! It was so much fun. I also love decorating with white pumpkins for Halloween, so chic.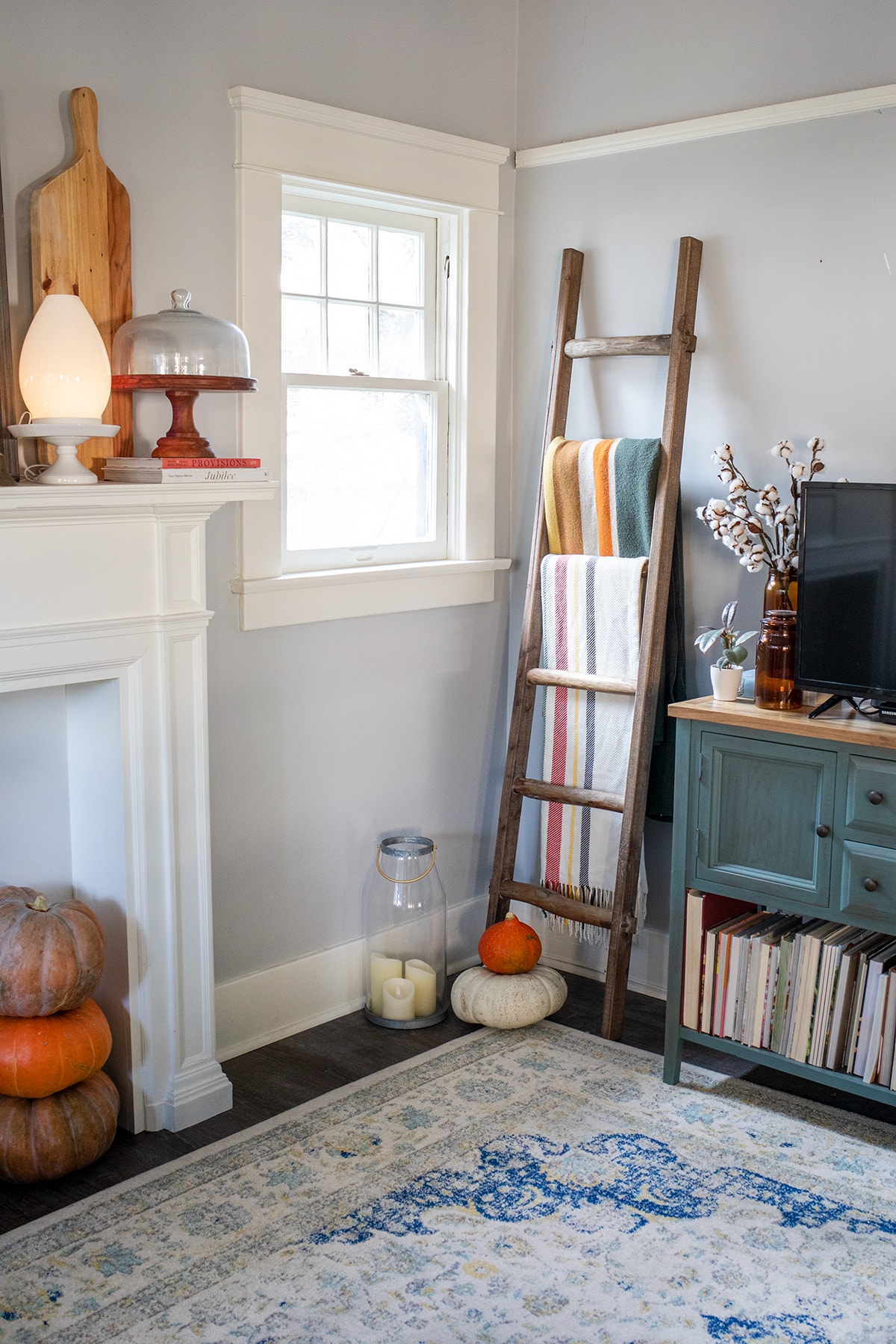 Recently I found this rustic looking ladder at HomeGoods and had to have it! We always have a million throws and blankets around the living room for the twins to cuddle up with and like the look of having a few hanging here. John and I both love Pendleton blankets and I felt like these two signified fall.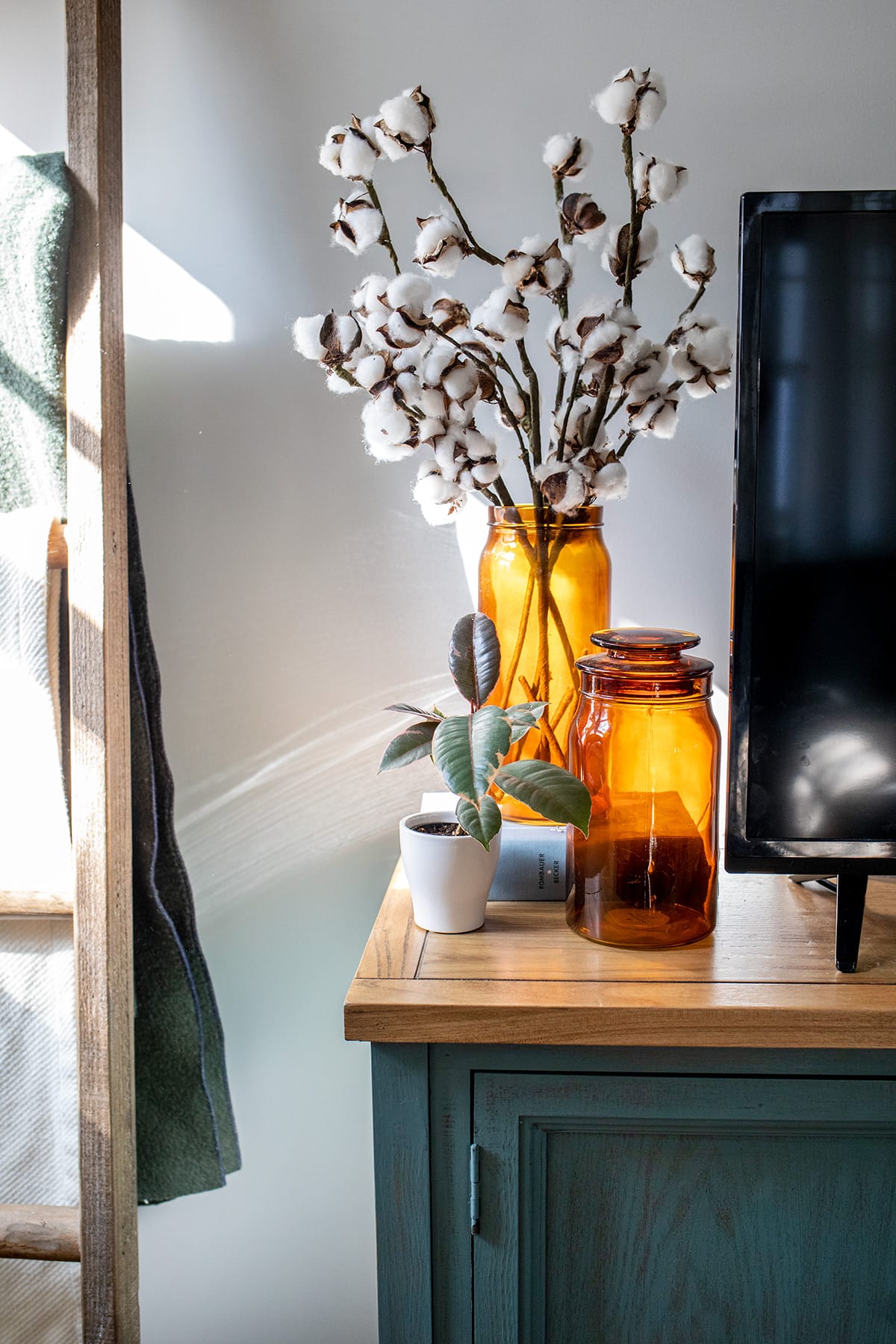 Amber Glass Jars
There is something so magical about the way light shines through amber glass and warms up a room. I have a few of these Amber Glass Jars from Target which I bought last year.
I would love to start a vintage Amber Glass Jar collection one day but for now these modern apothecary style canisters will do. I removed the lid from the largest jar and added cotton sprigs, also from the craft store.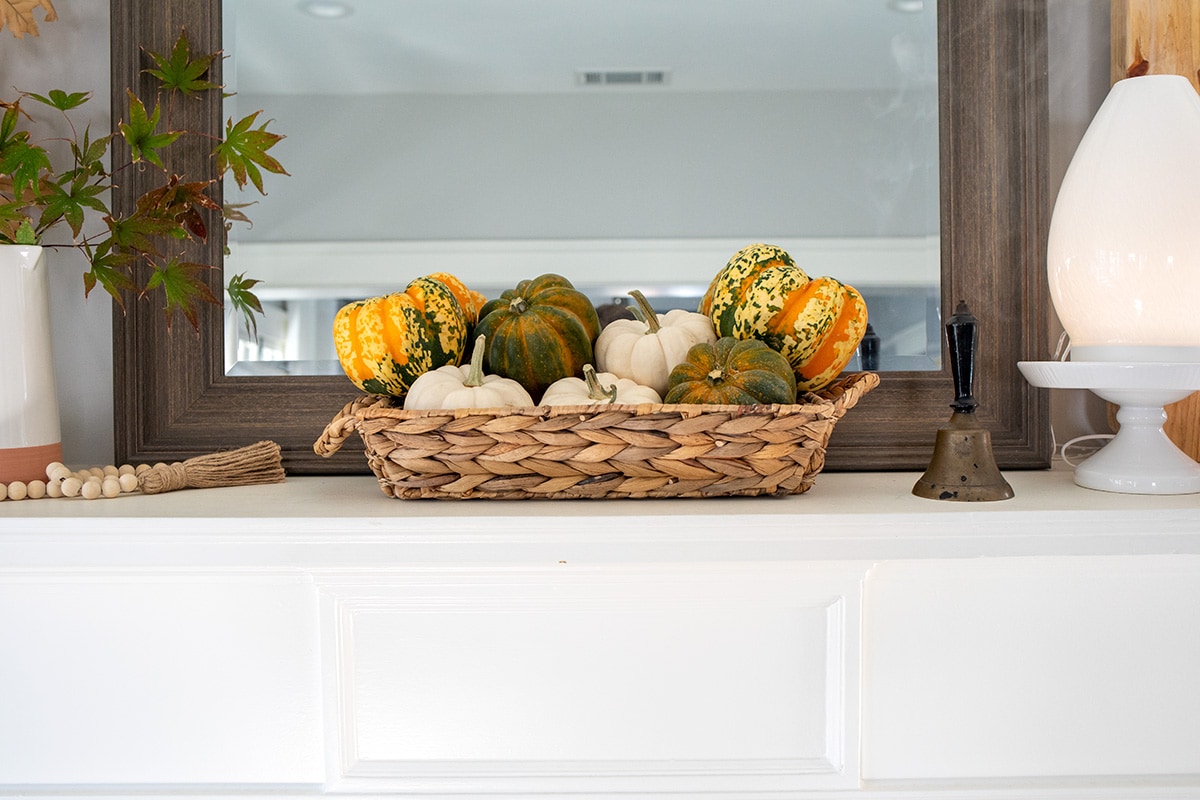 Fall Diffuser Blends
Diffusing essential oils is one of my absolute favorite ways to bring a cozy fall vibe to our living room. I love this hand blown glass diffuser by Young Living which I keep on the mantle. I alternate fall oil blends frequently but some of my favorites to diffuse are cinnamon bark, nutmeg, orange, Northern Light's Black Spruce, Cedarwood, and Thieves. Spicy, woodsy, and delicious plus so much healthier for the air than scented candles. You can find out more about oils here.
I hope this post inspired you to look around your home, the grocery store, and a few shops for items to cozy up your living room. Happy Fall!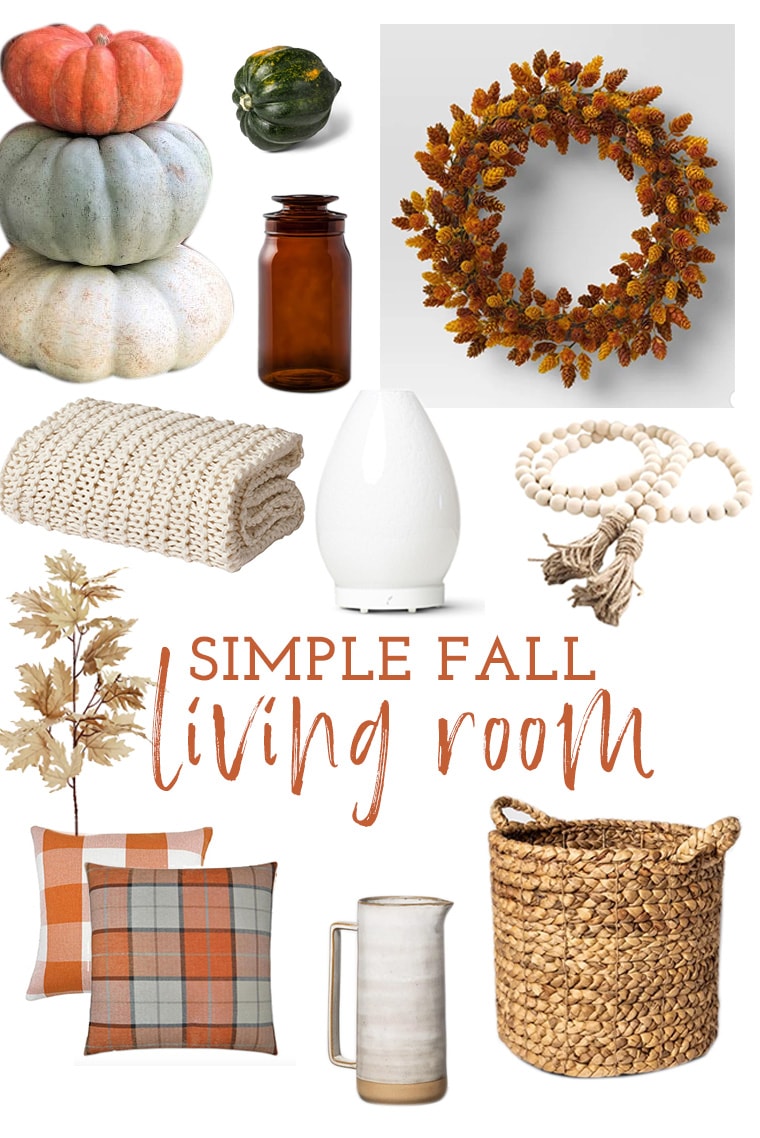 Fall Living Room Sources:
Some of the items in our living room are older and in that case I've linked items that are similar! I hope this is helpful in decorating your space.
Fantasy Pumpkins & Acorn Squash - all from Trader Joe's
Knit Throw - this throw was made by my Grandmother, however I linked a store bought cream knit throw.
Maple Stems
Pillow & Pillow - my pillows are old from HomeGoods but there are lots of great orange plaid pillows out there.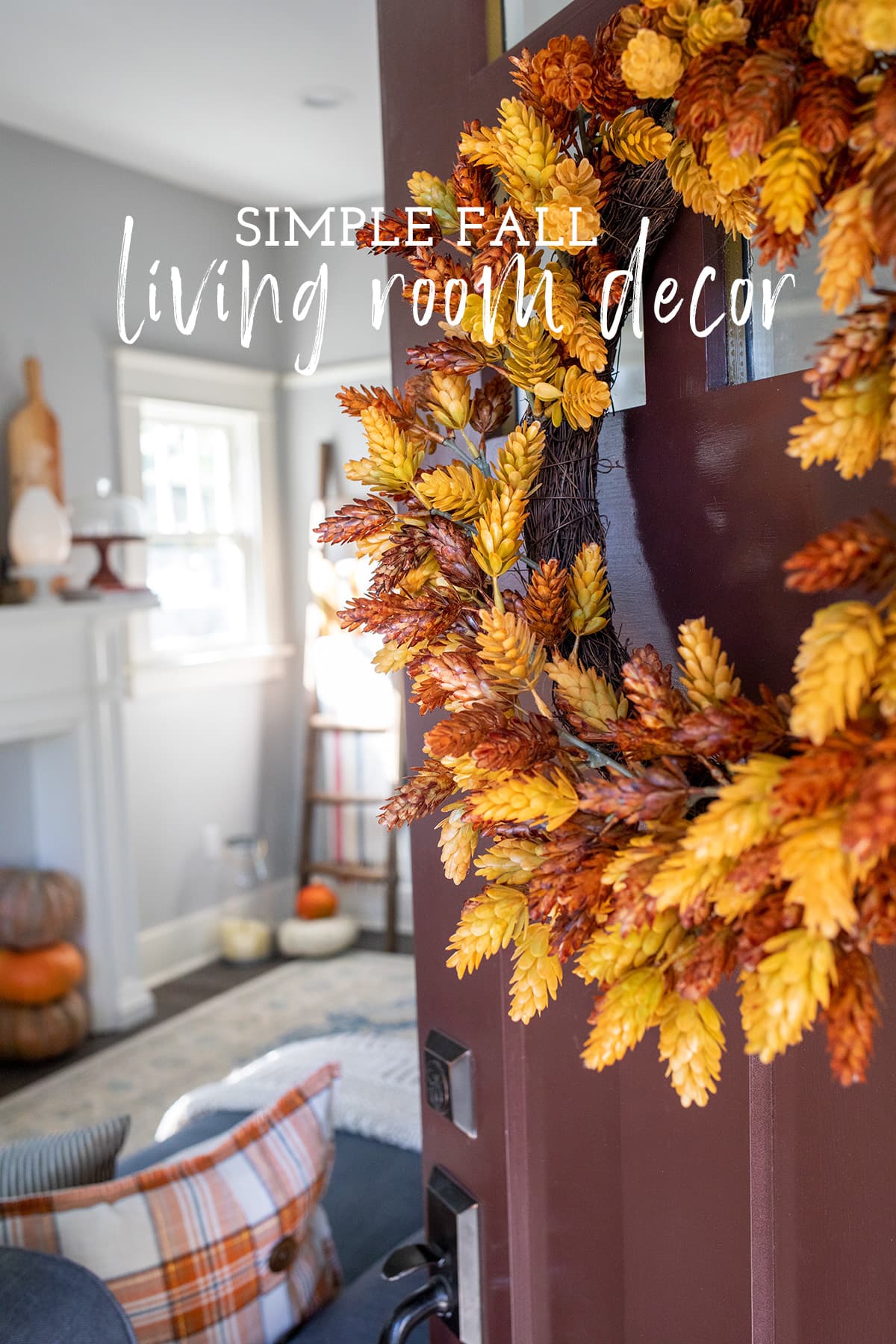 More Festive Fall Posts:
Looking to get into the fall spirit even more? You may want to check out...