Decorating for Halloween doesn't have to be orange, black and completely creepy. This year I went with a chic White Pumpkin theme to my Halloween Decor and I love the way it turned out! Very simple, a bit romantic, whimsical and fun.
White Halloween Decor
Every year around this time, I do a flip flop of classic fall decor transformed to Halloween and then back again for Thanksgiving. It's a lot of work and many trips to the garage for bins but the twins love it and so do I!
Last year's theme was all about bats and this year I wanted to do something a bit more elegant. I've always been a sucker for simple white pumpkins so that inspired this decor. Add in flickering candles, twinkle lights and a few lanterns and my mantle was transformed into a dreamy Halloween scene. I wish my interior photography skills did this the justice it deserves.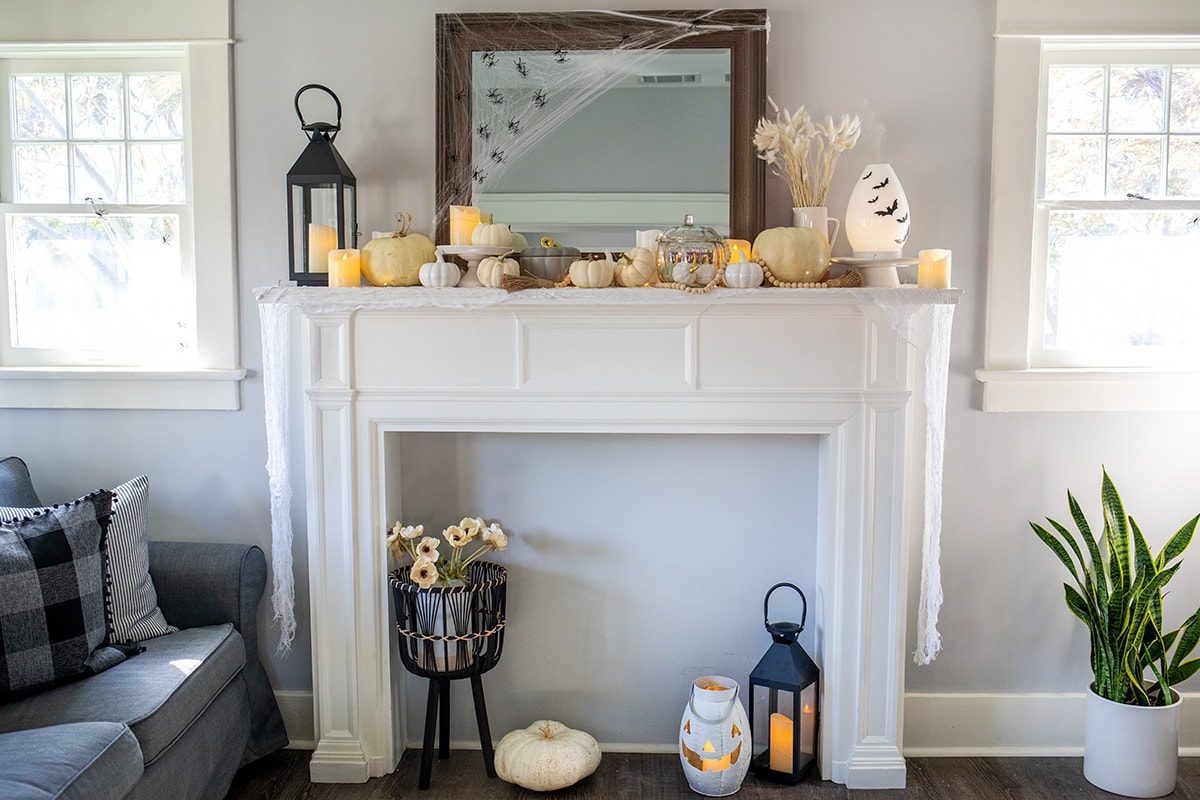 Halloween Mantle Inspiration
Our house is so tiny that truly all it takes to decorate for any holiday is mantle decor, so that is usually where I focus. To start, I remove everything from the mantle and leave just the mirror and my essential oil diffuser. Those are the only permanent fixtures in this space. Recently I found these black lanterns at Homegoods for only $12 a piece and I knew I wanted to use them for Halloween. If you love them, I found a similarly priced black lantern here!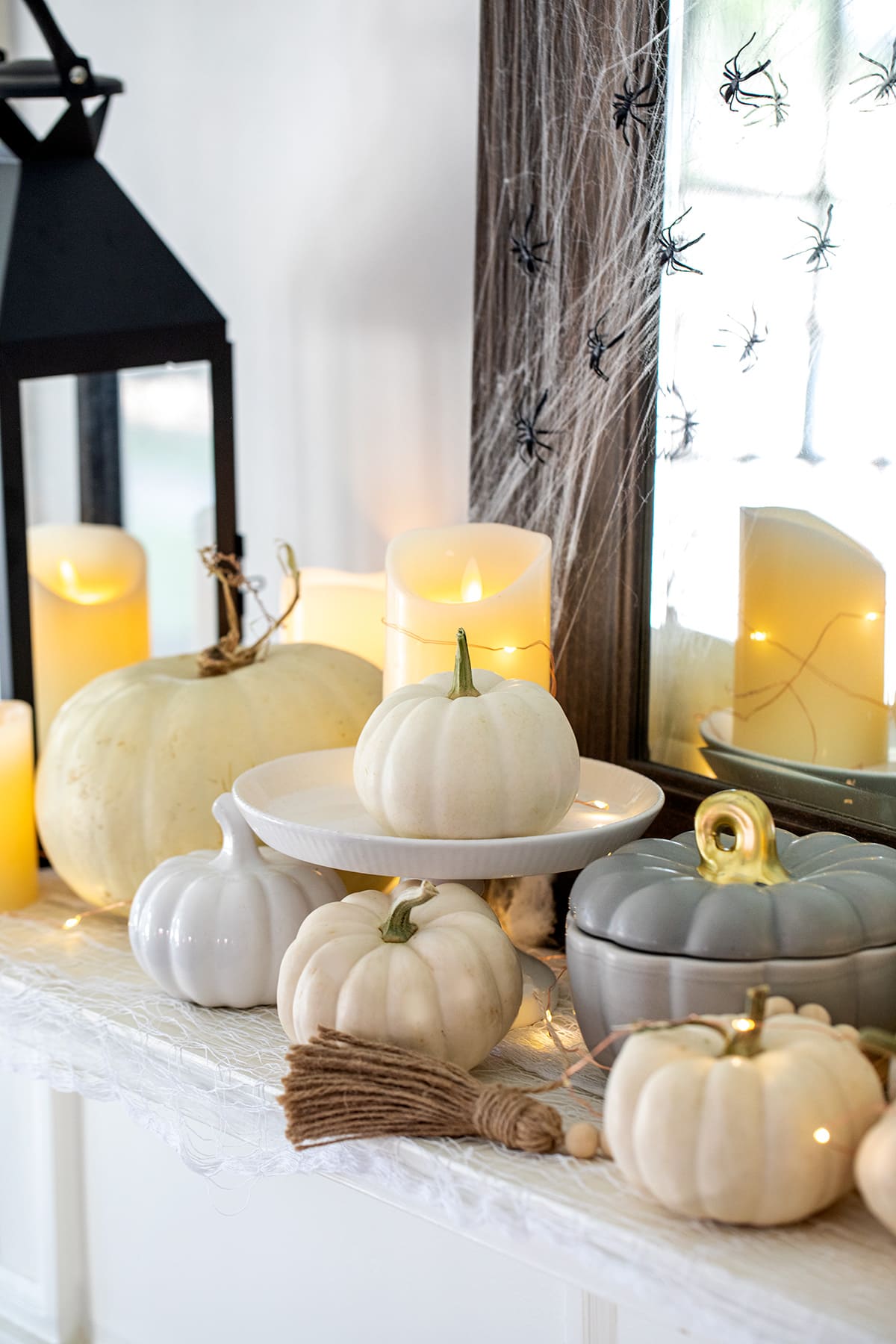 How to Decorate with White Pumpkins
I started by draping my mantle with a simple white Halloween gauze letting it fall over the edges. I love the texture that it brings to the mantle. From there I sticked it up with mini white pumpkins I found at the grocery store and mixed in a few ceramic white pumpkins that I've had for years from the Target dollar spot.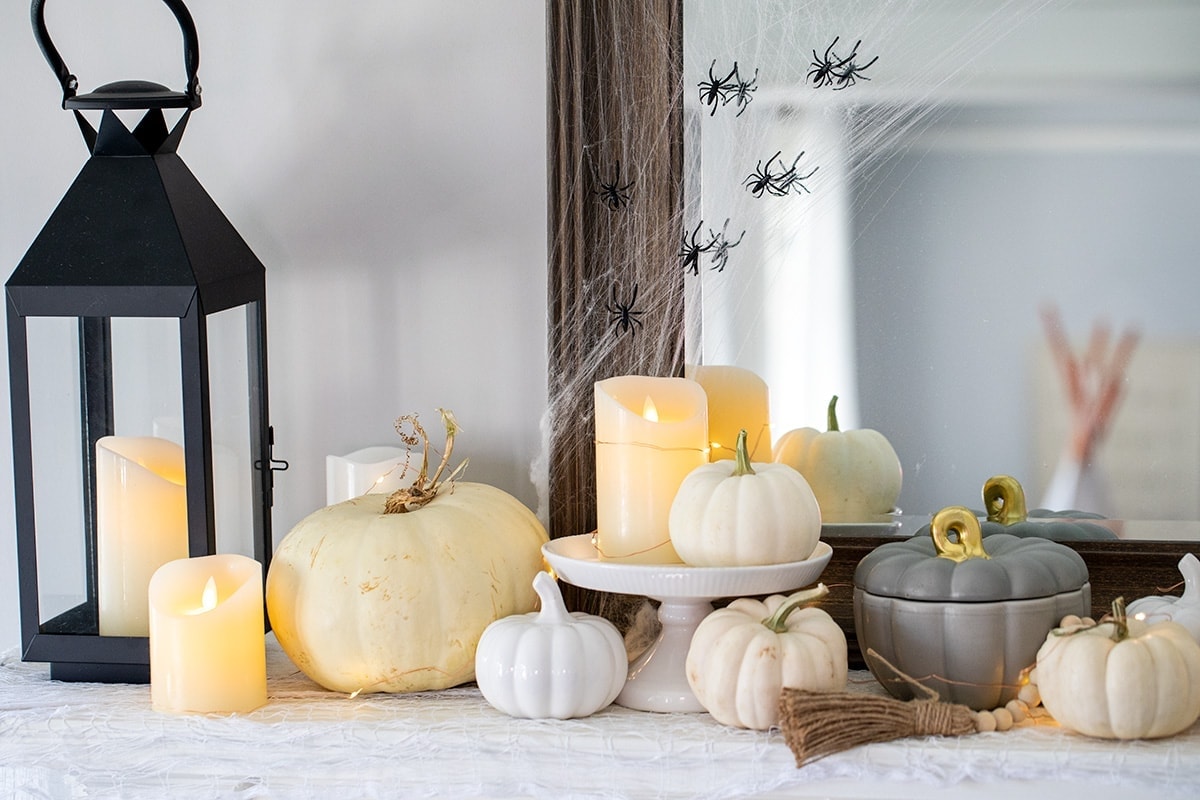 One of my favorite styling tips to to use things you already have around the house. I have a collection of simple white cake pedestals in just about every size so I use them frequently to add height to my mantle. Homegoods and Target are always good places to find white ceramic cake plates...Homegoods being the best source.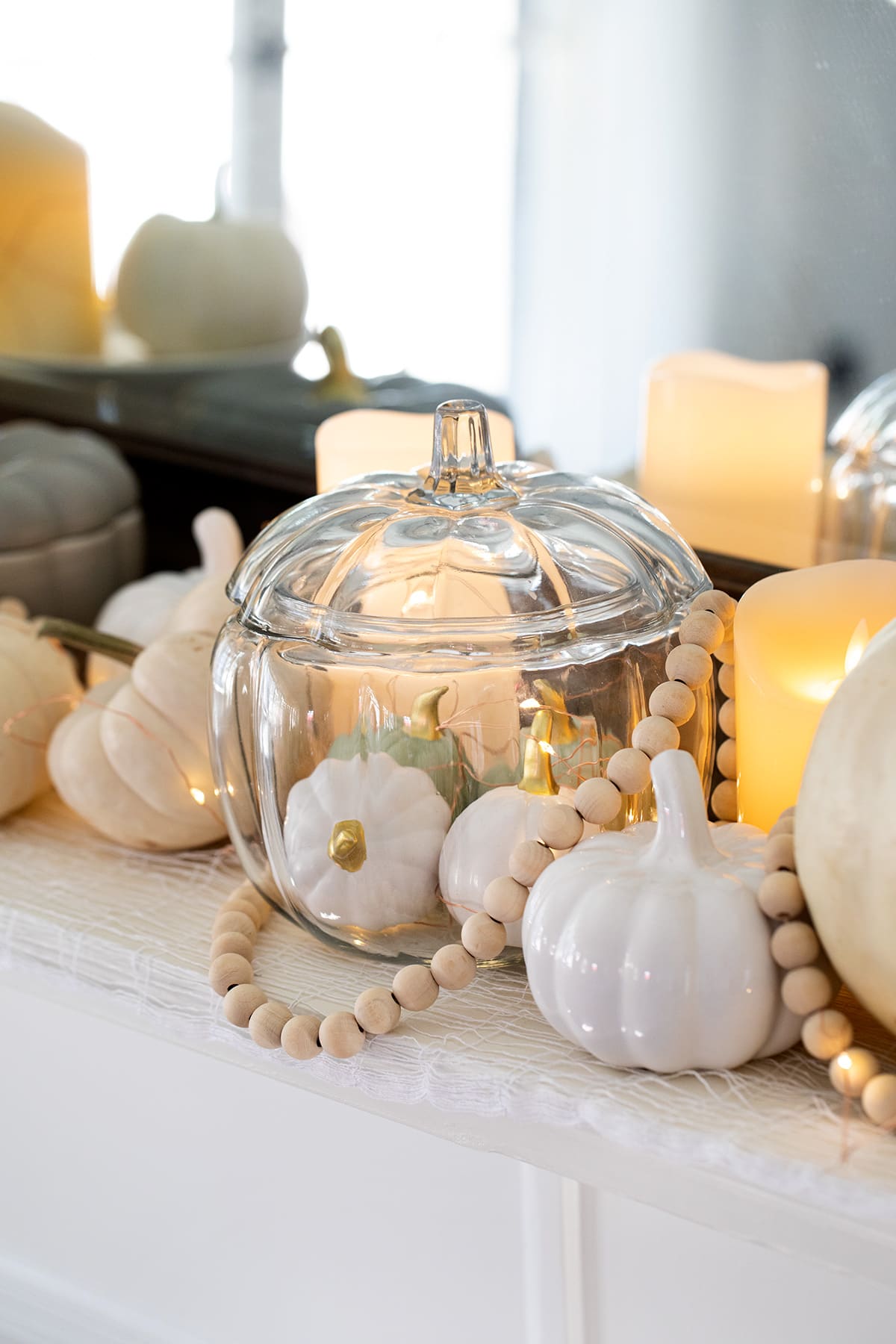 Fairy Lights & Candles
One of my favorite recent finds on Amazon are these remote controlled flicker candles! I am obsessed. In real life, not so much in pictures they look incredible and are perfect for the inside of lanterns or nestled between pumpkins on a mantle.
These candles are battery operated but can be turned on and off, dimmed and brightened all with a remote. Plus, they are made with real wax and the "flame" moves which gives a lovely effect. I also added in twinkling fairy lights which I wrapped around the candles and pumpkins.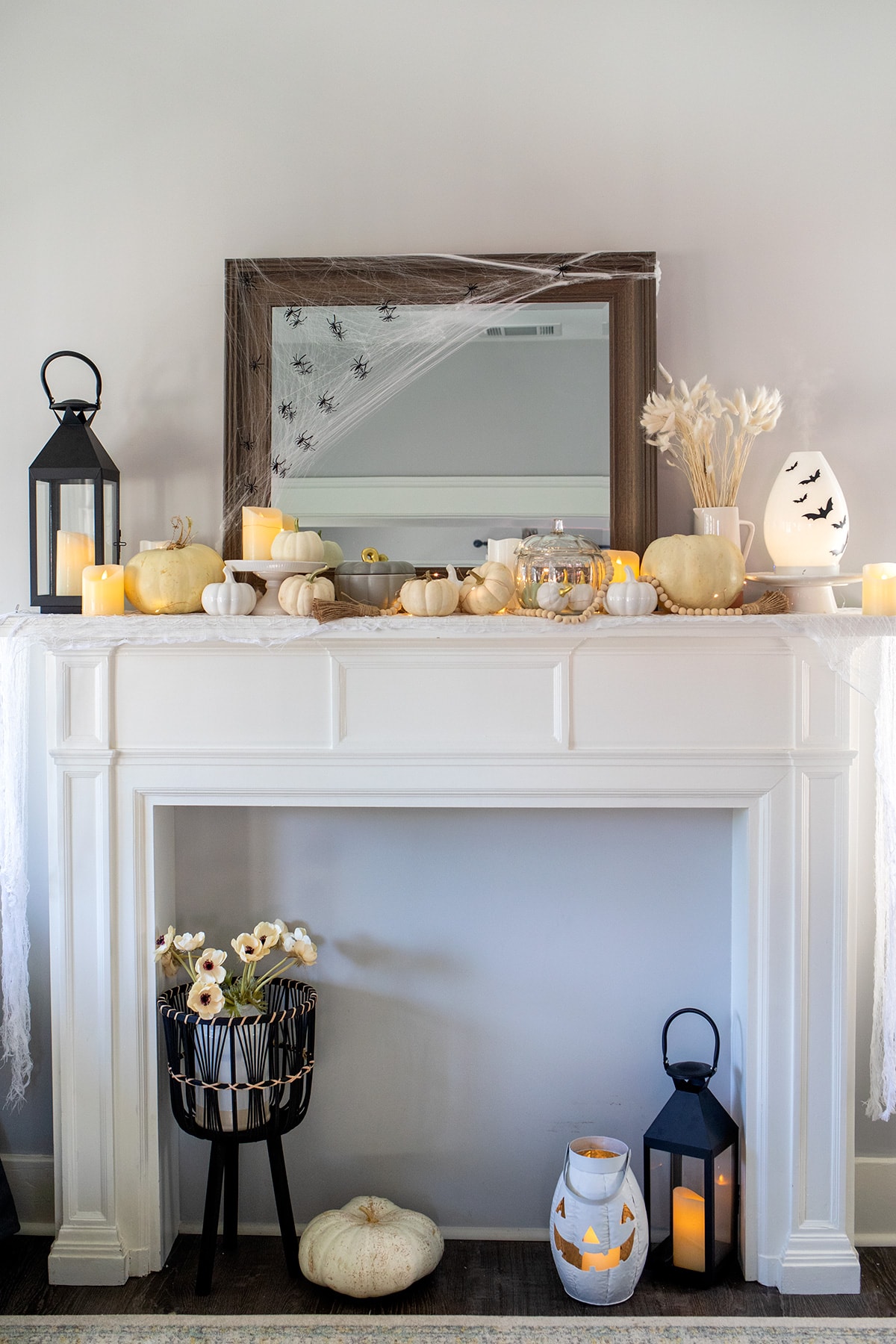 Fake Spider Web But Make It Chic
I've always thought that fake spider web looks cheesy stretched across bushes and over windows. Most of the time, this is because people use WAY to much web. Just a tiny amount, stretched very thin can look very realistic...actually almost too realistic. I found these spiders which are nice and thin and looks frightening crawling up the web.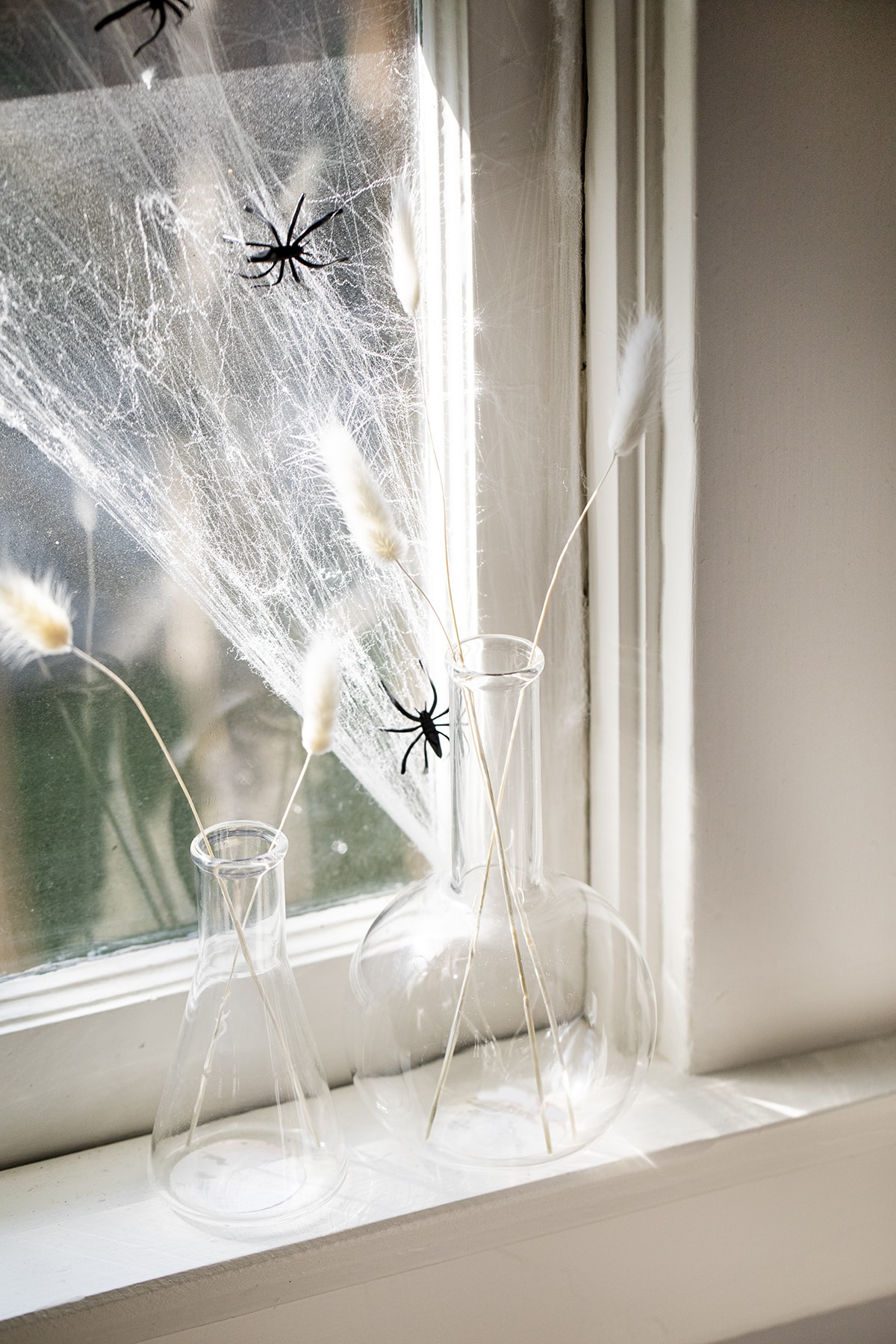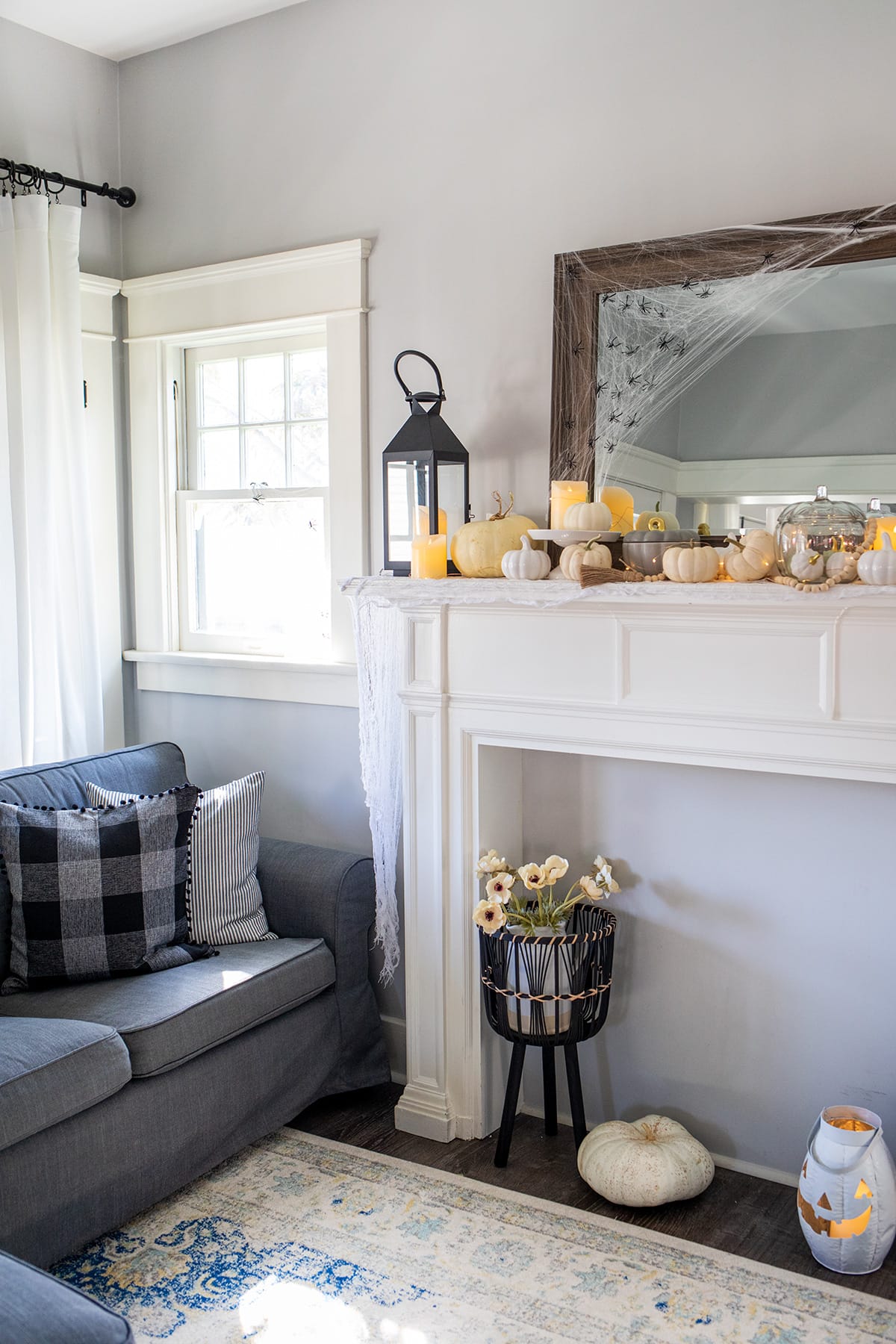 Sources for My Halloween Decor
Black Lanterns - found at Homegoods, similar linked.
Metal Jack-O-Lantern - found at Michaels and spray painted white.
Black Bamboo Planter - found at Homegoods, similar linked.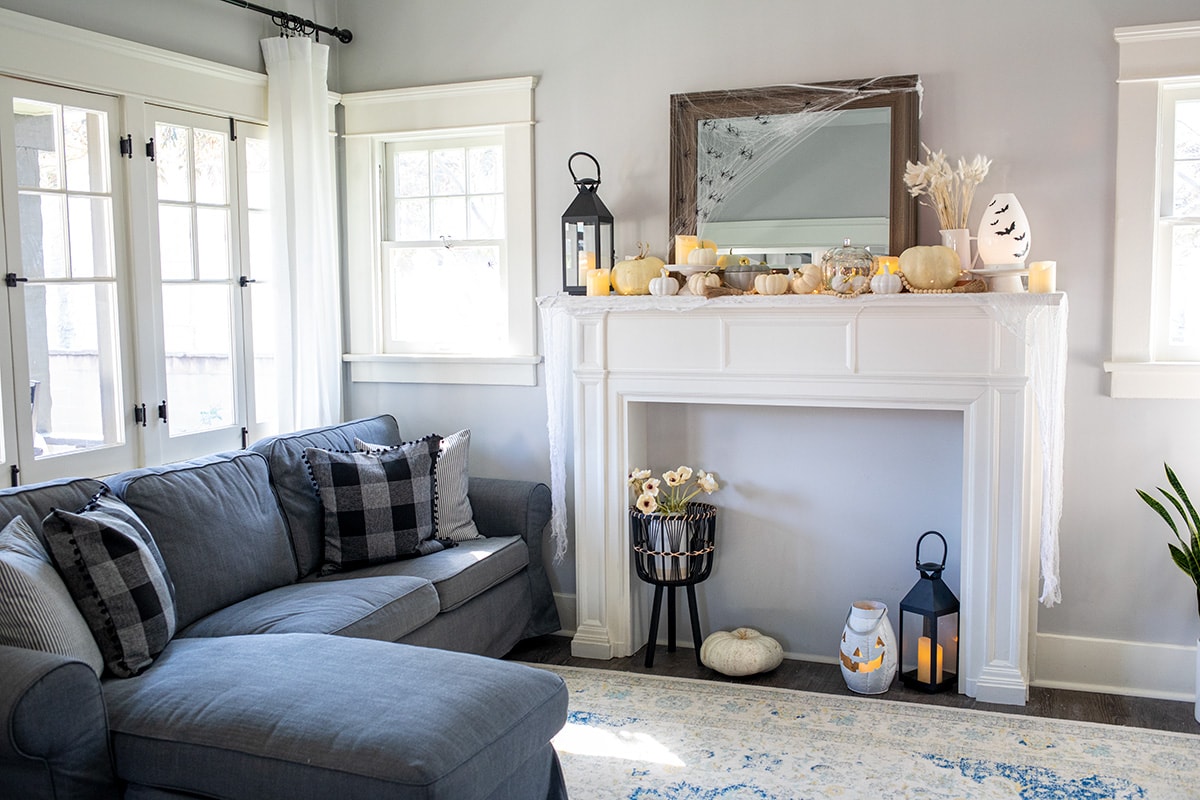 Halloween Decor Sources:
Most of the items in my living room have been linked here aside from the white jack-o-lantern which is a galvanized metal lantern from Michael's which I spray painted white. Click below for the sources! *affiliate links used.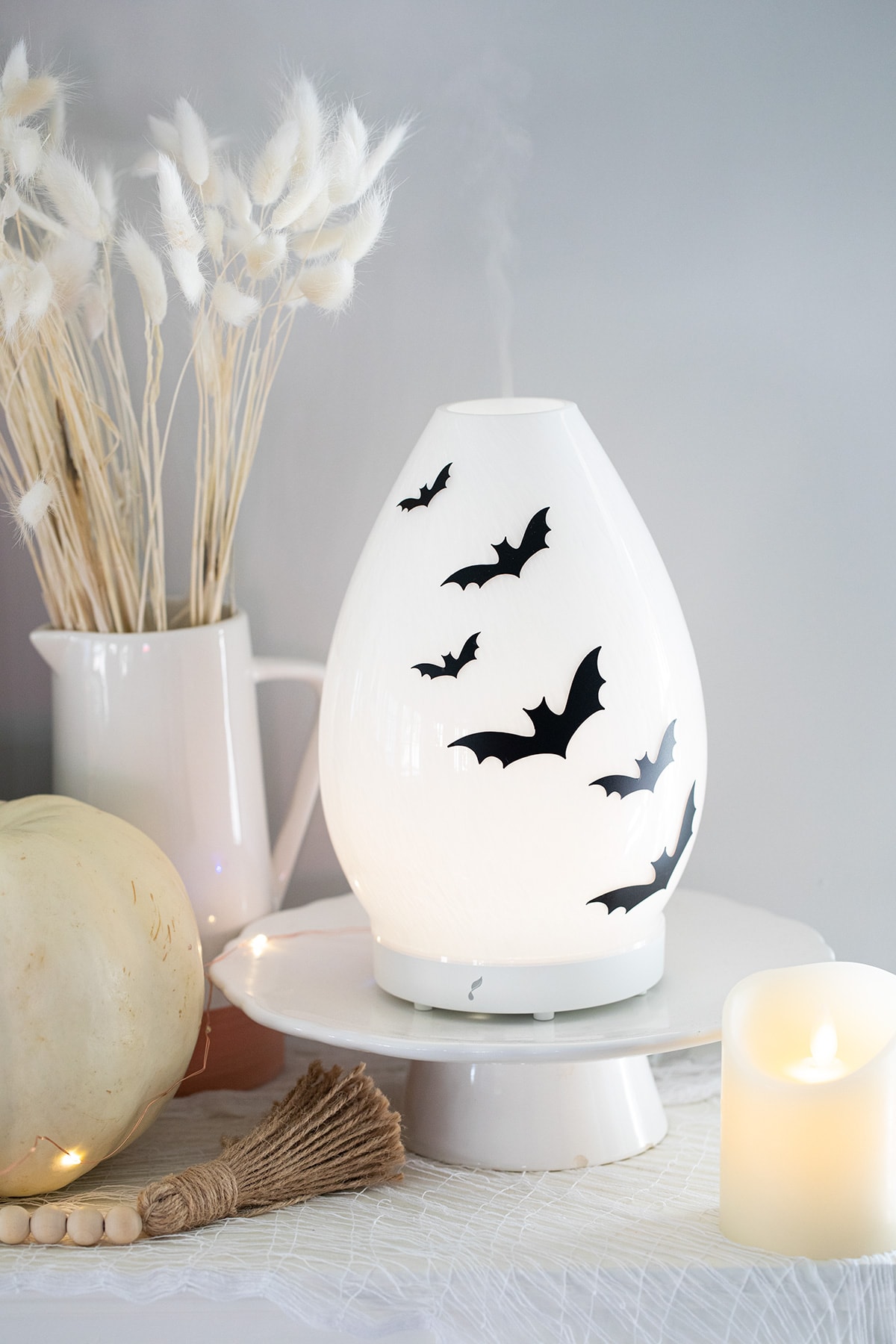 Essential Oil Diffuser
We made the switch a few years back from scented candles to essential oils and it's been the greatest change for our family! This white diffuser is beautiful handblown glass from Young Living and the fun bat decals are from Flair & Festive. If you want more information about oils, I wrote an entire post on them.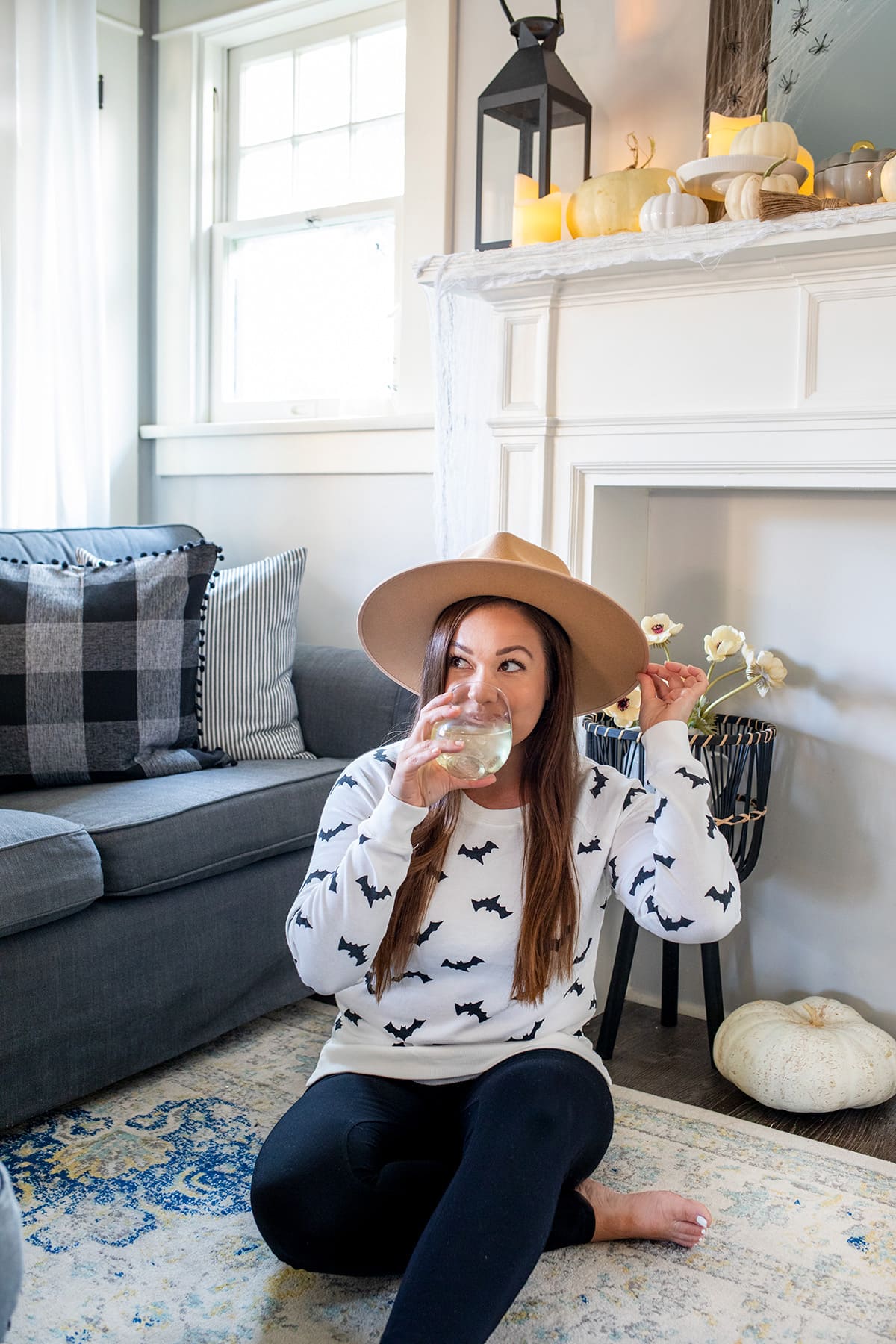 Just like that, I'm decorated for Halloween! I'll add our Halloween wreath to the front door and a few more pumpkins to the porch in the next few weeks. I hope this post inspires you to get decorating this October! If there are any pieces I didn't source, feel free to leave a comment on this post and I'll do my best to find links for you. Happy Halloween!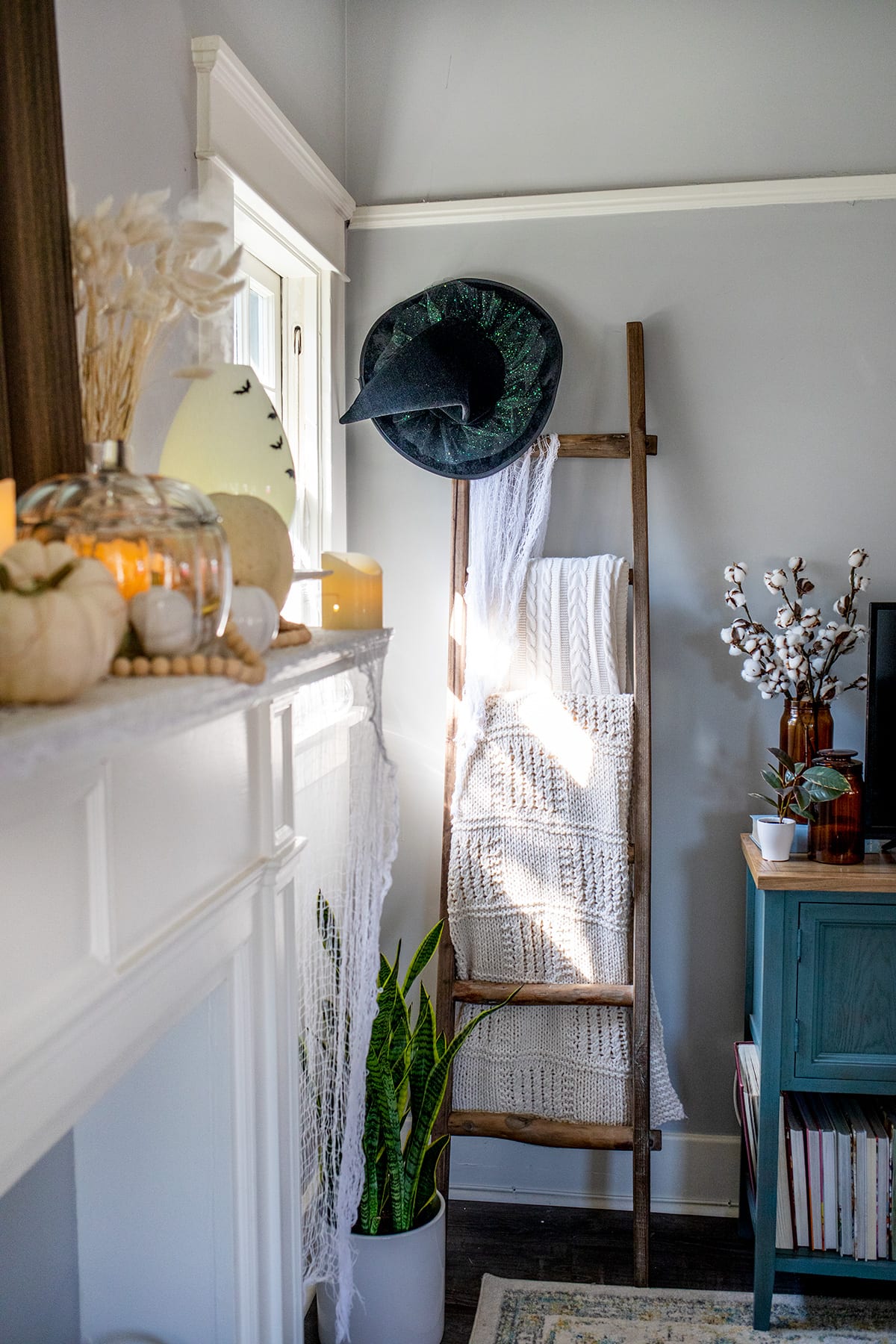 Looking for More Halloween Inspiration?