It's time to deck the halls and for me that means putting up the Christmas tree and decorating our mantle. This year's theme is a winter wonderland snow filled forest with a white flocked tree and accents of forest green. Come take a peek into our living room!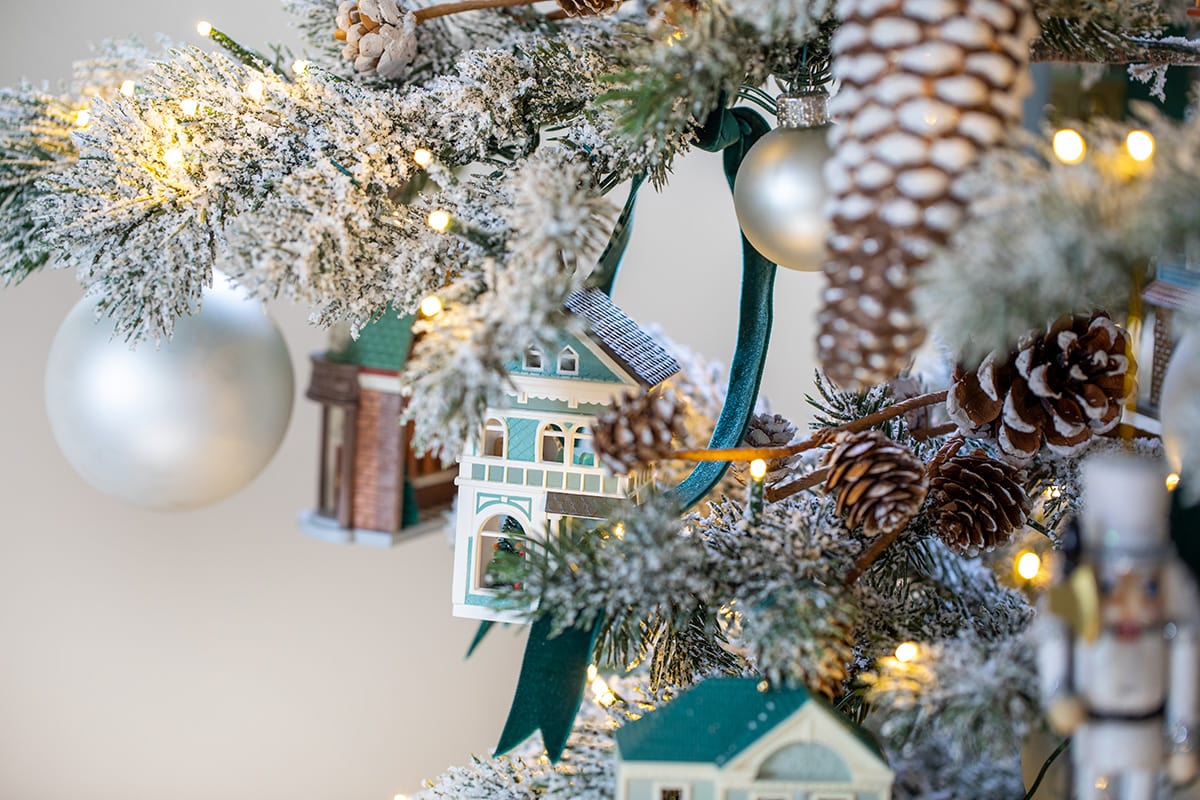 Christmas Living Room
Recently I received a really sweet message on Instagram from a woman who mentioned how nice it is to see a smaller-sized house on Instagram. She went on to say that our home always feels so cozy and inviting which to me was the best compliment.
Our living room is indeed very "cozy" and downright small but I love decking it out for the holidays. From Halloween decor to Christmas, I always enjoy this time of year. So if you, like me live in a cozy space, this one is for you my friend!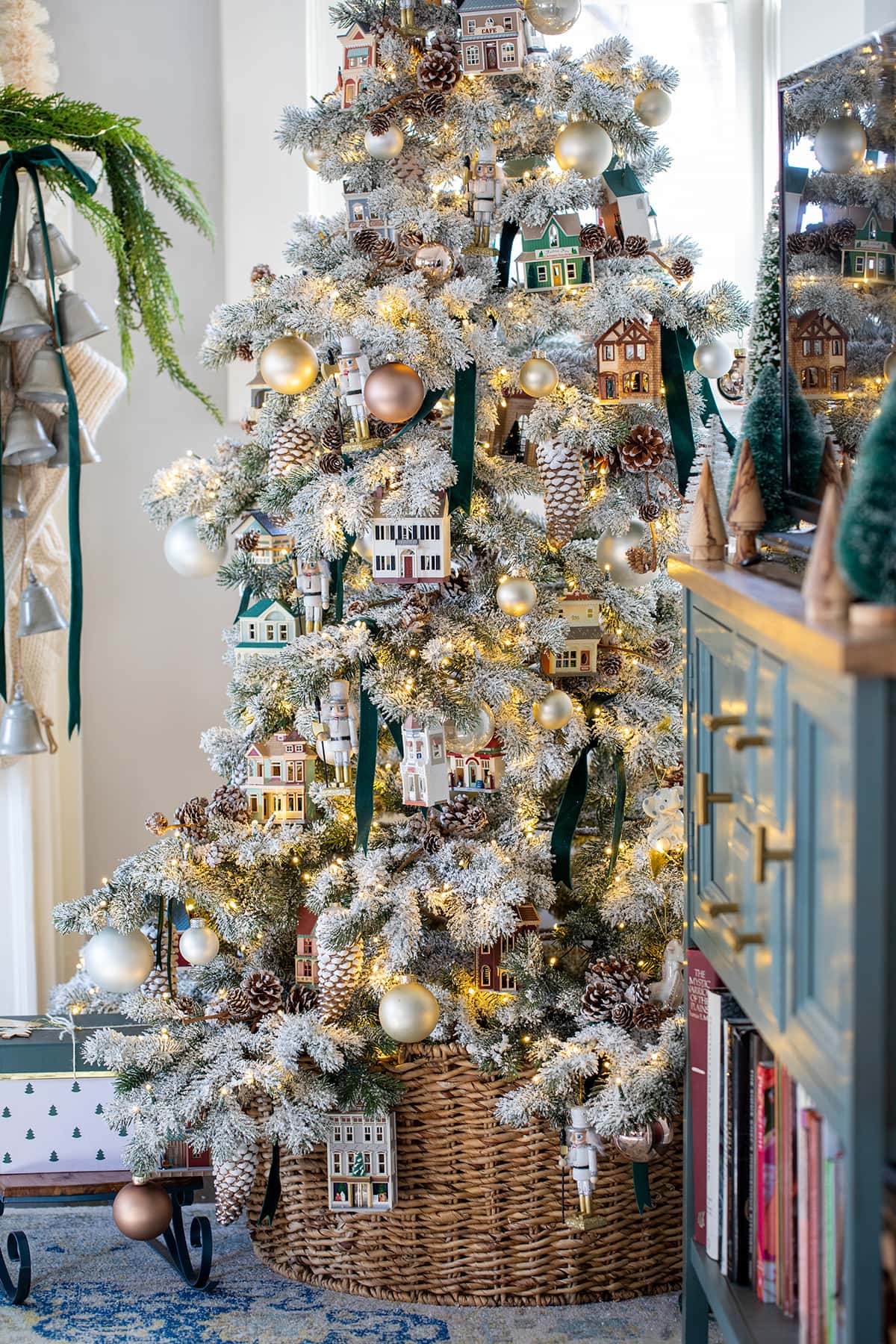 Flocked Christmas Tree
Growing up we always had a real tree in our house. It was usually a Noble Fir and I loved the deep blueish green and the defined branches. One year my sister and I talked our Mom into letting us pick out a flocked Christmas tree from the tree lot and what an utter mess of a tree that was!
My dreams of snowy white Christmas trees has never diminished however and one year I even had a tree specially flocked for our apartment. Now I have the most beautiful artificial Frosted Yukon Spruce and I don't think I'll ever go back to a live tree. If you are looking for a really stunning flocked Christmas tree, I highly recommend it.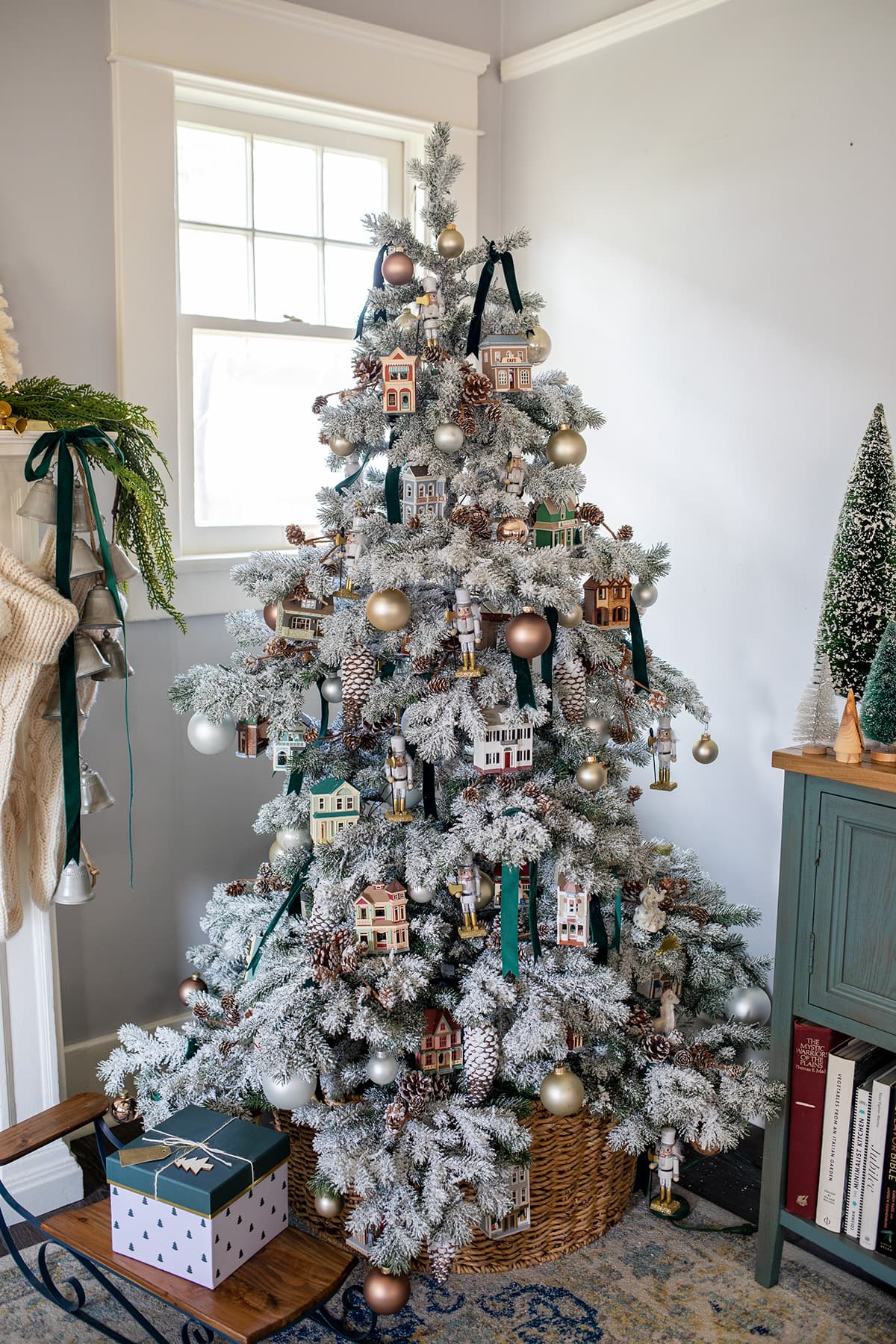 This year, with a new curio cabinet in our dining room, there was no where to place the Christmas tree. You might remember, it used to live there. So, I decided to squeeze it into the living room next to the mantle which is a very pretty view from the couch.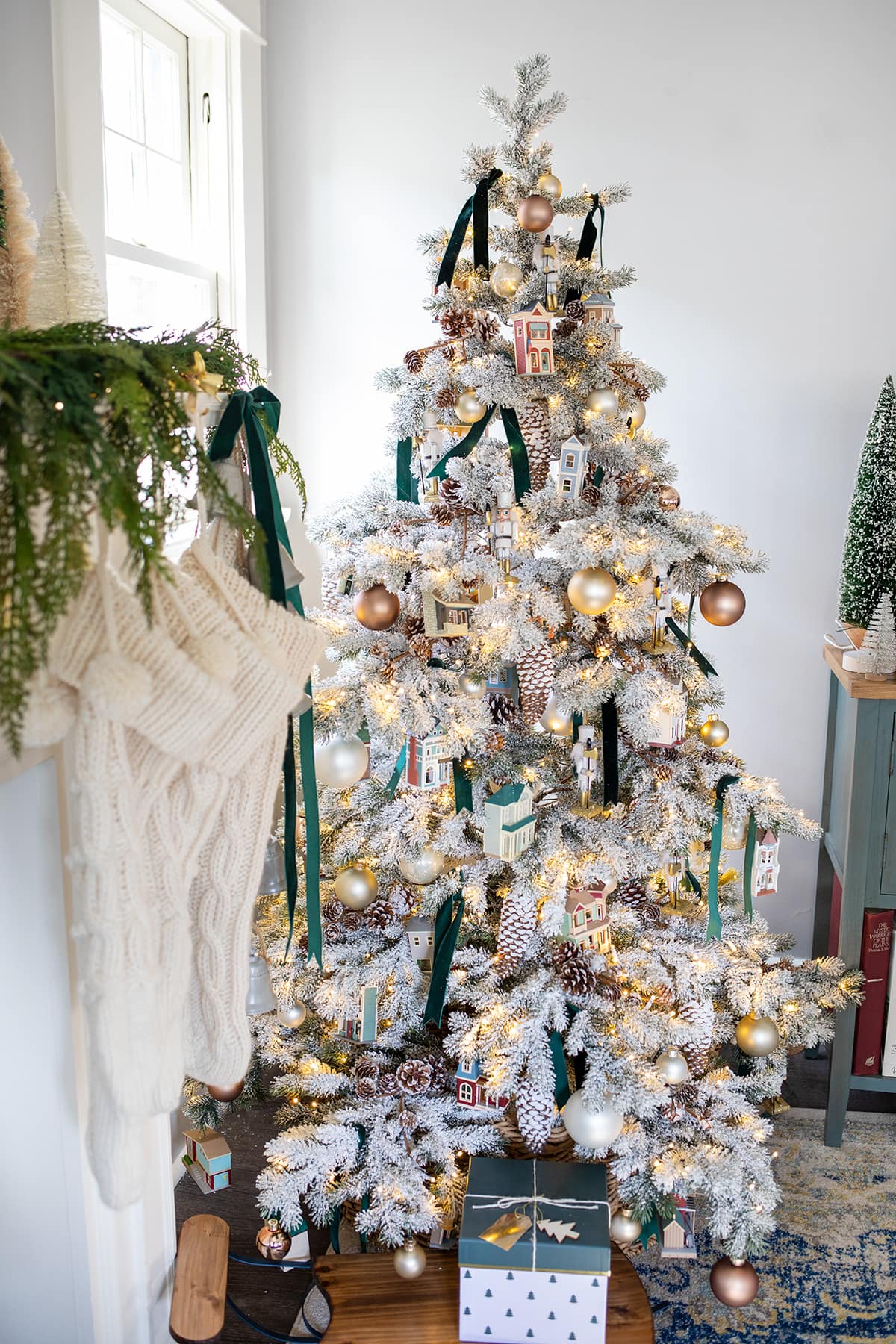 Forest Green and White Christmas Tree
This is the second year in a row now that I've gone with a wintery white theme with accents of deep forest green. To say I'm in love with it is an understatement. At night it has such a soft glow about it and in the day it's just a beautiful but a bit more vibrant.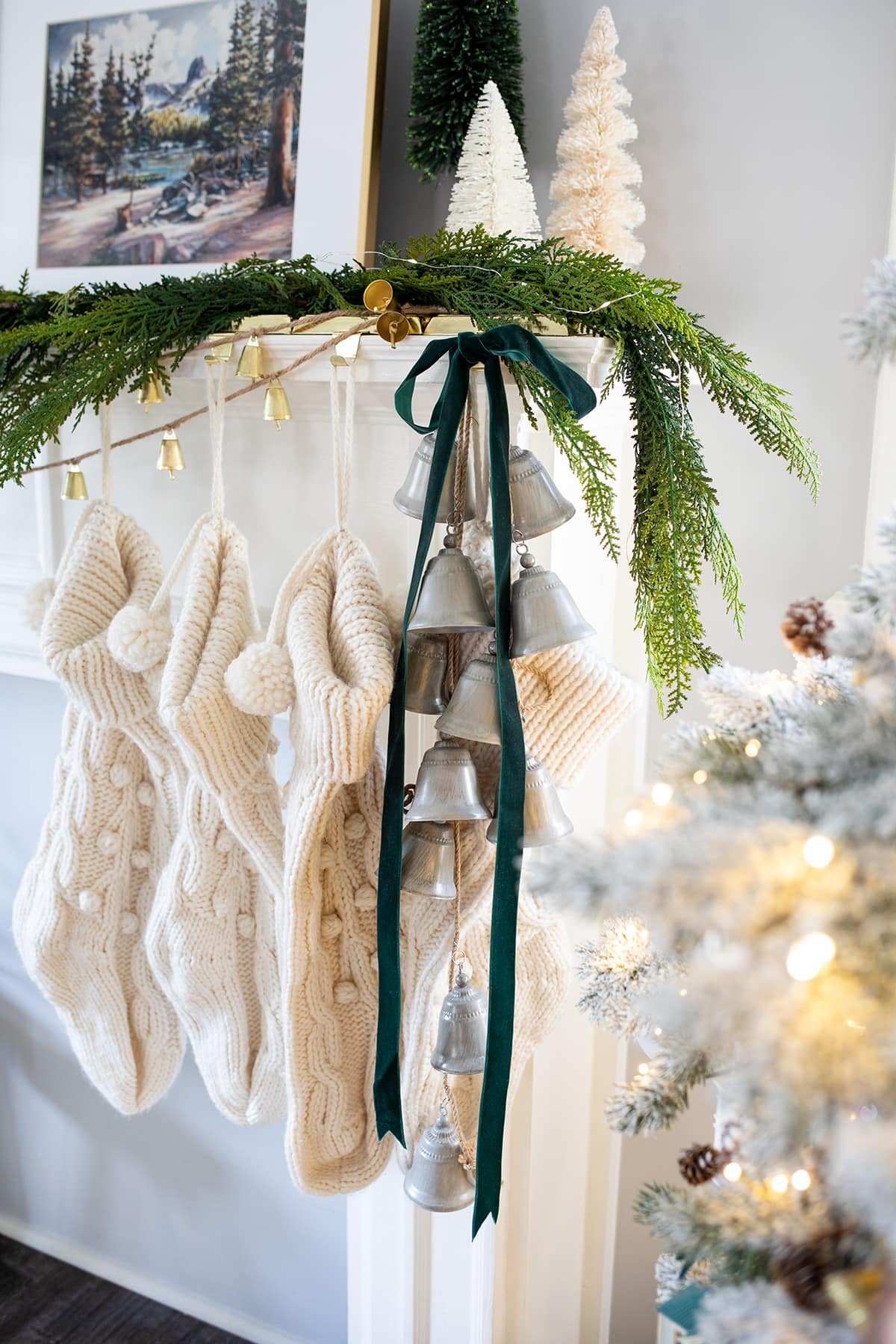 Cedar garland and green bottle brush trees add pops of color to the winter white as does the hunter green velvet ribbon that I used on our tree and mantle. Cozy cable knit winter white stockings hang in a cluster to one side along with a string of bells and a simple green velvet bow.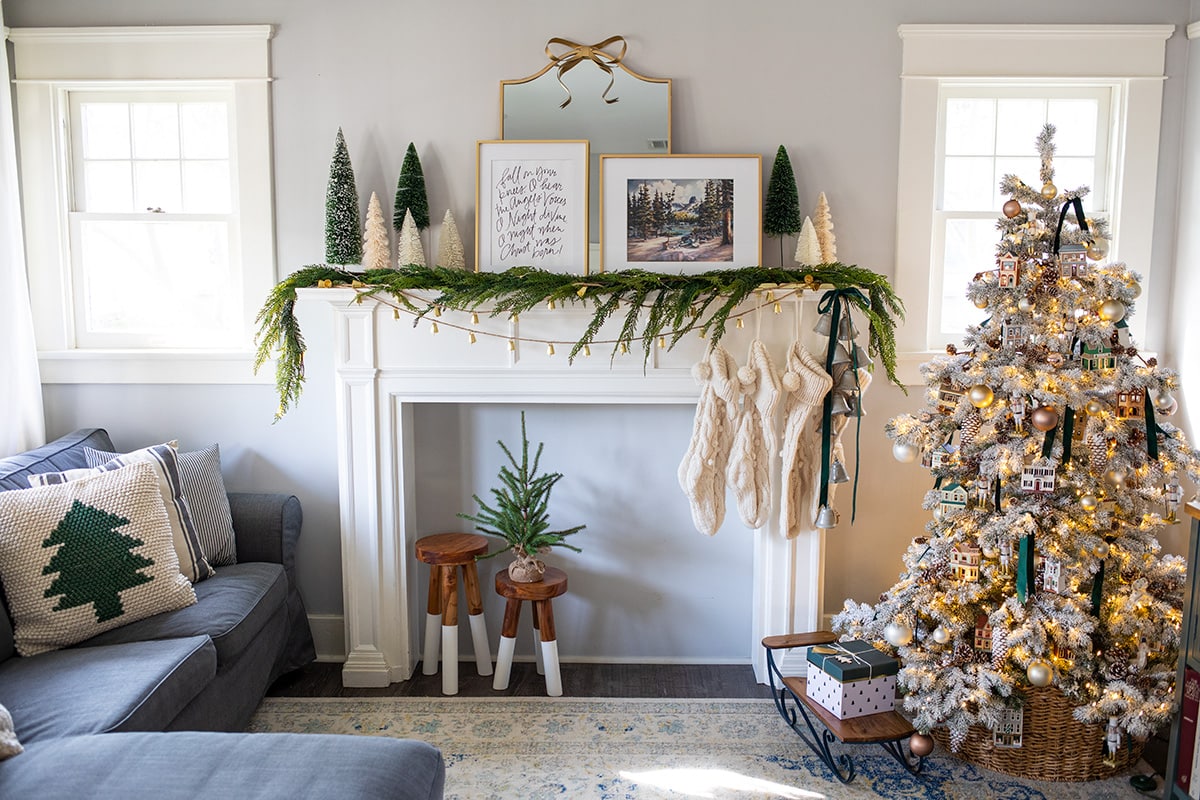 Christmas Mantle Decor
This mantle (funny as it is) is really the focal point for our entire living room and dining room space. I almost always have a mirror on top and a piece of art. We recently re-framed a painting of Lake George, in Mammoth and I thought it worked so well with the forest vibe we have going on. Beside it, my favorite Christmas print from Lindsay Letters.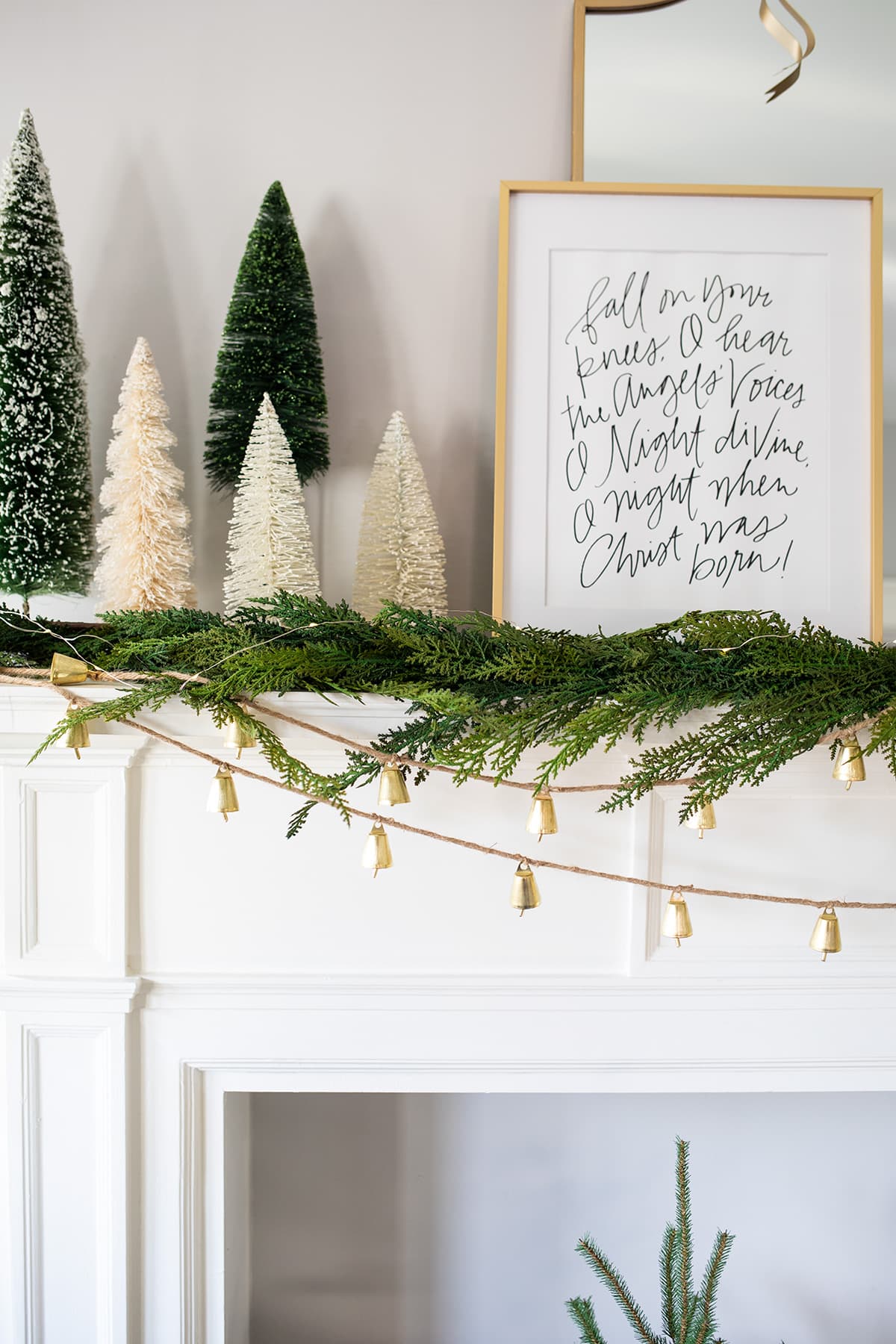 Gold bell garlands draped beneath the cedar, accent the gold frames and I love vintage feel they bring to the mantle. Fairy lights strung through the cedar adds just a tiny bit of sparkle.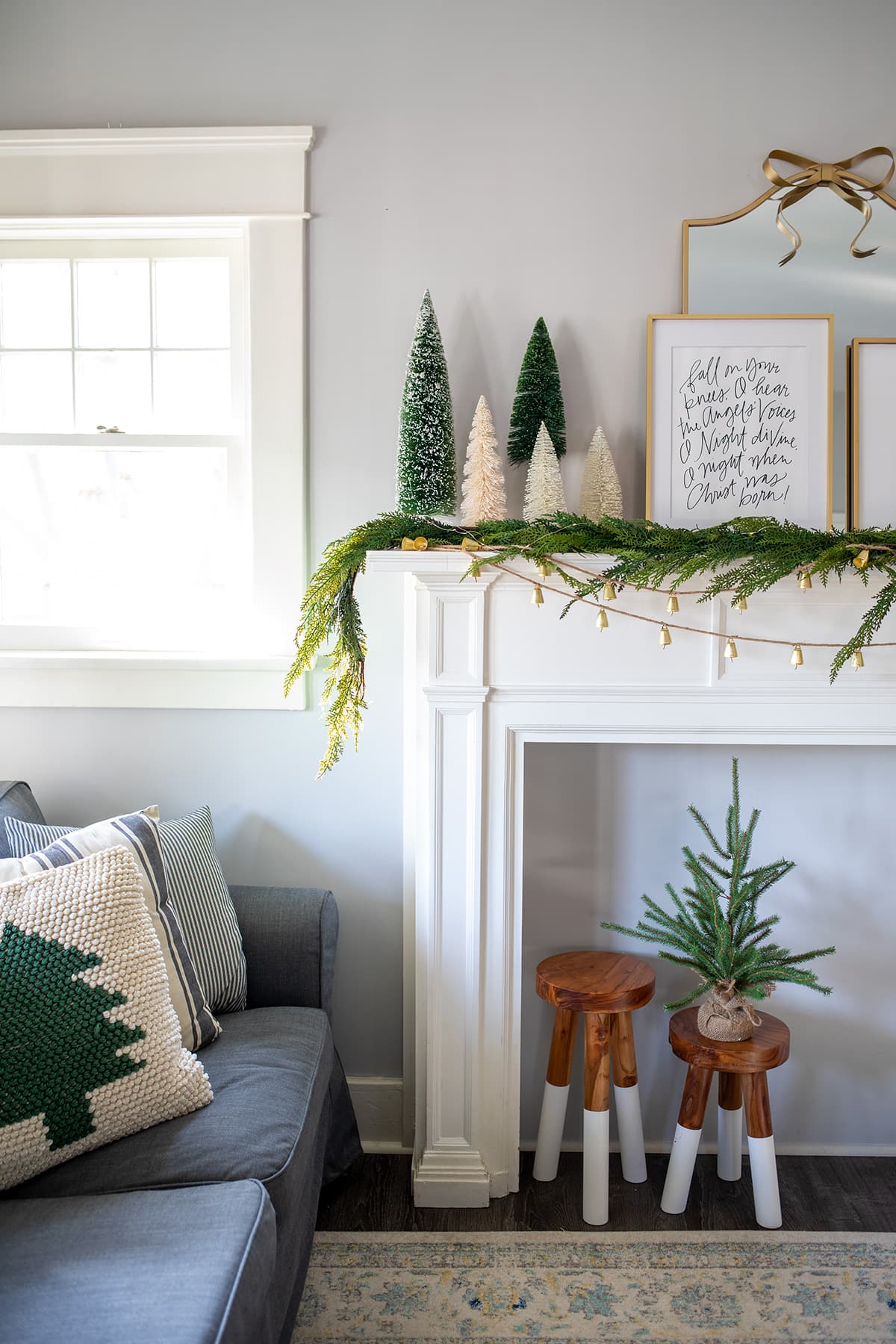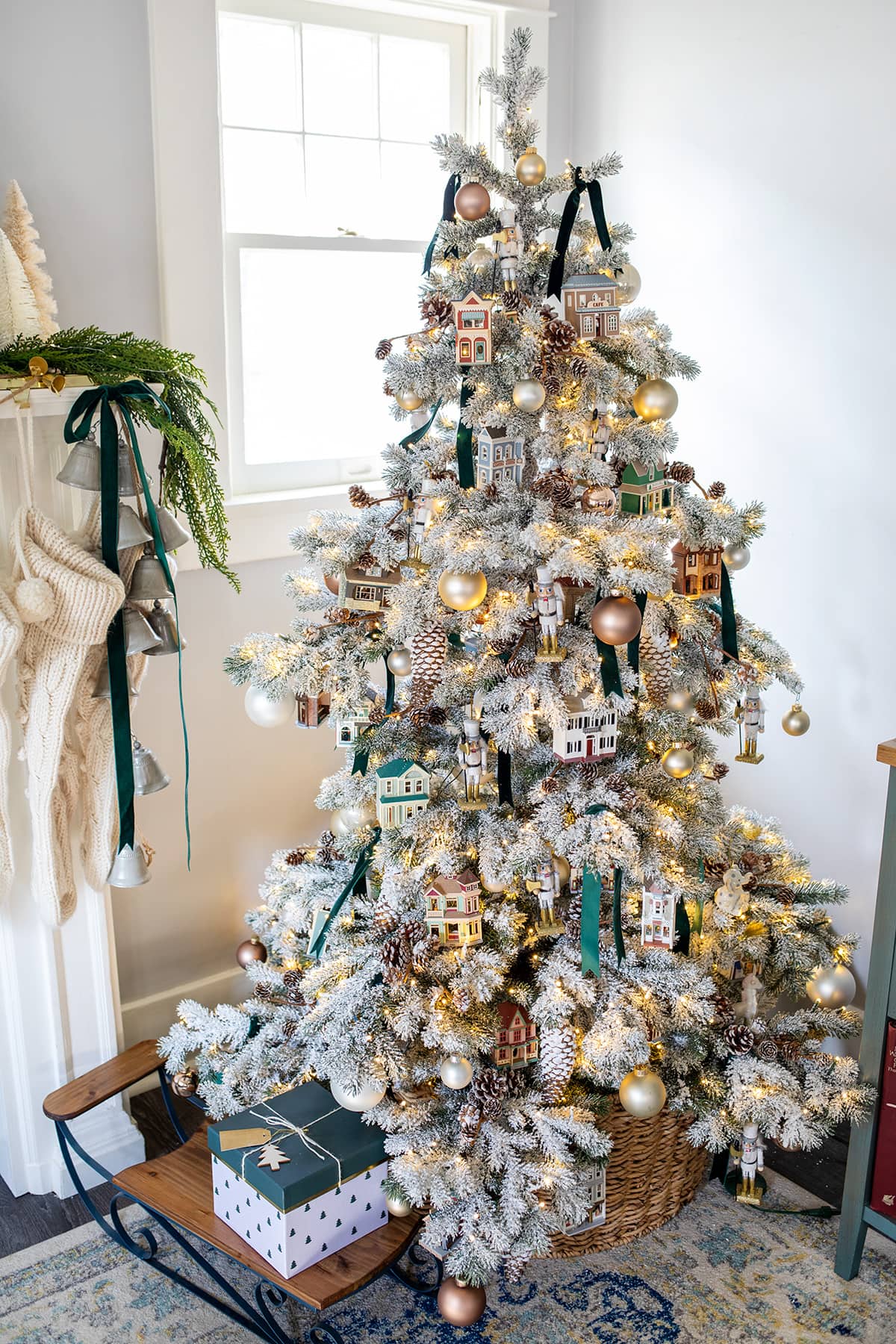 Nostalgic Houses and Shops Keepsake Ornaments
Every year, from the time I was one years old, my Grandma Elaine has sent me a Hallmark Nostalgic Houses and Shops Keepsake Ornament.
It's one of the longest running collections and I have 38 ornaments total so far. This year, I wanted to display them all on the tree so that my Grandma can enjoy the collection as a whole...a collection that means so much to me.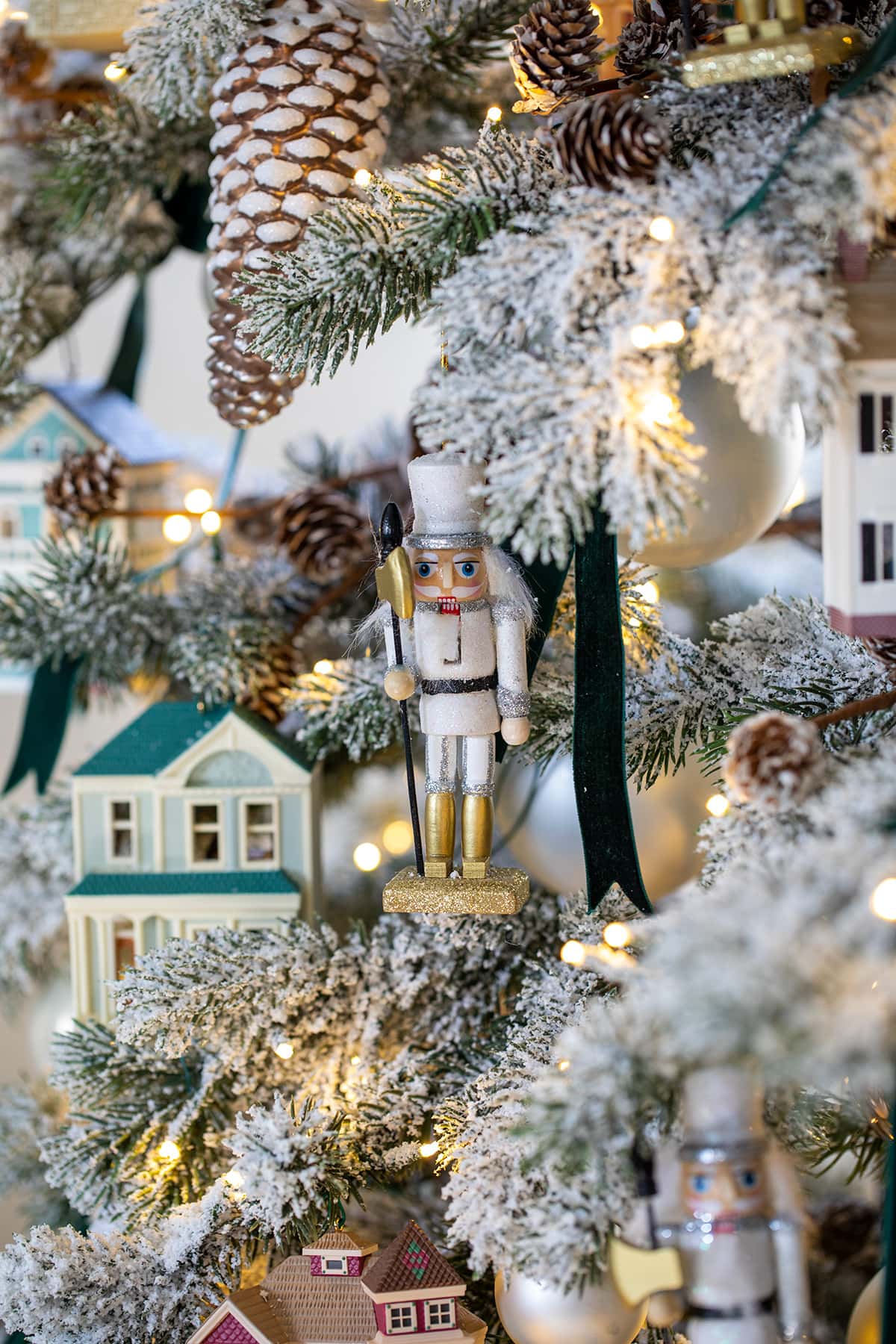 This was the first year that I've photographed all of the houses together and wow, is it stunning. I love the Victorian feel of these ornaments when they are all brought together and the twins absolutely loved unwrapping them all and looking inside the small shops. Each ornament has so much unique detail.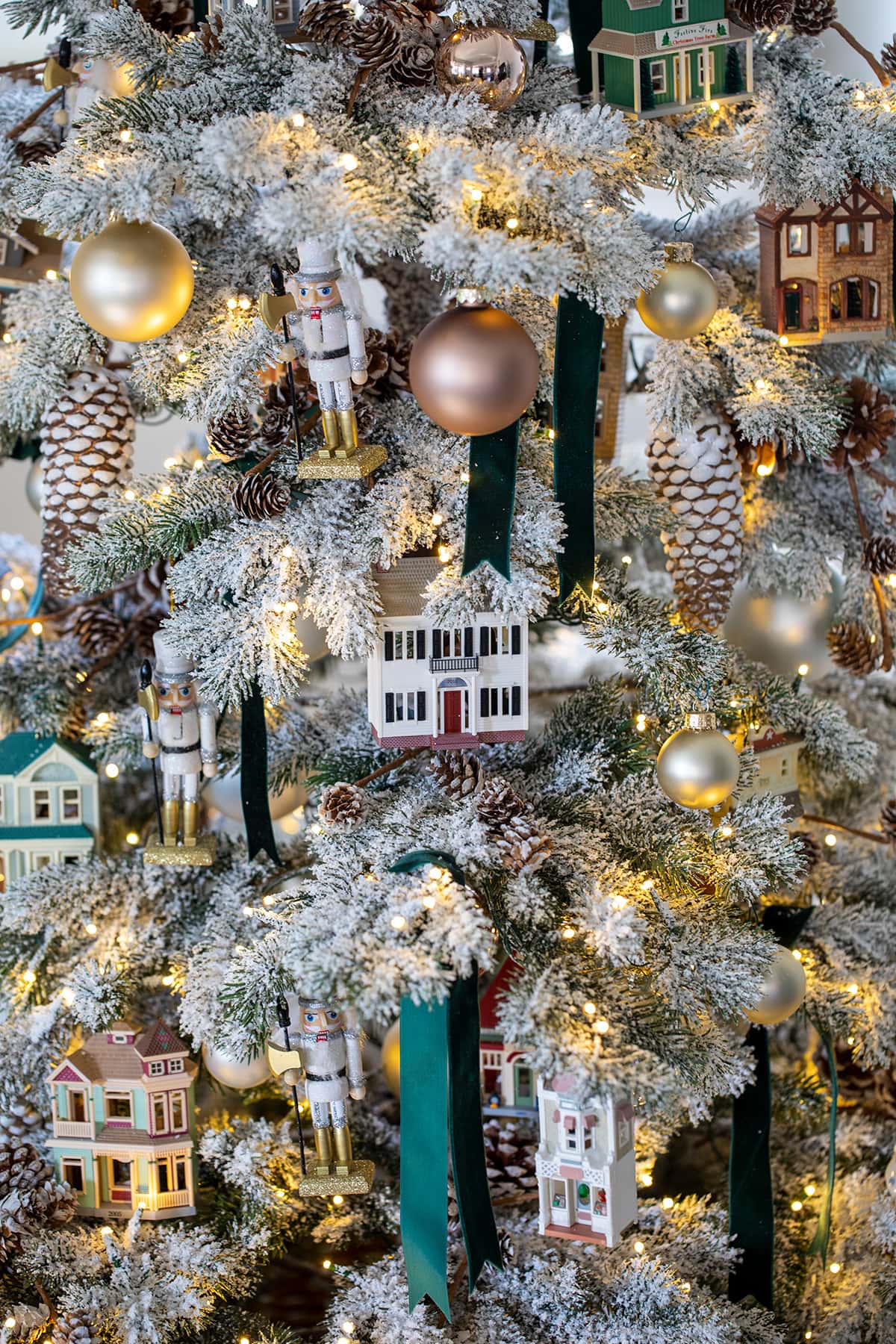 I also added little nutcrackers, metallic and white glass ball ornaments, and snowy pine cones to the tree. I had no real plan for how this would all come together but I love the end result.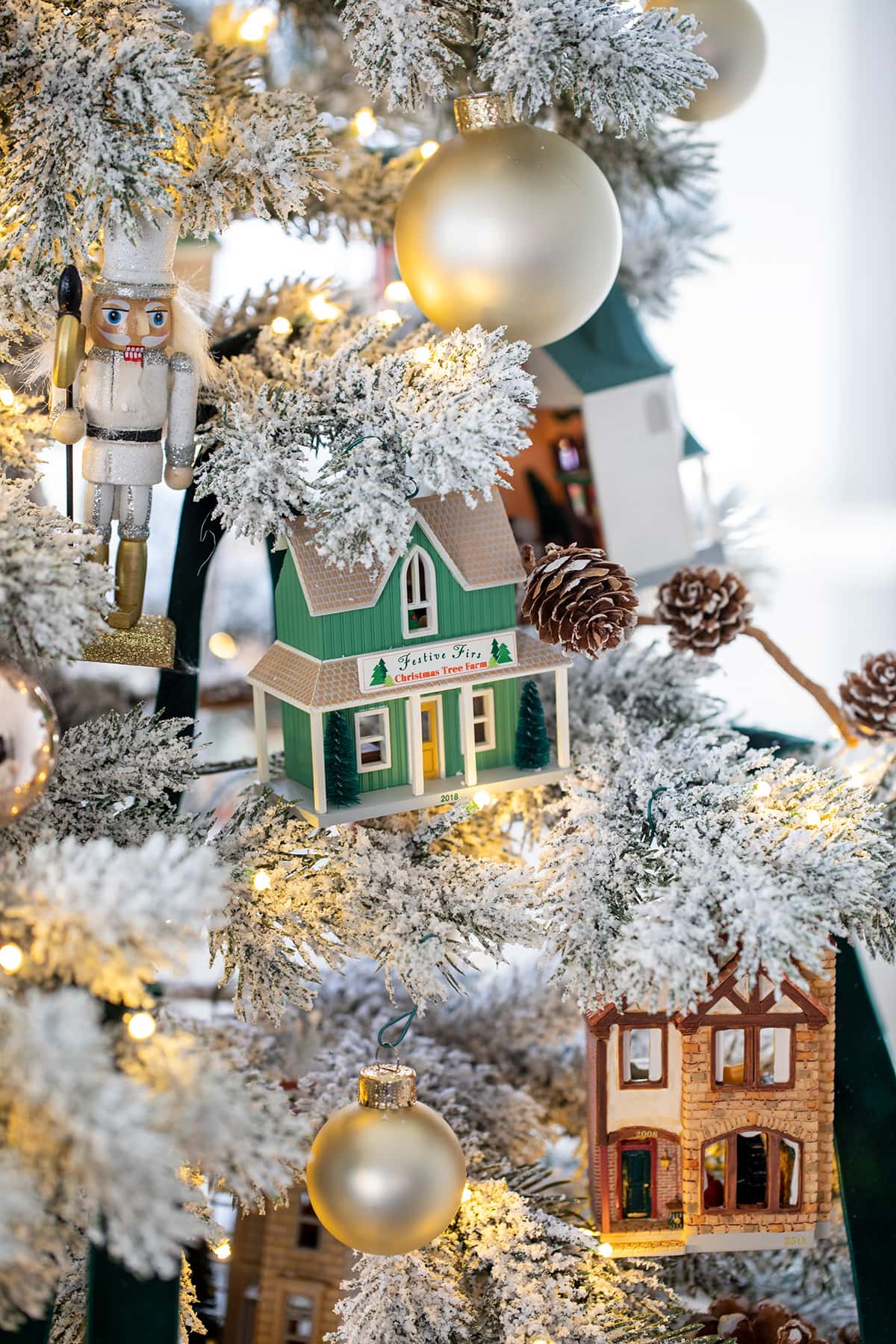 Here's a look at one of my favorite shop ornaments from the collection, the 2018 Festive Firs Christmas Tree Farm. I wish I had photographed the inside of a few of these ornaments to show you, they really are darling.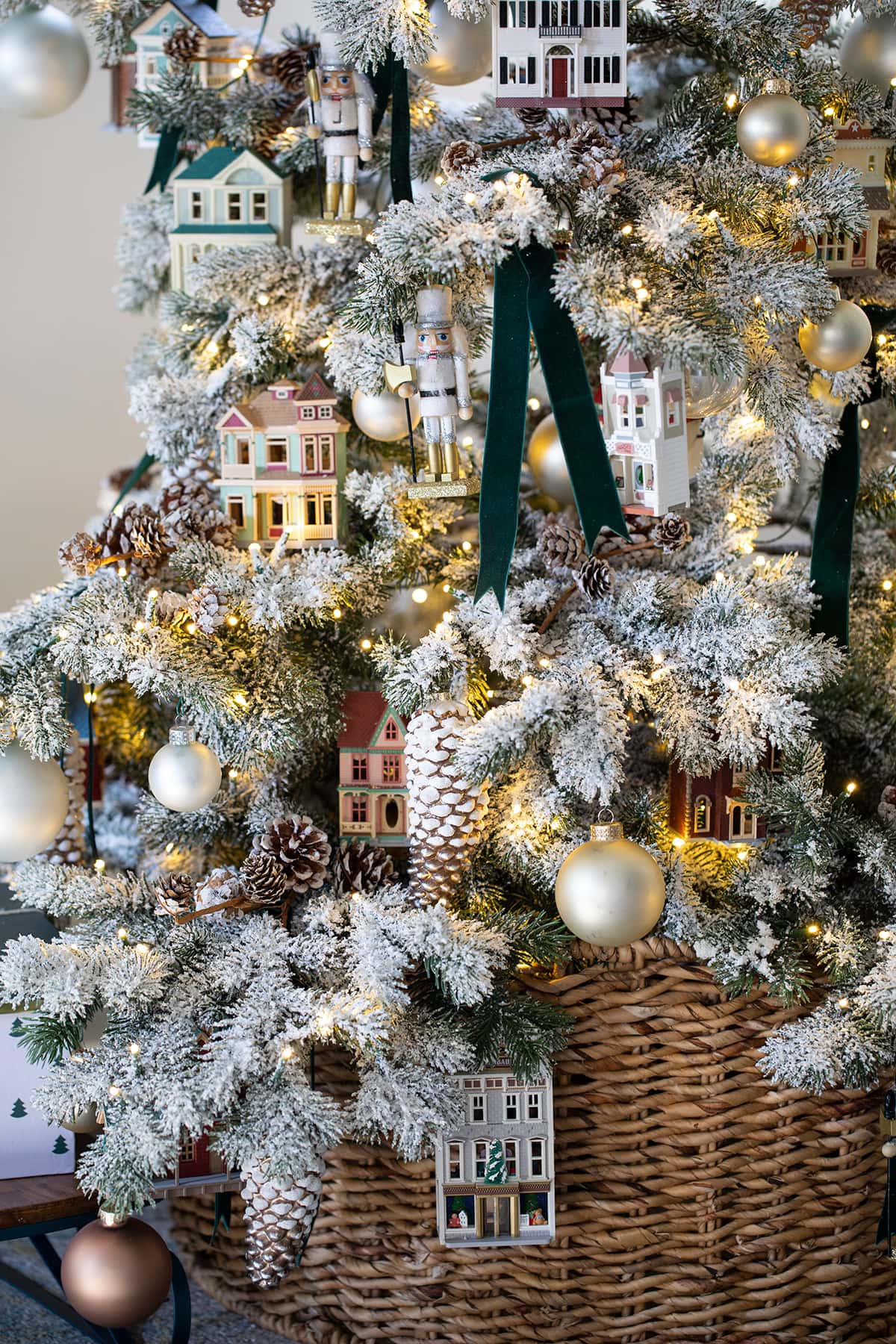 Christmas Tree Basket
I feel like baskets add an extra level of cozy comfort to a room. I use them to hold anything and everything from plants to pillows and extra throw blankets so when I saw a basket tree collar, I was sold. This particular tree basket was from Target last year, and sadly it's no longer in stock. However this is a great alternative and I also really love the look of this tree collar.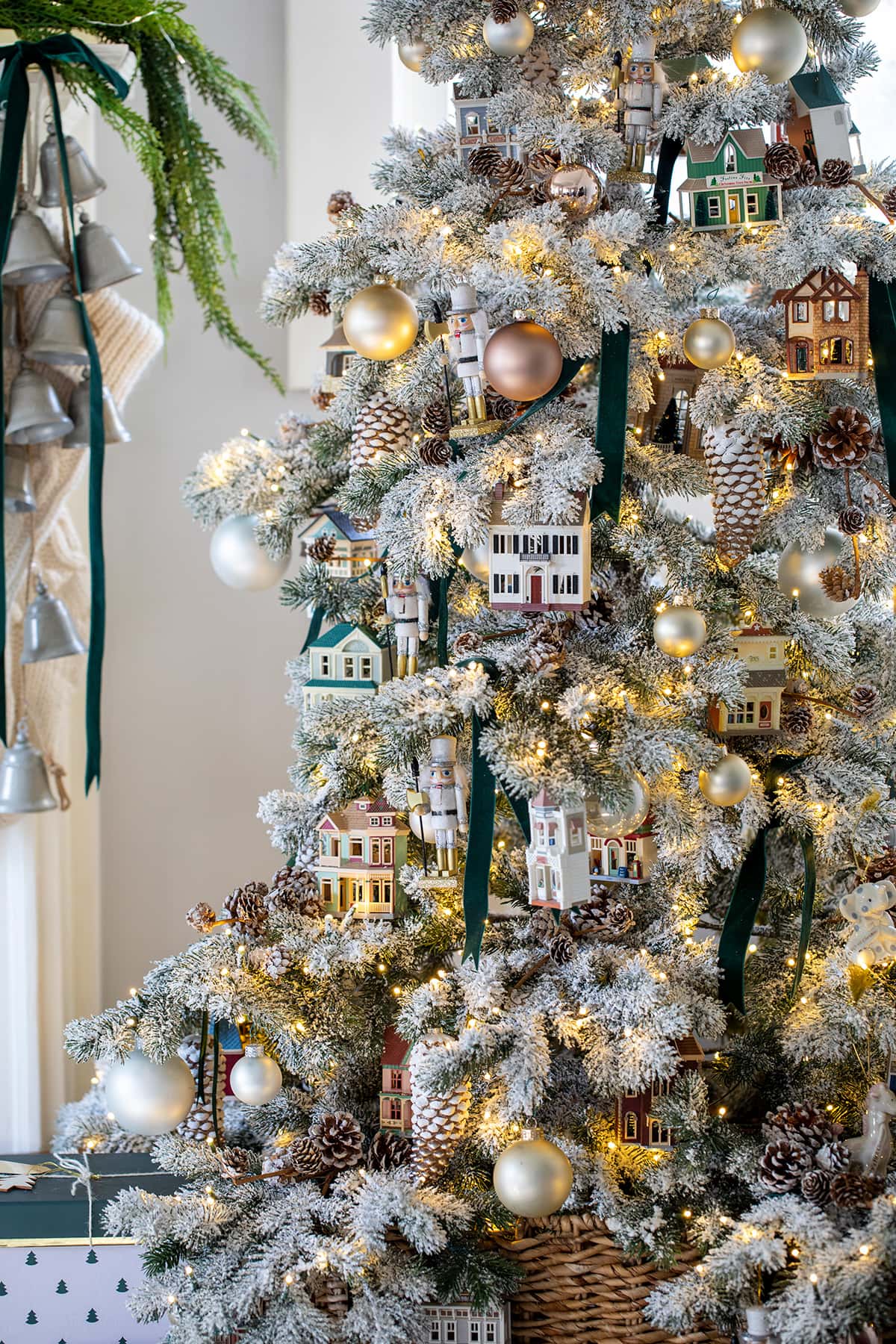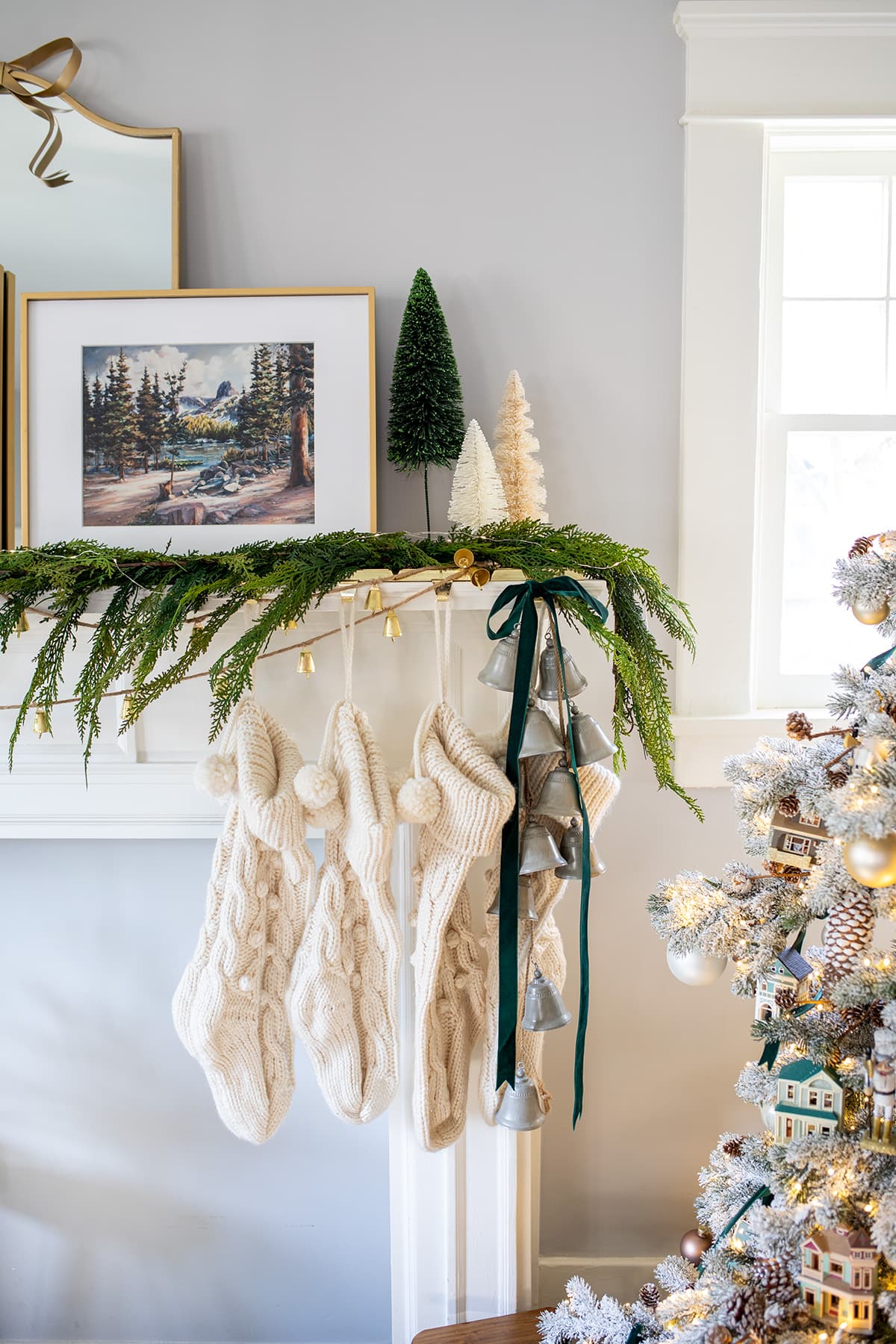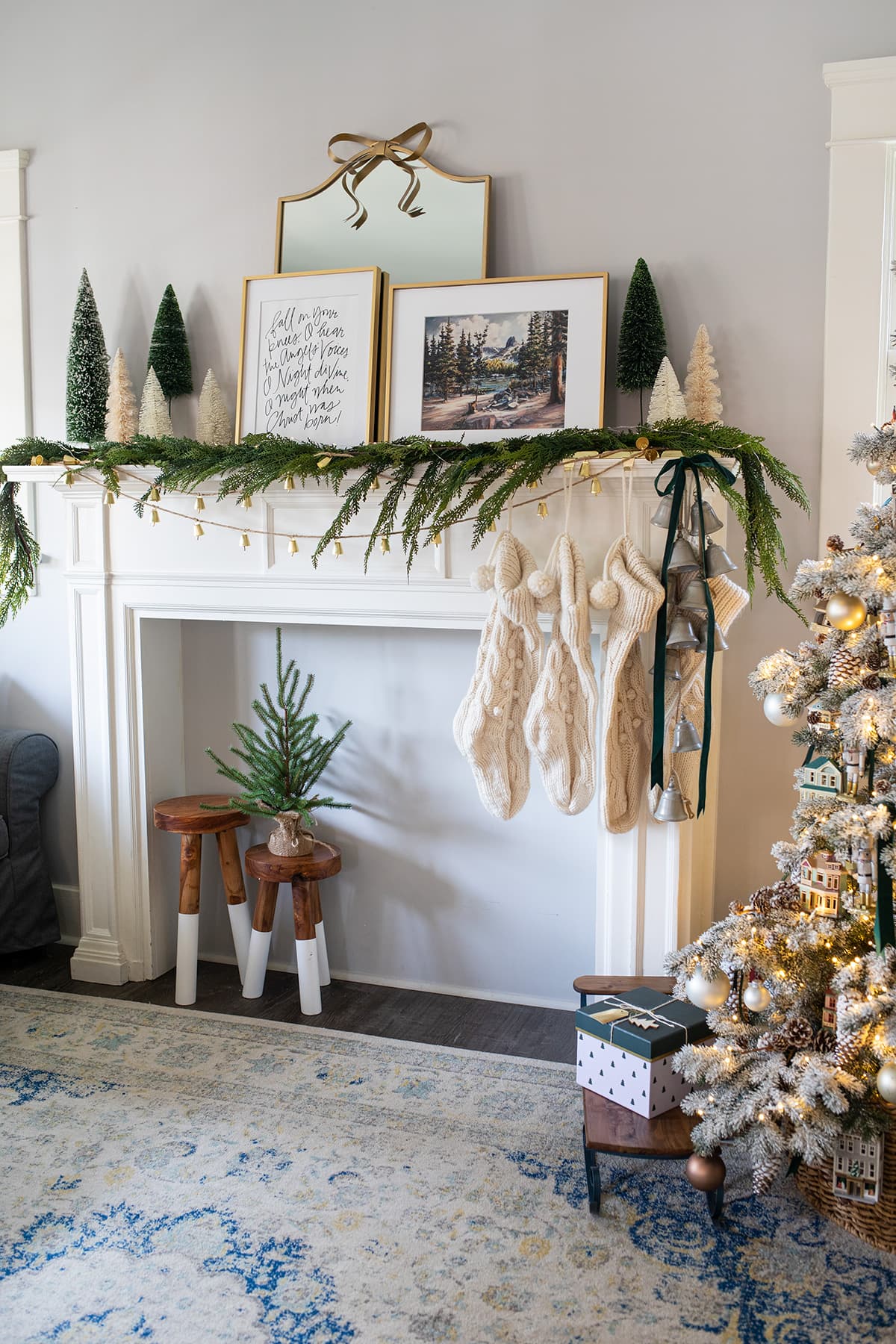 I hope you've found some inspiration to go an use in your own home Christmas decorating! Make sure to follow along on Instagram and here on the blog and subscribe to my newsletter to see more of our Christmas decorating and recipes.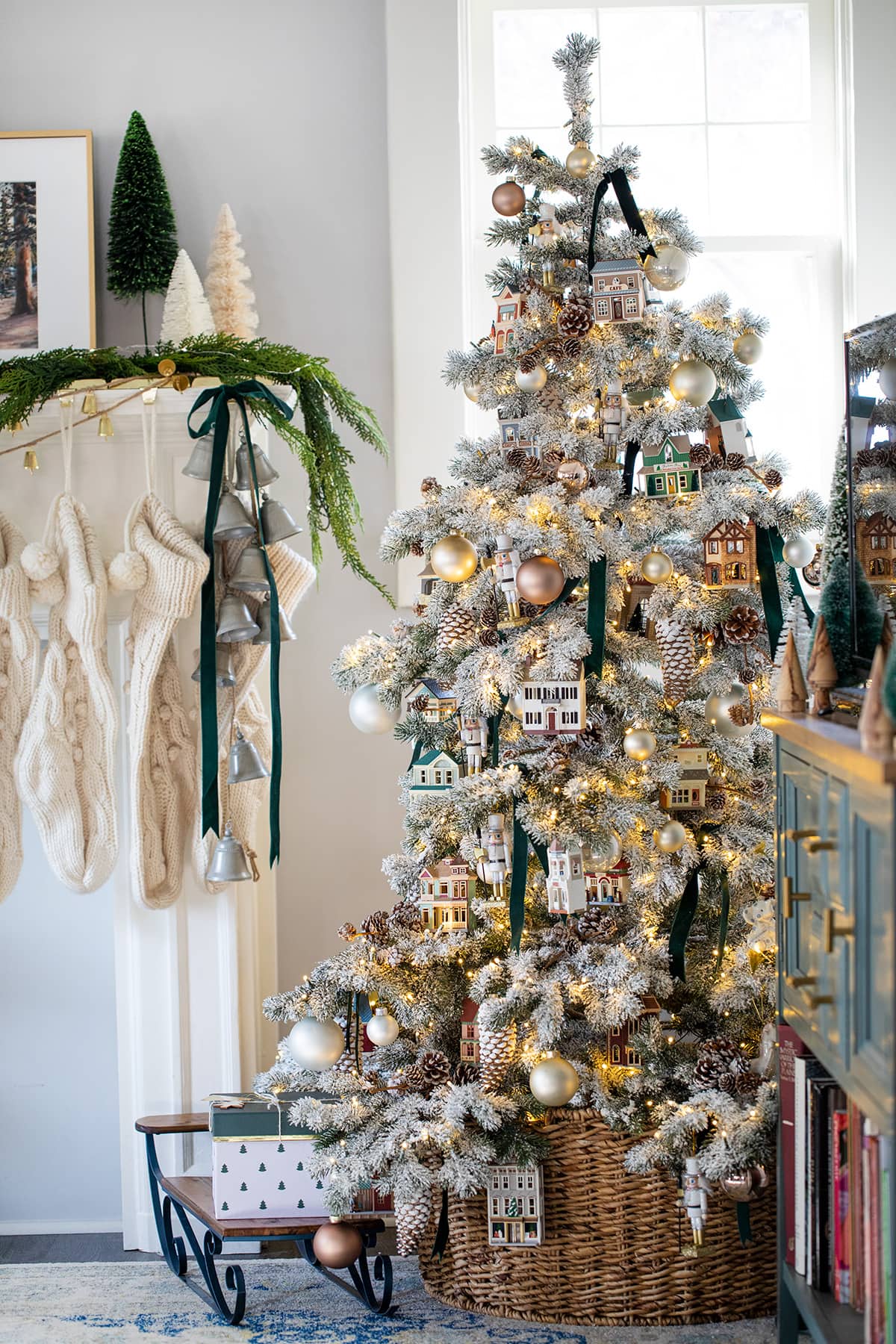 More Christmas Ideas: