Brown sugar, bourbon, nutmeg and orange, pack this cake with holiday flavor. This cake recipe is perfect for filling your prettiest bundt pans and holiday cake molds like my favorite Nordic Ware Trees. A dusting of powdered sugar or a drizzle of bourbon glaze are all these cakes need to shine.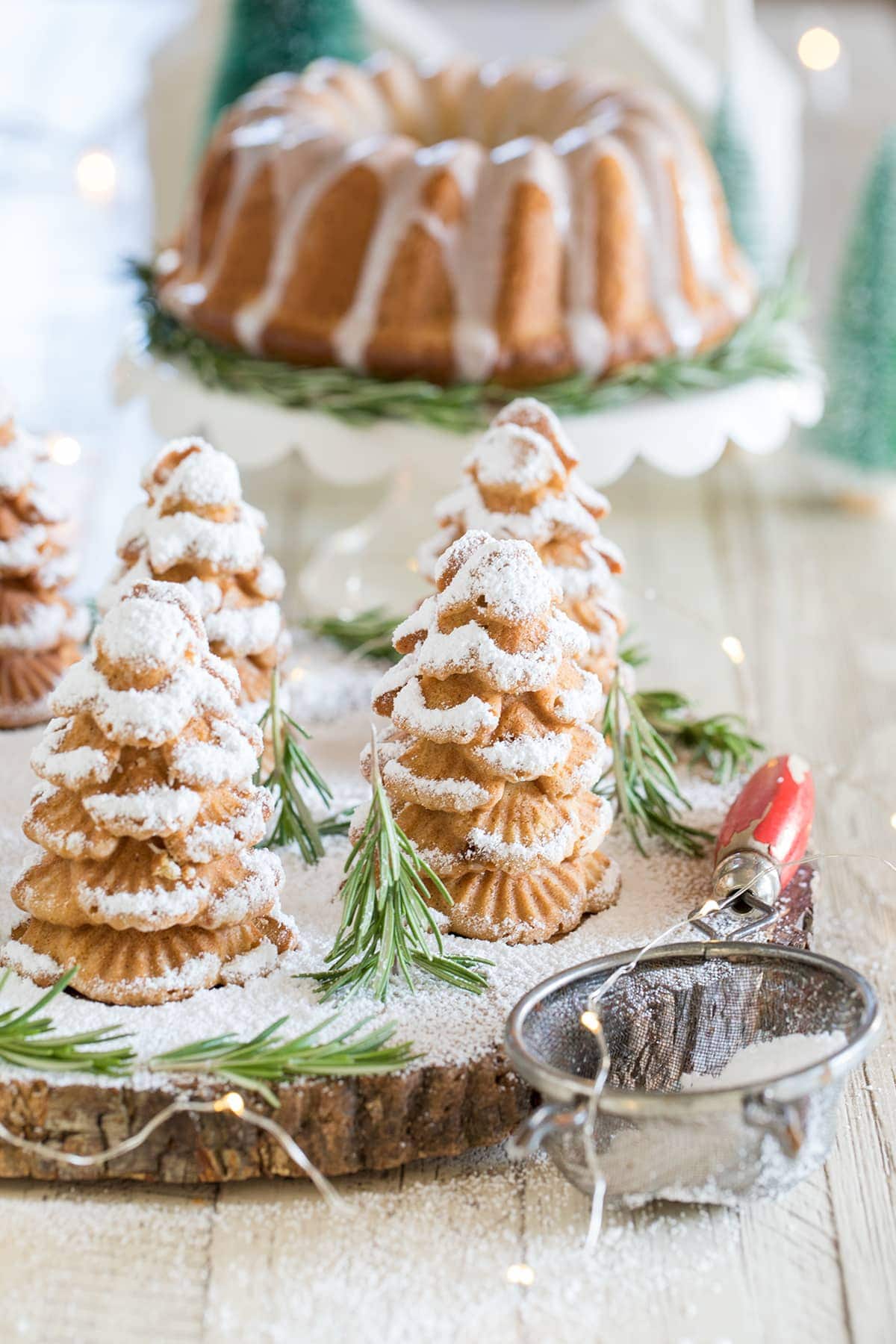 Bourbon Brown Sugar Cake
If you are looking for a classic cake recipe that's just boozy enough to be considered a Christmas cake and pretty enough to be the centerpiece for any holiday table, Bourbon Brown Sugar Cake is it! The flavors of the the molasses in the brown sugar and the bourbon really come through as the primary flavor with more subtle notes of nutmeg and orange. As a whole this cake tastes like Christmas and if you are a Bourbon lover, you will adore this cake.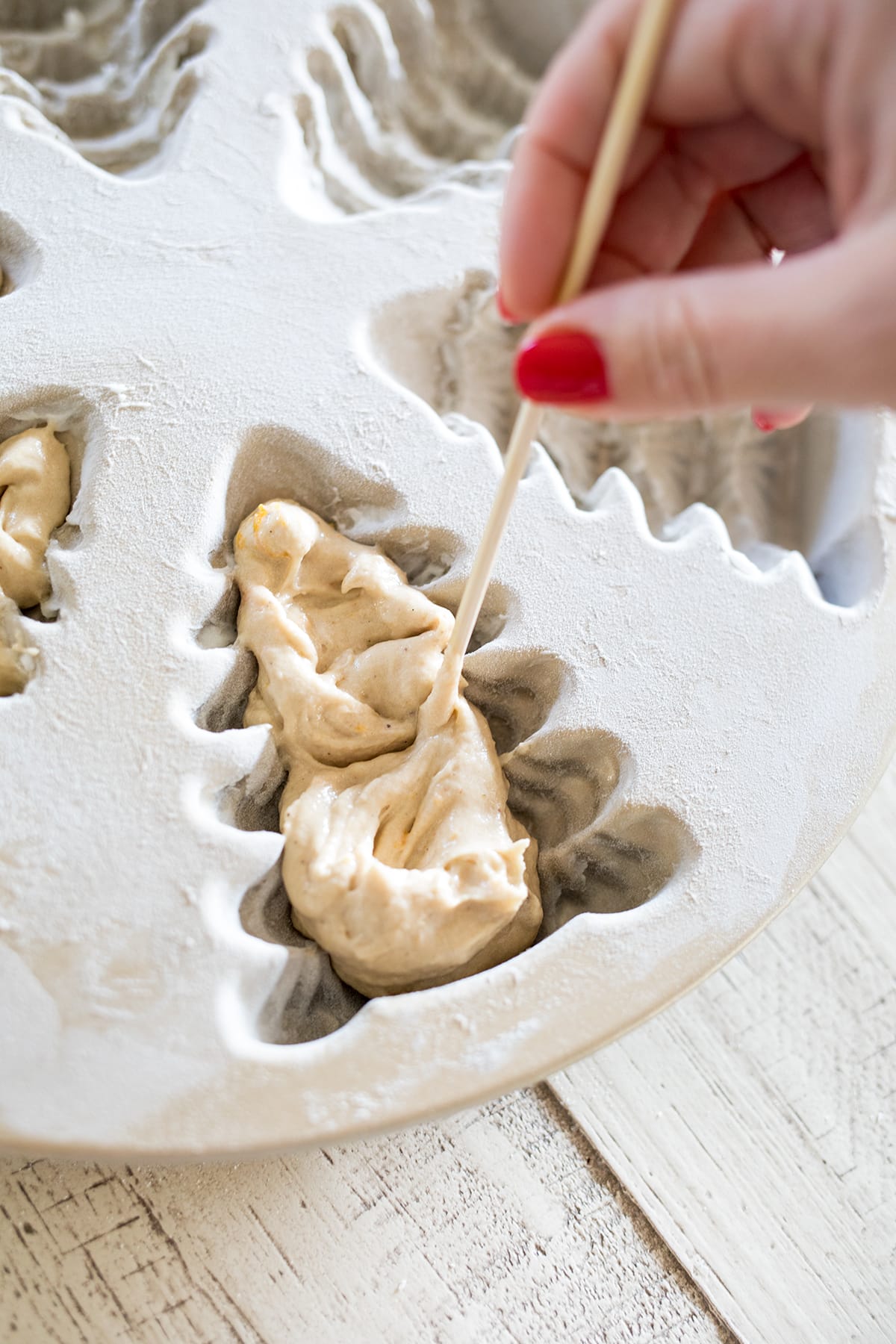 What Pans Can You Use with This Recipe?
You can use any size or shape bundt cake pan or shaped cake pan for this recipe. I've tried it with both the Nordic Ware Tree Cakelet Pan as well as a standard bundt cake pan and both worked very well. You will want to adjust your baking time accordingly based on the size of your pans and I note that in the recipe. In the photos you see here I filled and baked the Tree Cakelet Pan twice and a small bundt cake pan with the remainder of the batter.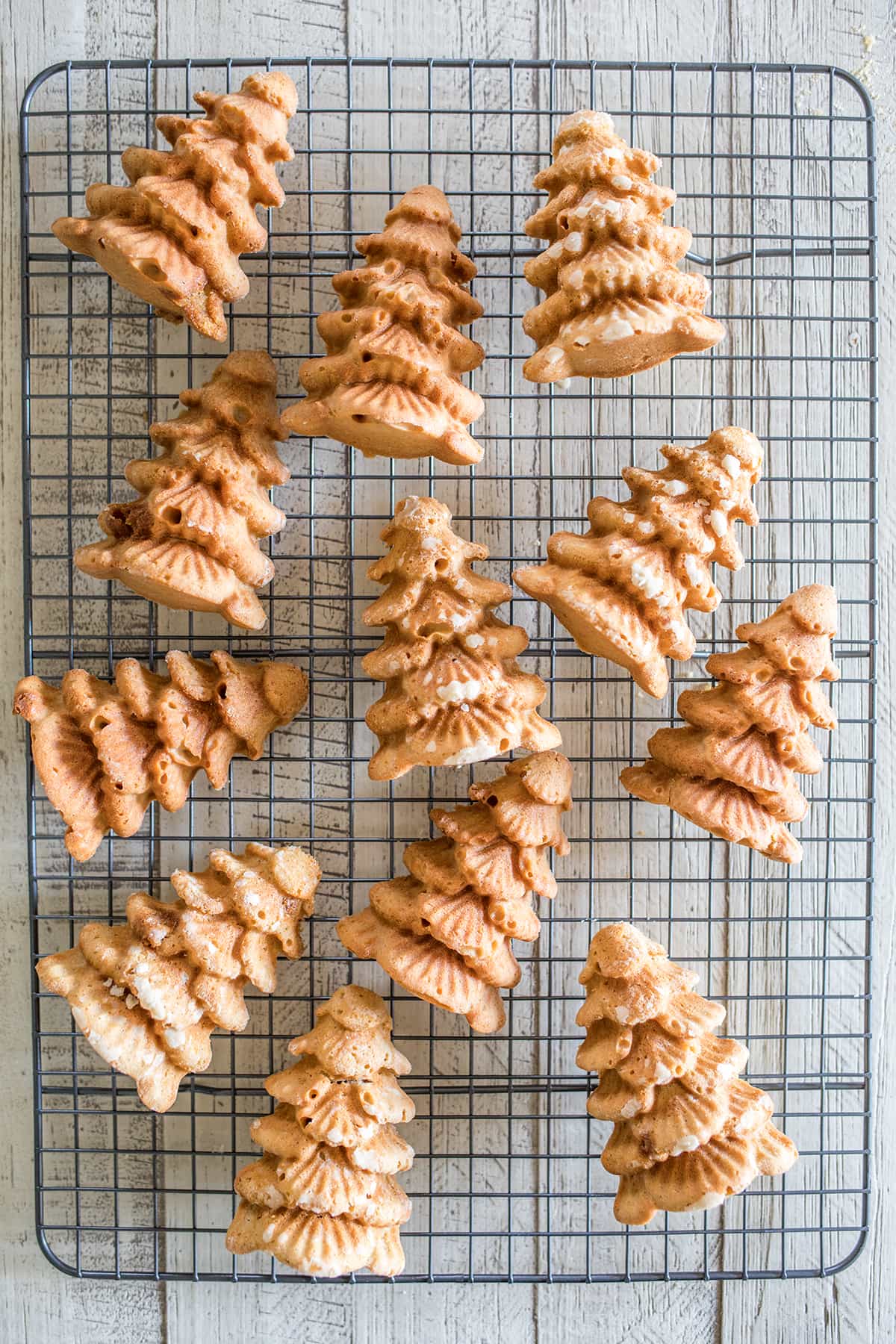 How to Fill the Nordic Ware Tree Cakelet Pan
Start by greasing the pan very well with shortening. I use a pastry brush for this so that you can "paint" the shortening down into all of the little details of the tree branches. Next dust the entire pan with all purpose flour making sure it sticks and coats all areas of the trees. Invert the pan over the sink and bang a few times to remove any excess flour.
Use a small cookie scoop or a spoon to fill the tree forms ¾ of the way full. Because this batter is thick, I use a wooden skewer to help move batter into the branches of the trees.
Bake at 325 degrees for 15-20 minutes or until the trees are puffed and a golden and a toothpick inserted into the center comes out clean.
Allow trees to rest in the pan for about 5 minutes before inverting onto a cooling rack to cool completely.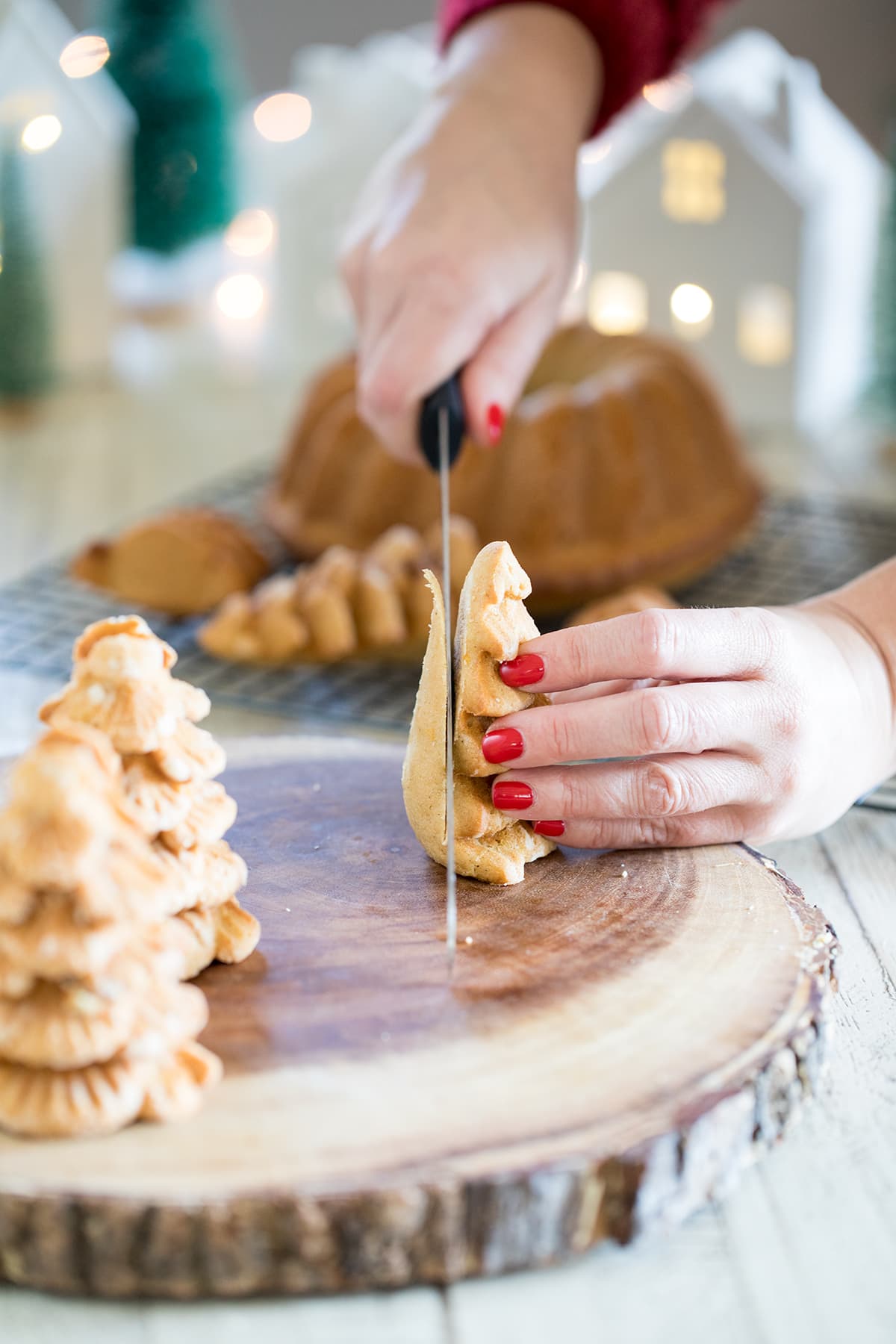 How to Assemble Tree Cakes
Once your cakes have cooled, use a serrated bread knife to gently cut the "puffed" back of the cakes off creating a flat surface. Snack on the scraps, obviously. You can either use a frosting to stick two trees together creating a 3-D pine tree or use a small toothpick or piece of a wooden skewer stuck through the center to attach.
I found it easy to stick a small piece of wooden skewer through the two tree cakes to attach them. The trees will stand up nicely on a cake platter. Once the trees are placed on the serving platter, use a fine mesh sieve to dust the tops with powdered sugar to create a snowy effect.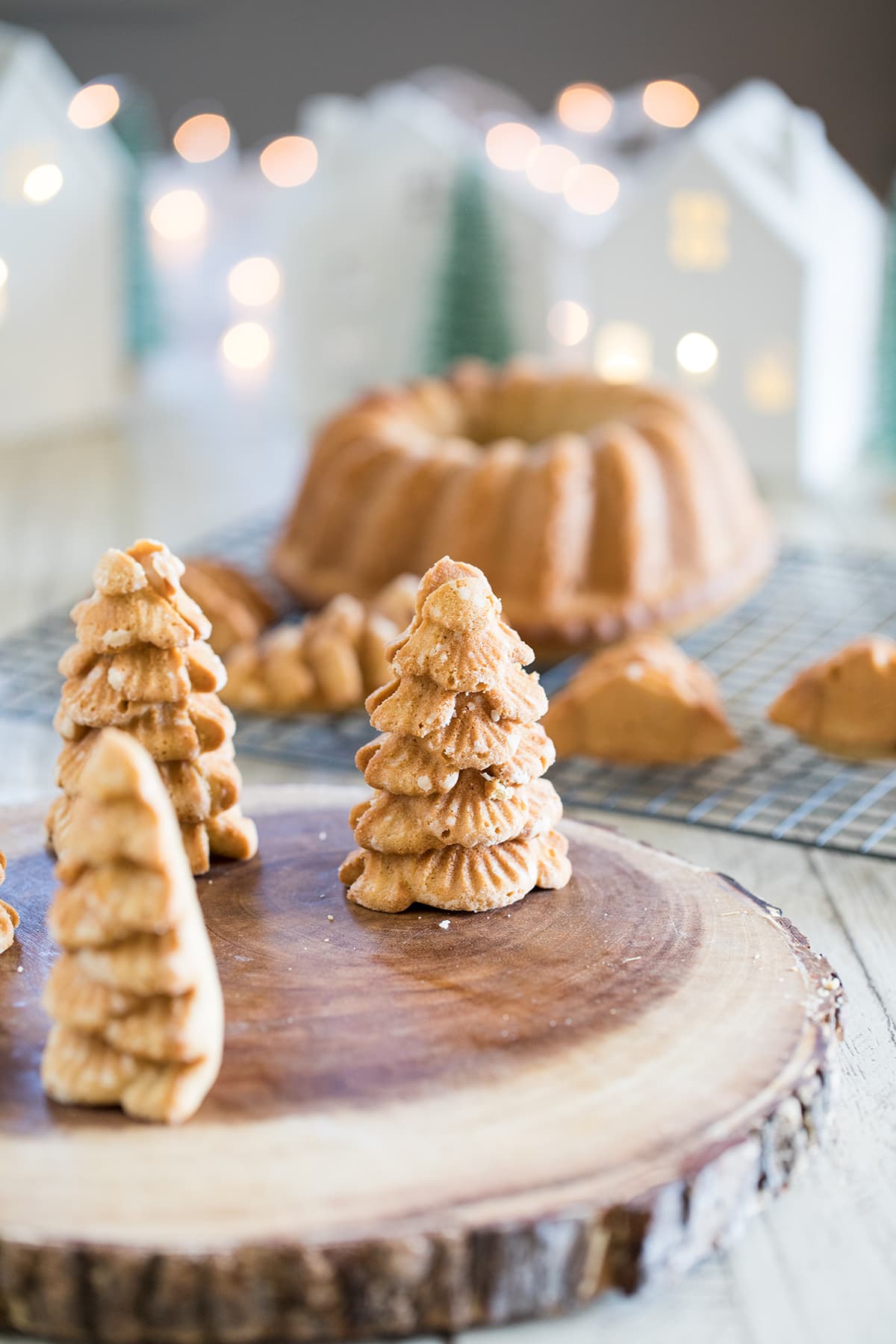 How to Serve Tree Cakes
I love how magical these tree cakes look dusted with powdered sugar! For added garnish I created "rosemary trees" by breaking off small portions of rosemary sprigs and standing them upright on the serving platter before dusting with more powdered sugar. It's basically a winter wonderland of sweet treats.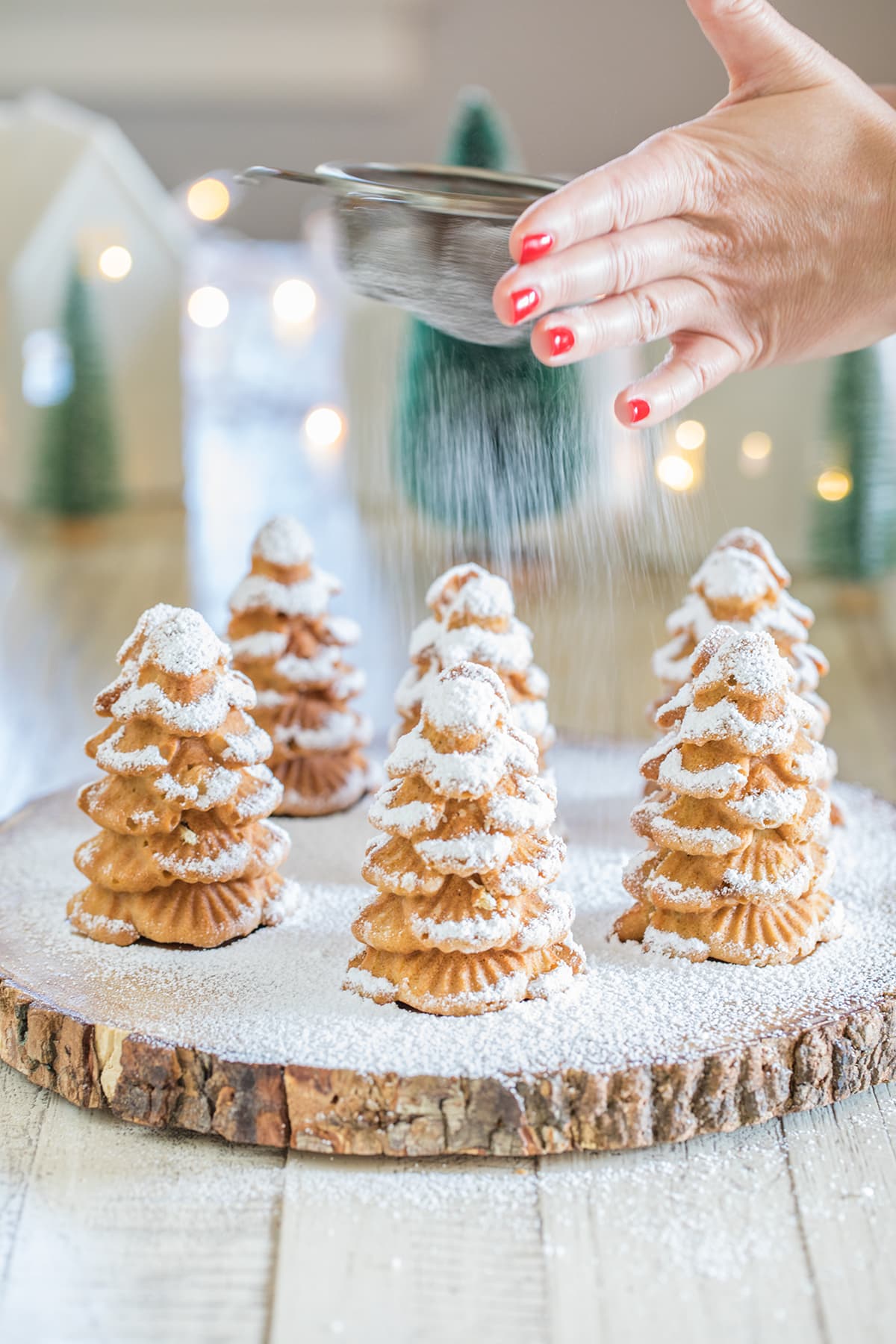 Can you Glaze These Tree Cakes?
Absolutely! I personally like the look of the powdered sugar but my Bourbon Vanilla Bean Glaze would work perfectly drizzled over the top of the trees as well. To glaze, assemble trees and stand upright on a wire rack or your serving platter before drizzling with the glaze. If you glaze on a serving dish you will have puddles of glaze around the cakes which is why I prefer glazing over a wire rack. Once the glaze has dried you can transfer them to a serving platter.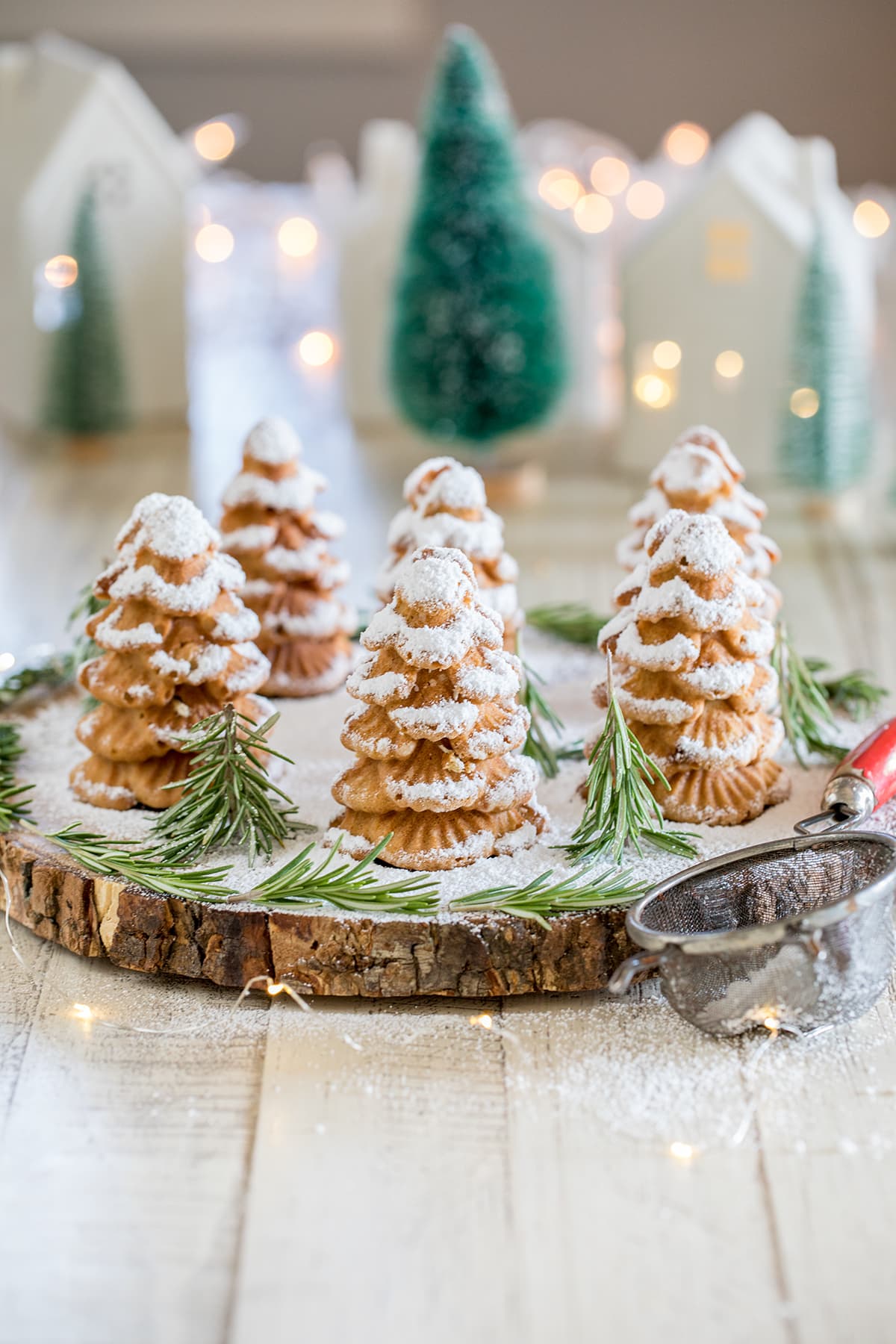 Pine Tree Inspired Christmas Kitchen Decor
To say that I have a pine tree theme going on this year might be an understatement! From Tree Cakes to a full pine tree inspired Christmas kitchen, I'm going all out with my pine theme. You can see my kitchen decked out for Christmas in this post, plus get some decor inspiration.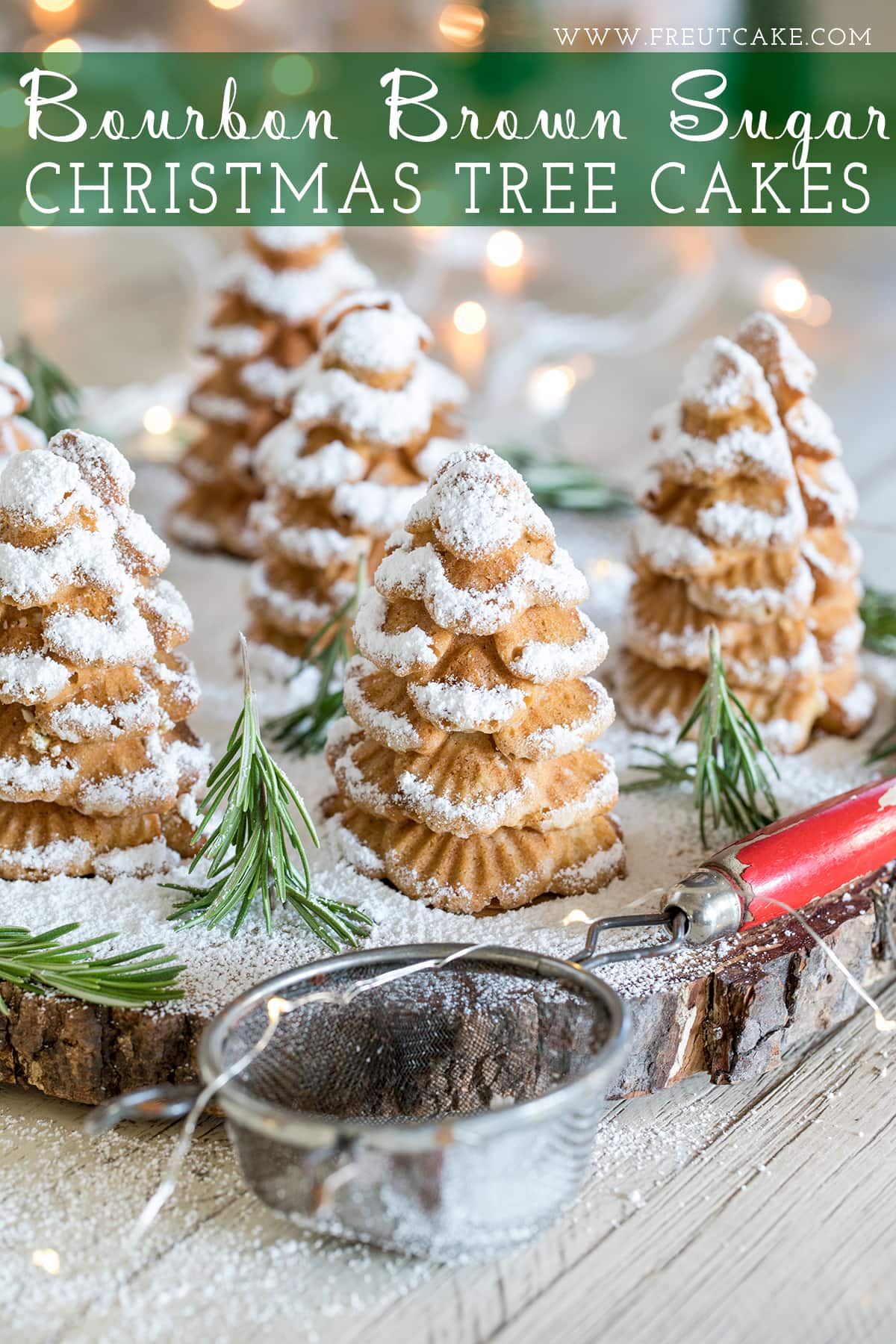 Bourbon Vanilla Bean Glaze Recipe
If you are making a full bundt cake or prefer to glaze the tree cakes, my Bourbon Vanilla Bean Glaze recipe is perfect!
Bourbon Vanilla Bean Glaze Recipe
1 cup confectioners sugar
1 Tablespoon Bourbon
½ teaspoon vanilla bean paste
1-2 Tablespoons milk, start with 1
Directions: In a small bowl, whisk together confectioners sugar, bourbon and vanilla bean paste. Slowly whisk in milk starting with 1 Tablespoon. You want to reach the consistency of white school glue. Add more milk as needed.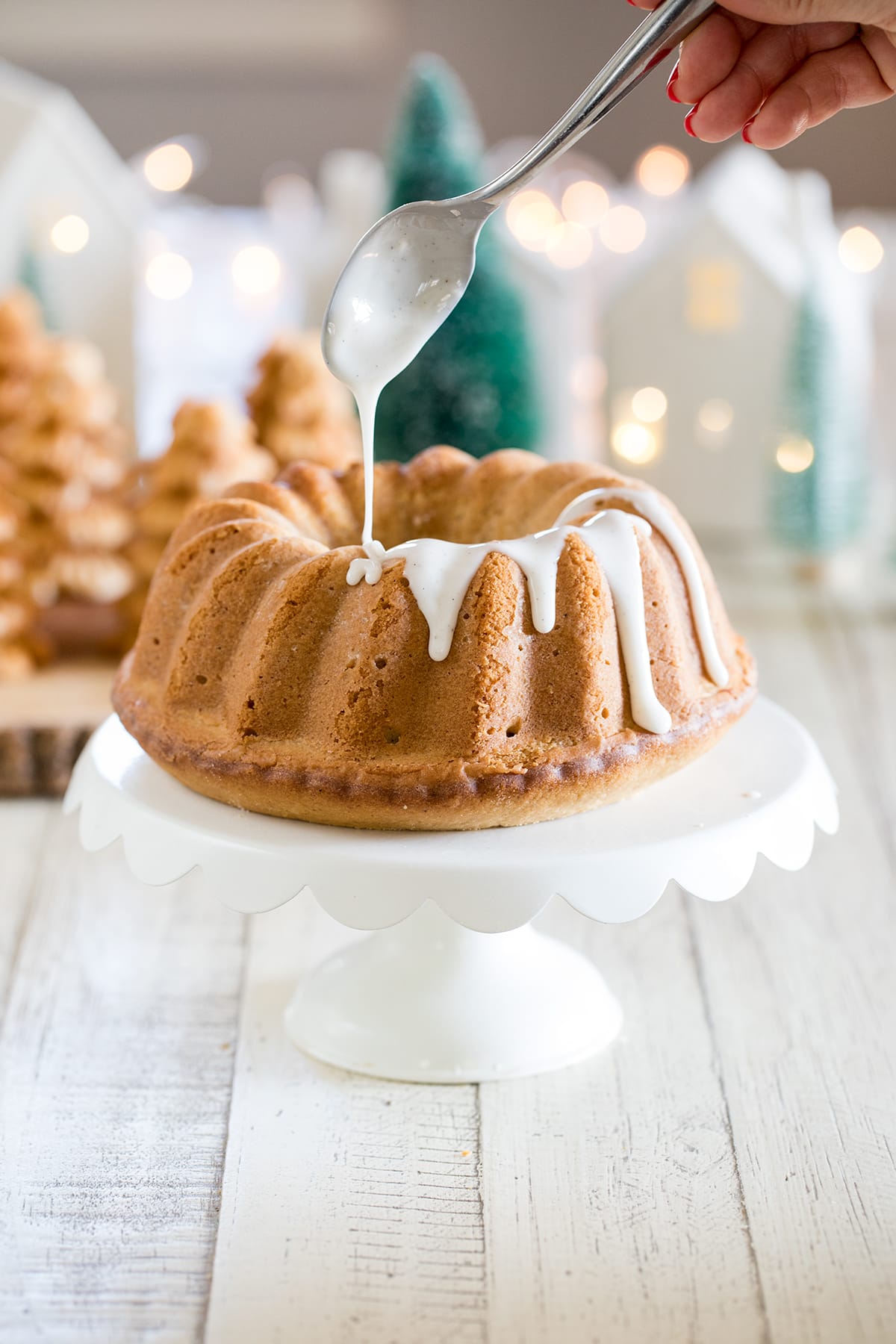 If you make this cake recipe, please come back and leave a comment in the section below letting me know what you think! Also, you can shop this post and all of my baking supplies for this cake recipe here: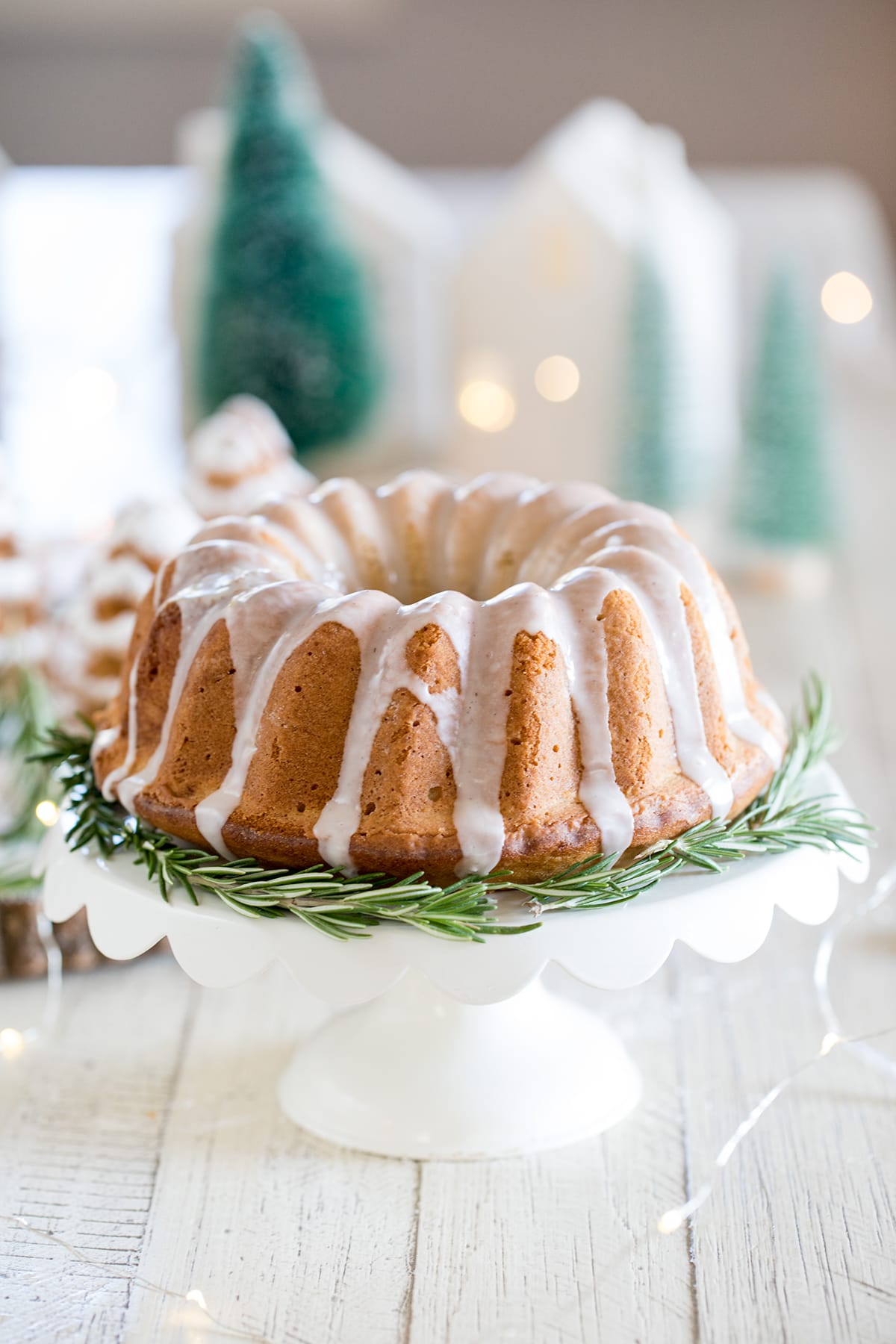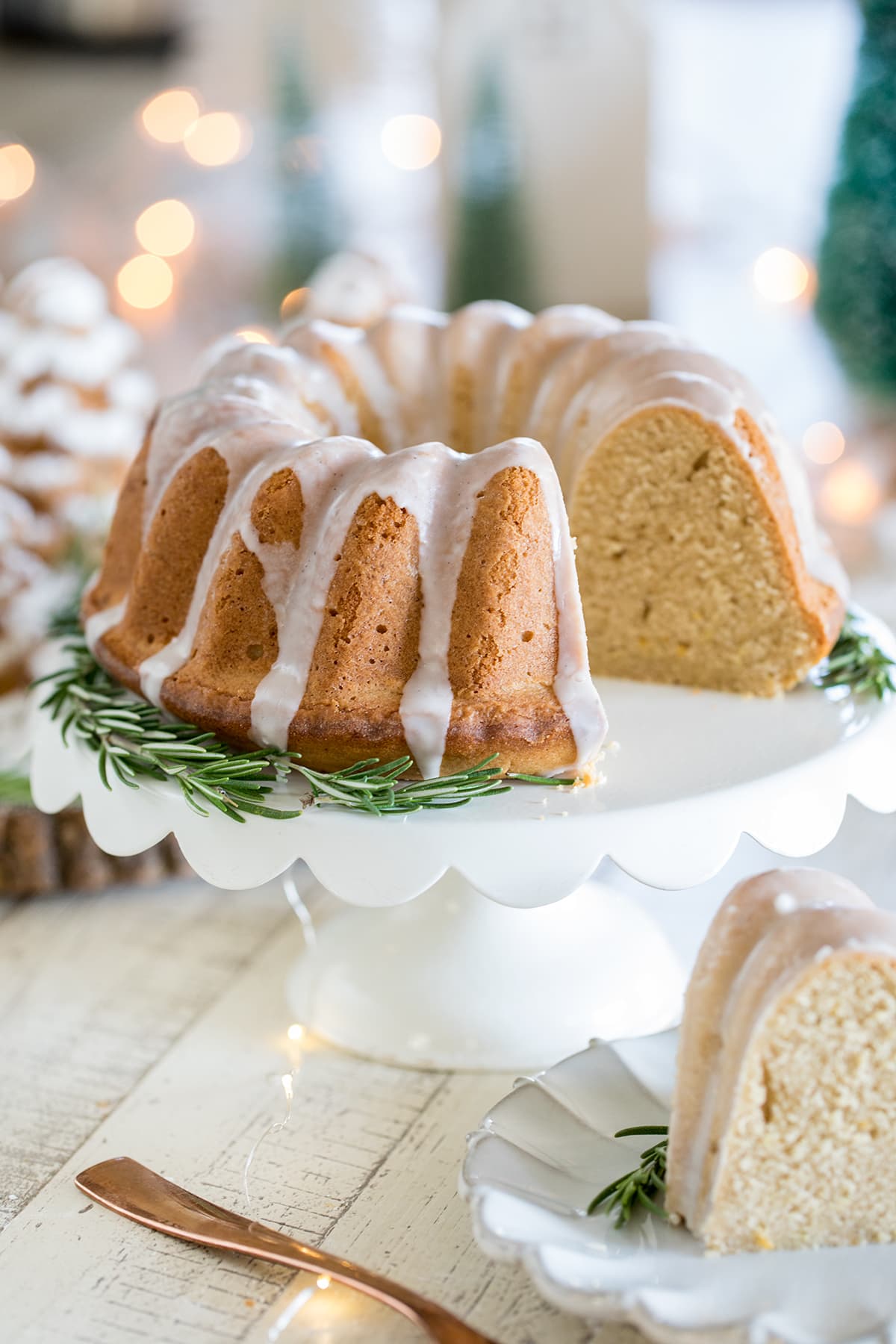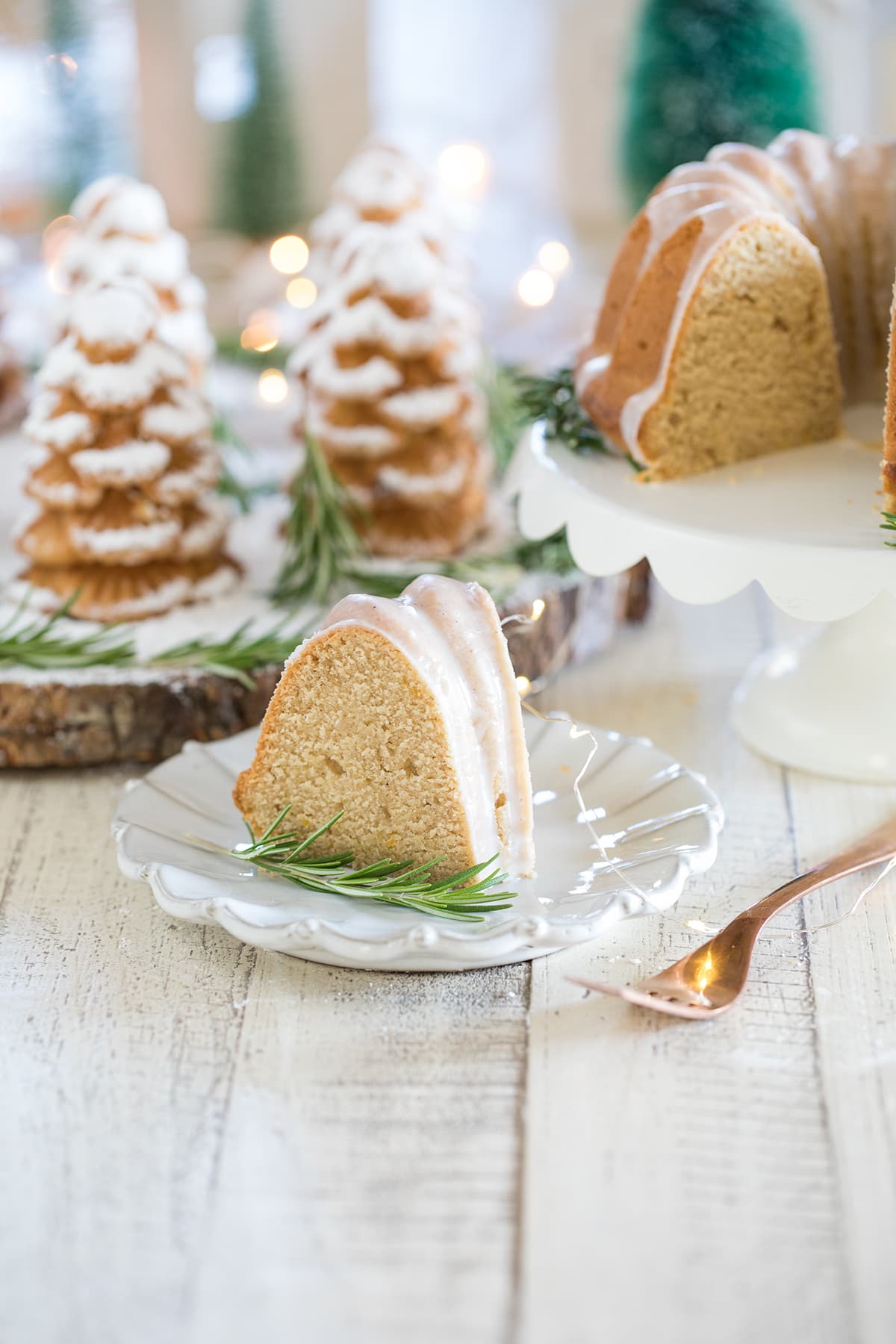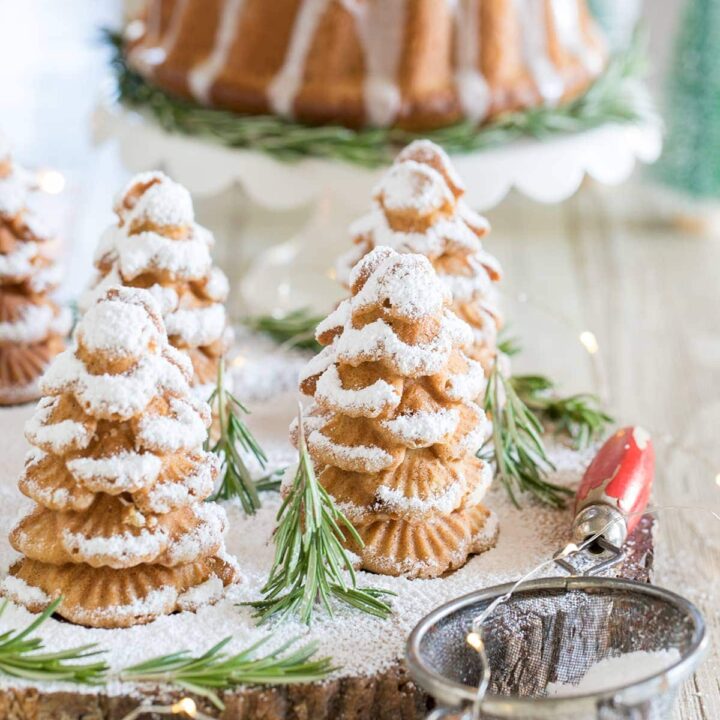 Bourbon Brown Sugar Cake
Cook Time:
1 hour
5 minutes
Total Time:
1 hour
35 minutes
A bourbon and brown sugar flavored cake recipe perfect for bundt cake pans or cake forms.
Ingredients
1 cup butter, softened
½ cup shortening
2 cups light brown sugar, packed
5 large eggs
1 (5-oz.) can evaporated milk
½ cup bourbon
3 cups all-purpose flour
½ teaspoon baking powder
½ teaspoon salt
1 teaspoon nutmeg
1 tablespoon vanilla bean paste
zest of one large orange, about 1 Tablespoon
powdered sugar for dusting
BOURBON VANILLA GLAZE:
1 cup powdered sugar
1 Tablespoon bourbon
½ teaspoon vanilla bean paste
1-2 Tablespoons milk
Instructions
Preheat oven to 325°. Grease bundt or cake pans with shortening using a pastry brush and sprinkle with flour. Tap pan firmly over sink to remove any excess flour.
In the bowl of a mixer fitted with the paddle attachment, beat butter and shortening at medium speed until creamy.
Gradually add brown sugar, beating at medium speed until light and creamy.
Add eggs, 1 at a time, beating just until blended after each addition.
In a liquid measuring cup, measure boubon and then stir in evaporated milk.
Stir together flour, baking powder, nutmeg and salt in another bowl.
Add flour mixture to butter mixture alternately with milk mixture, beginning and ending with flour mixture.
Beat at low speed just until blended after each addition. Stir in vanilla bean paste and orange zest. Pour batter into a greased and floured bundt pan.
FOR A LARGE BUNDT PAN: Bake at 325° for 1 hour and 5 minutes to 1 hour and 10 minutes or until a long wooden pick inserted in center comes out clean.
FOR NORDIC WARE TREES: Fill ¾ of the way full and use a toothpick to help the batter into the branches. Bake for 15-20 minutes or until a toothpick inserted in the center comes out clean.
Cool in pan on a wire rack 10 to 15 minutes; remove from pan to wire rack. Cool completely (about 1 hour).
Dust top lightly with powdered sugar or drizzle with bourbon vanilla glaze.
BOURBON VANILLA GLAZE:
In a bowl whisk bourbon and vanilla bean paste into powdered sugar.
Slowly start adding in milk starting with 1 Tablespoon. Consistency should be like white school glue. If it's too runny it will run off the cake without glazing it.
Glaze bundt cake by slowly pouring over COOLED cake placed over a wire rack. Allow glaze to firm up completely before slicing.
Notes
Please read post for more specific instructions on greasing pans and the different pans you can use for this recipe.