Making a beautiful and delicious Christmas charcuterie board is actually very easy! I'm sharing my tips for the ultimate holiday appetizer cheese spread, a shopping list for all of the ingredients you will need and how to assemble it.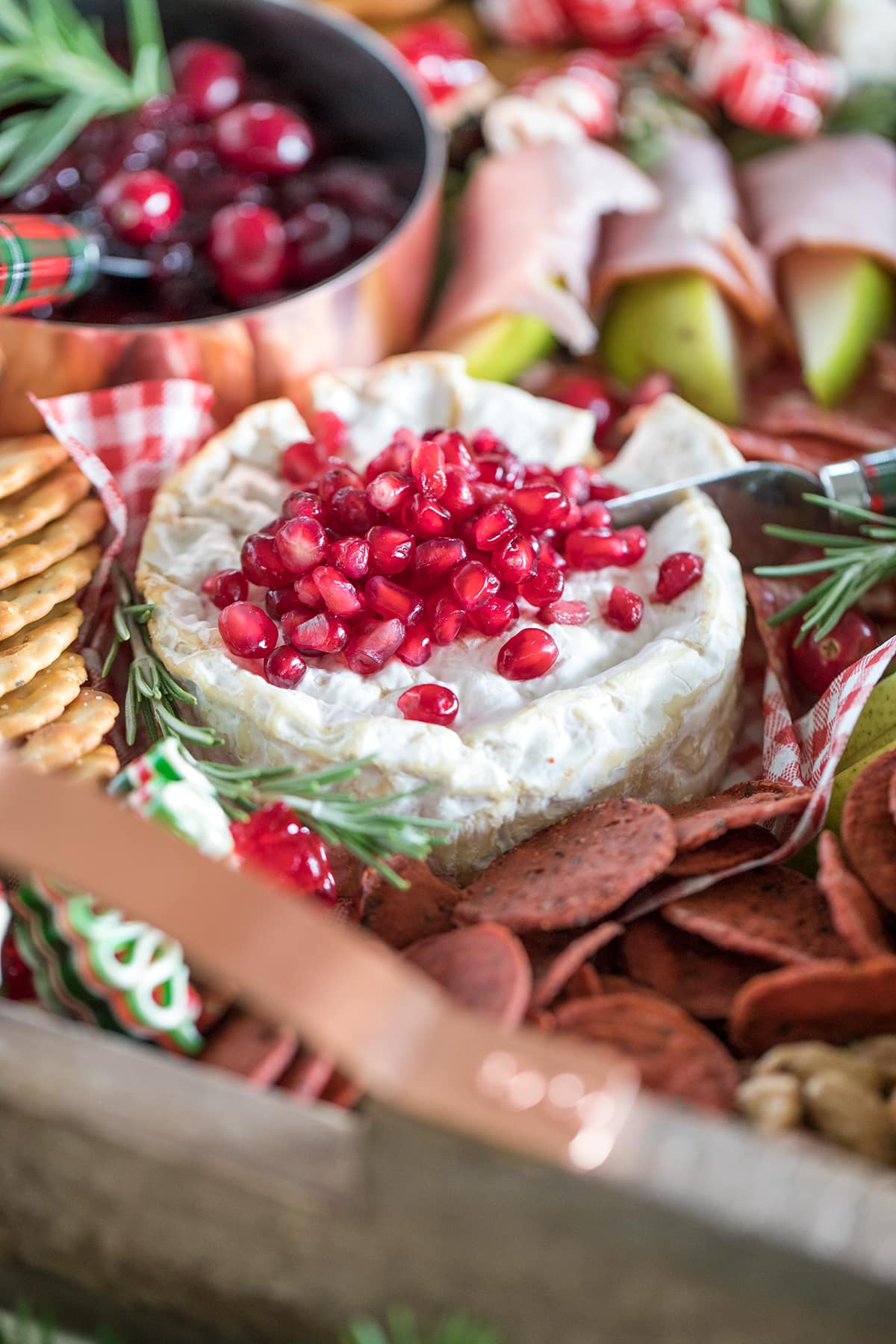 How to Make a Christmas Cheese Board
When it comes to making a beautiful cheese or charcuterie board there is really no wrong way to do it. However there are a few tricks for elevating a simple cheese board into a beautiful and abundant looking board ready for the holidays.
I love serving cheese boards because there is a little something for everyone and makes the easiest appetizer option.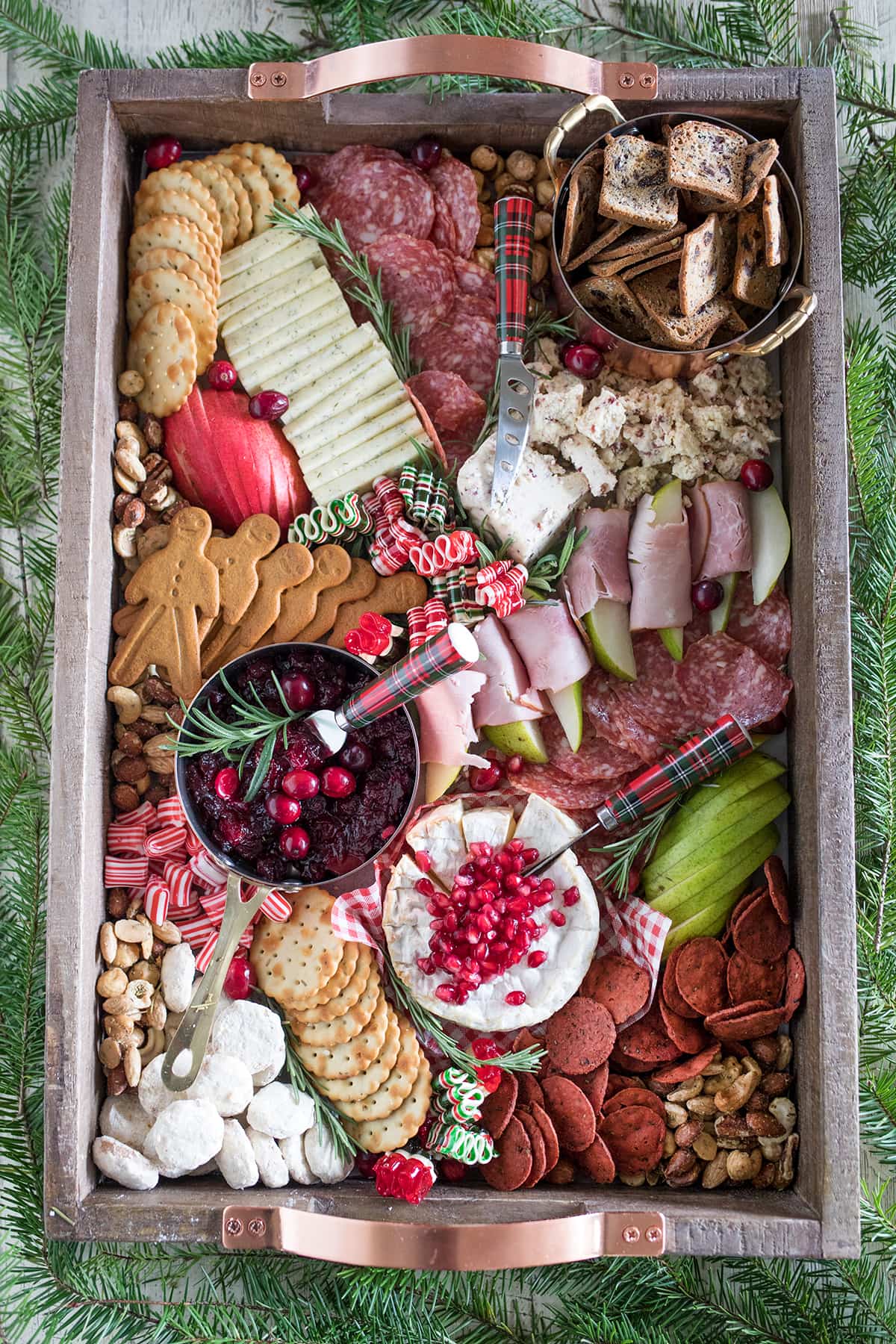 How Many Cheeses Should Be On A Cheese Board?
If you are serving a cheese board as your only appetizer, you want to serve about 2 oz of cheese per person and have at least three cheese options.
I think three varieties of cheese is really perfect for any small gathering and I usually only serve more than three varieties when there is a large group.
TIP: Break up the cheese in multiple locations around your board. Here I split the Dill Havarti into two sections. This makes it easier for multiple people to help themselves to cheese at the same time.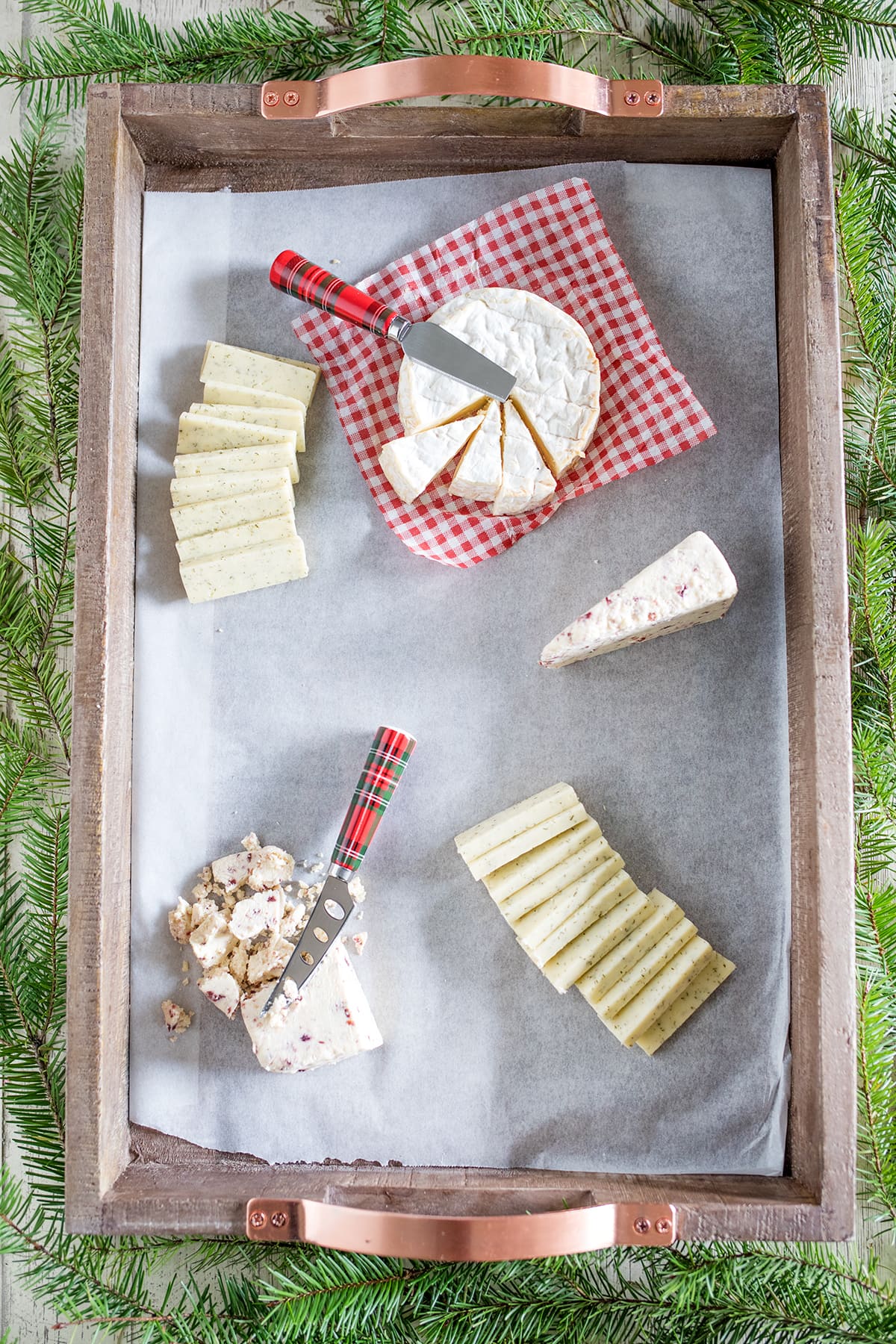 How to Assemble A Cheese Board
Start with the cheese of course! First I start with my three cheeses. You want a variety here so chose one soft cheese like a brie or camembert, one hard cheese and one "stinky" cheese.
TIP: try to offer your three cheeses in different ways, sliced, partially crumbled or cut into chunks, and in wedges for example. It's easier to eat a board when you aren't having to slice the cheese yourself and it's more eye catching!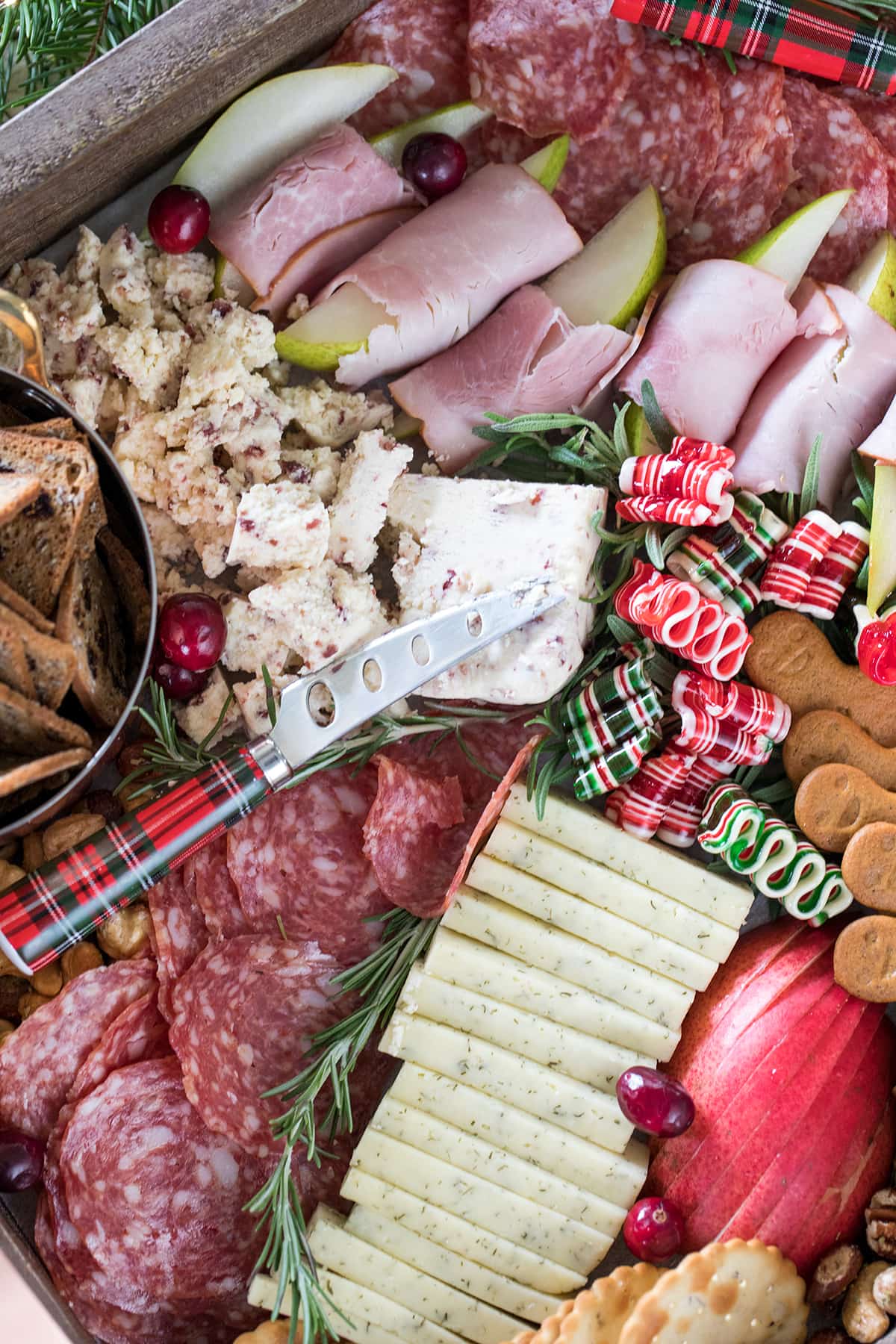 If you want to be super classic go with a cheese combination like this: Triple Cream Brie, White Cheddar, Stilton.
For this Christmas board I stuck with a variety that fit my "Red, green and white" theme so I bought Camembert, White Stilton with Cranberries, and Dill Havarti. I sort of broke my rule with these three but they still offered a good variety of textures and flavor.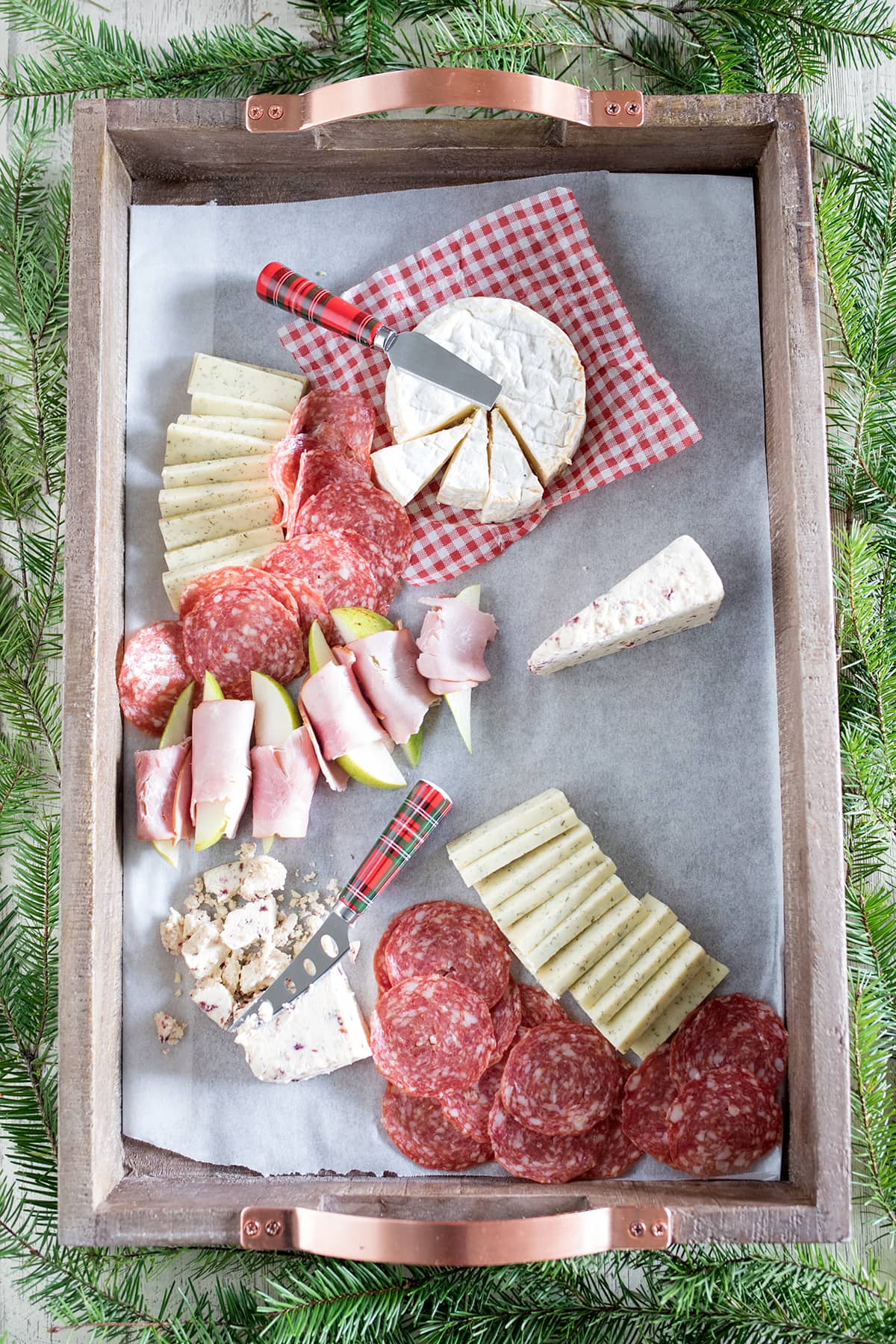 The Best Meats for A Charcuterie Board
If you want to keep it ultra simple, Trader Joe's sells a couple of great packaged, pre-sliced charcuterie meats. There is a Spicy Charcuterie Selection that is delicious as well as a Spanish Meat Selection that is really good.
TIP: chose two to three meats that you like and serve them in completely different ways. On this board I used salami and ham (but you can use prosciutto for this) and wrapped the ham around slices of green pear.
Also, spread the meat out around the board so that you have lots of small piles instead of one large.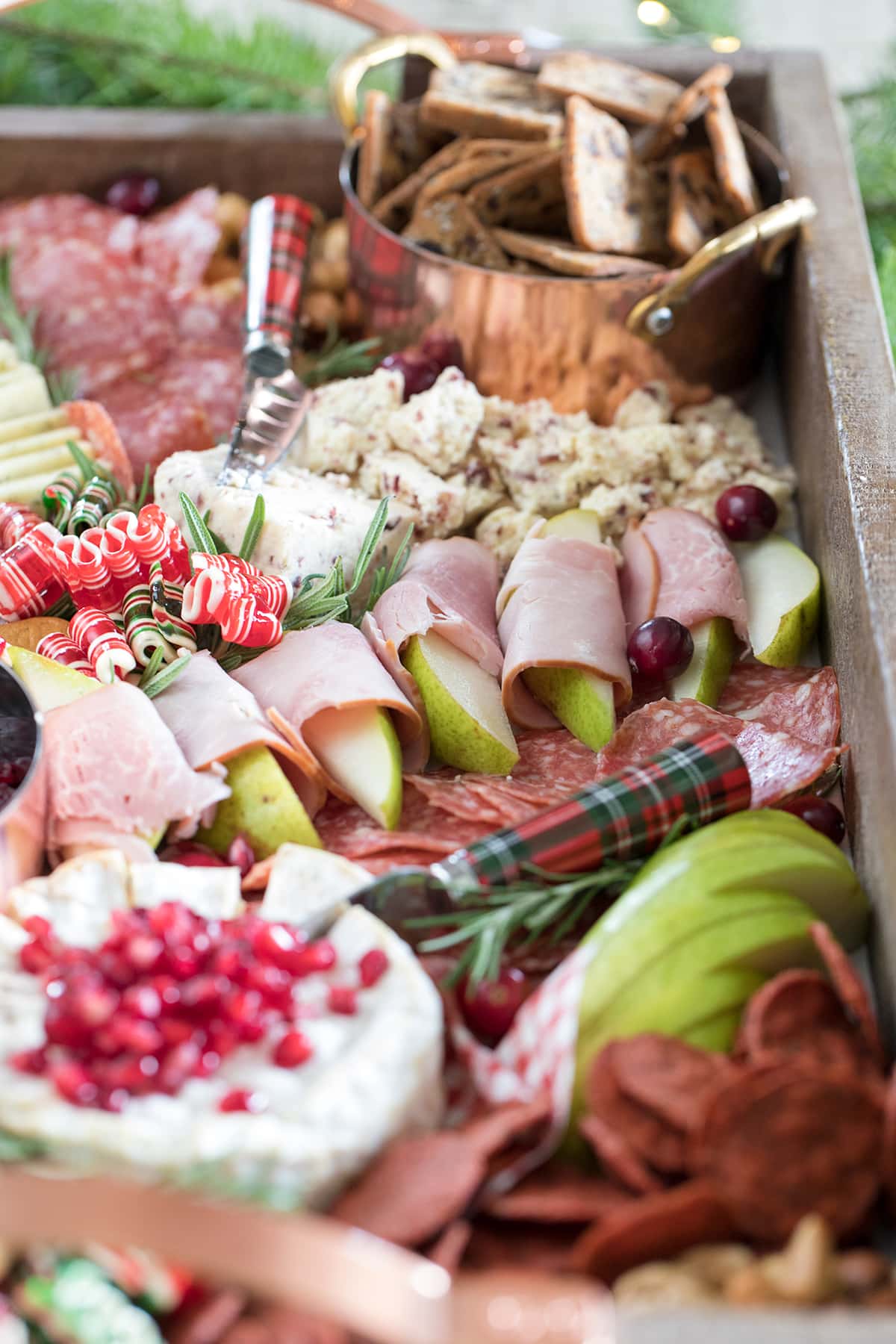 I also love Summer Sausage and any type of sliced whole salami. Theme your meats around the board you are making and have fun with it! Wrap proscuitto around bread sticks for an Italian board for example. I used ham on this board since I was working around a classic Christmas theme.
TIP: never simply place a row of sliced salami straight out of the package. Instead, pull each piece apart, bunch them up, spread them out, roll them, or arrange them in some artful way so that it it doesn't look straight from the packaging. Fluff your food!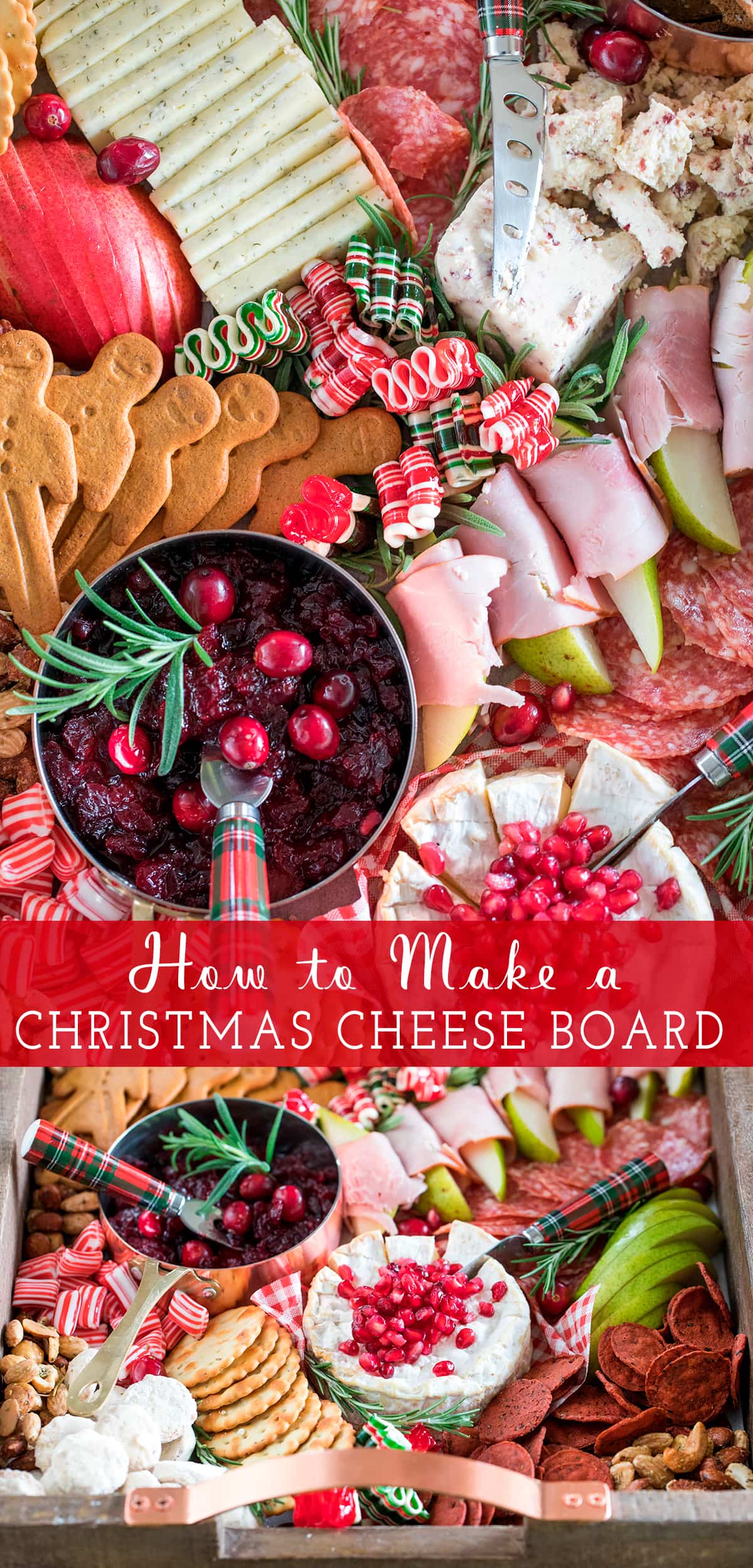 Condiments for a Cheese Board
The variety of condiments you use on a cheese board are like the icing on the cake! They can really make it incredible and so much more delicious to eat. Once your cheese and meat are arranged, it's time to add little bowls of your favorite condiments.
TIP: Chose condiments based on the cheese you are serving. I tend to use a lot of spicy mustard, fig jam, and honey. Trader Joe's sells a delicious Pepper Jelly and a Blue Cheese Mustard that are both delicious!
For my Christmas board I added a little pot of homemade cranberry sauce because it paired well with all three cheeses I served. Get my Homemade Cranberry Sauce Recipe here.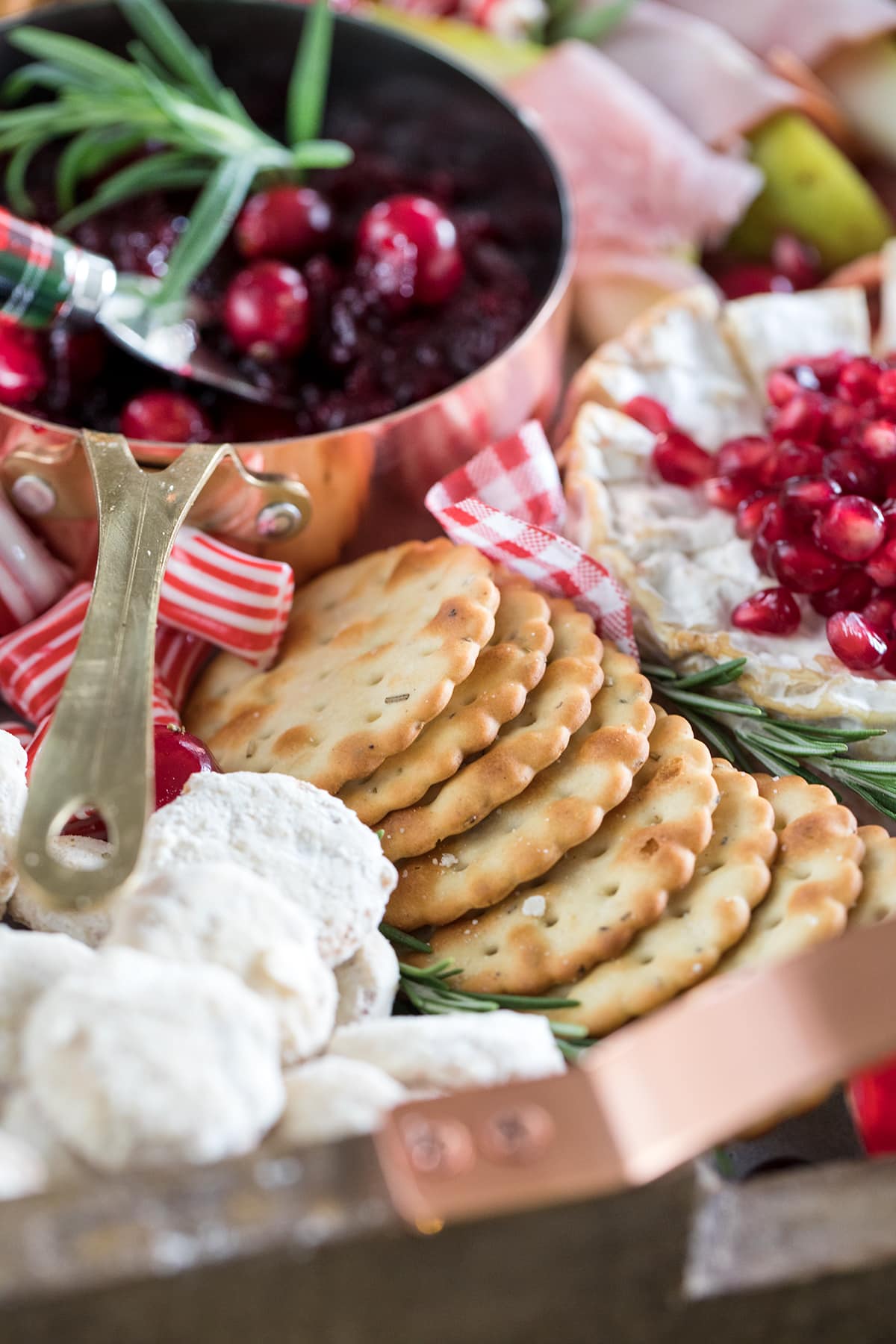 Fruit, Crackers and Nuts for a Charcuterie Board
Now it's time to arrange a variety of crackers, fruit, and nuts around the board! In this case I also threw in some Christmas candy and cookies. Like everything else we've added to the board, you want a variety of crackers.
I also like using sliced baguette from time to time but for this board I used the Scalloped Cracker Trio from Trader Joe's and the Cranberry Crisps. The cracker trio is great for boards because it offers three different flavors of crackers. I like to use sliced fruit, dried fruit, and nuts to fill in the space between the meats and cheeses.
Finish the board with sprigs of fresh rosemary and cranberries to fill in any open spaces. The trick to a really gorgeous, abundant looking board is to fill in all the little spaces. Happy Cheese Board making!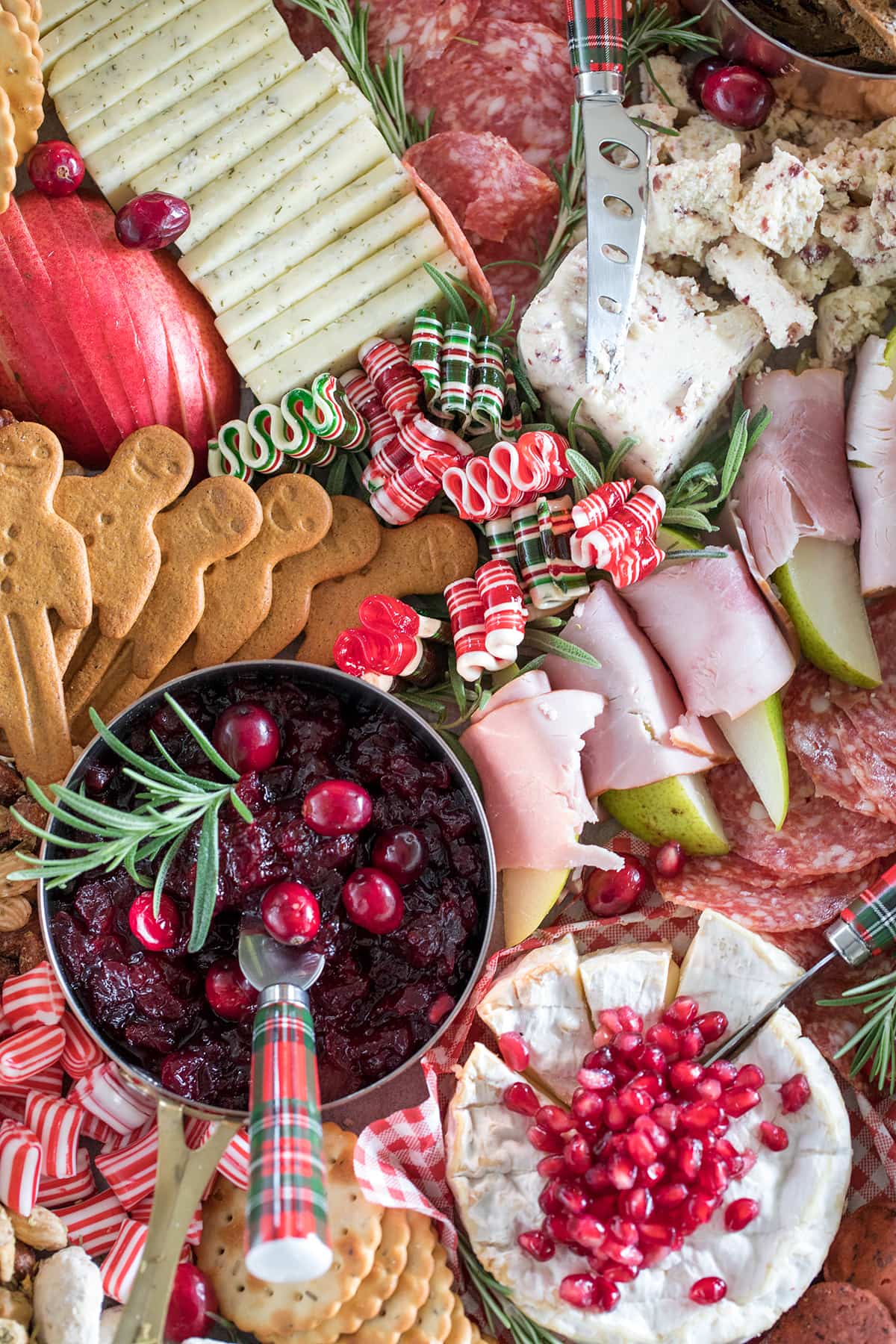 Shopping List for a Christmas Cheese Board
Most of these items were found at Trader Joe's and World Market however you can find similar items at most specialty food stores.
Camembert or Brie Cheese Wheel
Cranberry Stilton
Dill Havarti
Sliced Salami
Sliced honey ham
Proscuitto
Scalloped Cracker Trio - or crackers of choice
Beet Chips - Trader Joe's
Cranberry Crisps
Ginger Snowball cookies - Trader Joe's
Rosemary Nut Mix
Sliced green pear
Sliced red pear
Gingerbread People Cookies - World Market
Peppermint and Ribbon Christmas Candies - World Market
Pomegranate seeds
Rosemary sprigs for decor
fresh cranberries for decor
Homemade cranberry Sauce - get my recipe here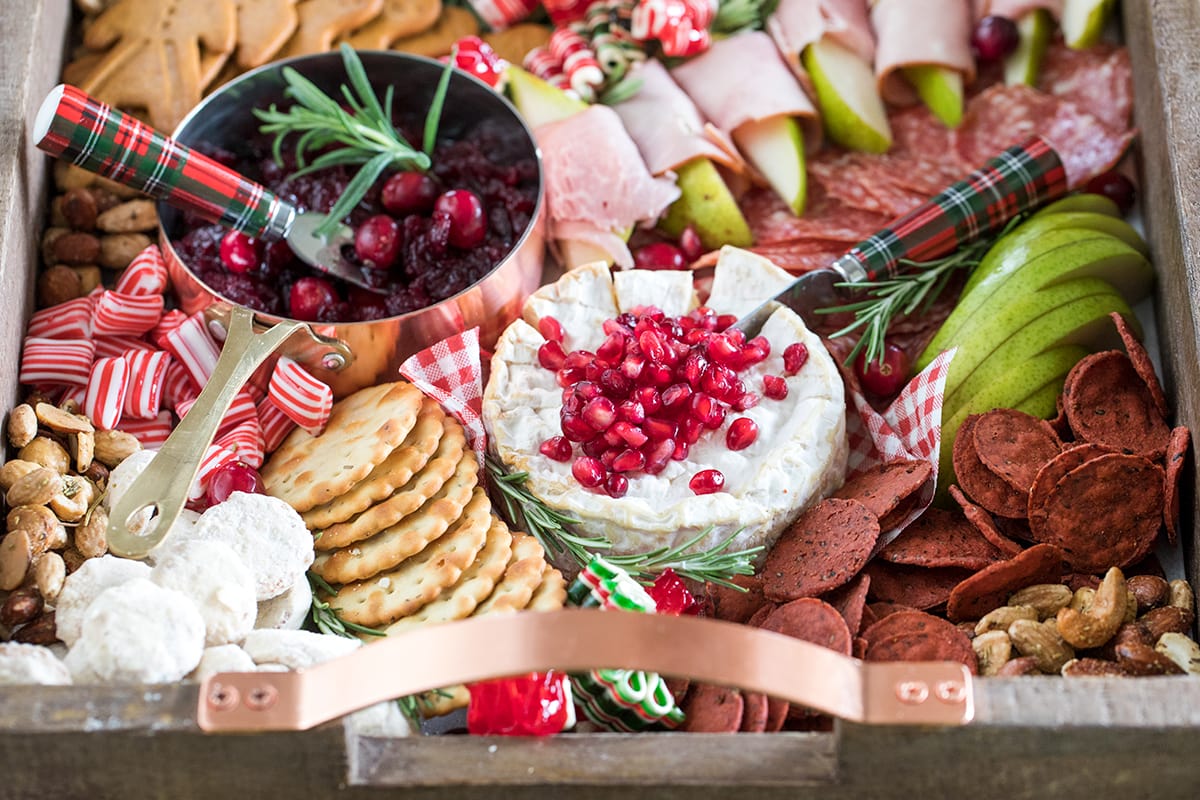 Shop This Post
I found my wooden tray and small copper pots at Home Goods as well as the red plaid cheese knife set however here are a few items I found online that you can shop to recreate the look of this board for yourself including the exact candy and cookies I used: