This year I'm decking the halls in green, copper and snowy flocked accents to give our home a wintery-pine tree feel. Our Christmas tree is also taking on a woodsy vibe with touches of green, plaid, and copper ornaments. Frosted pinecones and snowy sprigs nestle in among my vintage Jello Molds, copper cookie cutters, and a classic navy and green plaid ribbon. Come take a look...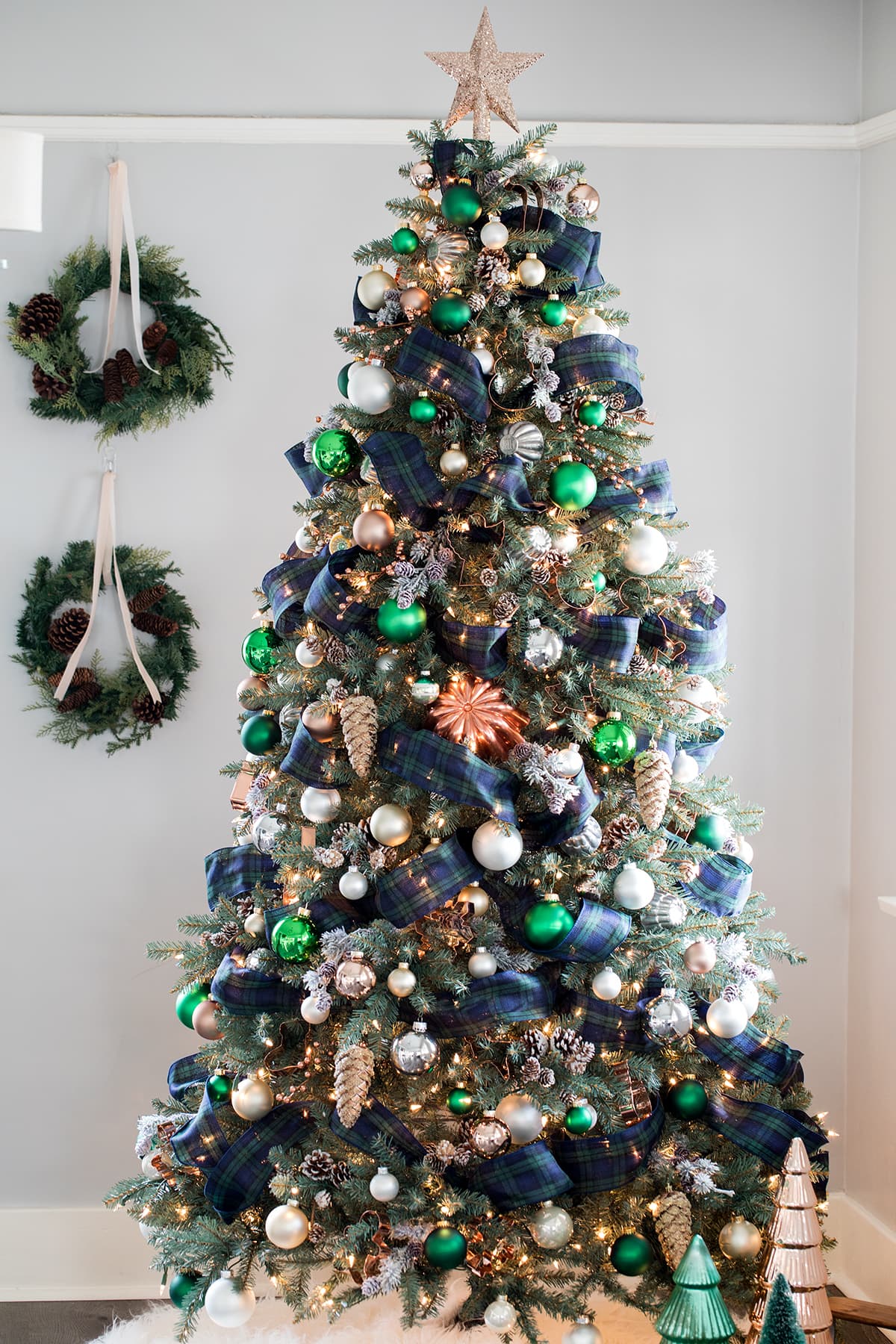 Christmas Tree Inspiration
I haven't had what I like to call a "grown-up" Christmas Tree since before the twins were born. If I'm being honest, even before kids my tree was scattered with random family ornaments, childhood favorites, and other mismatched shiny things. Not that I mind trees without a clear theme, in fact I think they are rather charming, but this year I was inspired to create something entirely new. My friend Michael creates the most gorgeous Christmas Trees so I blame him and simultaneously credit him for inspiring me to do more with our tree decor! If you have a minute, go check out his amazing Christmas trees.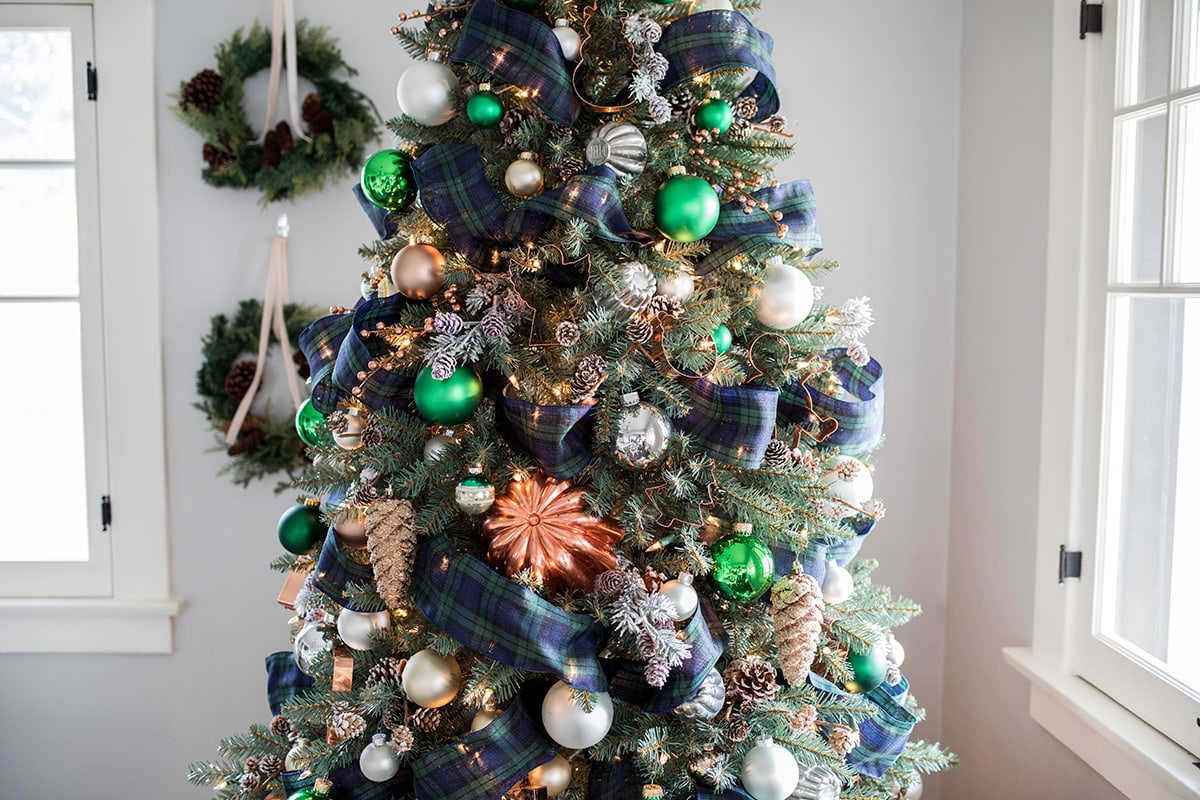 Fresh vs Faux Christmas Trees
Growing up we always had fresh Noble Fir Christmas trees purchased from local tree lots and I loved them. The smell of Christmas was cemented in my memory by those fresh trees, and to this day there is nothing better smelling than a fresh cut pine tree. However, last year was our first year with a pre-lit faux tree and I was shocked at how much easier it was to decorate...and clean up after! I have to say, I enjoy having a tree that doesn't require watering, especially with small children. I make sure to get my pine scent fix with fresh greenery in other places throughout the house like in our kitchen! You can see our Kitchen decorated for Christmas in this post.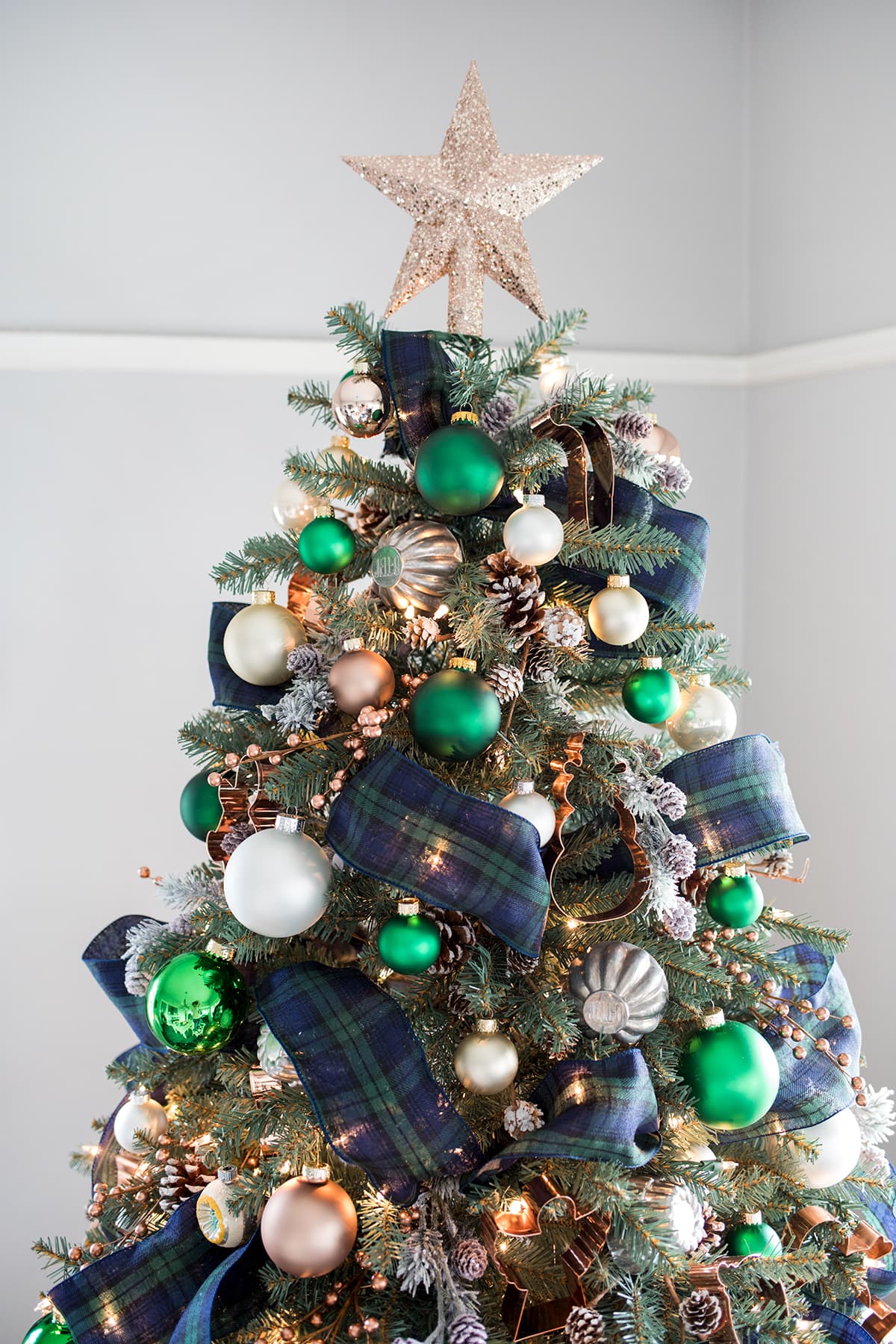 Woodsy Green Plaid and Copper Christmas Tree
Now, let's talk about this woodsy green plaid and copper Christmas tree. It all started with a Green and Navy Plaid ribbon I found at Michael's Craft Store. I have been a long time fan of all things plaid and tartan so this ribbon was speaking to me not to mention my love for navy. Honestly, Michael's ribbon isn't the greatest quality but it works well for Christmas trees and you can usually get it on sale.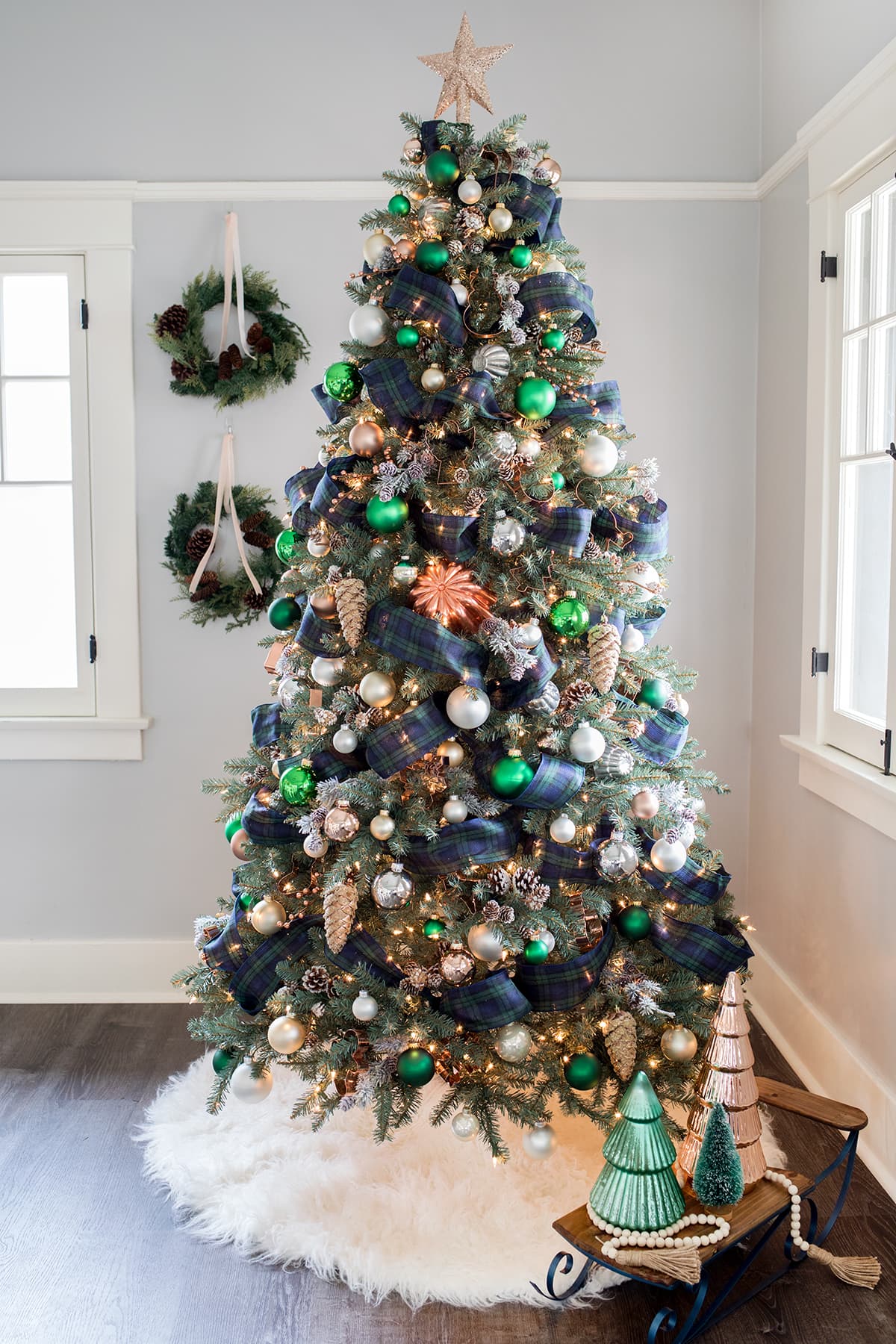 Using What You Have...
Like I mentioned at the start of this post, I don't usually go all out on a new tree theme each year. However, I do have quite a few different colors of classic glass ball ornaments. I knew I wanted to keep a woodsy feel to the tree so I put all of my red ornaments away and pulled out white, green, gold and silver. New this year, I added in a few sprigs of floral picks all from Michaels and Hobby Lobby as well as new glass copper ball ornaments. The white painted pine cones are from Michaels as well as the snowy frosted sprigs while the copper berries, metallic pine cones, and copper balls are all from Hobby Lobby.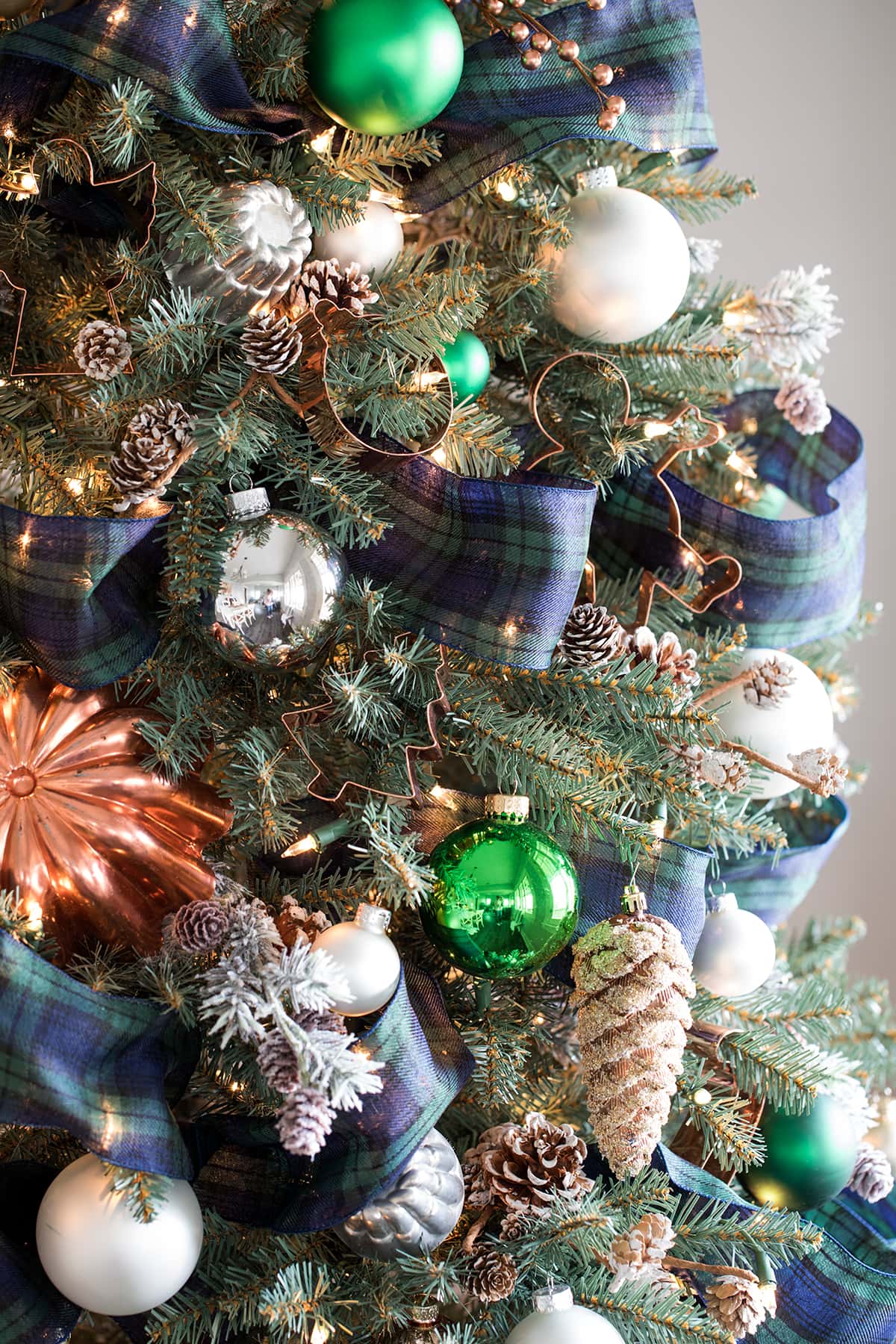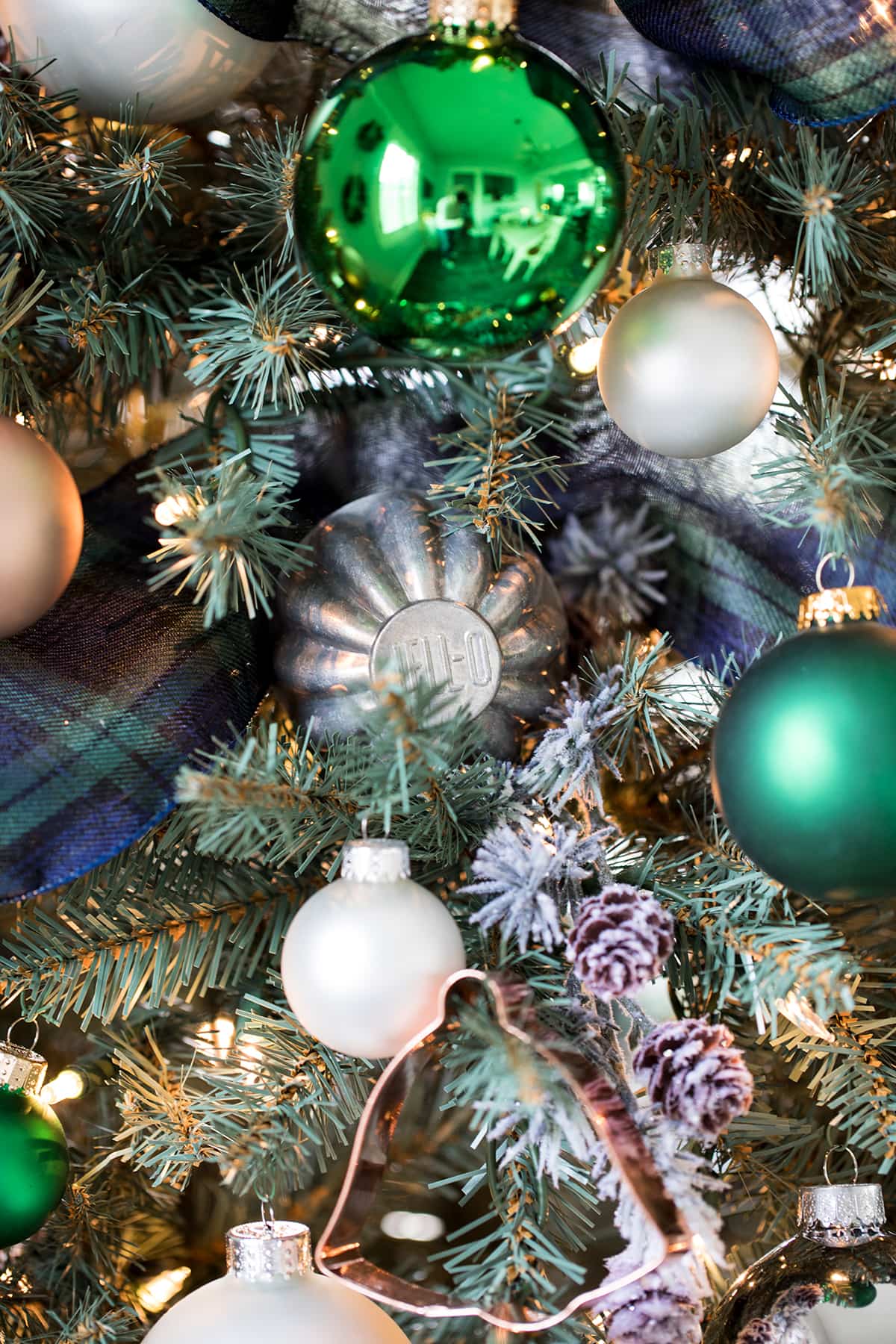 Cookie Cutter Christmas Tree Ornaments
One of my favorite things to do is to hang cookie cutters on my Christmas tree. I'm not sure if it's cheesy or nostalgic or a little bit of both but I love it all the same and have been doing it for years now. I added every copper cookie cutter I could find in my collection and grabbed a few more at Home Goods and World Market when I wanted just a bit more copper. I also nestled an old vintage copper Jello mold into the center of the tree just because I love it so much. Maybe one year I'll do an entire tree in copper Jello molds. Wouldn't that be fun?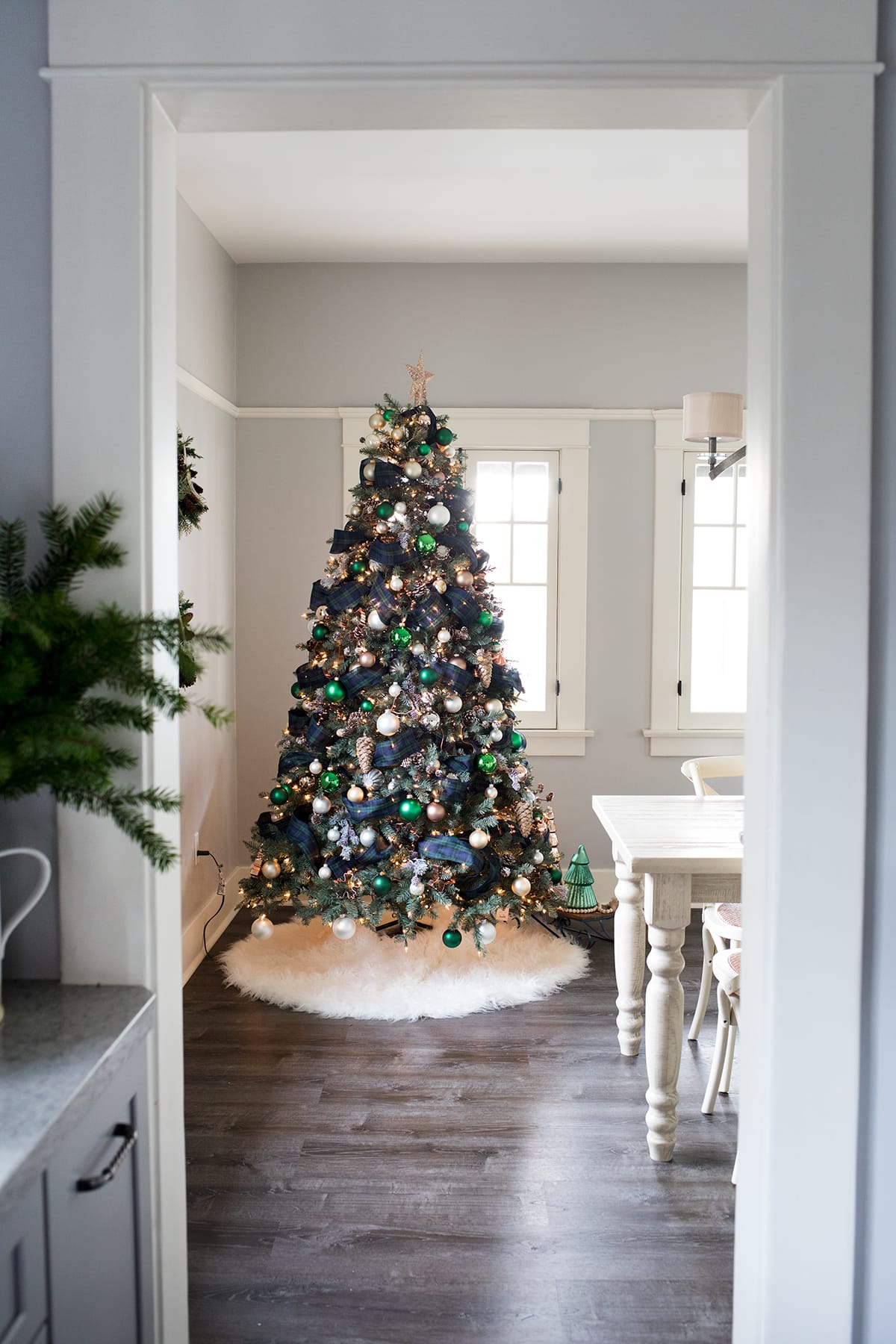 Here's a peek at the tree from the doorway to our kitchen and from the living room. We rent a very small, newly renovated 1920's Craftsman but I try my best to make the space our own. The house is small but I love the airy feel of it with all of the original windows and natural lighting. I won't mention how I feel about the chandelier, but you might be able to guess. I'm dying to hang fresh pine on it just before Christmas. Here's a look around...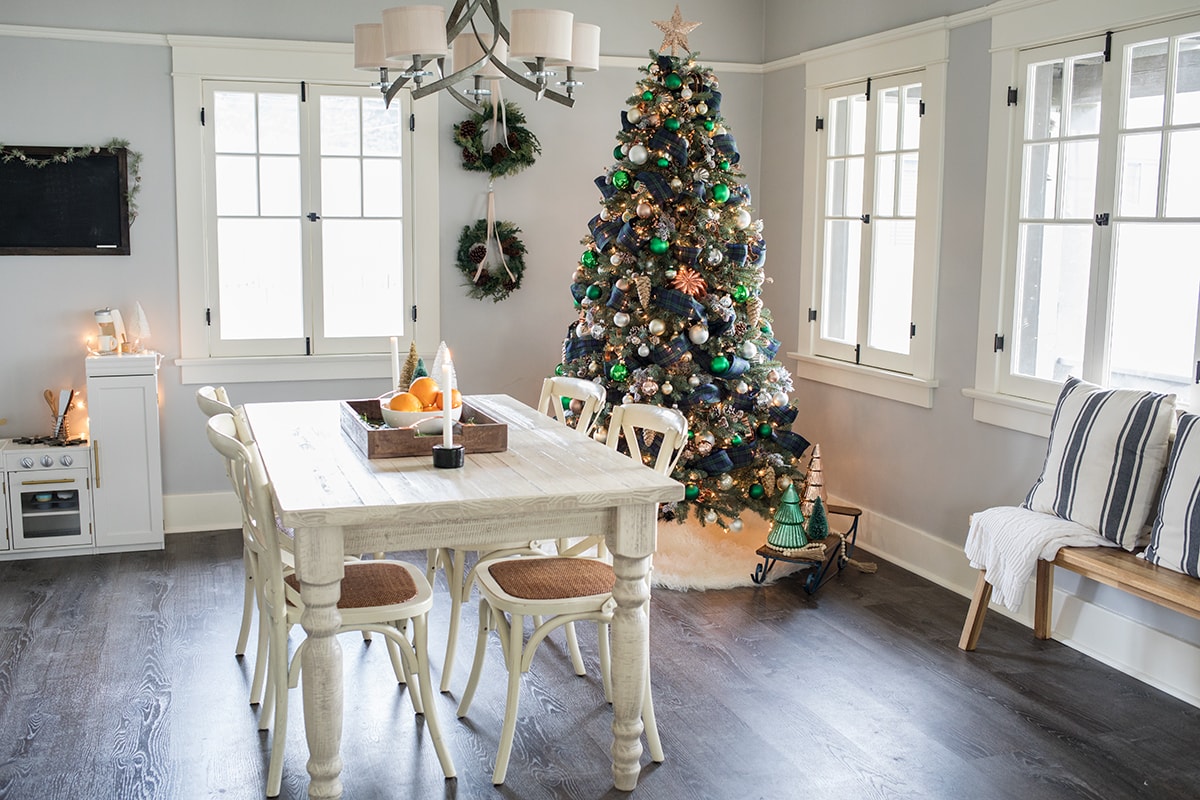 On the wall behind the tree I hung two small pine cone wreaths that John made for me out of a Christmas garland. I tied them up with an old spool of pink velvet ribbon and let it drape down the wreaths. I love this simple and feminine touch.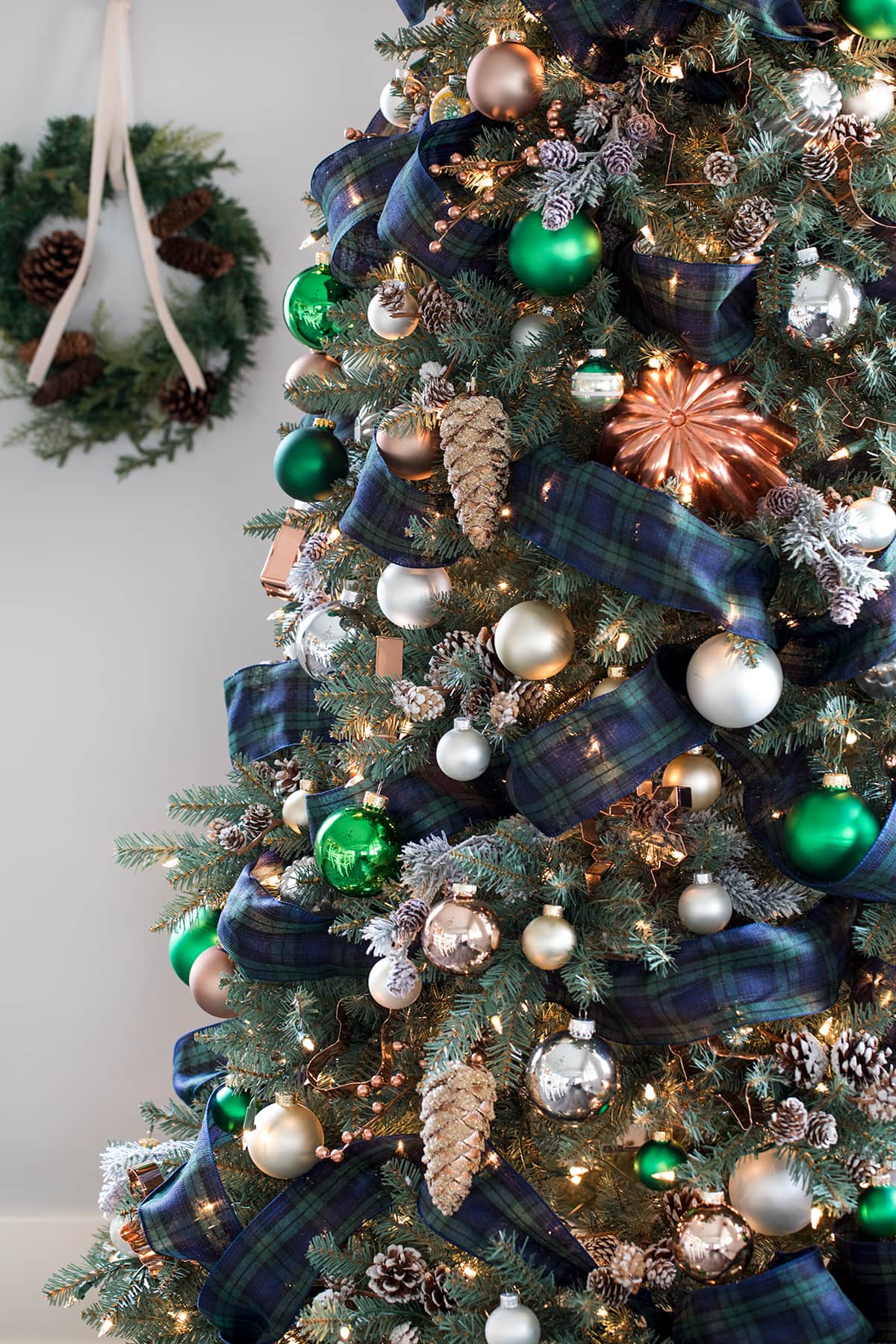 Every night around dinner time, the twins take turns lighting the Christmas Tree. The glow in our dining room off all of that shiny copper is really something magical when the lights are low. I wish I could properly capture it on camera but alas, I am not that talented behind the lens. I decided to use our faux fur white tree skirt from last year under the tree and I like how it mimics a snowy blanket under this woodsy tree.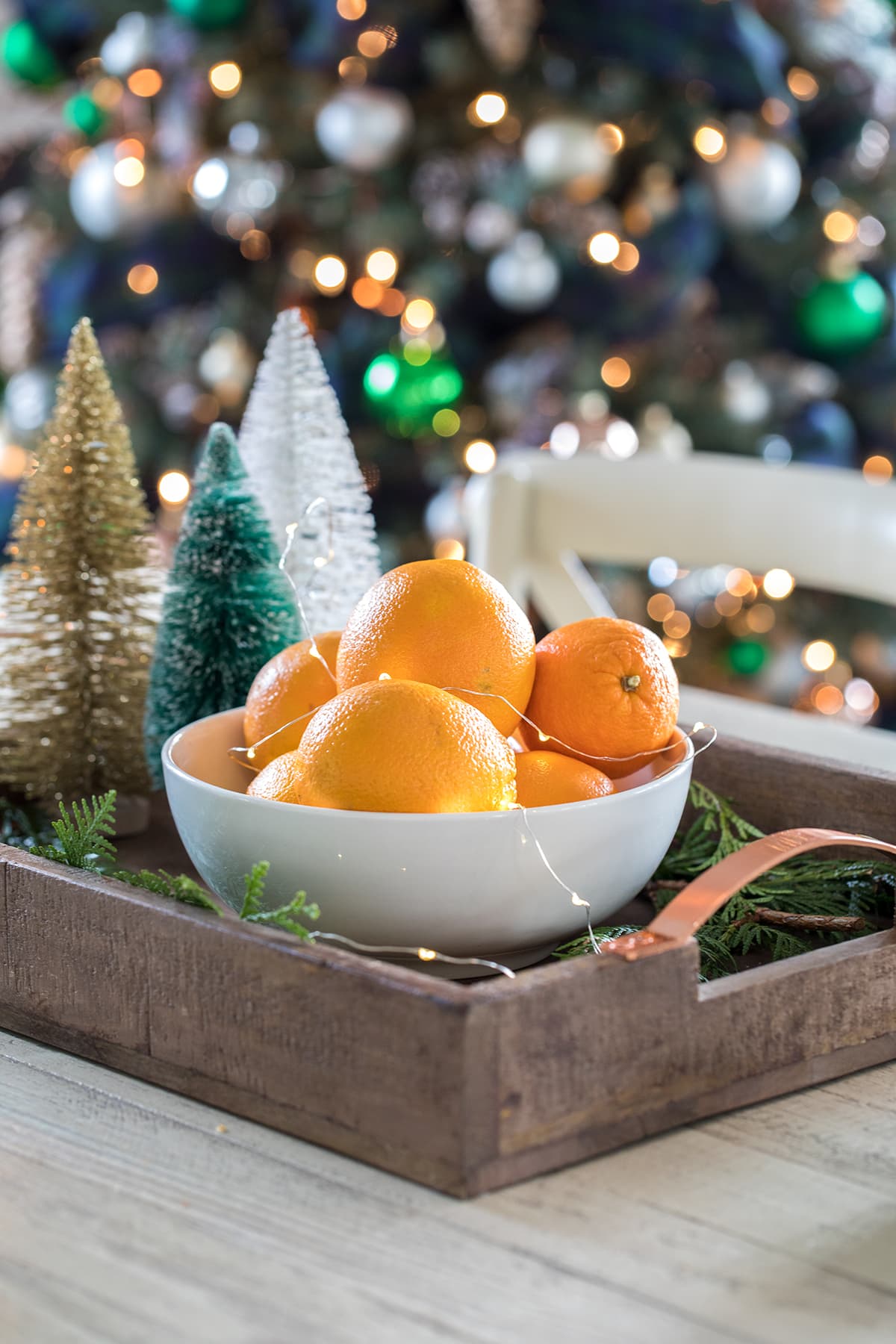 Under The Christmas Tree...
A little sled holding a few tree figurines is all that we currently have under the Christmas tree. I'm sure you will see lots more of this tree as the presents appear over on Instagram in the weeks to come! The twins are already playing Santa Claus and sneaking toys and nutcrackers under the tree for each other to find. In their bedroom I placed a small white tree for them to decorate and it's just as lovely as this one, in a completely different and more colorful way! I can never get enough of the magic of Christmas trees this time of year. Merry Christmas and happy tree decorating!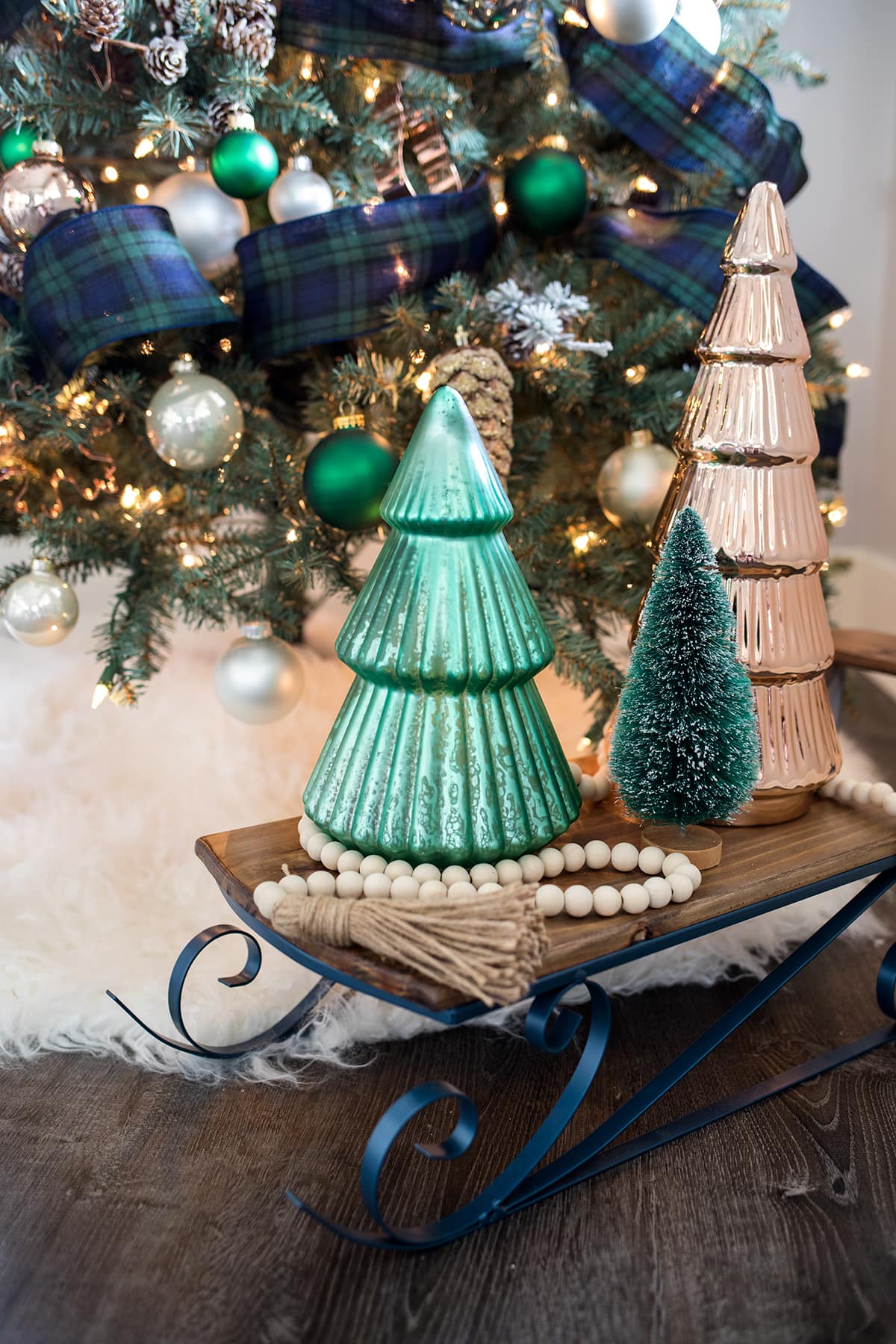 Shop this Post: Our Christmas Tree
While I couldn't find every piece, here are a few of our Christmas decor items and also some similar pieces to recreate the look:

Disclosure: Some of the links found in this post are affiliate links which means I will make a small commission if you chose to purchase any items from this post. I only link products that I feel you will love and can help you achieve a similar holiday look. I hope this post is a helpful resource for you!