What are your Mother's Day gift giving plans? How about a making jars of homemade rose & lavender body scrubs to gift to the mothers in your life? Last Sunday I had the honor of hosting a Mother's Day floral craft event at the Pasadena Anthropologie. What did we make? Homemade Sea Salt Floral Body Scrubs of course!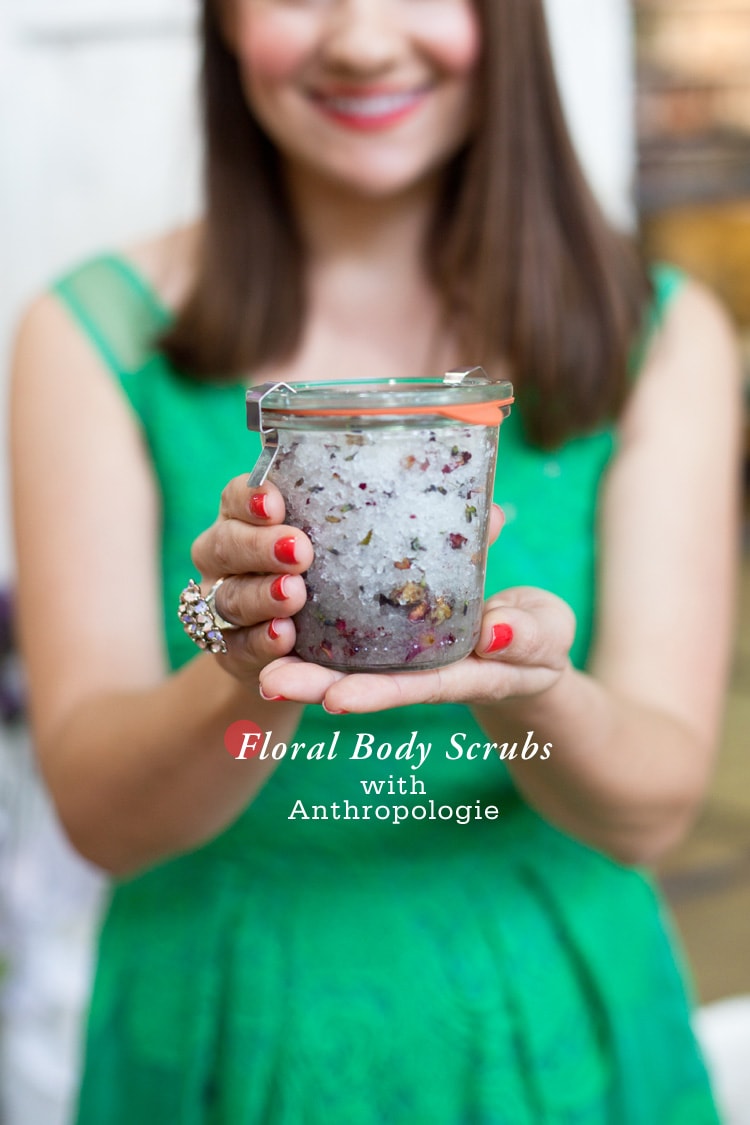 Let me start by saying that stepping into Anthropologie is pretty darn inspiring, let alone spending the afternoon crafting in store with a great group of ladies.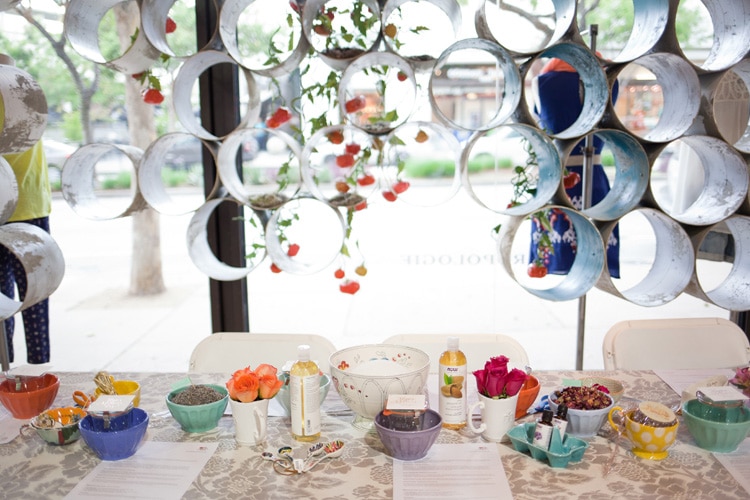 The tables were set with heaping bowls of dried flowers that we served up in latte bowls, essentials oils, small nosegays of roses and ranunculus and ribbon galore. It was a sensory overload of all things floral and let me tell you, these craft tables smelled heavenly.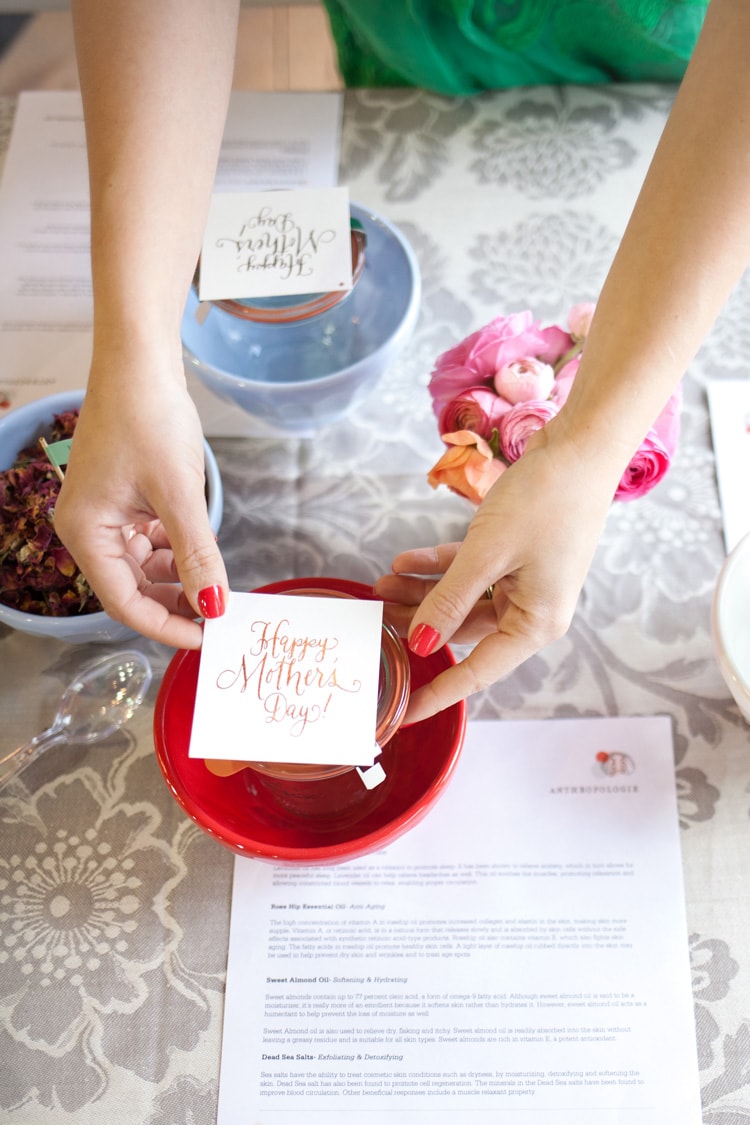 Laura Hooper Calligraphy graciously made our crafters the most gorgeous rose gold-foiled "Happy Mother's Day" tags to tie onto the scrub jars gifted to us by Weck. If you've ever used Weck jars, you will know just how beautiful they are and perfect for filling with homemade scrubs, jams, or any other homemade treats!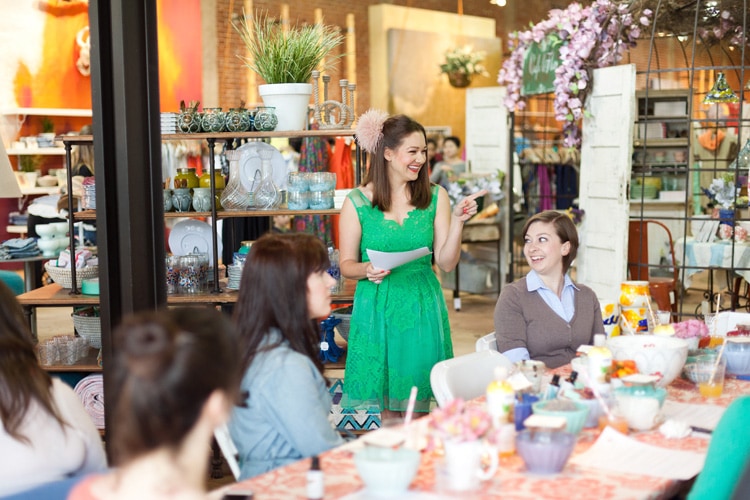 There was quite a bit of laughing...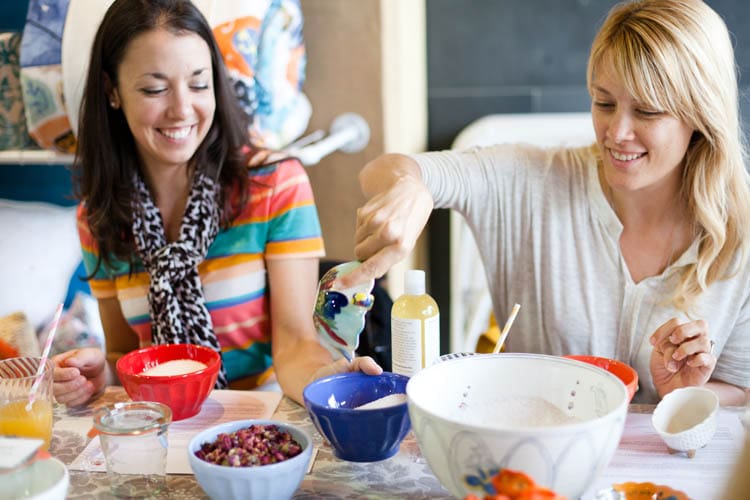 Pouring and mixing...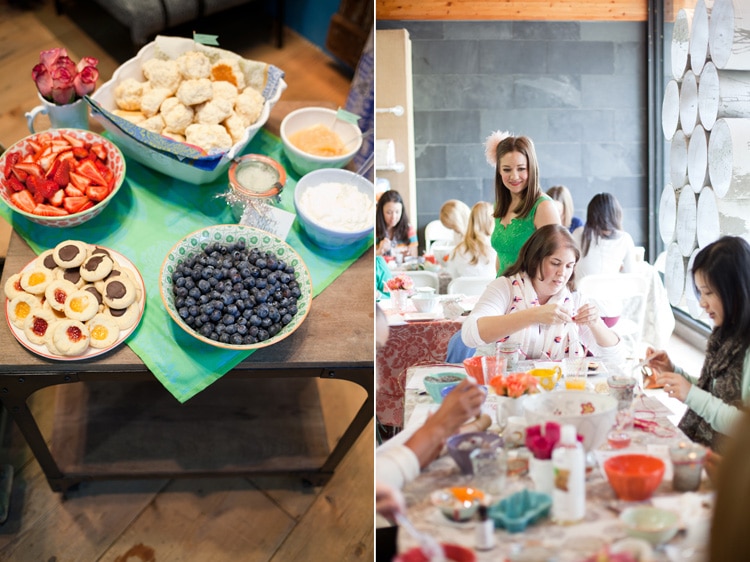 ...And snacking on scones with lemon jam, cream, berries and thumb print cookies.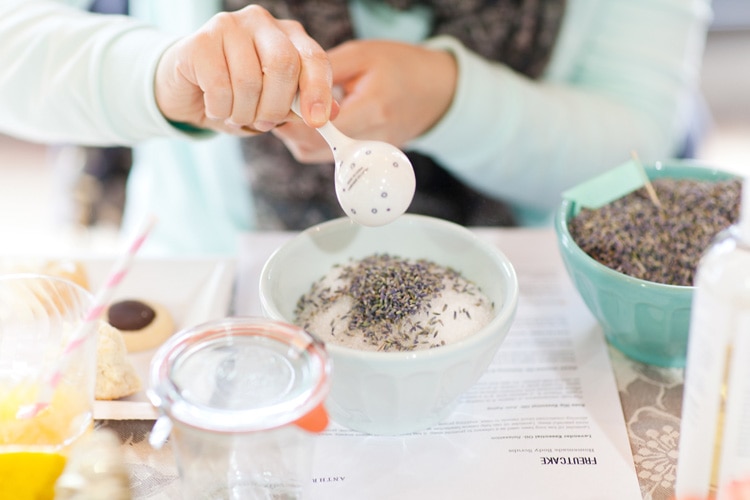 We made lavender scrubs and rose scrubs both flecked with dried petals and infused with essential oils. Although most everyone gave in and added a bit of both flowers!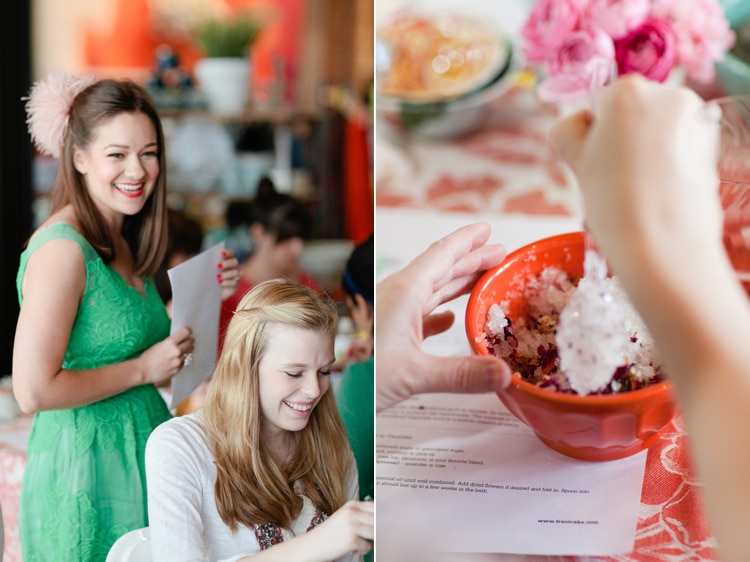 I absolutely loved meeting so many of you in person for the first time and seeing old friends as well.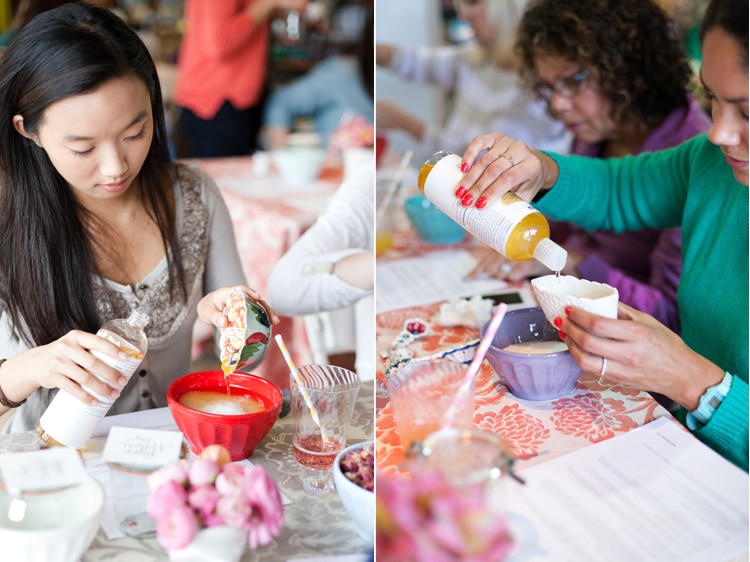 In the end, it was a perfect way to spend a Sunday morning celebrating our Mom's and mixing up such lovely and luxurious gifts for them.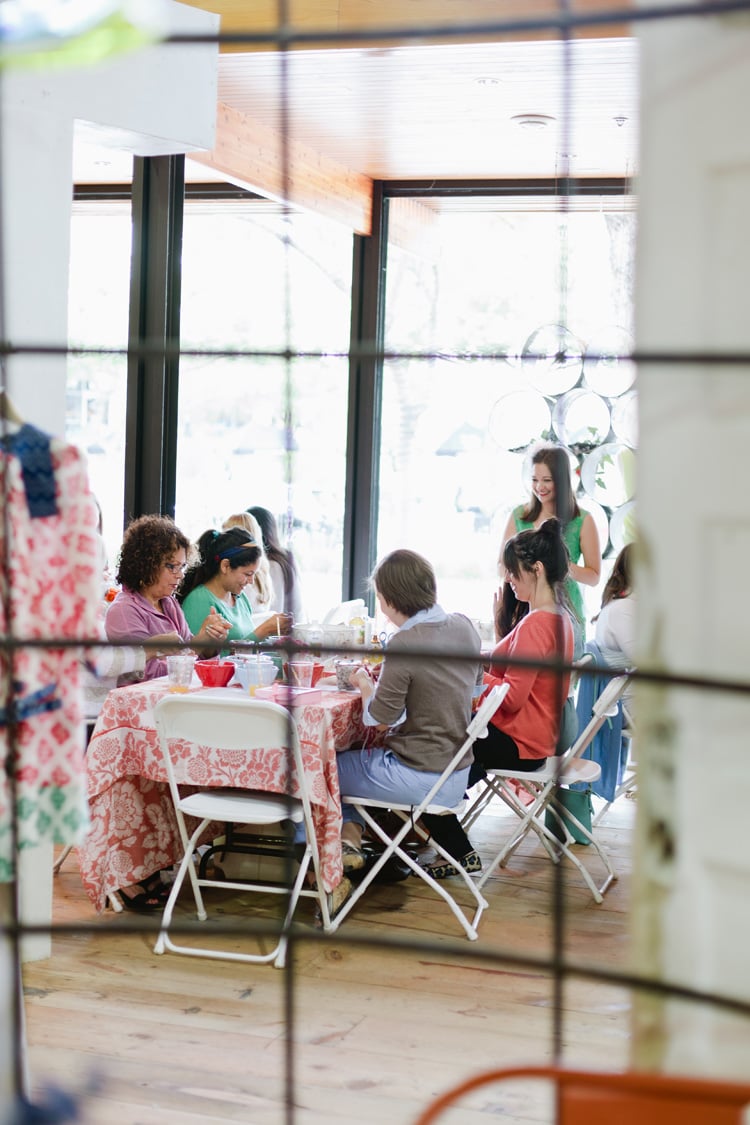 Thank you to everyone who attended and made this event so special.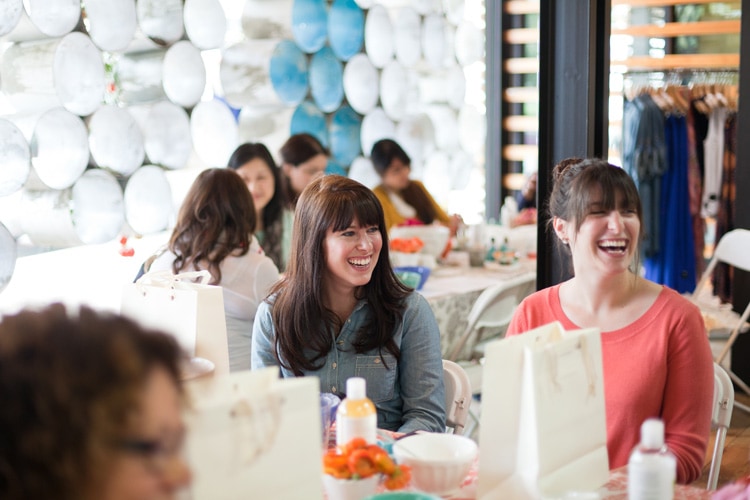 Including my own Mom (below) who just joined Instagram and was trying out her new skills at the event. Way to make your blogger daughter proud.
If you missed the event and would like to make these scrubs for yourself you can download my event handout right here. Also, I will be loading more photos from the event today on Facebook or you can check it out on Instagram under the hash tag #anthroevents.
Floral Body Scrub- recipe by Freutcake
1 Cup Sea salt
½ Cup Sweet Almond Oil
5-7 Drops Lavender or Rose Hip Seed Essential Oil
1 Tbsp. Dried Lavender or Rose
Weck Jars
Directions:
1. In a small bowl mix exfoliate, oil and essential oil until well combined.
2. Add dried flowers if desired and fold in.
3. Spoon into Weck jar or sealed container. Body scrub should last up to a few weeks in the bath.
Sources
LH Calligraphy, Mother's Day Gift Tags - available on Etsy
Weck 900 Jars - we used the ⅕ L Mold Jar, also available at Sur la Table & Poketo
Now Solutions. Sweet Almond Oil- Whole Foods or Amazon
Now Solutions, Lavender Essential Oil - Whole Foods or Amazon
Now Solutions, Rose Hip Seed Essential Oil - Whole Foods or Amazon
San Francisco Salt Company, Dead Sea Salt
Culinary French Lavender - Amazon
Culinary Rosebuds & Petals - Amazon
Wearing
CloverLace Dress- Anthropologie