When my girlfriend Annette of A Vintage Splendor asked if I would like to come over for a little Galentine's Day Dessert & Champagne Party, I asked, what time?! You know she got me with dessert and champagne, right?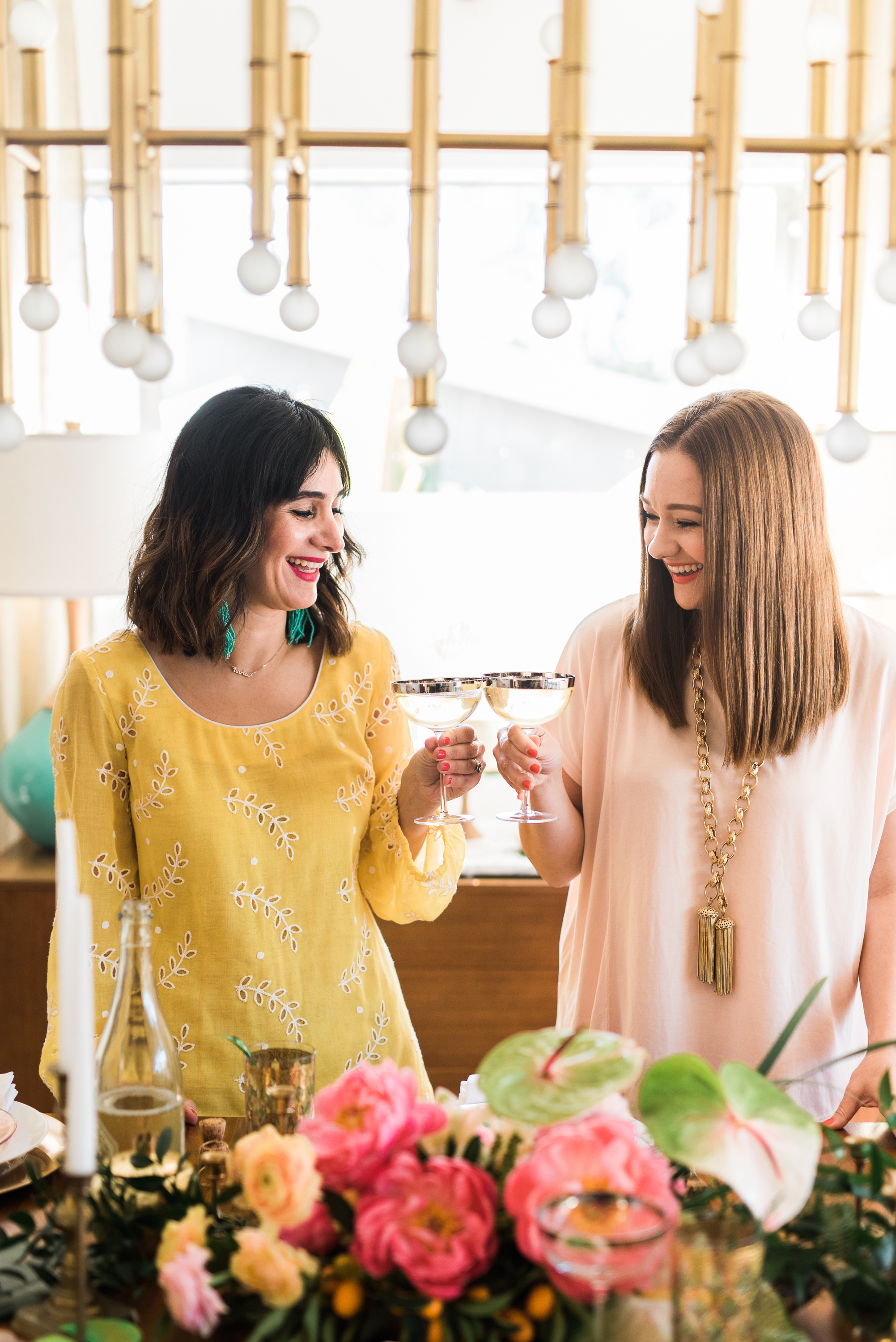 Unlike some Valentine's day cynics, I absolutely love celebrating v-day. It's fun and lighthearted, usually filled with sweets, and a really good excuse to wear red pants and a pink shirt. Basically, I'm all about it. So off I went to the party with my contribution, a couple dozen Strawberry Cupcakes with Champagne Buttercream.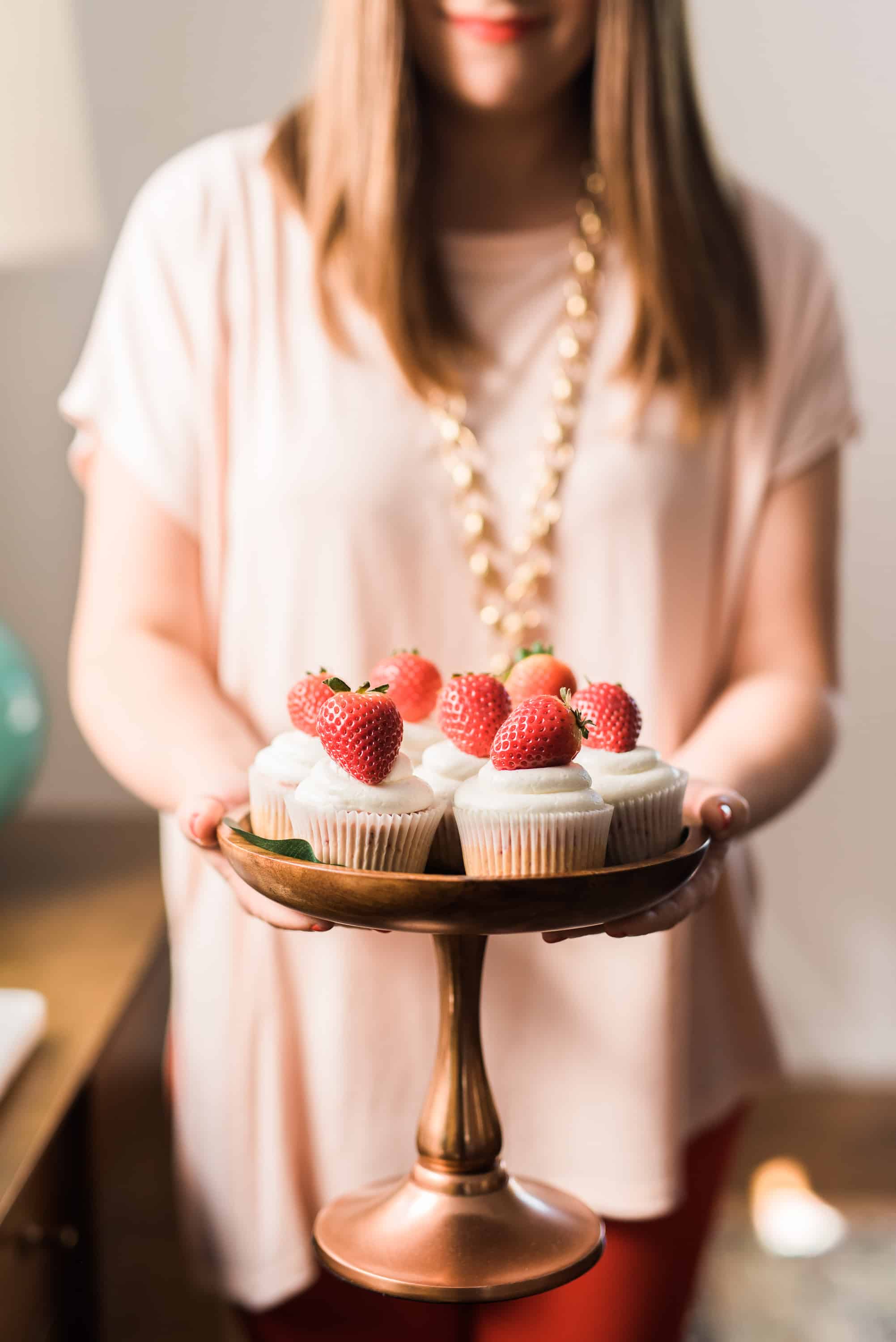 These cupcakes are Valentine's Day ready with their classic flavor combination of strawberries and champagne. The cake recipe is an old Martha Stewart favorite and the frosting is from my friend Courtney of Pizzazzerie. Girlfriend knows a thing or two about Frostings. For an easy finishing touch I topped half of the cupcakes with fresh strawberries and the other half with champagne gummy bears. Oh Sugar, Sugar!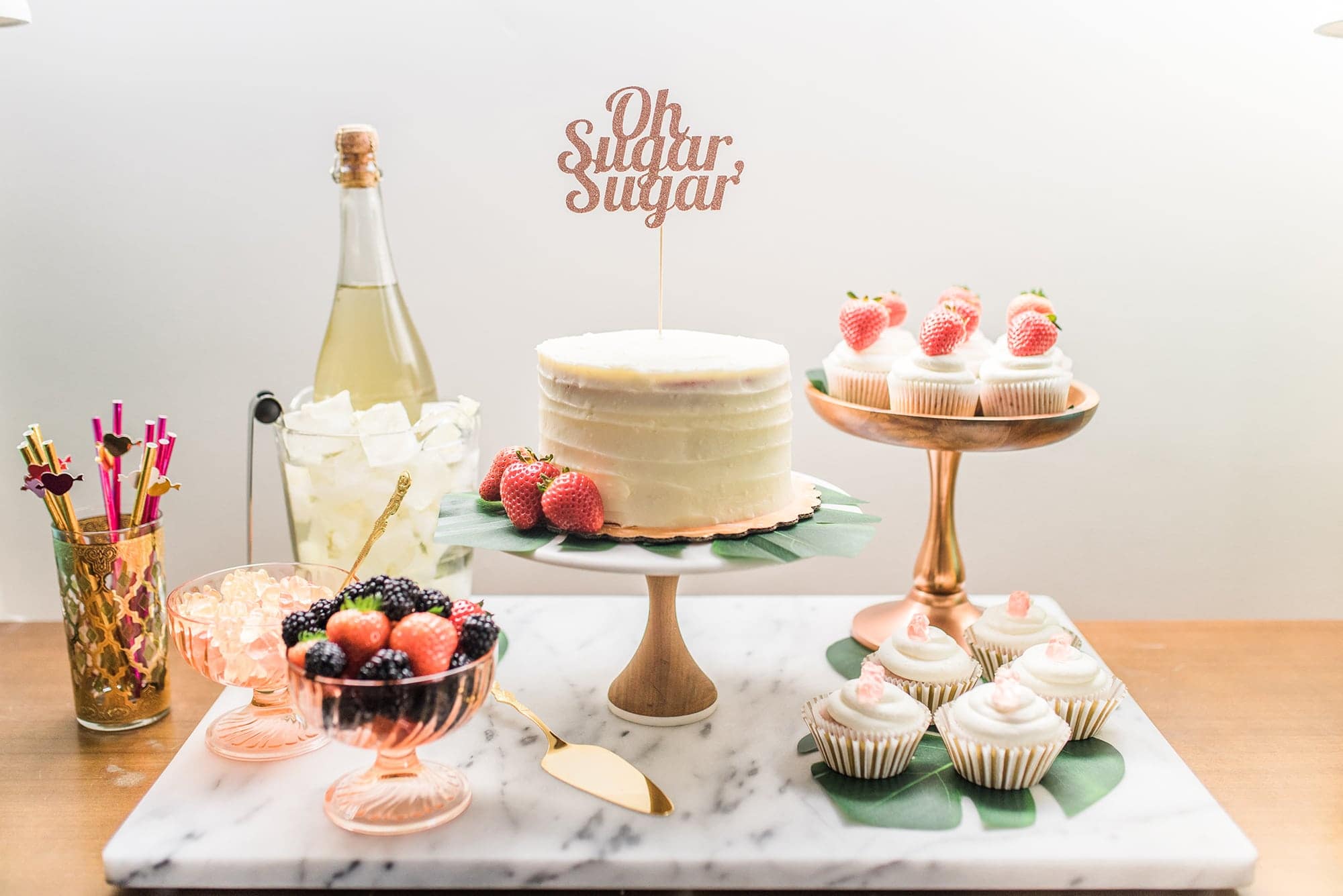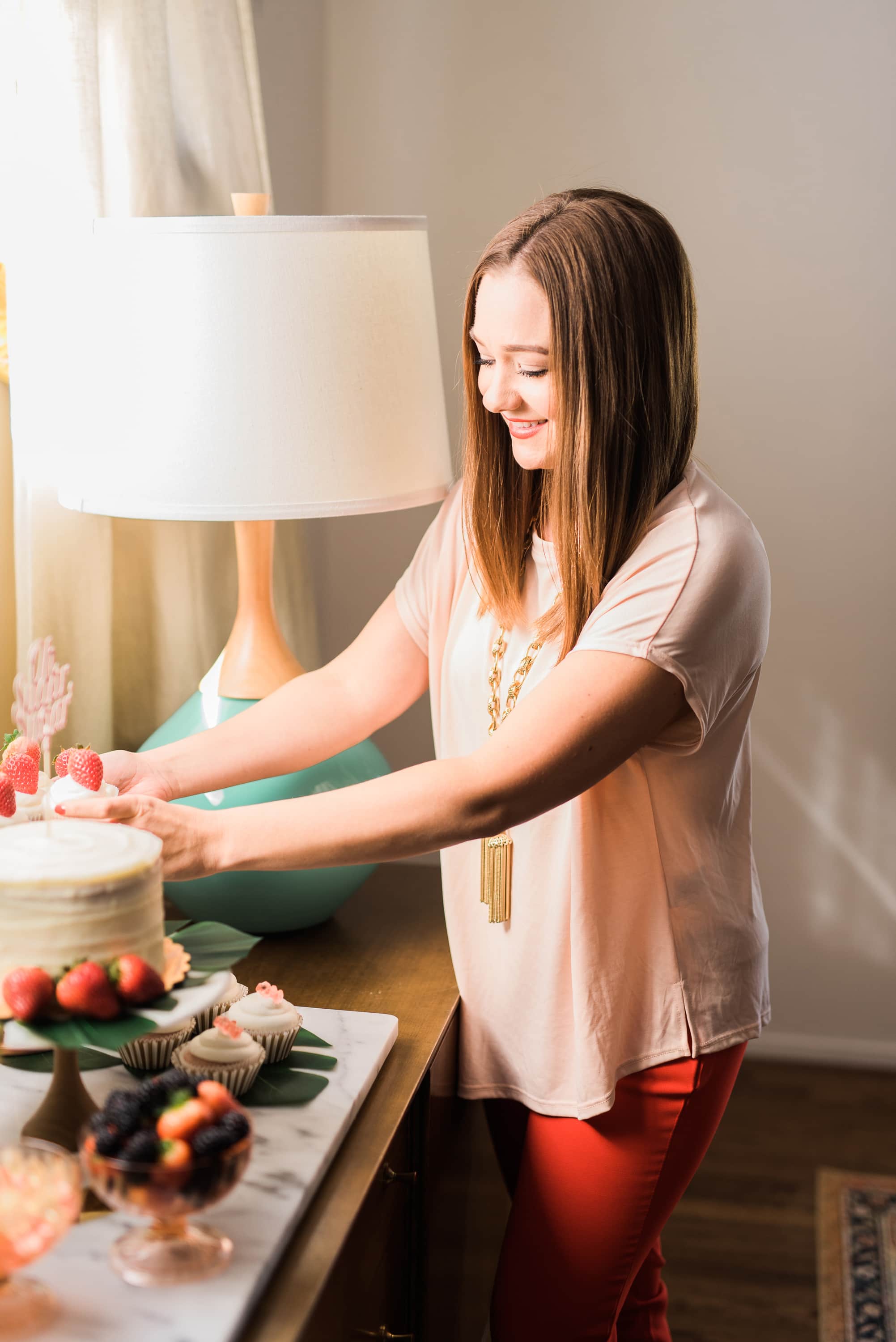 Annette ordered red velvet cake as well for the dessert table and we set out little bowls of fresh berries and more champagne gummy bears for snacking on or popping in glasses of bubbly. The champagne was well chilled and there were bottles a-plenty which equaled a perfectly fun time spent with the gals.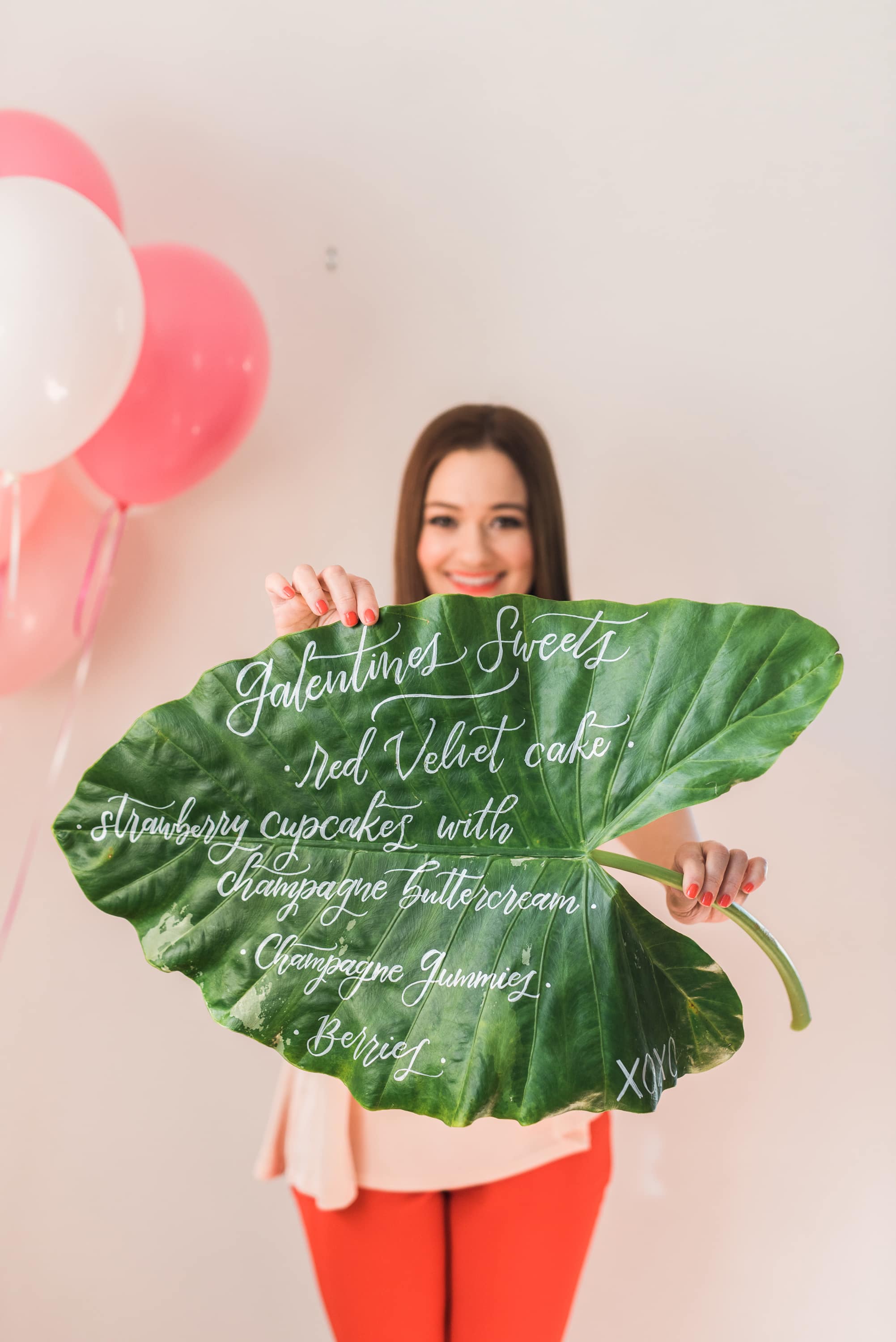 Our friend Charmain of Emblem Flowers created THE MOST STUNNING floral arrangements and Jody of My Baby Olive Juice worked her calligraphy magic creating a beautiful dessert menu out of a live Monstera leaf plus place cards for the table. Make sure to stop by Annette's blog today to see how the entire table and party turned out! She'll be sharing lots more photos by our friend Sadaf of the flowers, table, and bar cart. Hooray!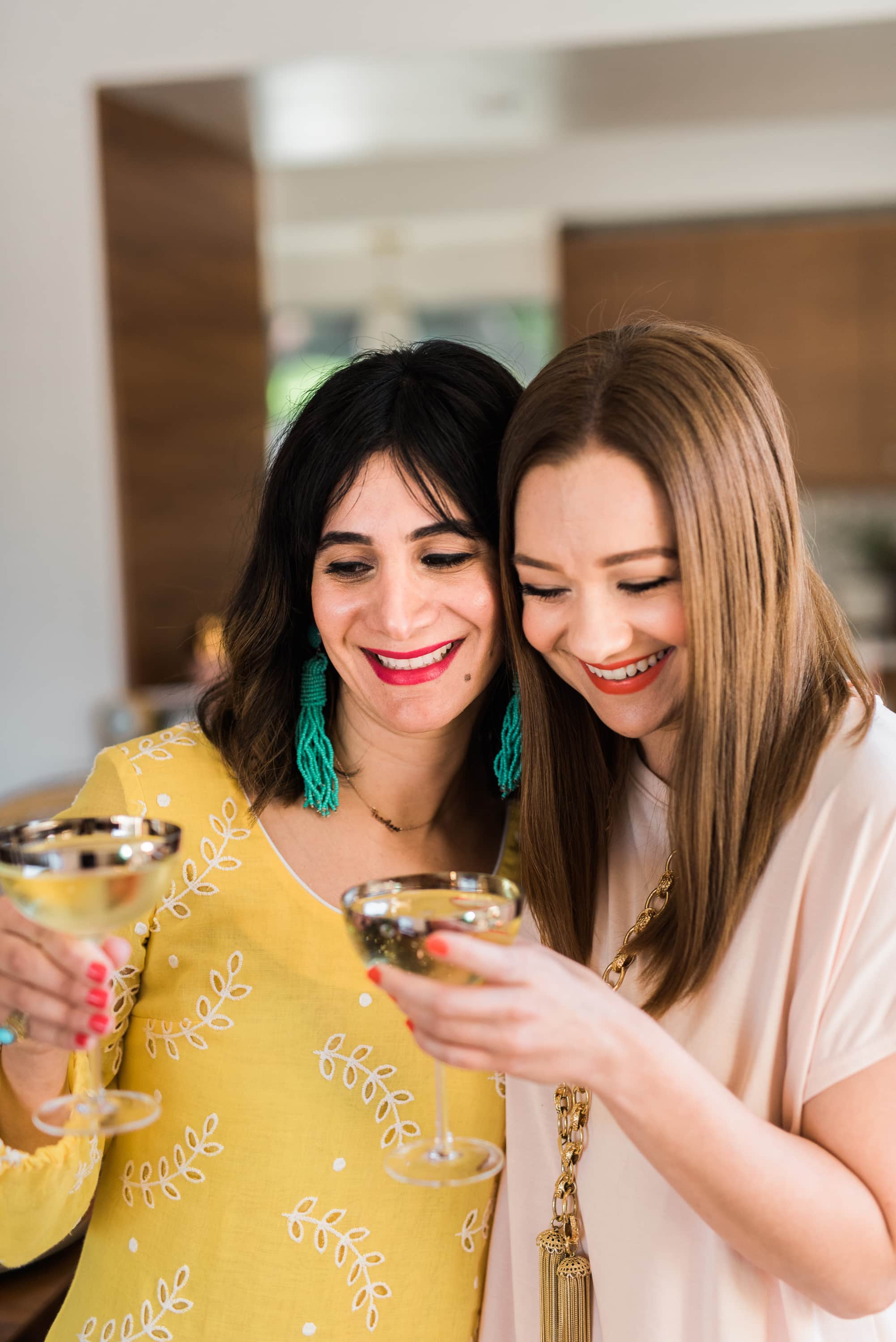 So, if you are still figuring out your Valentine's Day plans, why not throw an impromptu Galentine's Day Dessert & Champagne Party with Strawberry Champagne Cupcakes? It doesn't take much, just a few bottles of bubbly and some boozy cupcakes to make the day extra special for your gal-pals. Happy Valentine's Day!
Hostess: A Vintage Splendor
Photos: Sadaf Murad Photography
Flowers: Emblem Flowers
Calligraphy: My Baby Olive Juice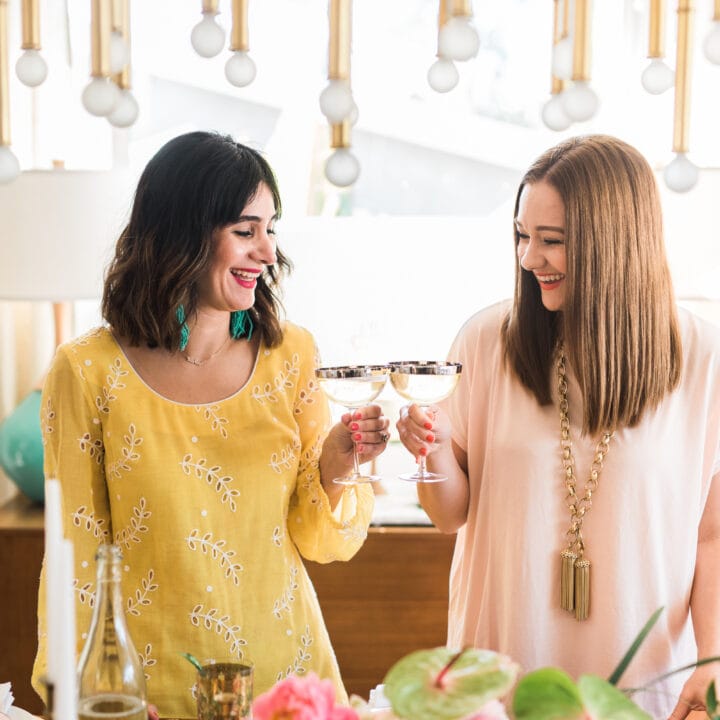 Strawberry Cupcakes with Champagne Buttercream Frosting
Fresh strawberry cupcakes with a boozy champagne buttercream
Ingredients
1 ½ cups all-purpose flour, plus more for pans
1 ½ cups cake flour (not self-rising)
1 tablespoon baking powder
1 teaspoon salt
1 cup (2 sticks) unsalted butter, room temperature, plus more for pans
1 ¾ cups sugar, plus more for sprinkling fruit
4 large eggs
2 teaspoons pure vanilla extract
1 ¼ cups whole milk
10 ounces strawberries, hulled and cut into small dice, plus more for garnish
Champagne Buttercream:
½ cup (1 stick) butter, softened
4 cups powdered sugar
6 tablespoons champagne + more if needed
Instructions
Preheat oven to 350 degrees. Line 2 ½ standard 12-cup cupcake pans with paper liners; set aside.
Into a medium bowl, sift together flours, baking powder, and salt; set aside.
In the bowl of an electric mixer fitted with the paddle attachment, beat the butter and sugar until light and fluffy, 3 to 4 minutes, scraping down the sides of the bowl as needed. Beat in eggs, one at a time, and then beat in vanilla. With the mixer on low speed, add the flour mixture in three parts, alternating with the milk and beginning and ending with the flour; beat until combined after each addition. Fold in strawberries.
Divide the batter evenly among the prepared cups so that each is about two-thirds full, about 2 ounces each. Bake, rotating the pans halfway through, until the cupcakes are golden brown and a cake tester inserted in the centers comes out clean, about 20 minutes. Transfer pans to a wire rack to cool for 5 minutes. Remove cupcakes from pan and cool completely on wire racks.
While the cupcakes cool, make the Champagne Buttercream. In a mixing bowl fitted with the paddle attachment, cream butter until light and fluffy. Slowly add powdered sugar, 1 cup at a time, incorporating after each addition. Add champagne and beat for 2 minutes on medium, until light and fluffy. You may want to add a bit more champagne if the frosting is too stiff. I added about 2 Tablespoons more.
Pipe ¼ cup of frosting on top of each cupcake. Garnish with small whole strawberries or champagne gummy bears.
Save
Save
Save
Save
Save
Save
Save
Save
Save
Save