It's hard to believe that the twins, who I still refer to as my newborn babies, are already 4 ½ almost 5 months old! Excuse me while I shed a tear or two, or three. Anywhoo, as a new Mom I had and still have no clue what to expect from the next stage, what essentials I'll need, what toys they will love or hate, etc. But I can give a little advise for any of you who are soon to be Moms of newbies. Here are my very favorite essential baby products for that sweet age of 0-3 months and why I love them.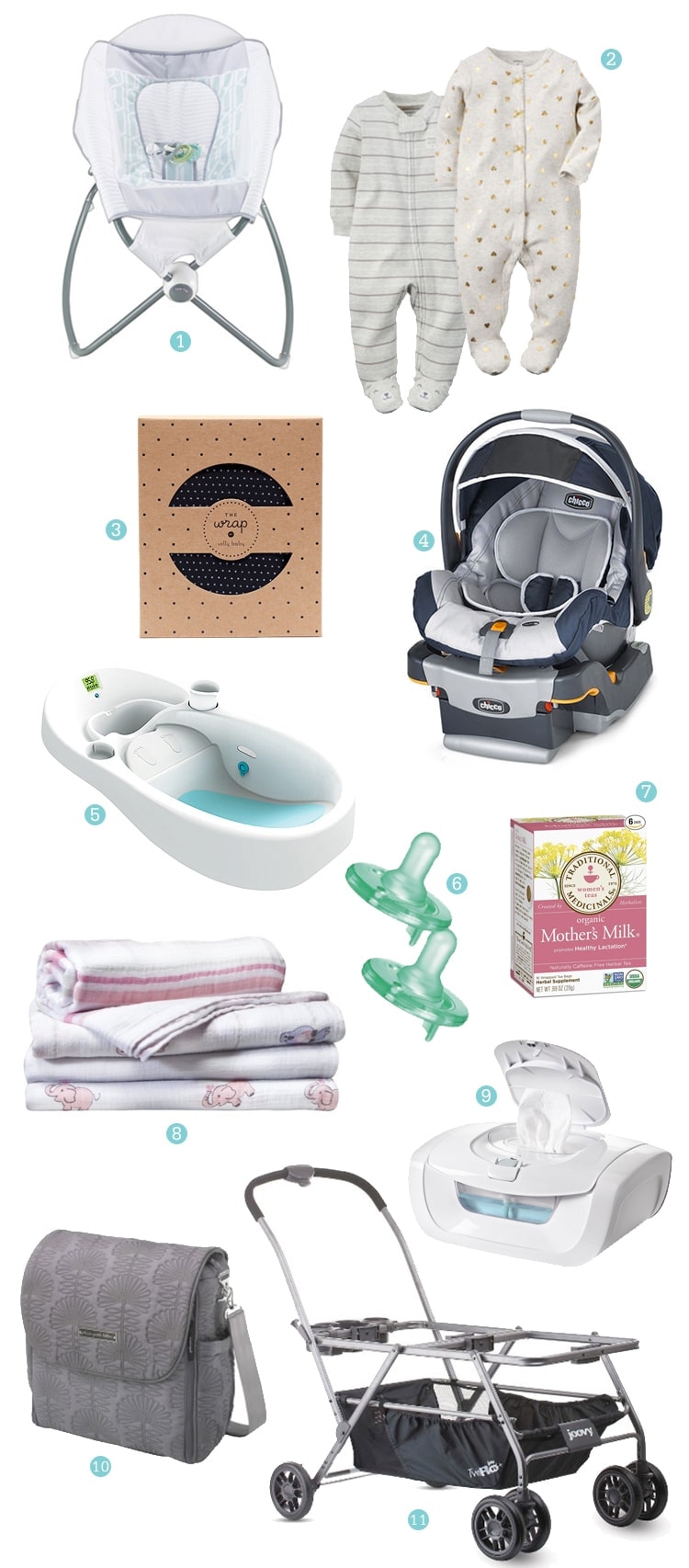 Fisher-Price Newborn Auto Rock n' Play Sleeper
Why I love it: Because my babies actually sleep in this thing! A few of my girlfriends recommended this product to me after their babies slept so well in it during the first few weeks home. My twins HATED their bassinets in the beginning so we tried putting in their sleepers instead and it worked like a charm! The cradle shape must be comforting for small babies because they go right to sleep in them. Plus these sleepers are light weight enough to carry around the house with you while you do dishes, take a shower, or just move from room to room.
Footed One-Piece Outfits
Why I love them: I rarely even bothered with anything but one-piece outfits when the babies were first home. These footie onsies are cozy and warm and easy to get tiny babies in and out of. Don't even bother with seperates at this point unless you enjoy trying to shimmy tiny little legs into skinny pants! one, two, three
Solly Wrap
Why I love it: While I don't always get to wear my babies in a wrap (it's a bit harder with twins), I do love the feeling of having one of my babies close. Jackson especially loved being in the Solly Wrap with me when he was little and would fall right to sleep as I walked around the house. I have this one but this one is super cute for spring!
Chicco KeyFit® 30 Infant Car Seat
Why I love it: Aside from receiving excellent safety ratings and great reviews from other Moms; I love how easy these seats are to snap in and out of the car and stroller. Also, the removable newborn insert is perfect for my tiny babies.
4moms® Infant Tub™
Why I love it: Again, this was a product that was highly recommended to me by my Mom friends. At first I didn't love this tub because it was rather large for my small 6 lb babies. However as they have grown I like this tub more and more. I love that it keeps circulating fresh, warm water into the bath and draining out the dirty water as you wash your baby. Also, the tub notifies you if the water is too hot or too cold for baby.
Soothie Pacifiers
Why I love them: Both of my babies came home from the NICU with pacis and love these Soothies! I'm actually a wee bit sad that they have already weened themselves off of them. There is something so adorable about a baby and his paci.
Mother's Milk Tea
Why I love it: I drank this tea right after my C-Section in the hospital to help my milk come in and I still drink it to keep my supply up for the twins. Now I drink a cup every night and it really works! I also love the new Mother's Milk Shatavari Cardamom Tea which I found at Whole Foods.
Swaddling Blankets
Why I love them: Because I use them for everything from swaddling the twins when they were little, to nursing covers, blankets, and car seat privacy covers. one, two, three
Munchkin Mist™ Wipe Warmer
Why I love it: Because it keeps wipes from drying out in the warmer. Genius!

Diaper Bags
Why I love it: Because it's stylish and doesn't look like a diaper bag. Plus it's a backpack so you have your arms free to carry babies. I have this one by Petunia Pickle Bottom but I also have this twin diaper bag by Skip Hop that we use use if we need to bring along a full day's worth of supplies.
Joovy Twin Roo
Why I love it: Because our car seats snap right into the frame. Also the stroller folds up and pops open very easily.
Other essentials must haves include: these hats, these nursing pads, and this hospital grade breast pump which I rent from our hospital. Oh, baby! I love newborns.