Looking for a creepy cocktail to serve this Halloween? My Halloween Old Fashioned Cocktail is the perfect strong and spooky drink especially when topped with dry ice.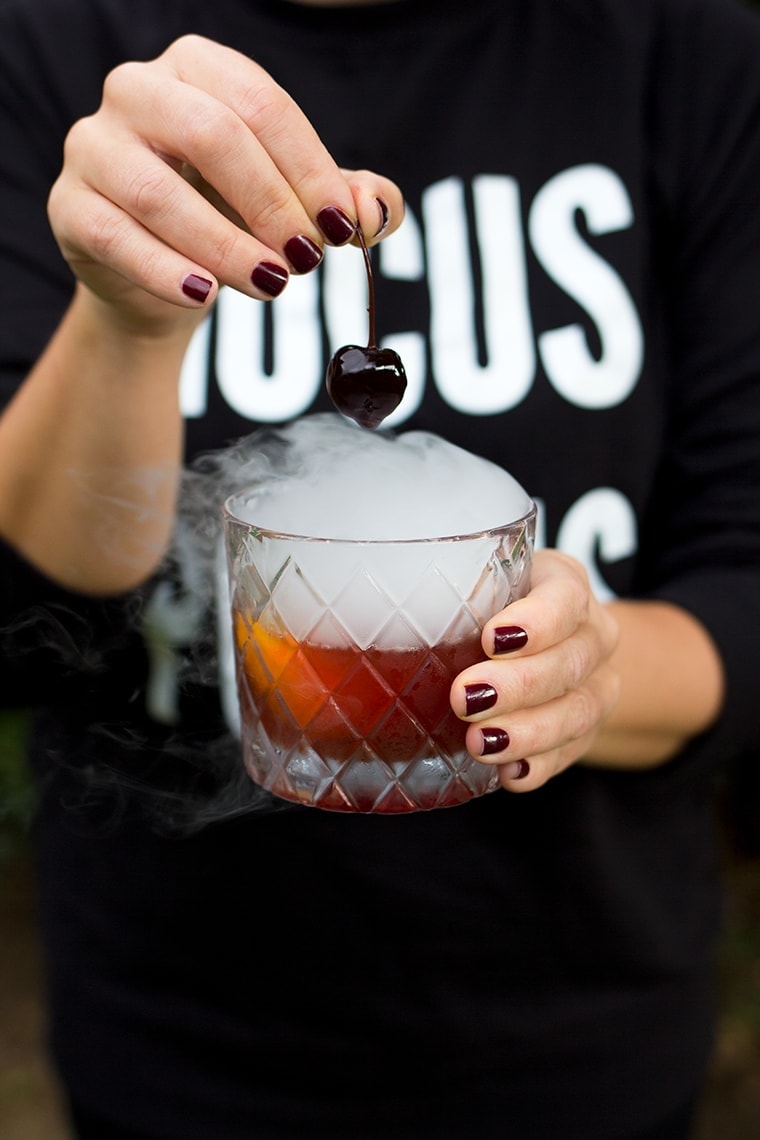 Classic Old Fashioned Cocktail
Fellow Old Fashioned lovers, this cocktail is for you! A classic Old Fashioned is comprised of Bourbon or Rye, a sugar cube and a couple of dashes of bitters garnished with a twist of lemon or orange. Personally I like a sweeter version where a cherry and orange twist are both muddled in. I blame my girlfriend Celeste for getting me completely hooked on this cocktail as she makes the best version I've ever tasted! Her version has orange bitters, a squeeze of orange juice and lots of muddled cherry. It's so flavorful, you definitely forget how strong this cocktail is.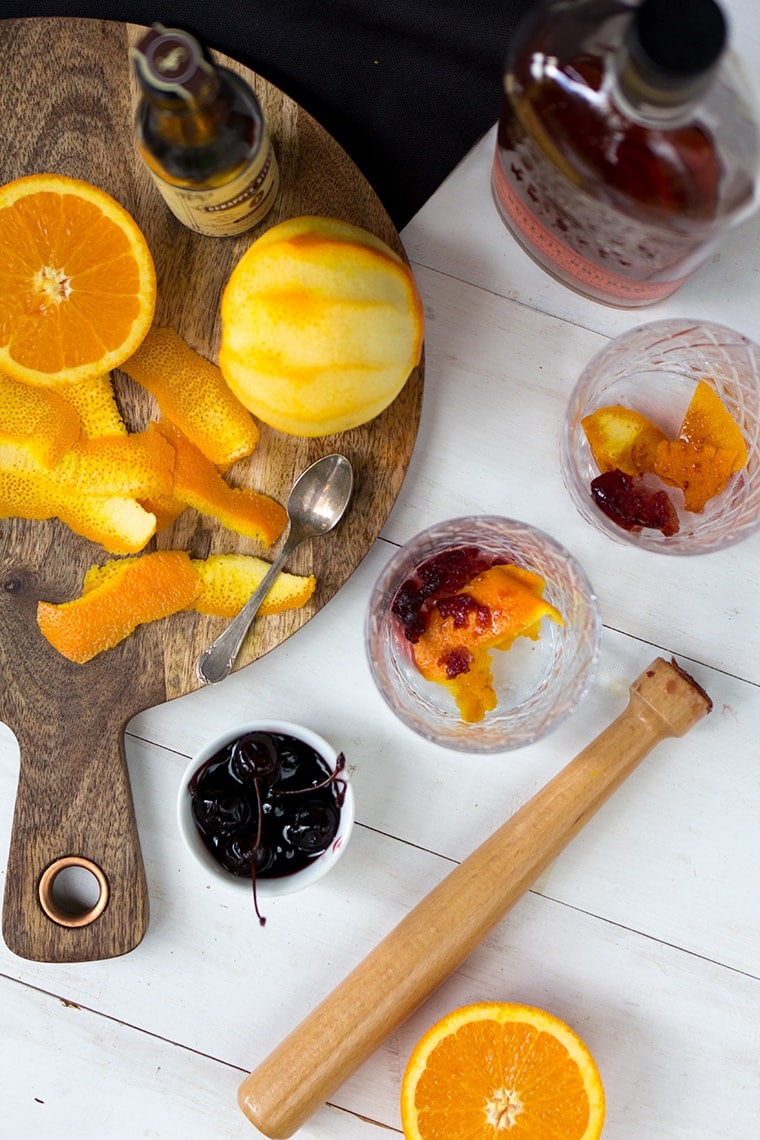 Halloween Old Fashioned Cocktail
For my Halloween Old Fashioned Cocktail, I put a chocolate twist Celeste's sweet and fruity Old Fashioned. Chocolate Bitters, cherry syrup, orange juice, simple syrup and bourbon plus a little chunk of dry ice for effect. The dry ice chills down your cocktail so quickly and gives billowy fluffs of festive white smoke. It really is the coolest effect!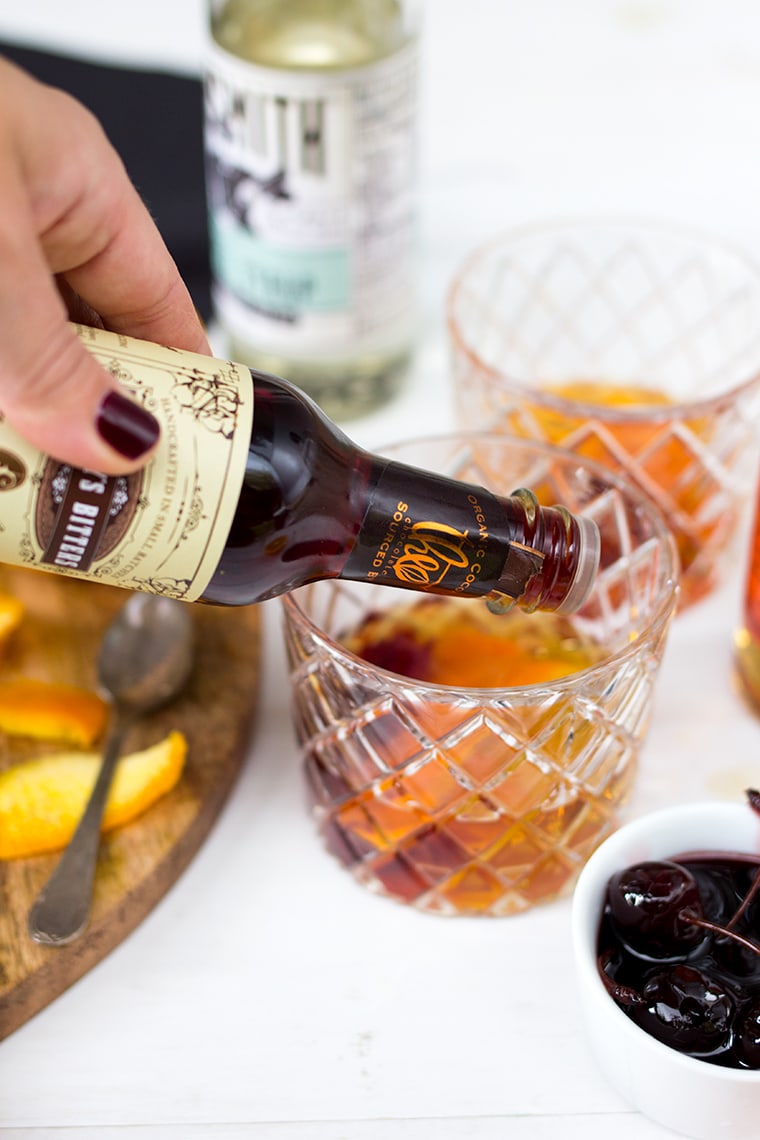 How to Make an Old Fashioned
Here's how to make an Old Fashioned, Halloween style! First, muddle a couple of orange slices and a cherry in the bottom of a heavy tumbler. Let's quickly talk cherries while we're at it! Bright red maraschinos just won't do for this drink. If you have a Trader Joe's near by, their Pitted Amarena Cherries in syrup are delicious! Or, you can find Luxardo Cherries at most BevMo locations or on Amazon! Next, add in a couple dashes of chocolate bitters. I like Scrappy Chocolate Bitters because it tastes like really high quality unsweetened dark chocolate.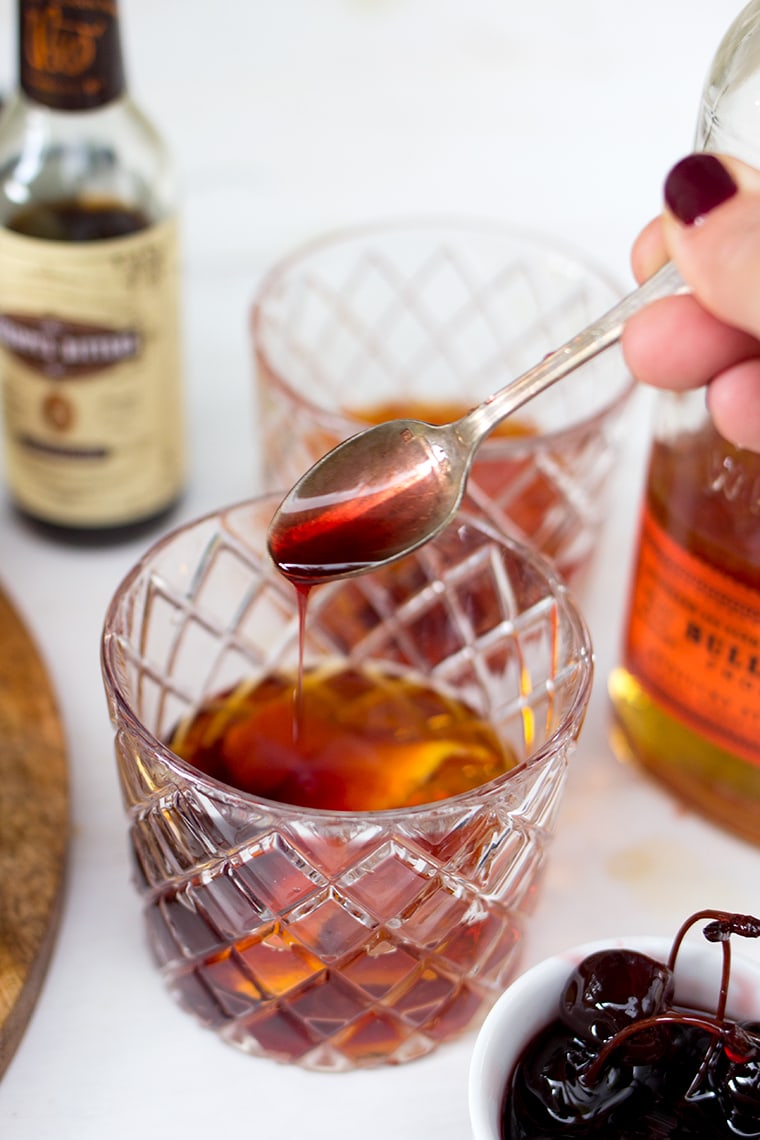 Next, in no particular order I add in a drizzle of the cherry syrup, a squeeze of orange juice and if you prefer a little bit of simple syrup.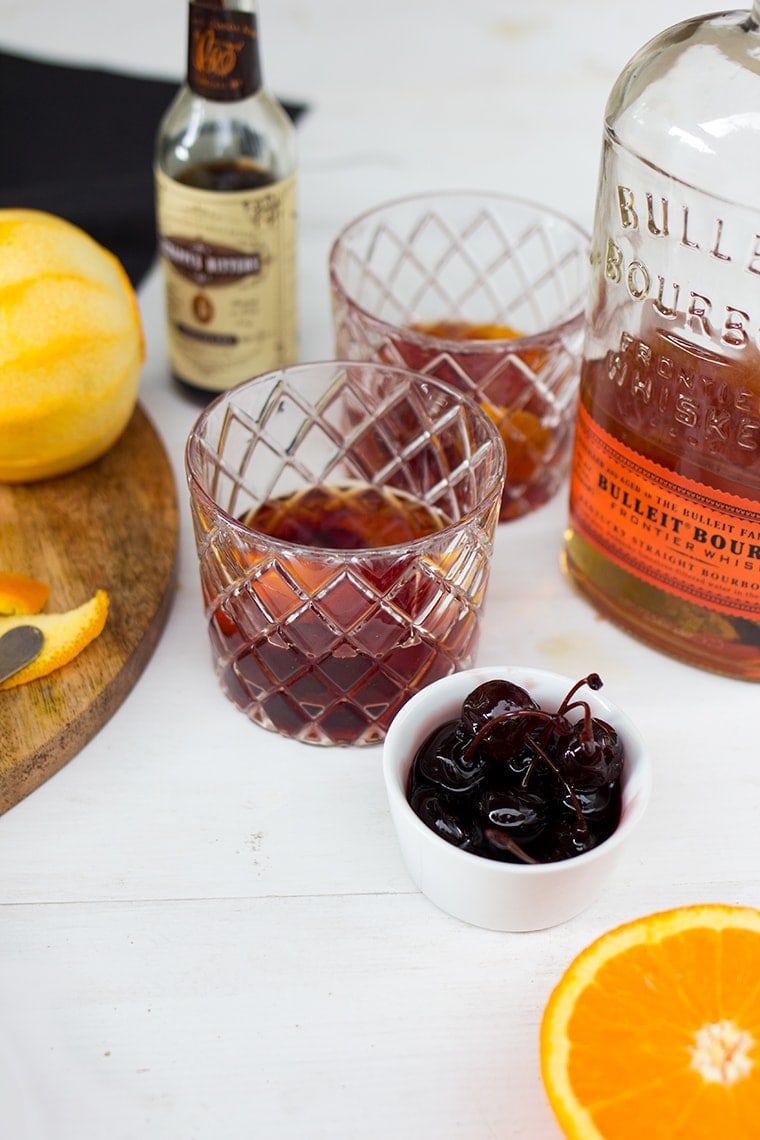 Oh, and don't forget the Bourbon! I like Bulleit Bourbon for this drink but you can use whatever Bourbon or Rye you like best. Next chill it all down with a big cube of ice and stir to mix the cocktail together. You want your ice to melt down just a bit and add water to the drink. This is why I still add ice even though we will be topping it with dry ice later.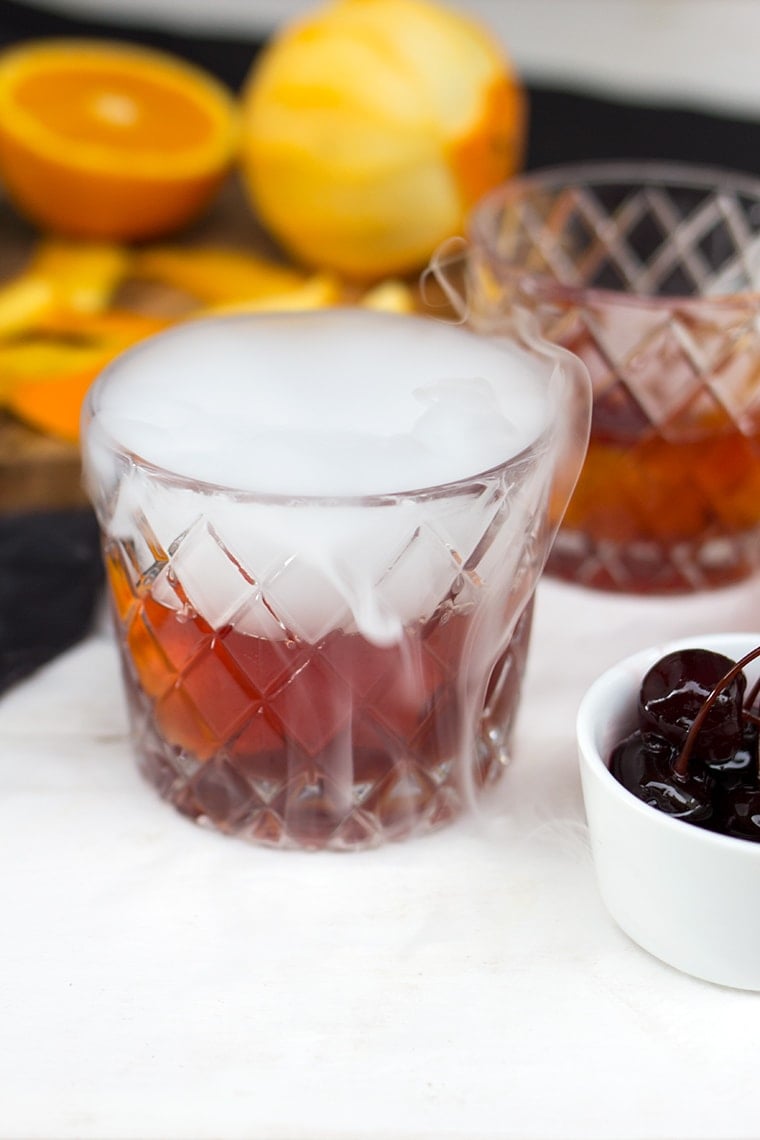 Dry Ice Halloween Cocktails
Dry Ice Halloween Cocktails really are the coolest ever, am I right? Dry Ice is actually pretty reasonably priced and easy to find if you have an ice company near by. Search your local area for ice suppliers and you can purchase it by the pound. Just make sure to buy it right before you plan to use it and keep it in a cooler. It will melt (and by melt I mean turn to gas and disappear) very quickly! Also, make sure to wear protective gloves when handling dry ice. We used a hammer to break our dry ice up into small chunks right in the bottom of the cooler then used a metal spoon to drop small pieces into the cocktail glasses. Never handle dry ice with your hands as it will burn you! Now, let's mix some cocktails. Happy Halloween!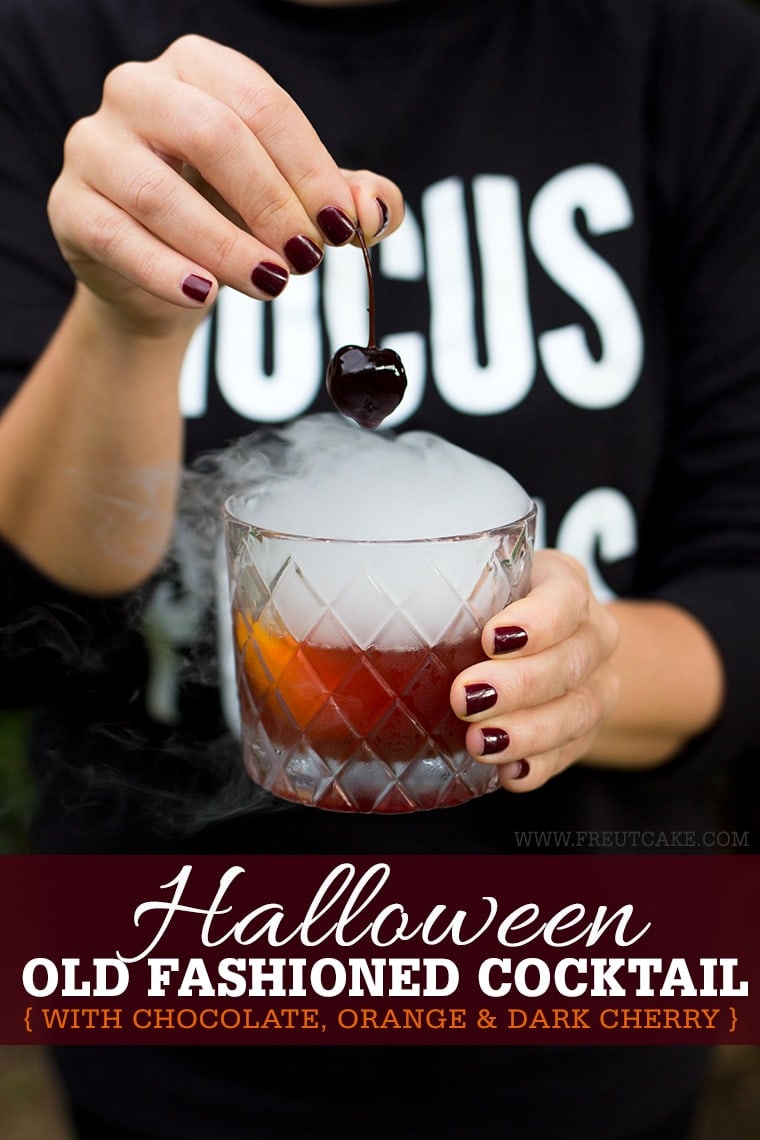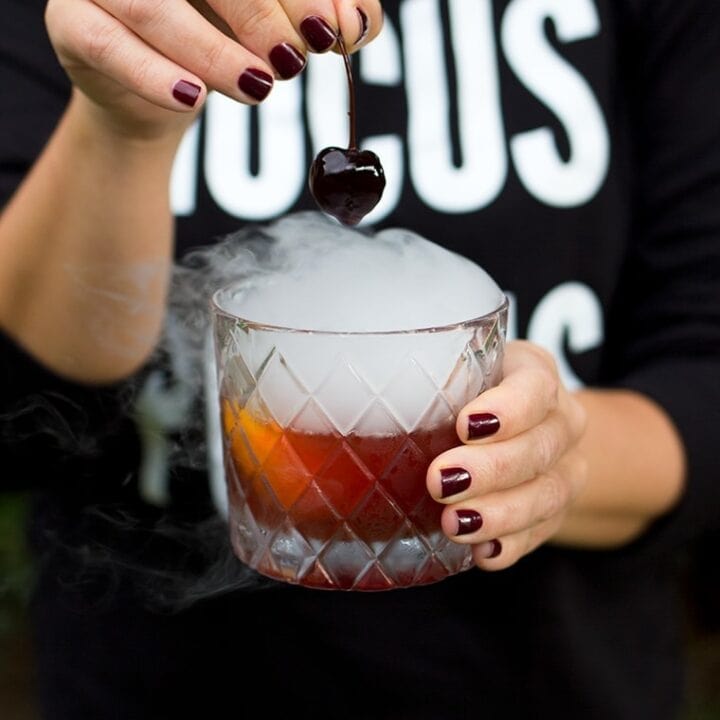 Halloween Old Fashioned Cocktail
A chocolate, orange and cherry Old Fashioned perfect for Halloween!
Ingredients
2 ounces Bourbon
2 strips of orange peel
squeeze of fresh orange juice
1 teaspoon cherry syrup (from cherries)
½ ounce simple syrup, optional
large ice cube
dry ice
Instructions
In a heavy tumbler, muddle together orange peel and cherry.
Add in bourbon, chocolate bitters, squeeze of orange juice, cherry syrup and simple syrup.
Stir to combine and add one large ice cube. Stir to melt slightly and chill drink.
Carefully drop in a small chunk of dry ice using a metal spoon.
Garnish with additional cherry or orange zest if desired.
Serve immediately