If you love spicy cocktails, this smoked Rosemary Paloma will be your new obsession. Spicy jalapeño and rosemary simple syrup, tequila, grapefruit juice and grapefruit soda make a killer combination for Halloween. Burnt Rosemary gives a smokey finish to this drink.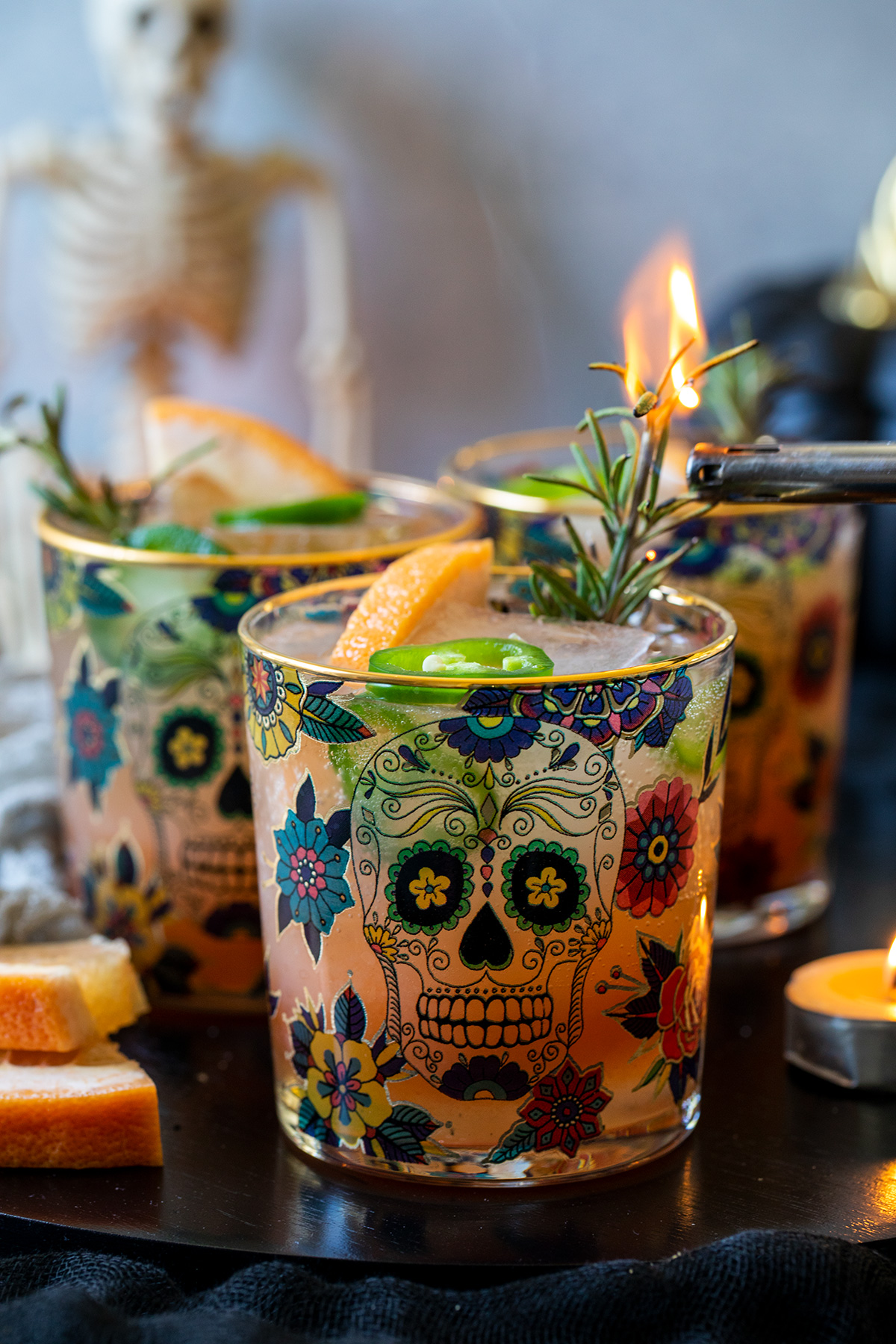 Spicy Smoked Rosemary Paloma
When it comes to making cocktails, I love the flavors of jalapeño and tequila together. In fact my Spicy Margarita is one of my favorite drinks to make anytime I have a margarita craving. Palomas on the other hand are such a tasty and refreshing tequila cocktail and I'm spicing things up with this smokey version.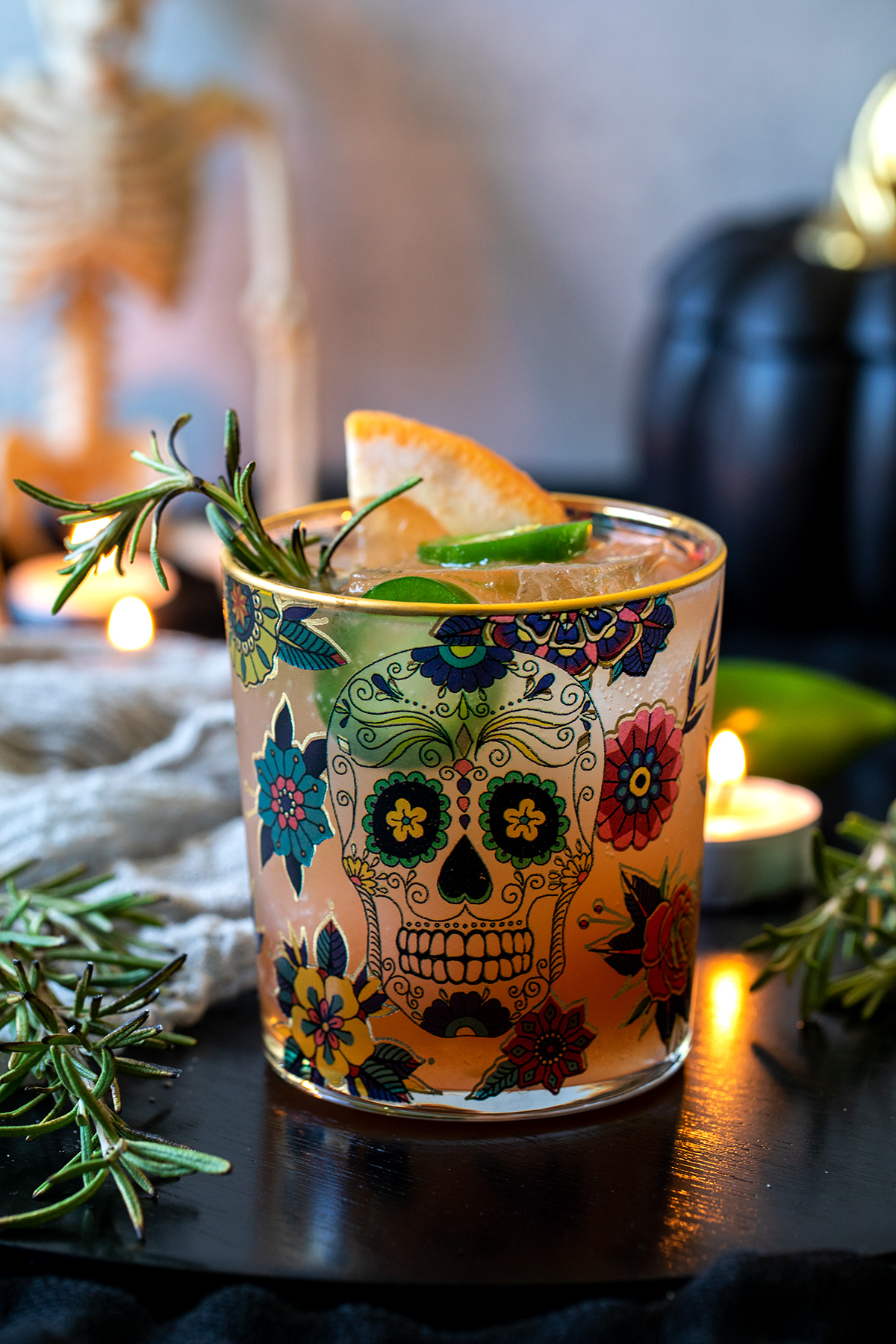 Ingredients in a Spicy Rosemary Paloma
Tequila - I recommend using Reposado Tequila for this drink. You can also substitute Mezcal if you like even more smokey flavor!
Grapefruit Juice - You can find ruby red grapefruit juice at most grocery stores.
Grapefruit soda - This is classic in a Paloma to give a slight bubbly finish to the drink.
Jalapeño Rosemary Syrup - recipe card at the end of the post!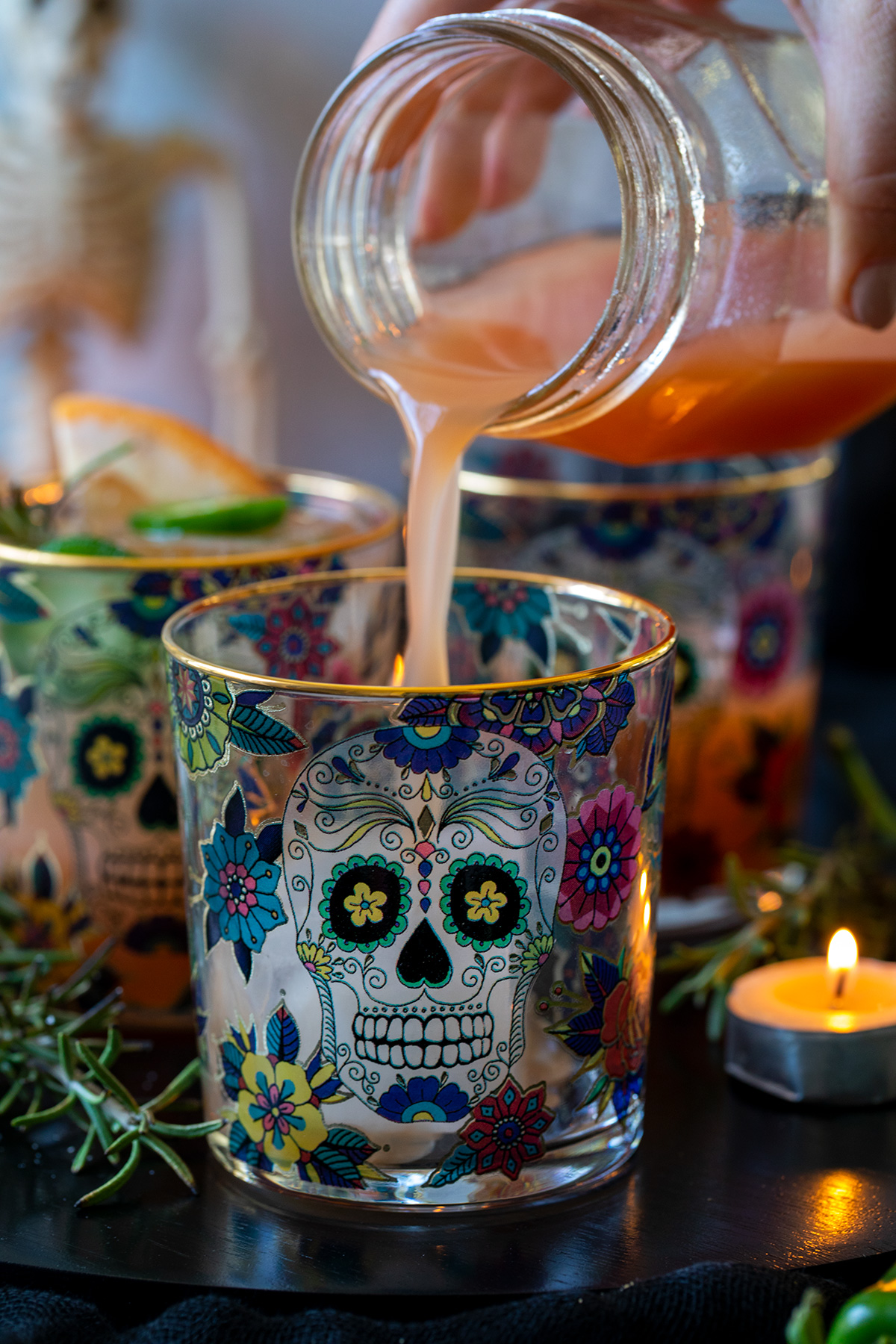 How to Make a Paloma
In a glass filled with ice, add tequila, simple syrup, and grapefruit juice.
Give it all a stir and top with a splash of grapefruit soda.
Garnish with slices of jalapeño and a sprig of fresh rosemary.
Just before serving, light the tip of the rosemary garnish on fire for a smokey finish. This is optional but it's a fun final touch.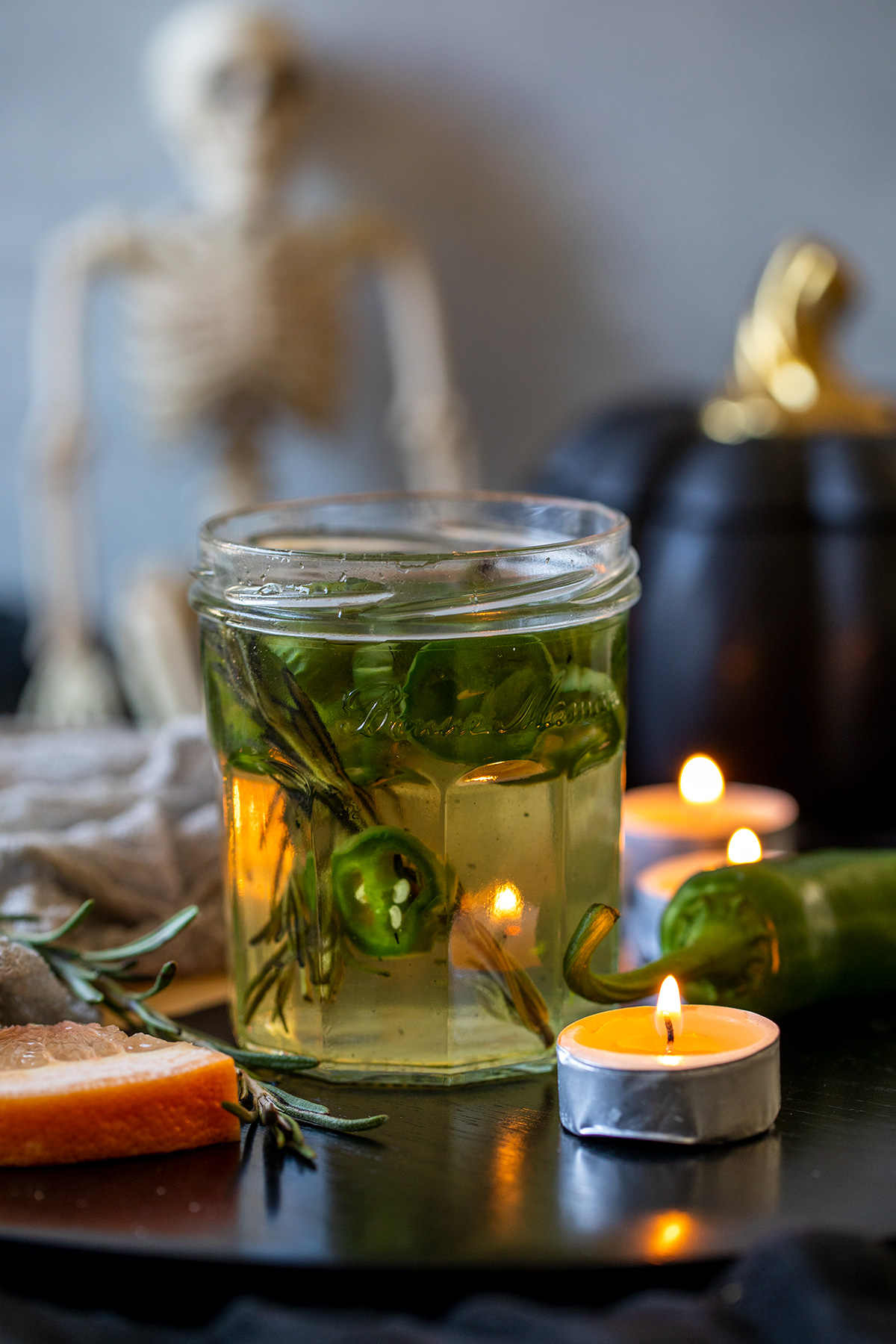 Jalapeño and Rosemary Simple Syrup
This simple syrup is SPICY so proceed with caution. In a sauce pan combine sugar, water, a few sprigs of charred rosemary, and sliced jalapeño. Bring to a simmer, stirring until sugar is completely dissolved. Remove from heat and allow to cool and steep. Store in a glass jar in the refrigerator until ready to use.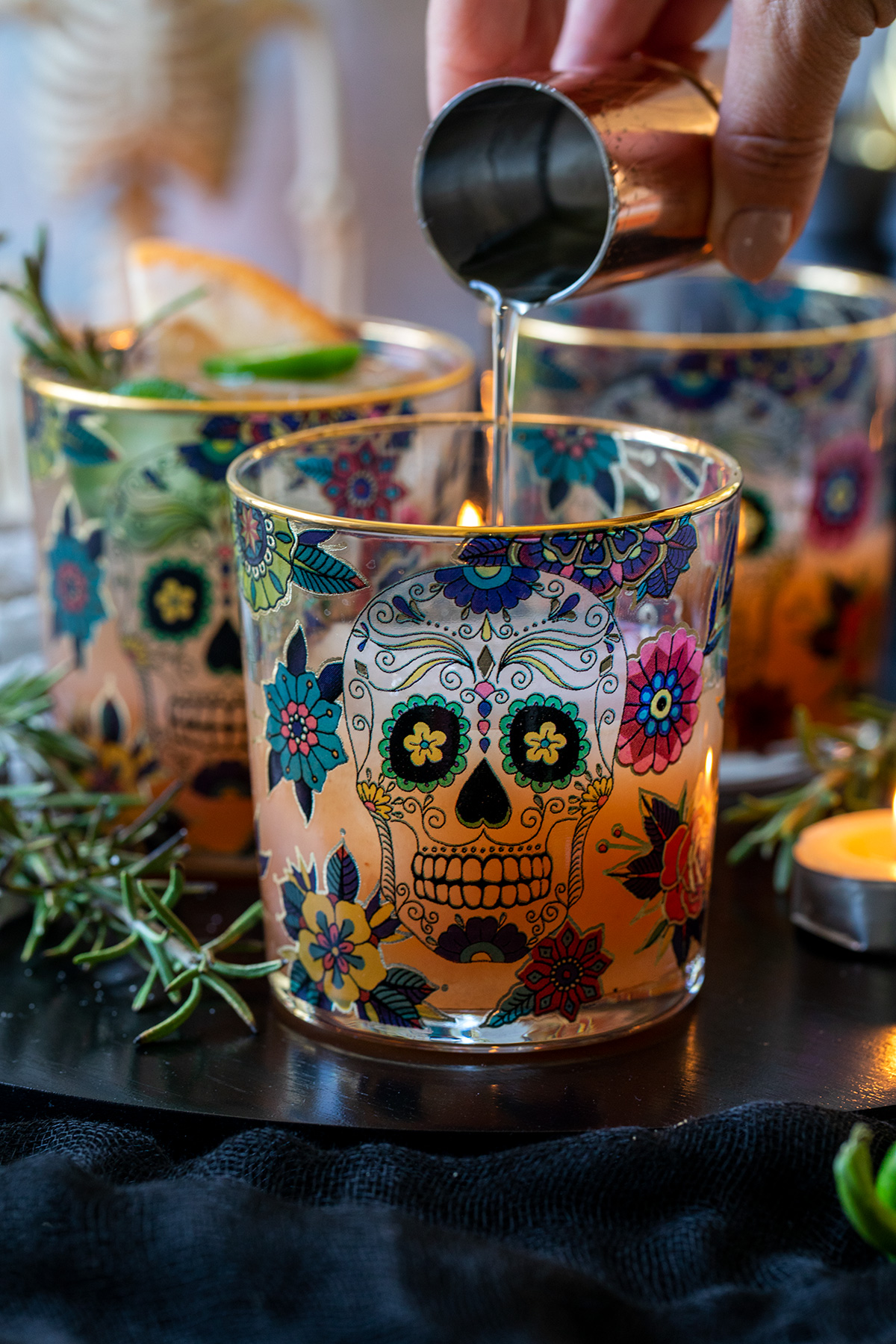 To "burn" the rosemary for the simple syrup, carefully (using tongs) hover rosemary over a gas burner, until the leaves char and smoke. Immediately while still smoking place sprigs into the sugar and water mixture.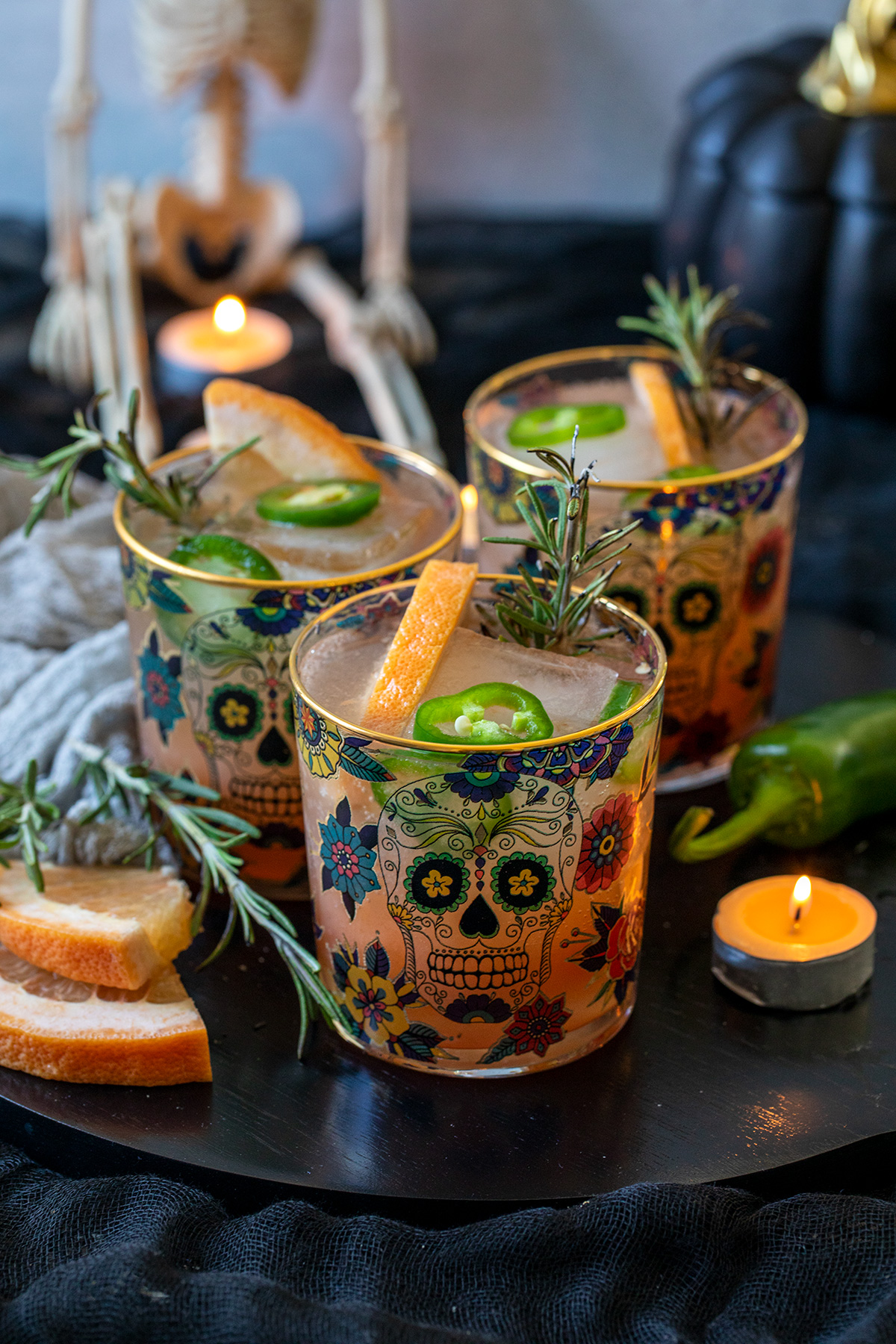 I love this drink because it's lighter and more refreshing than most cocktails but also brings the heat from the spicy simple syrup. You can up the smokey flavor by using a cocktail smoker or by substituting Mezcal for Tequila. Either way this drink is fabulously delicious.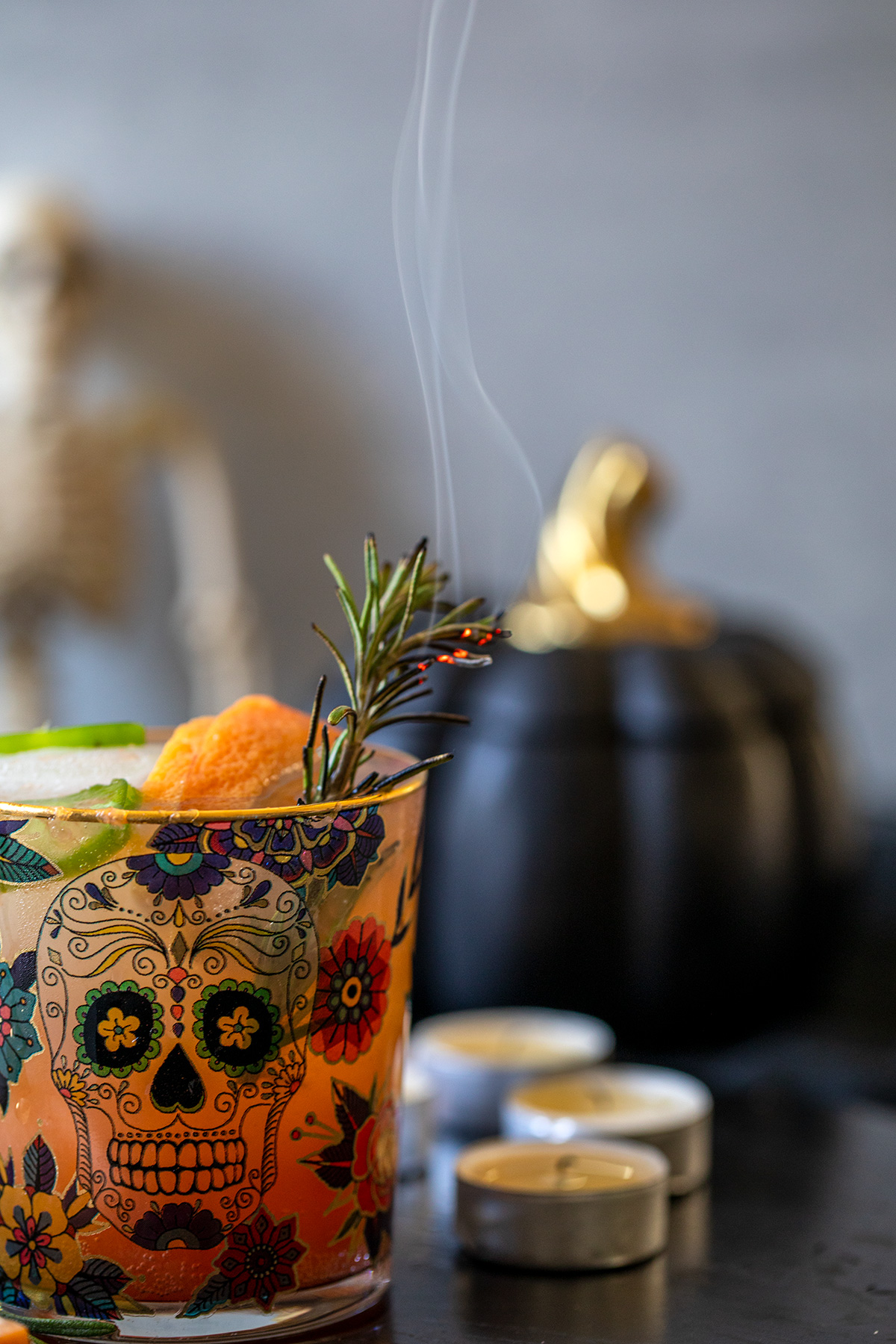 More Tequila Drinks to Make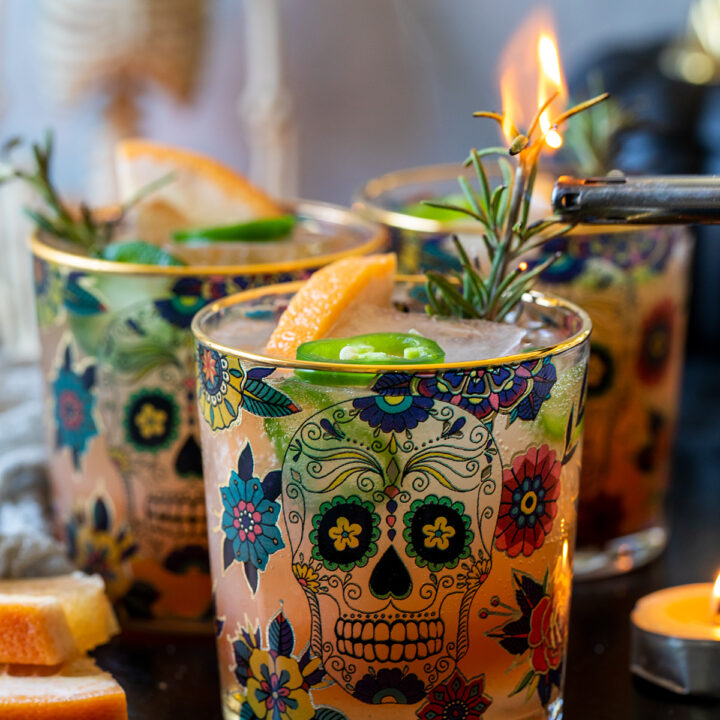 Spicy Smoked Rosemary Paloma
A spicy Paloma with jalapeño and rosemary simple syrup.
Ingredients
Cocktail
2 oz Reposado Tequila
1 oz Jalapeño Rosemary Simple Syrup
3 oz Ruby Red Grapefruit Juice
Splash of Grapefruit Soda
Simple Syrup:
1 cup sugar
1 cup water
3 sprigs rosemary, burnt
1 jalapeño, sliced
Instructions
In a sauce pan, combine sugar and water. Char the rosemary over an open flame and place directly into the sugar and water along with the sliced jalapeño.
Bring mixture to a simmer, stirring until the sugar is dissolved.
Remove from heat and allow to steep and cool completely.
In a cocktail glass with ice, combine tequila, simple syrup and grapefruit juice. Stir to combine.
Top with soda and garnish with fresh sliced jalapeño, a slice of grapefruit and a sprig of charred rosemary.