Even though I'm a June baby—just like Leah!—I've never warmed up to ice cream cake. It's such a summer-birthday default! But something about the chocolate crunchies and the melty-mess doesn't have me screaming for ice cream.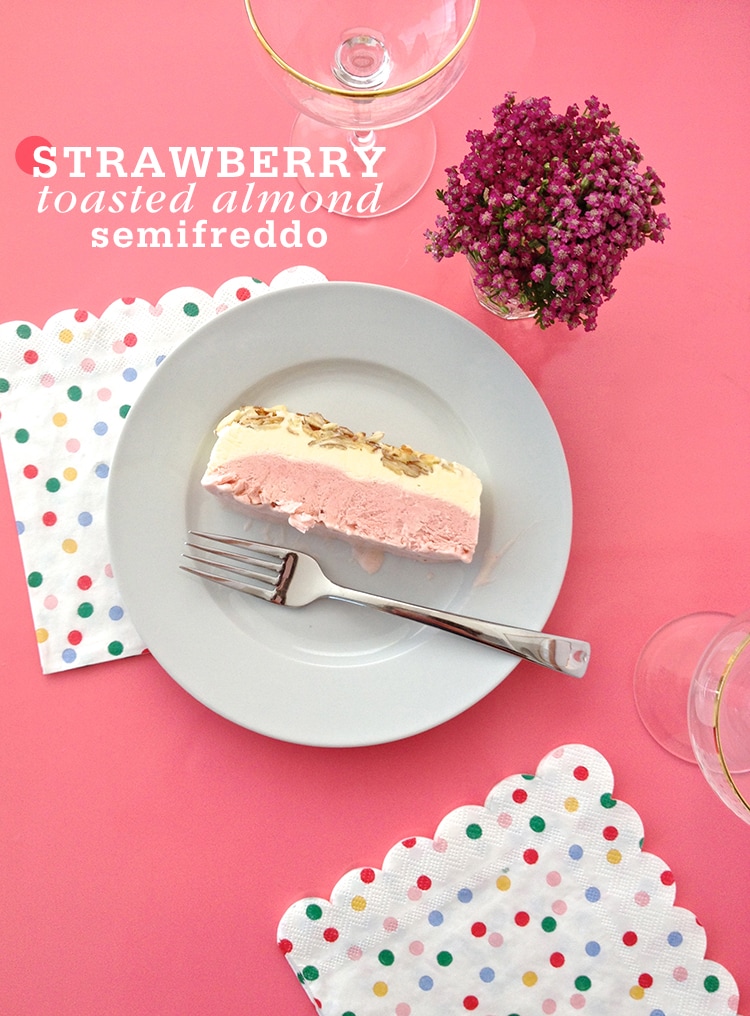 This year, though, I decided to give a two-toned semifreddo a try. This Italian "half cold" ice cream cake is a sophisticated twist on the childhood classic. Bonus: It's completely make-ahead, perfect for parties! To make it, all you need to do is whip up a mousse-like base. Don't panic! It's much easier to do than you'd think (and it hardly requires any ingredients).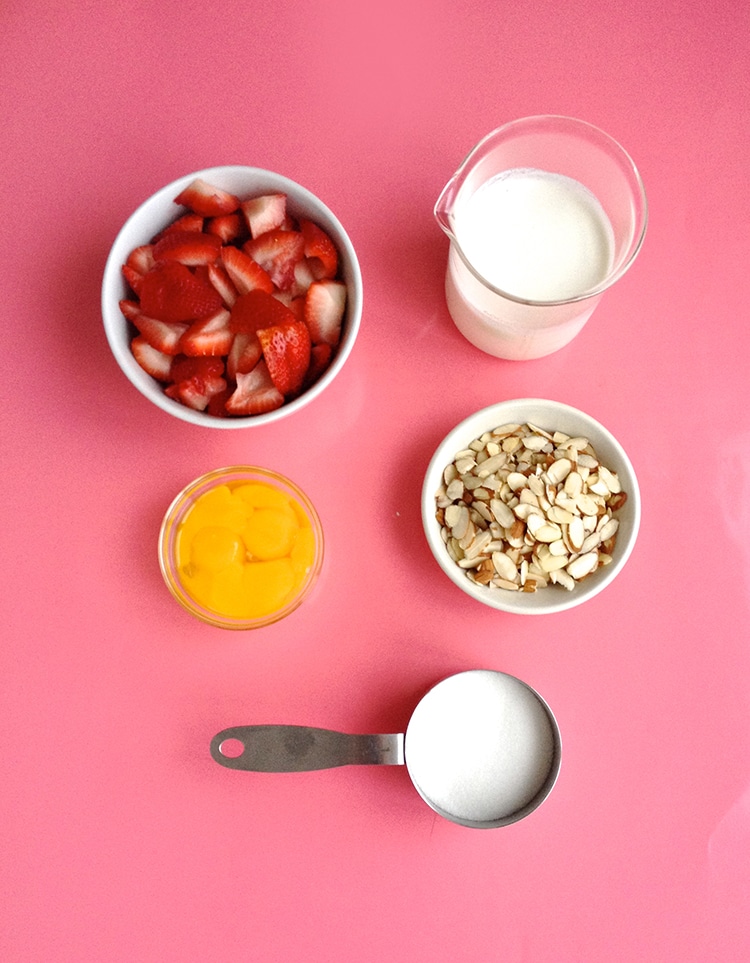 I decided to spike my base with the flavors of a Strawberry Shortcake Bar—one of my favorite ice cream truck treats! For the strawberry layer, I folded a quick, no-cook strawberry syrup into the egg mixture. For the cream layer, you have a choice: Leave it plain or splurge on an extra ingredient and stir in a little almond extract for added nutty-sweetness. Toasted almonds add a ton of texture and flavor, whether you decide to go with the extract or not.

PS. Serve this color-blocked dessert with plenty of bubbly!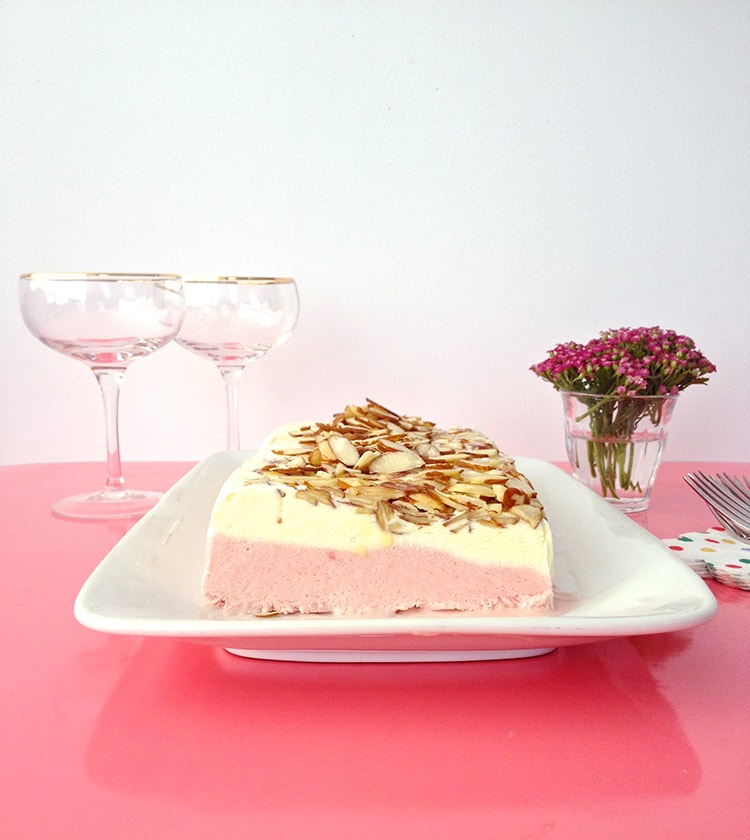 Strawberry-Toasted Almond Semifreddo
serves 6 to 8
1 pound strawberries, hulled and sliced
1 cup sugar
4 large egg yolks
1 ¼ cups heavy cream
1 cup sliced almonds, toasted
OPTIONAL: Almond extract, for flavoring
Directions:
1. Toss the berries and 2 tablespoons sugar in a large bowl; set aside 5 minutes. Meanwhile, line a loaf pan with plastic wrap leaving an overhang on all sides.
2. Transfer the strawberry mixture to a blender and blend until smooth. Strain into a liquid measuring cup through a fine-mesh sieve, stirring and pressing down firmly on the solids to release all the liquid. Discard solids. You should have about 1 cup strawberry syrup.
3. Whisk the egg yolks and ¾ cup sugar in a large heatproof bowl until combined. Set the bowl over a saucepan of simmering water (do not let the bowl touch the water) and whisk until thick, pale yellow and doubled in volume, about 6 minutes. Set the bottom of the bowl in ice water to stop the cooking process; let cool.
4. Beat the heavy cream and remaining 2 tablespoon sugar with a mixer until soft peaks form. Add a big scoop whipped cream to the egg yolk mixture and whisk together to lighten. Add the rest of the whipped cream and fold together until combined using a rubber spatula.
Transfer half of the custard to another bowl; add the strawberry syrup and fold to combine (it'll be a little runny). Stir a drop of almond extract to the plain custard, if desired.
5. Sprinkle the toasted almonds in the bottom of the prepared pan. Top with the plain (or almond-flavored) custard; press and spread to the edges of the pan using an offset spatula. Top with the strawberry custard. Cover with the plastic wrap overhang and freeze at least 8 hours or overnight.
To serve, unfold plastic and invert onto a serving platter; remove plastic wrap. Slice with a chefs knife (dipped in hot water, if needed).