It's the holiday season and this time of year, you can never have too many easy and delicious appetizers recipes like classic Brown Sugar Bacon Wrapped Little Smokies. These bite sized sweet and smoky sausages are a family friendly holiday crowd pleaser!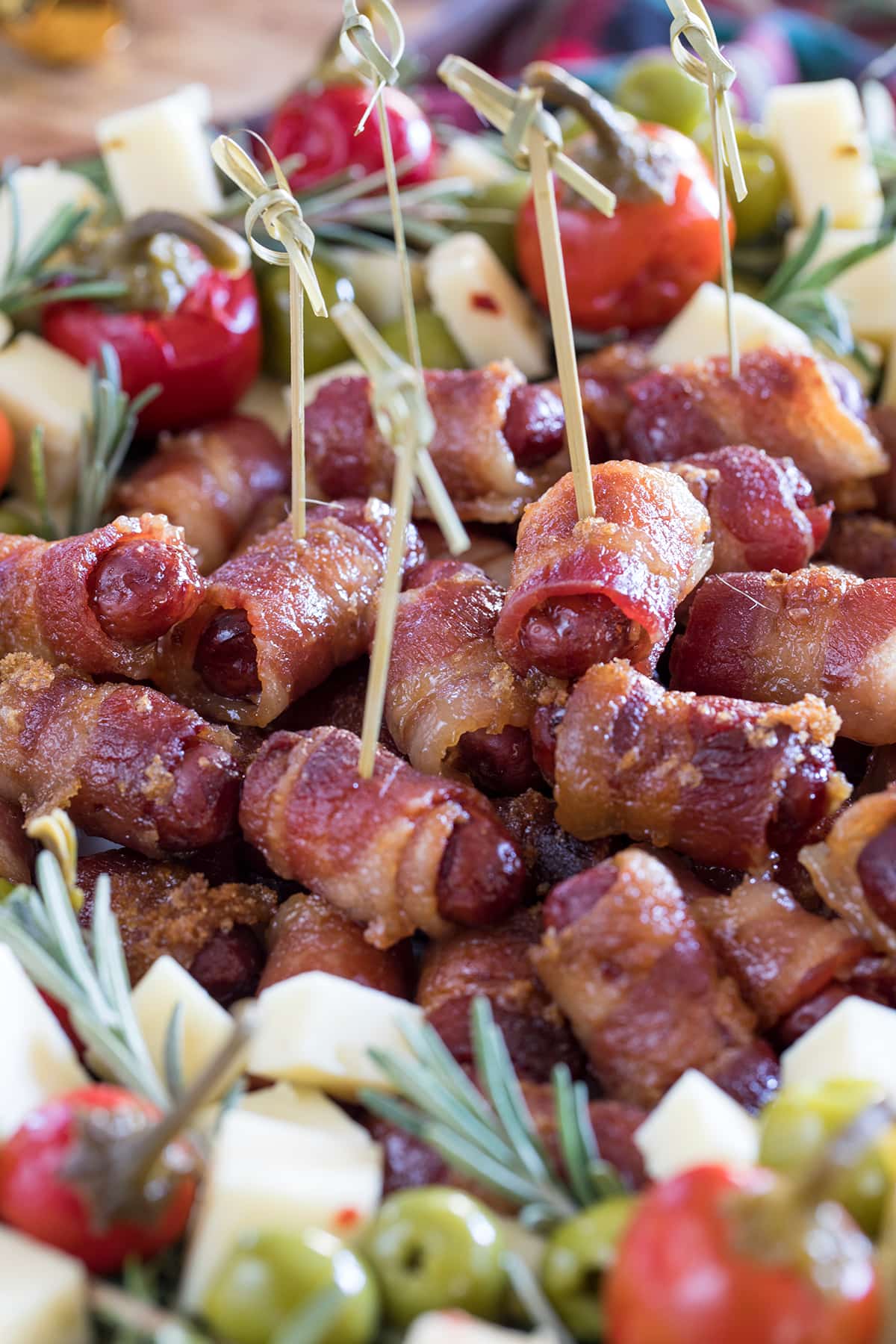 Brown Sugar Bacon Wrapped Little Smokies
Growing up, I LOVED when Lit'l Smokie's made an appearance on the holiday table. Their smoked flavor and tiny size make them perfect for any appetizer board or in this case appetizer wreath! Plus, if you are cooking for a family holiday gathering they are both adult and kid friendly.
I used my brown sugar bacon wrapped little smokies as the centerpiece for a Christmas appetizer wreath in this case but they are delicious served right out of the oven on a platter with cocktail toothpicks. Warning: they will be devoured before you can refill the platter.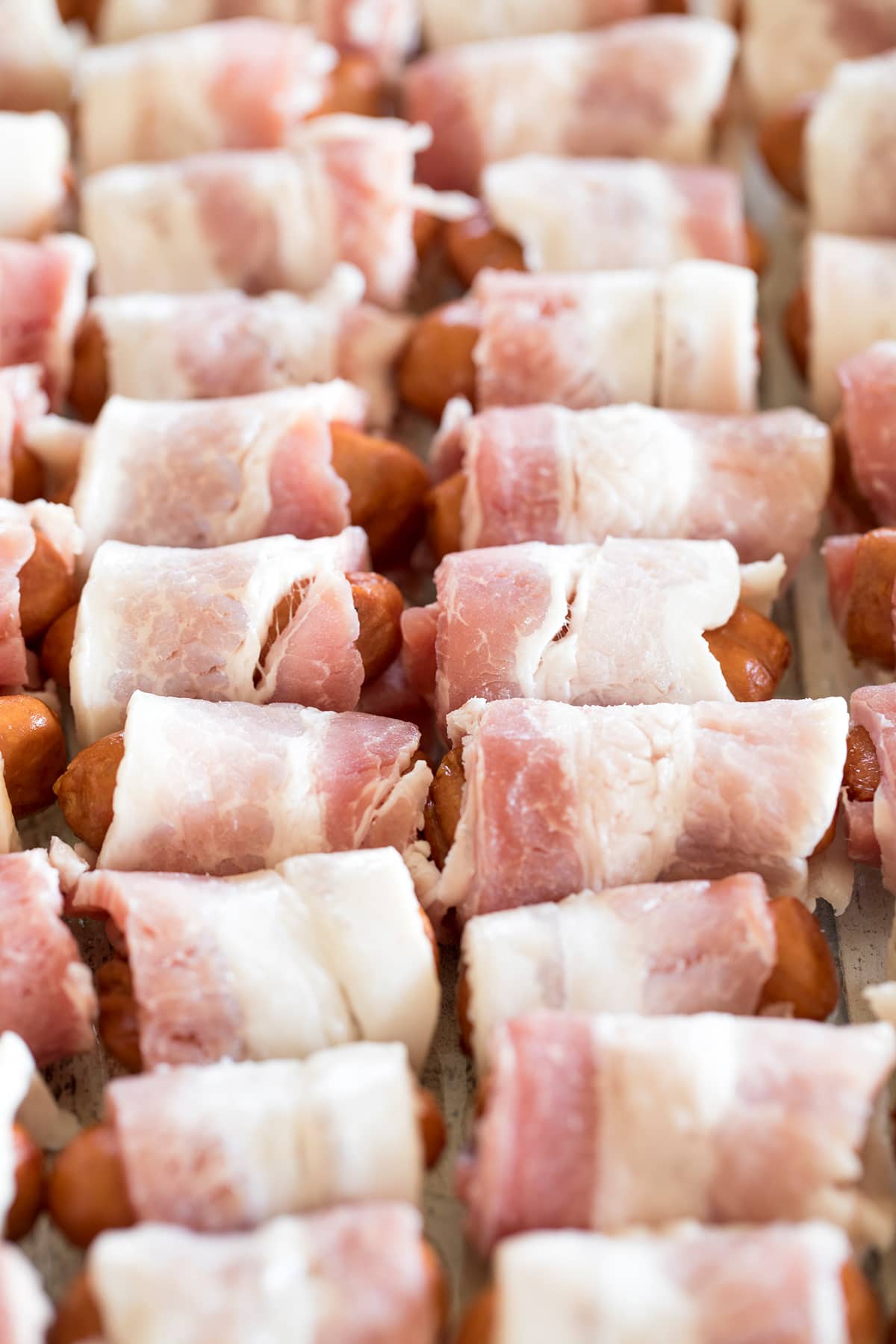 Bacon Wrapped Smokie's Ingredients
Bacon - I like using a nice thick cut, hickory smoked bacon.
Lit'l Smokie's - the classic brand to use is Hillshire Farm Lit'l Smokie's Cocktail Links.
Light Brown Sugar - adds sweetness and a delicious caramelized outside to the bacon.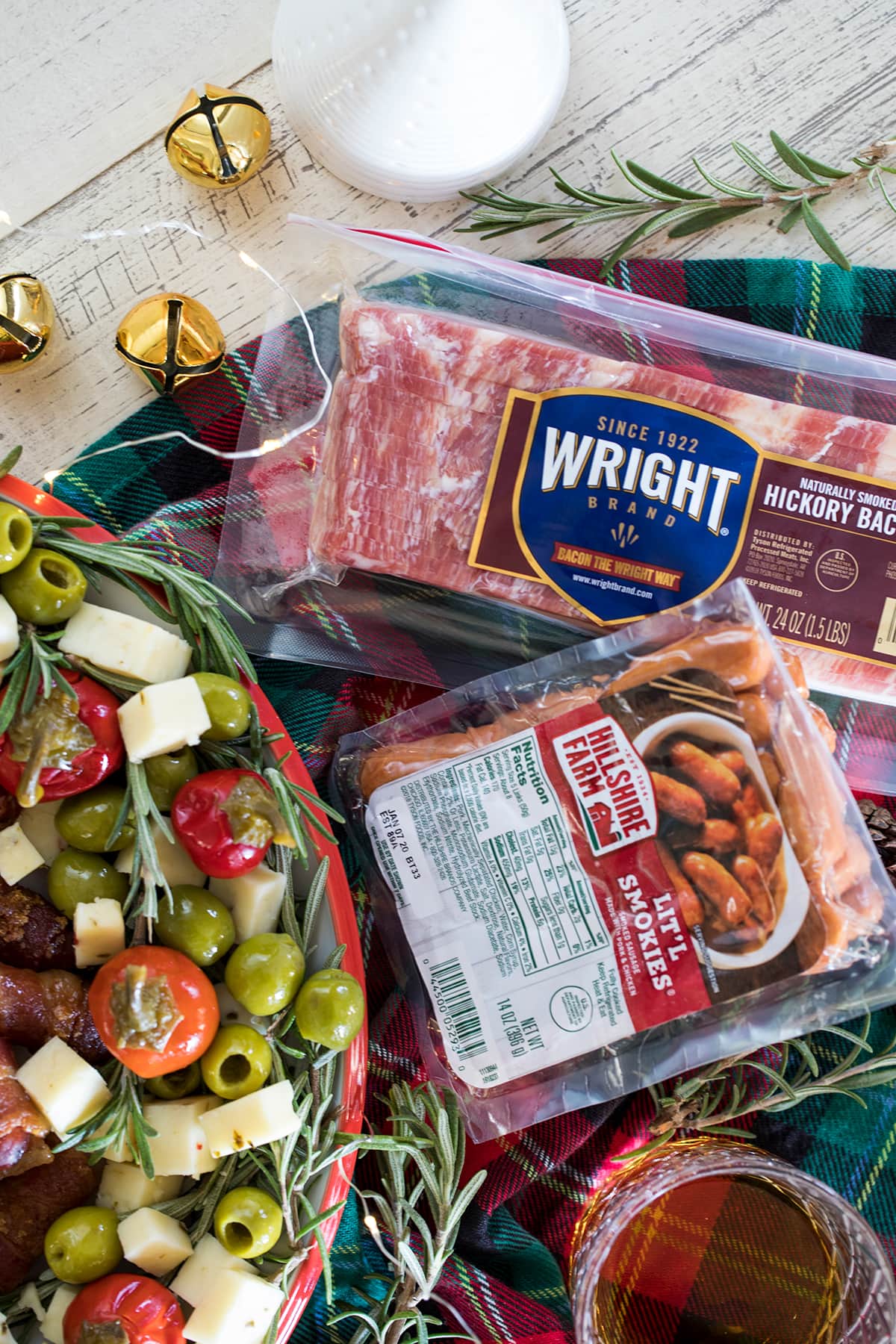 For this appetizer, start by finding a glass baking dish that fits your smokies nicely. I use a glass dish just shy of the traditional 11x17 size and they fit perfectly.
Next, cut the bacon into thirds and wrap each sausage in bacon placing them seam side down in the baking dish. Sprinkle with brown sugar and you are ready to bake. Delicious doesn't need to be complicated!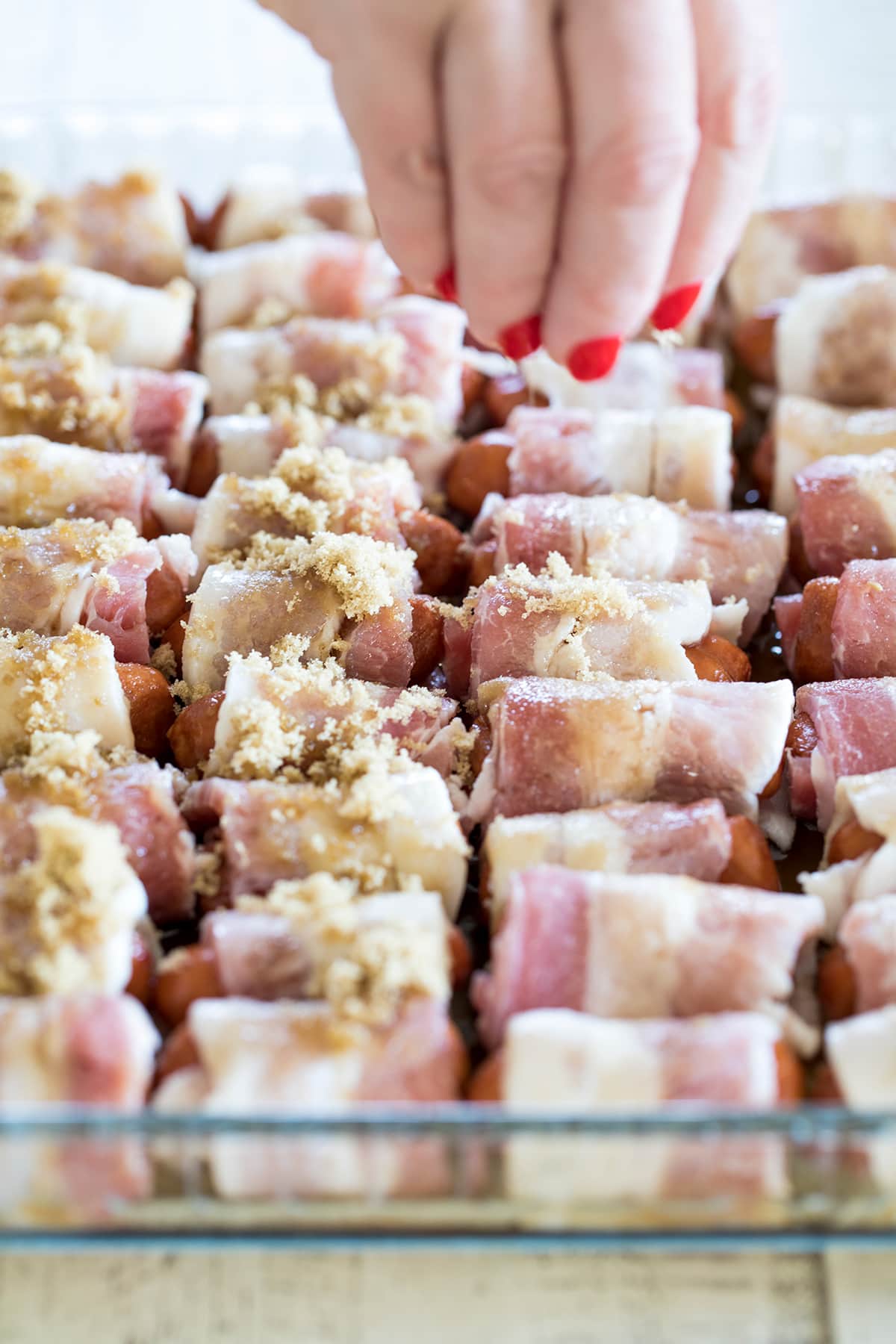 Can You Make Bacon Wrapped Little Smokies Ahead of Time?
You sure can, which is one of the many reasons I LOVE this appetizer recipe! The holiday season is too busy a time to be fussing around with appetizer recipes that require a ton of prep work.
To make these ahead, and spend more time with family, simply cover your prepared smokies (covered in brown sugar) with plastic wrap or foil and refrigerate until you are ready to bake them. Then, remove the cover and bake accordingly. The longer they "marinate" in the brown sugar, the deeper the flavor.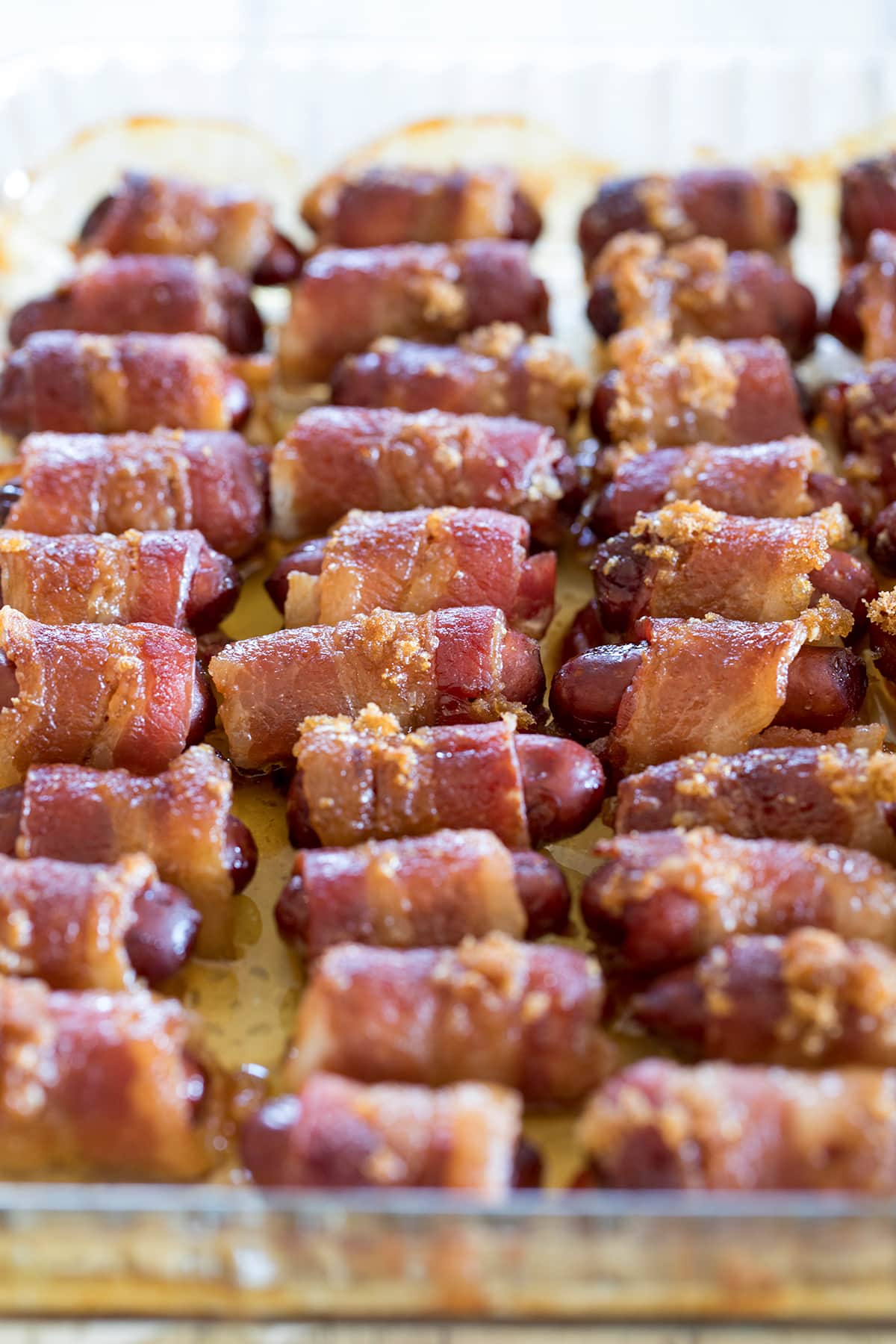 How to Make a Christmas Appetizer Wreath
If you know that you'll be serving a crowd and you want to offer a variety of appetizers, a Christmas Appetizer Wreath is the way to do it! While the smokies bake, start arranging your appetizer wreath. All of these ingredients are available at Ralph's Grocery.
You will need:
Fresh rosemary- about 5 packs
1 large jar of green olives
2 jars of red cherry peppers
pepper jack cheese, cut into cubes
brown sugar bacon wrapped little smokies
cocktail picks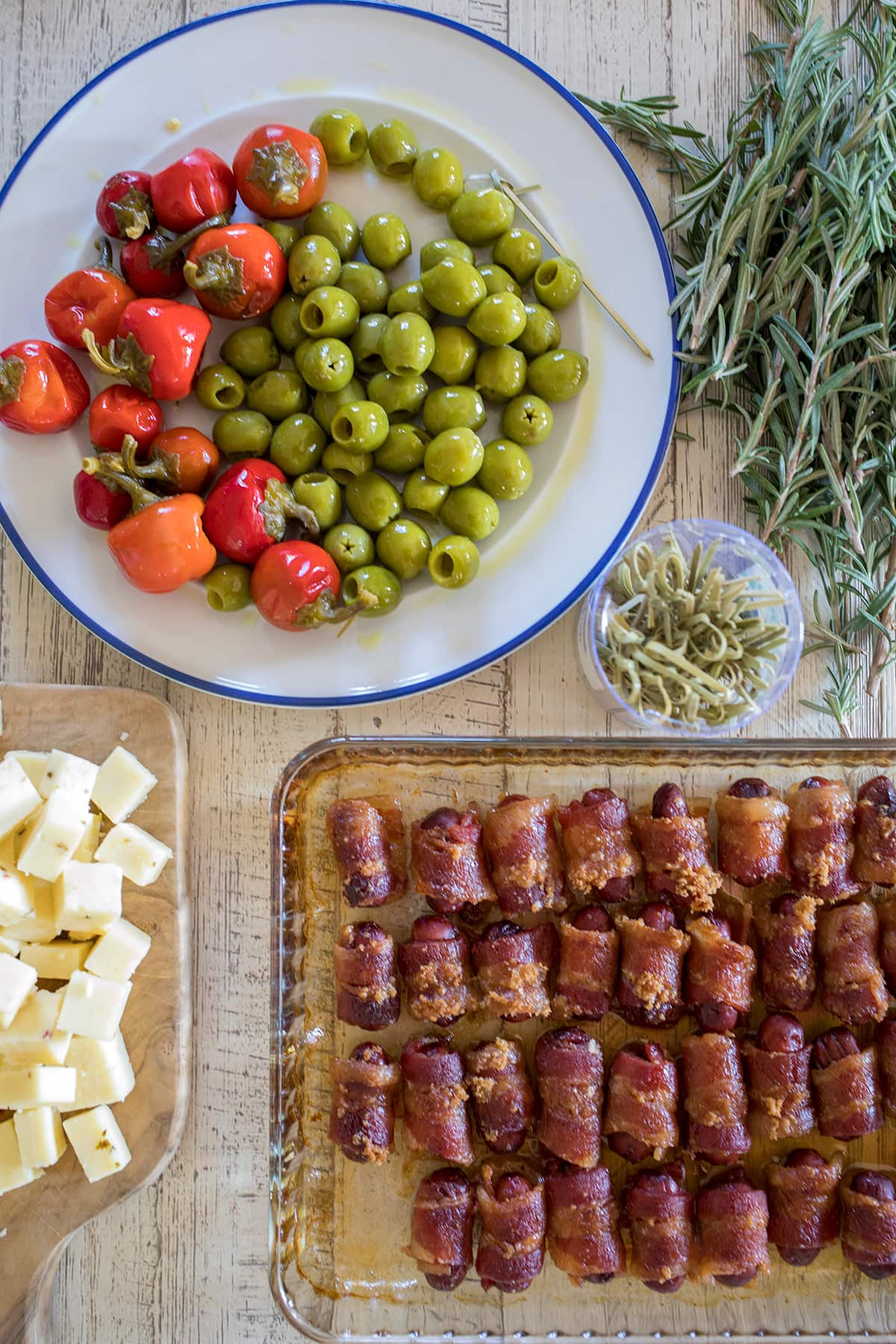 To create the "wreath" begin by arranging fresh rosemary around the edges of a large round serving platter or cutting board. Next, arrange red cherry peppers like ornaments throughout the wreath, cubes of cheese, and green olives. Once the Little Smokies are out of the oven, place them in the middle of the platter with a cocktail picks and serve immediately!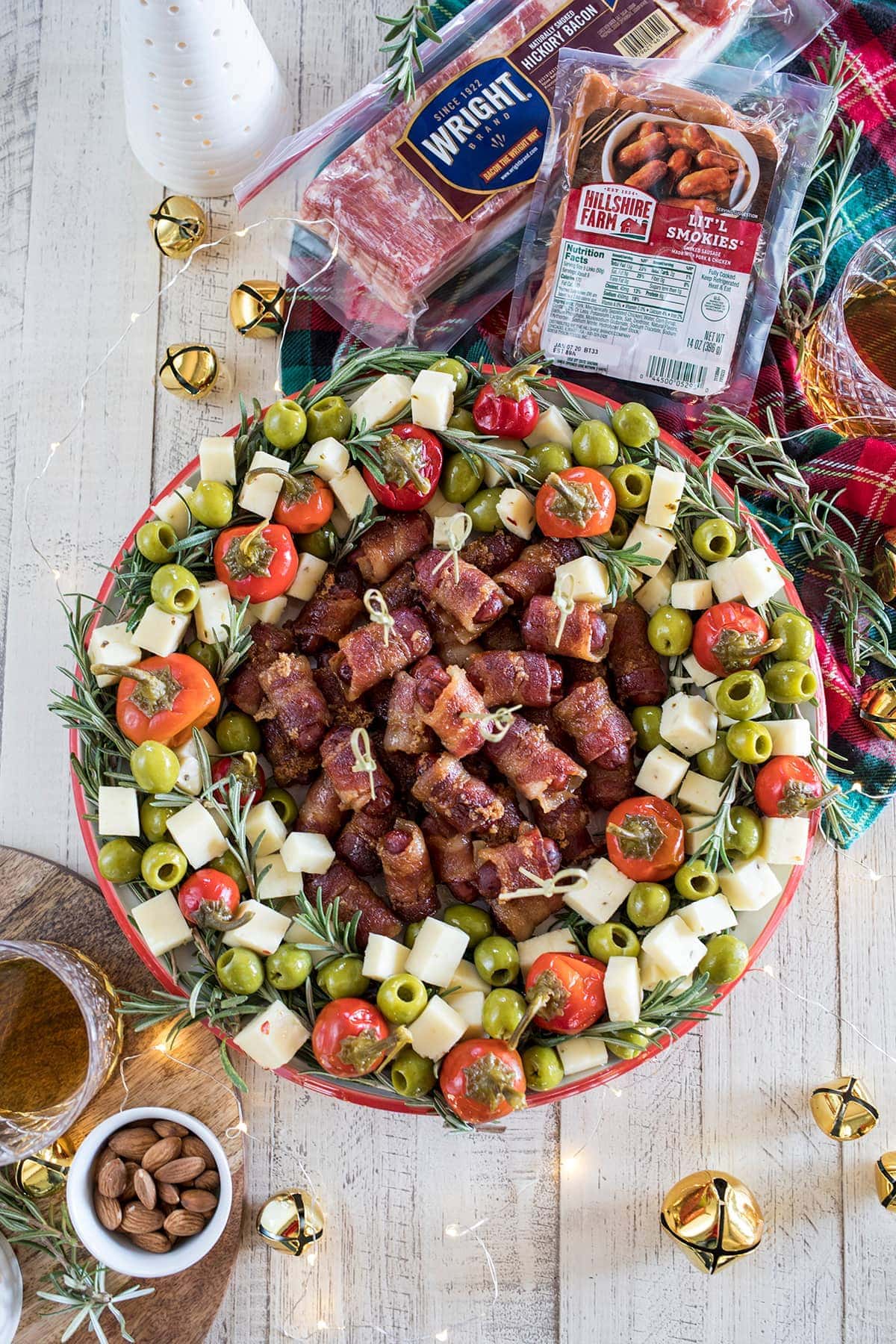 Your family will go crazy for this festive and delicious appetizer wreath! Of course you can customize it with whatever cheese and olives you like. I happen to love the way red peppers, green olives and white cheese look so Christmasy but choose whatever ingredients you and your family enjoy.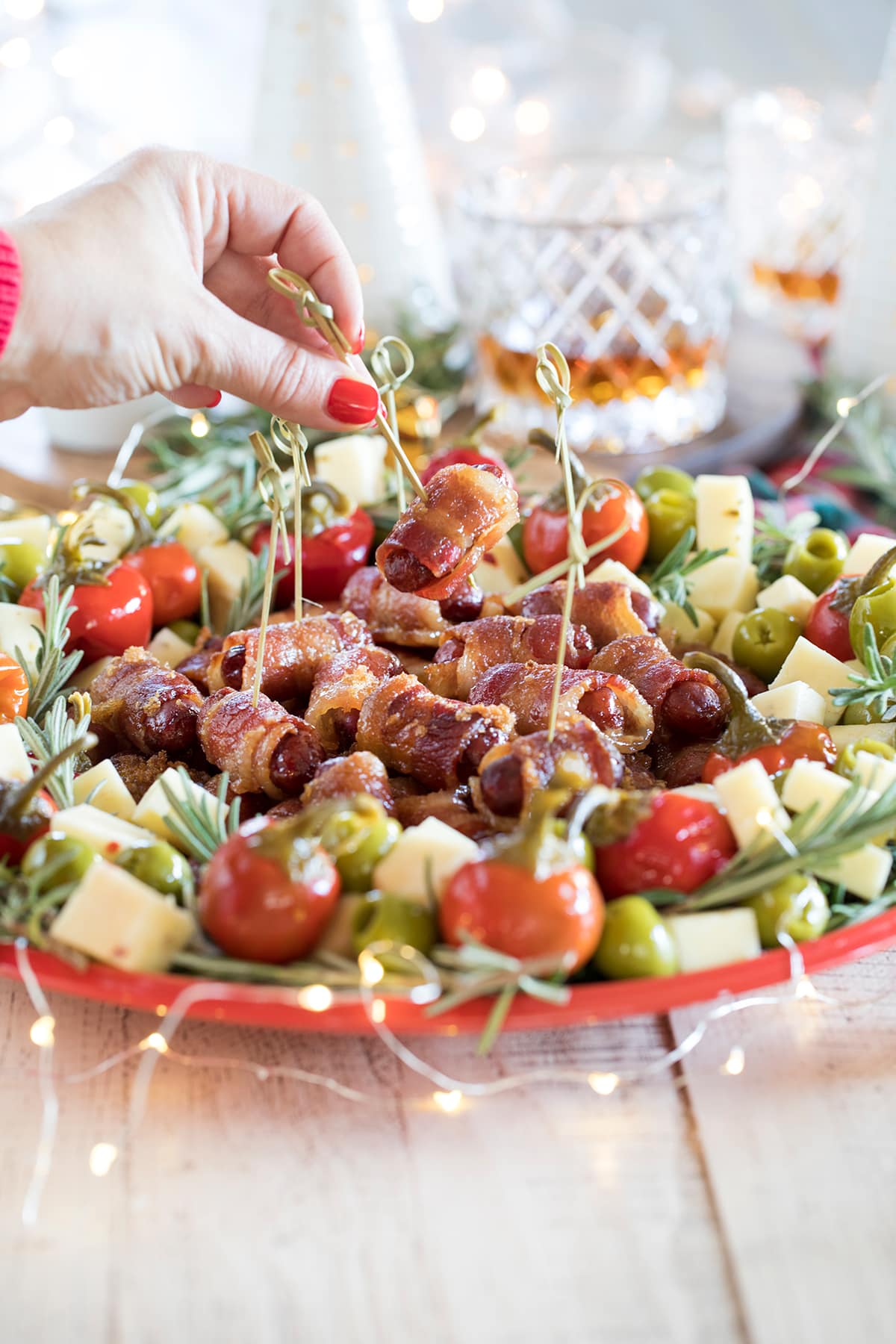 Other Ways to Use Lit'l Smokies
Did you grow up eating Lit'l Smokie's? They really are the most classic holiday appetizer. Try them wrapped in puff pastry and baked for easy Pig's in a Blanket or cooked in a crockpot with Cranberry Barbecue Sauce like these meatballs I make. Any way you serve them, your family will love their smokey flavor.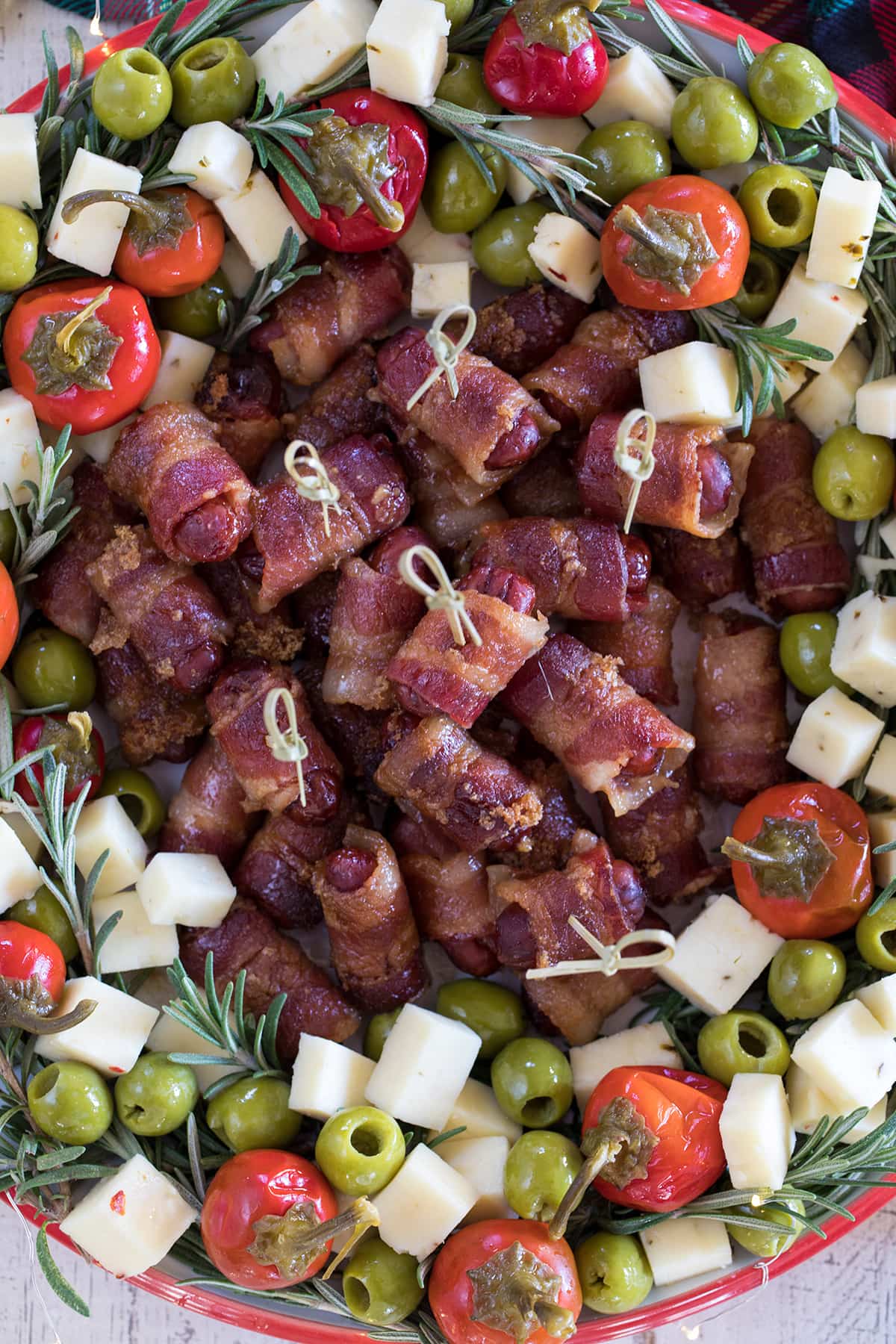 If you make my Brown Sugar Bacon Wrapped Little Smokie's in a Christmas Appetizer Wreath, make sure to come back and leave a comment in the section below letting me know how your family liked this appetizer! Happy holidays.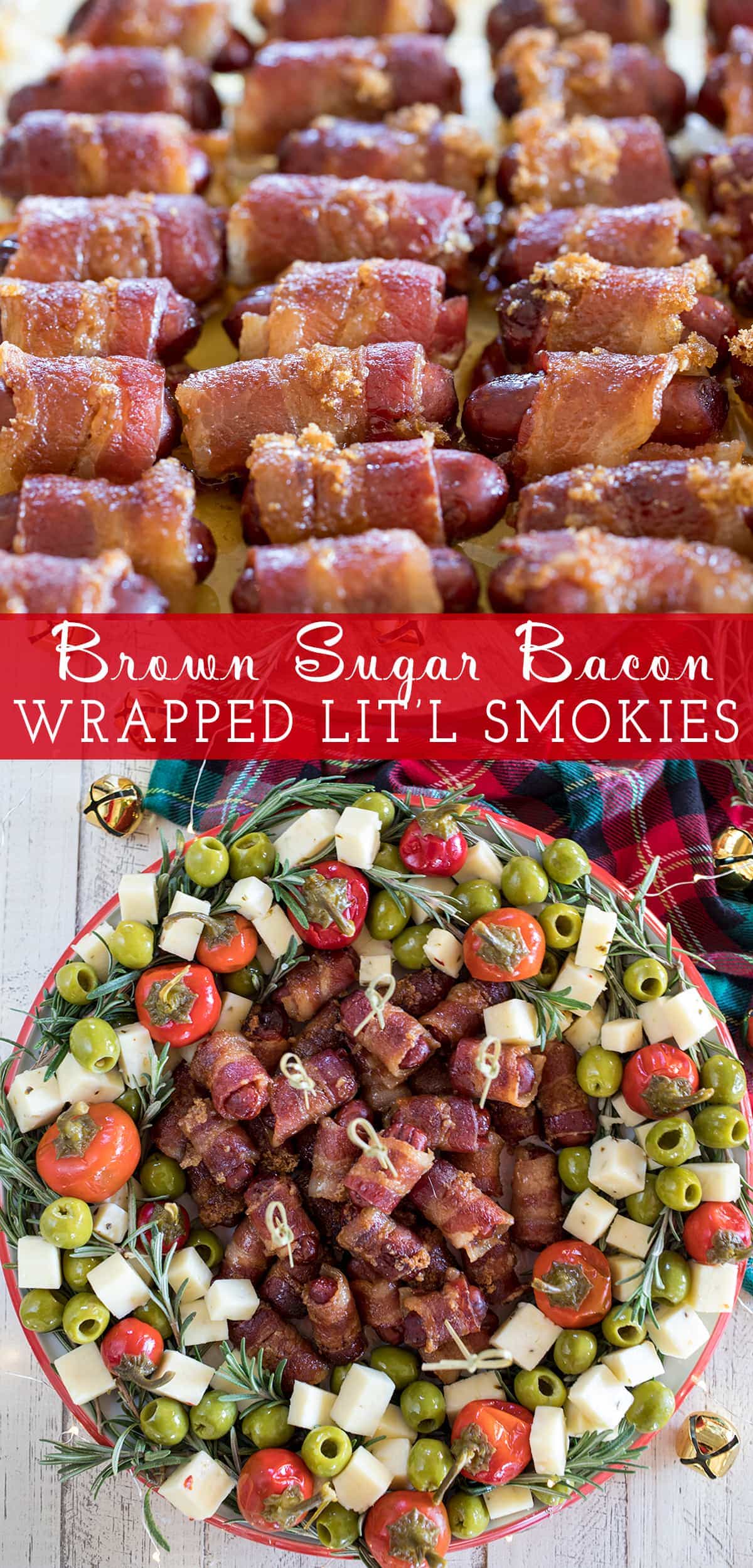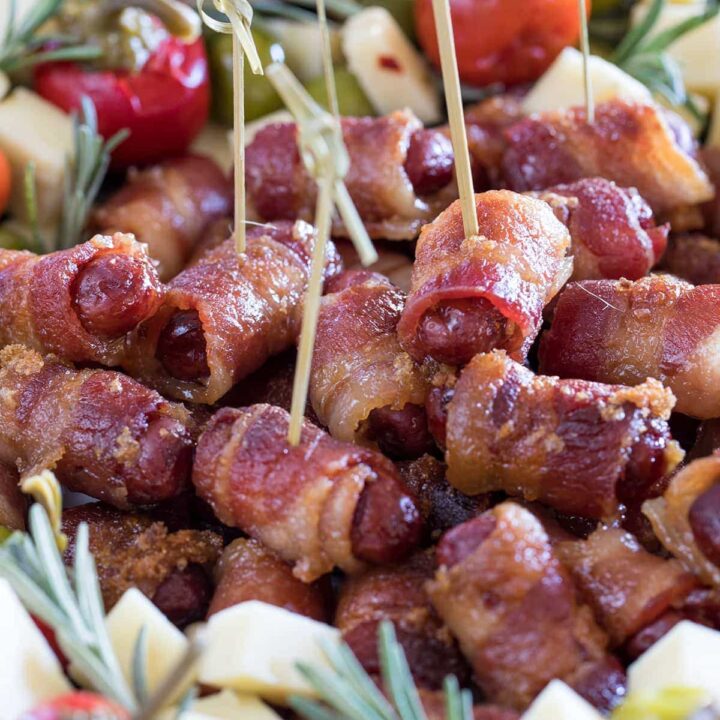 Brown Sugar Bacon Wrapped Little Smokies
Total Time:
1 hour
20 minutes
Classic brown sugar glazed bacon wrapped Lit'l Smokies
Ingredients
1 package Hillshire Farm Lit'l Smokies
1 package Wright Brand Bacon
¾ cup light brown sugar
FOR THE WREATH:
1 jar green olives
2 jars cherry peppers
1 block pepper jack cheese, cubed
5 packages fresh rosemary
Instructions
Preheat the oven to 350 degrees.
Cut bacon into thirds and wrap each sausage placing seam side down in a glass baking dish.
Sprinkle with brown sugar to cover.
Bake for 40 minutes before checking. At this point I drain any excess liquid and continue to bake for an additional 10 minutes or until crisp and caramelized.
While the Lit'l Smokies bake, prepare the wreath.
On a large round platter or cutting board, arrange rosemary around the edge of the platter.
Arrange red cherry peppers, olives and cheese over the rosemary.
When the Lit'l Smokies are done baking, arrange in the center of the appetizer wreath and serve immediately with cocktail picks.