Without hesitation, if asked what Jason wants on the menu for any holiday, he ALWAYS replies, "meatballs." Ha! Not meatballs like you would serve with spaghetti, he means cocktail meatballs in the crock pot. This my friends is my husband's dream scenario: an entire pot of saucy barbecue meatballs that he can snack on all day long. What a guy. So, this Christmas Eve, I'll be making a big ol' pot of Cranberry Barbecue Cocktail Meatballs for the family…if Jason leaves us any.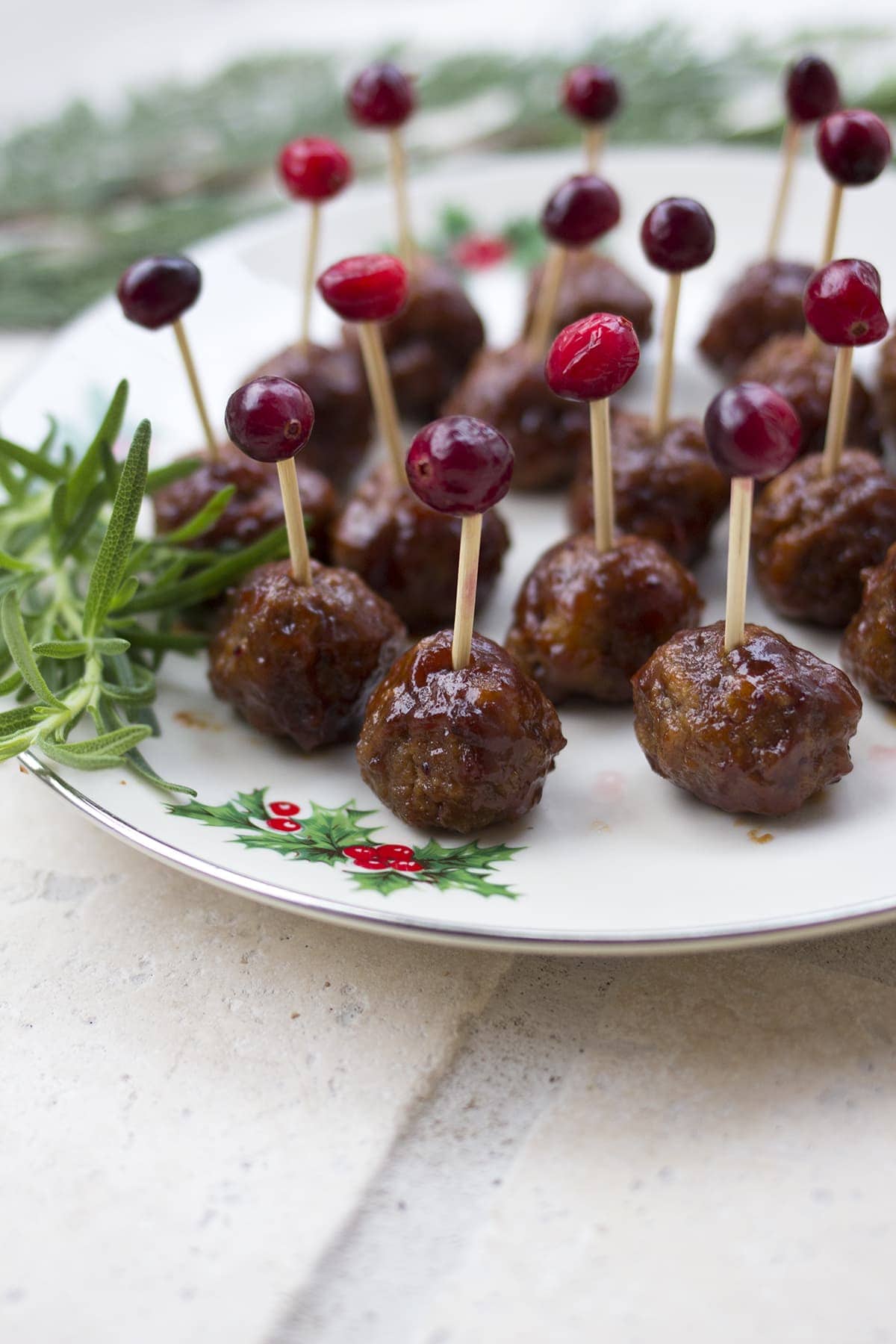 These meatballs really are the easiest holiday appetizer recipe of all time. The sauce is two ingredients and if you really want to take a short cut, you can always buy pre-made frozen cocktail meatballs from the grocery store. Done, and done. I mean, it's pretty much a home run when it comes to time saving holiday recipes, am I right? Oh, and I should mention that these meatballs are darn delicious too! Something about that cranberry sauce mixed with the barbecue…it's sweet and smokey and festive. Just perfect!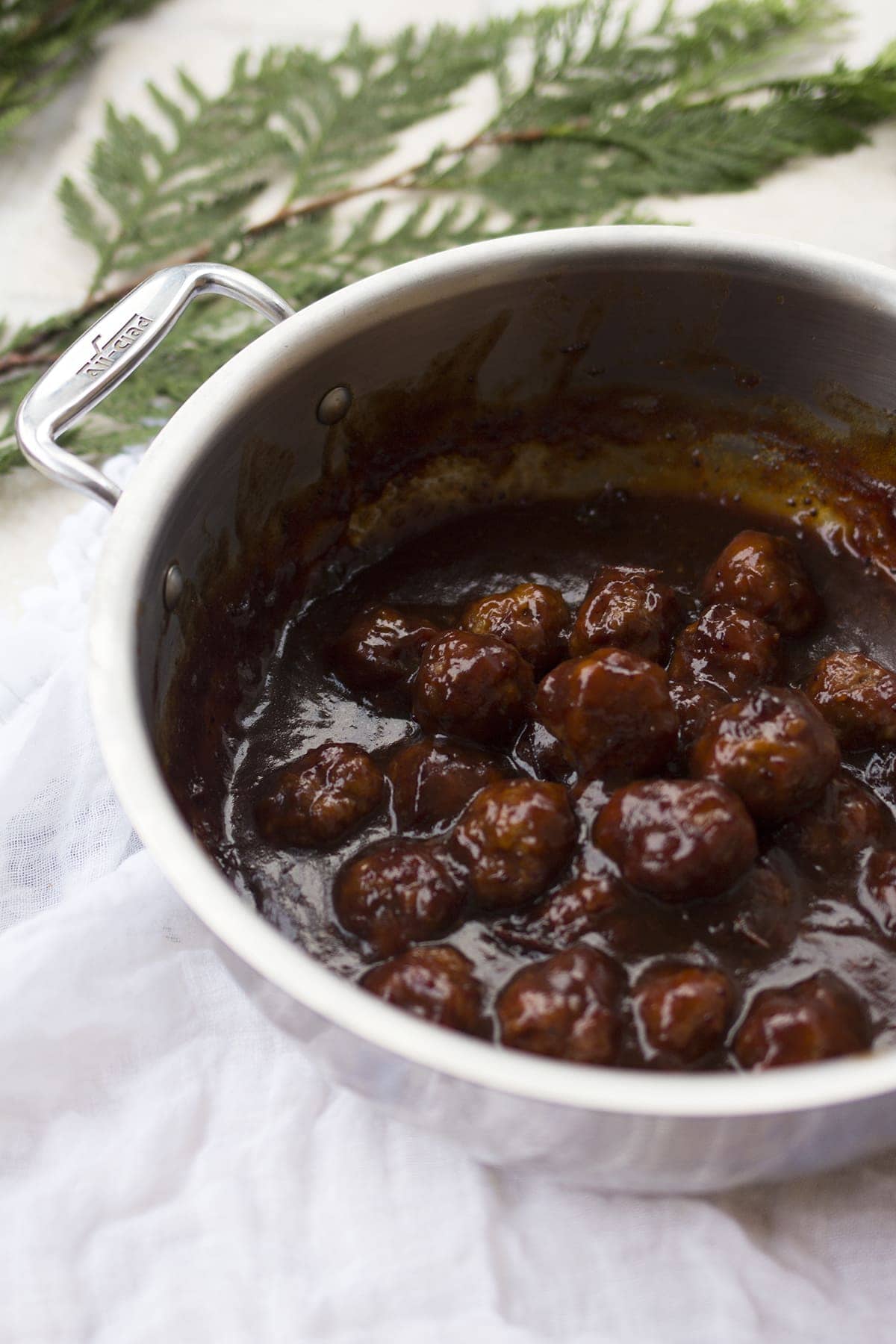 If you have a few extra minutes to spare, skewer fresh cranberries onto the ends of your cocktail picks. Bam! You just impressed the heck out of your family members and managed to make meatballs look pretty…look at you ruling the holiday party game. Ok, so honestly Jason could care less about my little skewered cranberry garnishes. In fact he would be happy eating the meatballs straight out of the pot, let's face it. But who asked him?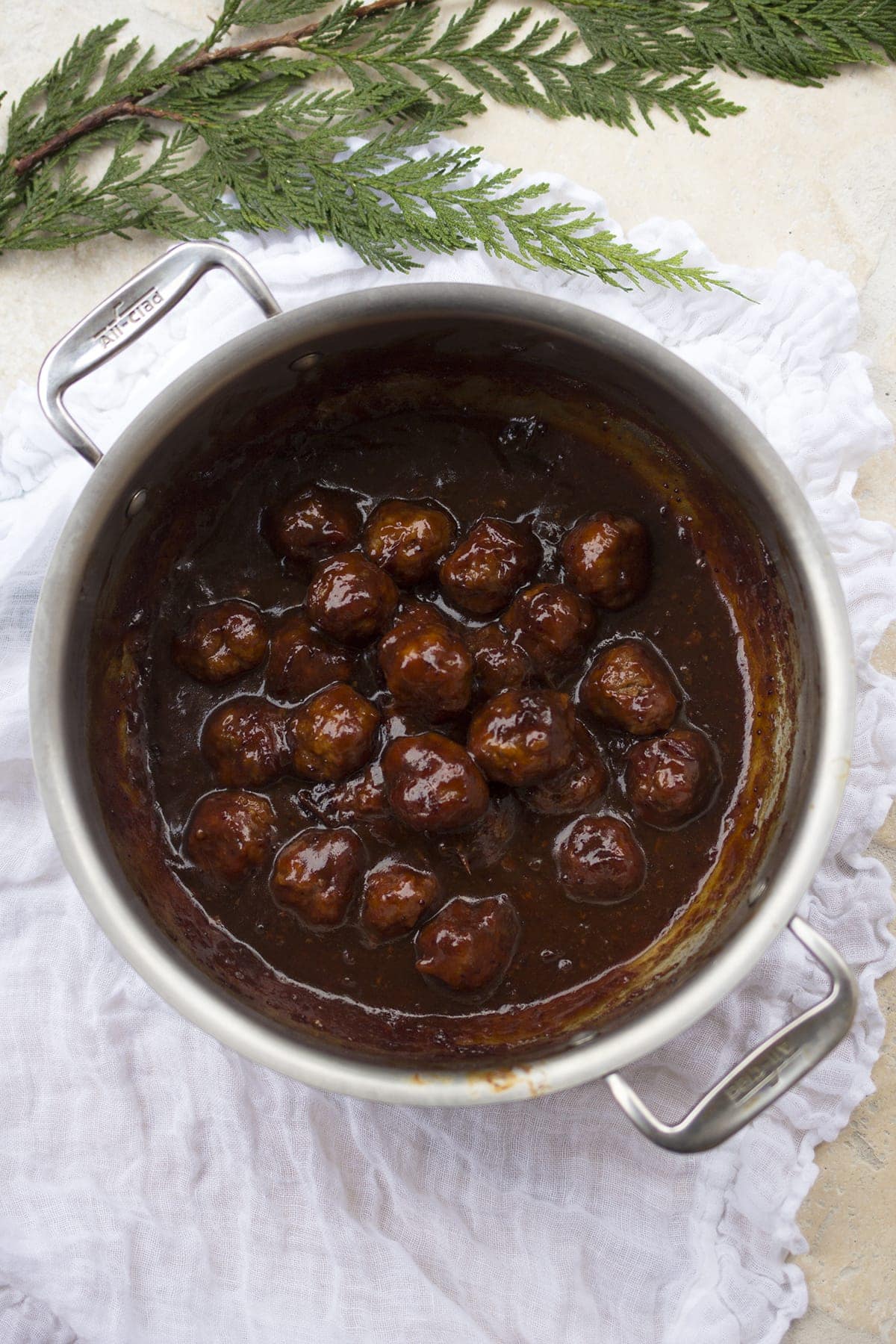 Whichever way you chose to serve them, these Cranberry Barbecue Cocktail Meatballs will be the hit of your holiday party. You might even want to make a double batch!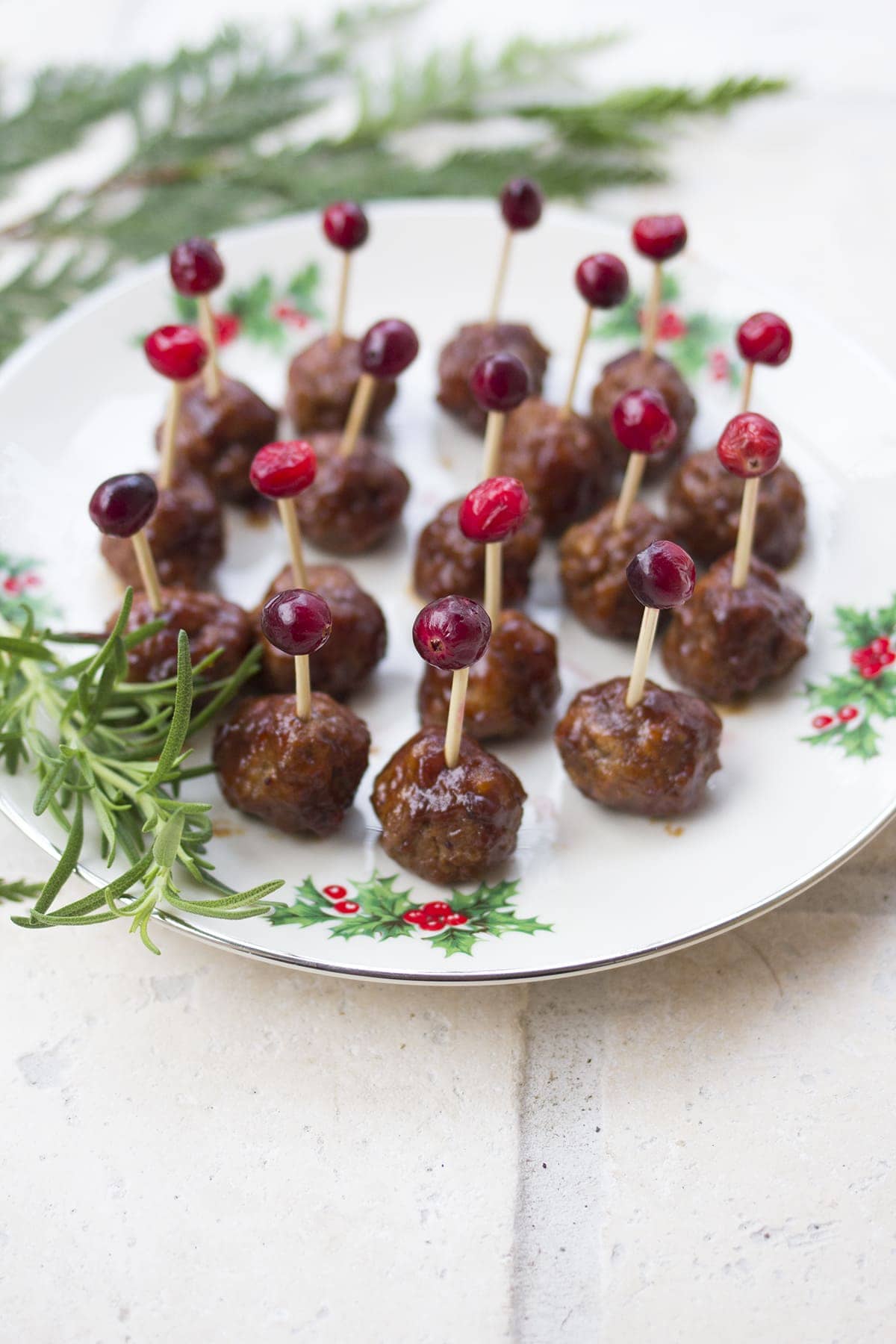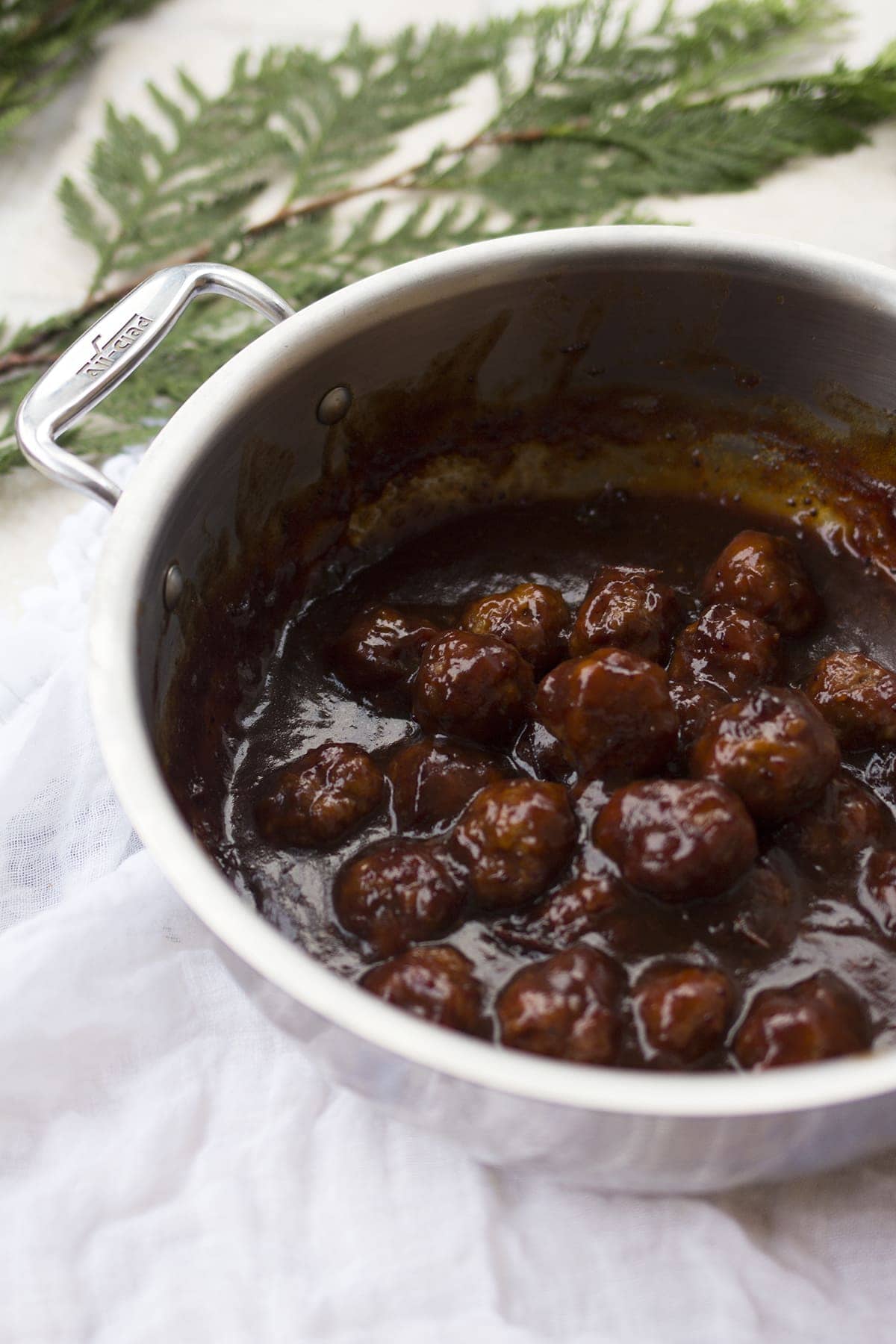 Cranberry Barbecue Cocktail Meatballs
2016-12-12 22:39:03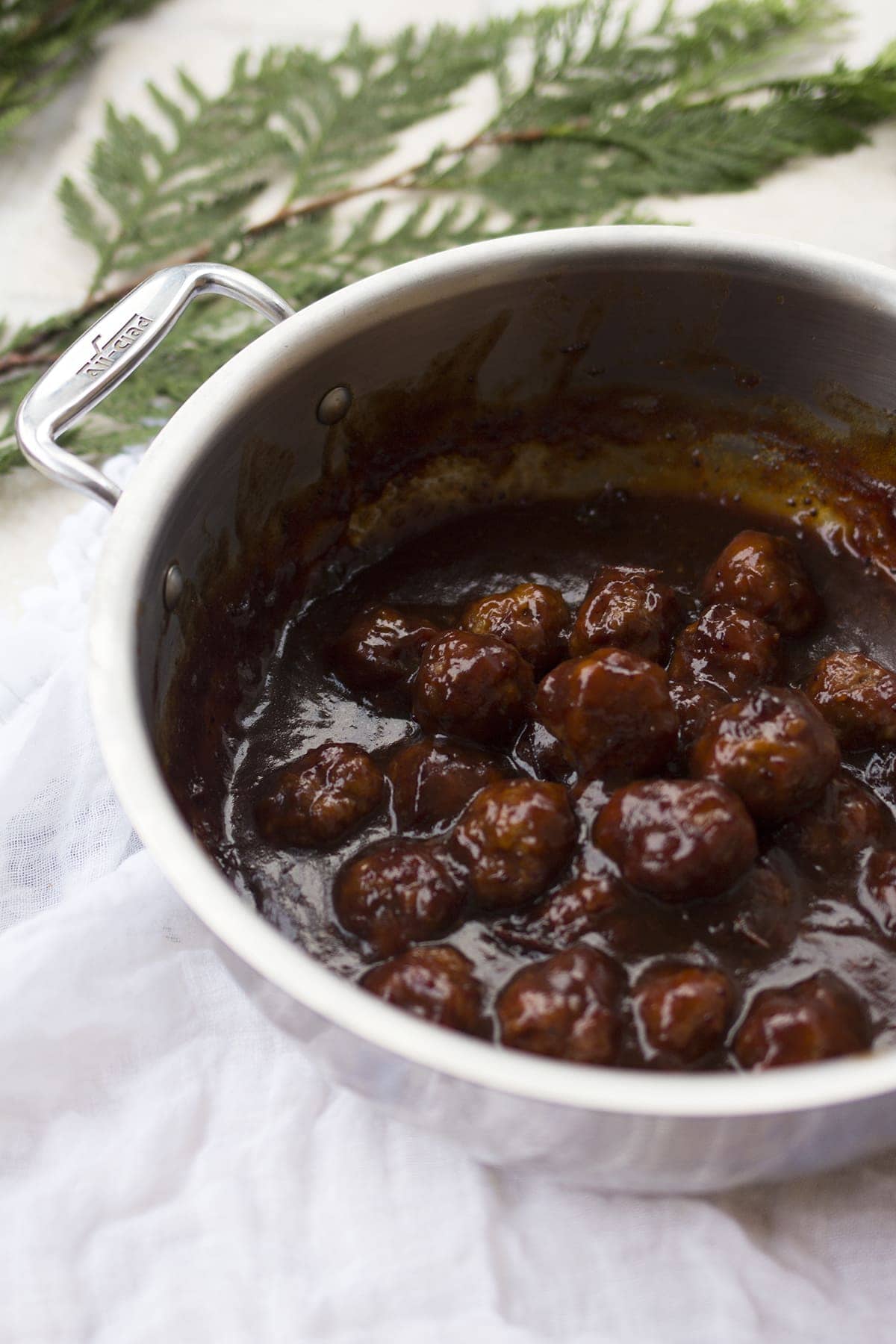 Tiny all-beef meatballs simmered in an easy cranberry barbecue sauce are the perfect holiday appetizer!
Ingredients
1 lb ground beef
1 egg
1/2 cup plain bread crumbs
pinch of kosher salt & pepper
1 (12oz) jar whole cranberry sauce - Trader Joes
1 cup barbecue sauce
1/4 cup water
Instructions
Preheat oven to 350 degrees
In a large bowl, mix together the ground beef, egg, bread crumbs, and a pinch of salt and pepper. Roll into small meatballs, about 30, and place on a rimmed baking sheet. Bake for 20-25 minutes until cooked through.
In a large pot over low heat, combine the cranberry sauce, barbecue sauce and water. Add meatballs, and simmer on low for 1 hour before serving.
Notes
I like the Kentucky Bourbon BBQ sauce from Trader Joe's or Sweet Baby Rays but you can use whatever barbecue sauce is your favorite.
You can also make these in a crockpot to keep warm for hours. Follow all of the steps but replace the large pot with a crock pot set to low.
Freutcake https://www.freutcake.com/