Thanksgiving is just a few short days away and these Roasted Butternut Squash & Ricotta Crostini with a drizzle of browned butter are the appetizer you've been looking for.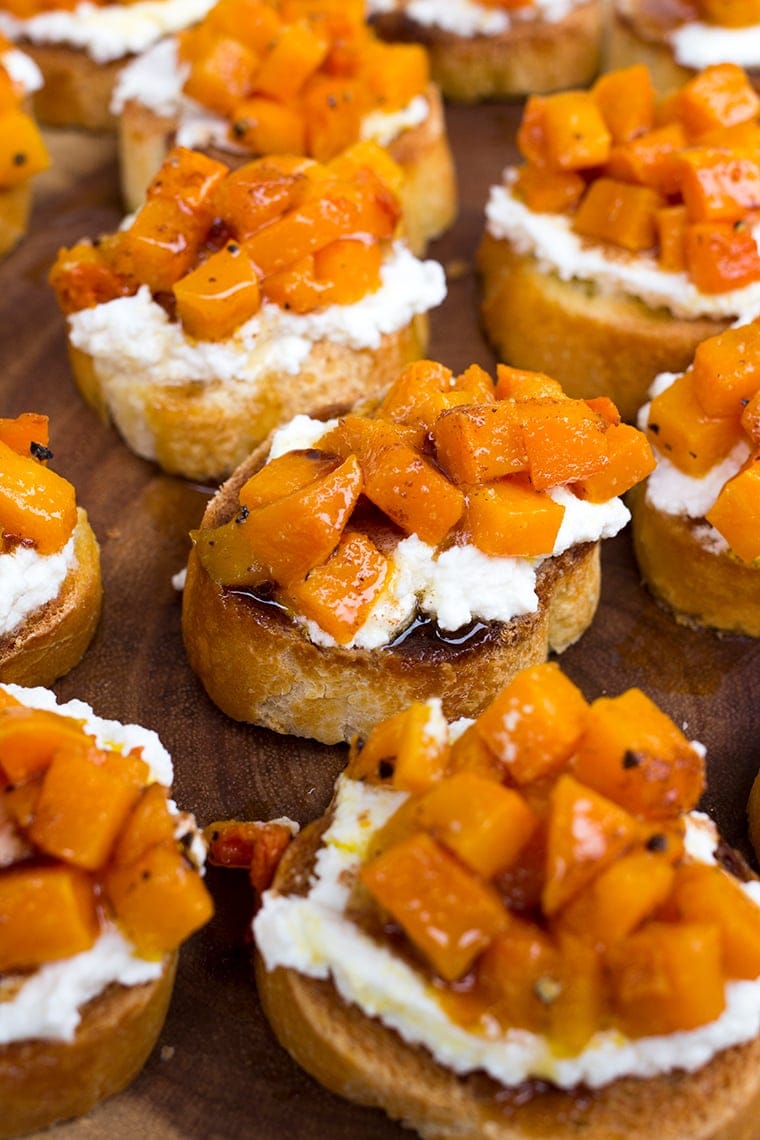 Roasted Butternut Squash & Ricotta Crostini
Recently I attended a Friendsgiving hosted by a celebrity chef and one of our appetizers was a Roasted Butternut Squash & Ricotta Crostini. Well, technically he made his on a walnut and cranberry bread but either way, it inspired me! The concept is so easy but the results are delicious and perfect for Thanksgiving.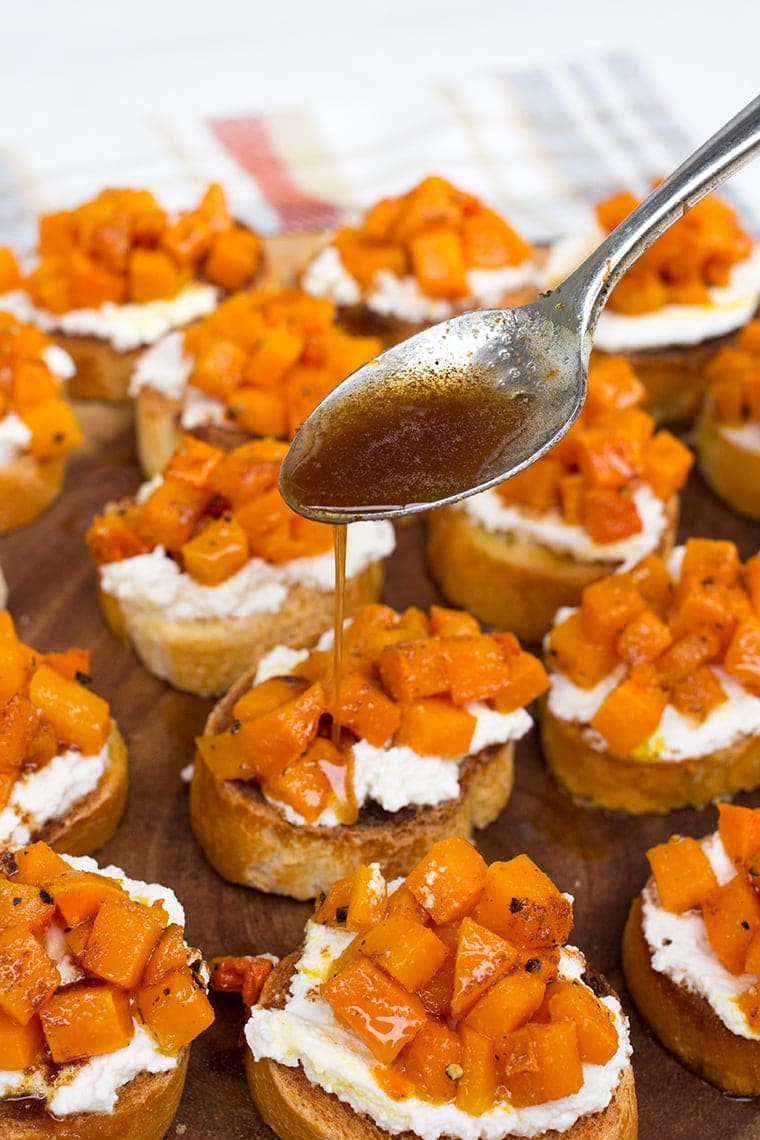 How to Make Brown Butter
The secret to the flavor in this appetizer really comes from the brown butter drizzle at the end. If you've ever wondered how to make brown butter, the process is really simple. In a small sauce pan or skillet, melt a stick of salted butter over medium heat. Swirl the butter as it melts until it begins to foam and you see brown bits beginning to form on the bottom of the pan. Keep swirling and remove from heat when it's a golden brown with darker bits on the bottom. Be careful to remove it before it burns, the entire process happens quicker than expected. Now you have brown butter sauce for drizzling over crostini or even mashed potatoes! You can find that recipe here.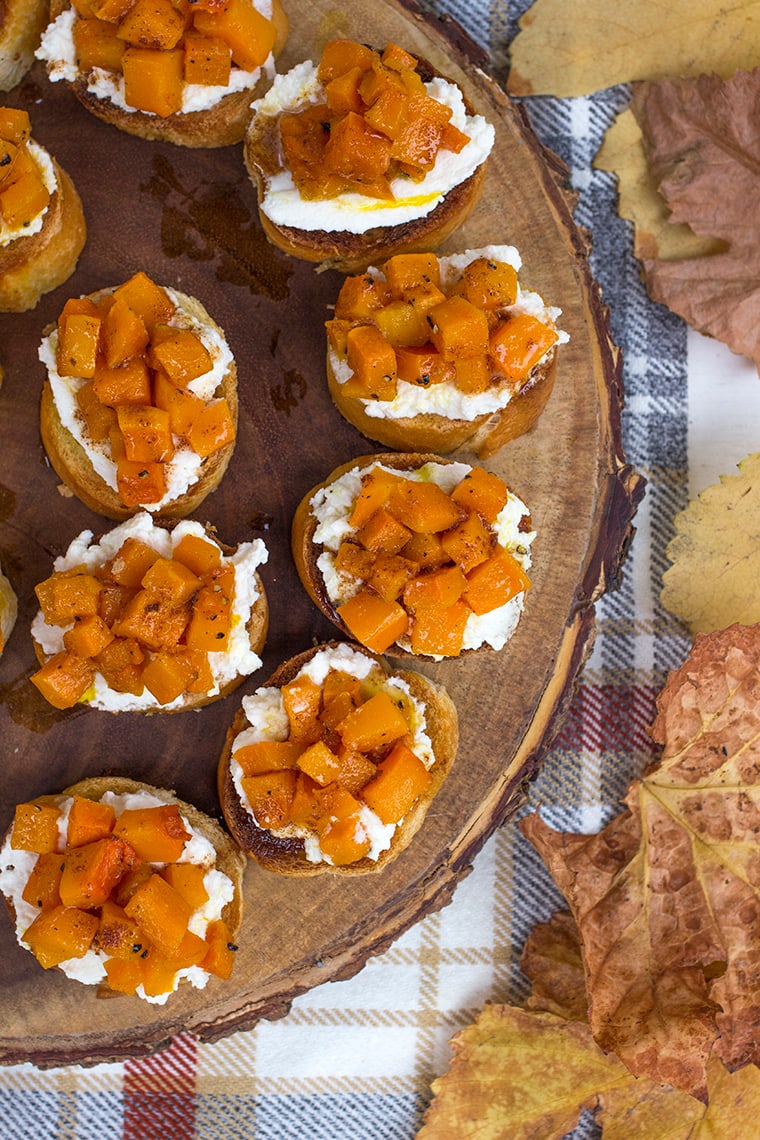 How to breakdown a Butternut Squash
Now it's time to prep the squash! First start with a very sharp knife and a vegetable peeler. Cut both ends off of your butternut squash for starters. This will give you a stable, flat base. Next, begin peeling your butternut squash using a vegetable peeler until you see the orange flesh. It might take going over the same spot twice but it's a relatively easy job. From there, cut open the squash, remove the seeds and begin dicing into small square pieces. If you are prepping this appetizer before Thanksgiving day, you could always roast your squash a day ahead and keep refrigerated until you are ready to heat and serve.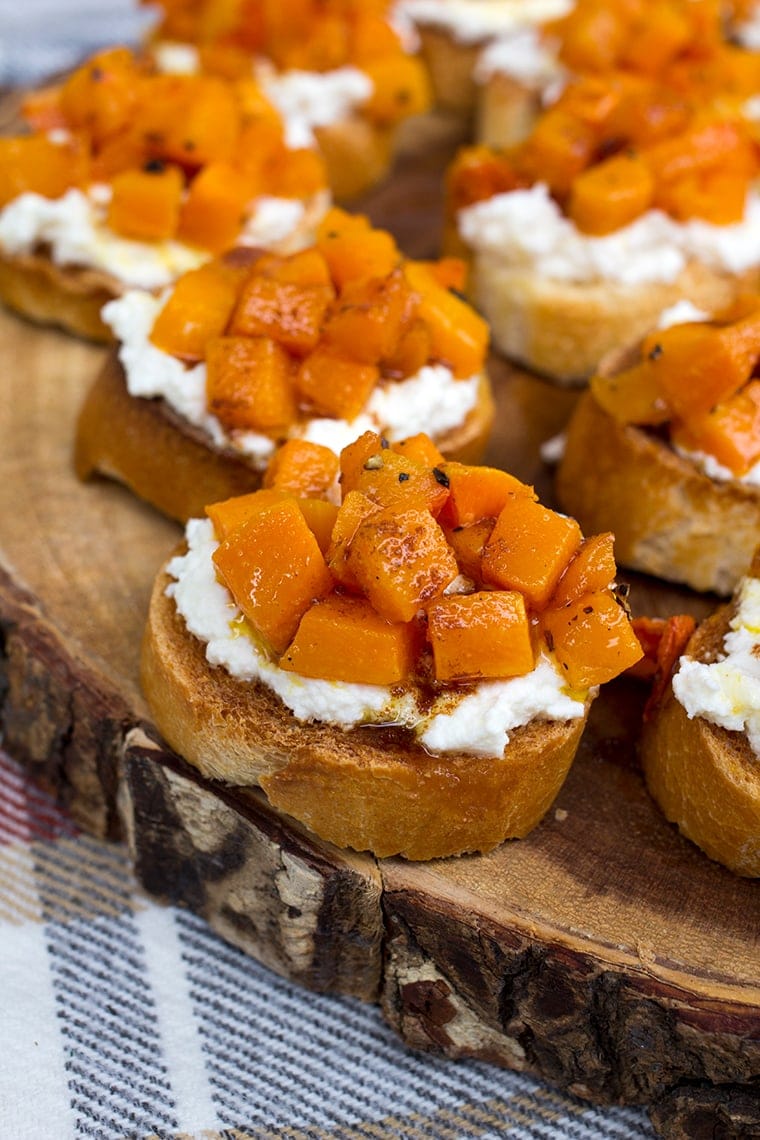 For the bread, you can use any sort but I chose a simple french baguette sliced, drizzled with olive oil and quickly toasted under the broiler. Cranberry Walnut bread is also delicious! Once the bread is toasted, spread with ricotta, top with butternut squash and a drizzle of brown butter. Finish by heating the entire tray of crostini in the oven for about 5-7 minutes to heat the ricotta and squash through. Time to feast!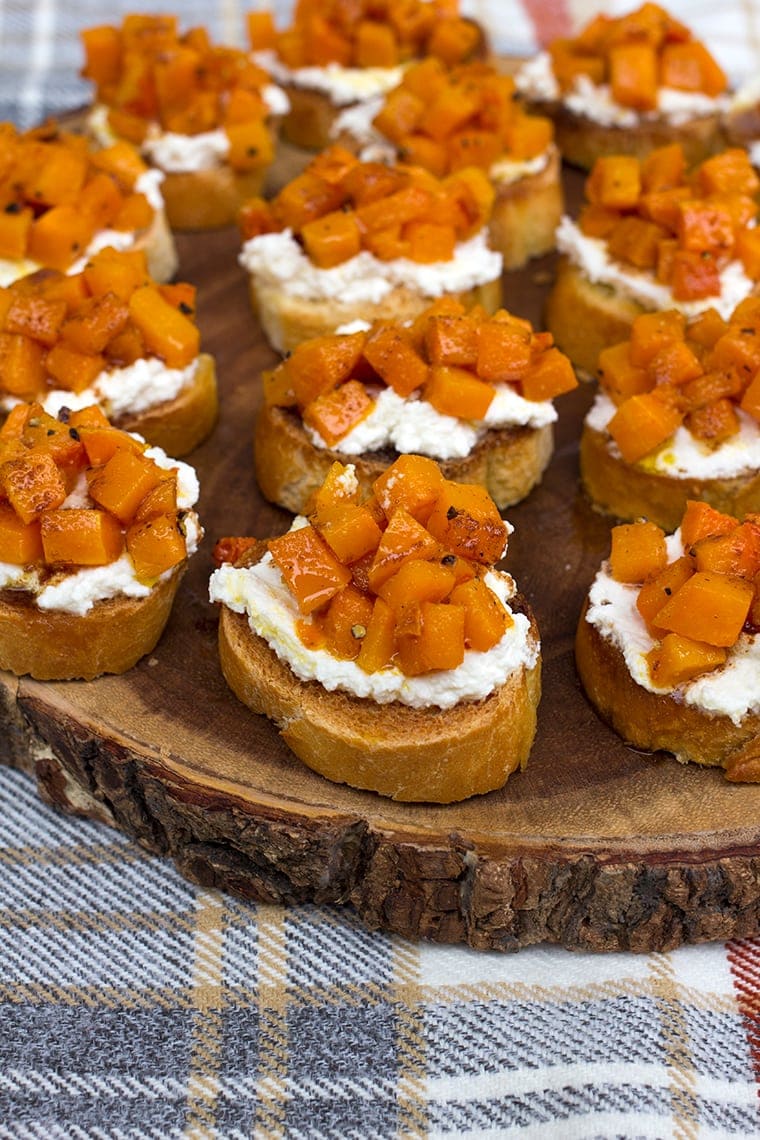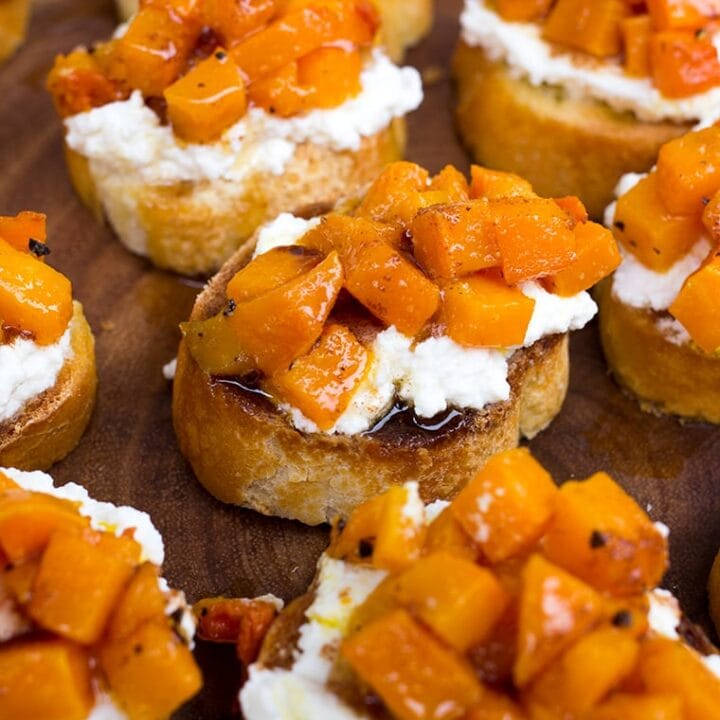 Roasted Butternut Squash & Ricotta Crostini
Roasted Butternut Squash and Ricotta Crostini with brown butter drizzle makes a delicious Thanksgiving appetizer you can make ahead!
Ingredients
1 butternut squash
olive oil
kosher sea salt
pepper
garlic powder
ground sage
1 stick salted butter
1 french baguette or loaf of cranberry walnut bread
Instructions
Preheat oven to 400 degrees.
Pull the ricotta cheese out of the refrigerator while you prep the crostini so that it's not ice cold.
Peel and dice butternut squash into small cubes.
On a large rimmed sheet pan, arrange butternut squash and drizzle with olive oil.
Season generously with sea salt, pepper and garlic powder plus a small sprinkle of ground sage.
Toss to evenly coat and roast about 25-30 minutes or until the squash is fork tender but not too soft.
Toast bread or baguette under the broiler by slicing, drizzling with olive oil and toasting just a minute or two. It doesn't take long so keep an eye on it.
To make the brown butter, melt one stick of salted butter in a small skillet over medium heat until the butter melts and begins to foam and brown bits begin to form on the bottom of the pan. Remove from heat.
To assemble: Spread toasted bread with ricotta cheese, top with roasted squash and a drizzle of brown butter.
Arrange prepared crostini on a large cookie sheet and heat in the oven for about 5 minutes to heat the cheese and squash through just before serving.