Wasabi Deviled Eggs, not the traditional flavor combinations you might immediately associate with Easter, but oh so good.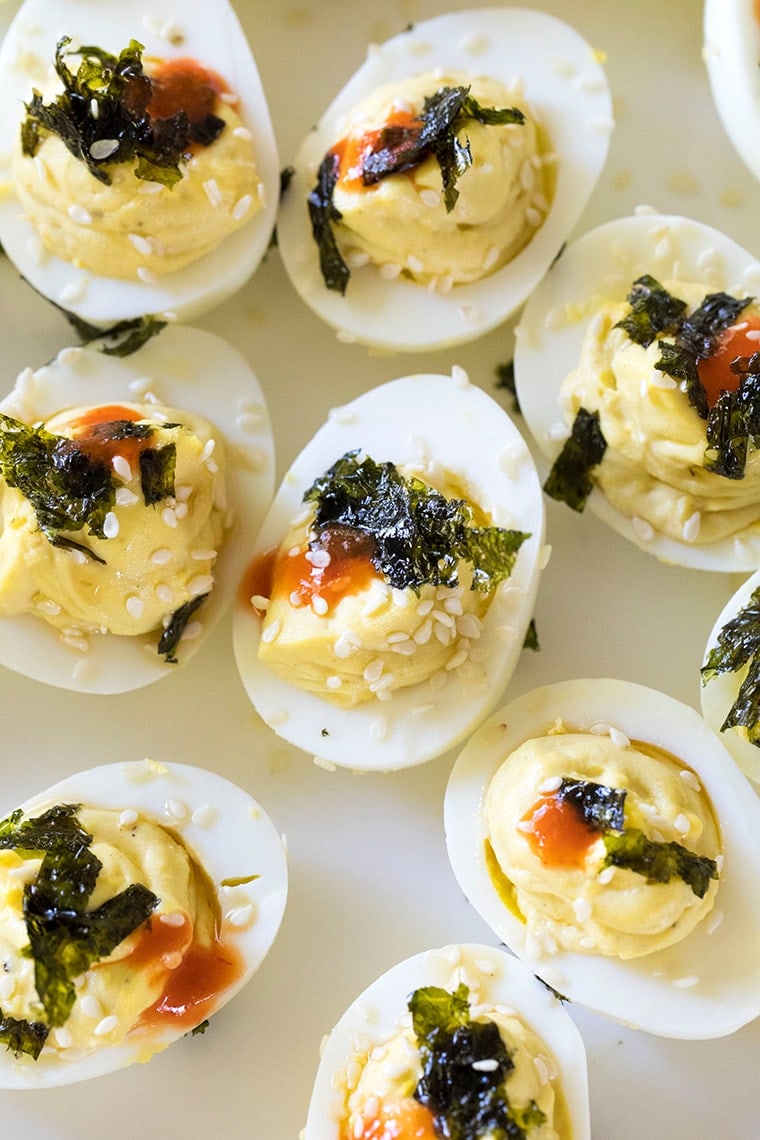 Wasabi Deviled Eggs
These Japanese inspired Wasabi Deviled Eggs came to me in a moment of pure hunger. I was craving sushi and simultaneously thinking about Easter recipes while in route to Trader Joes. If that isn't the most random sentence I've every typed, I don't know what is. Anyway, the thought went something like this: wasabi mayonnaise, sesame, seaweed, a little sriracha...oh ya, that would be good.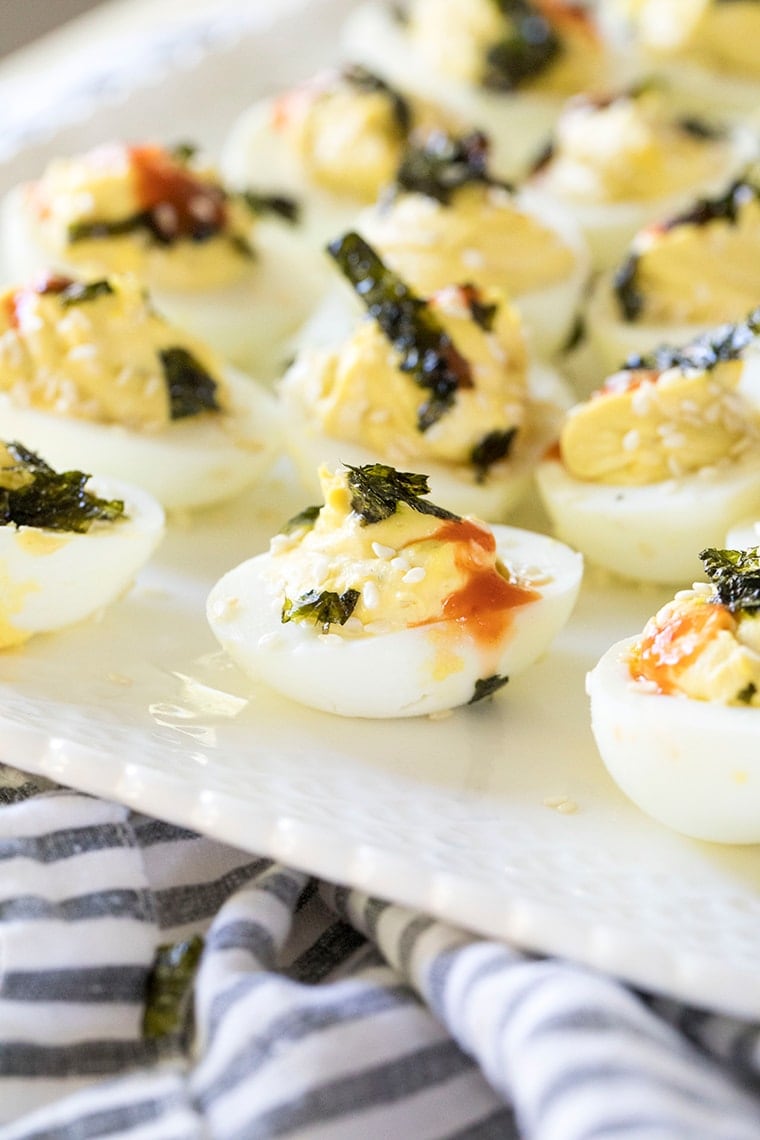 Trick to Perfect Deviled Eggs
If you are planning to hard boil eggs for Easter, this would be a great recipe to try the day after to use up those eggs. I also have some great tips for getting perfect hard boiled eggs on this post for my Italian Style Deviled Eggs. If you want to skip the hard boiling completely, you can usually find cooked and peeled eggs in most grocery stores! I bough a dozen at Trader Joe's for this recipe in fact. It will save you a lot of time and energy if you are short on those.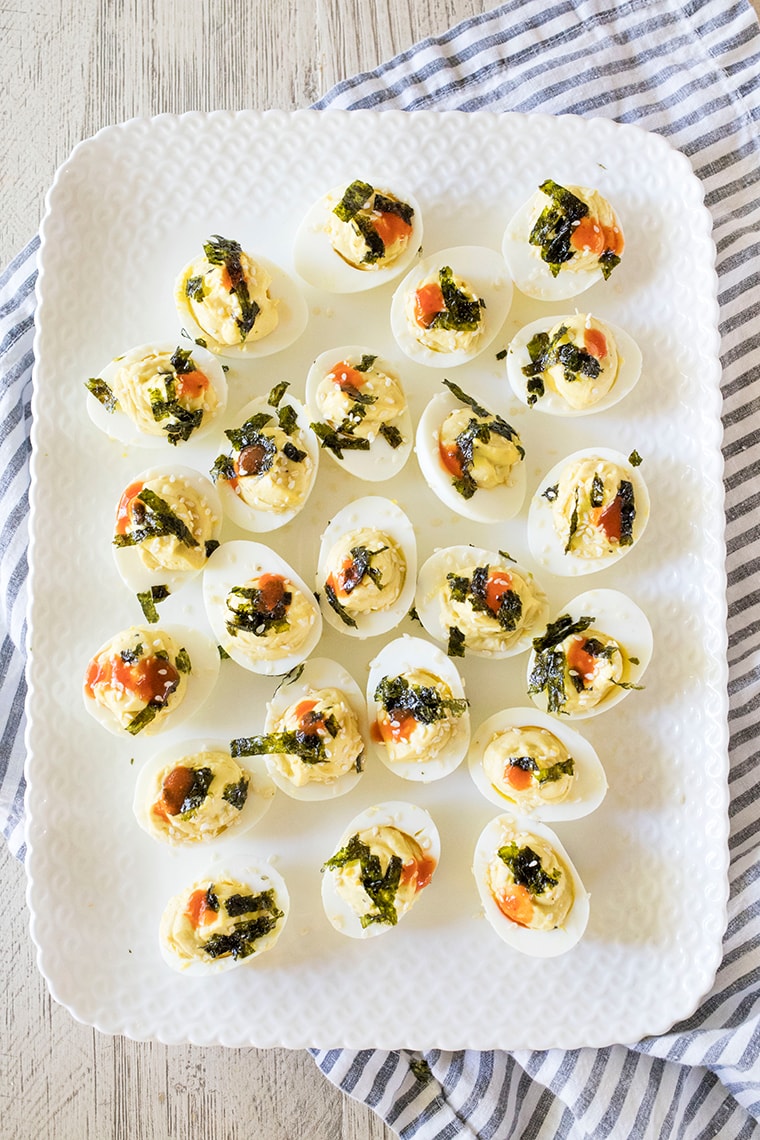 For the toppings: white sesame seeds or black if you have them for a color pop, dried seaweed, a drizzle of sesame oil and a drop of sriracha. These eggs are so simple to make but really have all of those classic Japanese flavors I love. You could top them with sushi ginger if you can find it in your grocery store as well!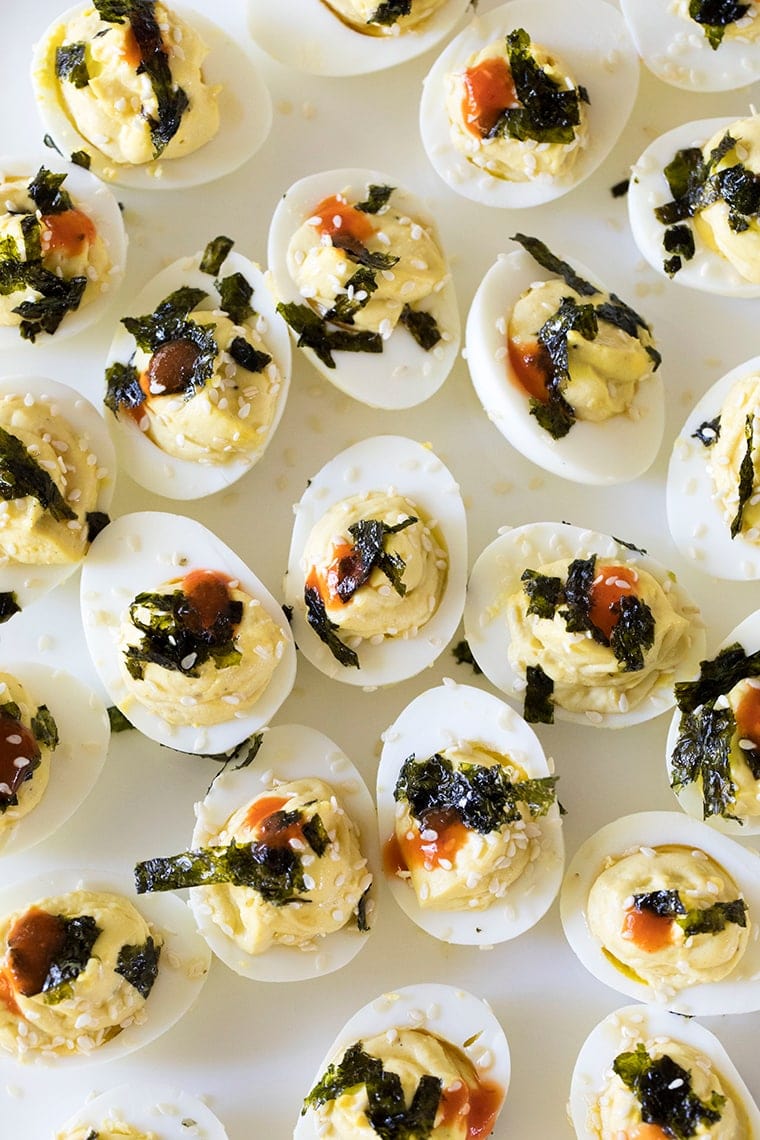 Word of warning, these Wasabi Deviled Eggs pack a punch of spicy! However you can always adjust that to your own heat preference by cutting the wasabi mayonnaise in half and using plain mayo. It will still be just as delicious but have a bit less bite. I personally love wasabi and all things spicy so these were perfect for my tastebuds.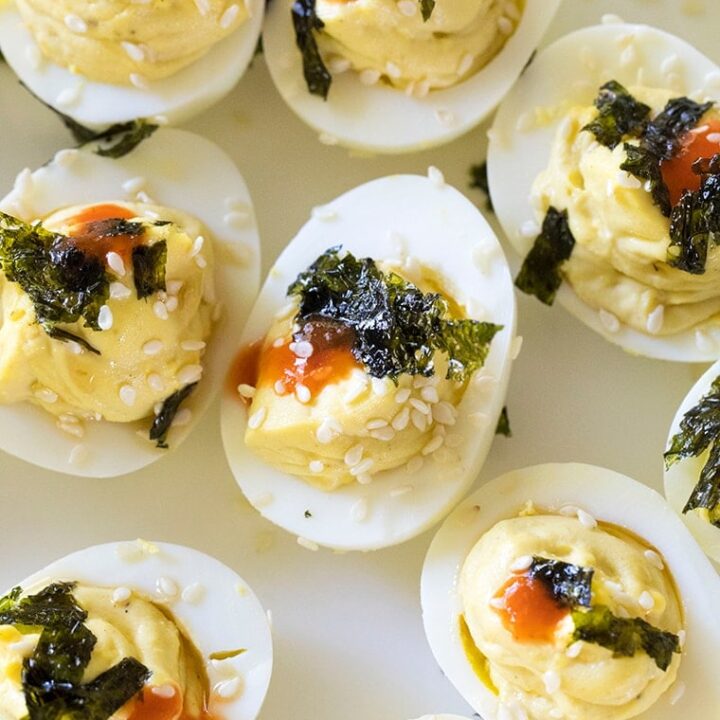 Wasabi Deviled Eggs
Japanese inspired deviled eggs with a wasabi mayonnaise filling topped with seaweed, sesame and sriracha.
Ingredients
12 hard boiled eggs
1 cup wasabi mayonnaise, I get mine at Trader Joes. See note below.
1 teaspoon toasted sesame oil, plus more for drizzle
2 teaspoons soy sauce
salt and pepper
sesame seeds
dried seaweed, cut into strips
sriracha
Instructions
Slice eggs in half lengthwise and scoop yolks out into a mixing bowl.
Arrange whites on a platter for filling.
Use a fork to mash egg yolks.
Add in mayonnaise (see my notes on this), sesame oil and soy sauce. Taste and then season with salt and pepper as needed. You won't need much salt after adding the soy sauce.
Mix yolk mixture until smooth and transfer to a large ziplock bag. Cut off on corner and use the bag to pipe filling into egg whites.
Top deviled eggs with a small drizzle of sesame oil (a little goes a long way so use a spoon for this), seaweed, a drop of sriracha and a sprinkle of sesame seeds.
Serve immediately! If you are prepping ahead of time you can make the filling and keep the egg whites and filling refrigerated until you are ready to assemble.
Notes
If you want less spice, you can use ½ cup wasabi mayonnaise and ½ cup plain mayonnaise instead. If you can't find this product already prepared you can use plain mayonnaise and add in a squirt of wasabi paste to taste.