When it comes to Easter recipes, nothing feels more traditional than deviled eggs...and Honey Baked Ham, and macaroni and cheese, ok I'm hungry. Of all the holiday appetizer mini-foods, deviled eggs are one of my all-time favorites. So old fashioned and with the possibility of being horribly bad. You KNOW what I'm talking about. Good thing these are anything but. Italian Deviled Eggs are so delicious...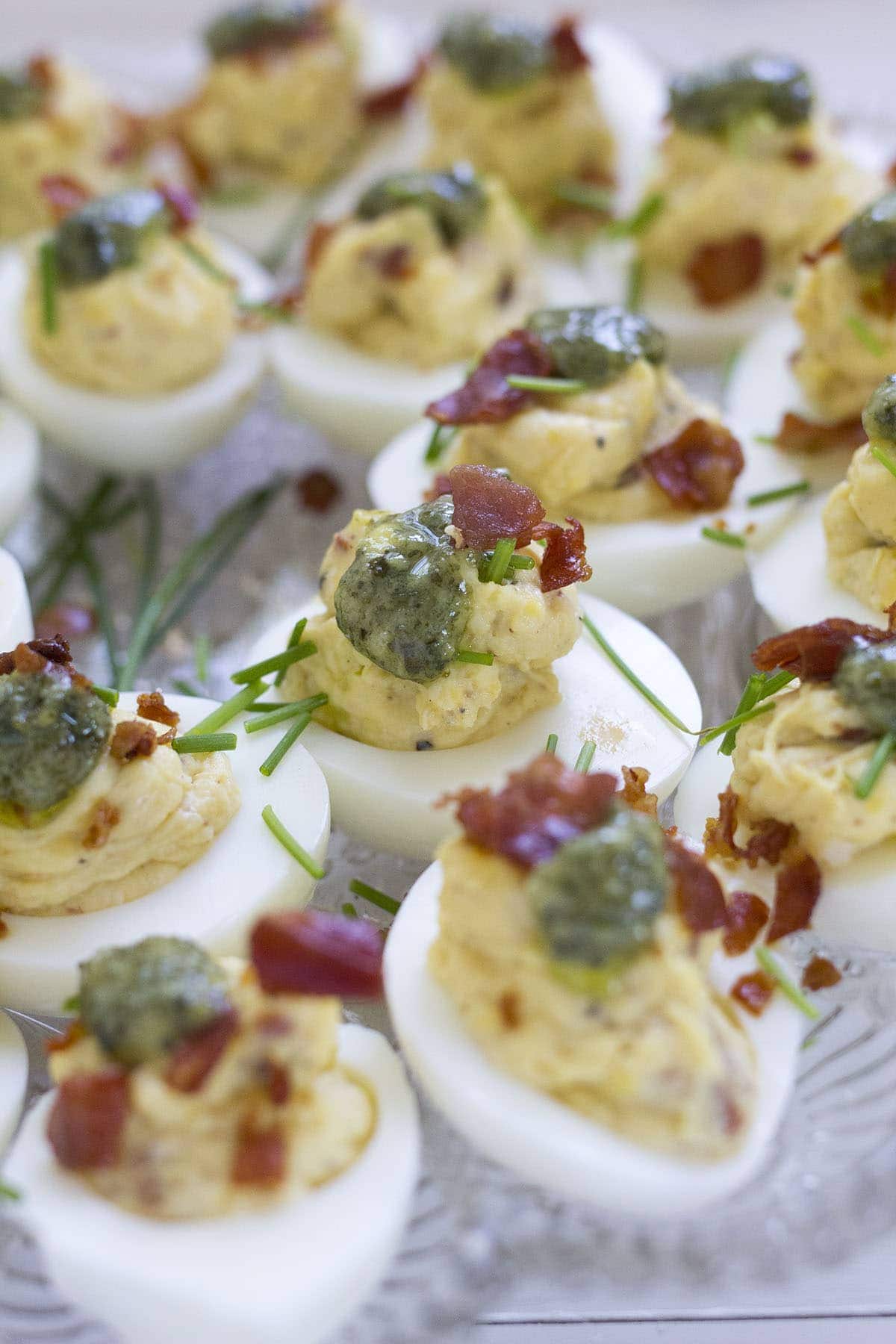 I first shared this recipe back in the Spring 2014 Better Homes and Gardens "Top-Rated Recipes" special issue magazine. Since then I've made them almost every Easter and honestly can't believe I've never photographed them properly for the blog.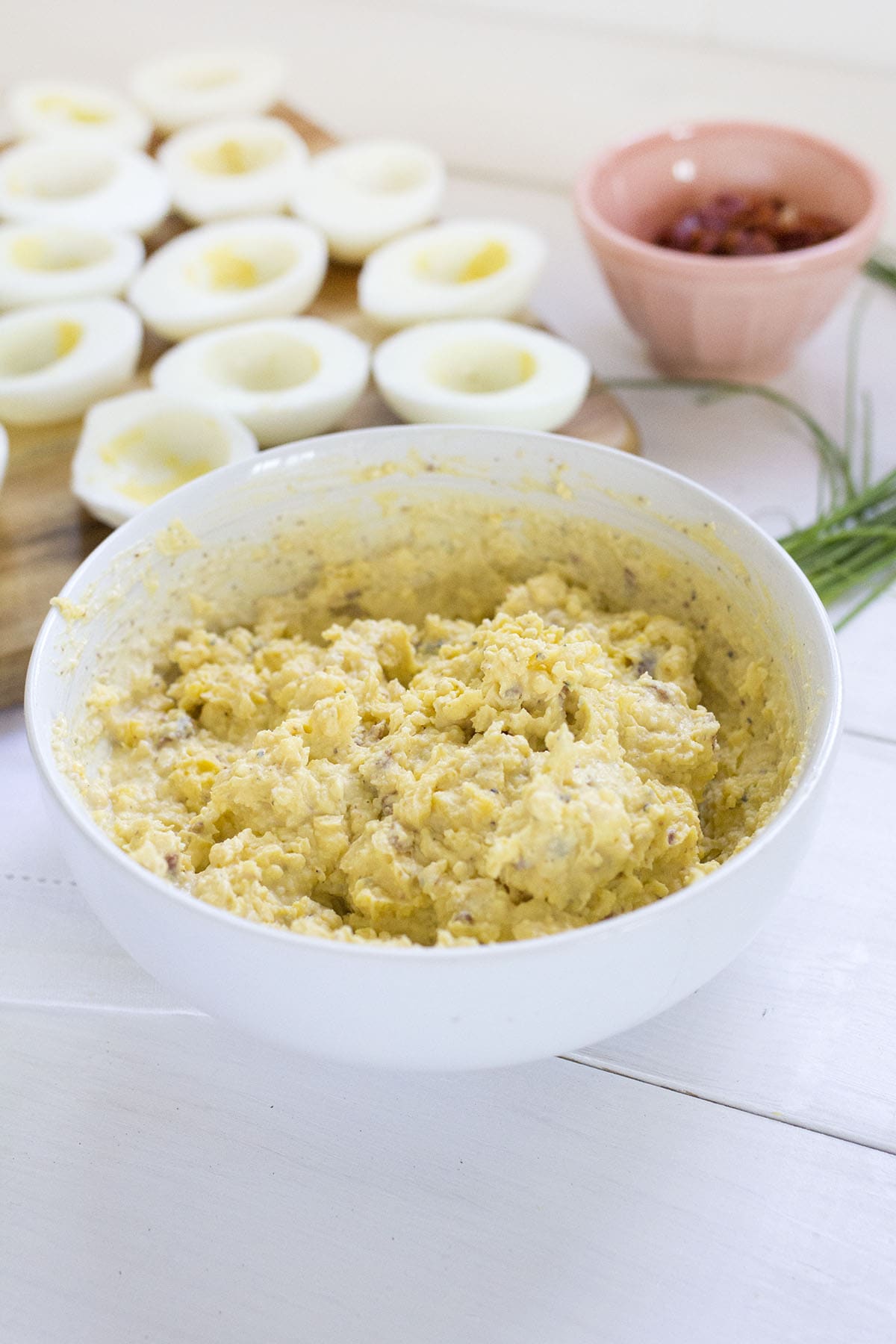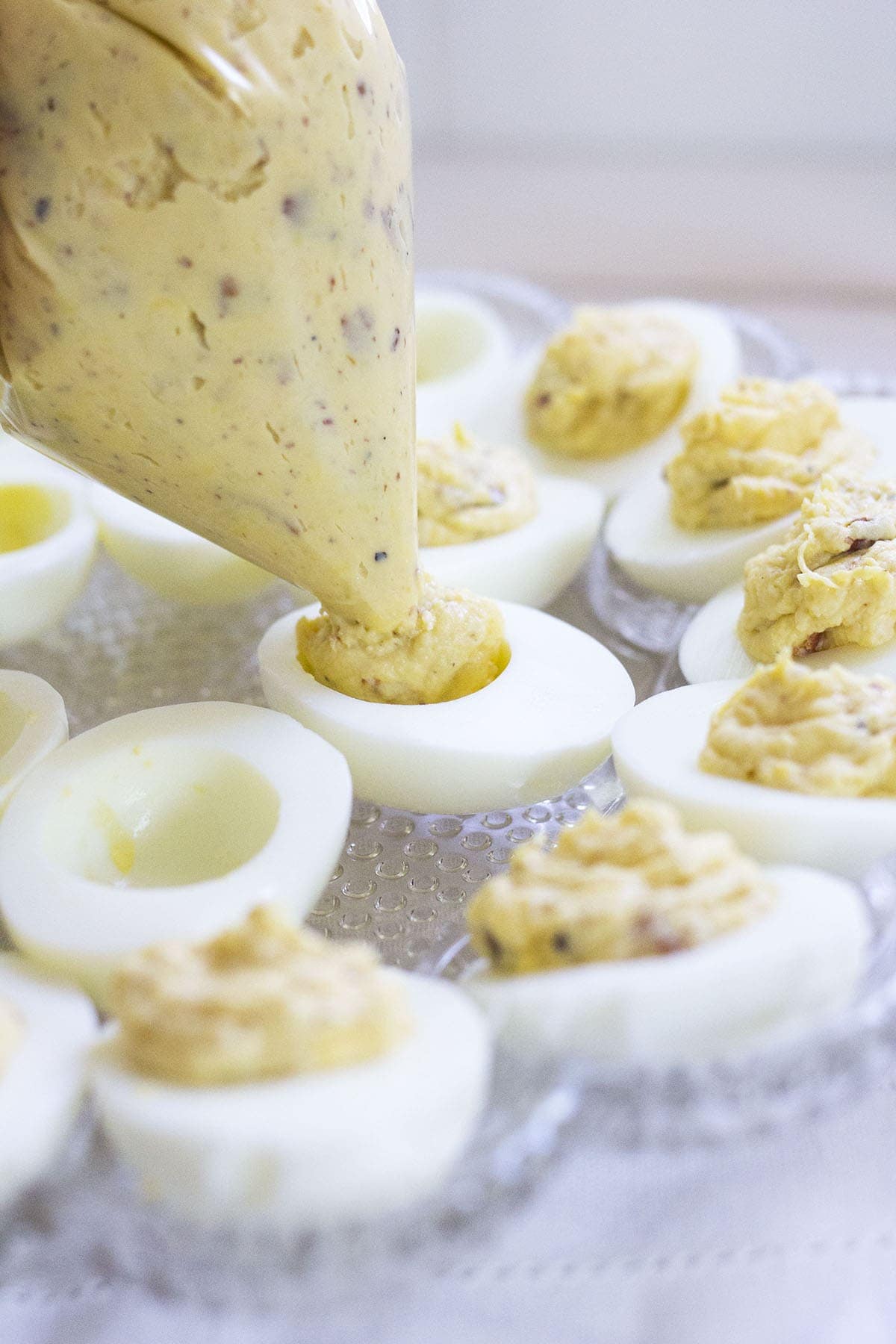 The filling has Parmesan cheese and crispy crumbled proscuitto, and the top is garnished with a dollop of pesto. These little eggs are packed with flavor! Jason's Grandpa nearly ate an entire dozen at one family Easter, it was amazing.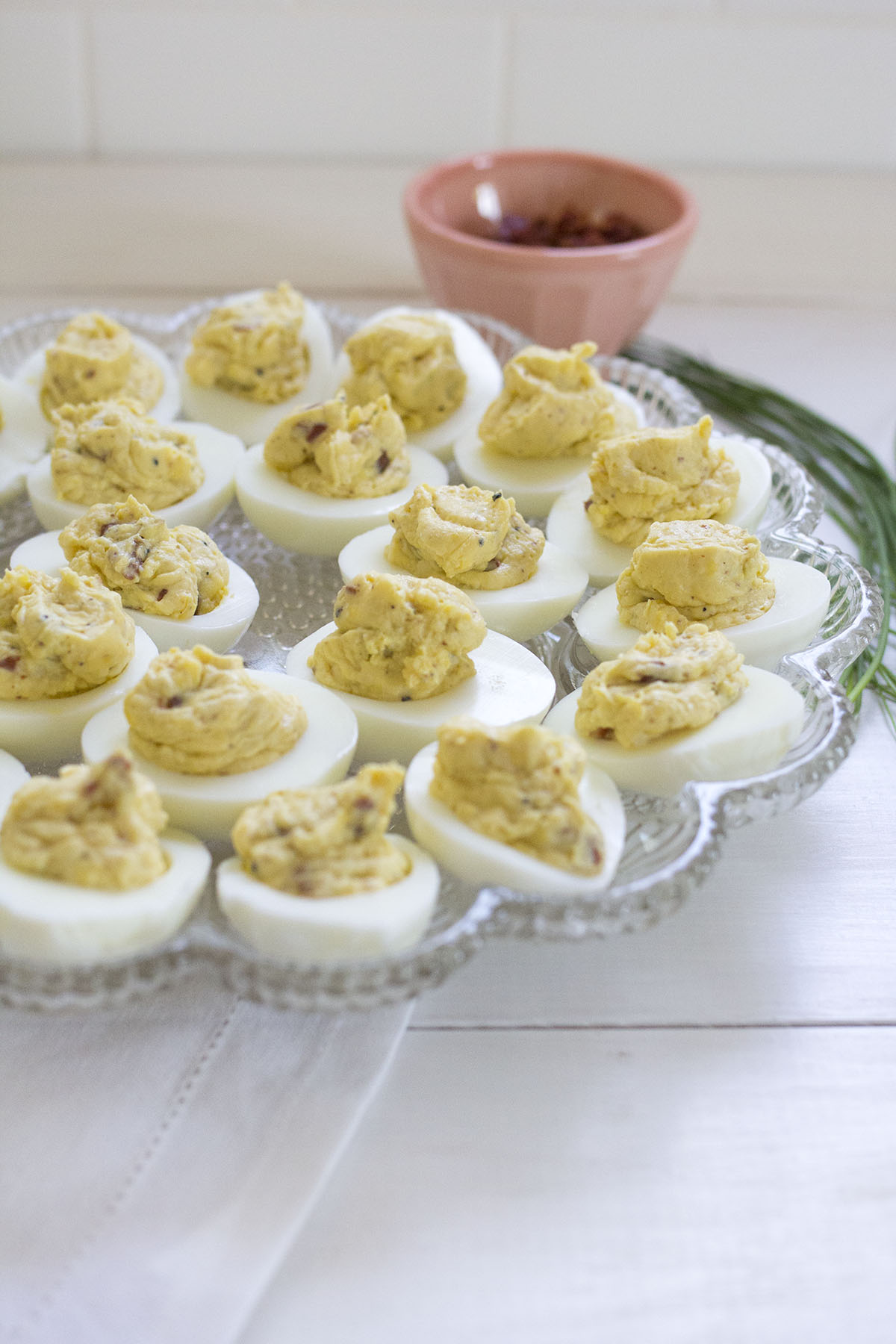 If you, like me, dread hard boiling and peeling eggs, I'm also sharing a few tips today that will make your life so much easier! Because nothing is more satisfying than peeling an eggs that's shell falls right off. Can I get an Amen?!
So, first things first, follow this tip from my friends The Two Chums when boiling your eggs. It is magical for helping with easy shell removal. Secondly, here are a few more egg boiling gems the chums shared with me for perfect hard-boiled eggs every time.
Easy-to-Peel Hard Boiled Eggs:
Use old eggs. Ok, before you get totally grossed out, know that fresh eggs can last 4 to 5 weeks beyond the pack date or about 3 weeks after purchase. (source) So, use eggs that have been in your fridge for about a week or so, not freshly purchased. The fresher the egg, the harder to peel no matter what techniques you use.
Use this lemon trick. GENIUS!
Here's how to boil them. Place eggs in a pot and cover with cold water, add in ½ of a lemon and bring to a boil. Once the water is rapidly boiling, remove from the heat, cover and let stand 10 minutes.
Carefully drain the water and run the eggs under cold water to stop the cooking. Dry and place in the refrigerator to cool completely before peeling.
To peel, gently crack and roll the eggs under cool water to help release the shell.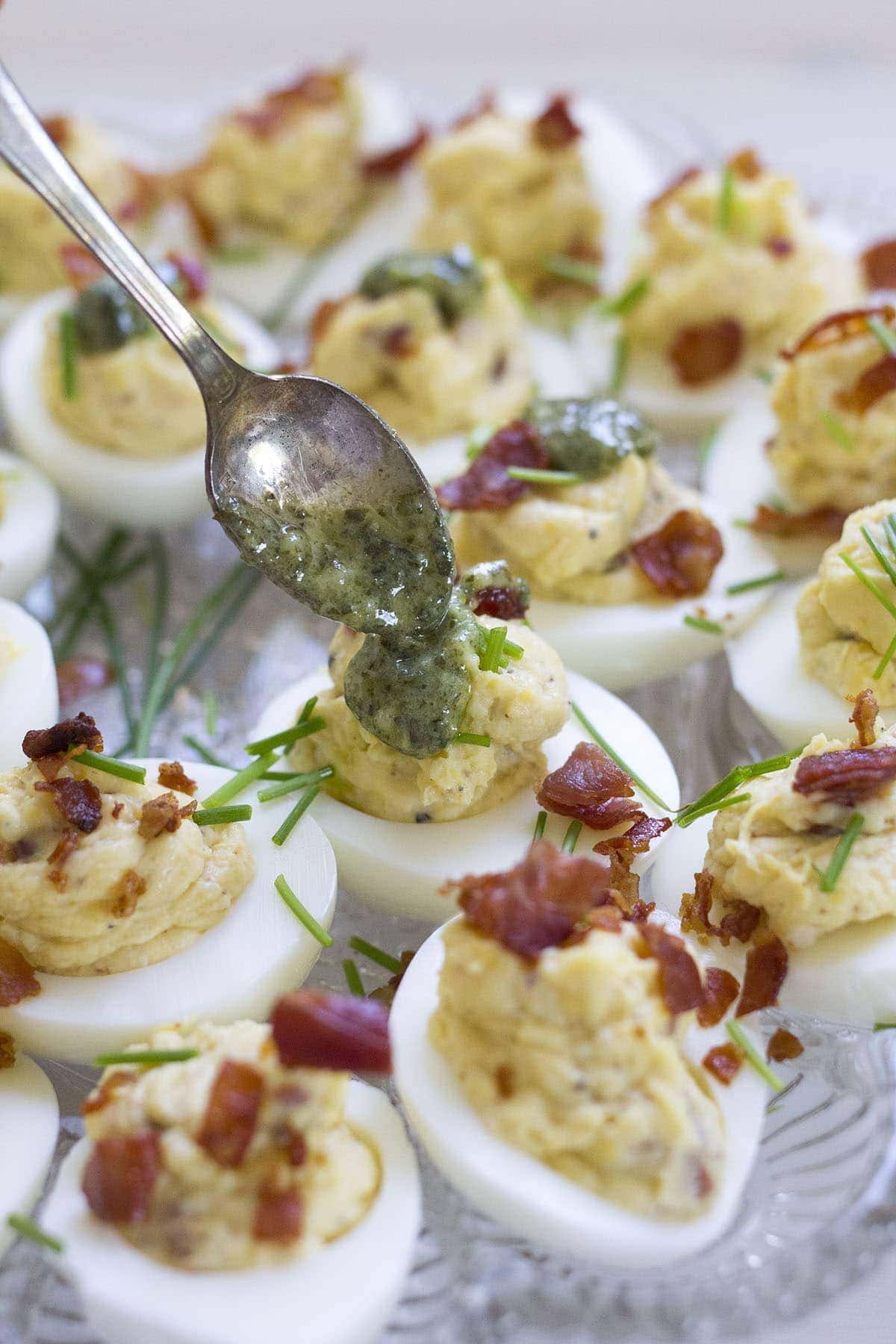 Now all that's left is the recipe. I hope you will try these deviled eggs and that your family will love them this Easter just as much as Jason's Grandpa does...which is a whole lot.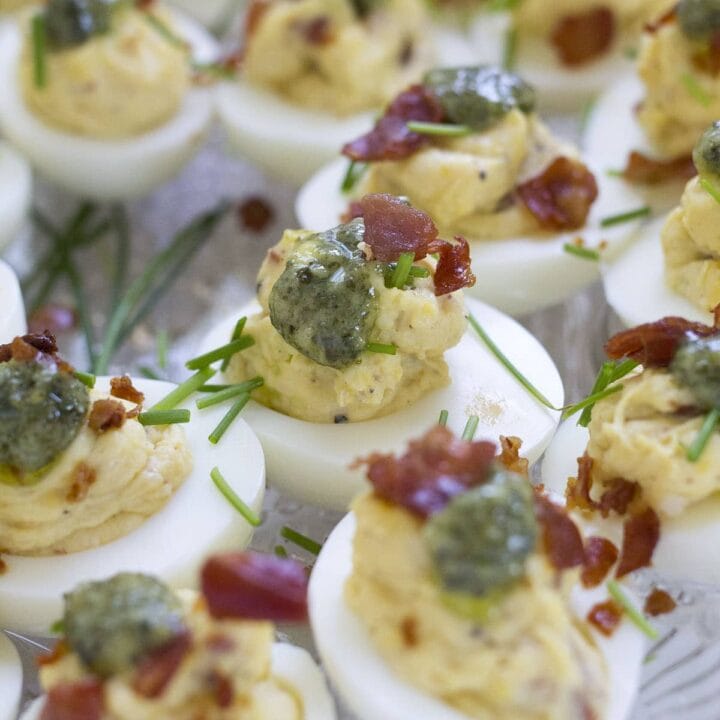 Italian Deviled Eggs
Italian-style deviled eggs packed with prosciutto and Parmesan cheese and topped with pesto.
Ingredients
12 hard-cooked eggs
½ cup mayonnaise
1 tablespoon Dijon mustard
¼ teaspoon ground black pepper
¼ cup finely chopped prosciutto- crisp cooked and chopped
½ cup grated Parmesan cheese
basil pesto
snipped fresh chives – optional for garnish
Instructions
Halve hard-cooked eggs lengthwise removing the yolks. Set whites aside. Place yolks in a small bowl; mash with a fork. Stir in mayonnaise, mustard, and pepper. Fold in ¼ cup prosciutto and the Parmesan cheese.
Using a large zip-lock bag filled with egg mixture or a small spoon, stuff egg white halves with the yolk mixture. If desired, cover and chill for up to 24 hours. Garnish with additional prosciutto, a dab of pesto, and or chives.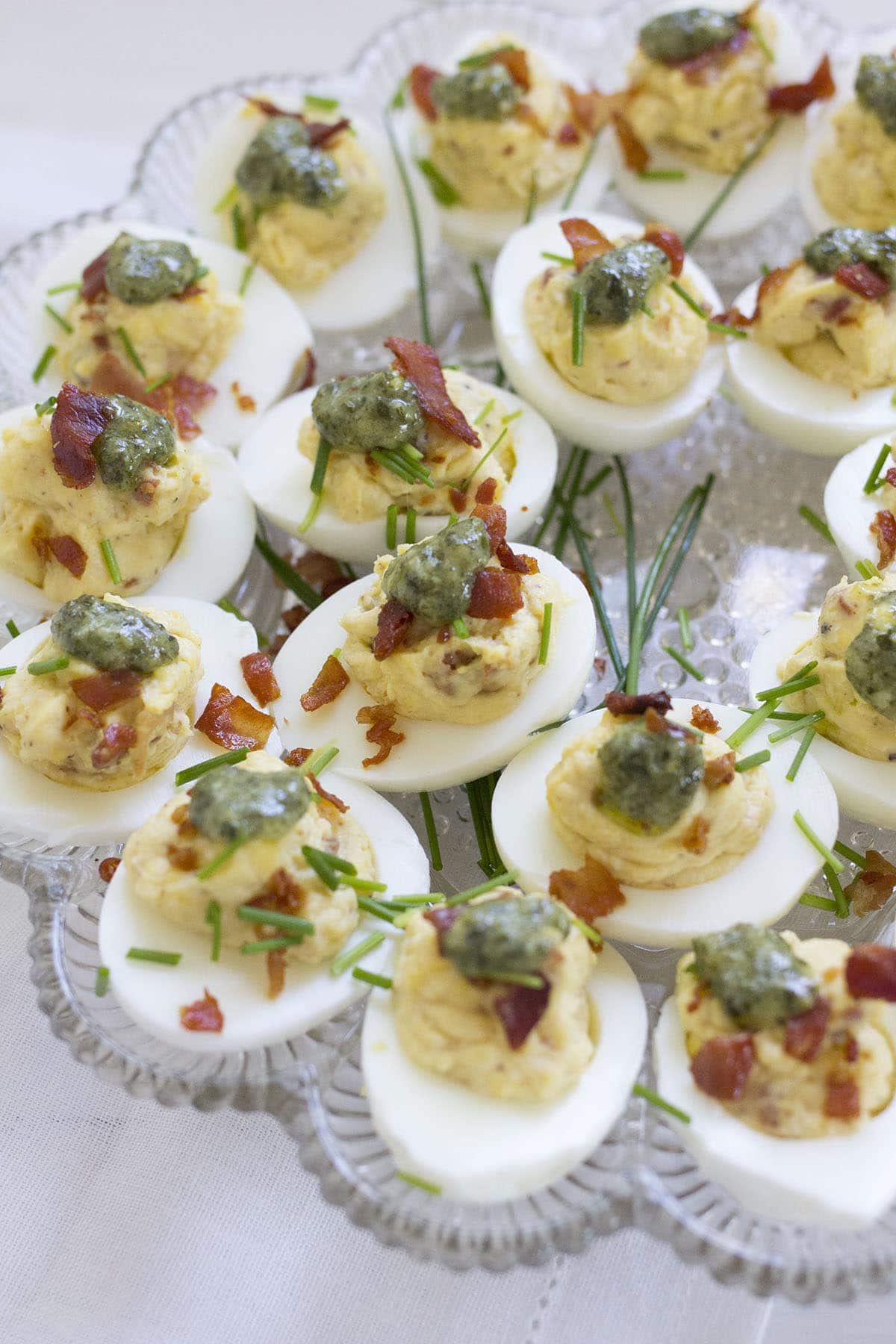 Save
Save