Here's the thing, I'm not a huge apple pie lover. Gasp, eeek, oh my gawwwd. I know it. But every once in a blue moon a craving will strike and that's usually when I dream of the mini caramel apple hand pies I posted or the giant apple crumble pie I made two Thanksgivings ago…or Apple Pie Baked Apples. Because I'm only human you guys, and because, a la mode.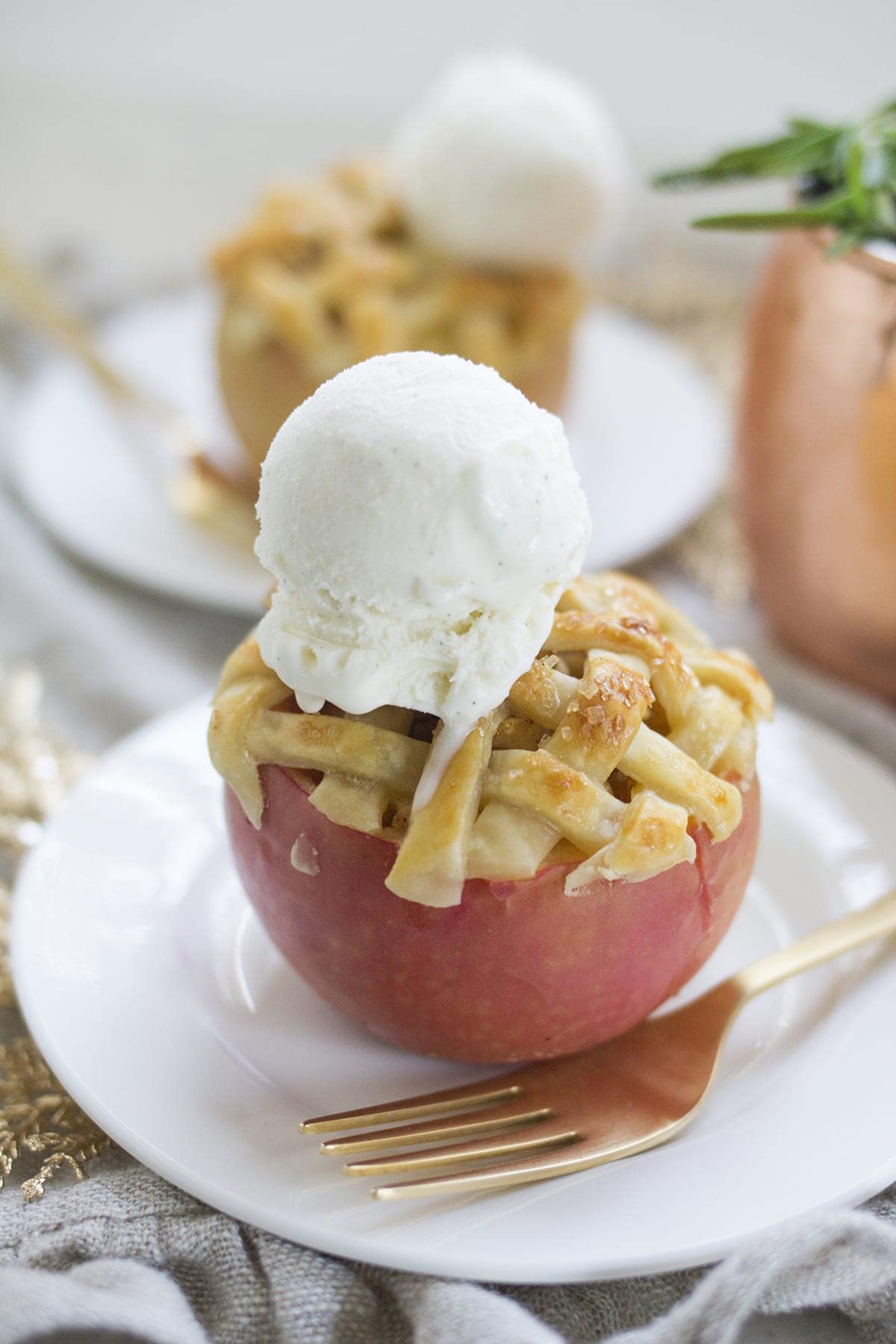 In a sad but completely predictable turn of events, our beautiful crisp fall weather here in California has now been replaced with horrible heat. Do I sound like a broken record this time of year or what? Blah, Blah, LA heat is the worst. But really, does anyone enjoy baking pie when the forecast is in the upper 80's? I think not.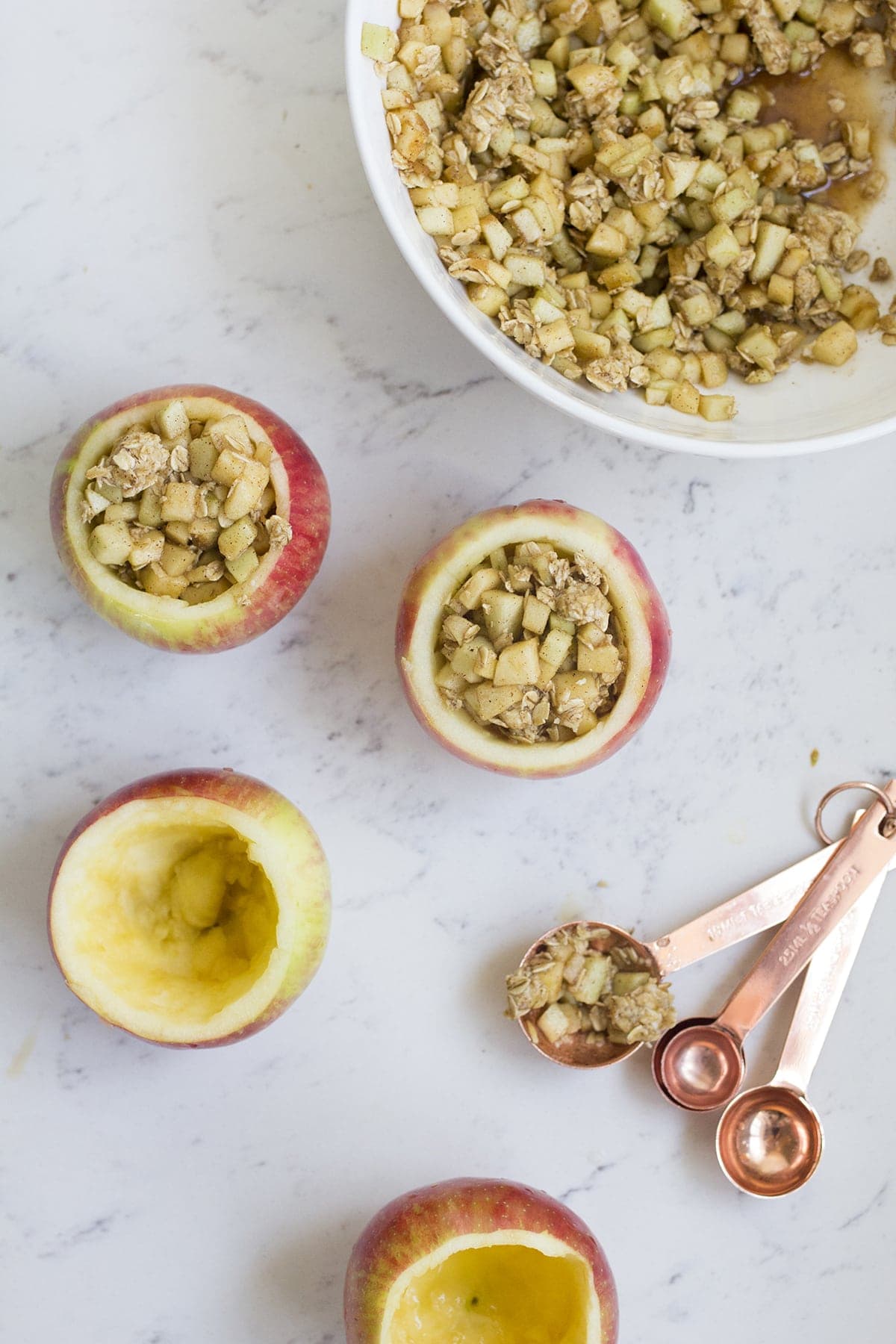 Would it really be too much to ask for some cool pie baking weather in time for Thanksgiving? Luckily, these little pies don't take all that long to bake and are on the lighter side with just a small amount of buttery lattice crust up on top.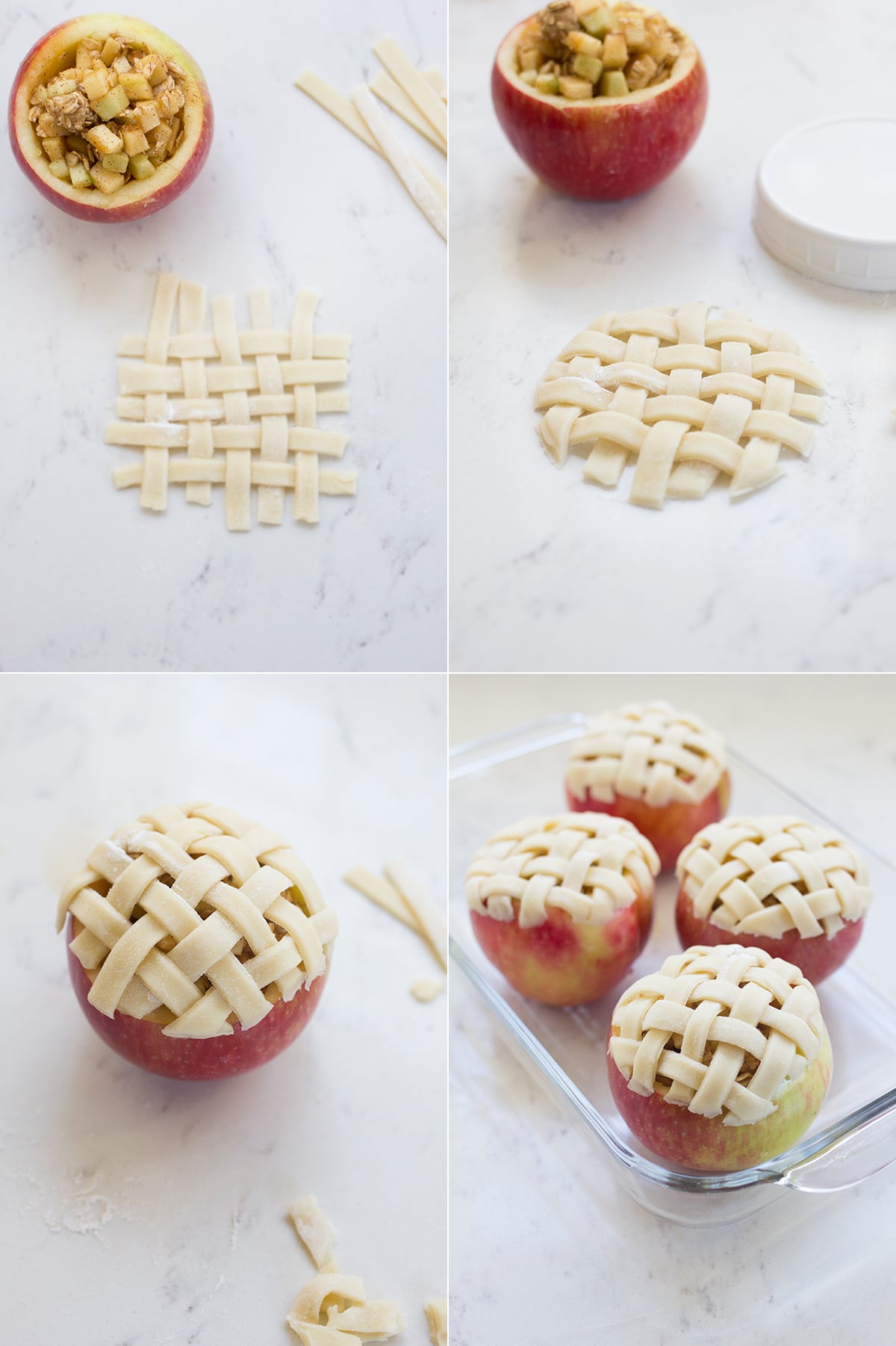 Serve with a scoop of vanilla ice cream and you have the cutest little individual apple pies perfect for a Thanksgiving dinner dessert table. Now about that weather…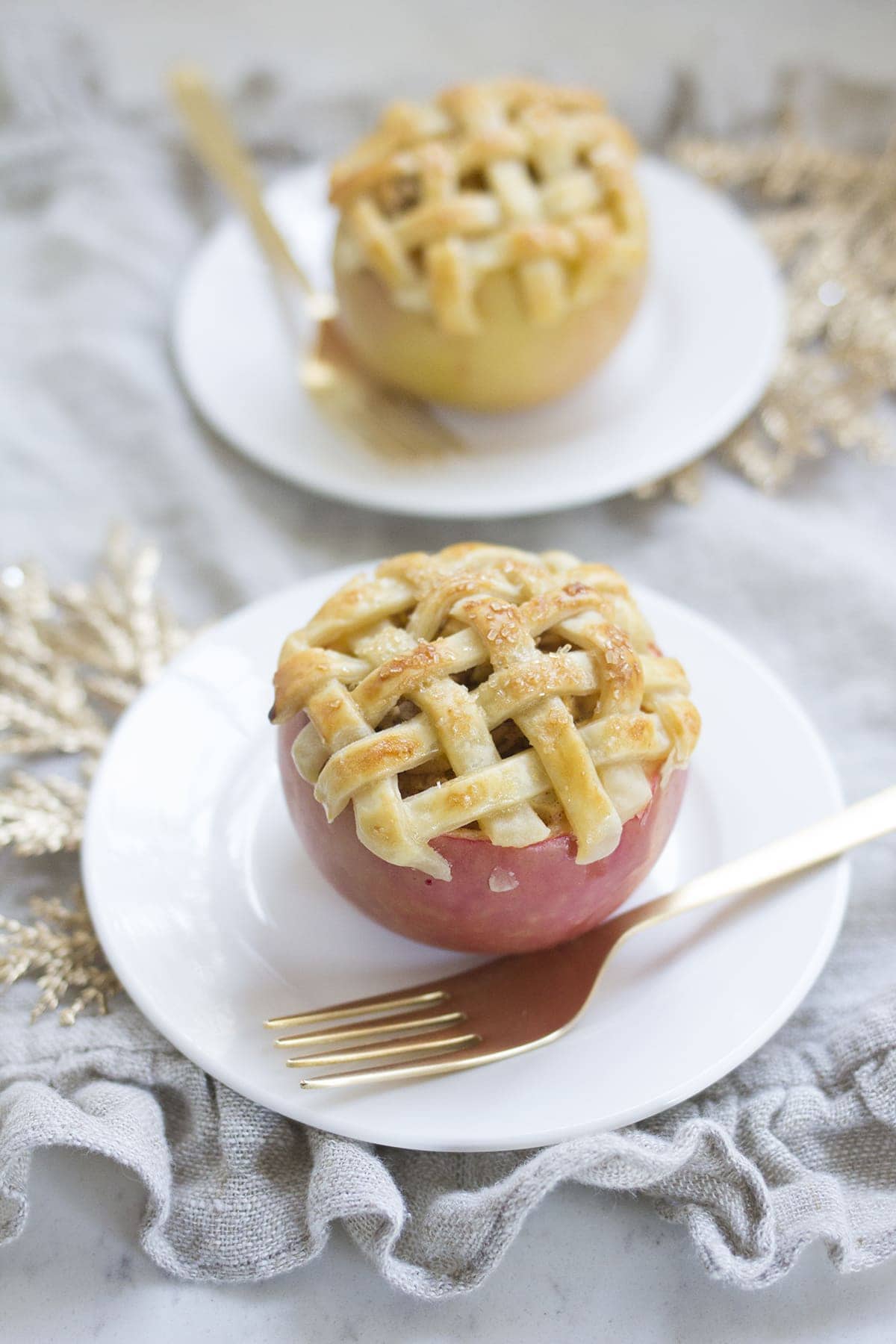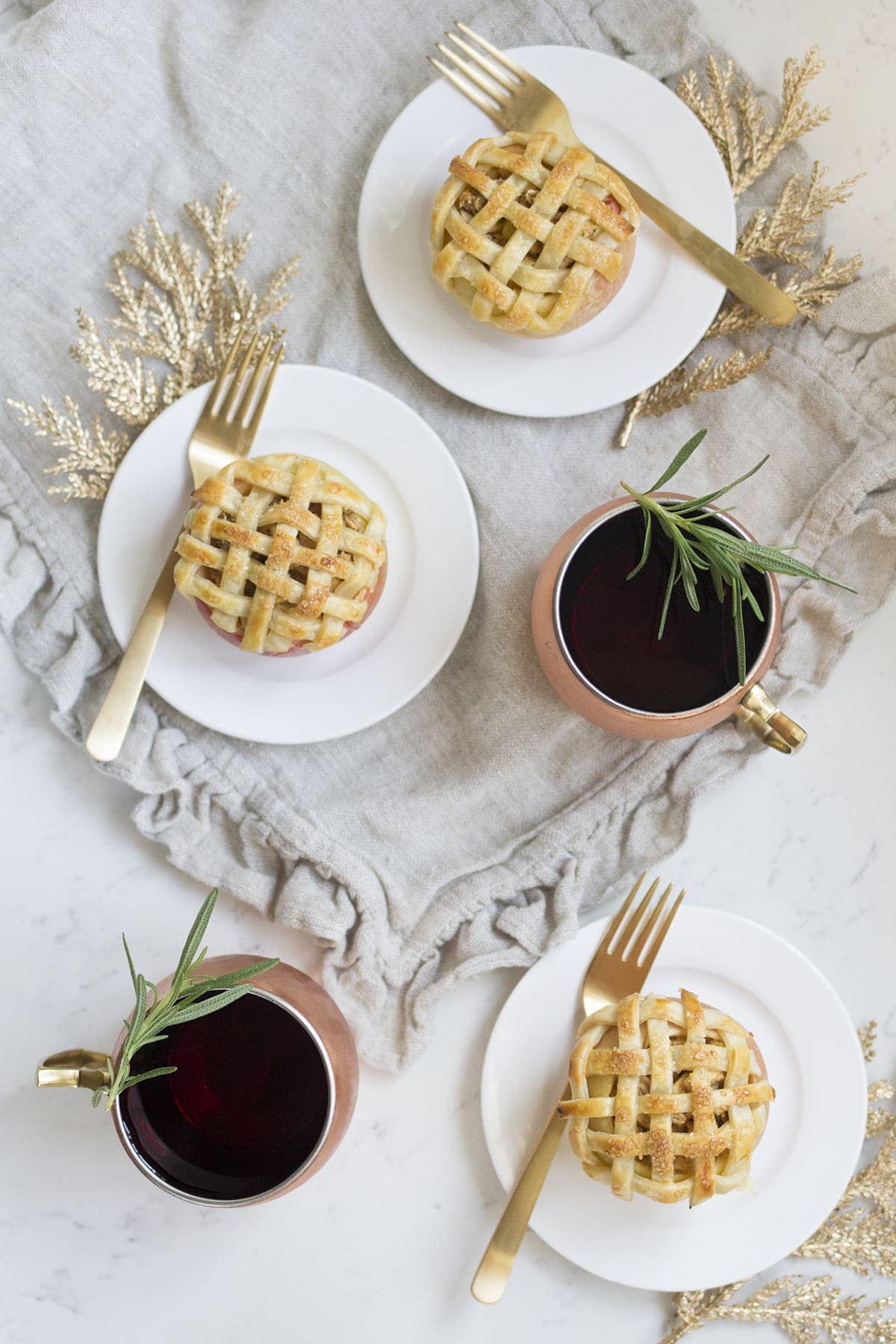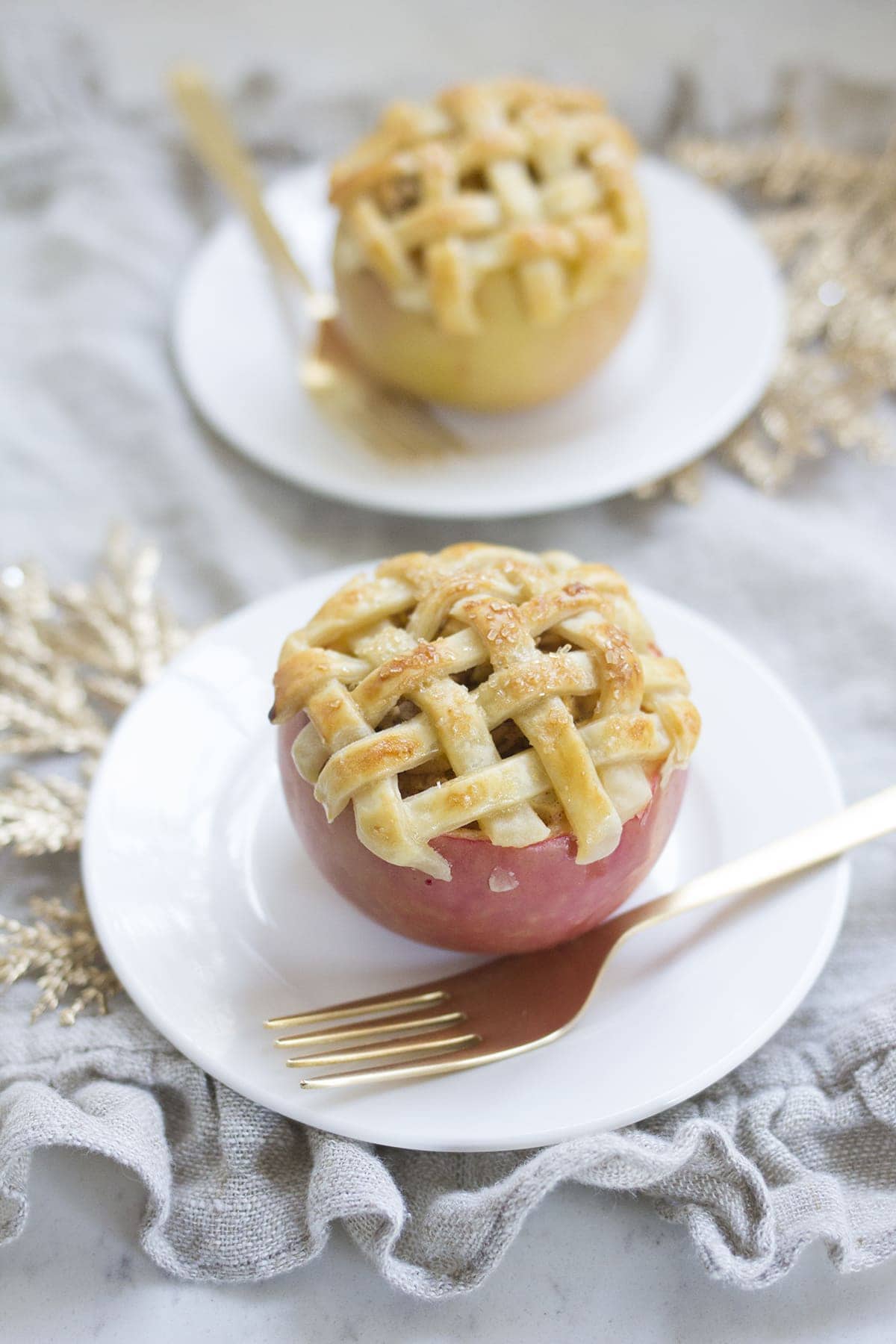 Apple Pie Baked Apples
2016-11-06 23:03:35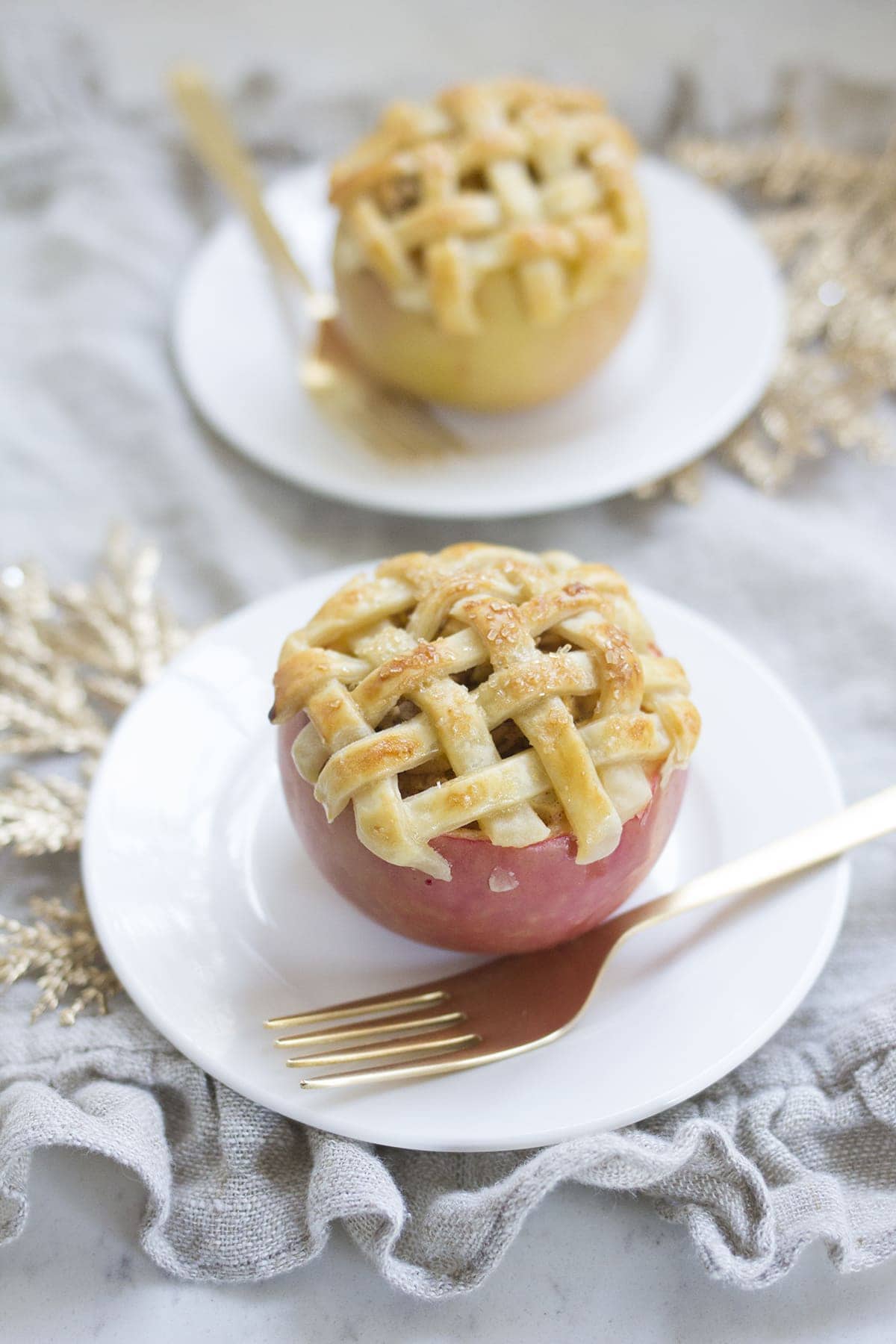 Individual apple pies baked inside of apples and topped with a lattice crust.
Ingredients
1 Grannysmith apple
6 Honeycrisp apples (or other crisp apples)
4 tablespoons brown sugar, divided
1 tablespoon granulated sugar
½ teaspoon kosher salt
½ teaspoon ground cinnamon
¼ teaspoon ground nutmeg
1 tablespoon lemon juice
½ cup old-fashioned rolled oats
1 tablespoon all-purpose flour
2 tablespoons unsalted butter, cut into pieces
1 store-bought pie dough, chilled
1 egg
turbinado sugar, for sprinkling
Instructions
Cut the Grannysmith apple and 1 Honeycrisp apple into a small dice (about 2½ cups) and place in a medium-sized bowl. Add 3 tablespoons brown sugar, granulated sugar, salt, cinnamon, and nutmeg, stir to combine. Stir in the lemon juice.
In a small bowl, combine the oats, remaining tablespoon brown sugar, and flour. Add the pieces of butter and incorporate them with your hands until a crumble forms. Gently fold the crumble into the apple mixture until just incorporated.
Slice off the very tops of the remaining 5 Honeycrisp apples and, using a melon baller (or spoon and a paring knife), hollow out the insides of the apples, being sure to remove the core and seeds. Divide the apple filling evenly amongst the apples filling them to the top.
Preheat oven to 375° F. Remove the piecrust from the refrigerator and cut into small strips (just longer than the width of each apple). Weave the strips into a lattice pattern. Use a round glass or lid to cut lattice into rounds and place atop each apple. Place the apples in a baking dish.
Whisk the egg in a small bowl and brush the egg wash onto each apple's lattice. Sprinkle with turbinado sugar. Pour 1 inch of water into the baking dish, then cover the dish with foil, ensuring the foil isn't touching the tops of the apples. Bake for 20 minutes. Remove the foil and bake an additional 20-25 minutes, until the crust is golden brown and the apples have softened.
Notes
The original recipe makes 7 apples however it only made 5 for me. This may vary based on the size of your apples.
Adapted from Real Simple
Freutcake https://www.freutcake.com/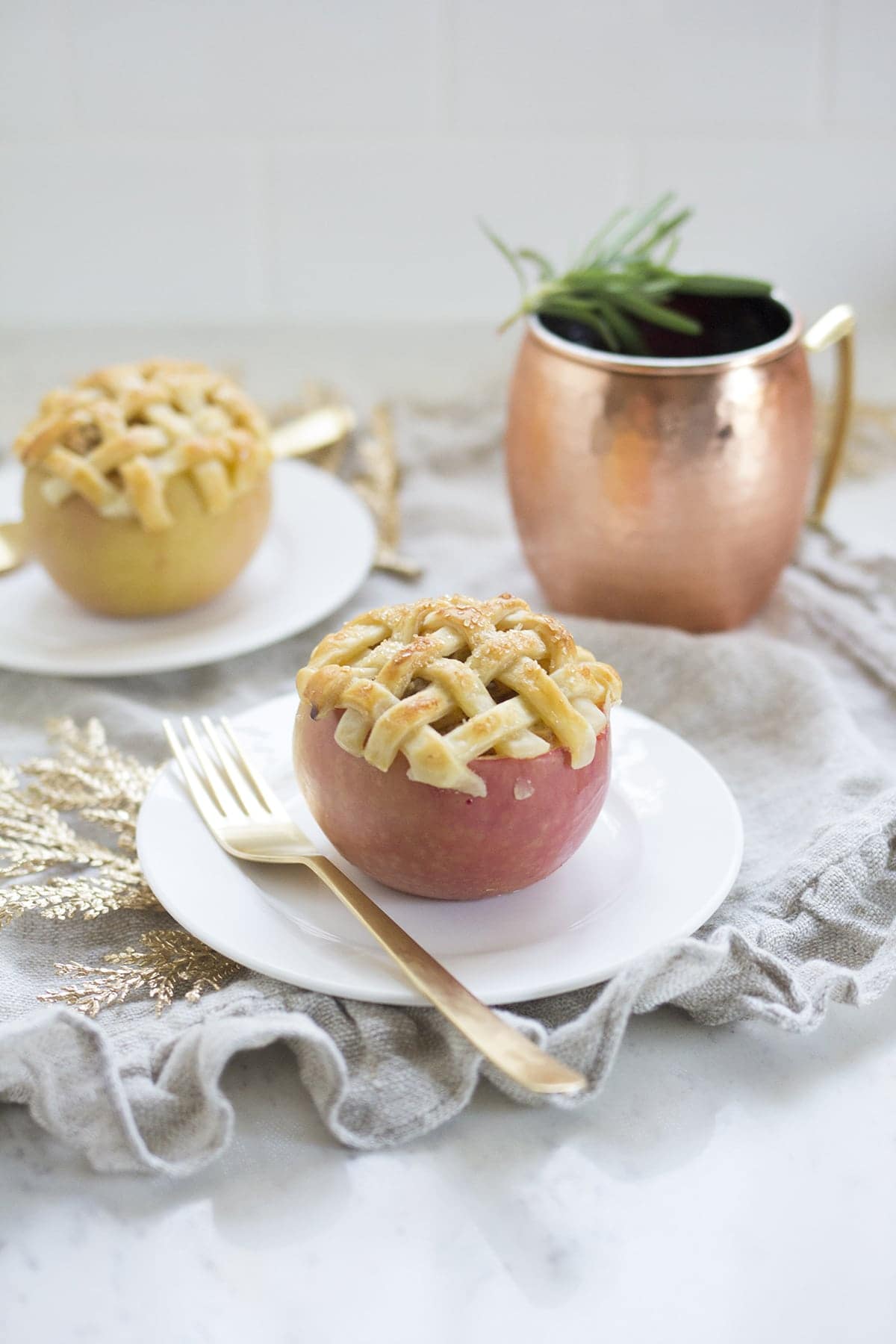 photos by Leah Bergman
Save
Save