This Bacon Avocado Tomato Pasta Recipe is a dish that's been rolling around in the back of my mind for some time and finally came to be after a little inspiration from friends...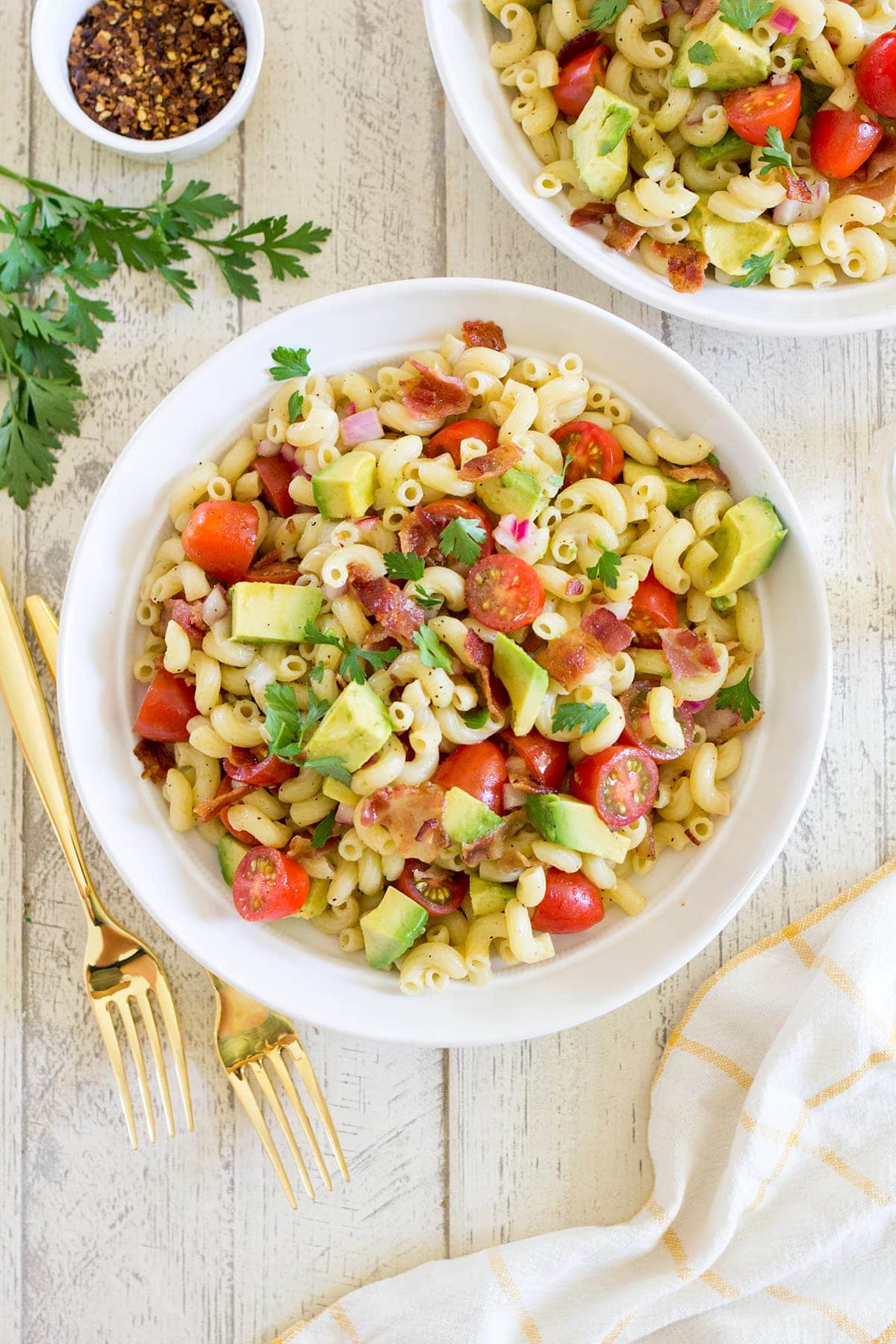 Last weekend we attended my girlfriend's wedding and the topic of recipes came up at the dinner table. It's pretty hard to not talk food with friends when your job is to write a recipe blog! My girlfriend Sofia's husband is a firefighter and always looking for recipes to feed the guys at his station. Any recipe recommendations? My mind was a complete blank as I mentally scrolled my archives. I had one casserole recipe that would work and a really incredible shredded beef taco recipe, but that was about it.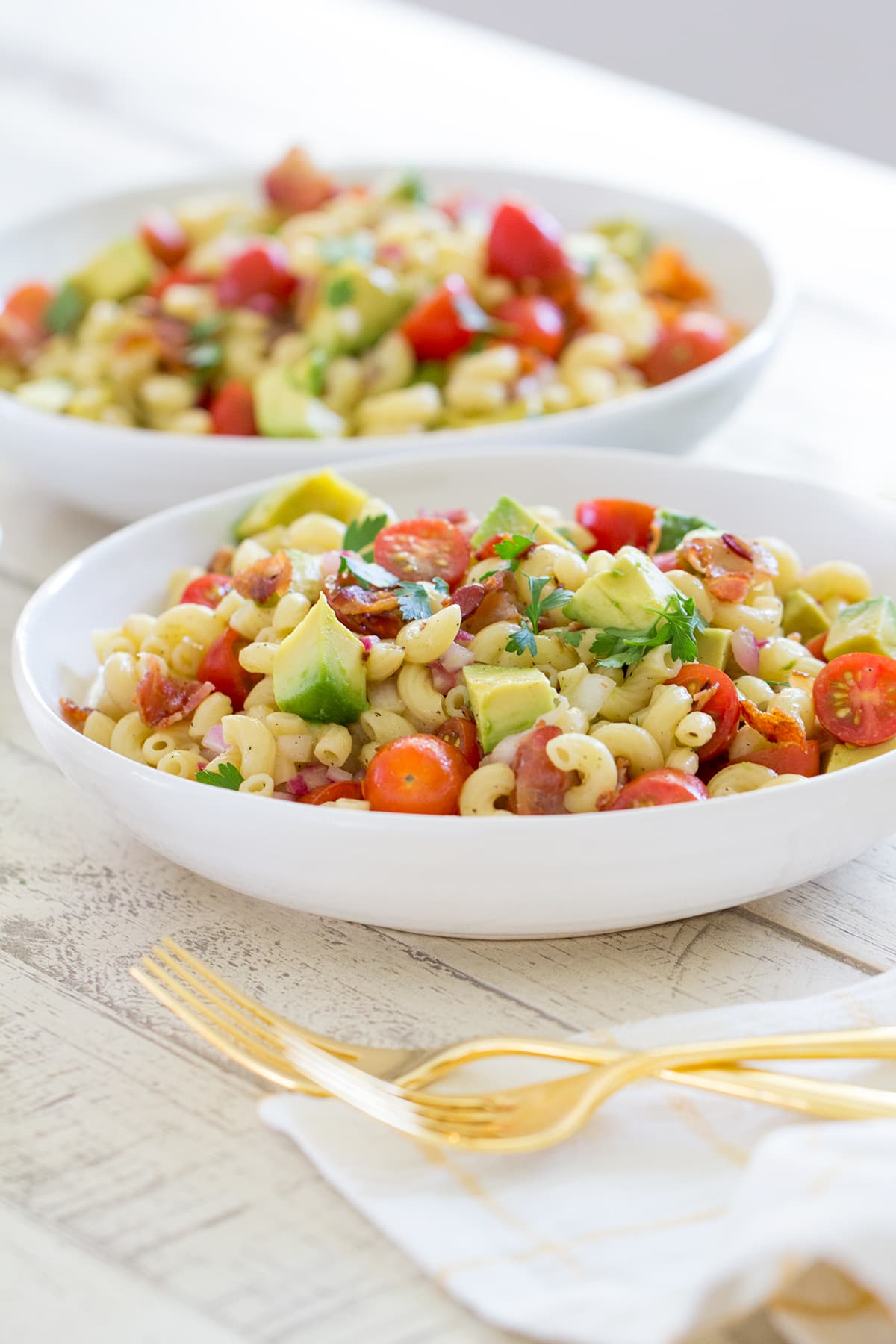 Then I started to think about the nature of the recipes I post here on Freutcake. Sure, there are plenty of beautiful and delicious dishes, toddler meals, and cocktails, but I may be lacking in the feed-the-men department. HA! Not that I don't know a thing or two about feeding hungry guys and hungry kids alike but how does that translate to a beautiful and blog worthy dish?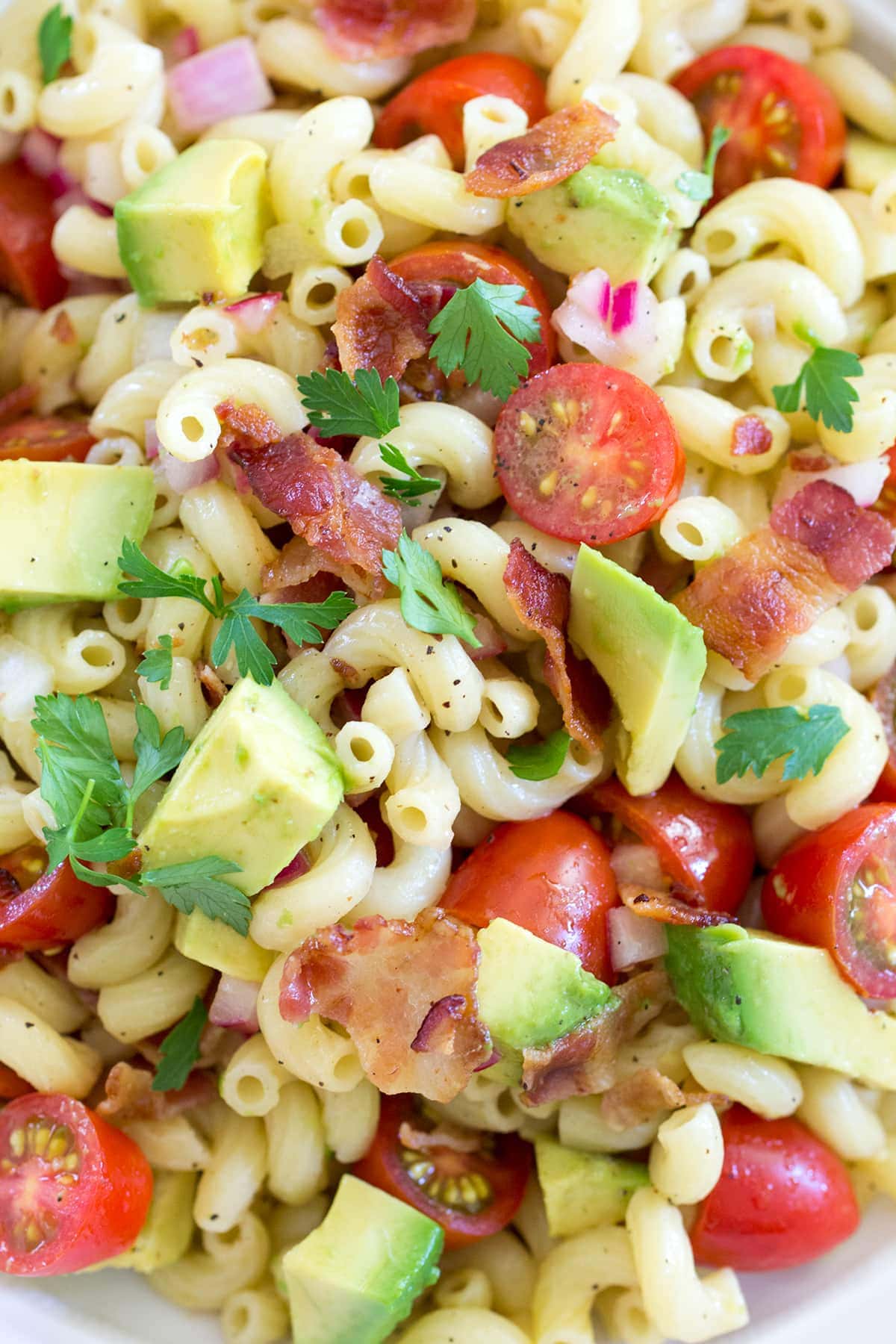 This is always the question I have when I cook a meal for my family, is it blog-worthy? Should I share this? But this question also had me thinking, what constitutes a blog worthy recipe? What are my readers (you all) really looking for when you visit my site or Instagram?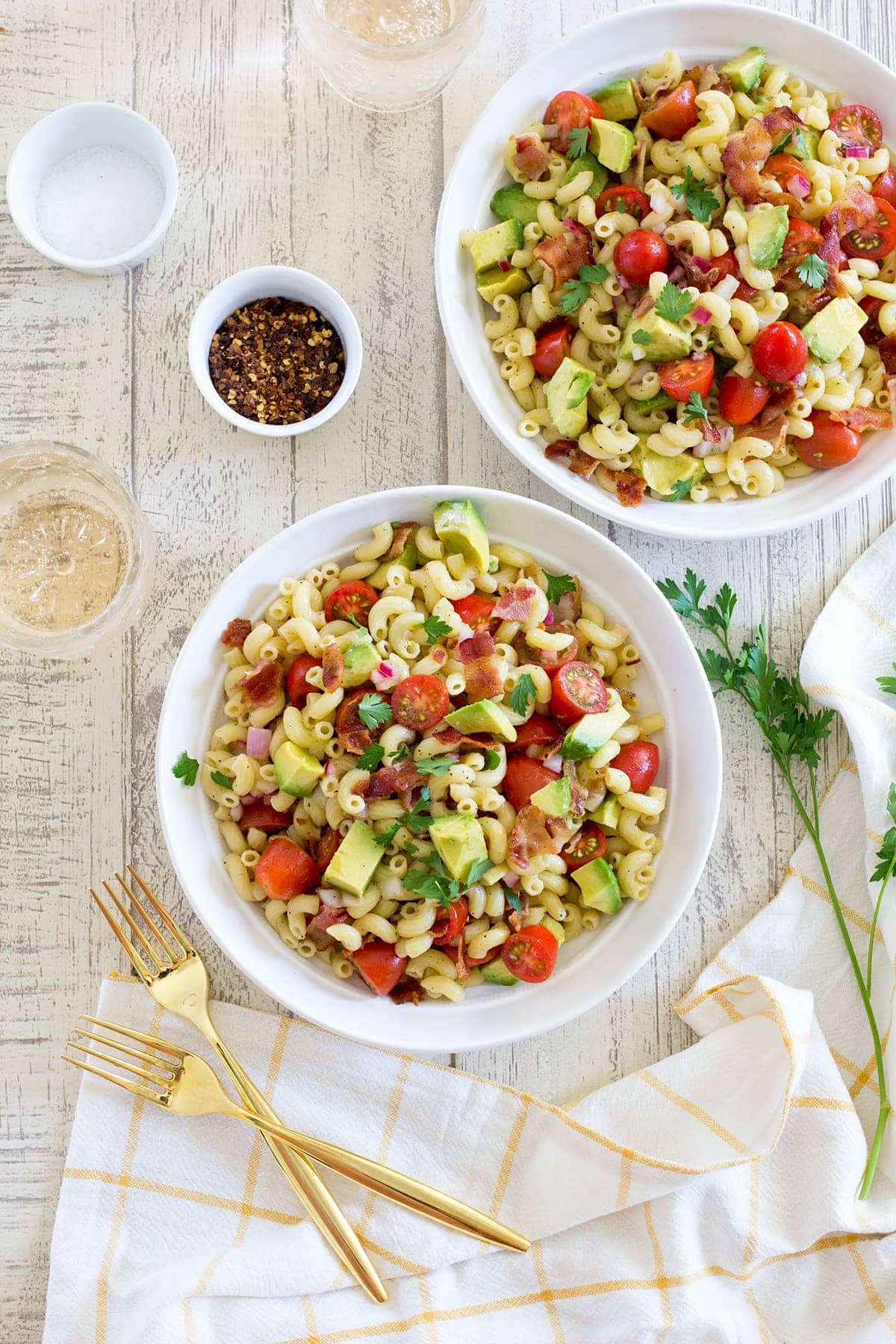 I know for me it all comes down to recipes I can feed my family that are simple, delicious and relatively healthy too. Couldn't we all use a few more fast and delicious meals to make on a weeknight for our family...or for our fire station for that matter? HA! So with that in mind, I'm going to work on it. Work on posting the everyday meals more often. The dishes that satisfy hungry bellies. They won't always include pasta or even meat but they will be delicious and fast and hearty enough to feed a man or a pair of hungry twin toddlers. Today we start with Bacon Avocado Tomato Pasta.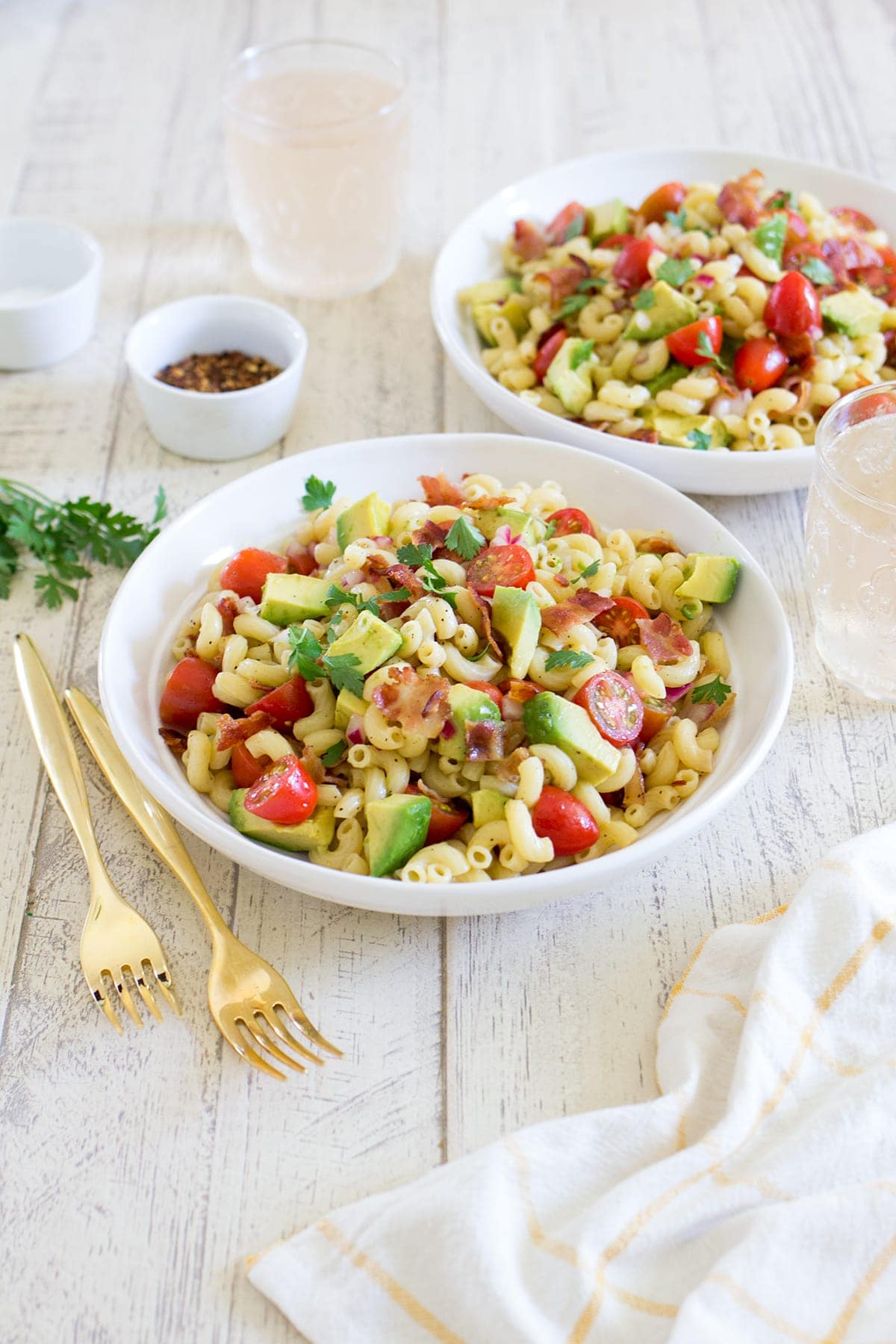 This pasta is full of all of my twin's favorite things: avocado, thick cut bacon, and cherry tomatoes. All tossed together with hot macaroni noodles that are coated in a tangy mustard and bacon vinaigrette. Is your mouth-watering yet? The warm pasta and crispy bacon, the creamy avocado and the tangy fresh tomato, it all creates an addictive bite in your mouth. Your family will love this dish, that I can guarantee! If you happen to be feeding more than a family of four I recommend doubling or even tripling the recipe, it's just that good. If you are feeding an entire fire station, well you had better quadruple it. Everyone will be coming back for seconds!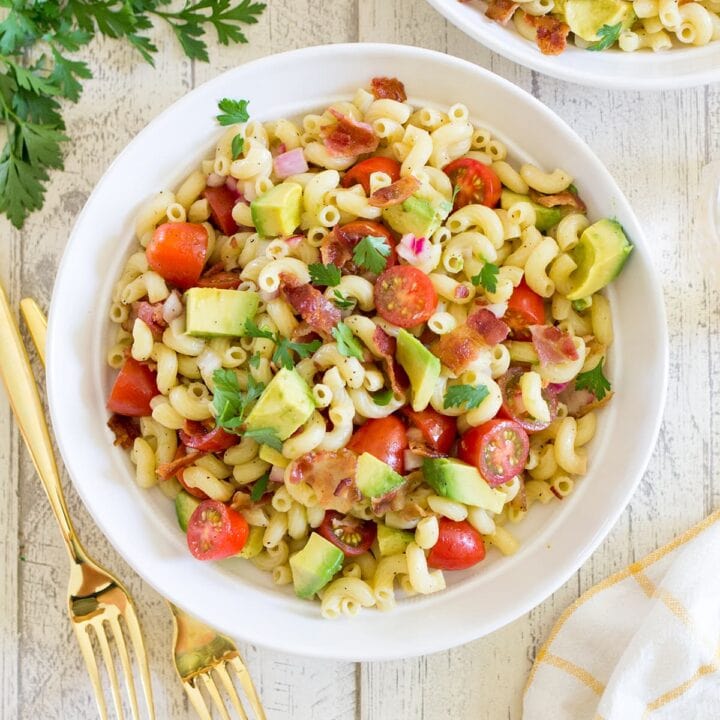 Bacon Avocado Tomato Pasta
A warm pasta dish tossed with a bacon vinaigrette and full of avocado, cherry tomatoes and crisp bacon.
Ingredients
½ pound macaroni pasta
8 slices thick cut bacon
2 cups cherry tomatoes
1 ½ avocados
¼ small red onion
1 Tablespoon dijon mustard
2 Tablespoons olive oil
2 Tablespoons bacon drippings (reserved)
3 Tablespoons red wine vinegar
½ teaspoon kosher salt
½ teaspoon black pepper
flat leaf parsley and chili flakes for garnish, optional
Instructions
Bring a large pot of salted water to a boil over high heat for your pasta.
While the water comes to a boil, start cooking the bacon in a fry pan over medium heat just until crisp. Remove from pan to a paper towel lined plate and reserve the drippings.
Cut cherry tomatoes in half, dice the red onion (small), and cube the avocados.
Chop cooled bacon into bite sized pieces and set aside.
When the water has come to a rolling boil, drop in your pasta and stir frequently until cooked al dente according to the package instructions.
Make the vinaigrette by whisking together dijon mustard, olive oil, 2 Tablespoons of bacon drippings, red wine vinegar, salt and pepper.
Add diced red onion to the vinaigrette and set aside.
Once the pasta is cooked, drain and place in a large serving bowl. Toss the hot pasta with vinaigrette and onion mixture until all of the noodles are well coated.
Gently toss in tomatoes, bacon and avocado.
Serve immediately with chopped parsley and red chili flakes for garnish. (optional)
So, what recipes are you looking for here on the blog? Leave me your requests in the comments below, it's time for me to get cookin!