My Valentine's Day Ham and Cheese Breakfast Casserole is the perfect way to show your family a little love, and a very delicious breakfast, on Valentine's Day morning.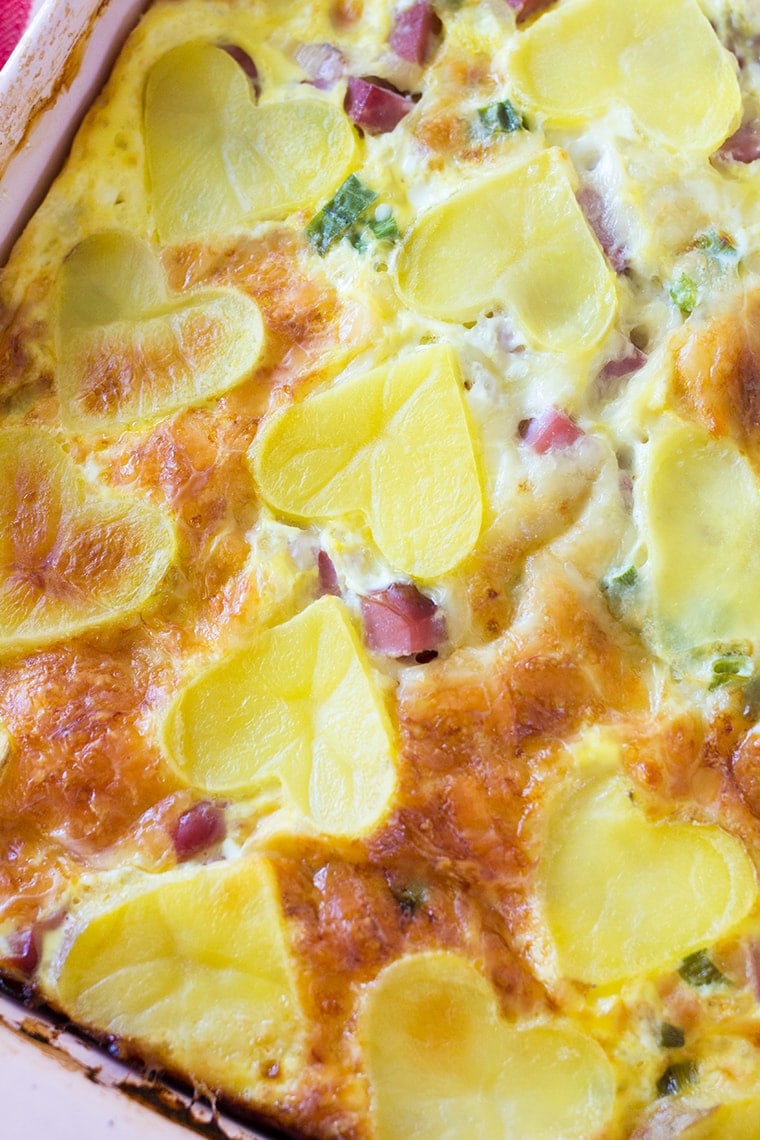 I've said it once and I'll say it again, I'm all about staying home on Valentine's Day. Why make reservations when you can spend time loving on your family in the comfort of your own home. With toddlers, it only makes sense to celebrate in fun ways like making a festive breakfast of Ham and Cheese Casserole topped with scalloped heart-shaped potatoes.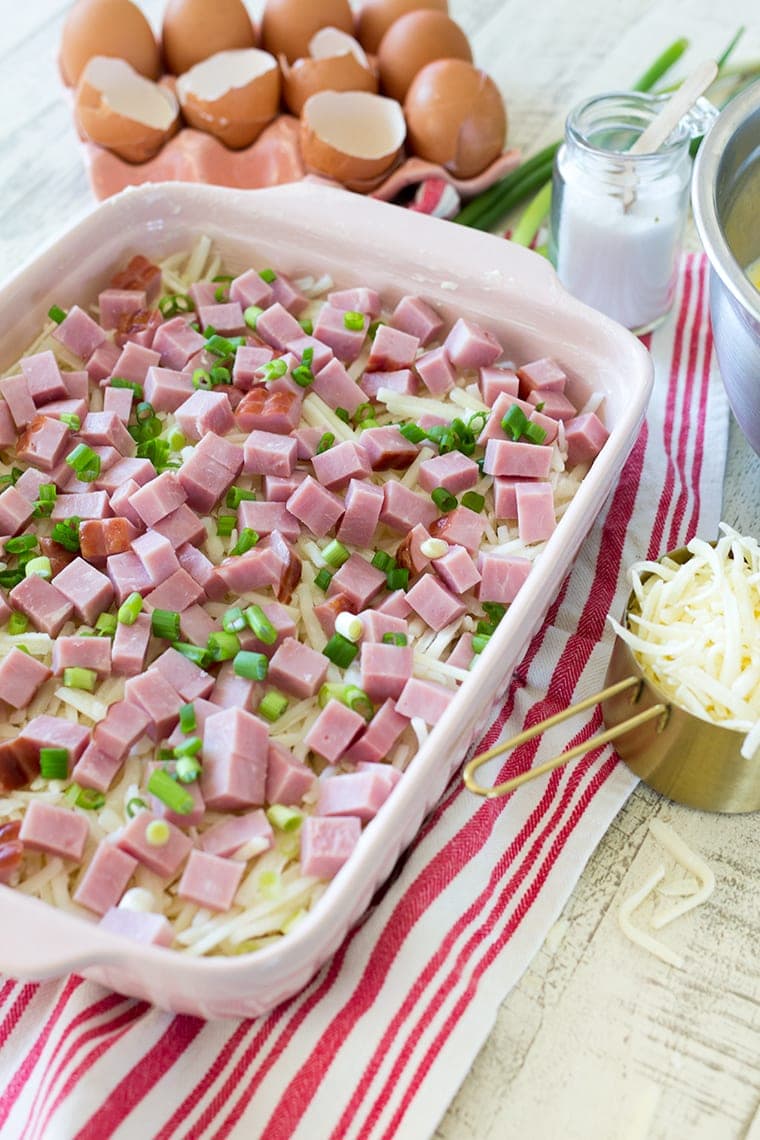 Ham and Cheese Breakfast Casserole
When it comes to the ingredients, this Ham and Cheese Breakfast Casserole really couldn't be more simple. Frozen hash brown potatoes, cubed ham steak, eggs, cheese, milk and green onions make up this delicious breakfast dish.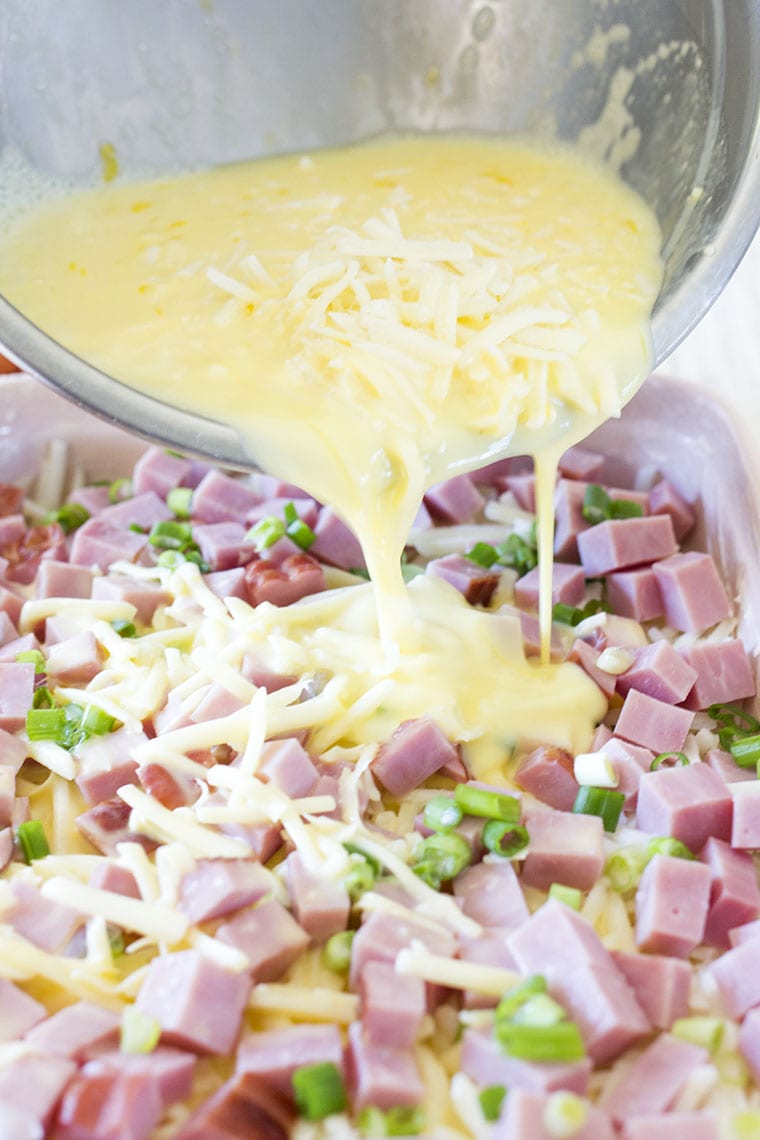 Scalloped Potato Casserole
Of course I did get a little bit fancy and turned this into a scalloped potato casserole by adding creamy golden potatoes cut into hearts on top. It takes a bit more work but the end result is so pretty that it's worth the extra 10 minutes or so of effort. To create the potato heart topping, thinly slice large yellow potatoes and use a small heart shaped cookie cutter to punch out shapes.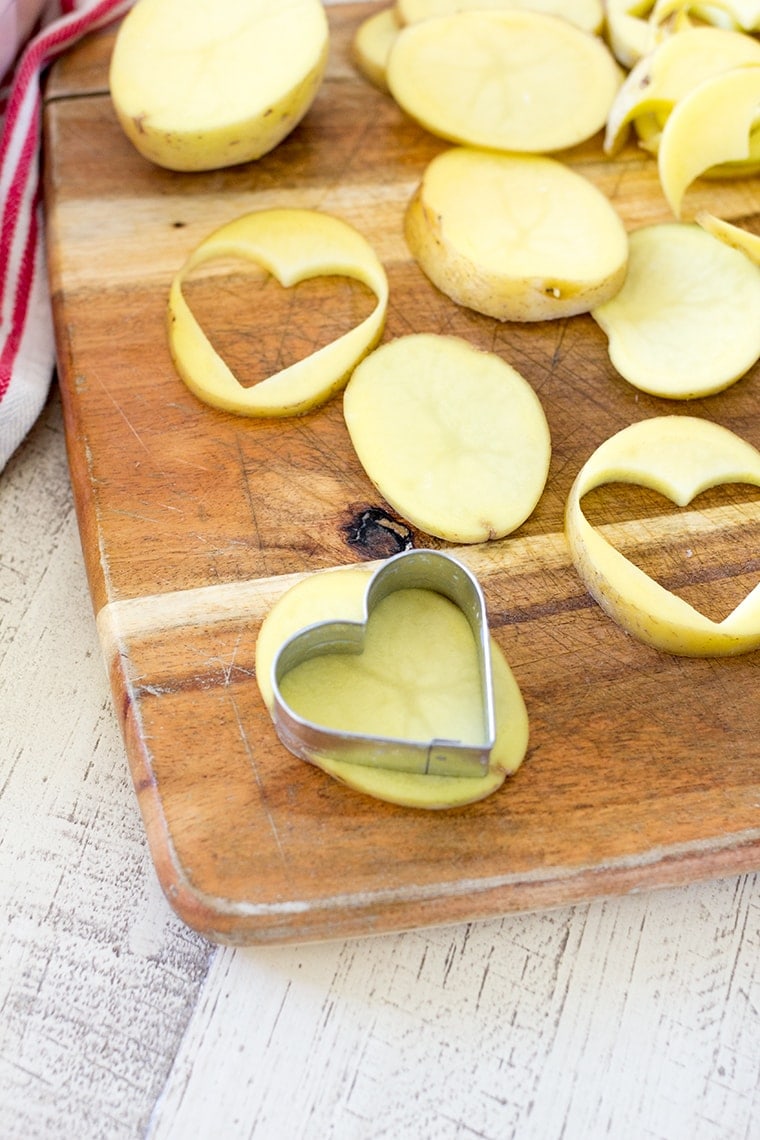 Give the hearts a flip in the egg mixture before baking to make sure they are all evenly coated. Don't they look pretty already? This breakfast really is a sweet show-stopper.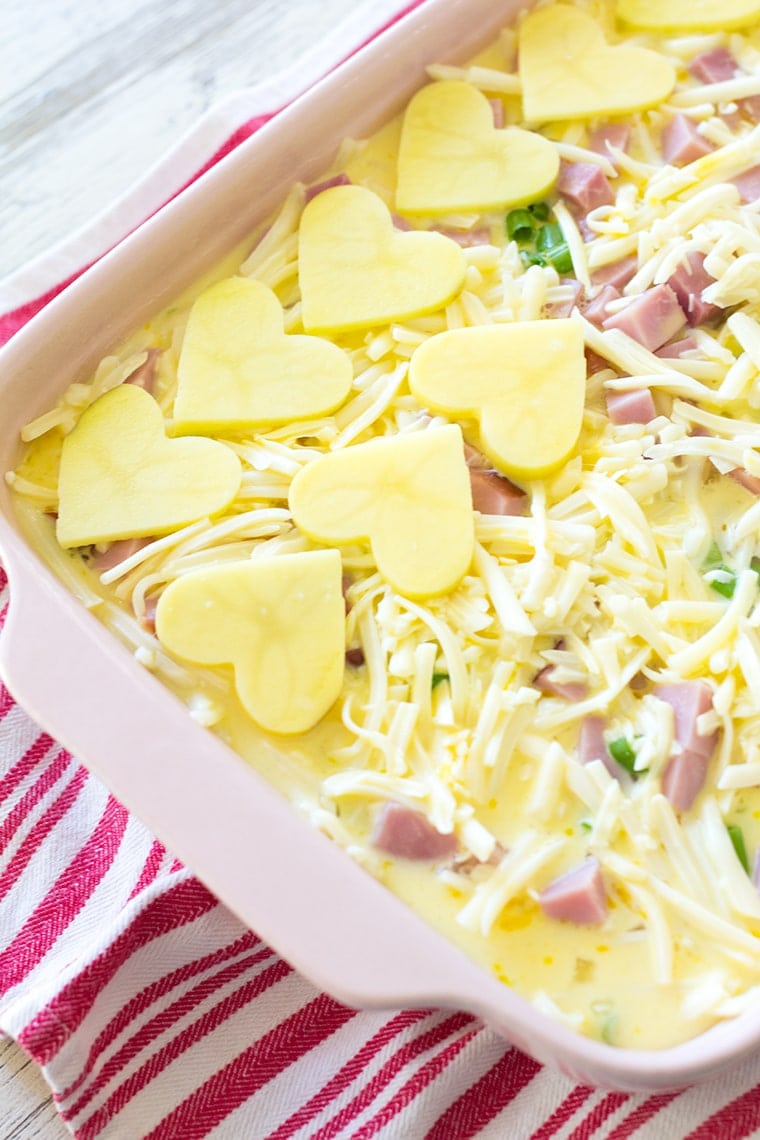 Cover the entire casserole with foil to prevent it over browning for the first hour of baking. It will puff up and steam under the foil until the last 40 minutes when you remove it to brown.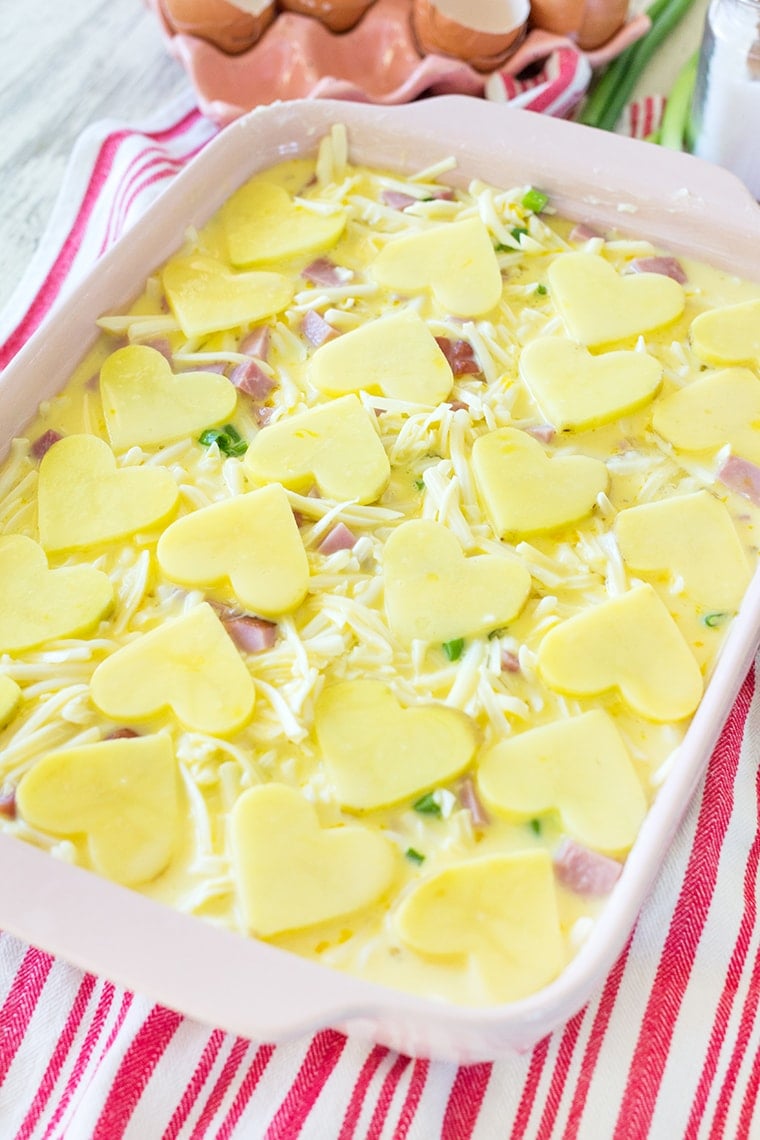 Be prepared for your house to smell absolutely heavenly! This breakfast casserole may be simple but it has all of the most delicious breakfast ingredients. Also, I note that you can find a blend of shredded swiss cheese and gruyere cheese at Trader Joe's which will make this dish even easier.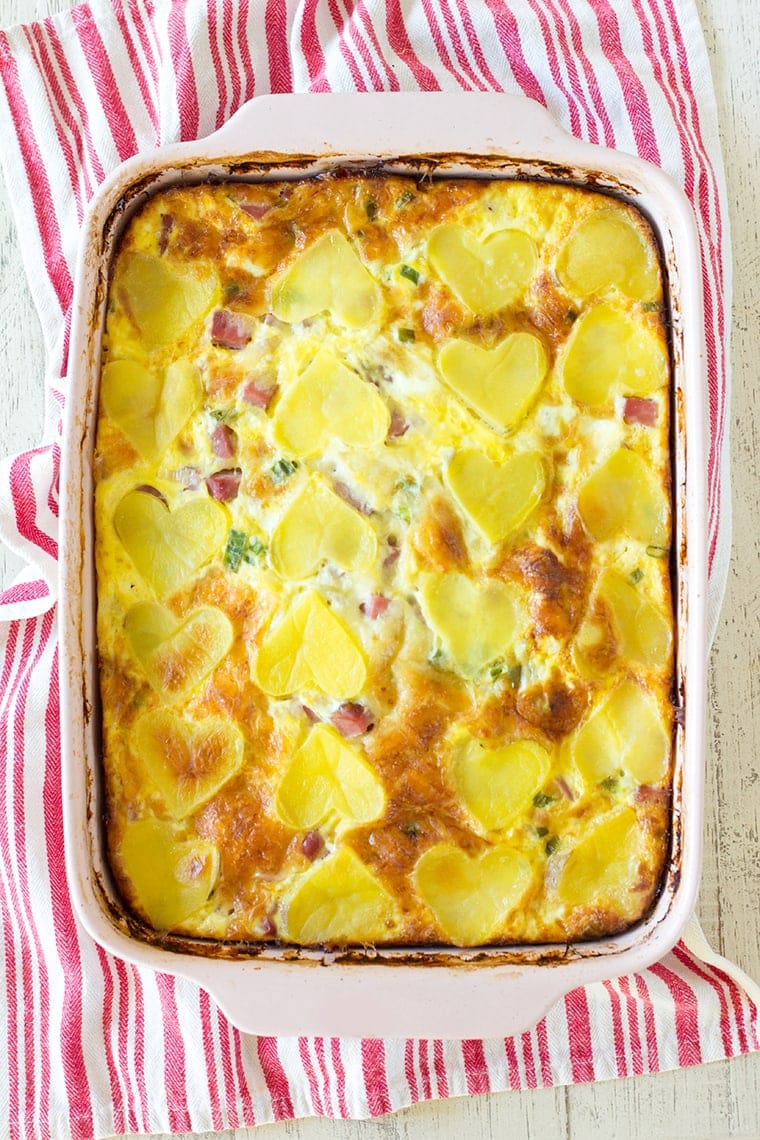 Once the Ham and Cheese Breakfast Casserole is puffed, set and golden, it's time to remove it from the oven. Let sit for about 10 minutes before you slice it and it's ready to serve.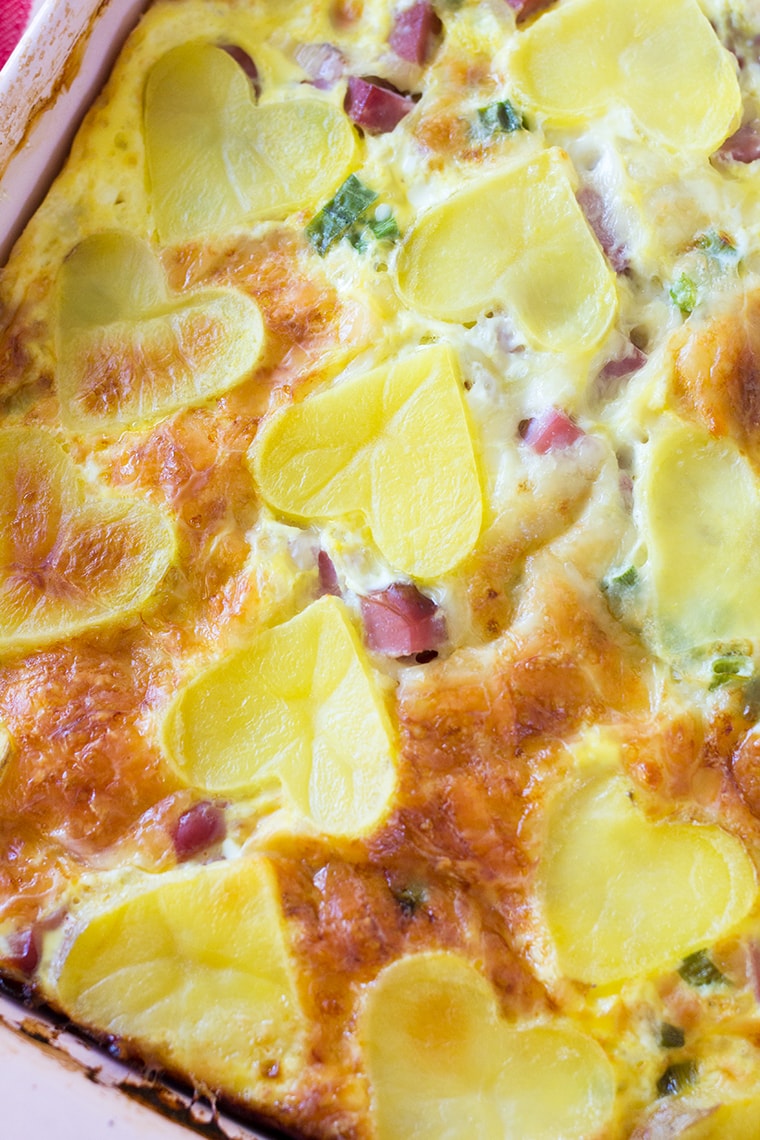 This egg, cheese, ham and potato casserole will fill bellies and hearts on Valentine's Day morning. Sprinkle with a bit of extra green onion just before serving or even a dollop of sour cream. Looking for more cheesy potato casseroles? You might also like my Grandma's Cheesy Hashbrown Casserole, totally delicious! Happy Valentine's Day!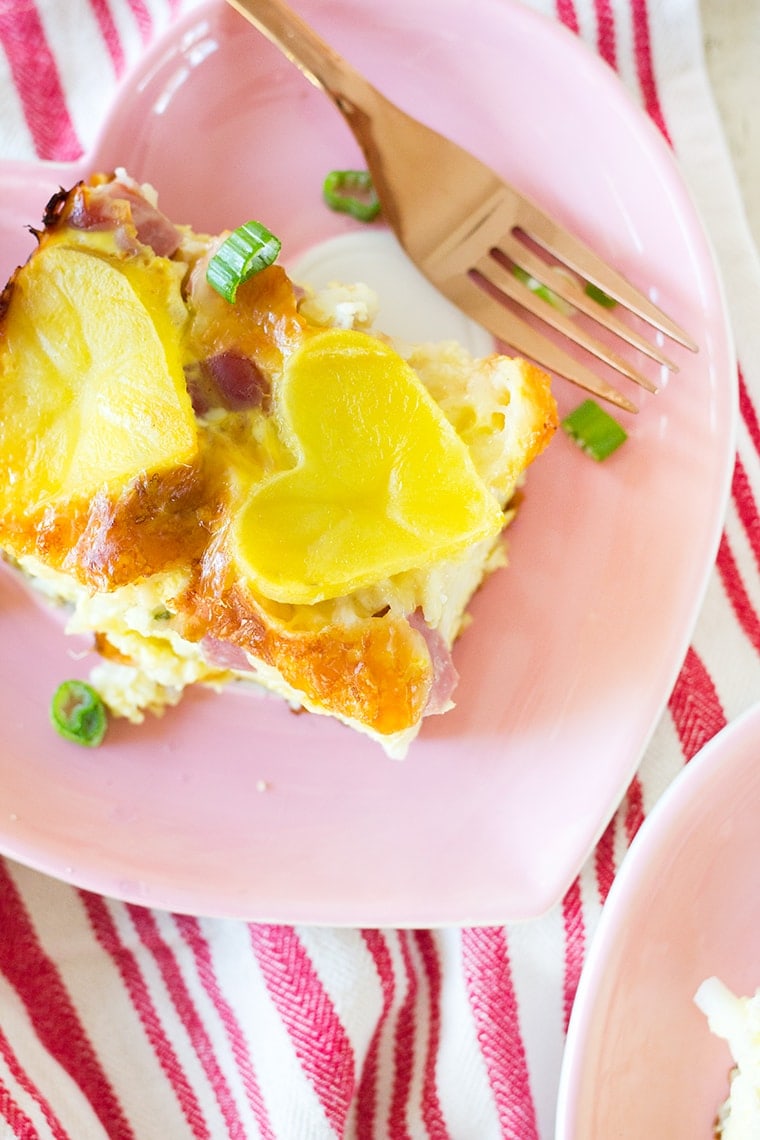 For more Valentine's Day inspiration, visit my Valentine's Day recipe archives!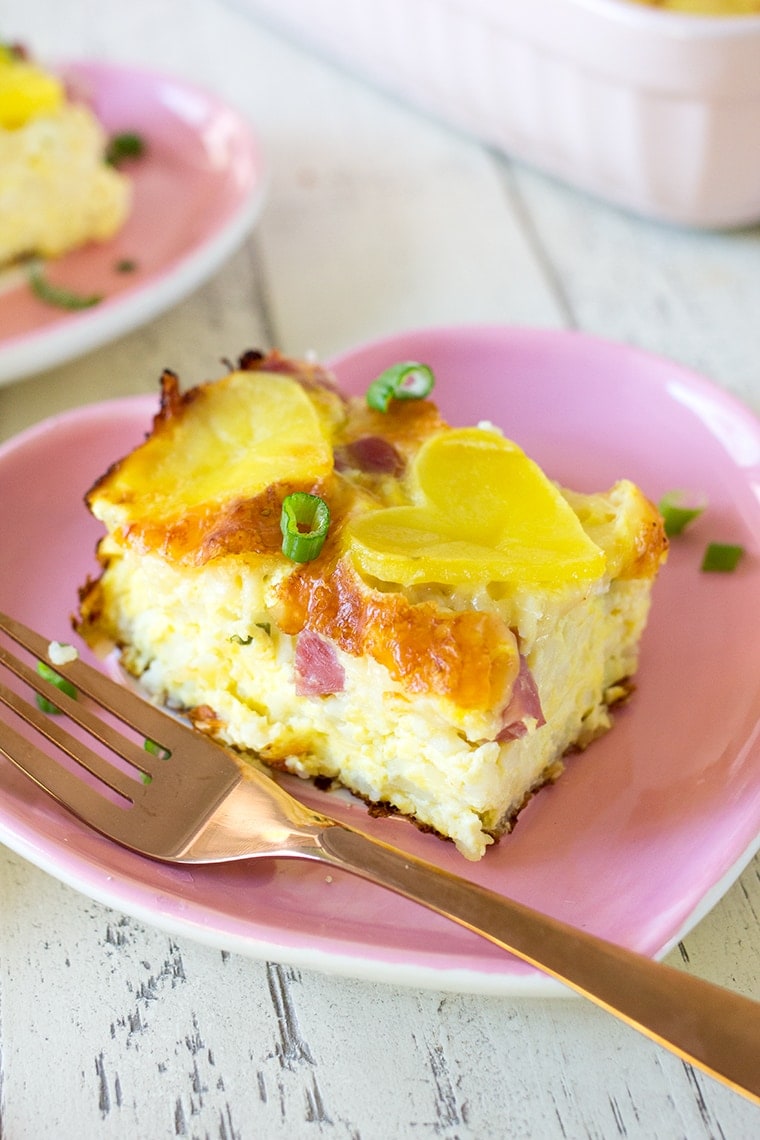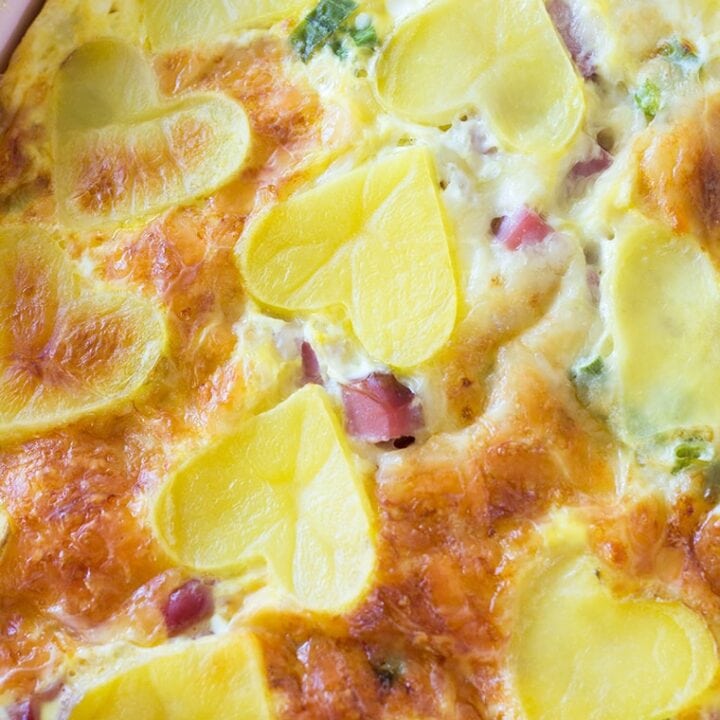 Ham and Cheese Breakfast Casserole
Cook Time:
1 hour
40 minutes
Total Time:
2 hours
10 minutes
This egg, cheese, ham and potato casserole will fill bellies and hearts on Valentine's Day morning.
Ingredients
12 large eggs
2 cups whole milk
1 20 oz bag frozen hash brown potatoes
2 cups diced ham
1 cup shredded gruyere cheese
1 cup shredded swiss cheese
4-5 large golden potatoes
3 green onions, chopped + more for garnish
salt & pepper
butter
Instructions
Preheat oven to 350 degrees and butter a 9x13 casserole dish.
Spread frozen hash browns in the bottom of casserole breaking up any large chunks.
Top with diced ham and green onions.
In a large mixing bowl whisk eggs and milk together until light, creamy and smooth.
Season with 1 teaspoon of salt and 1 teaspoon of pepper.
Stir in gruyere and swiss cheese and pour mixture over the potatoes and ham.
Spread out egg and cheese mixture so that it evenly coats the potatoes and the cheese is distributed. Set aside.
Thinly slice yellow potatoes and use a heart shaped cookie cutter to cut out potatoes.
Make rows of potato hearts on top of the egg mixture turning the hearts over once to coat both sides with egg. Sprinkle with more salt and pepper and cover casserole dish with foil.
Bake 60 minutes covered.
Remove foil and bake an additional 35-40 minutes or until the center is set and the top is golden brown.
Remove from oven and allow to cool 10 minutes before slicing into rectangles and serving.
Serve warm.