Believe it or not making Chicken and Dumplings from Scratch is a whole lot easier than you might think! And who wouldn't want to cozy up to a bowl of creamy chicken and mushroom soup topped with a pillowy dumpling or two? This is comfort food at it's finest.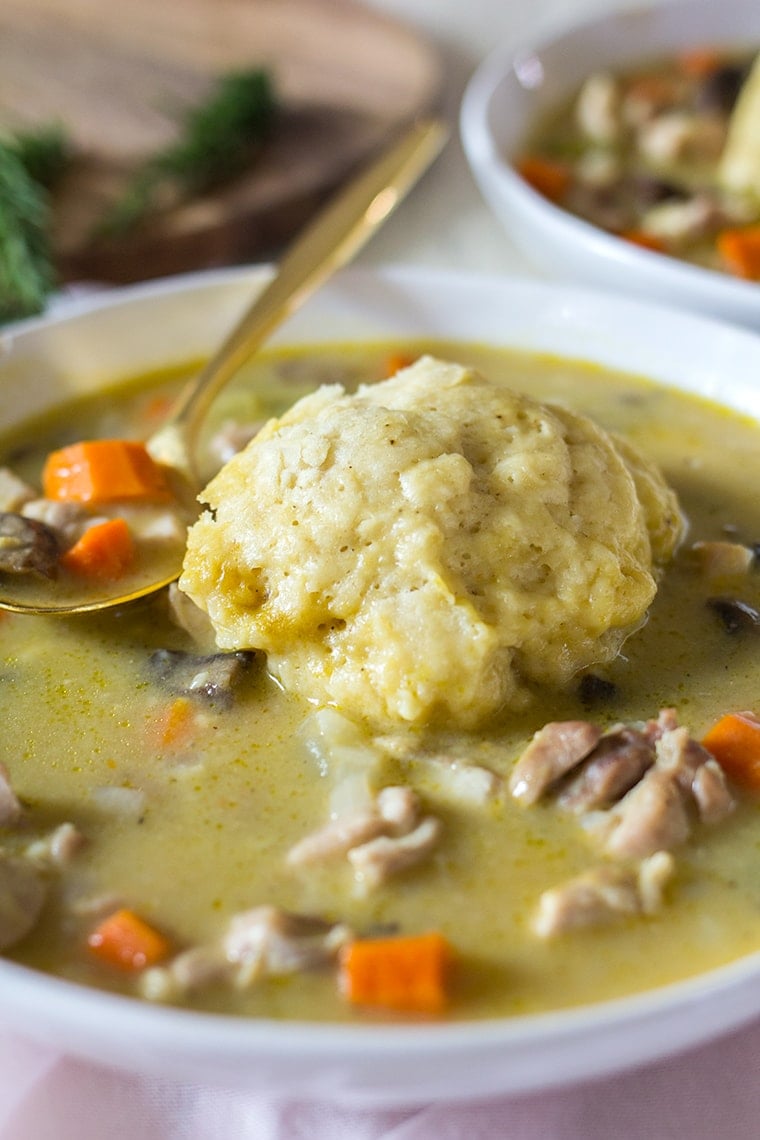 Chicken and Dumplings with Mushrooms
This recipe came to be one chilly fall evening while making a simple chicken and mushroom soup. All of the usual soup suspects when into the pot: onion, carrot, celery and garlic. Chopped chicken thighs (because I've been buying those lately and they are packed with flavor) and a whole lot of chicken stock. I finished it with a drizzle of coconut milk and tasted it. The soup was DELICIOUS and exactly what I was craving...minus one thing. This soup NEEDED dumplings.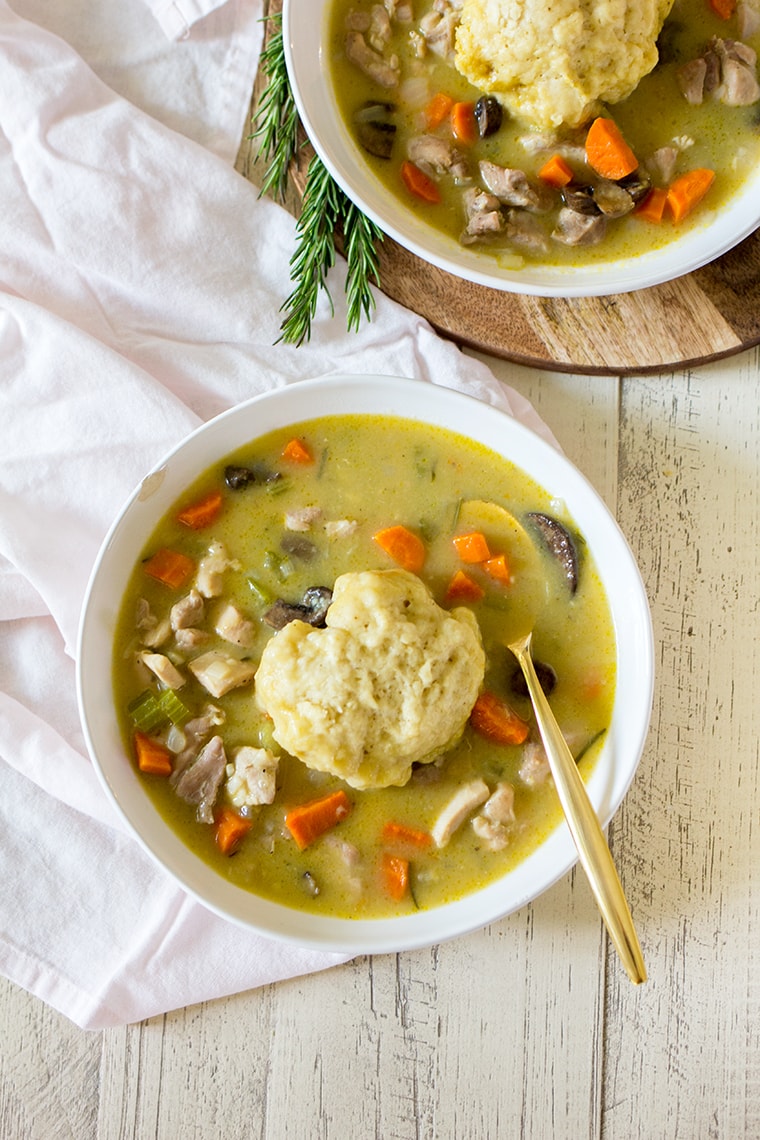 Comfort Food Classic Recipes
When you think of comfort food classic recipes, what comes to mind? Growing up in Southern California, some of my comfort foods include Vietnamese Pho but Chicken and Dumplings, homemade Macaroni and Cheese and Chicken Pot Pie are at the top of my list! Which means it's about darn time I had a Chicken and Dumpling recipe here on the blog. Let's get started...
One Pot Chicken and Dumplings
Oh, how I love a good one pot recipe! This Chicken and Dumplings Recipe takes one BIG pot, a cutting board, and a bowl to mix the dumplings. Chop all of your veggies at once and throw them into a bowl for later. Do the same for your chicken thighs and toss those into the pot to brown with a good drizzle of olive oil. I love using chicken thighs for this recipe because they are so tender and flavorful in the soup. Once the chicken is cooked, remove it from the pot and saute all of the veggies in the drippings. This makes the most flavorful and delicious base for the soup!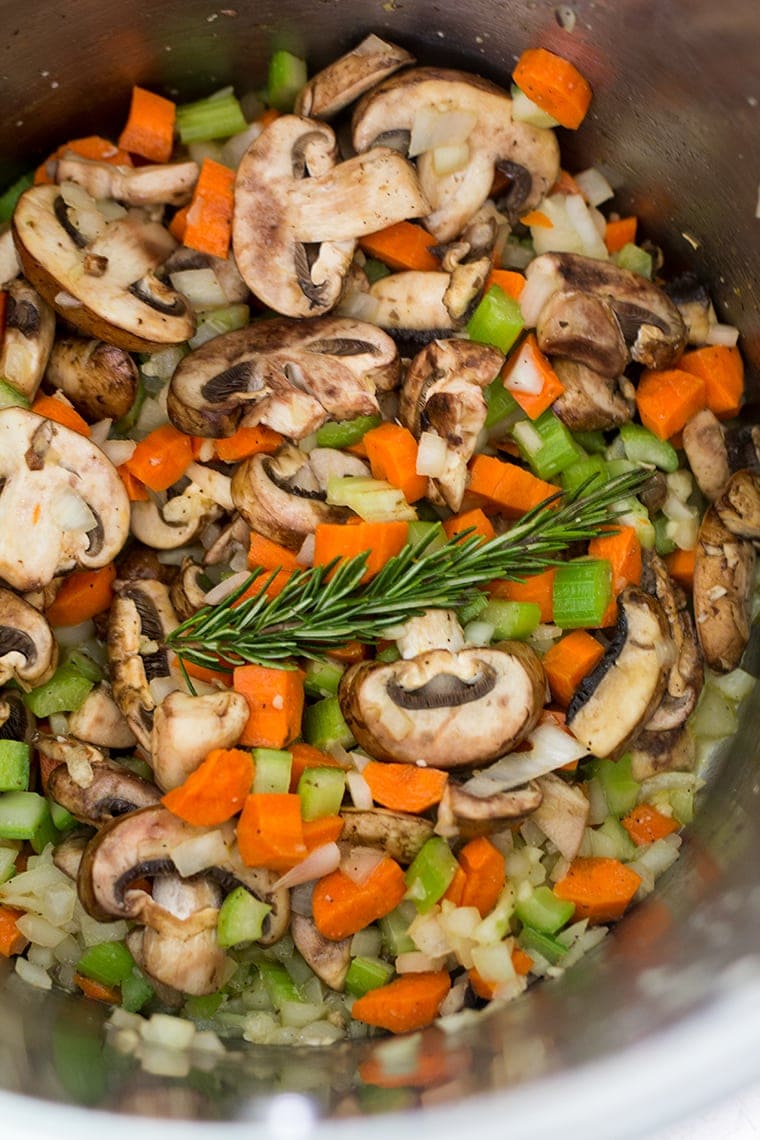 A sprinkling of flour cooked down into the veggies creates a roux to thicken your soup just slightly and later the dumplings will thicken it some more. TIP: Continue to season and taste along the way to make sure every step is full of flavor! After you add in your herbs, chicken and stock, the soup is just about ready. At this point you can chose to drizzle in coconut milk (like I did) or whole milk. When I originally made this soup I wasn't planning to add dumplings so I reached for a can of coconut milk. Even after the dumplings were added I loved the subtle coconut flavor so much that I kept it in the recipe. Sure, it's not traditional but it sure is delicious!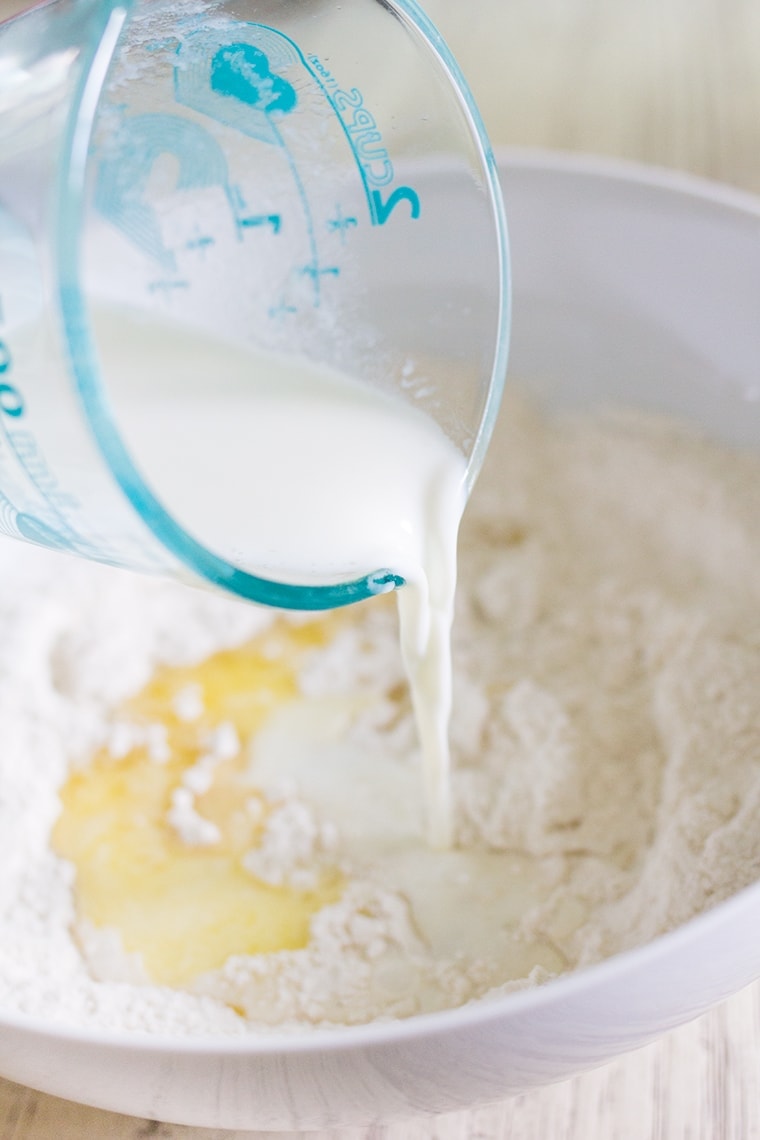 Next it's time to make and add the dumplings! So what are dumplings? In the case of Chicken and Dumplings, they are simply a quick biscuit that's been simmered and steamed right in the pot of soup until fluffy and puffed. In other words, they are steamed, doughy bites of salty heaven on Earth. Are you hungry yet?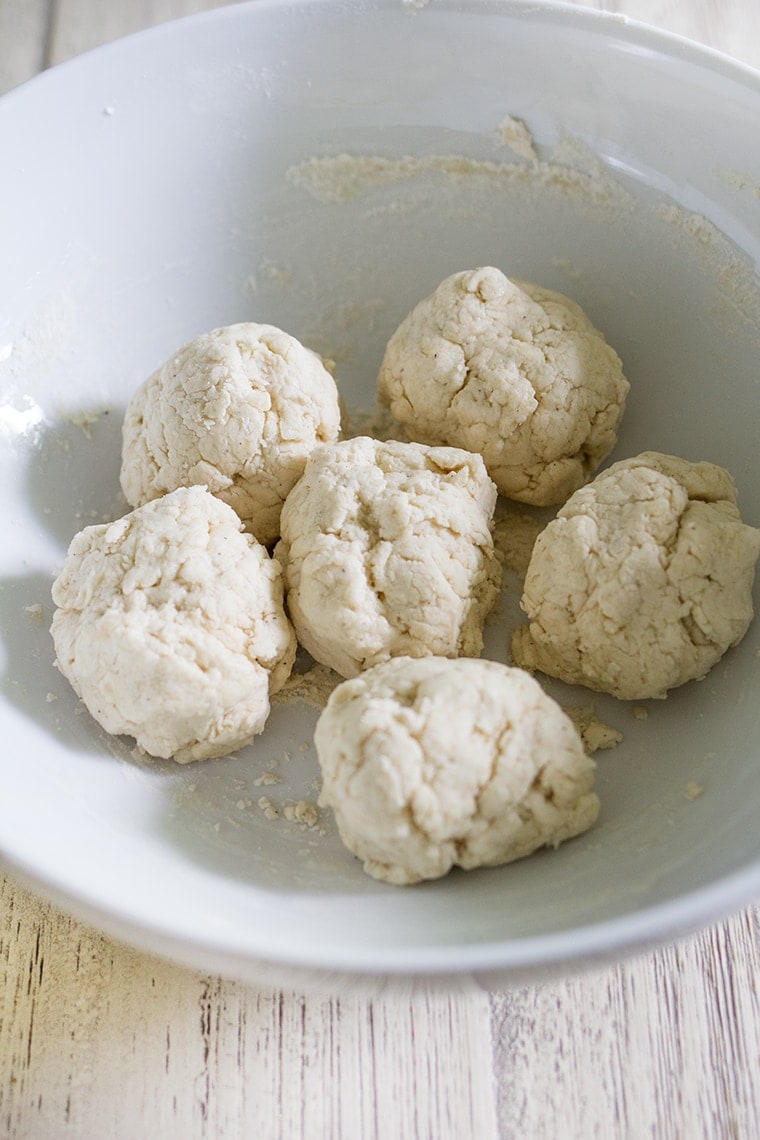 How to Make Fluffy Dumplings
It's not difficult to make fluffy dumplings but there are a few tricks to make sure they stay together, don't fall apart in the soup, and puff up nice and fluffy. Trust me when I say, I've had my failed attempts! Here are my tips...
Follow my recipe for dumplings at the end of this post, it's a fail safe recipe.
Don't over mix your dumpling dough. Combine the ingredients one step at a time by lightly folding together with a fork.
Form dumplings by hand being careful to not overwork them. Just scoop up mounds of dough and gather it loosely into balls.
Let your dumplings rest before dropping them into the soup! This allows air bubbles to form in the dough resulting in fluffier dumplings.
Make sure your soup is set to a low simmer before dropping in the dumplings. Cover and allow them to gently simmer & steam. No peeking!
Serve immediately after the dumplings have puffed. Sitting in the soup can cause them to become gloopy and that is never delicious.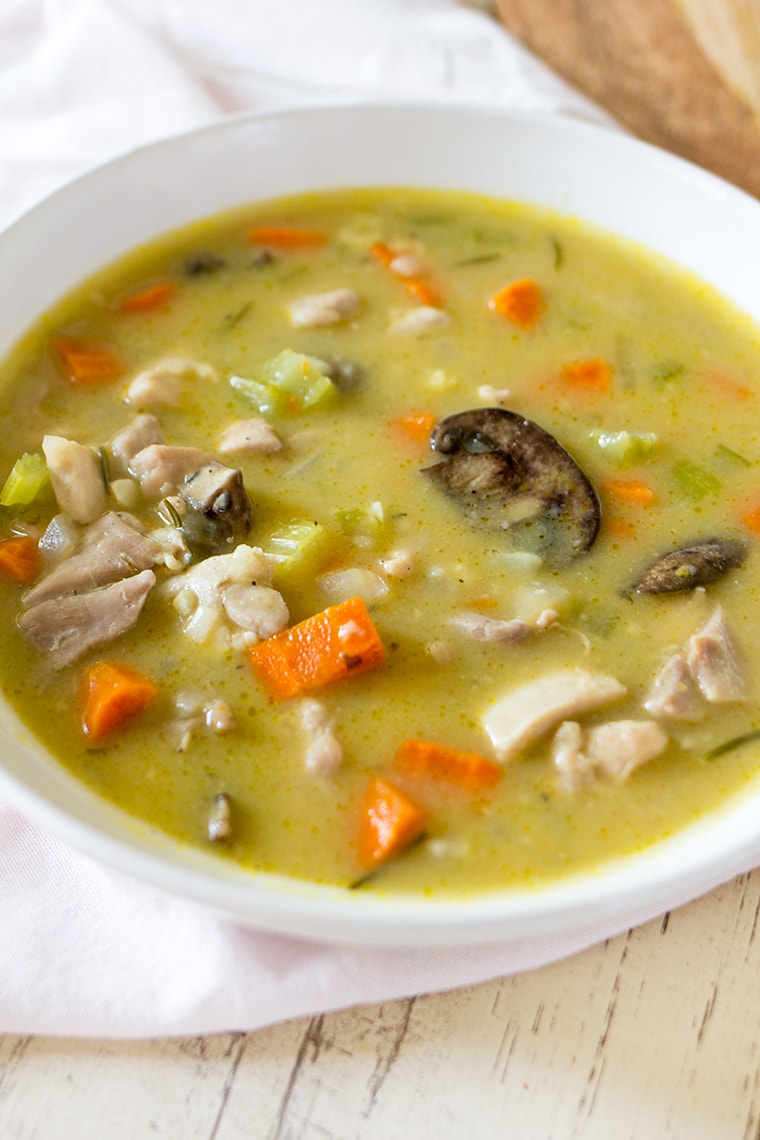 Of course, if you are gluten or dairy free you can ABSOLUTELY enjoy this soup without the dumplings, I promise, you will still enjoy it. However if you are ready for some down home comfort food dumplings, set aside the extra time to make them...and then invite me over for dinner.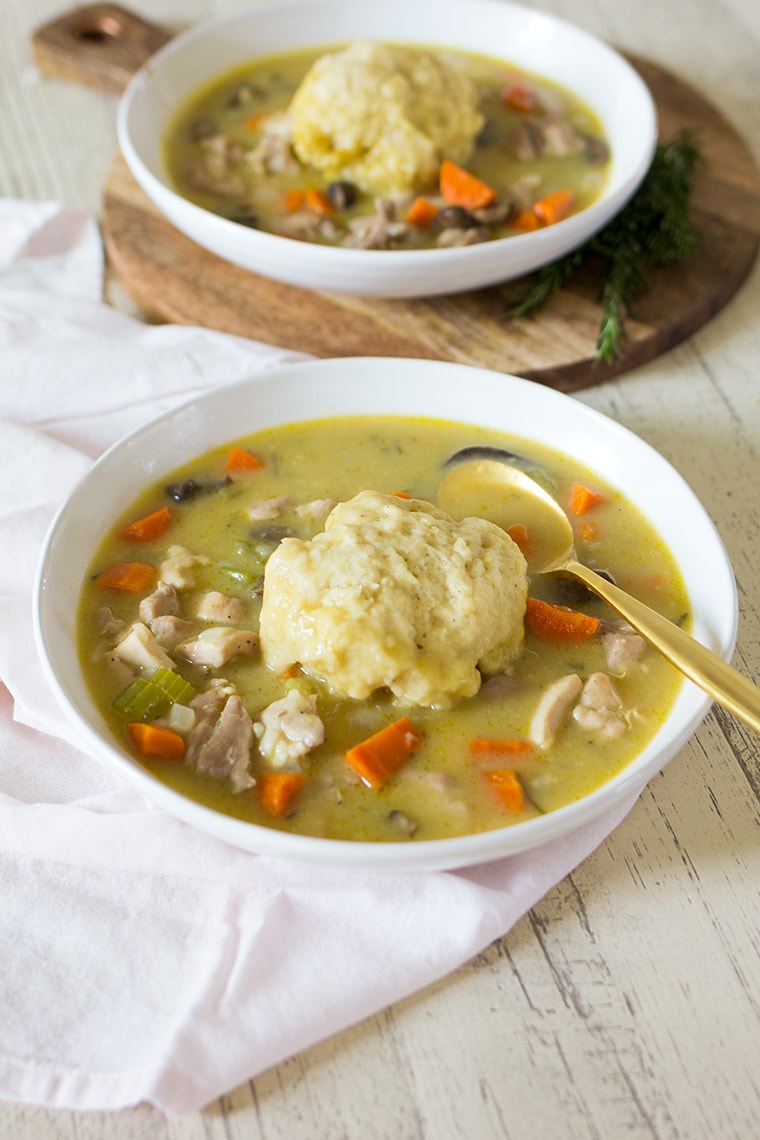 Big chunks of tender chicken, carrots and meaty cremini mushrooms make this a hearty and delicious soup that the whole family will love! My twins loved the broth and veggies especially the carrots and mushrooms. I loved all of it.
This fall or winter, make a pot of this soup. It's comforting and creamy, hearty and warm. Packed with veggies and chicken and down right delicious. You really can't go wrong with this comfort food classic.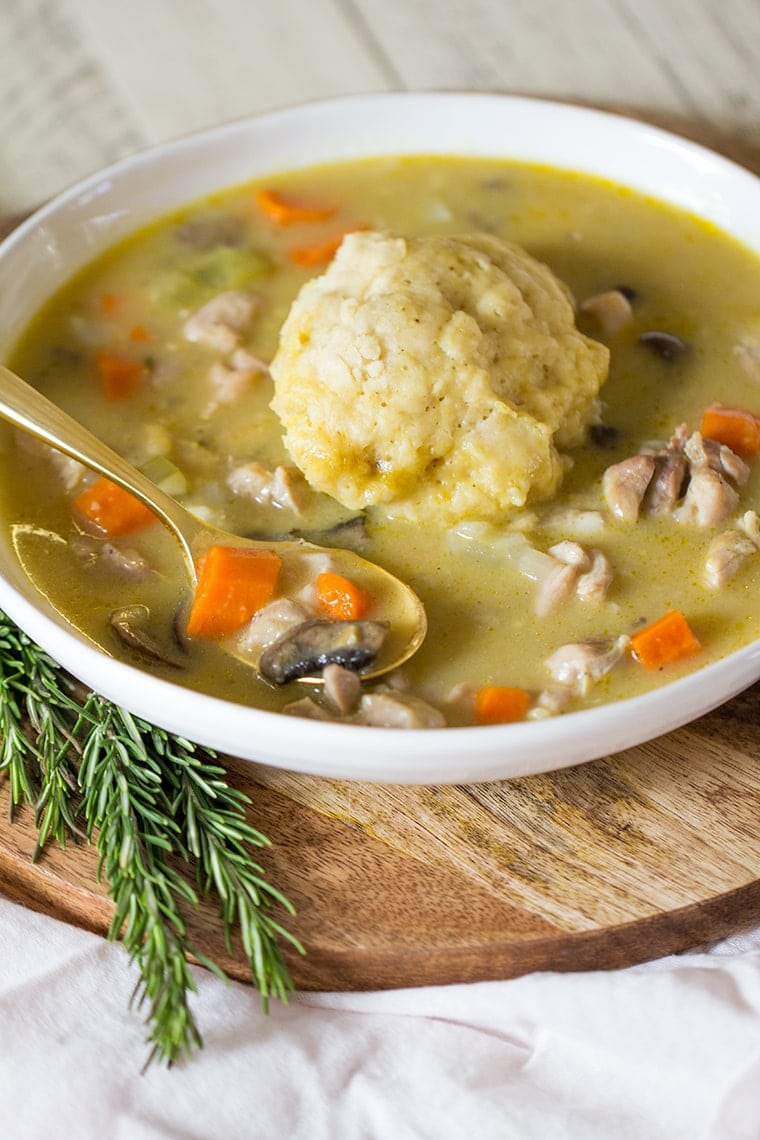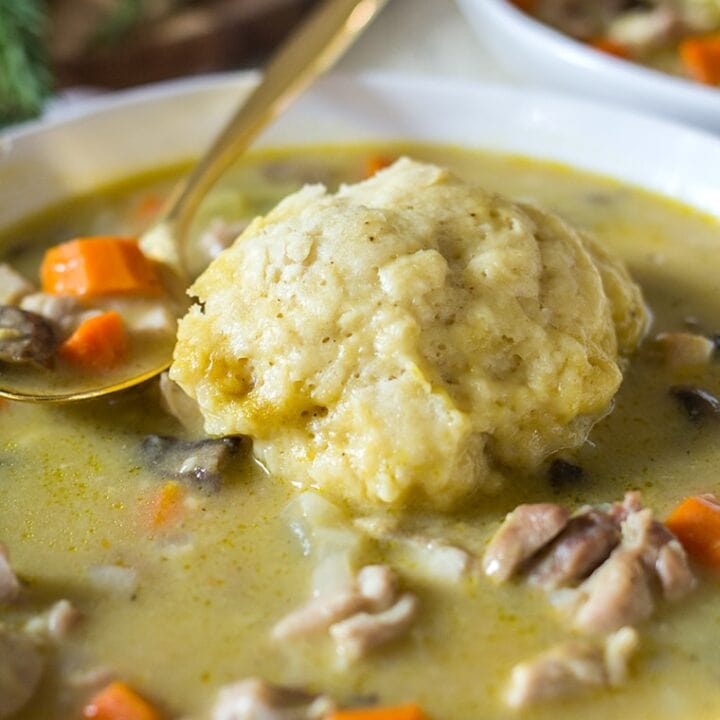 Chicken and Dumplings from Scratch (with mushrooms!)
Total Time:
1 hour
5 minutes
Creamy chicken and mushroom soup topped with pillowy dumplings.
Ingredients
3 carrots, cut into half moons
1 yellow onion, diced
3 celery hearts, diced
10 oz cremini mushrooms, sliced ( I use a bag)
4 garlic cloves, minced
2 pounds chicken thighs, cut into 1-2" cubes
1 bay leaf
1 teaspoon dried crushed rosemary or 1 sprig of fresh (I prefer dried)
¼ cup flour + more for the dumplings
6 cups chicken stock
1 cup coconut milk (full fat) you can also substitute whole milk
kosher salt and pepper
olive oil
Dumplings:
2 cups all purpose flour
1 tablespoon baking powder
½ teaspoon baking soda
¼ teaspoon kosher salt
¼ teaspoon pepper
6 Tablespoons melted butter, I use salted
¾ cup whole milk
Instructions
Add a good drizzle of olive oil to at large stockpot and heat over medium-high. Season chicken thigh chunks with salt and pepper and add to the pot. Cook until golden on all sides, about 2-3 minutes. Use a slotted spoon to remove chicken to a bowl and set aside.
Add a drizzle more olive oil to the chicken drippings if needed and add in garlic, mushrooms, onion, carrots and celery. Season with salt and pepper.
Cook, stirring until veggies are tender, about 3-4 minutes.
Add flour and cook, stirring until lightly browned, about 1 minute.
Add in chicken stock, bay leaf, rosemary and cooked chicken thighs (juice and all), scraping bottom of the pan as you cook.
Bring to a simmer.
Stir in coconut milk until heated through. Taste again and season with salt and pepper if needed.
Cover, reduce heat to low and make the dumplings!
In a bowl combine flour, baking powder, baking soda, salt and pepper.
Drizzle in melted butter and gently incorporate using a fork.
Slowly add in milk and mix with fork until just combined.
Divide mixture into 6-8 large mounds and set aside for 5 minutes.
Carefully drop rested dumplings into soup and cover with a lid.
Let steam/simmer for 12-15 minutes until puffed.
Serve immediately.