Chicken in a white wine sauce with sundried tomatoes, parmesan cheese, and spinach may taste like a restaurant quality meal but it's incredibly easy to make at home.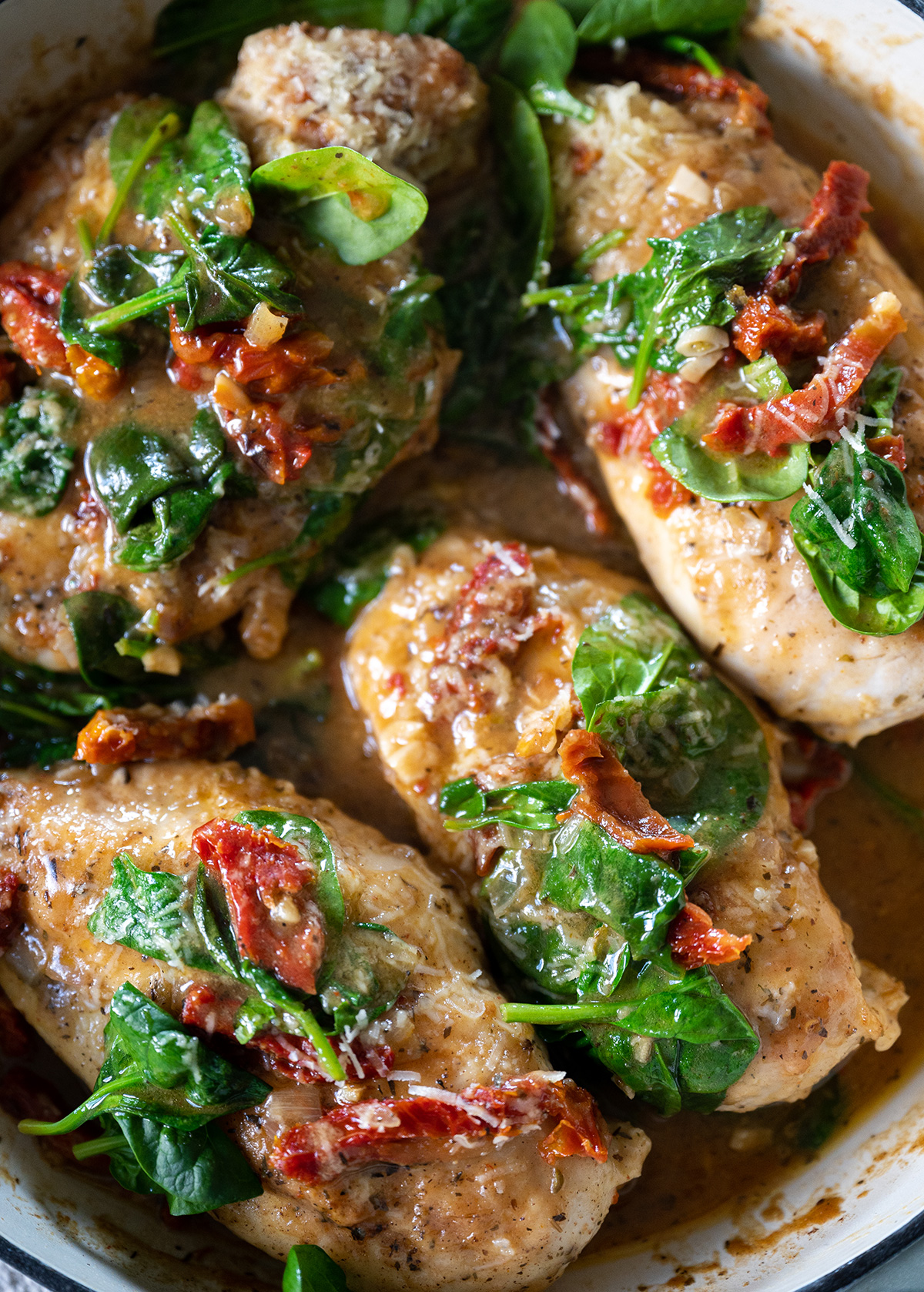 Chicken in White Wine Sauce Recipe
Crisp Chardonnay pair with shallots, garlic, butter and parmesan to make the most luscious sauce. Serve with a side of little potatoes and a glass of chilled California Chardonnay for the perfect dinner pairing. This will be your new favorite chicken dish, guaranteed.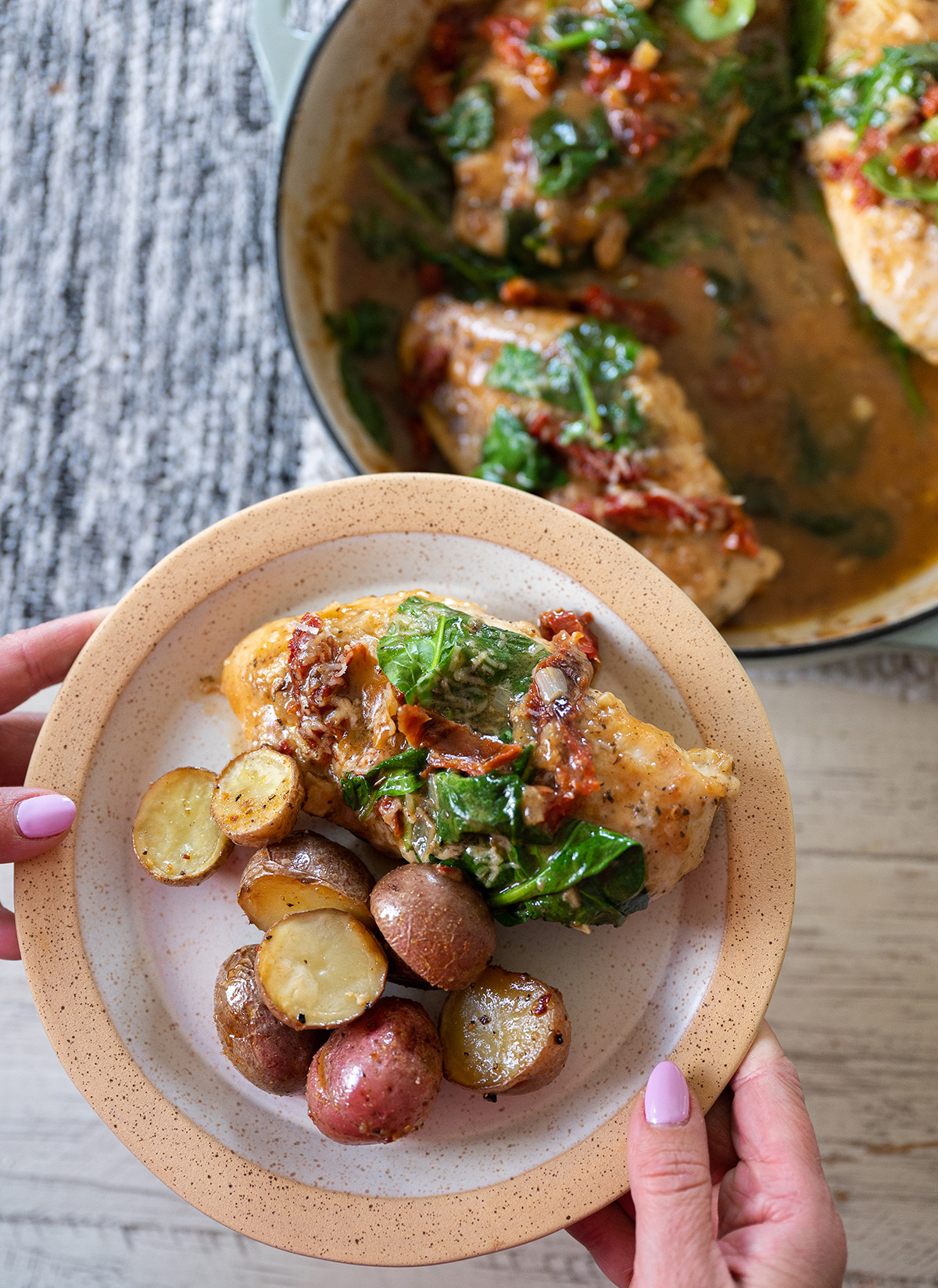 Chicken in White Wine Ingredients
Chicken Breasts - I use boneless, skinless chicken breast but you could also use chicken thighs for this recipe.
Flour - for dredging the chicken and thickening the sauce.
Spices - oregano, thyme, dried basil, salt and pepper as well as fresh garlic.
Shallot - shallot adds a mild sweet onion flavor to the dish.
Sundried Tomatoes - I love julienned sun dried tomatoes in olive oil for this dish.
Spinach - fresh spinach wilts down but remains green and fresh when stirred in just at the end.
Butter & Olive Oil - personally, I like the flavor combination of both when browning chicken and creating an easy pan sauce.
Wine - I recommend a dry Chardonnay for this.
Chicken Stock - you can use broth or stock for this but I find stock to be a whole lot more flavorful.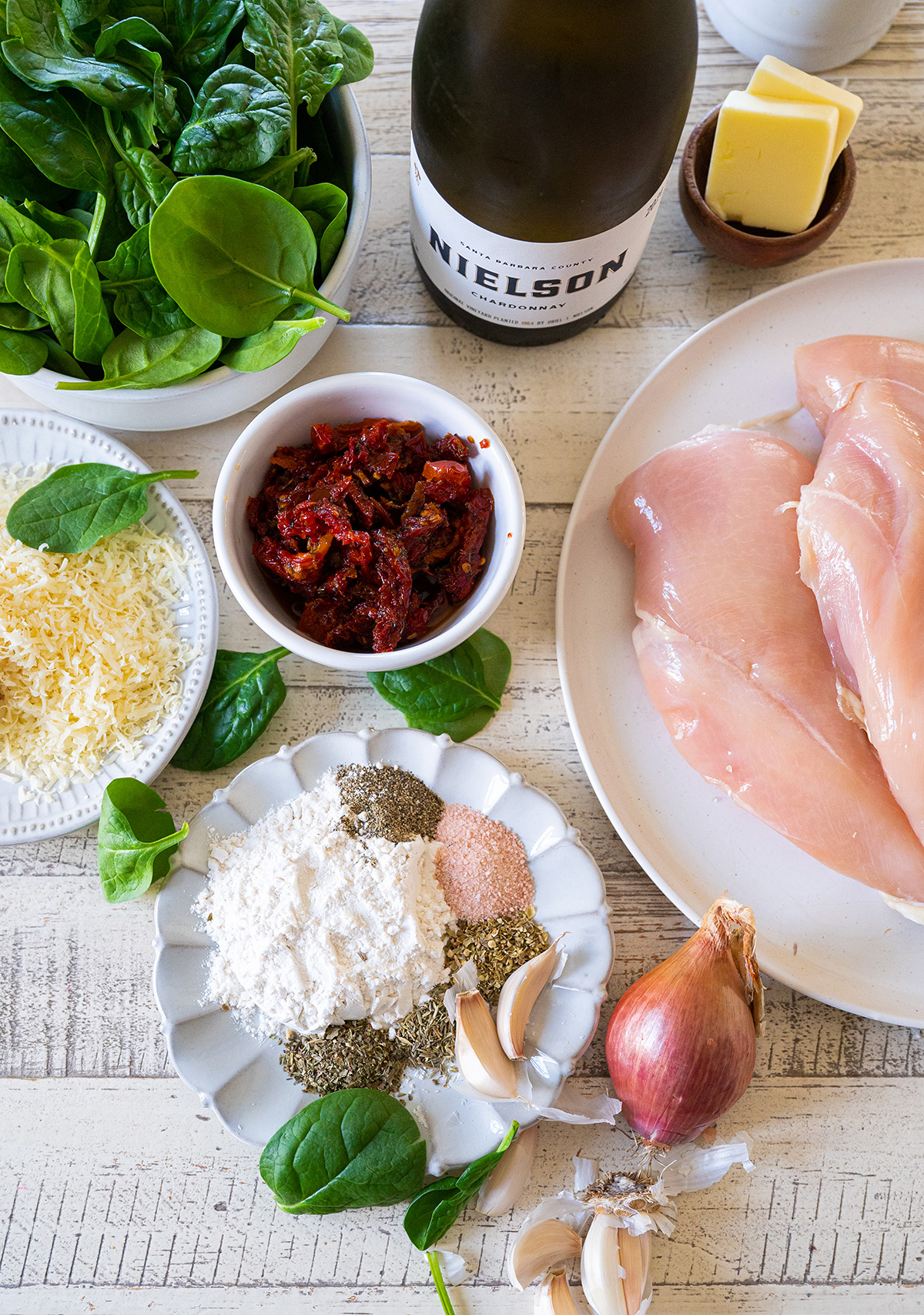 How to Make Chicken in Wine Sauce
I love this dish because the chicken and the sauce all cook together in one pan. The flour dredge on the chicken thickens the pan drippings, white wine and chicken stock and the chicken cooks through in that flavorful mixture. It's truly divine.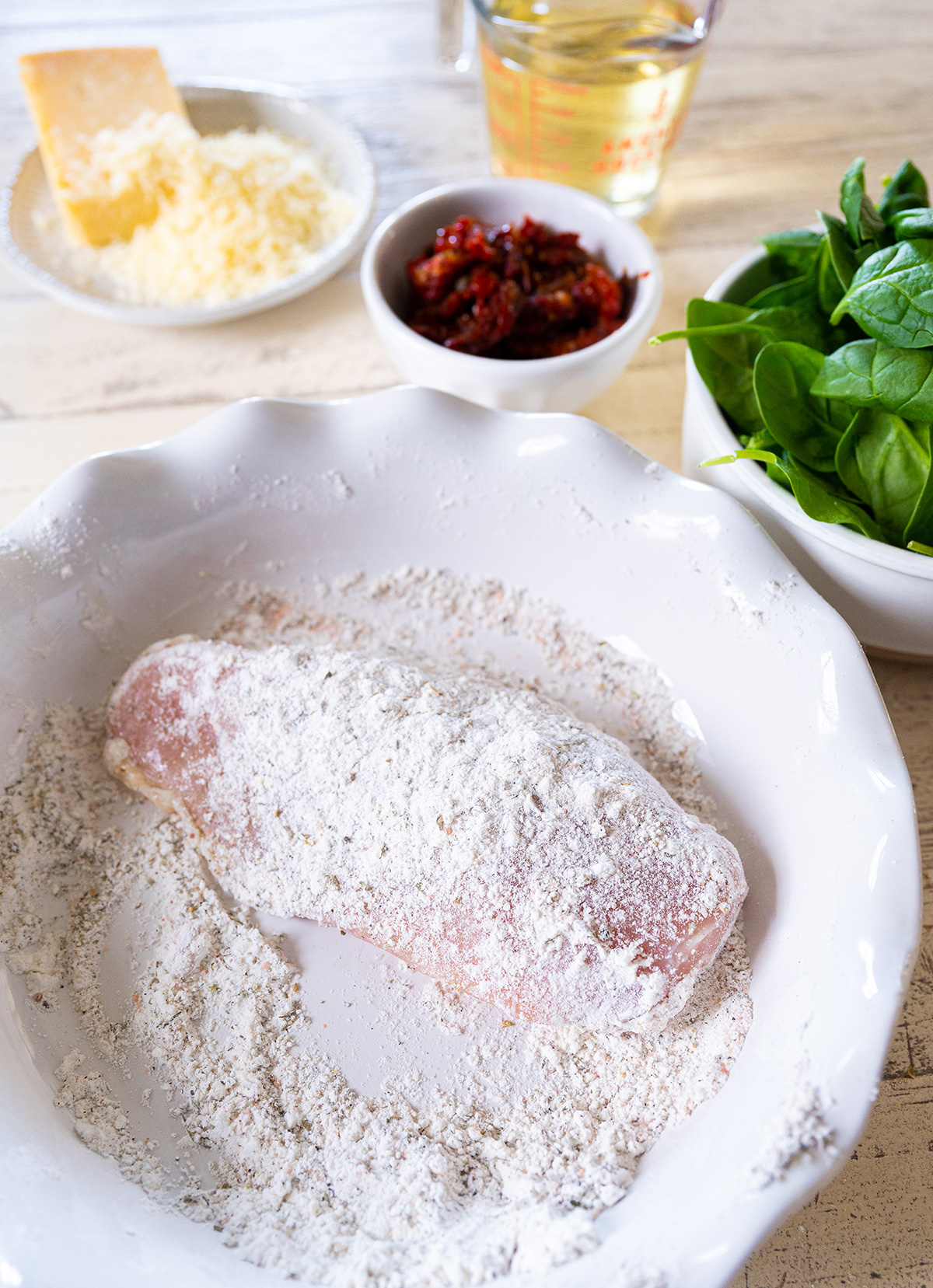 Dredge - mix flour and spices and dip chicken breasts in the mixture until all are well coated.
Brown - brown the chicken in a large skillet with melted butter and olive oil, until golden on both sides.
Sautee - remove the chicken and add shallots, garlic, and sundried tomatoes.
Make the Sauce - deglaze the pan with white wine and chicken stock. Add the remaining flour and whisk to thicken.
Cook - return the chicken to the sauce and cook through.
Finish - remove from heat and top with parmesan and spinach just before serving.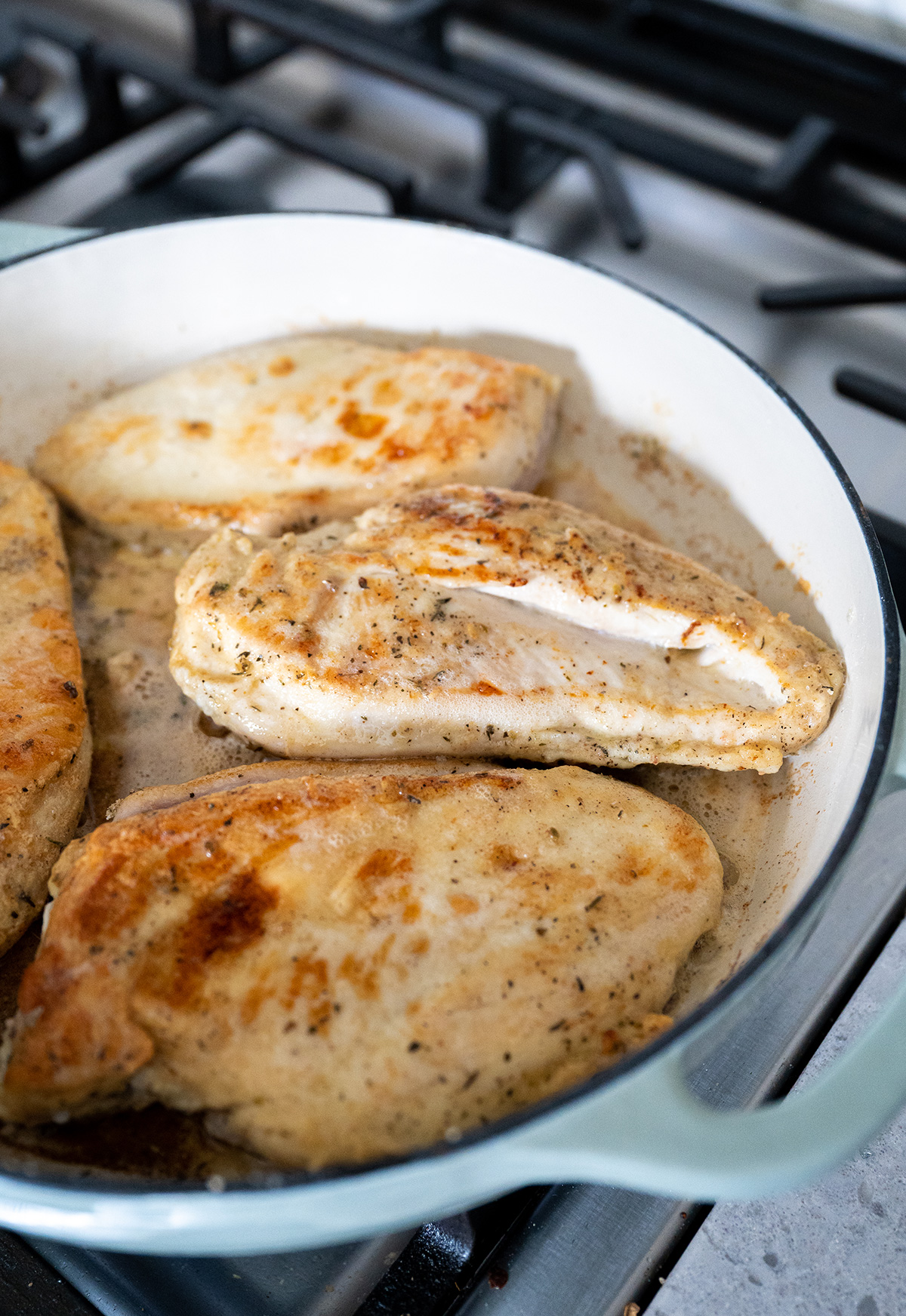 Don't worry about brown bits in the bottom of the pan when browning. That is all flavor that will make the wine sauce even more delicious. They will come up when you deglaze the pan with the wine.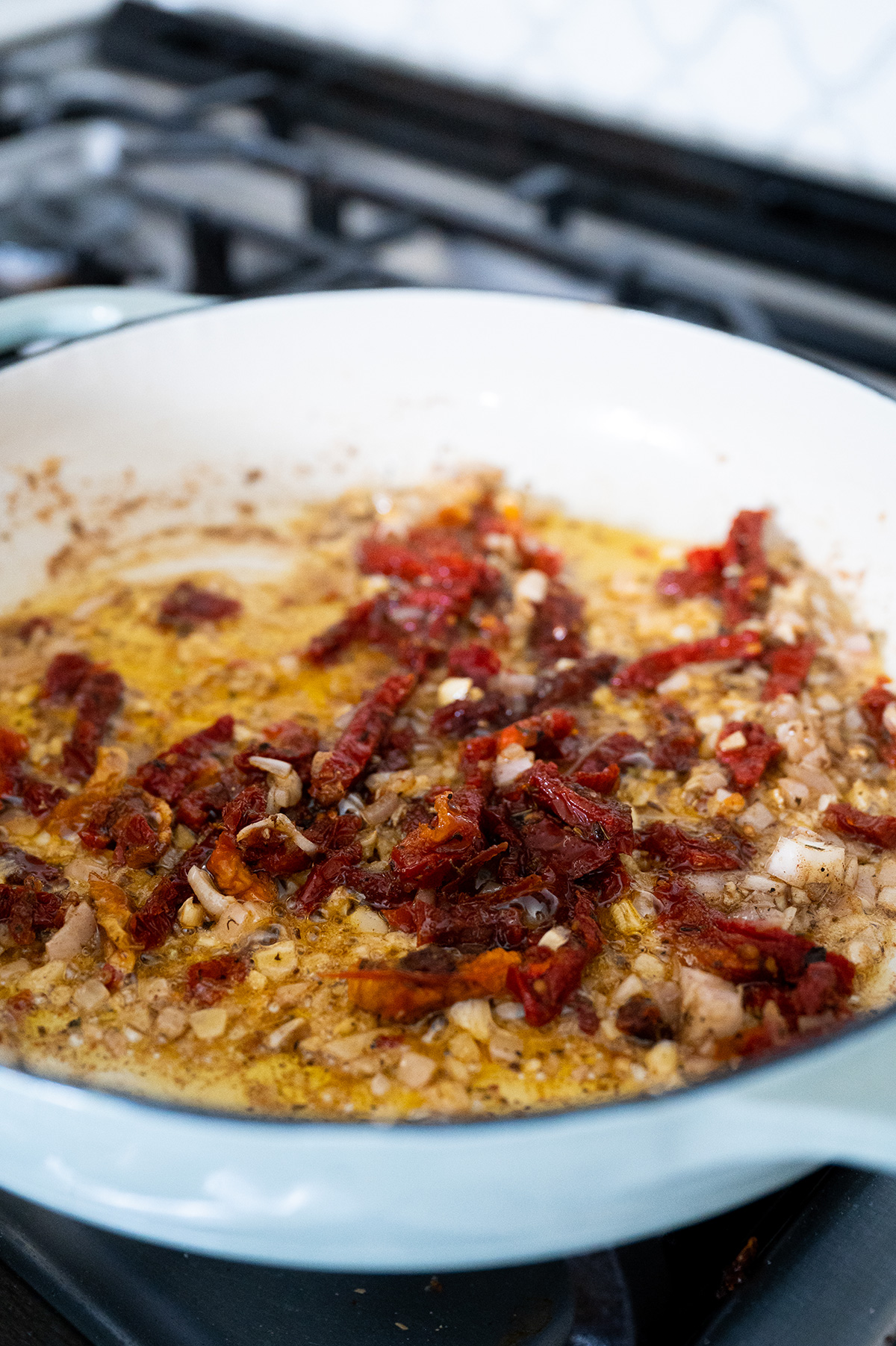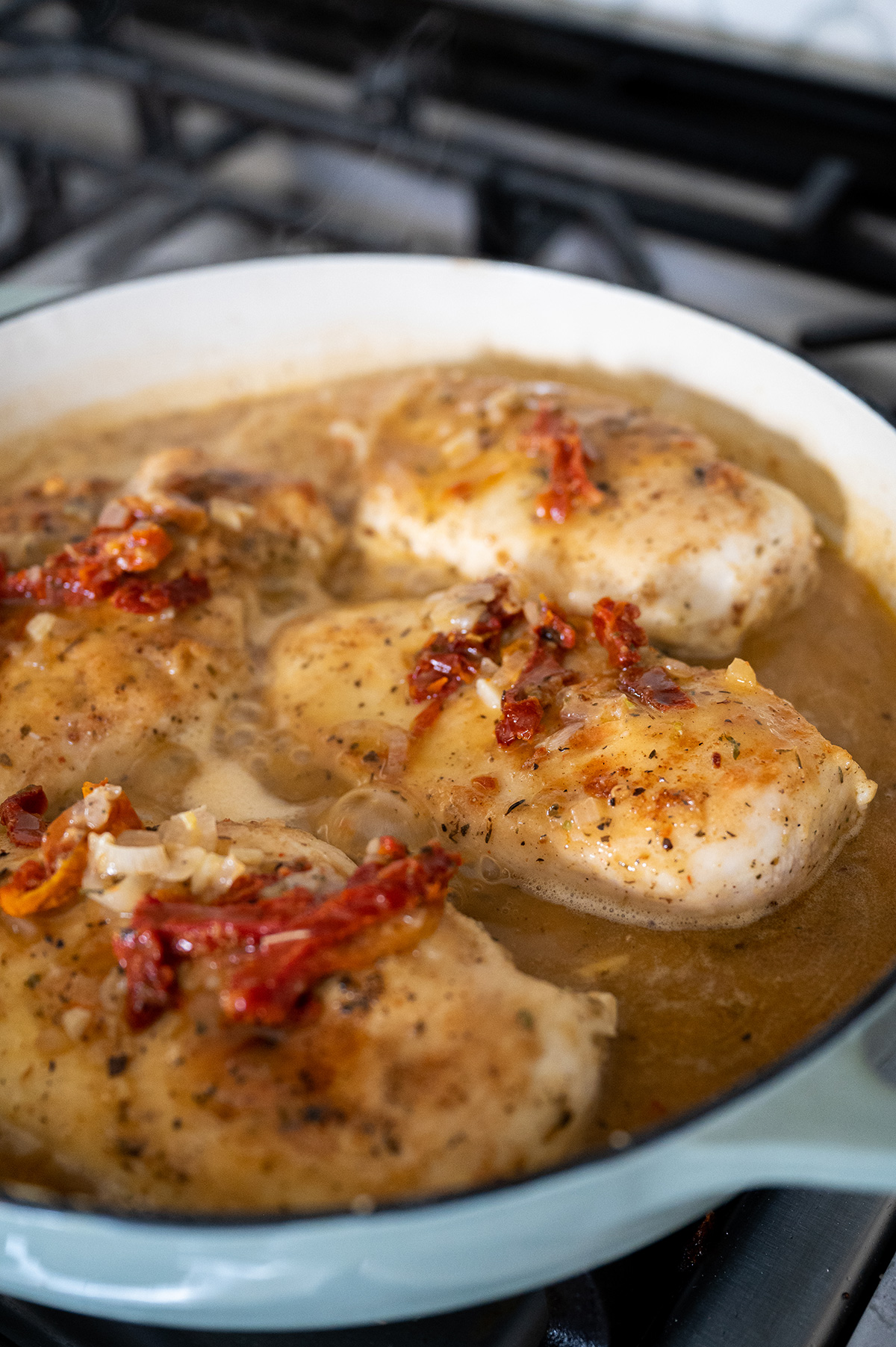 Cover and cook until chicken breasts reach an internal temperature of 165 degrees Fahrenheit. This should only take 15-20 minutes but will depend on the thickness of the chicken.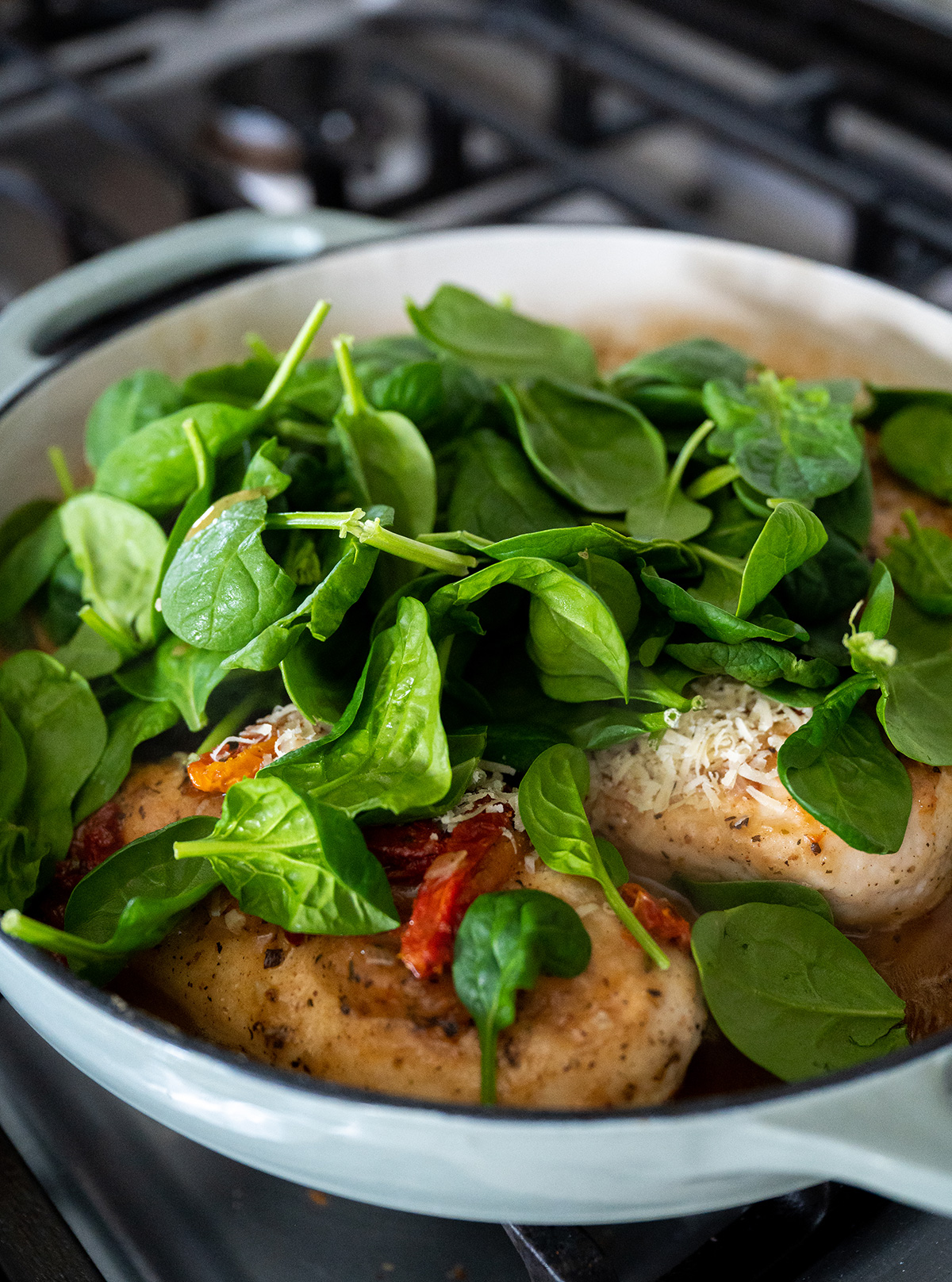 Adding the spinach just before serving ensures that it stays fresh and not overly wilted or soggy. The bright pop of spinach adds a delicious element to the rich chicken so definitely do not skip this ingredient.
If you are not a fan of spinach, I would recommend serving the chicken on a bed of arugula! Arugula would not need to be added to the pan however and should be plated uncooked.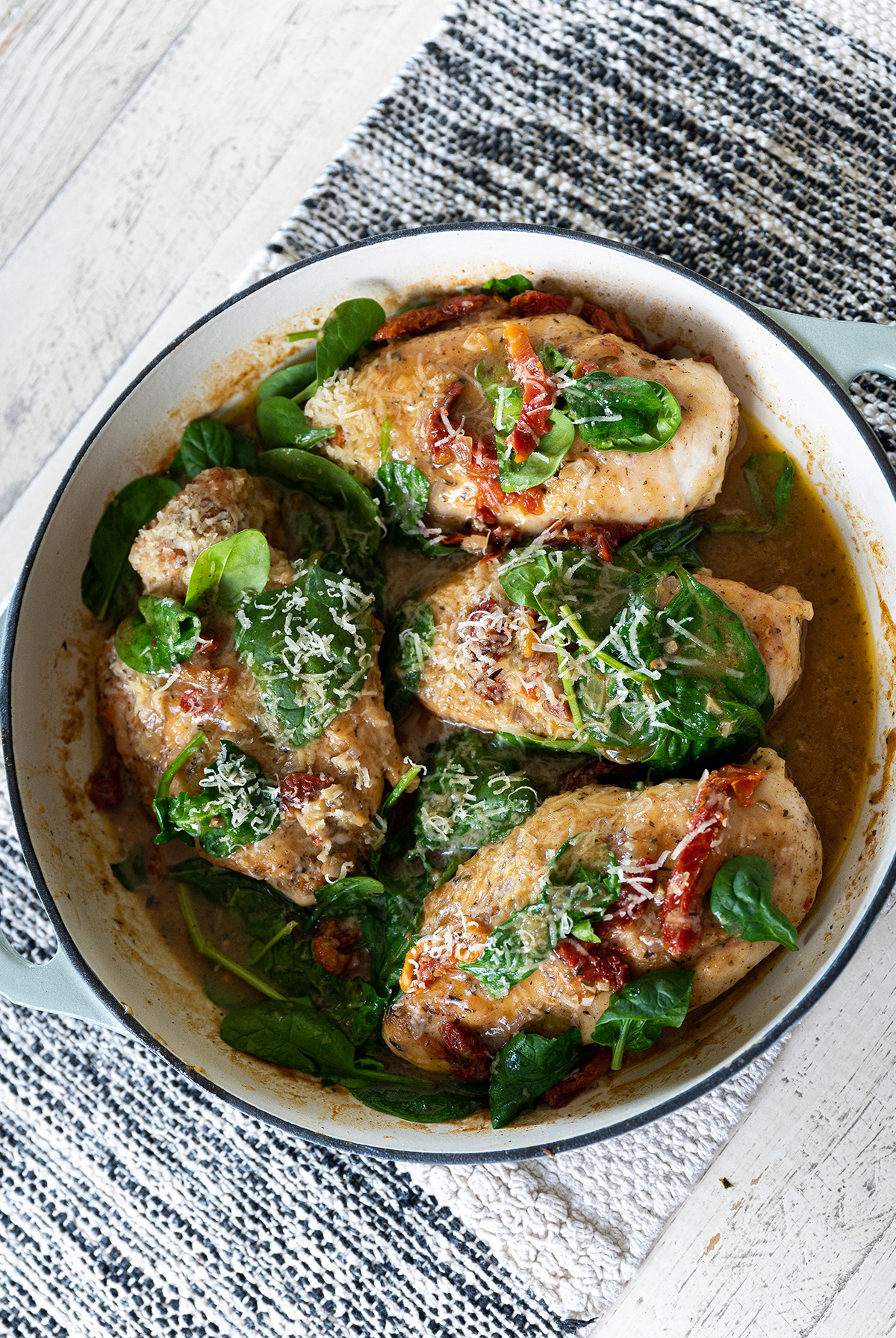 I love this chicken in white wine sauce for an easy and elegant Friday night dinner served with little potatoes, mashed potatoes or even pasta. It truly is one of the most delicious ways to enjoy a classic chicken dinner.
More Chicken Recipes: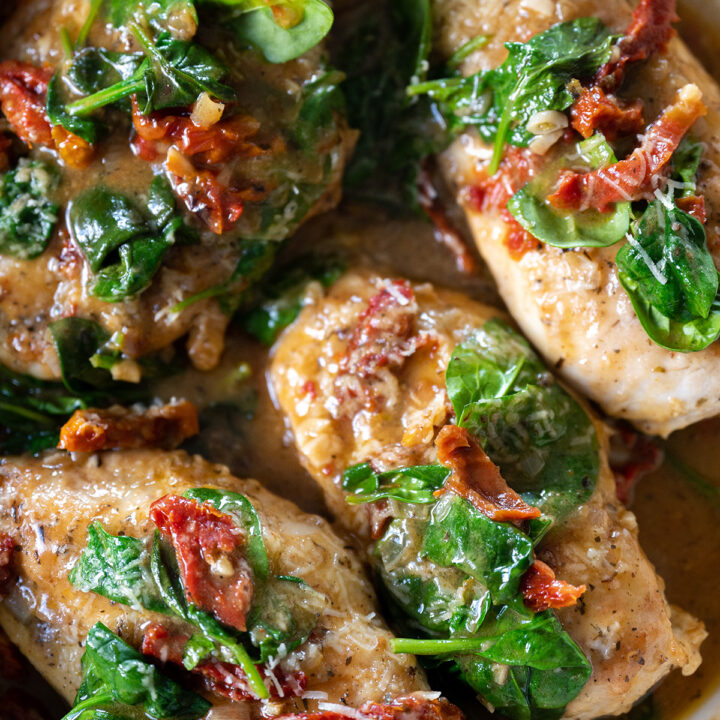 Chicken with White Wine Sauce
Chicken in a white wine sauce with sundried tomatoes and spinach.
Ingredients
4 (6-ounce) boneless skinless chicken breasts
¼ cup flour
½ teaspoon oregano
½ teaspoon thyme
½ teaspoon basil
1 teaspoon kosher salt
½ teaspoon freshly ground black pepper
2 tablespoons extra virgin olive oil
2 tablespoons butter
4 garlic cloves, minced
1 shallot minced
½ cup sun-dried tomatoes, thinly sliced
2 cups baby spinach
1 cup Chardonnay
½ chicken stock
¼ cup freshly grated parmesan
Instructions
Mix together flour, oregano, thyme, basil, salt and pepper in a shallow dish.
Dredge chicken breasts in flour and set aside.
In a large skillet, heat butter and olive oil until melted.
Brown chicken breasts 2-3 minutes per side until golden. Remove from pan and set aside.
Add another drizzle of olive oil to the pan drippings along with shallot, garlic and sundried tomatoes. Sautee for 30 seconds.
Add in chardonnay to deglaze the pan.
Whisk in the remaining flour and herbs used to dredge the chicken.
Add chicken stock and bring to a bubble.
Return chicken to the pan, spooning sauce over the chicken. Cover and cook 15-20 minutes on medium-low or until chicken is cooked through and reaches an internal temperature of 165.
Stir in parmesan and spinach just before serving.
Notes
Serve with roasted baby potatoes, mashed potatoes or over pasta.
Nutrition Information:
Yield:

4
Serving Size:

1
Amount Per Serving:
Calories:

320
Total Fat:

16g
Saturated Fat:

6g
Trans Fat:

0g
Unsaturated Fat:

9g
Cholesterol:

48mg
Sodium:

605mg
Carbohydrates:

18g
Fiber:

2g
Sugar:

5g
Protein:

15g