Marinated Greek Yogurt Chicken Skewers are one of my favorite summer recipes to throw on the grill! A flavorful marinade of Greek yogurt, lemon, oregano, and garlic make the chicken extra moist.
Greek Chicken Skewers
Today I'm partnering with Wallaby Organic to share my yogurt marinated Greek Chicken. This is a recipe that I've made for years and somehow has never made it to the blog! I've prepared this chicken countless ways but grilling it on skewers is my favorite.
This chicken is perfect served with my Spinach Dill Rice, Orecchiette Caprese Pasta, or served with a fresh assortment of grilled veggies. Even my (almost) five year old twins love this recipe because the chicken is so tender.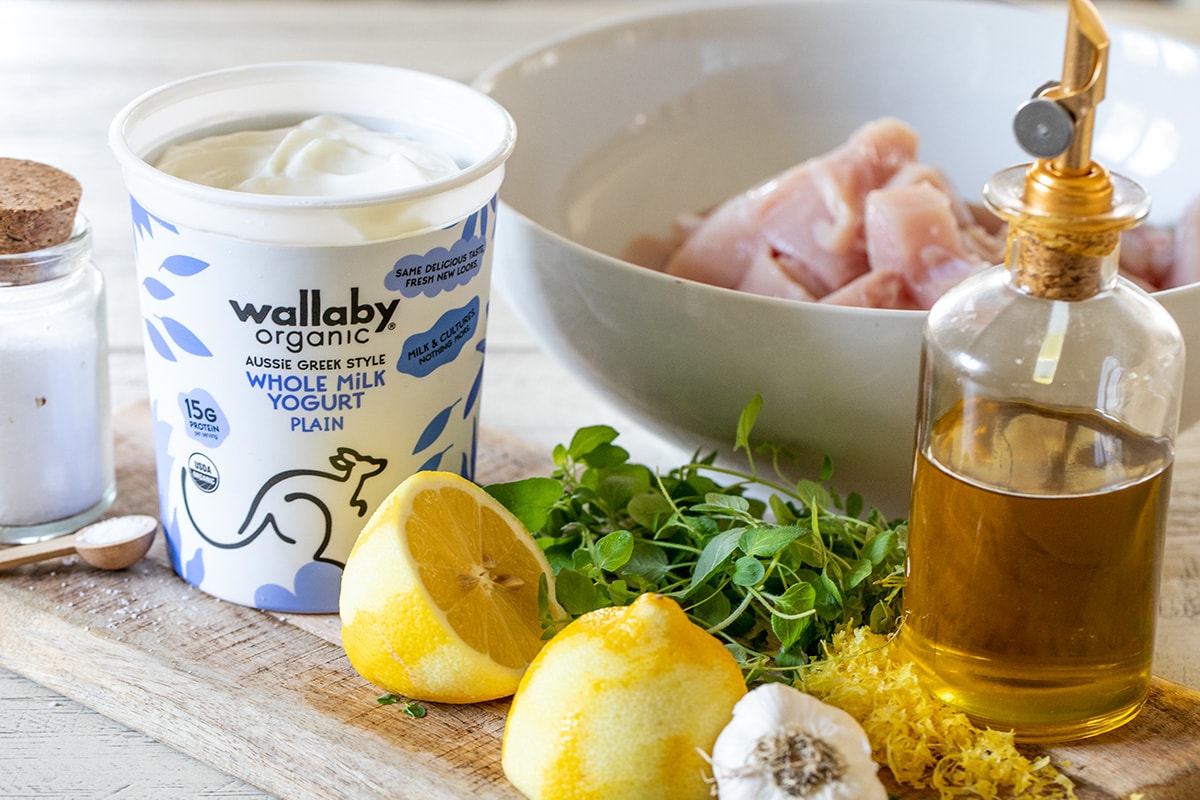 Ingredients Needed for Greek Chicken
Chicken - I used organic boneless skinless chicken breast but you can also use chicken thighs for this.
Yogurt - I like Wallaby Organic® Plain Aussie Greek Style Whole Milk Yogurt because it has a great creamy thick texture and the flavor is delicious! We also use this as a sauce for the chicken.
Oregano - dried oregano is perfect for the marinade.
Lemon - you'll need both lemon zest and juice.
Olive Oil
Salt & Pepper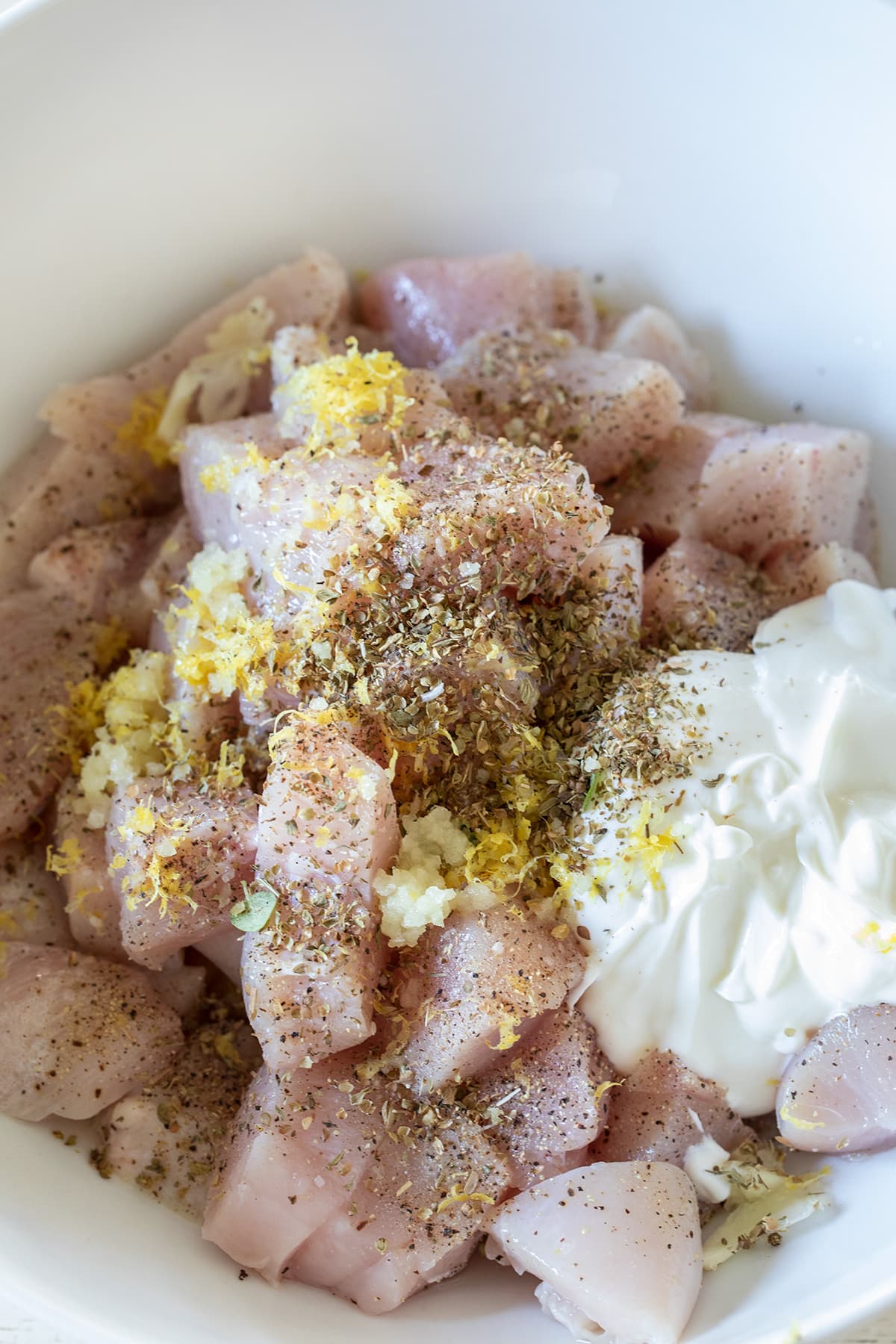 What I LOVE About This Marinade
Marinating chicken in yogurt is really a magical process. Yogurt tenderizes meat much more gently than pure citrus but the combination of lemon zest, lemon juice and Greek Yogurt is a quick and effective way to get so much flavor into your meat with juicy results. Because of this, grilling is a great option.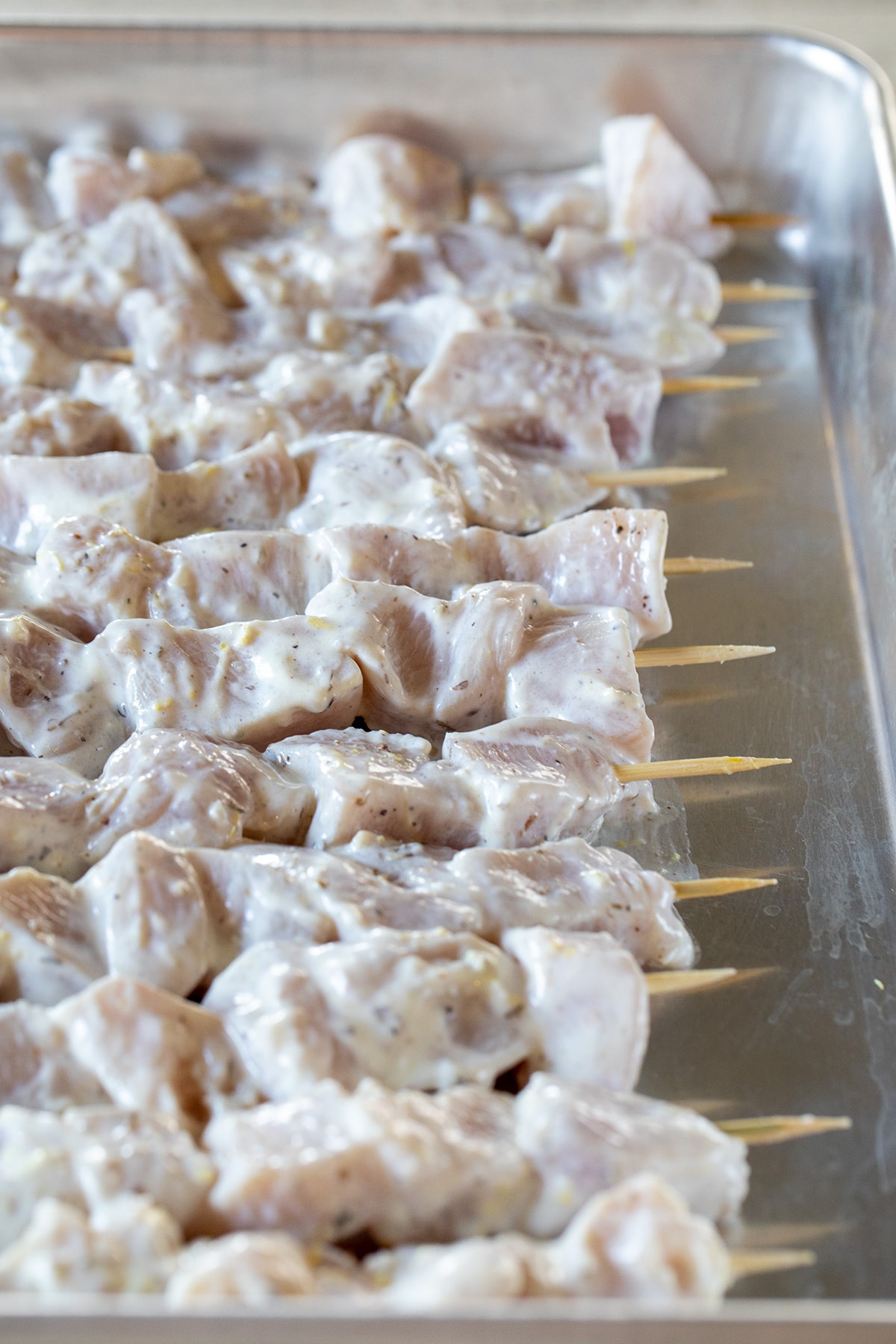 How to Marinate Chicken
Start by dicing your chicken into two inch cubes. You want them large enough that they won't shrink up to nothing on the grill.
In a bowl add chicken and top with all of the marinate ingredients: yogurt, oregano, lemon zest, lemon juice, olive oil, salt and pepper.
Toss to coat all of the chicken well. Cover in plastic wrap and refrigerate for 30 minutes to marinate.
Once the chicken is done marinating you can skewer the pieces onto bamboo or metal skewers and grill!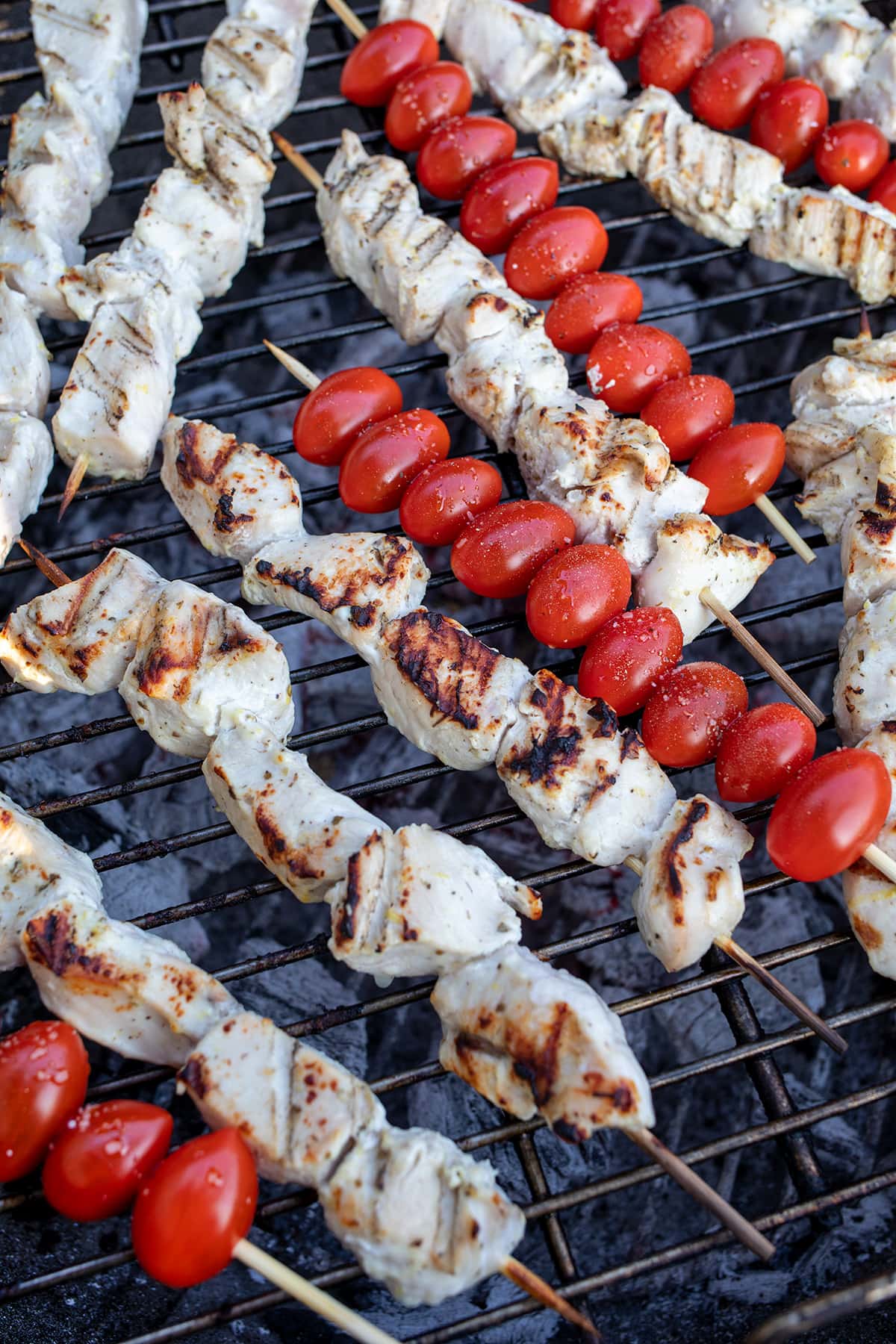 Tips for Grilling Chicken Skewers
SOAK: Soak your wooden skewers before using. This helps them keep from burning and breaking and also prevents splintering.
MARINATE: with this recipe, you won't have to worry about this step. Marinated chicken is always the best for skewers as it stays moist.
DON'T MIX: Do not mix meat and veggies. They cook at different times and it's best to keep chicken on its own skewer, tomatoes on another and so on.
PLACEMENT: Make sure skewers are placed on the grill in across the grates, not in the same direction. This will help with a better grill.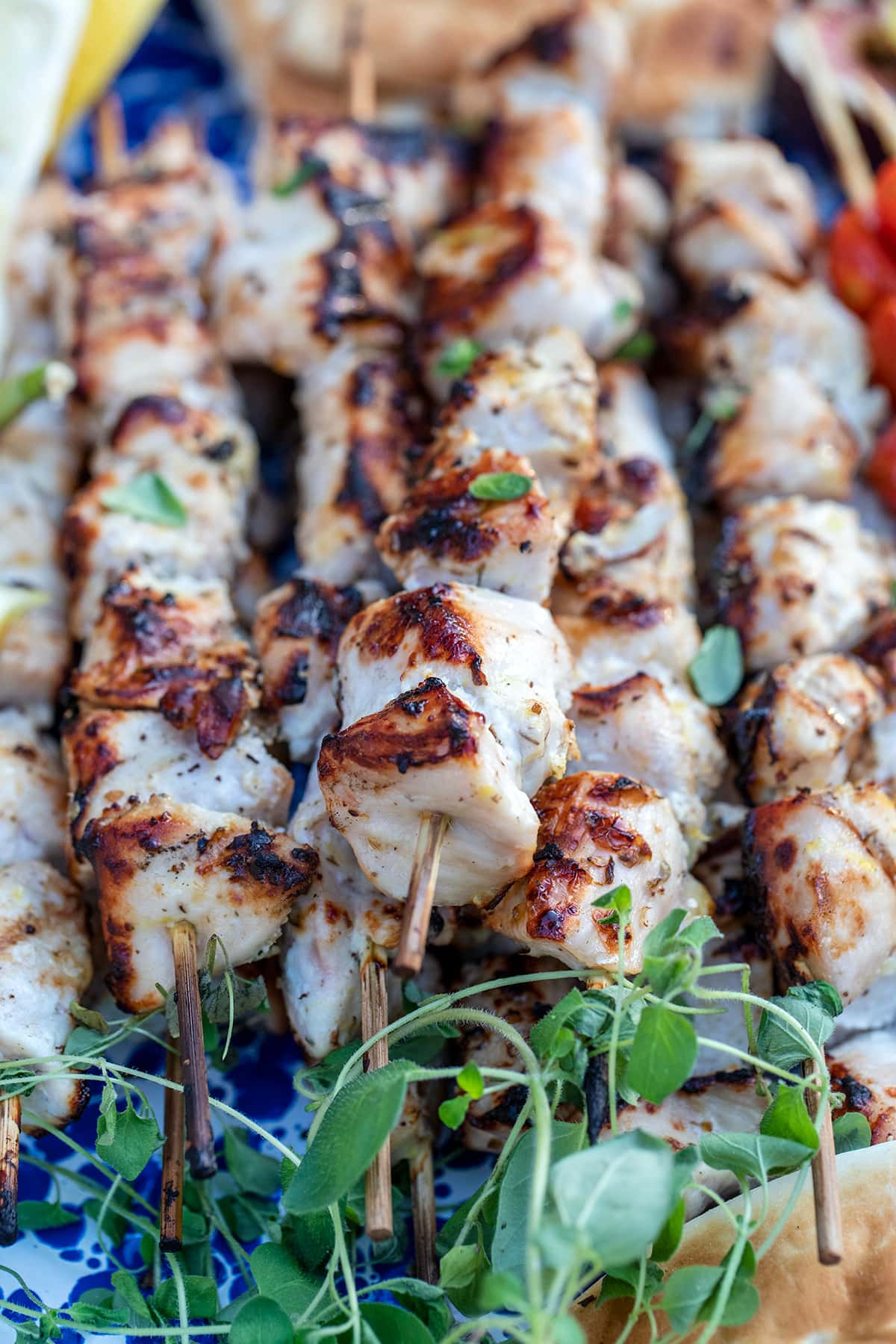 I grilled my skewers for about 20 minutes turning every 5 minutes until all sides were browned and the chicken was cooked through. This time may vary based on the heat of your grill and the size of your chicken cubes. We grill over hard wood charcoal so I like to let the wood reduce down quite a bit before grilling.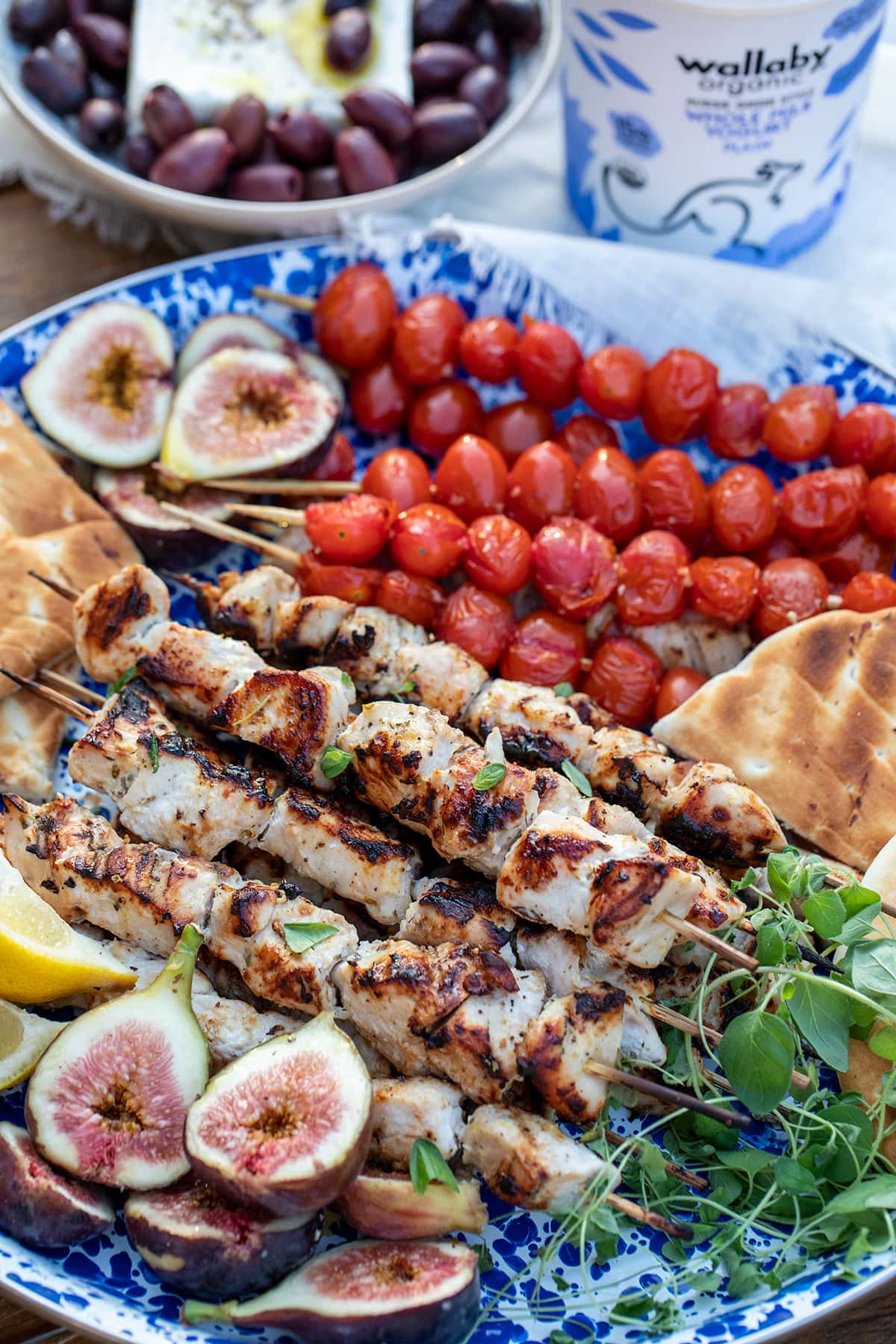 What To Serve with Greek Chicken Skewers
I love serving these skewers with grilled cherry tomatoes, pita bread, fresh figs, feta cheese, Kalamata olives and more Wallaby Organic Plain Greek Style Yogurt. This yogurt needs absolutely nothing else to create the perfect finishing sauce for the chicken. It's creamy, smooth and just mildly tangy which works so well with the grilled chicken.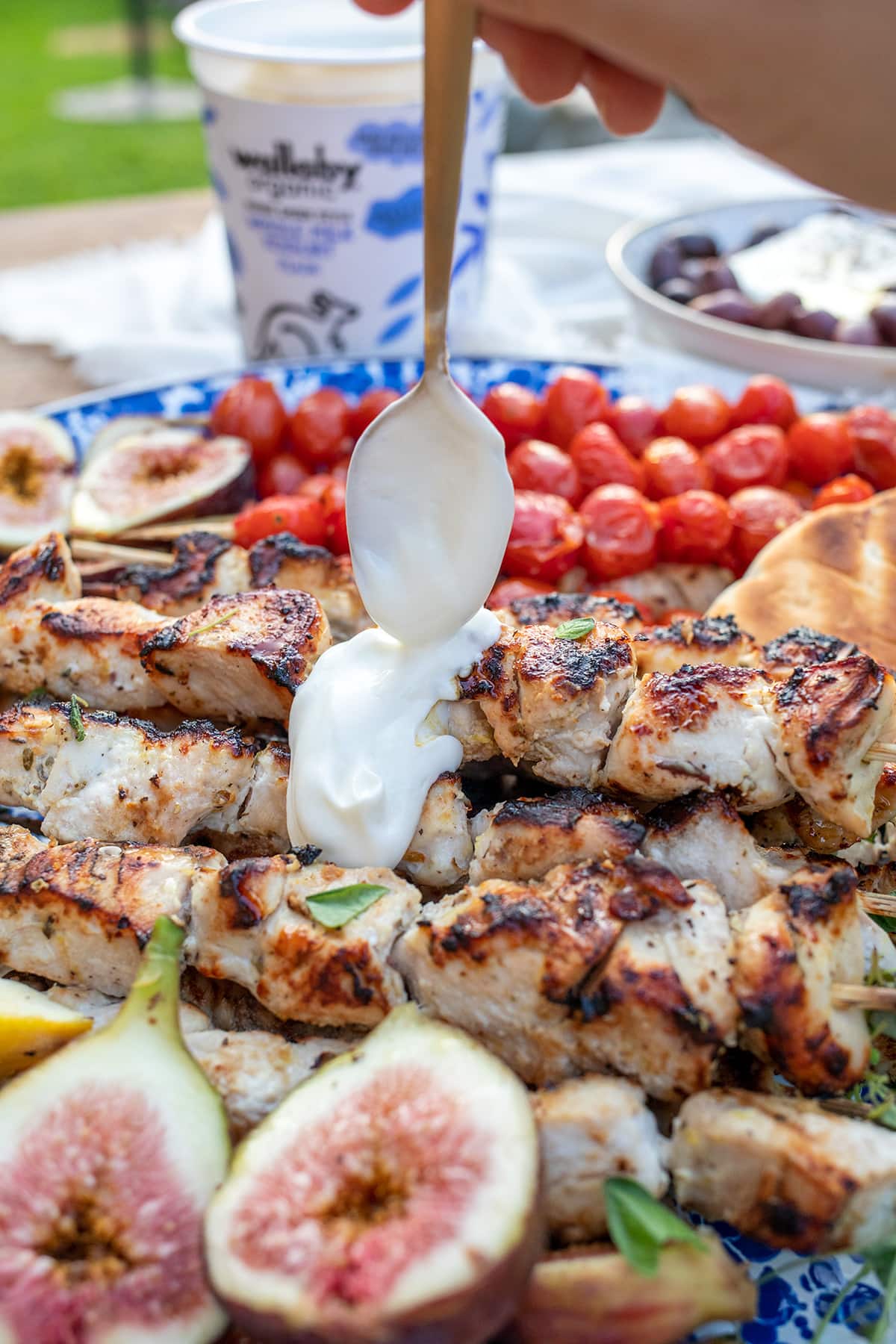 This is the perfect dinner for a warm summer night spent outdoors. I hope you and your family will love this meal as much as mine does! The twins love making little "sandwiches" with the grilled chicken, tomatoes and yogurt sandwiched in a warm pita. Absolutely delicious!
Disclaimer: This recipe post was sponsored by Wallaby Organic, a brand of yogurt that my family loves! All opinions expressed here are my own. Thank you for supporting my sponsors.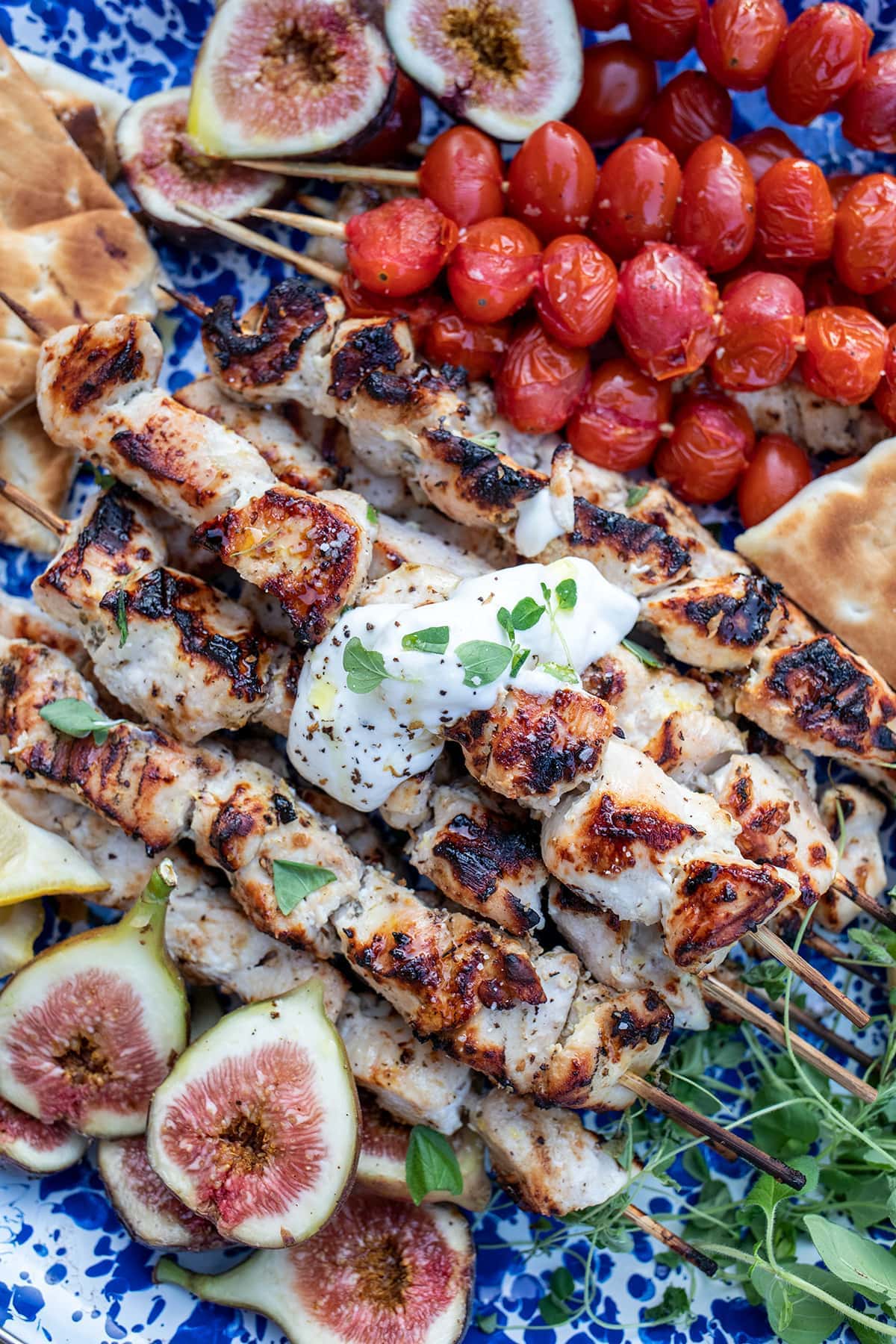 More Grilling Recipes to Try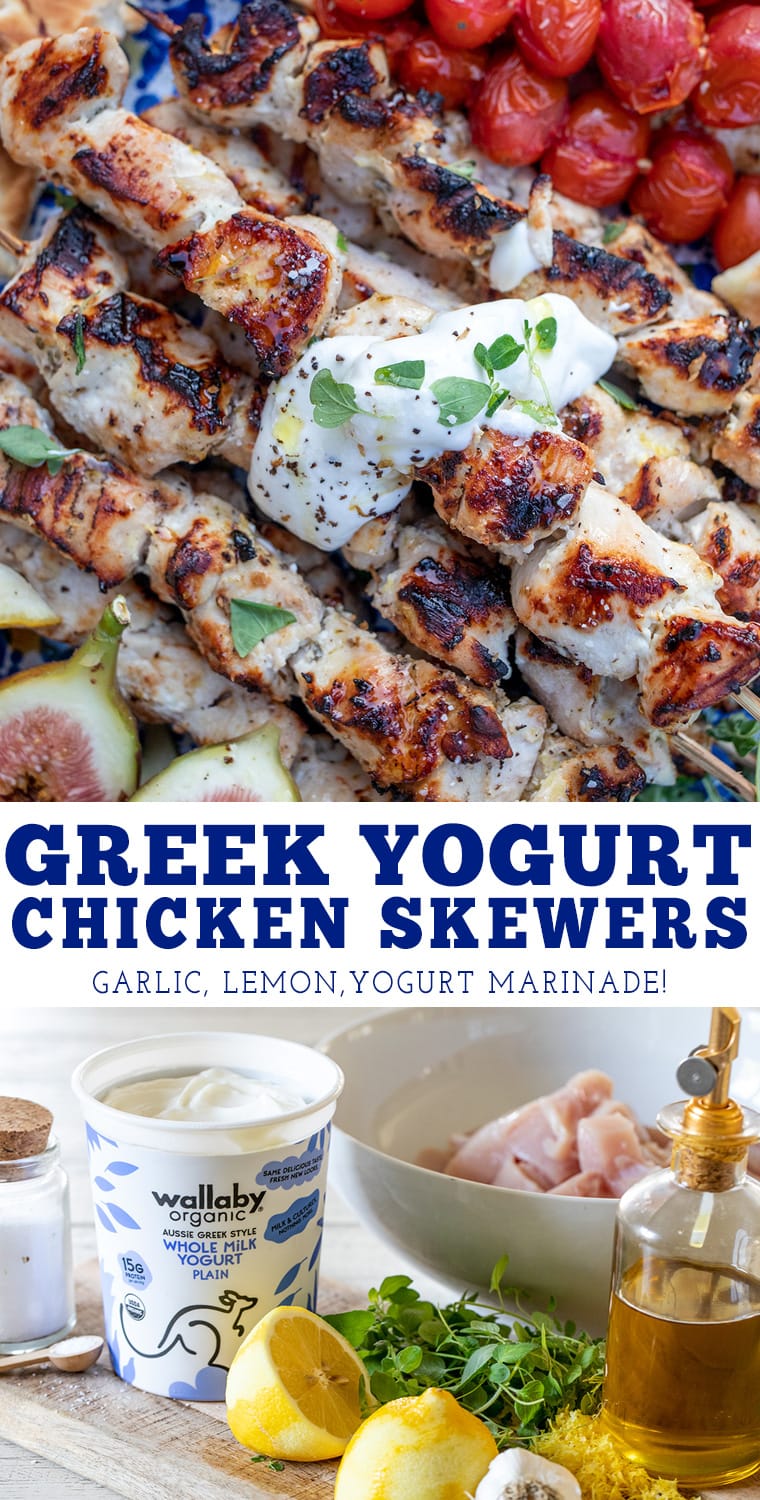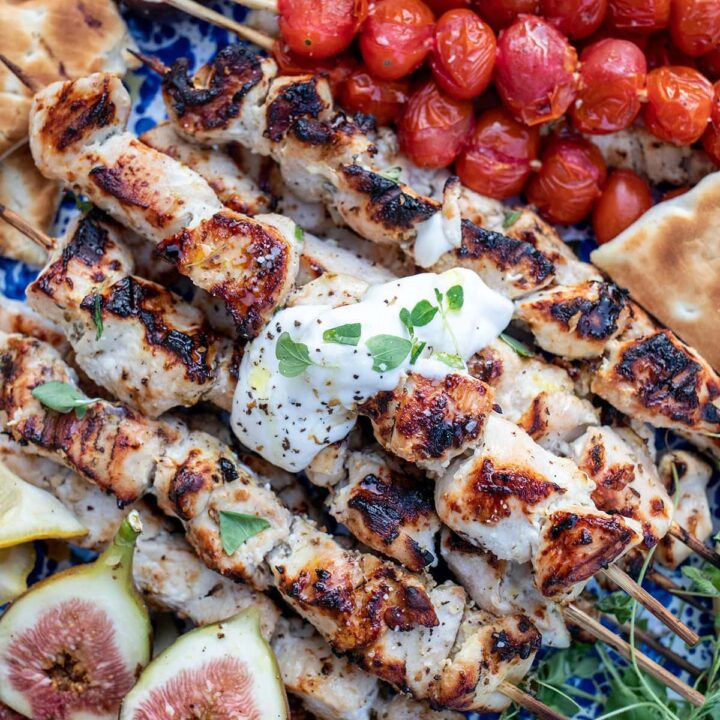 Marinated Greek Yogurt Chicken Skewers
Additional Time:
30 minutes
Total Time:
1 hour
20 minutes
Chicken marinated in Greek yogurt, lemon and oregano.
Ingredients
3 lbs boneless skinless chicken breast
½ cup Wallaby Organic® Plain Aussie Greek Style Whole Milk Yogurt
1 Tablespoon dry oregano leaves
1 Tablespoon lemon zest
¼ cup lemon juice
2 Tablespoons olive oil
1 teaspoon kosher salt
1 teaspoon black pepper
wooden skewers
Instructions
Cut chicken into 2" squares and place in a large mixing bowl.
Top chicken with yogurt, oregano, lemon zest, lemon juice, olive oil, salt and
pepper.
Toss to combine and coat all of the chicken evenly in marinade.
Cover tightly with plastic wrap and refrigerate for 30 minutes.
Meanwhile, soak wooden skewers in water.
Begin to heat the grill and clean the grill grate.
When the chicken is done marinating, carefully skewer pieces onto wooden skewer sticks and place on a sheet pan.
Oil your grill grate with a grill brush or a paper towel coated in oil. If you use this method you will want to use tongs to hold the paper towel.
Place chicken on the grill in the opposite direction of from the grill grates.
Grill for 20 minutes flipping sides every 5 minutes or until the chicken reaches an internal temperature of 165 degrees and the juices run clear.
Serve topped with a dollop of Wallaby Organic Plain Aussie Greek Style Whole Milk Yogurt, warm pita bread and grilled tomatoes.


Nutrition Information:
Yield:

6
Serving Size:

1
Amount Per Serving:
Calories:

444
Total Fat:

14g
Saturated Fat:

4g
Trans Fat:

0g
Unsaturated Fat:

9g
Cholesterol:

198mg
Sodium:

542mg
Carbohydrates:

3g
Fiber:

1g
Sugar:

2g
Protein:

72g