"Millie, can you take a bite of the chicken?" "You can't just pick out all of the sun-dried tomatoes." I realize how crazy this sounds…I'm speaking to my 17 month old. Secretly I love that she loves sun-dried tomatoes. I feel like it's a sign that she and I will one day sit around eating oysters and really stinky cheese and all of the other fun things I like to eat. Because a toddler who likes sun-dried tomatoes is special, right?! Right?!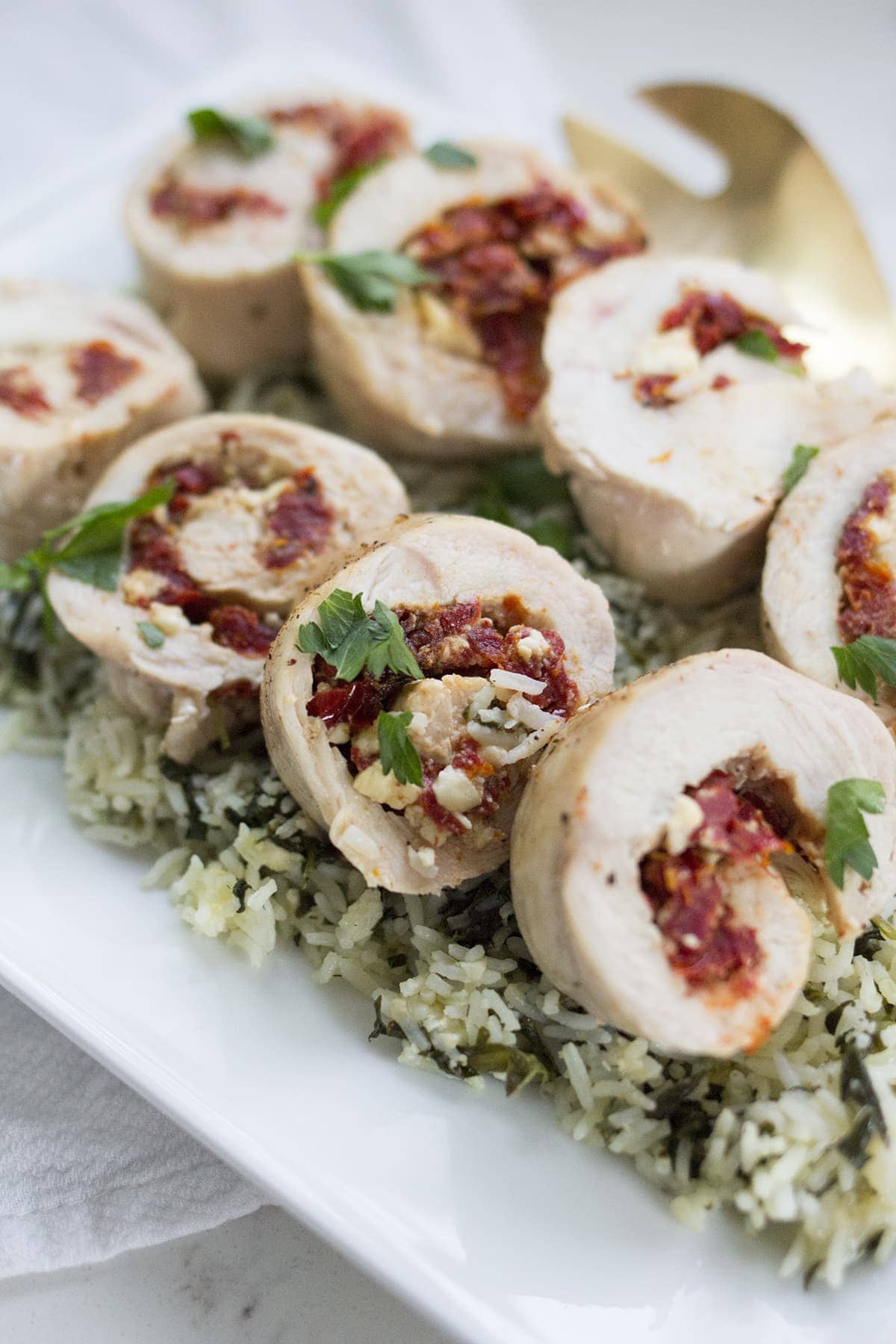 So, I sort of ignore that she's picking out the tomatoes AND the feta (can you really blame her?) and only mildly encourage her to try the rest. She did just eat spinach in her rice so hey, it's not all bad. Sun-dried Tomato and Feta Chicken; an adaptation of an adaptation passed down from one family member to the next and then on to me. Not so much a recipe, as just a general method of combining a few simple ingredients and baking them all until the chicken is good and done. I like this sort of meal. It's uncomplicated and easy to make quickly. My family never gets tired of it and I like having a guaranteed home run dish up my sleeve.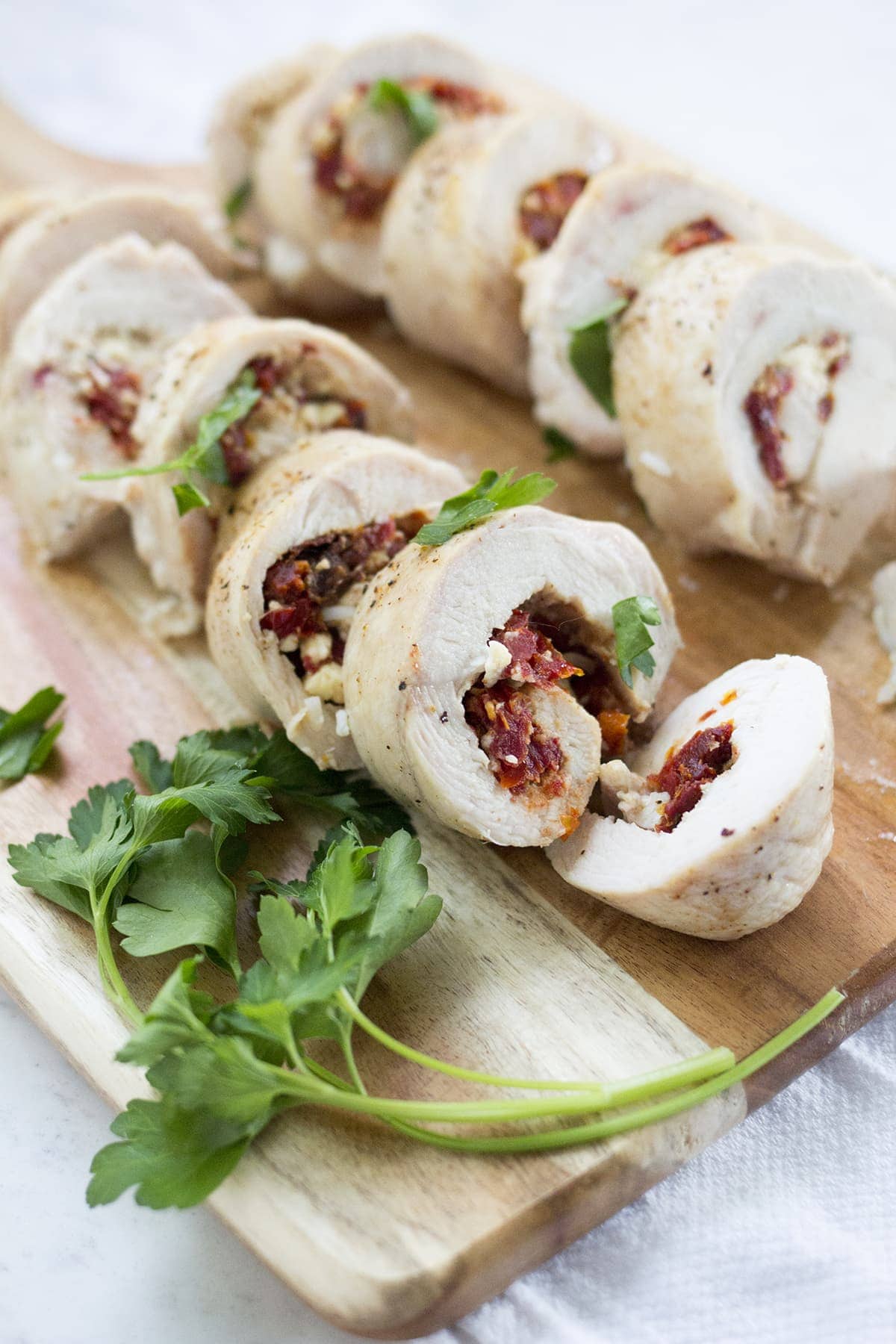 On a normal day in my house, this is how the recipe goes…Season chicken breasts with seasoned salt and pepper and a drizzle of olive oil, place in a baking dish. Top with an unfathomable amount of crumbled feta cheese (the herbed kind) and a whole bucket load of chopped sun-dried tomatoes. Bake until the chicken is done and the cheese is golden and all of the tomatoes have crispy, slightly charred tips. Because who doesn't like a little crisp? Eat it immediately and fight over who gets the feta chunks that dropped into the pan to melt and brown. Done. Dinner is a success.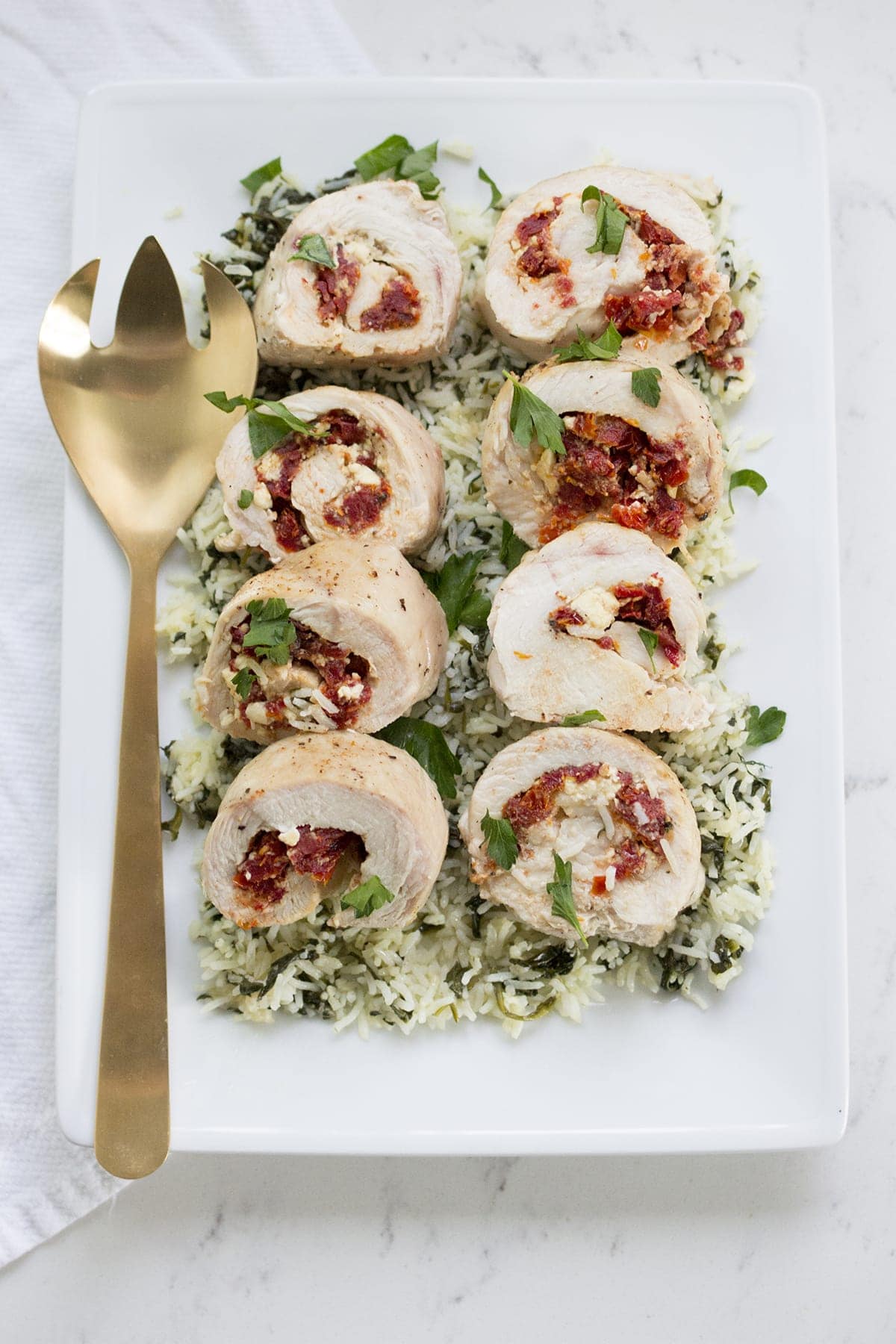 This past week however I felt the need to complicate things, to dress them all up for you and make them special. Don't ask me why, maybe it's my new official "food blogger" title. Maybe it's because I wanted to try something new. Maybe it was the need to take out my aggression on a helpless boneless skinless chicken breast. Don't ask. But here's how the recipe went this week. Butterfly two chicken breasts with a small paring knife. Cover them with plastic wrap and pound out thin with a rolling pin. Season both sides with olive oil, seasoned salt and pepper. Fill breasts with an unusually large amount of feta and sun-dried tomatoes and roll up tightly. Use toothpicks to keep rolls closed and bake until chicken is cooked. Slice into pretty little medallions and serve on a bed of spinach dill rice because I'm fancy like that. Let the family devour and let Millie pick out all of the bits of feta and sun-dried tomato. Dinner is, once again, a success.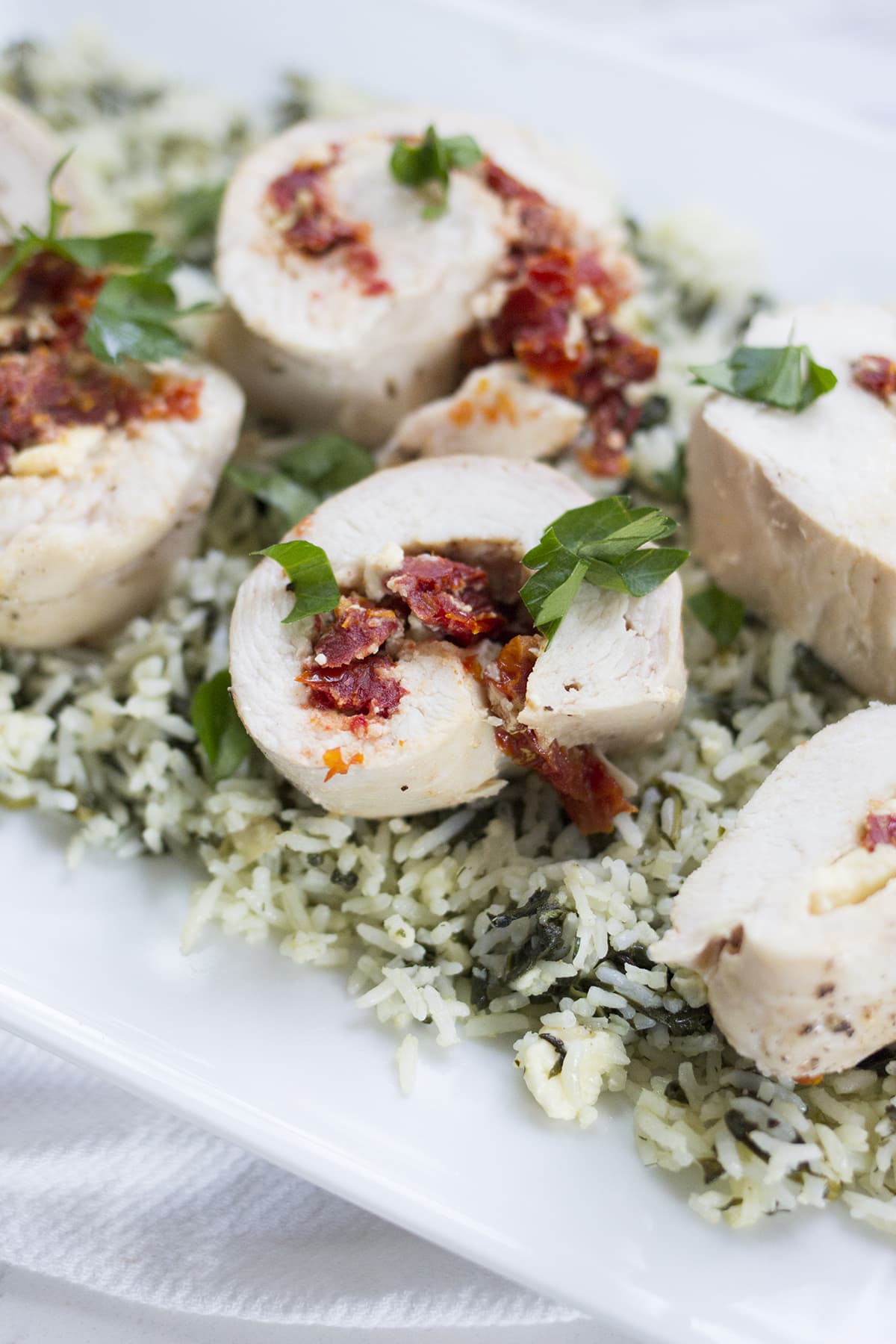 I hope you will try this recipe, whichever way you chose, then come back and tell me all about it! I love a good dinner story. Now who wants to fight me for this last bite of feta cheese?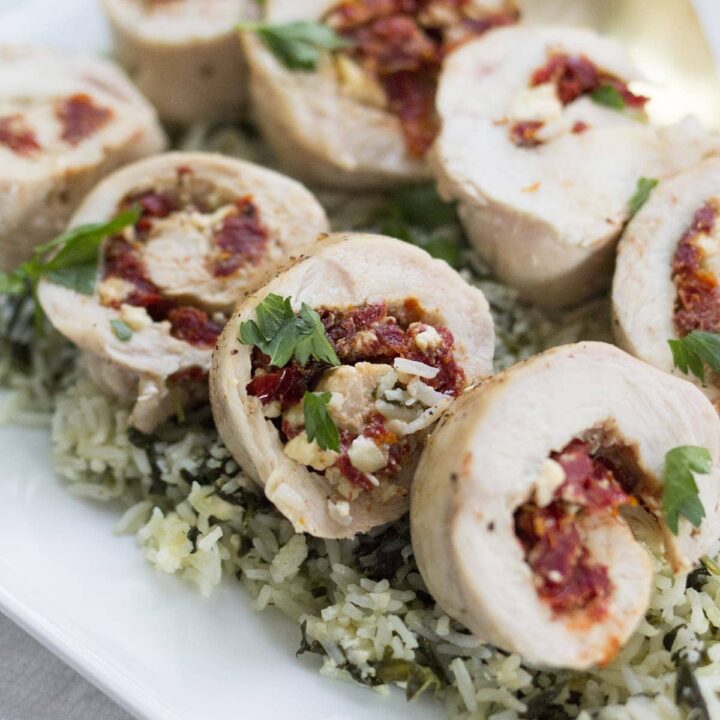 Sun-dried Tomato & Feta Chicken
Easy and flavorful sun-dried tomato and feta stuffed chicken breasts.
Ingredients
Boneless Skinless Chicken Breasts
Jar of sun-dried tomatoes in olive oil, drained and chopped
Crumbled, herbed feta cheese
olive oil
seasoned salt
pepper
Instructions
Pre-heat oven to 350 degrees.
Carefully butterfly chicken breasts using a sharp pairing knife. Place opened chicken breasts on a cutting board and cover with plastic wrap.
Pound thin using a rolling pin.
Drizzle olive oil over both sides of the breast and season with seasoned salt and freshly ground black pepper.
To each breast add about 1 heaping tablespoon of feta cheese and one heaping tablespoon of sun-dried tomatoes. Spread out evenly over the breast.
Roll breasts up tightly and secure with a toothpick or kitchen twine.
Place rolls, seam side down, in a glass baking dish.
Bake for 35-45 minutes or until the internal temperature reaches 180°F and the chicken juices run clear.
Remove from the oven and transfer to a cutting board. Allow to rest for about 5 minutes before slicing. Serve over a bed of spinach dill rice.
Save
Save
Save