Gooey Pumpkin Oat Bars have a smooth pumpkin cream cheese filling and a buttery oat crumble crust that is simply drool worthy.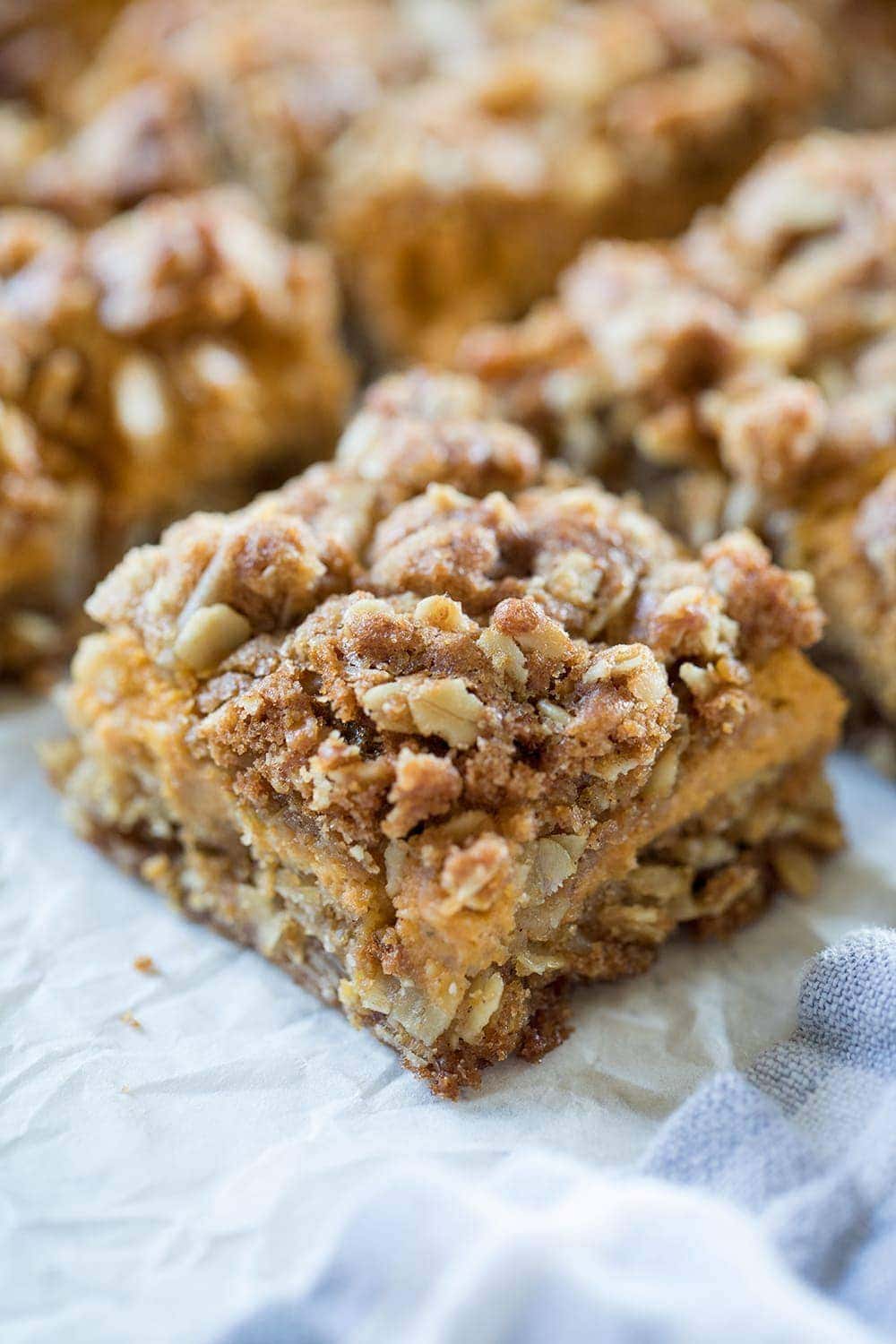 Gooey Pumpkin Oat Bars
Today is the very first day of fall and even if you are reading this long after fall in here and gone, you will know the excitement that comes with that changing of the seasons. It may still be hot in these parts long into November but I wait for the first day of fall like a special celebration. Gooey Pumpkin Oat Bars are full of fall flavors: pumpkin and cream cheese, oats and cinnamon, butter and sweet coconut. They are chewy and gooey and oh, so delicious with a hot cup of coffee.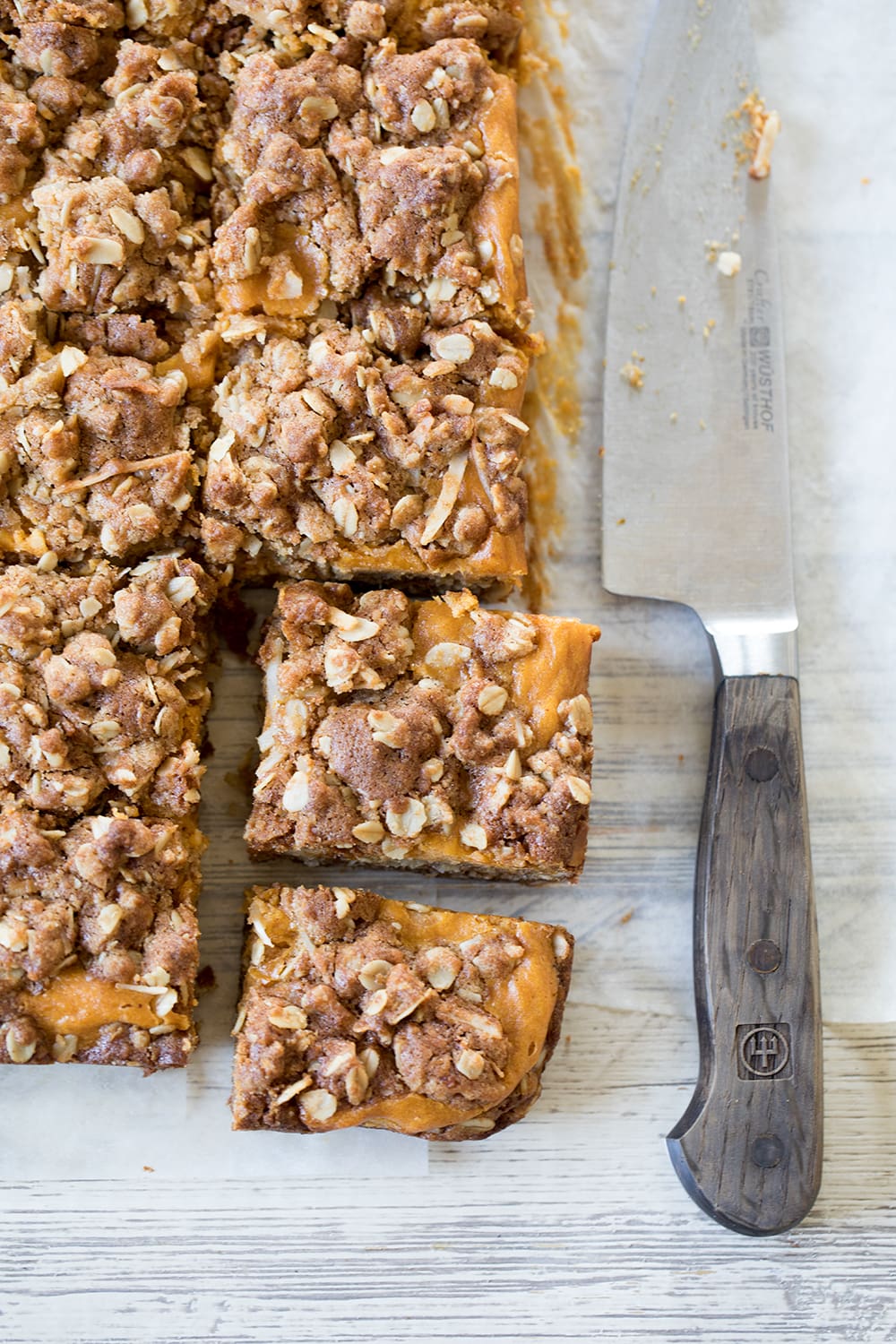 The idea for this recipe came from a desire to make something close to a chewy oat bar but with a gooey pumpkin pie center. Creamy but still with all of the hearty goodness you get from oats and shredded coconut.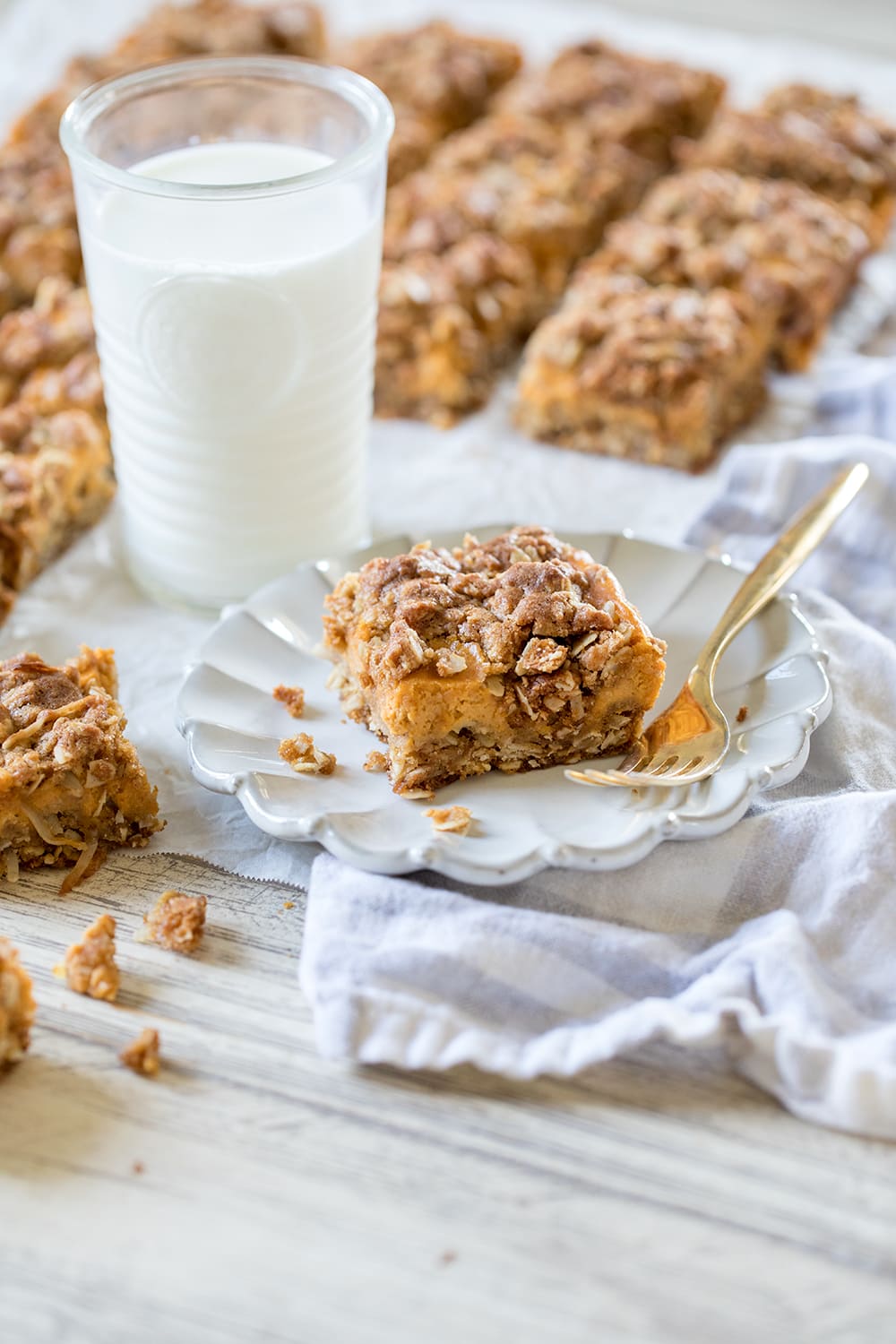 My first attempt at these bars lacked pumpkin flavor so I boosted the filling, upped the spices and by round two it was all of my chewy oat pumpkin pie bar dreams come true!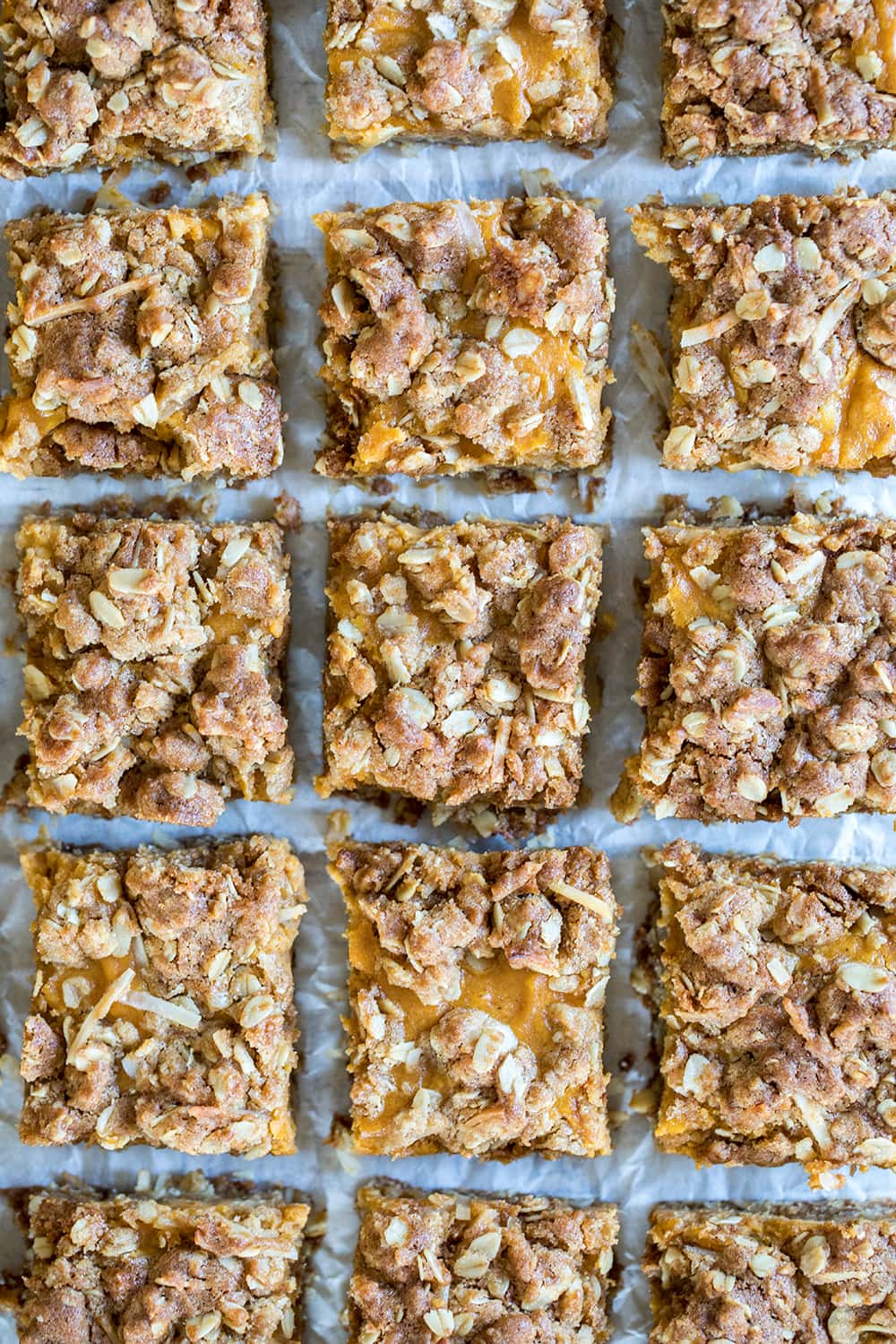 The coconut gives a richness of flavor and even more texture which I love and the oats with cinnamon and butter are just so sweet and delicious, you can't go wrong with this flavor combination.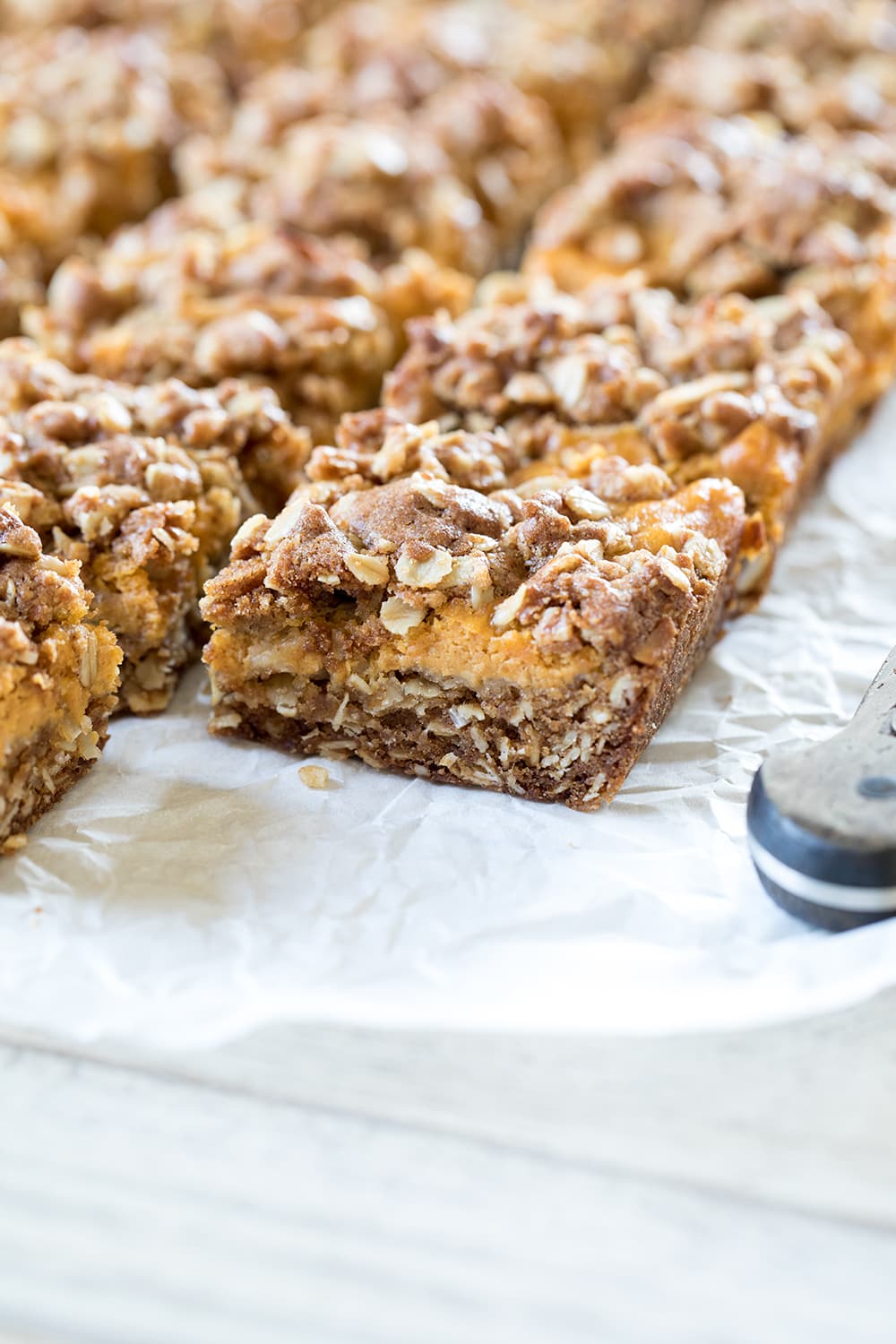 Personally, I like these bars cold, straight out of the refrigerator. Sure, they might loose a bit of the top crisp texture but they take on a solid chewy density that reminds me of eating a slice of cold pumpkin pie. Who's done it? All that's missing is a squirt of whipped cream straight from the can...did I really just say that? I hope you will try these bars and let me know what you think in the comments section below. Happy Fall baking!
Ready for more fall baking? Try these recipes:
Salted Brown Sugar Chocolate Chip Cookies
The Best Chocolate Chip Pumpkin Bread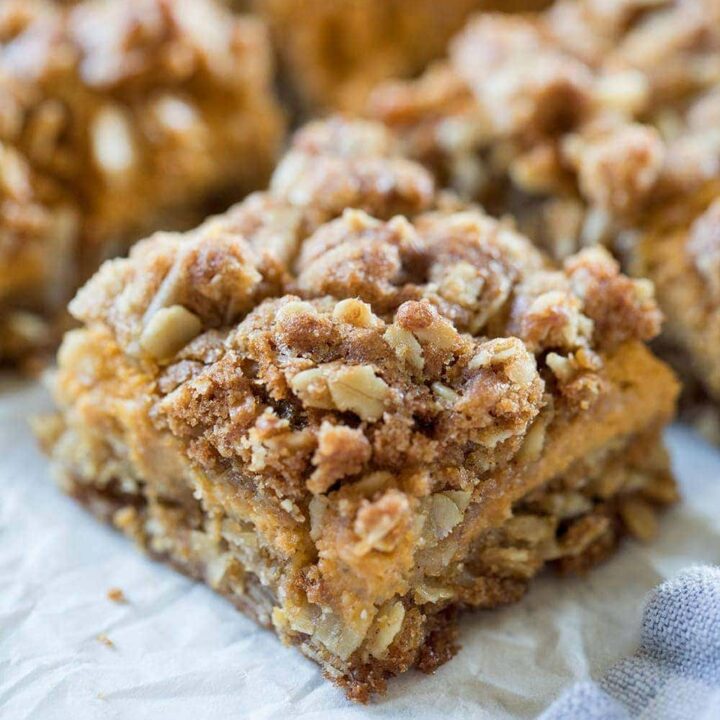 Gooey Pumpkin Oat Bars
Gooey pumpkin and cream cheese filled oat bars.
Ingredients
cooking spray or butter
FILLING:
1 cup cream cheese, softened
1 cup pumpkin puree
⅓ cup packed light brown sugar
1 egg
½ teaspoon cinnamon
¼ teaspoon nutmeg
¼ teaspoon salt
OAT CRUST & TOPPING:
1 ¾ cups all-purpose flour
1 cup shredded unsweetened coconut
1 cup packed light brown sugar
1 teaspoon cinnamon
1 teaspoon salt
1 teaspoon baking soda
1 ¾ cups old-fashioned rolled oats
2 sticks (16 tablespoons) unsalted butter, melted
1 large egg, beaten
1 teaspoon vanilla extract
Instructions
Preheat the oven to 350 degrees F. Spray or grease a 9x13x 2-inch metal baking dish with vegetable oil cooking spray or butter and line the bottom and sides of the pan with parchment paper. Grease the parchment paper and set aside.
FILLING: In the bowl of an electric mixer fitted with the paddle attachment, beat together cream cheese, pumpkin, and brown sugar until well combined. Mix in egg, cinnamon, nutmeg and salt until well combined. Set aside.
CRUST: In a large bowl, whisk together the flour, sugar, cinnamon, salt and baking soda. Stir in the oats and shredded coconut. Add the butter, egg and vanilla and stir until incorporated.
Using your hands, lightly press half of the crust mixture onto the bottom of the prepared pan. Using a spatula, spread the pumpkin filling over the crust. Cover the filling with the remaining crust mixture, crumbling it as you go. Bake until light golden, about 35-40 minutes. Cool completely. Cut into bars and store in an airtight container in the refrigerator. Bars can be served at room temperature or cold.