This year for my birthday I did something a little different, I threw myself a party! To be honest, it felt strange celebrating my own birthday this way but when Tillamook asked to partner with me and supply all of the ice cream for a celebration with family and friends, I knew I couldn't pass it up.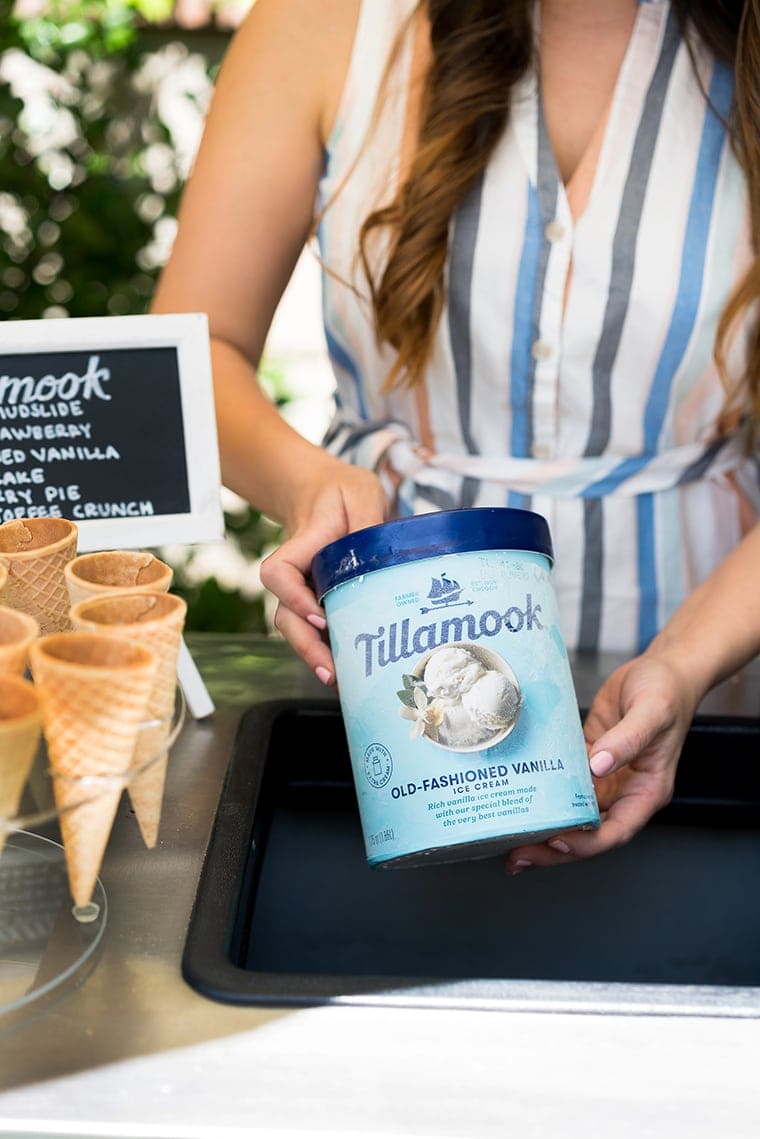 There aren't many opportunities in life to have one of your favorite brands of ice cream (and cheese for that matter) throw you a birthday party! Who could say no to unlimited ice cream? Not this lady…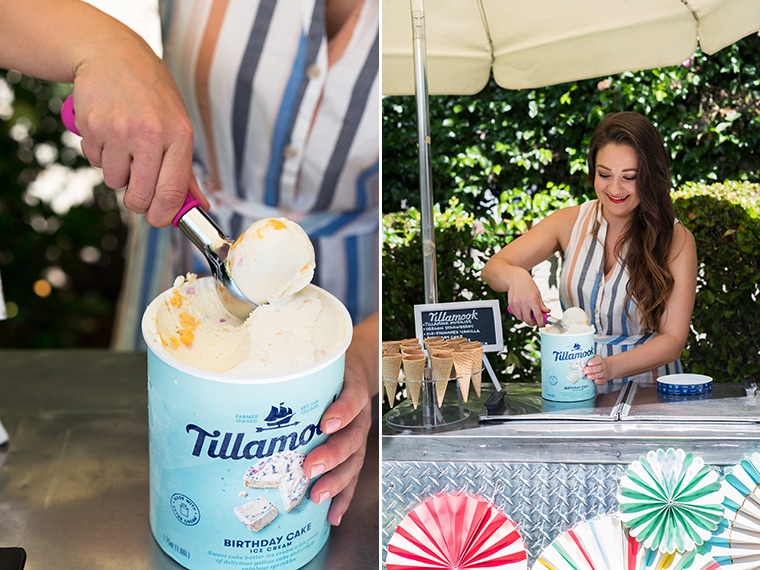 Why I Love Tillamook
But before I share more about my birthday party, let me start by telling you a little story about why I love Tillamook. When I was pregnant with the twins, I went on a food editors retreat to Sonoma, California. It was in the middle of beautiful wine country that I first met Tillamook. On this trip I had the rare opportunity to meet with so many amazing food companies but meeting members from the Tillamook team as well as a Tillamook co-op dairy farmer really stuck out in my mind.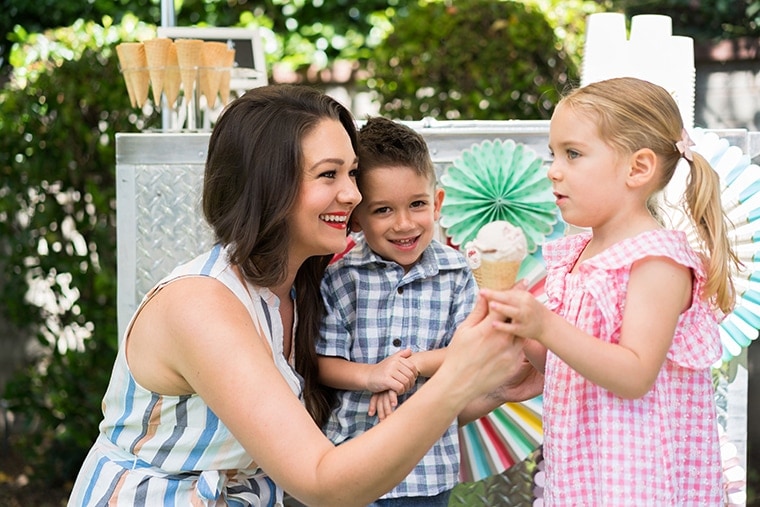 We sampled a beautiful spread of cheese and heard the first hand story from that Tillamook dairy farmer. The pride she felt in being a part of this company was tangible. Their dedication to employing family- owned farms and producing quality dairy products is unparalleled. From that day on I have been a loyal Tillamook lover.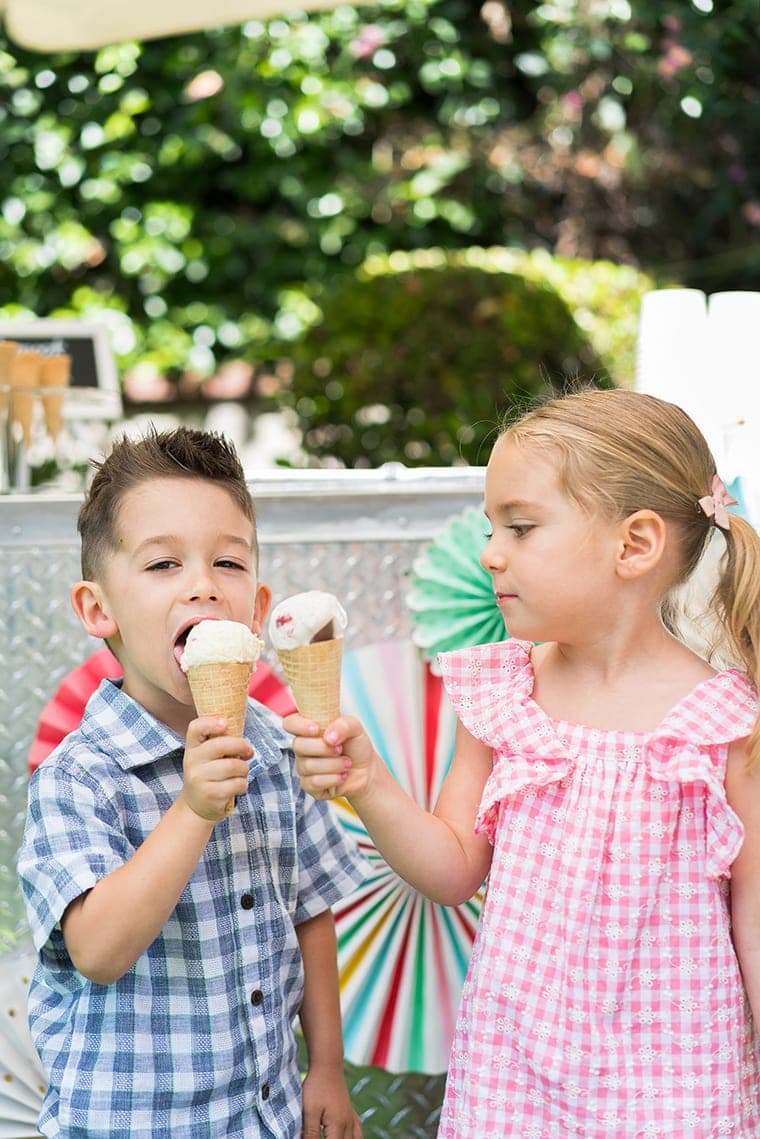 Maybe all of that Tillamook cheese and ice cream during pregnancy is why the twins love it so much today! Or maybe it's because it's just really darn tasty.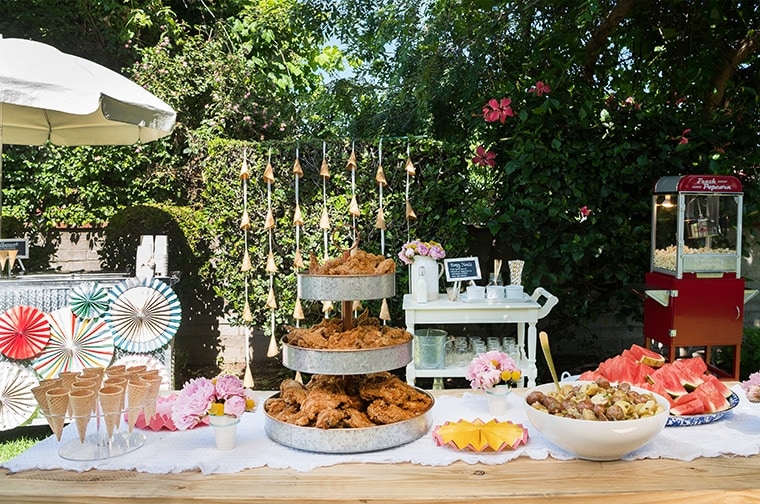 Ice Cream Themed Birthday Party
I could have just as easily had a cheese party, but being that it's almost summer, an ice cream themed birthday party was perfect! We served classic Tillamook flavors like Oregon Strawberry, Old Fashioned Vanilla, Tillamook Mudslide and their newest flavor Birthday Cake. No need for candles when you're eating your cake on a cone!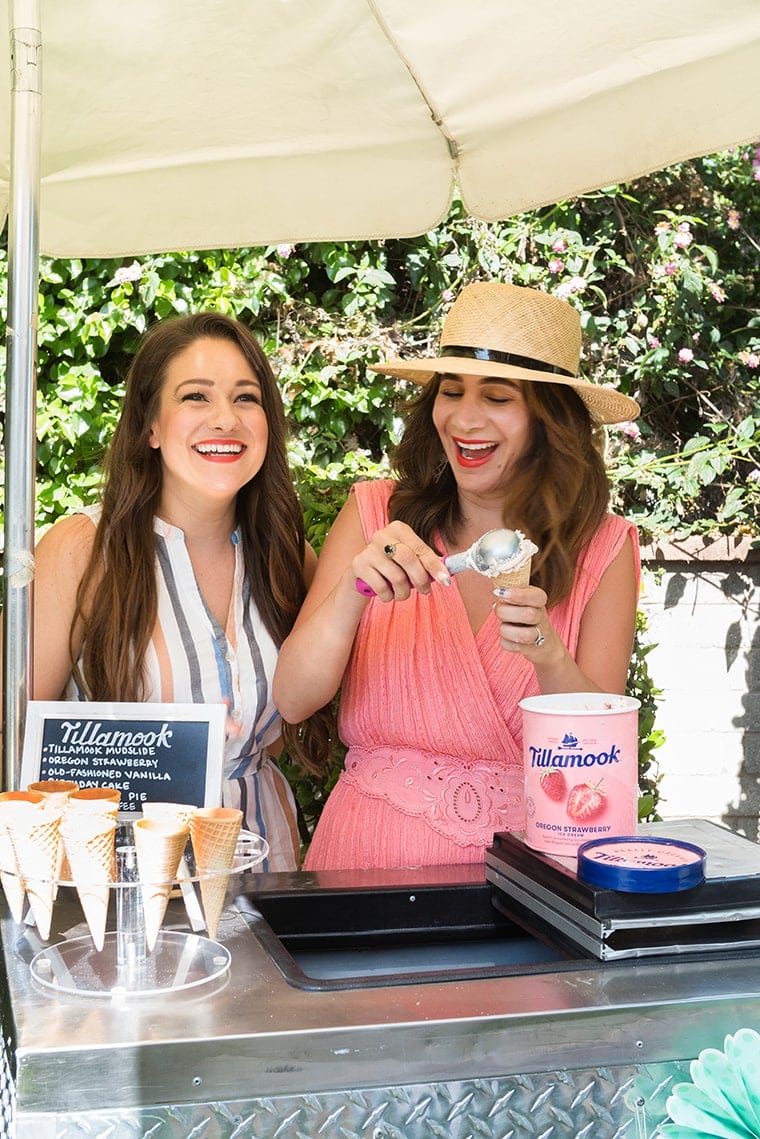 I also chose a few other favorites like Marionberry Pie and Caramel Toffee Crunch to serve. To keep the ice cream super cold, I rented an ice cream cart from a local party rental company and I loved the way it added a fun nostalgic feel to the party. The kids loved that they could walk right up and "order a scoop" in a cup or on a cone.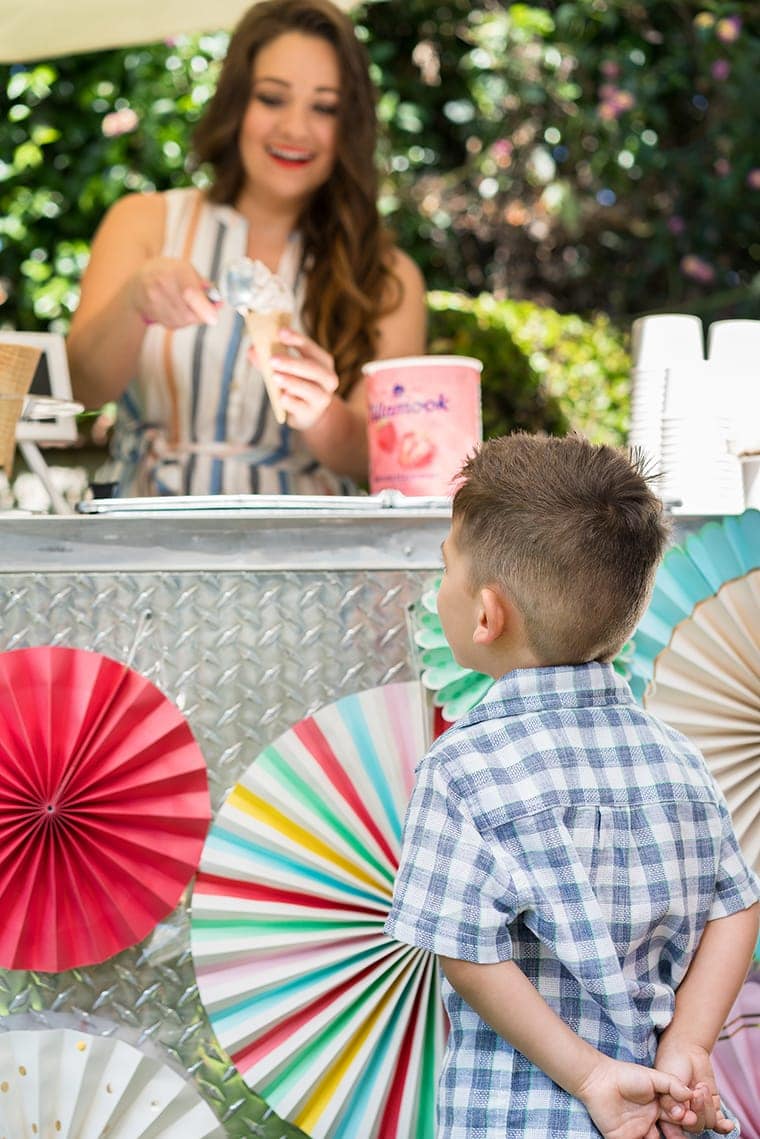 Boozy Ice Cream Float Bar
For the adults I also served Boozy Ice Cream Floats. Fudge, caramel and strawberry sauce go down in the bottle of a jar mixed with a splash of cream and a shot of vodka. Top it with two scoops of ice cream and club soda and you have yourself a delicious and boozy cocktail and dessert in one.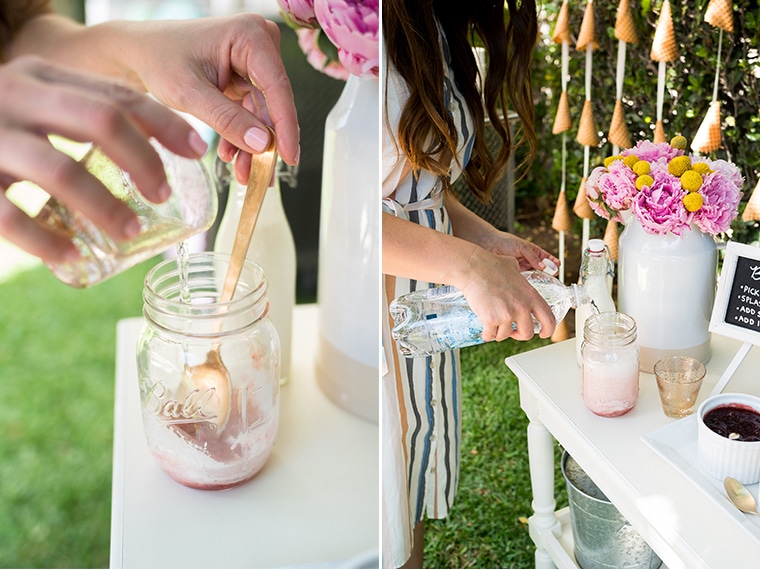 Some of the best combinations were strawberry jam with Marionberry Pie ice cream and classic Old Fashioned Vanilla with fudge. Yum! I set the bar with straws, spoons and an ice bucket stocked with vodka and club soda so that guests could build their own float.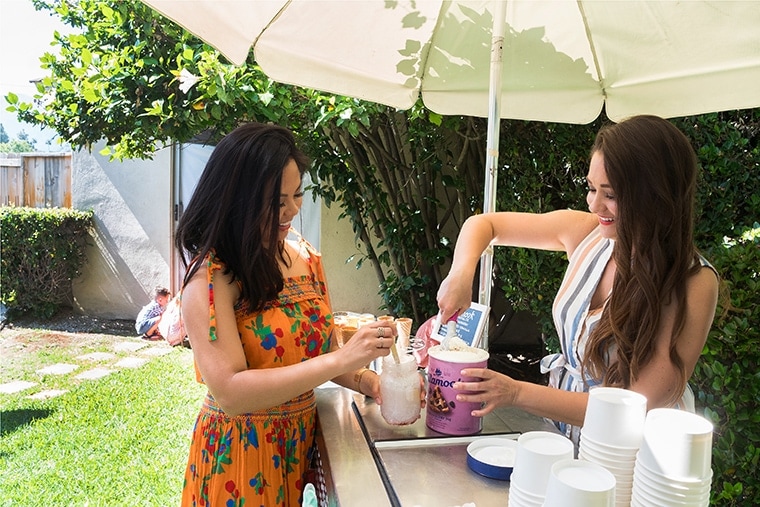 Birthday Party Menu
To round out the sweet ice cream birthday party menu, I served a few of my favorite summer eats: fried chicken, watermelon slices and warm potato salad. The menu was simple, delicious and that fried chicken was gone in a flash!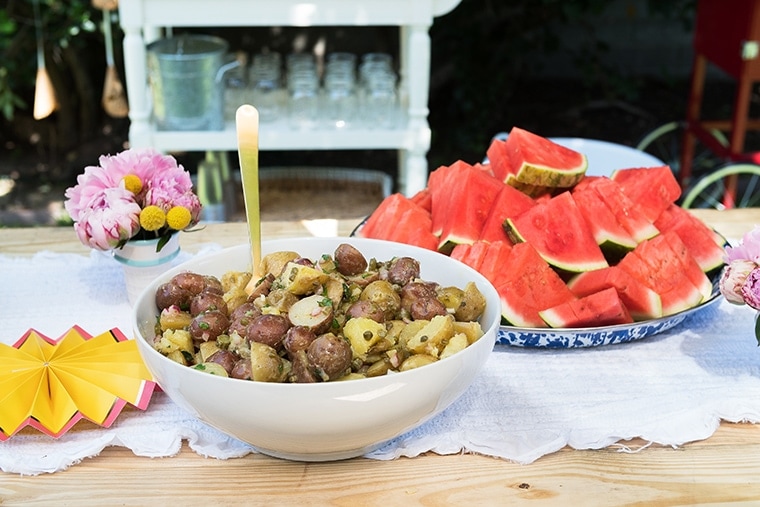 Here's an EASY entertaining tip: call a day ahead to your local grocery store deli and order fried chicken to be made fresh for you to pick up before your party. You won't have to cook and guests will absolutely LOVE it. The chicken was hot, crispy, delicious and the perfect salty food to follow all the sweet ice cream.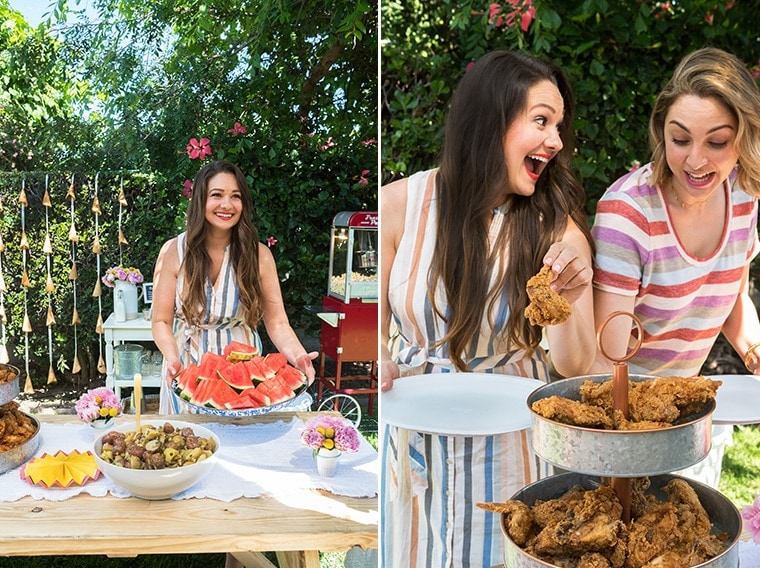 The weather was warm, the ice cream and fried chicken were a plenty and the kids ran around with ice cream dripping down their sticky fingers. It was a success! If you are throwing a birthday party for little ones or adults, I highly recommend an ice cream party theme.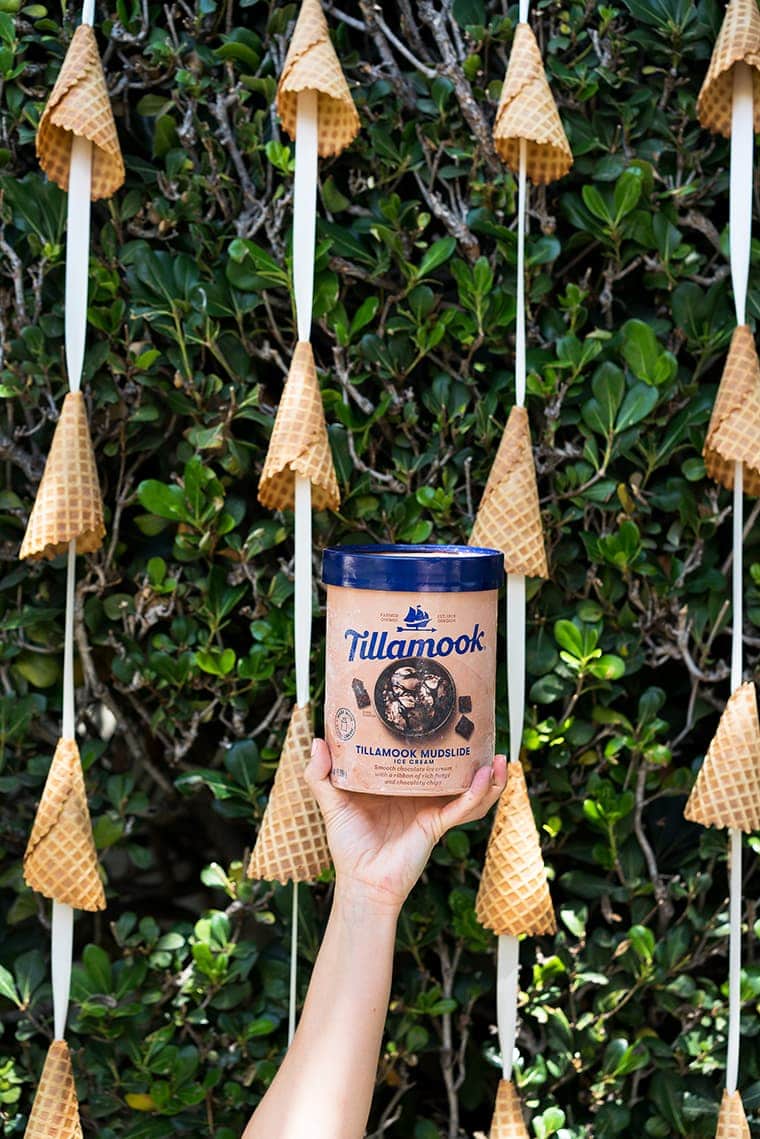 DISCLOSURE: This post was sponsored by Tillamook; a brand I love! Thank you for supporting Freutcake sponsors. You can find Tillamook Ice Cream in a store near you, right here!