The fourth of July wouldn't be complete without a good ol' fashioned tater-salad. This version of warm potato salad with a tangy mustard vinaigrette, cornichons and capers is by far my favorite. No creamy dressing here, just tangy and bright bursts of flavor.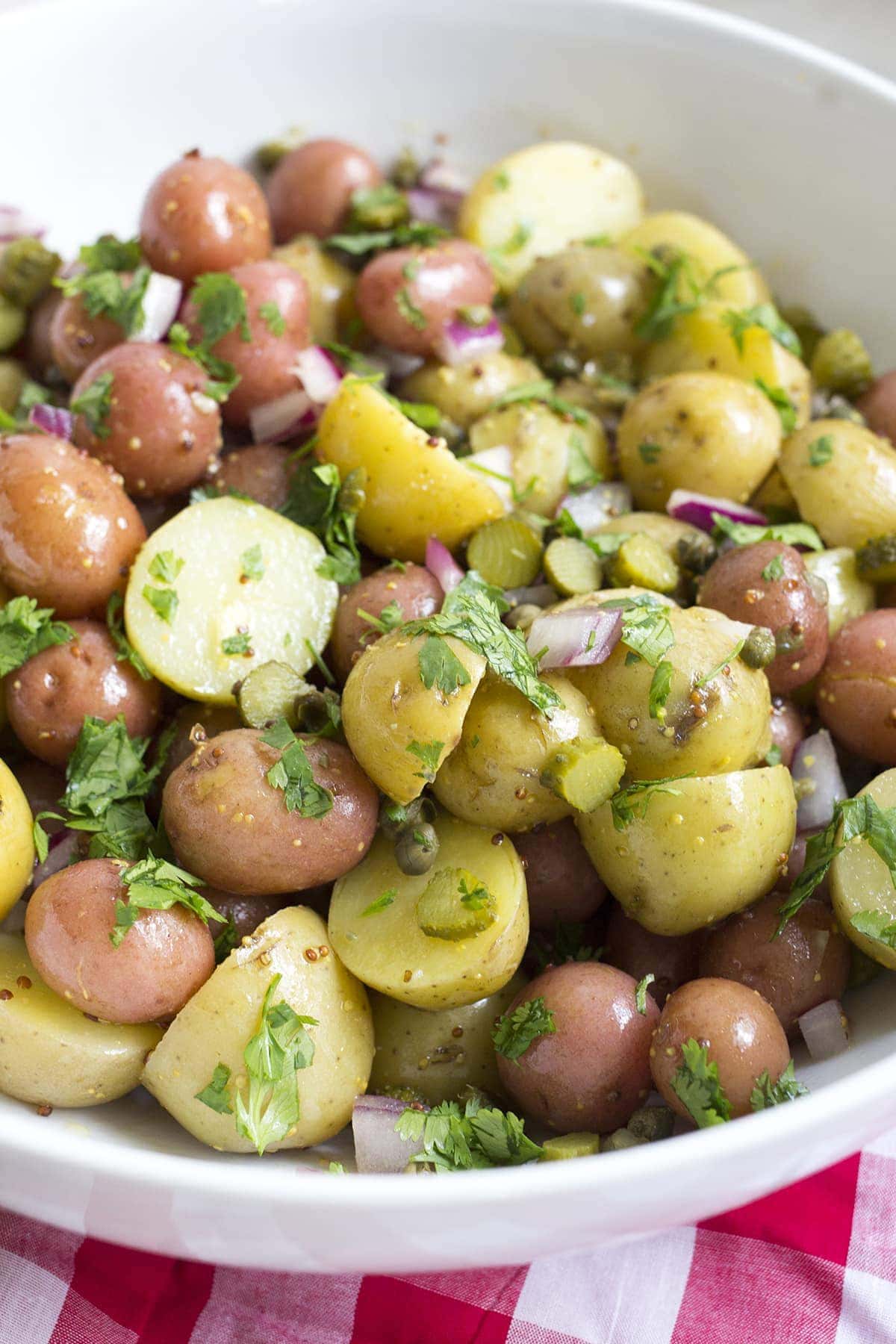 This recipe calls for both red and yellow potatoes and I love the variety of colors in this dish. Far from your average creamy white, blah, bowl of potato salad.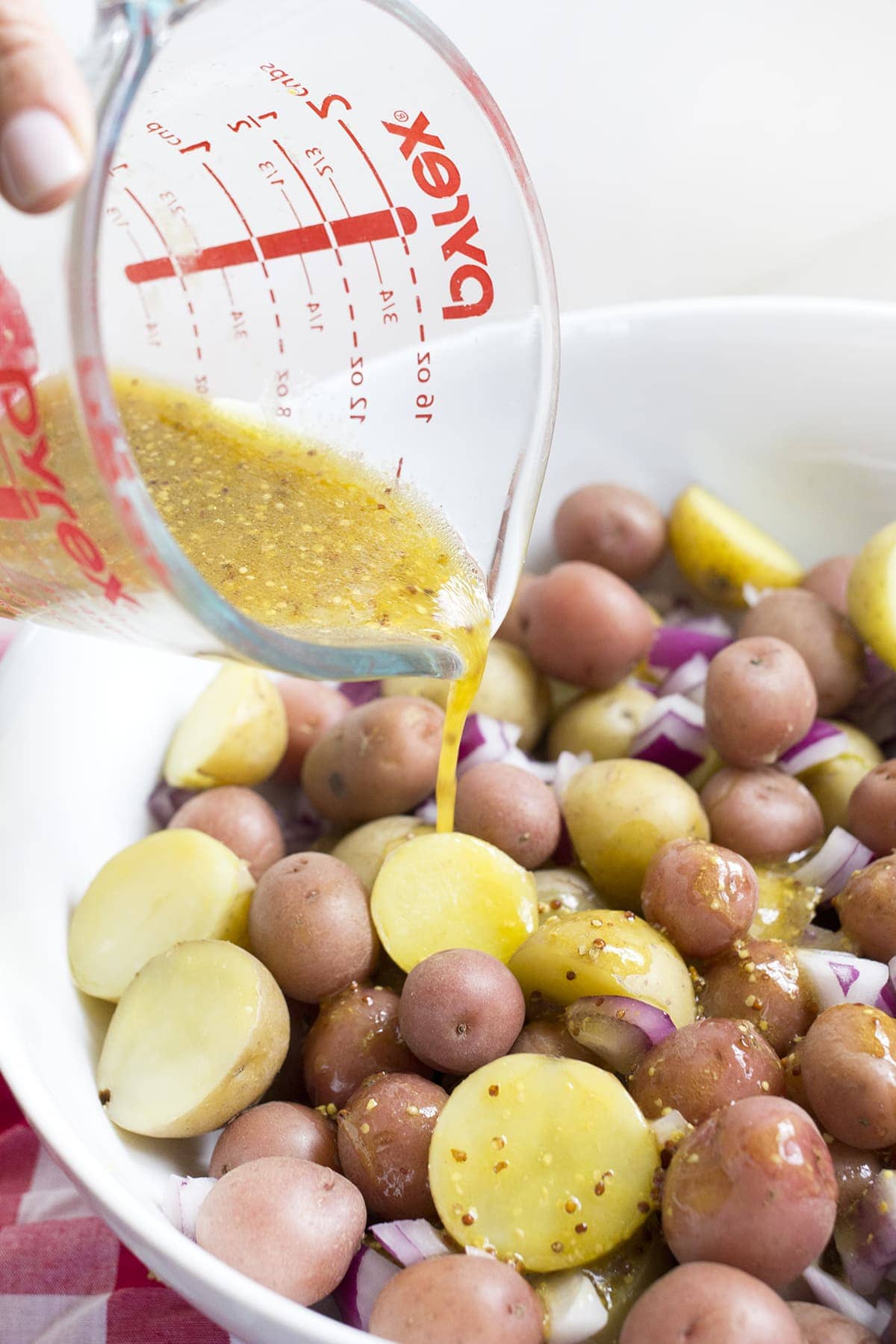 While the taters are still warm, pour all of that delicious mustard vinaigrette over-top so that they can soak up all of those good flavors.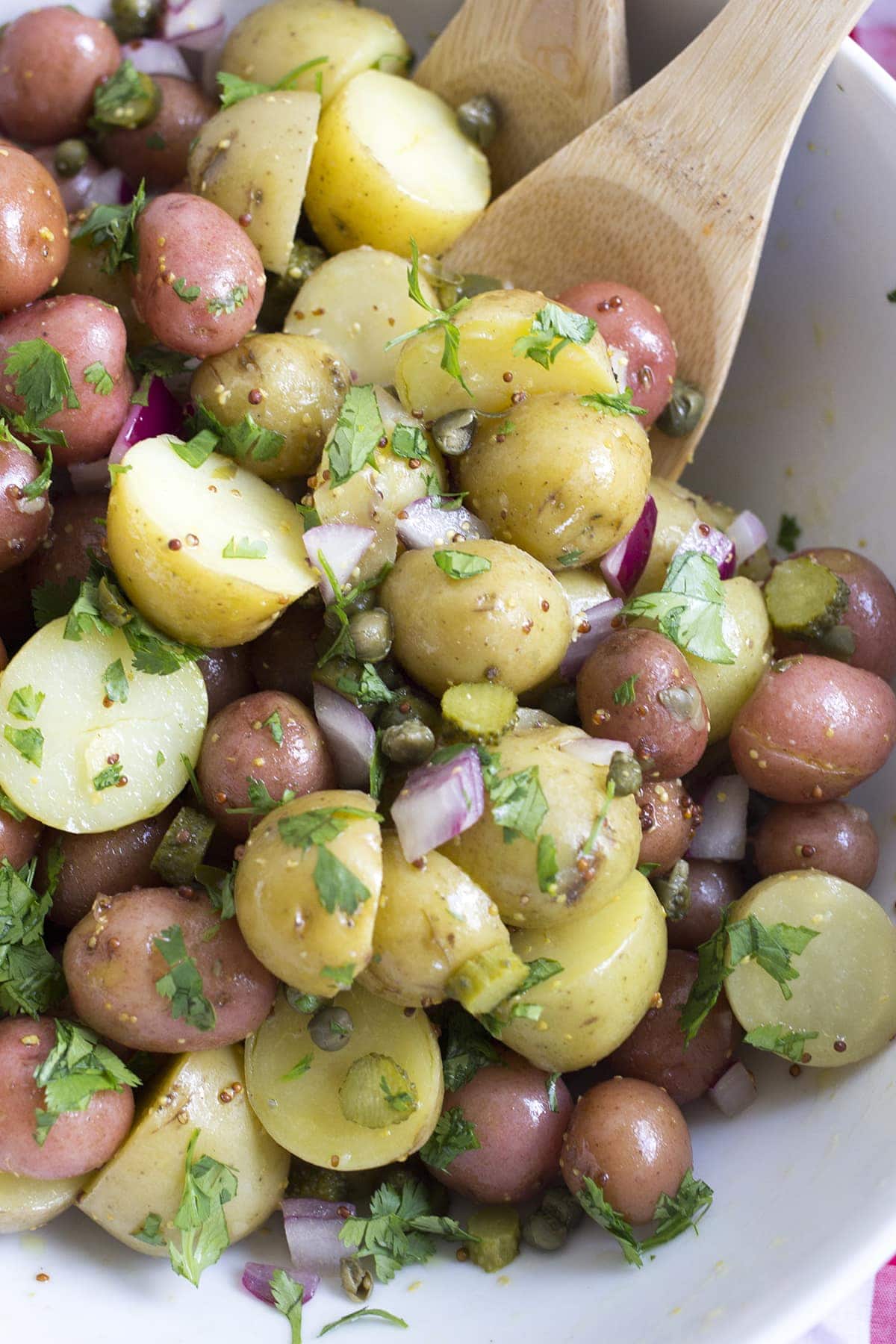 Next comes the cornichons, capers, red onion and parsley. Chop it all up and toss it in. Little salty bites of caper and vinegary cornichon baby pickles give this salad a French flair. Plus the grainy mustard gives a nice little pop of spicy flavor…can you tell how much I love this salad?! It really is the perfect 4th of July side to serve along with all of your favorite barbecue. Yum, is it dinner time yet?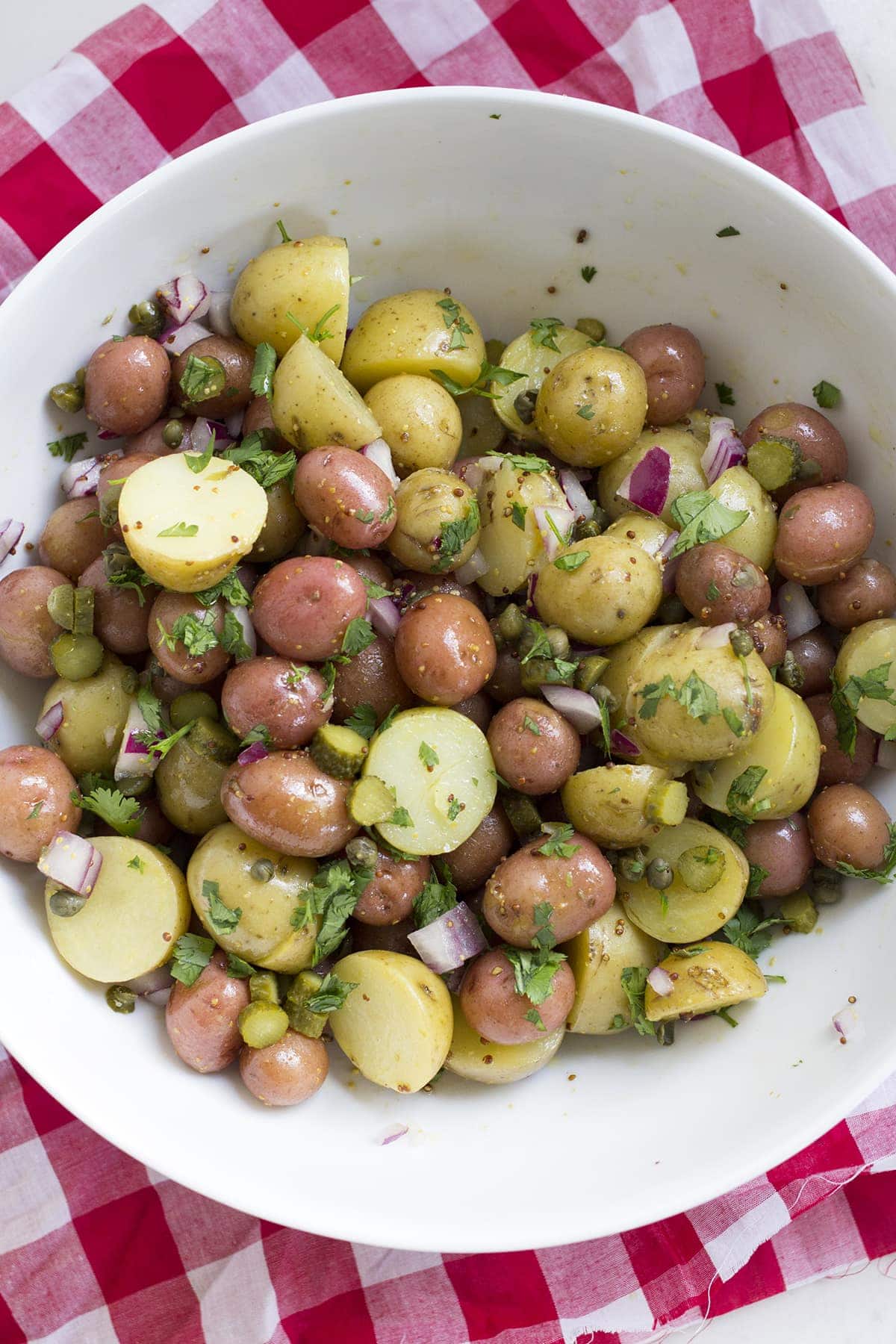 Warm Potato Salad
Ingredients
2 pounds small red and Yukon gold potatoes, halved (quartered if large)
2 tablespoons plus 1 1/2 teaspoons coarse salt
2 tablespoons red wine vinegar
1 tablespoon Dijon mustard
1/3 cup extra-virgin olive oil
1 small red onion, cut into 1/4-inch dice (about 1/3 cup)
5 cornichons, rinsed and sliced into thin rounds (about 1/4 cup)
2 tablespoons capers, rinsed and coarsely chopped
2 tablespoons coarsely chopped fresh flat-leaf parsley
1/4 teaspoon freshly ground pepper
Instructions
Cover potatoes with water in a medium saucepan. Add 2 tablespoons salt. Bring to a boil; reduce heat, and simmer until tender, 7 to 9 minutes. Drain potatoes, reserving 1 tablespoon cooking water. Let potatoes cool slightly.
Make the vinaigrette: Whisk together vinegar, mustard, and reserved cooking water in a small bowl. Gradually add oil, whisking until emulsified. Transfer potatoes to a medium bowl, and drizzle with vinaigrette. Add onion, cornichons, capers, parsley, remaining 1 1/2 teaspoons salt, and the pepper. Using a large spatula, gently stir to combine.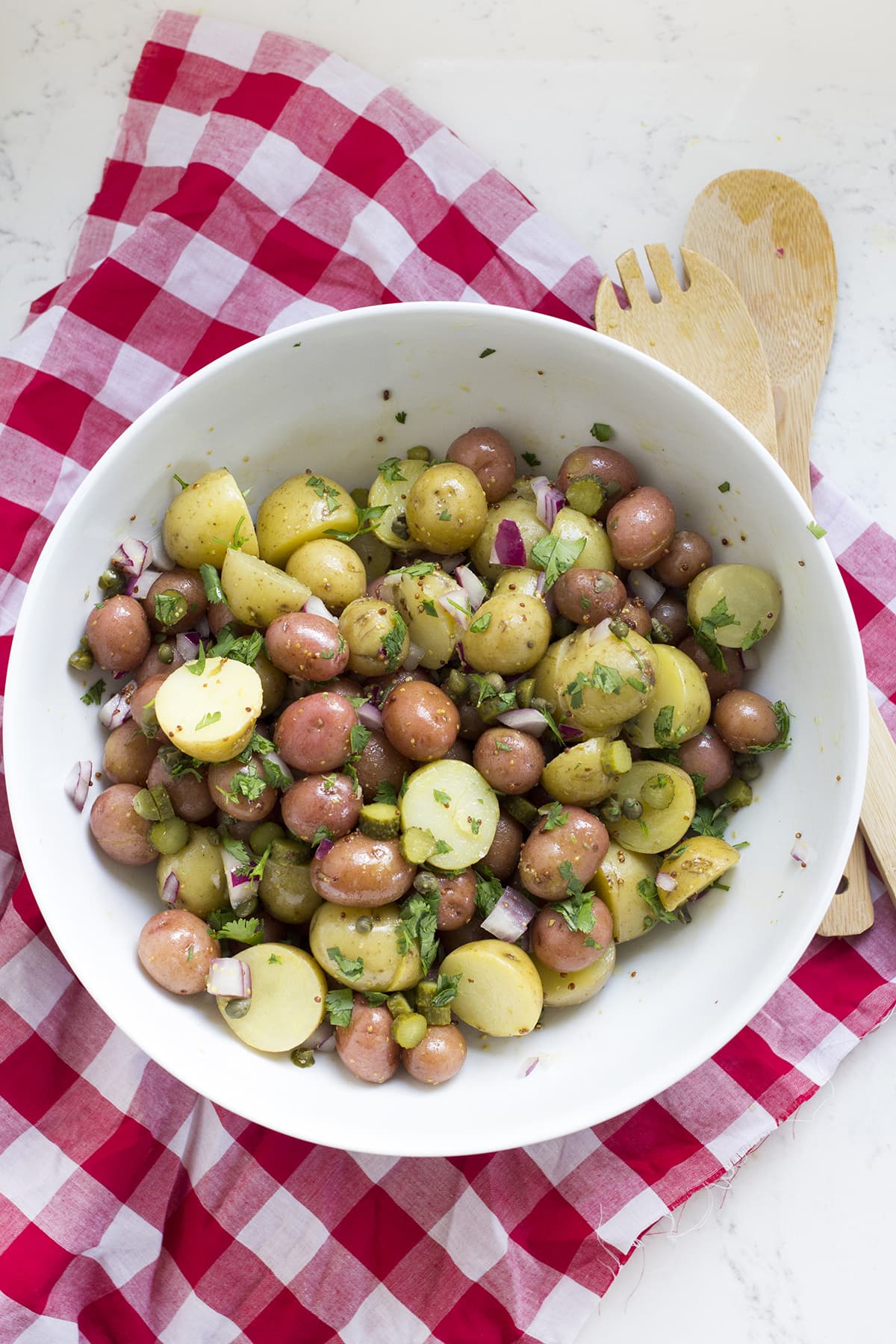 Save
Save
Save
Save
Save