Preschool may only be two days a week at this point but the twins are super excited about big-kid lunch boxes! I ordered these Bento style lunch boxes on Amazon and we have loved using them. Now that we are starting the school lunch journey, I'll be posting Healthy Toddler Bento Box Lunch Ideas for Preschool and beyond! Here's what we made this week...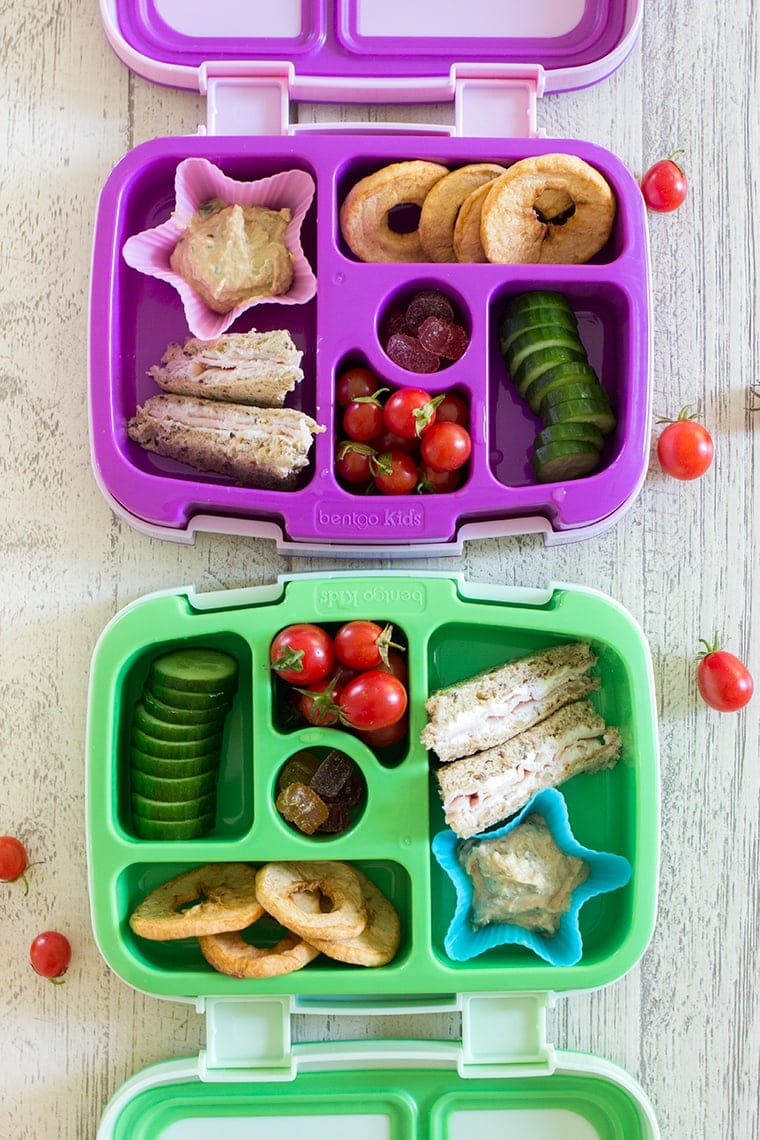 Preschool Bento Box Lunch
Sandwich: Turkey & cream cheese on Dave's Killer Bread, crust removed and cut into triangles. Spread both sides of the bread with whipped cream cheese to act as the "glue" for the turkey meat. Whipped cream cheese is easy to spread and won't tear your bread.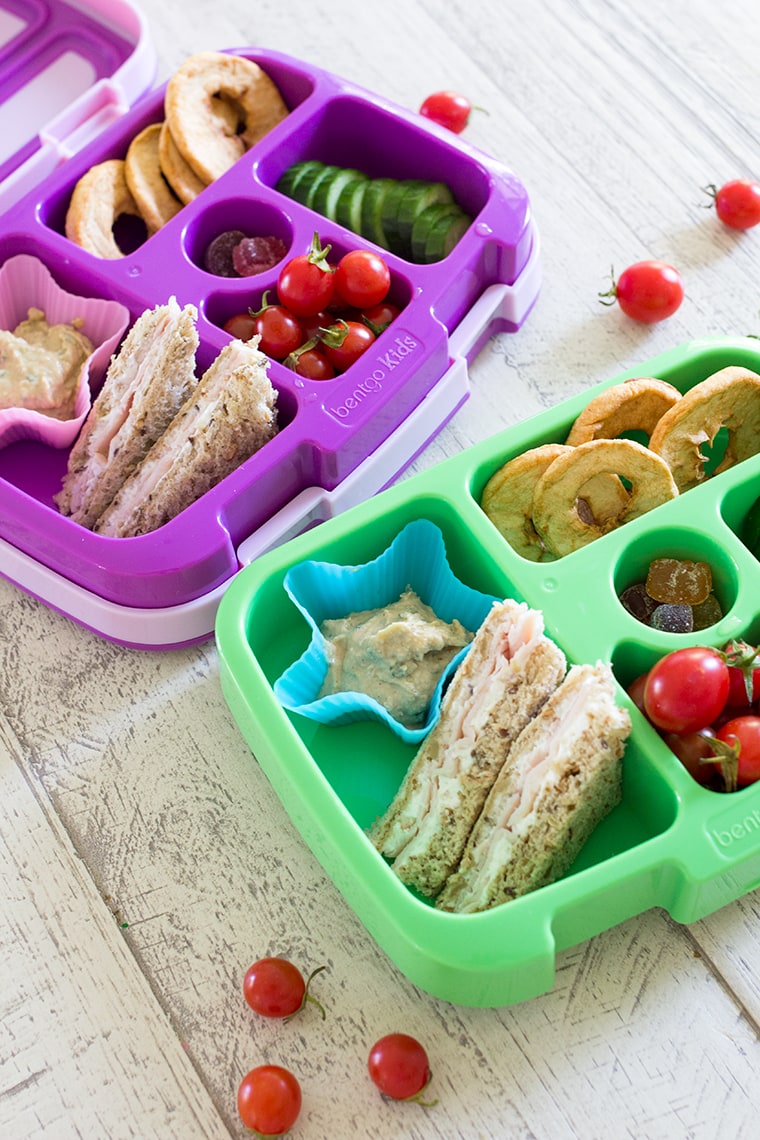 Veggies with Hummus for Dipping: Millie really likes the tabouli hummus from O Organics and so do I! The twins love to dip so I included sliced Persian cucumbers and small cherry tomatoes with their stems on. To keep the hummus somewhat contained, I used a silicone star cupcake liner. I have them in a few shapes and they are a fun addition to lunch boxes especially when you need an additional compartment.
The feature I love most about these Bentgo Kids lunch boxes is that the inside tray is removable! This makes cleaning them super easy and also makes for a nice little plate when the entire box is not needed. I took these lunch boxes to the zoo and it was great how easily they popped right out so that the twins could carry just the inner tray on their laps while in the stroller. Also, the lid shuts extremely tight and locks securely so that food doesn't tip into other compartments or spill. I love these lunch boxes!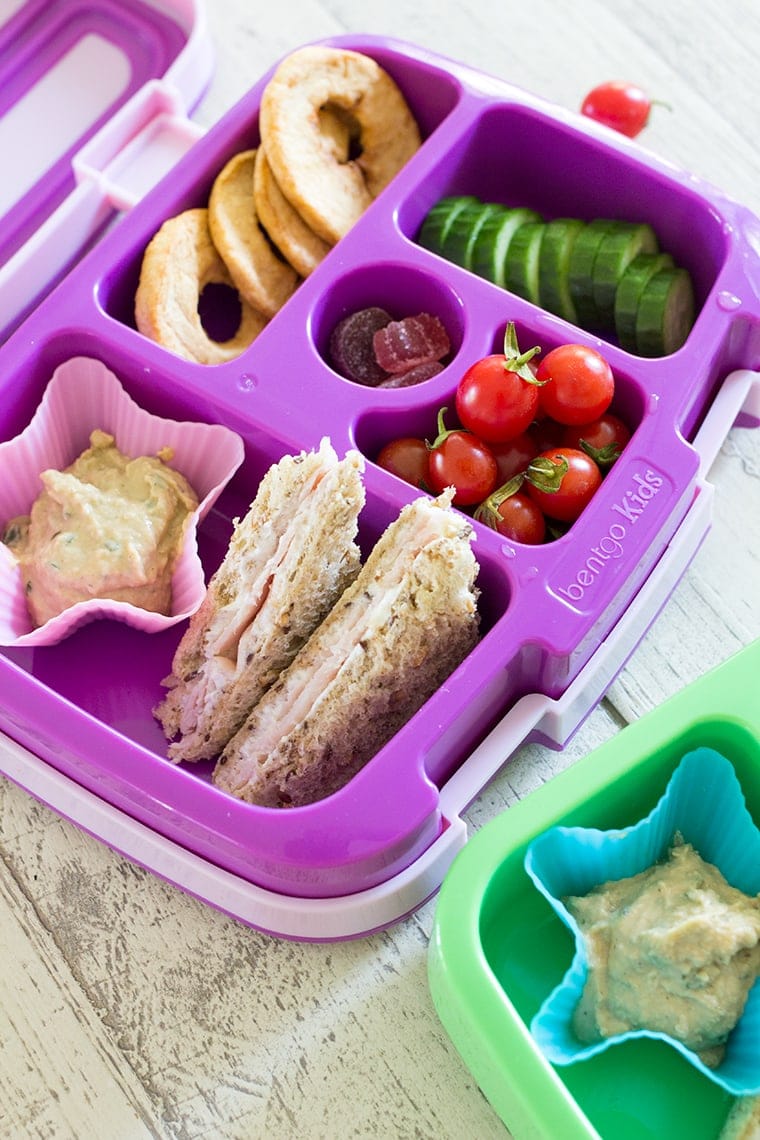 Something Sweet: Every school lunch needs some sort of sweet treat. Dried apple slices from Trader Joe's are a favorite and in the very center, a few Surf Sweets Organic gummy bears. I also snuck in an Olly Kid's Multivitamin Probiotic gummy because we all know that Preschool is one giant germ factory. Hand sanitizer anyone?
Happy Lunch Making!
Looking for more toddler meals? You might like my "What I Fed The Twins" column.